Ready to blow the roof off
Signature brings legendary 'Dreamgirls' show to region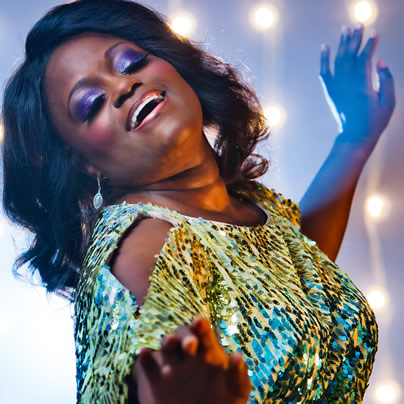 'Dreamgirls'
Signature Theatre
4200 Campbell Ave.
Arlington, VA
Through Jan. 6
(Pride Night Dec. 7)
Tickets: start at $40
703-573-SEAT
Arlington's Signature Theatre is about to tackle one of the biggest shows in Broadway and Hollywood history: "Dreamgirls."
Director and choreographer Matt Gardiner had one word to describe his initial reaction: "daunting." For actress Nova Payton, who will be starring as Effie White, the word was "demanding." For costume designer Frank Labovitz, the word was "huge."
"Dreamgirls" is a show that is often tagged with the word "legendary." It was the last major show of legendary Broadway director and choreographer Michael Bennett. It was legendary for the backstage fights during workshops, rehearsals and previews, for the 20-minute show-stopping ovation during Act I on opening night, and for the long run on Broadway, along with numerous national and international tours. It was also legendary for the staging that featured set designer Robin Wagner's rotating towers and for Theoni's V. Aldredge's dazzling costumes (both of which were featured on the show's iconic posters).
And it was legendary for the new sounds that composer Henry Krieger brought to Broadway and for the smooth cinematic way that lyricist and bookwriter Tom Eyen wove the music and dialogue together. It became legendary for a movie adaptation that won an Academy Award for "American Idol" runner-up Jennifer Hudson in her movie debut.
"Dreamgirls" tells the story of the Dreamettes, a girl group from Chicago that rises to international fame. The plot is loosely based on the saga of Diana Ross and the Supremes and other Motown-era figures. After losing a talent competition at the famous Apollo Theatre in New York, the Dreamettes are hired as back-up singers for James Thunder Early. Spurred on by their ambitious manager Curtis Taylor, Jr., the girls break away from Jimmy and begin performing as "the Dreams." Effie White (a character somewhat based on Supremes' founder Florence Ballard) sings lead and her friends Deena Jones (the Diana Ross figure) and Lorrell Robinson sing back-up.
Although he is having an affair with Effie, Curtis moves Deena to the front of the group. She has a smoother sound and a slicker look that he thinks will be more appealing to white audiences, enabling the group to cross over and sell more records. Although the group does become increasingly popular, Effie is not happy singing back-up and begins to suspect that Curtis is having an affair with Deena. Her suspicions are confirmed when Curtis dumps her personally and professionally.
That's the cue for the show's most famous number, "And I Am Telling You I'm Not Going," which original Effie Jennifer Holliday performed twice last year in D.C. — at Pride and with the Gay Men's Chorus.
As Act II opens and the story moves from the 1960s to the 1970s, Curtis marries Deena, who becomes an international superstar, although she yearns to be seen as a serious actress. Jimmy falls on hard times when he rejects Curtis' advice on how to appeal to broader audiences. Effie has a child and struggles to rebuild her career. The Dreams help usher in the disco era, and the rest is music — and musical theater — history.
Faced with this challenging material and famous predecessors, Gardiner and his collaborators have developed a fresh and exciting approach to the show.
"I spent a lot of time with our design team trying to come up with a way to do it that honored Michael Bennett's original intention but made it our own," he says. "At Signature, we would never be able recreate Bennett's staging, so we are trying to find our own way into it that is more Signature."
For example, the openly gay Gardiner notes, "Bennett and the writers really played with the idea of perspective, the change between backstage and onstage. In that original production he had the use of these beautiful towers that became iconic in the way the show is remembered. From the onset, we knew that we weren't going to do it that way. We asked how do we play with the idea of perspective, both onstage and offstage, and the whole idea of the glamorous sparkle and what's underneath it." To answer that, they've created a more intimate approach to the musical that uses a smaller ensemble and focuses more clearly on the Dreams and their leading men.
One of the things that will give Signature Theatre's production of "Dreamgirls" a distinctive feel is Nova Y. Payton's highly anticipated performance as Effie White. Gardiner freely admits, "It is no secret that Signature chose the piece for her and I don't think anyone's going to be let down."
Maryland native Gardiner is full of praise for his star. "She's a wonderful person first and foremost and then on top of that she has the most killer voice. She's a spectacular actress and a spectacular singer and we're waiting for her to blow the roof off Signature."
D.C. native Payton returns the praise to Gardiner. "I love Matt!" she says. "This will be second show I've done with him. (Their first collaboration was last season's "Zanadu.") Matt is brilliant. His vision of the show is very clear. In rehearsal, he's very precise about what he's looking for but at the same time allowing us as actors to bring what we may see. We are a team trying to put this production together and he trusts us."
Payton also has great praise for the work of costume designer Frank Labovitz, although she won't reveal much about the fabulous costumes she will be wearing.
"I don't want to give away too much," she says, "because when you think about "Dreamgirls" you think about the beautiful costumes."
But she does praise Labovitz for his innovative design. "What excited me about Frank's renderings was how different they were from what I've seen before. It's fresh and a very new feel, but it stays true to the period. And of course there are lots of sequins and bright colors and beautiful shoes and wonderful hair and makeup. You can definitely look forward to that."
Labovitz estimates that there are about 200 costumes in the show. The Dreams alone have 11 sets of three matching dresses, plus their individual costumes with day looks and eveningwear "It's a constant parade of costumes," the designer says. "If an actor isn't onstage, he's offstage changing clothes." Labovitz says the costumes are almost like another character in the play. They help to tell the story, detailing the changing circumstances of the characters and capturing the feel of the rapidly changing world around them. "It's rare that you get to work on a show where the costumes are so central to telling the story."
The costume designer is also a big fan of Hollywood's version of "Dreamgirls."
"One of the things that was great about the movie was how faithful they were to the original," he says. "The movie version really maintains the character of the show." But he adds, there's nothing like seeing the show in a theater. "There is something magical about watching it live. Some of the moments in the show are unbelievable, like when someone does a costume change onstage in front of you and you don't see it happen because of tricks with lights and costumes. Those moments onstage seem to defy reality." Like when the Dreams exit in one costume and appear onstage six seconds later in a different outfit.
The opening of "Dreamgirls" at Signature Theatre will also have a special resonance for D.C.'s LGBT community. While the show is a favorite for gay and lesbian audiences, the show's signature song, "And I Am Telling You I'm Not Going" has long been a special favorite for drag queens in the nation's capital and around the world. Many of D.C.'s leading ladies of drag will no doubt be rotating the song back into their act. And that's fine with Nova Payton, who says, "I love seeing the ladies do what they do."
Frank Labovitz also offers some advice about tackling the song: "It's all about the attitude. It's about owning it, about being as fiercely tenacious as you can be. It's larger than life and it's expressing an emotion we're all familiar with, the idea that we're not ready to move on yet."
In the meantime, Matt Gardiner says theatergoers can expect one of the largest productions that Signature has ever done.
"It will blow people away," he says.
PHOTOS: Benefit show for Hagerstown Hopes
Drag event at Shepherd University raises money for LGBTQ organization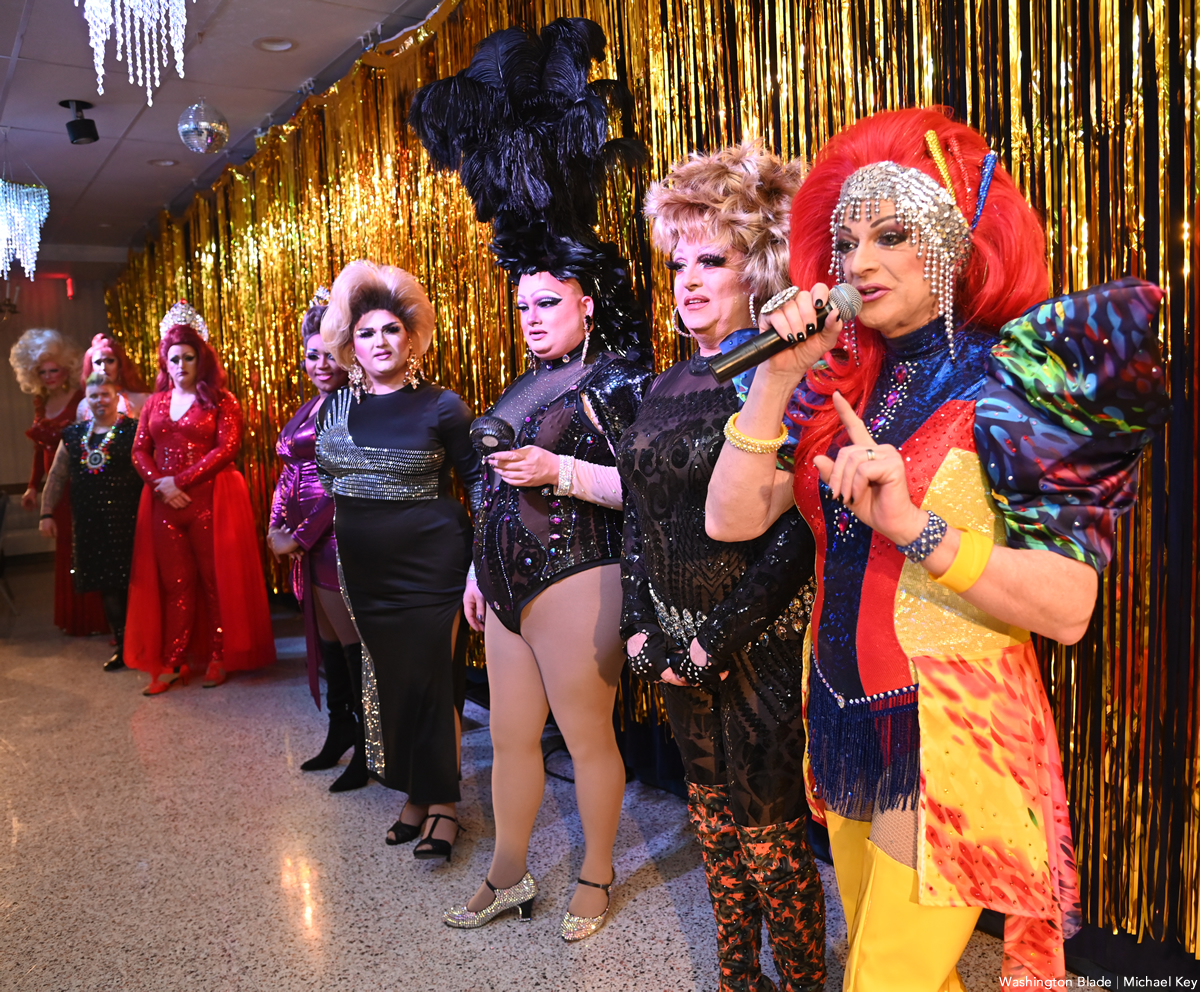 The Shepherd University Program Board and GSA presented a drag show benefit for Hagerstown Hopes at the Storer Ballroom in the Student Center in Shepherdstown, W. Va. on Saturday, April 1. Performers included Ashley Bannks, Alexa V. Shontelle, Maranda Rights, Ivanna Rights, Chasity Vain, Bayley, Dezi Minaj, Nicole James and Remington Steele.
(Washington Blade photos by Michael Key)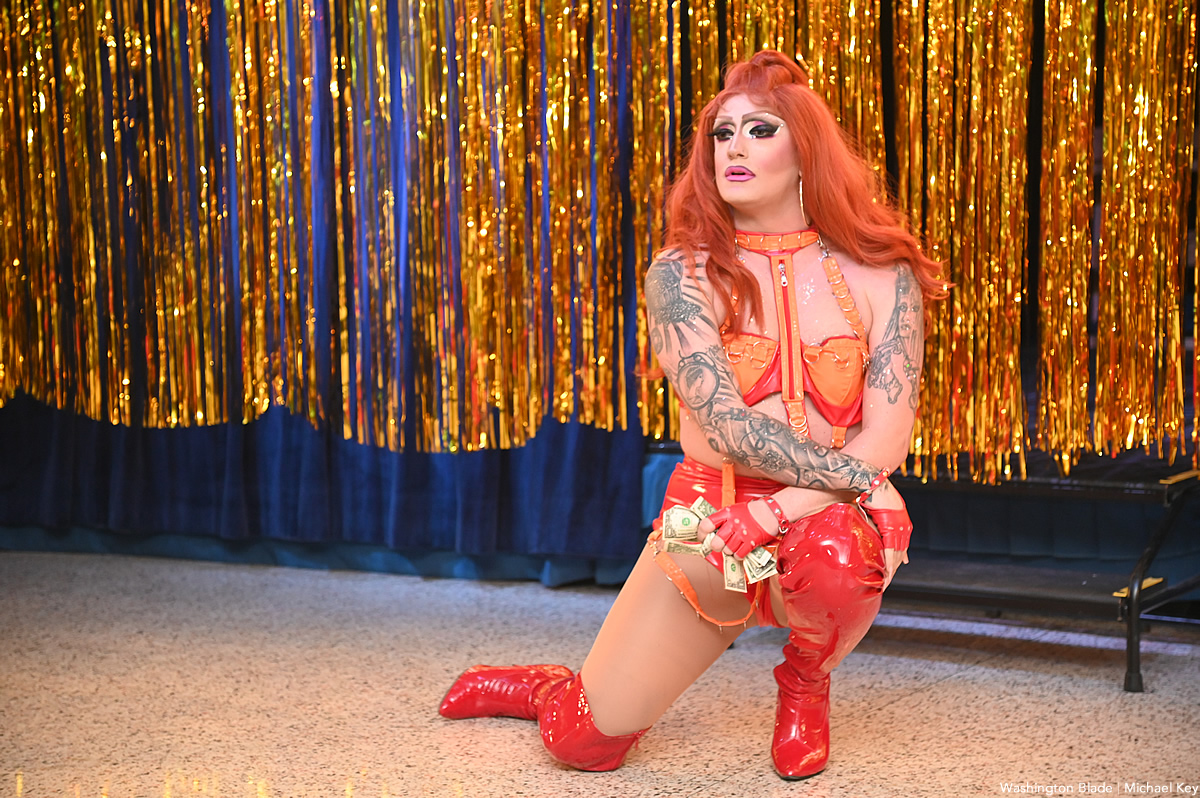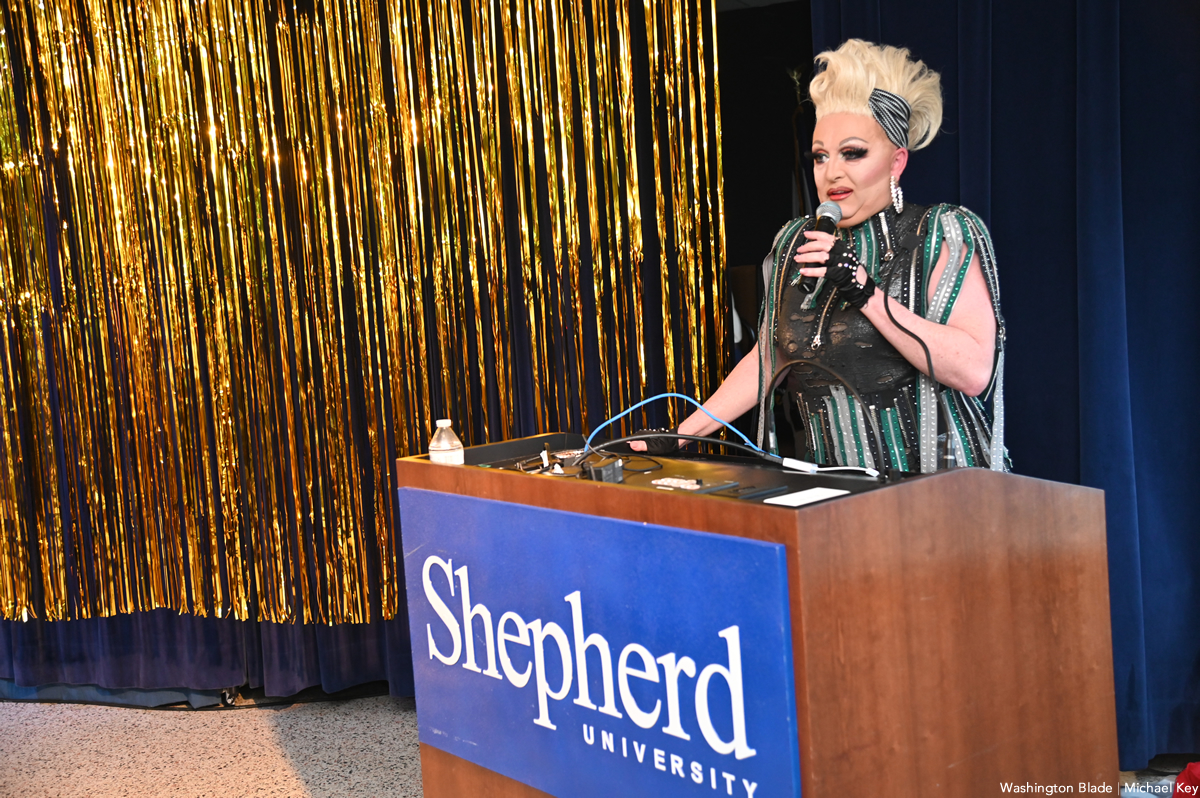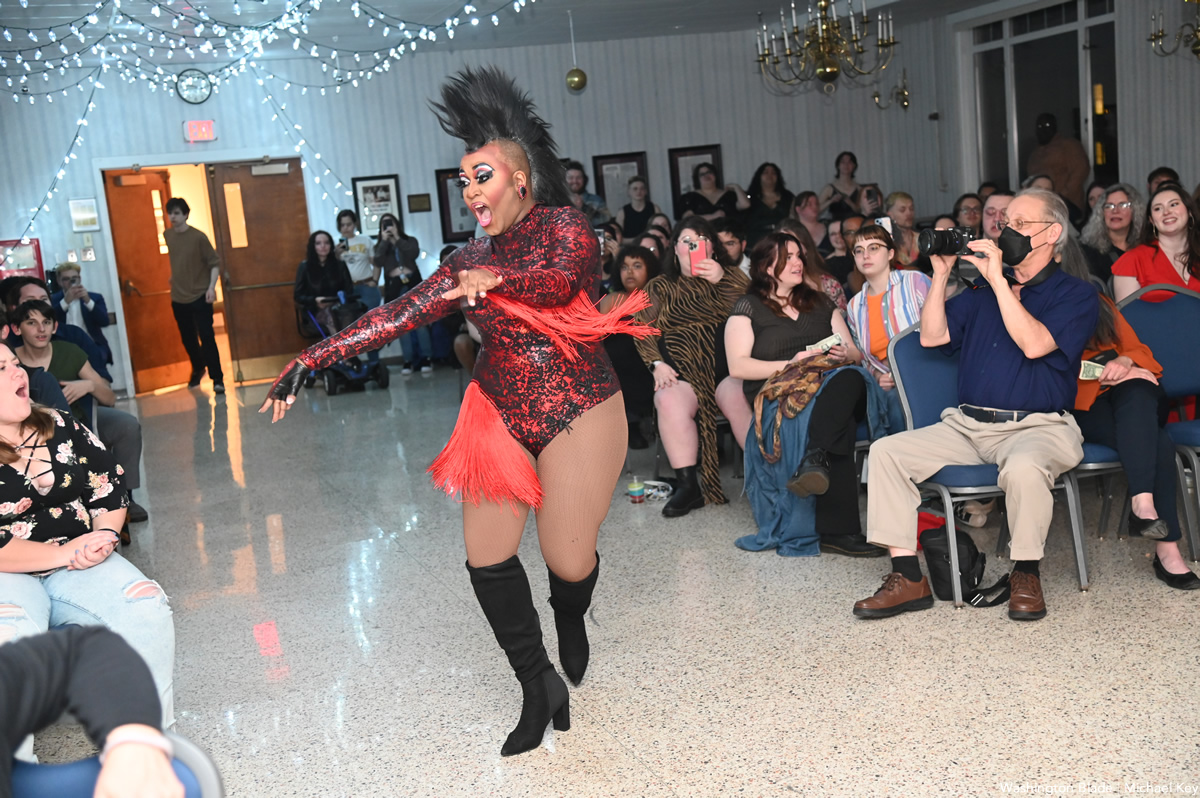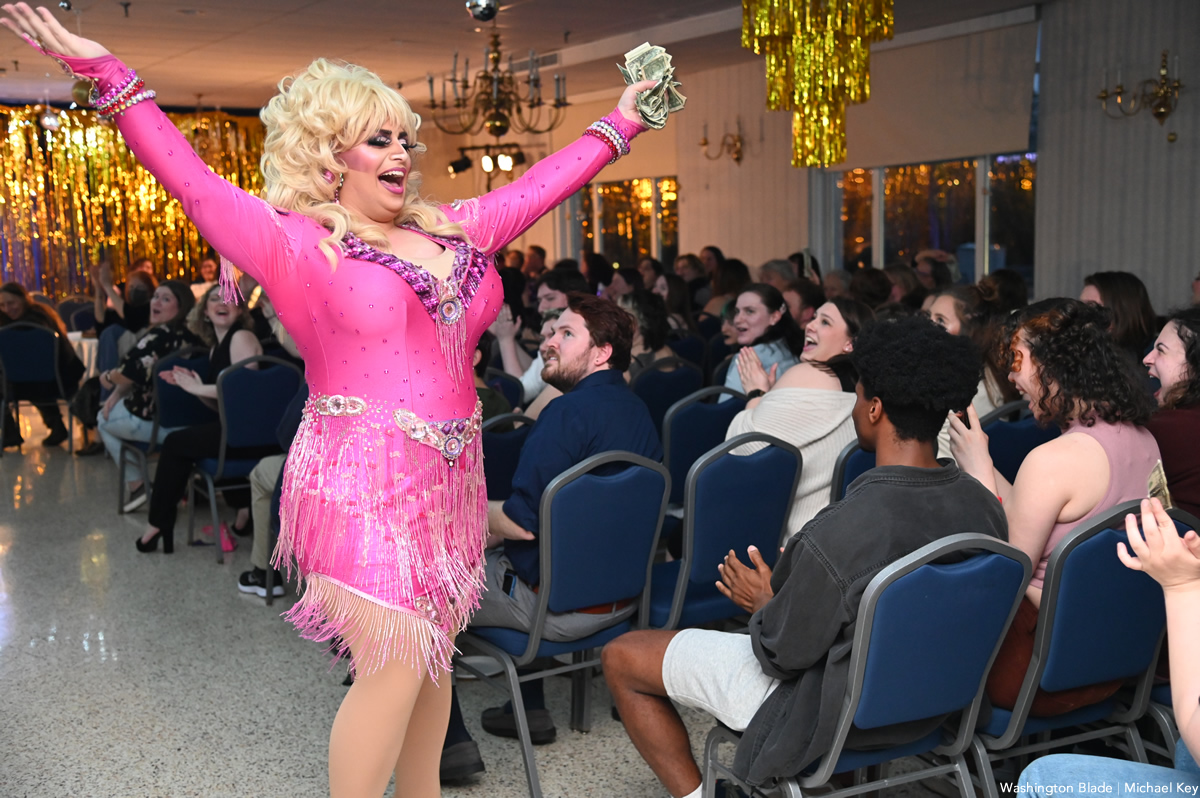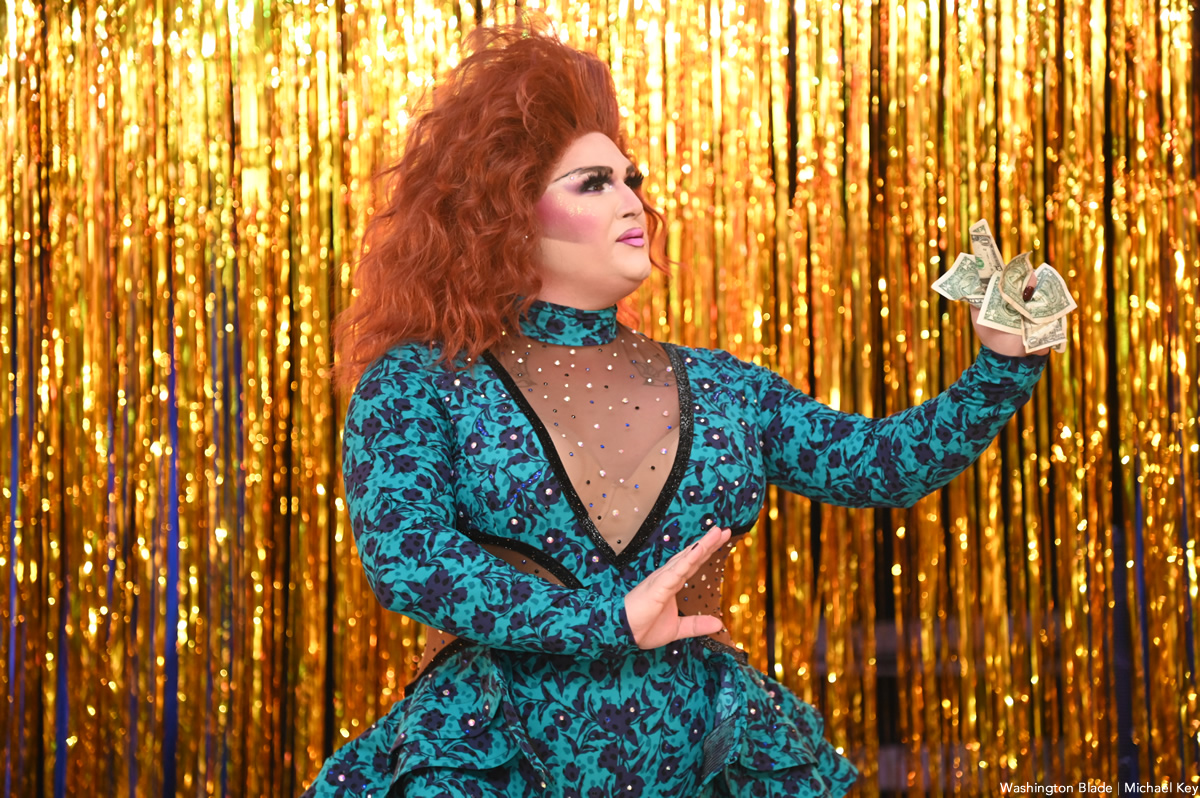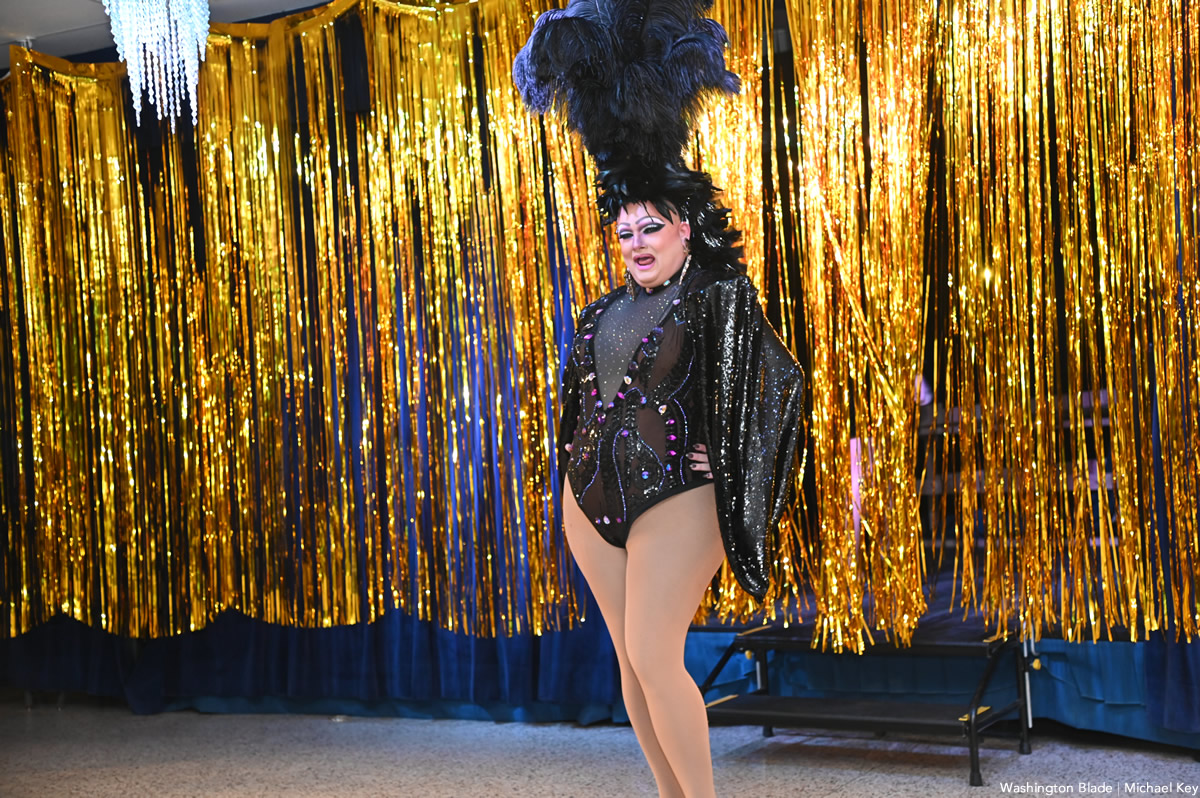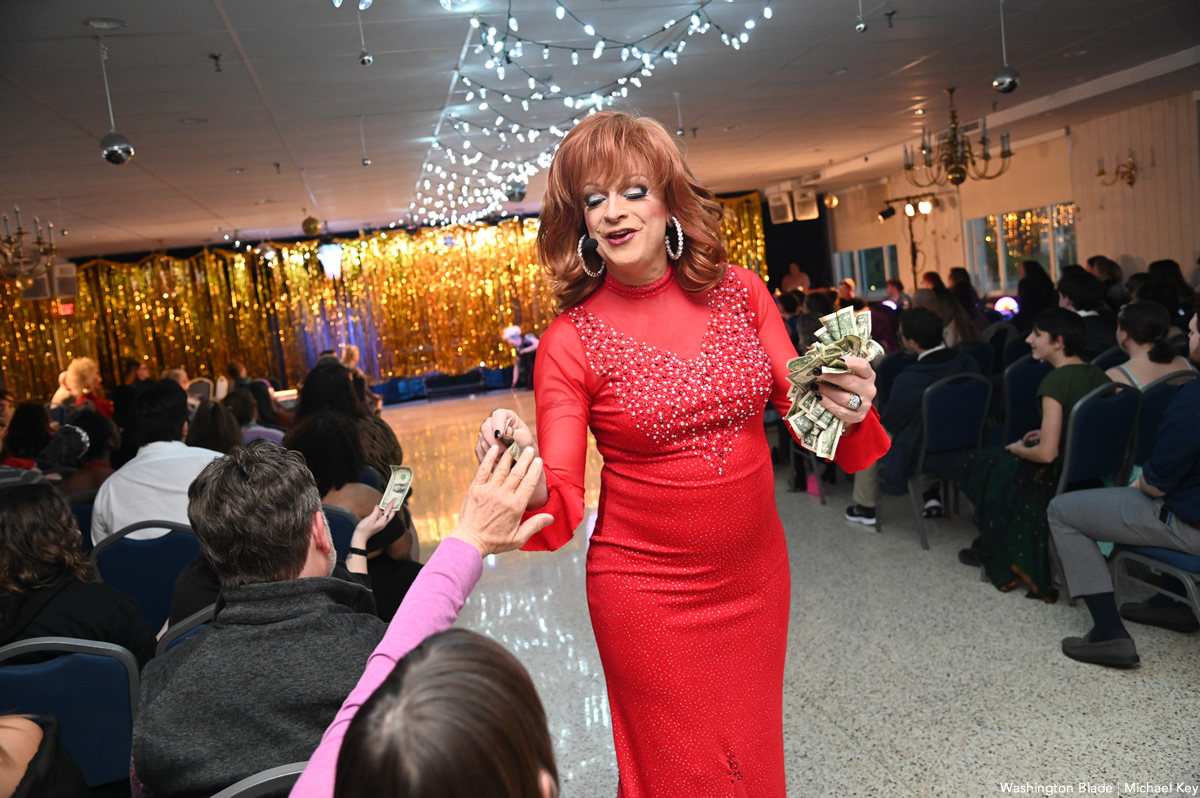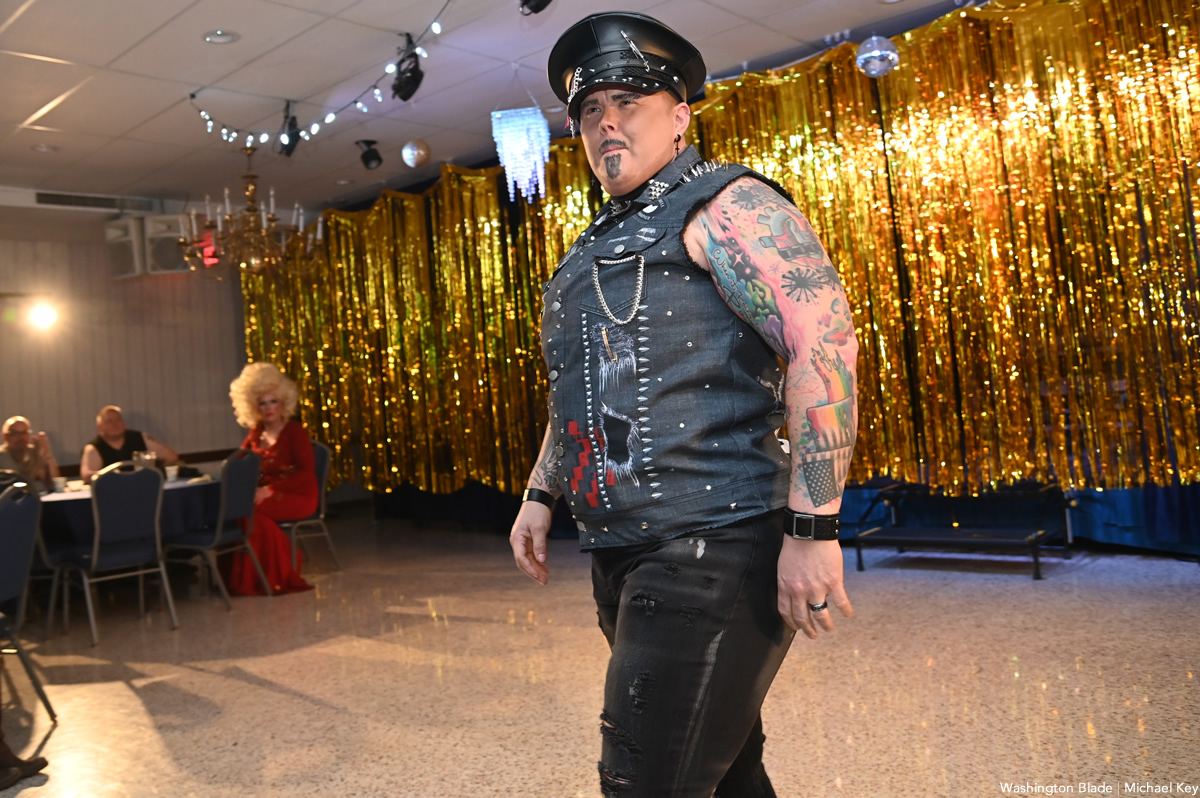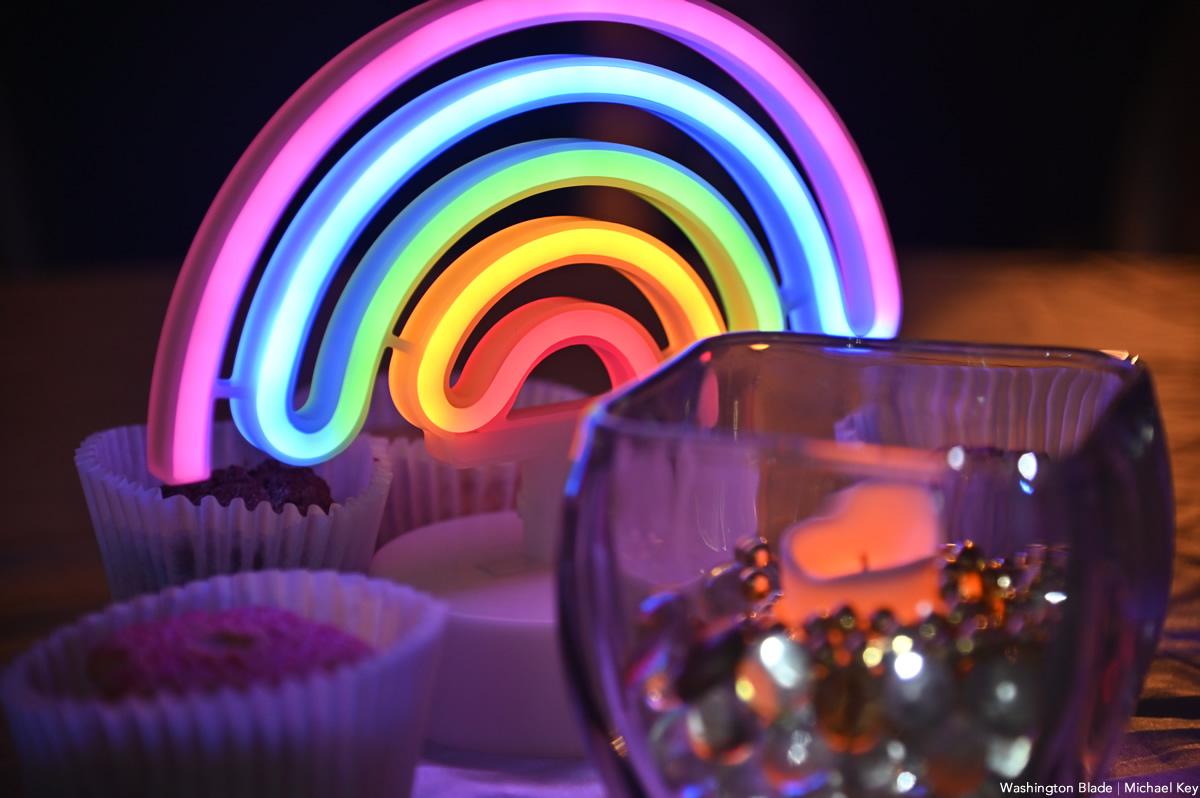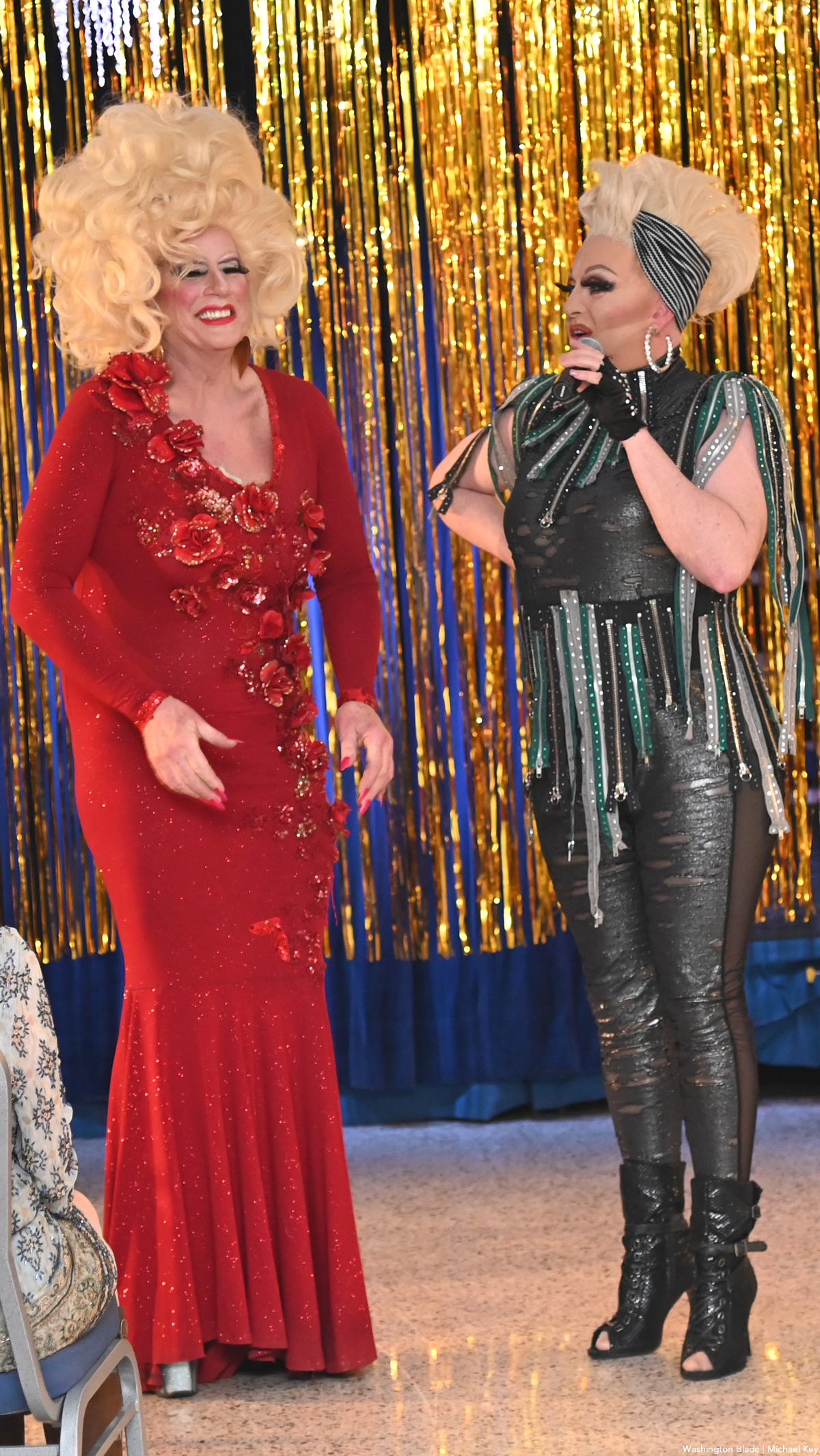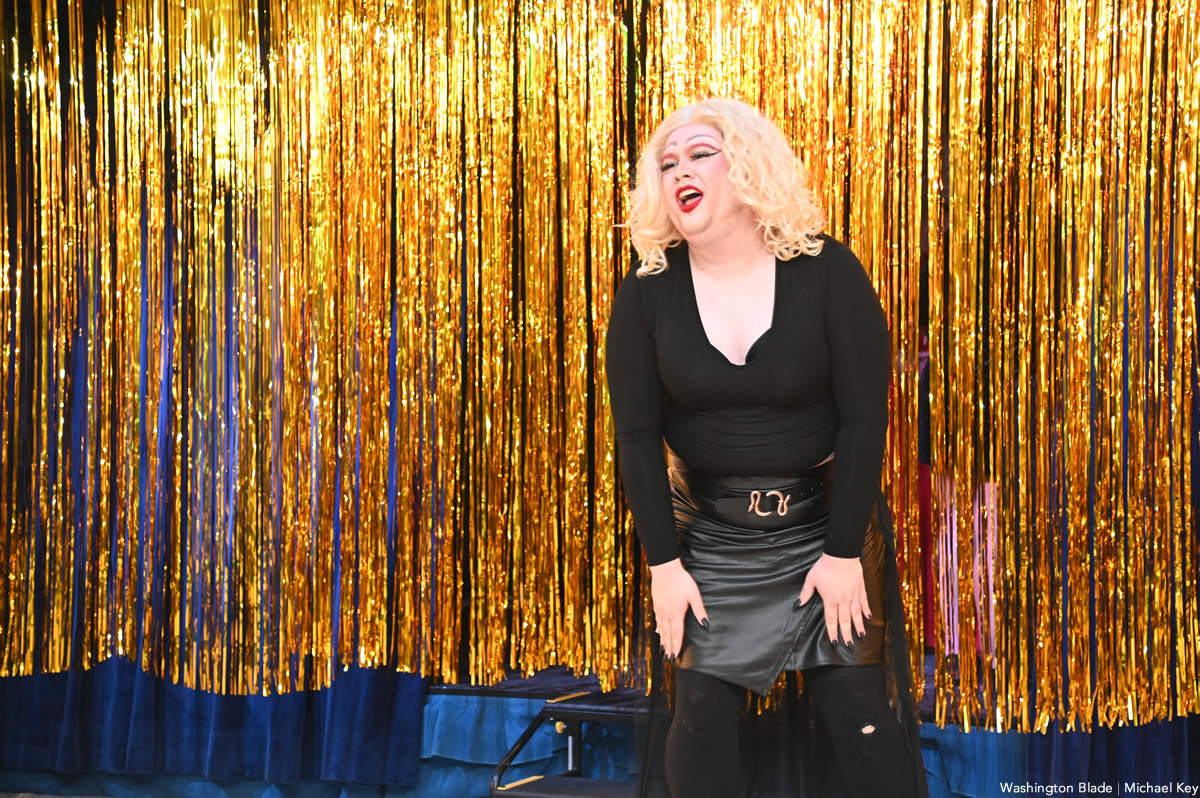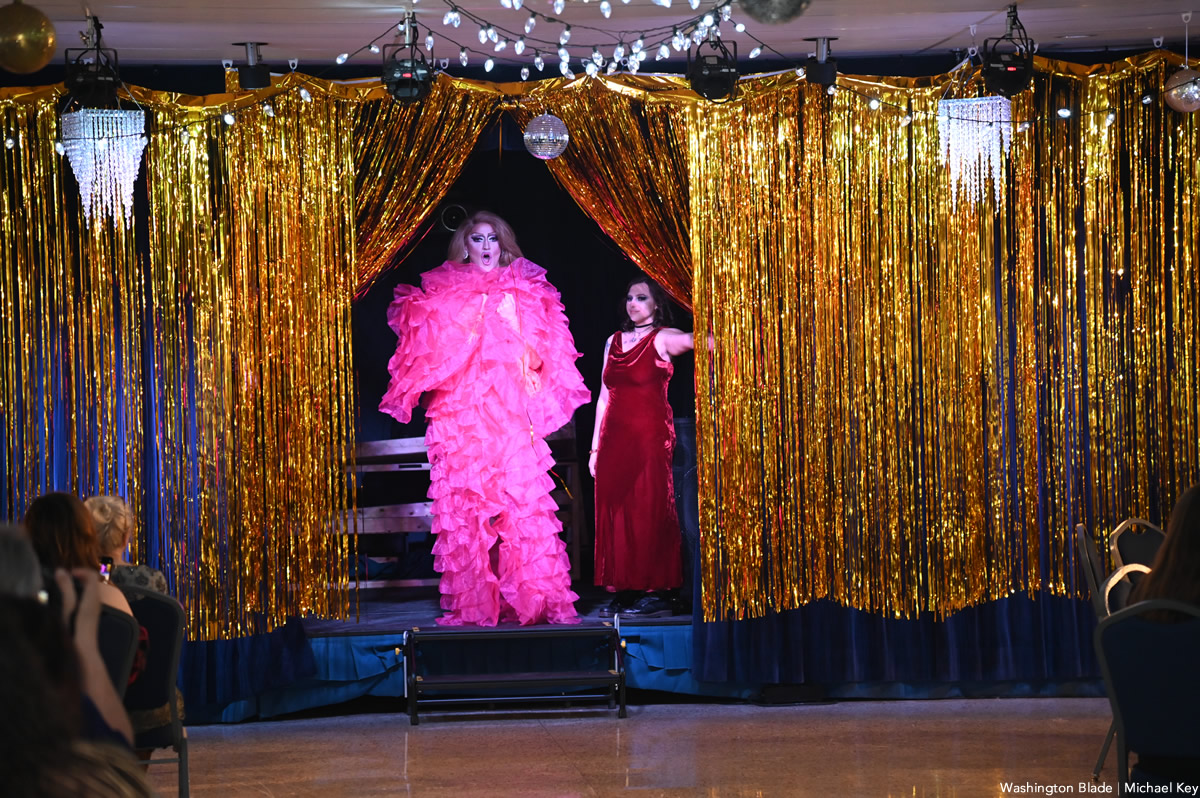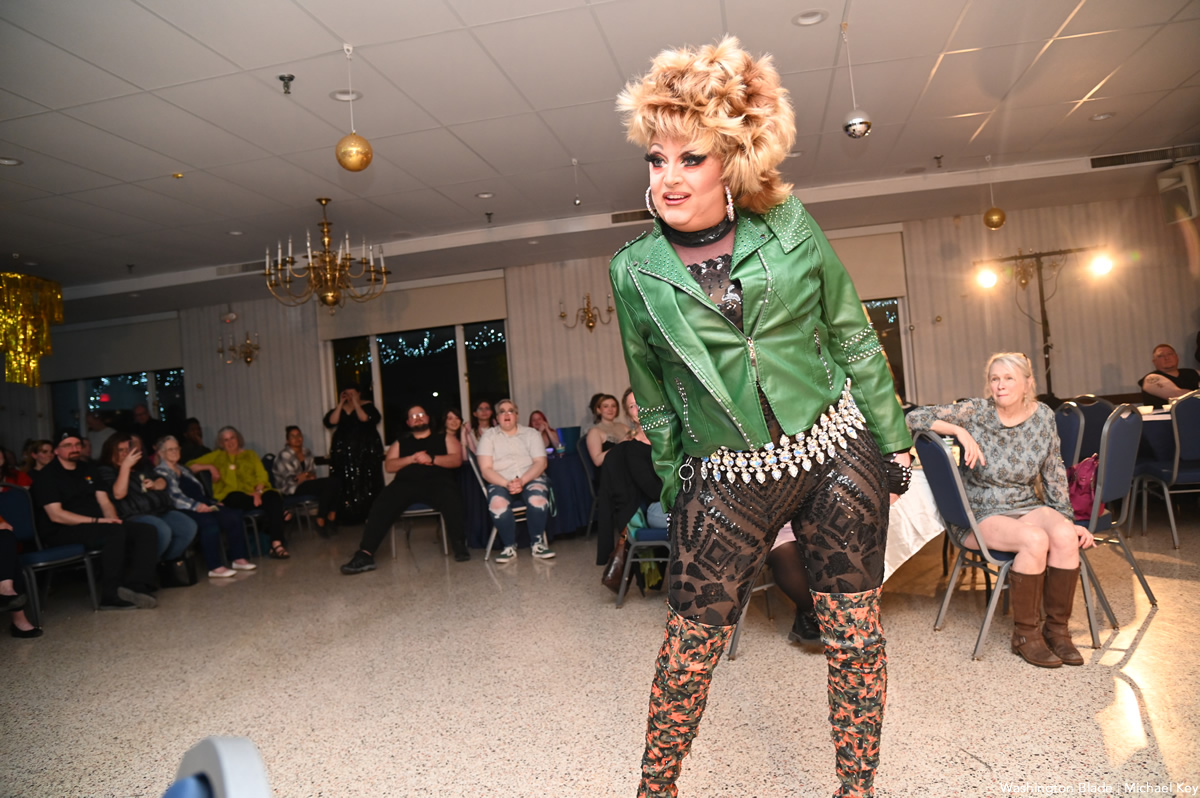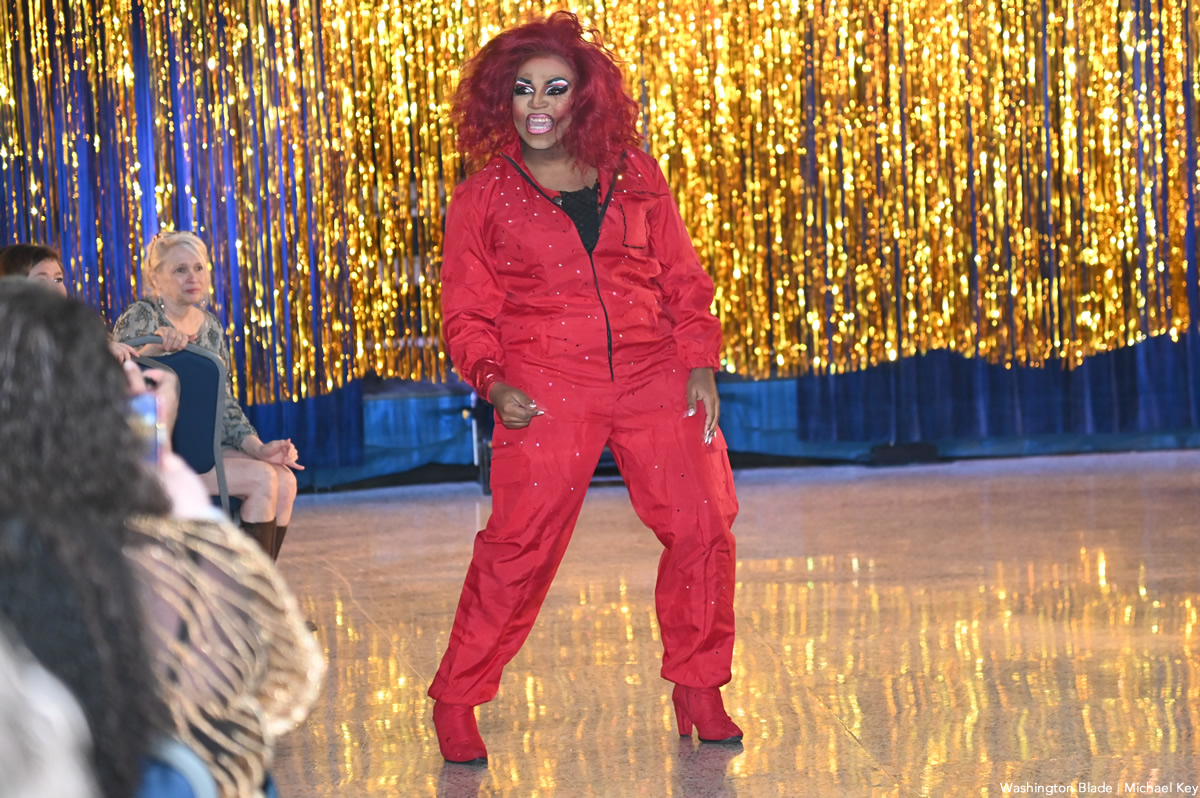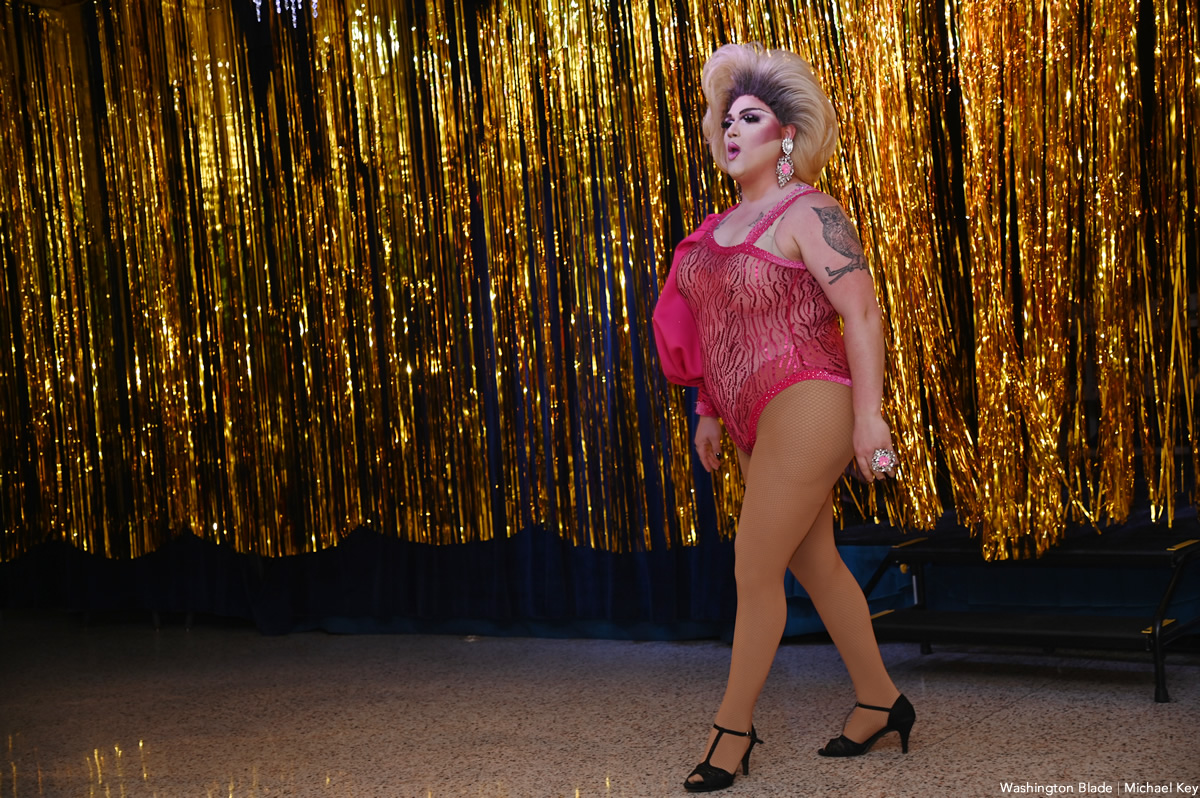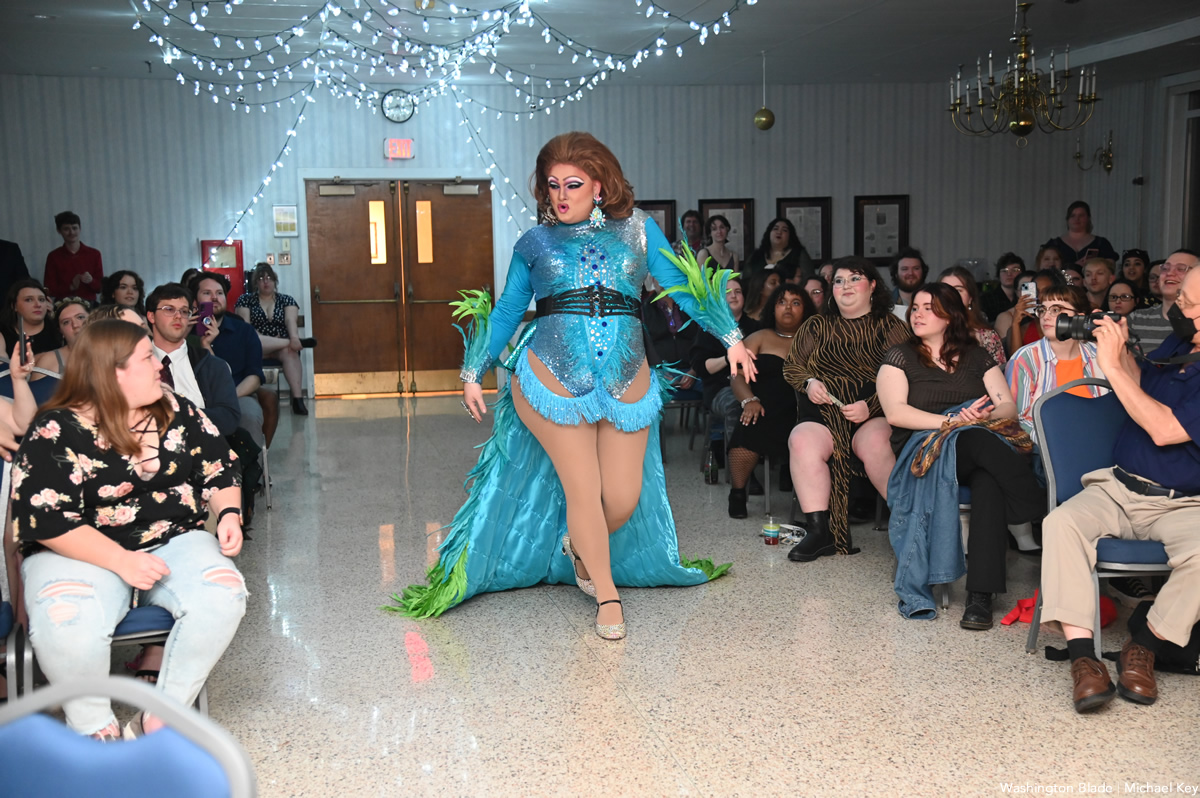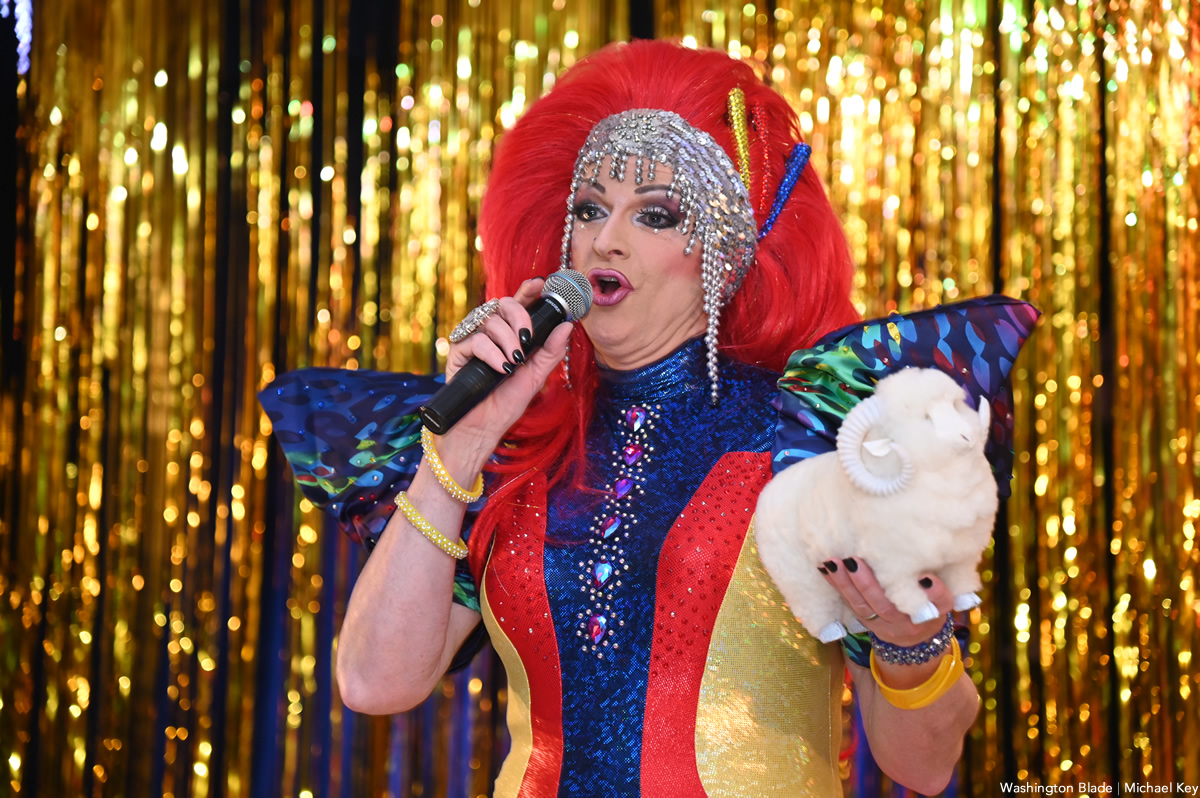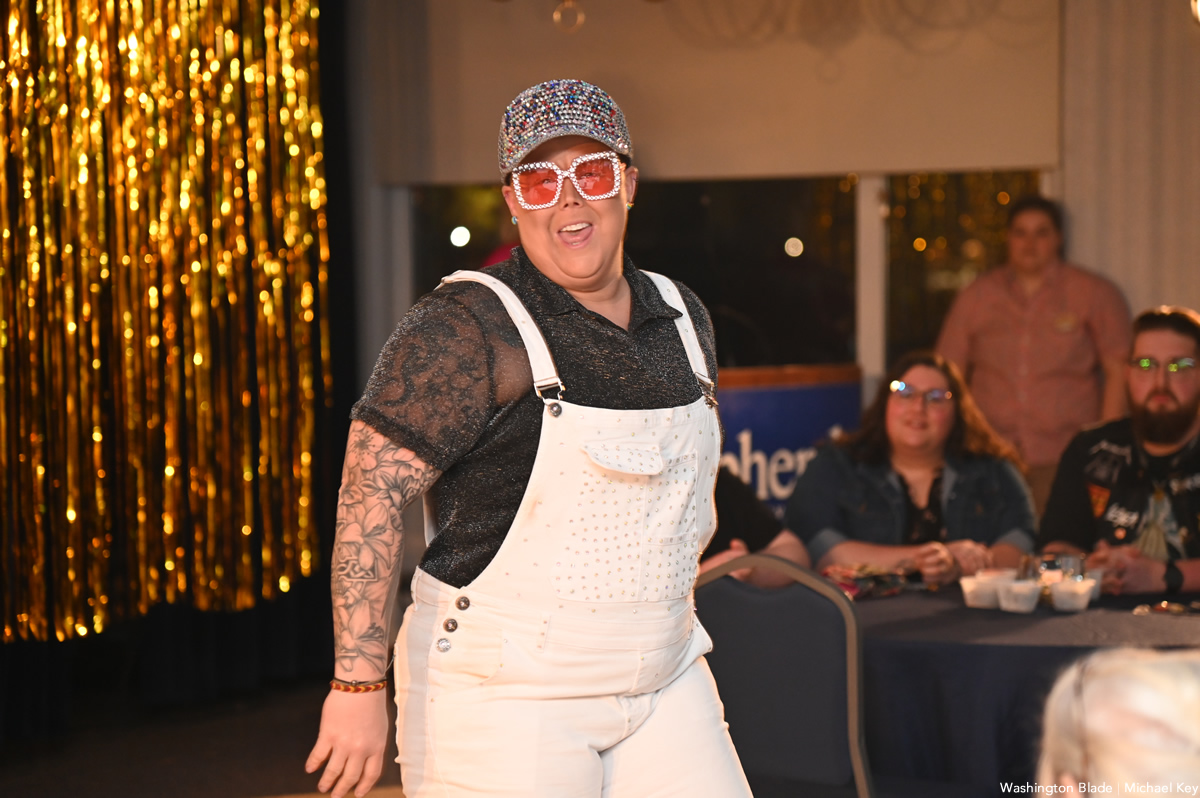 Covering a @HagerstownHopes benefit at @ShepherdU for @WashBlade . @ChasityVain performing: pic.twitter.com/Y4VpGmd3Dj

— Michael Patrick Key (@MichaelKeyWB) April 1, 2023
Washington National Opera honors Katherine Goforth
Award recognizes an artist who identifies as transgender or non-binary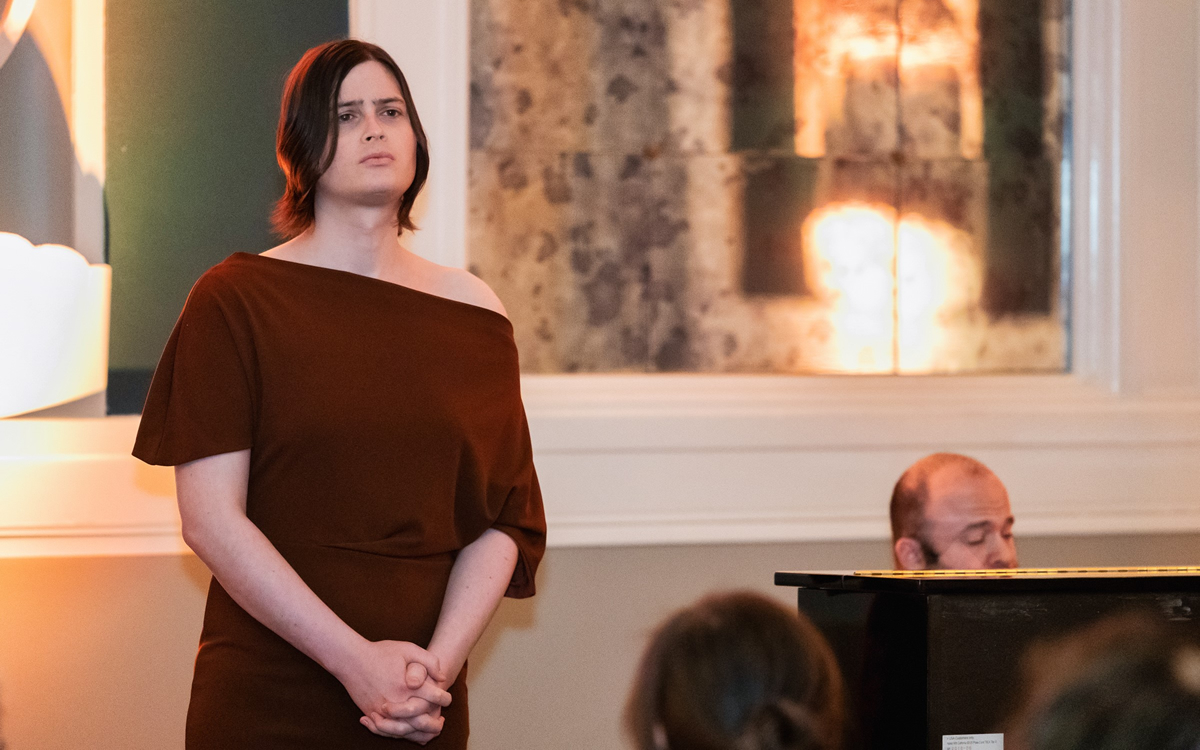 Katherine Goforth was recently announced as the inaugural recipient of Washington National Opera's True Voice Award. This award was created to provide training and increase the visibility of opera singers who self-identify as transgender and non-binary. Each recipient will receive a financial award and the chance to participate in career training, artistic coaching, and a performance with the Cafritz Young Artists. Recipients will also be presented by the Kennedy Center in a recital at the Millennium Stage. Goforth's recital will take place in May 2024.
The Washington Blade chatted with this talented singer about her artistic journey, experience as a trans opera singer, her future plans for her own career, and how she hopes to shape the field of opera.
Washington Blade: Can you share about your journey as an artist? How did you begin this journey and eventually pursue opera?
Katherine Goforth: I had an interest in music and singing for my entire life, but I looked at it as more of a hobby until my high school choir teacher required me to take voice lessons. After a few months of lessons, I started winning prizes and getting special attention for my singing, which meant a lot to me at the time because I was struggling a lot socially and at home. It was easy to dedicate myself to singing after that and hard to imagine pursuing another career.
Talking about art is a lot broader than talking about music for me. As a teenager, I attended Vancouver School of Arts and Academics, a public arts magnet middle and high school, and we had arts education integrated into most of our subjects. Some of my most memorable projects were a mural painted on school windows I co-designed and co-created, a mockumentary film about the meaning of art, and the semi-opera I composed as my senior year capstone project.
Since I was a kid, I felt like I had something to prove and have always tried to do more than what others thought possible in my performing and creative work. It has only been since I transitioned that I really started to feel like I was enough. The part of me that wanted to prove myself could calm down and I learned that it is enough for me when I stand in my own values and desires.
Blade: What has been your experience as a trans person in the field of opera?
Goforth: As a young person coming into a sense of trans and gender non-conforming identity, opera was a damaging space to be part of. At the time, I believed there was no way to actualize my gender identity and continue working. Sure, there were queer people in opera, but almost all of them were straight-presenting men—and those who weren't, didn't seem to get the same opportunities. I have a strong memory of seeing the news about the premiere of As One [a chamber opera with a sole transgender protagonist]in 2014. It was the first time I had heard anyone mention trans people in an opera space. I don't know how much this has changed for students, but I do think that fewer people are postponing their transitions for the sake of working in this industry, which is good.
I haven't worked in opera very much since I came out and it will be interesting to see how that develops over the next few years. I've heard a lot of people say that major opera companies aren't ready for trans singers yet, but I hope they're wrong. My struggle is that I feel much happier playing female characters, but I'm not capable of singing soprano-alto roles on stage right now. That's something I hope will change in the future, but I think it's important for me to accept my voice and try to find affirming projects to work on with the voice that I have.
I'm going to Europe this summer to sing in the premieres of Philip Venables and Ted Huffman's The Faggots and Their Friends Between Revolutions, which is an adaptation of a novel by Larry Mitchell. My sense is that, although I love singing standard rep, the work that will feel best to me as a human being is contemporary opera. There are new works coming out all the time where a character's vocal range isn't restricted by their gender, or where parts are written to be affirming to trans singers. It's an amazing experience to work on roles like that, like the non-binary protagonist in Drew Swatosh and Brian Dang's If Only I Could Give You The Sun, a role I premiered.
For me, the bottom line is that even in a perfectly affirming opera space, there's a lot for me to navigate. We haven't even gotten into the contrast between the project of self-actualization that, for me, defines transition and the way control is exercised over singers in the operatic space. It is hard to spend your whole life working on being your authentic self only to then step into an industry where self-identity is encouraged only if you have the right identity. I'm not going back into any closet.
Blade: Congratulations on being the inaugural True Voice Award recipient. How do you hope to use this award as a platform to further your career, and more broadly, shape the field of opera?
Goforth: I'd like to thank Washington National Opera, Kimberly Reed, Laura Kaminsky, Mark Campbell, and the rest of the selection committee for choosing me for this award. When I decided to come out, I wasn't sure if I was going to be able to work in this industry again. It seems to me that trans people have never had this level of institutional support in our industry. I'm honored to receive it, but I'm also aware of all the other people who competed for this award and ways that my selection leaves them out.
For me, I think my next step is getting out of a young artist box, getting management, and moving into a career where I'm making a living wage from singing without any second or side jobs, singing lead roles instead of supporting roles, and taking the creative work that I develop to the next level.
PHOTOS: Jackie Cox and Jan at Pitchers
RuPaul's Drag Race alums join local performers at gay sports bar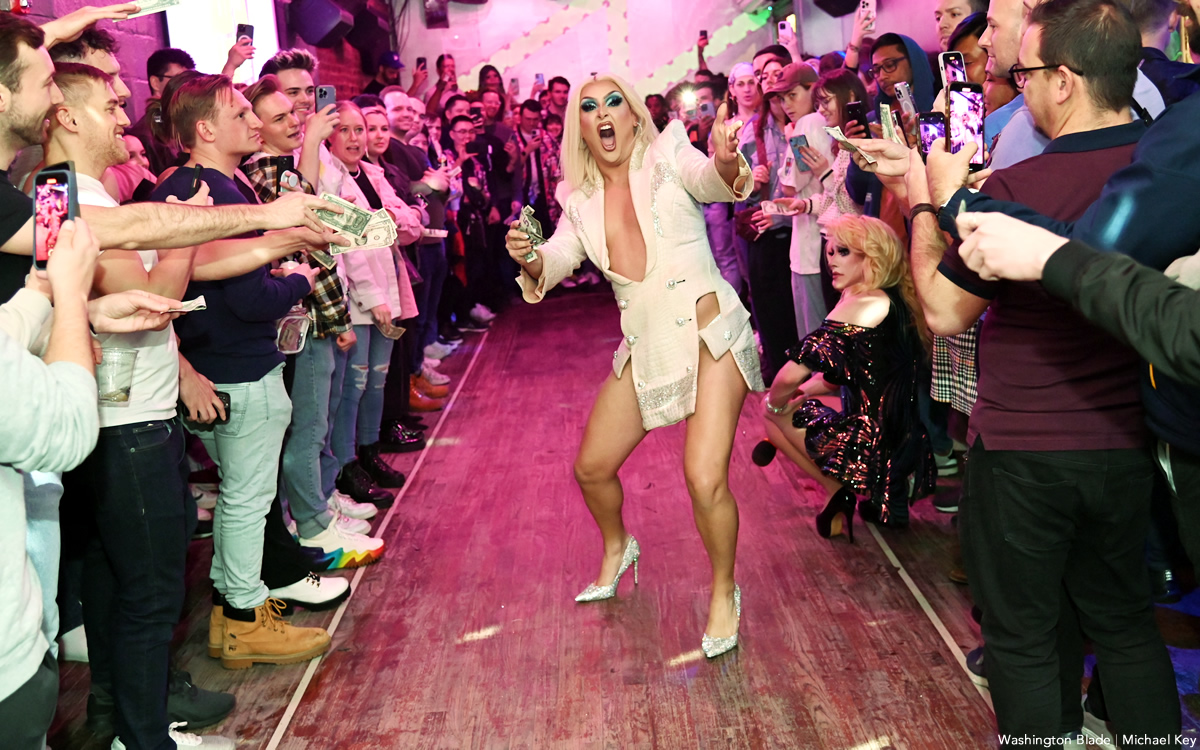 RuPaul's Drag Race alums Jackie Cox and Jan performed at Pitchers DC on Wednesday, March 29. Other performers included Cake Pop!, Venus Valhalla, Brooklyn Heights, Jayzeer Shantey and Logan Stone.
(Washington Blade photos by Michael Key)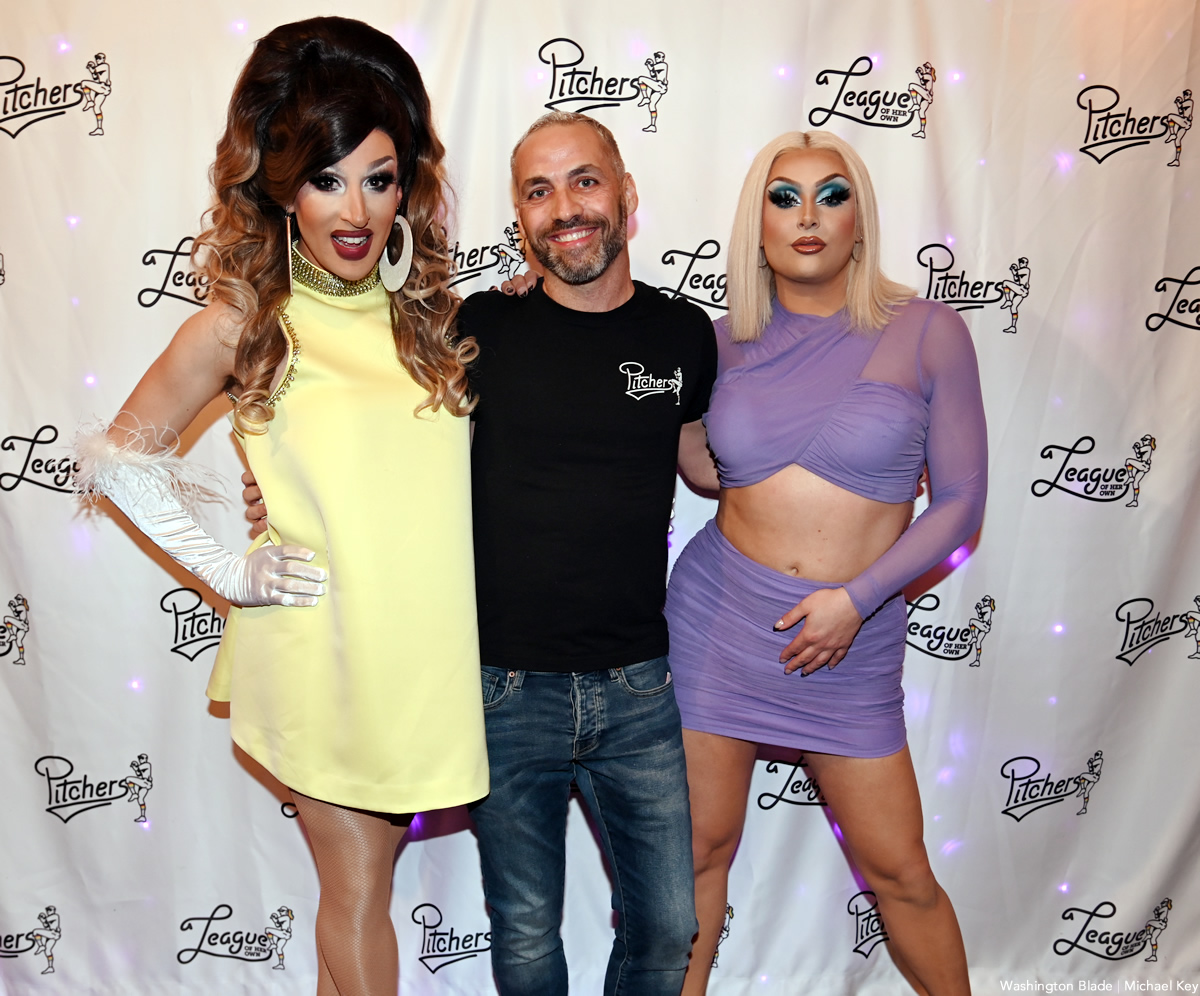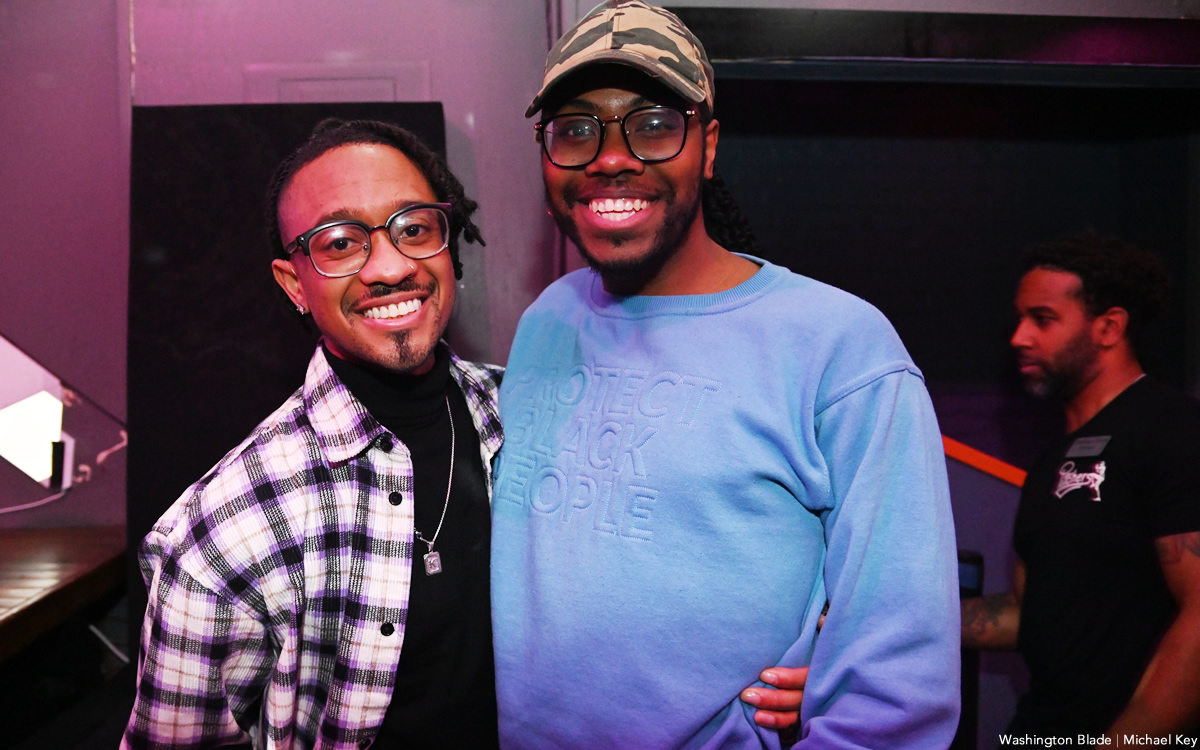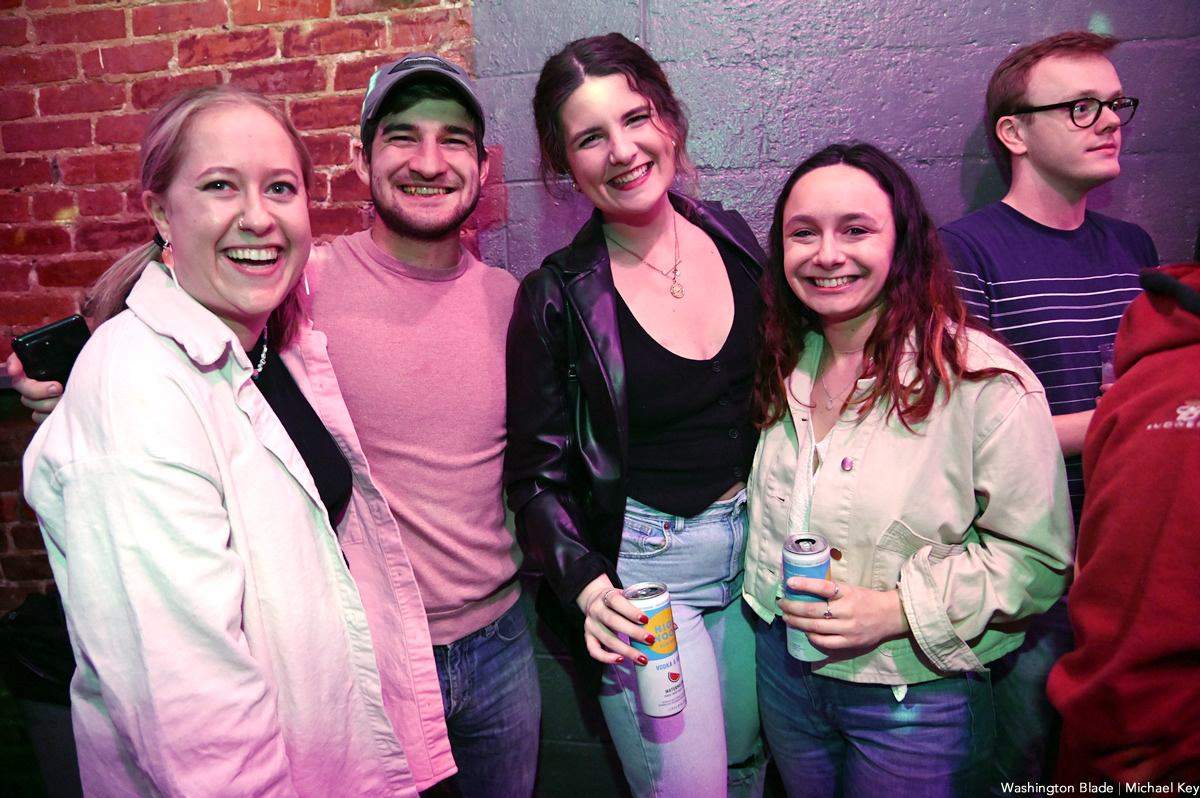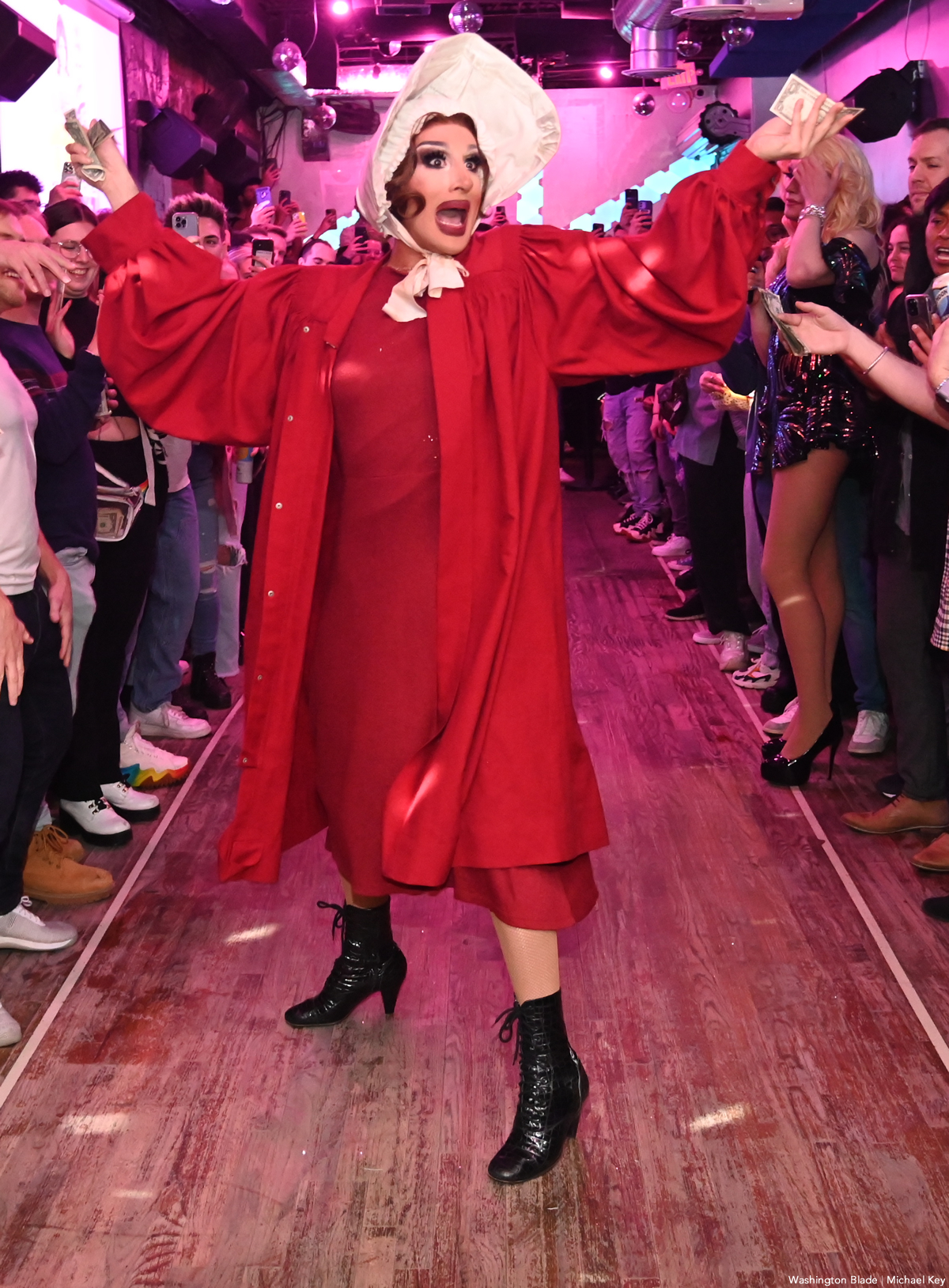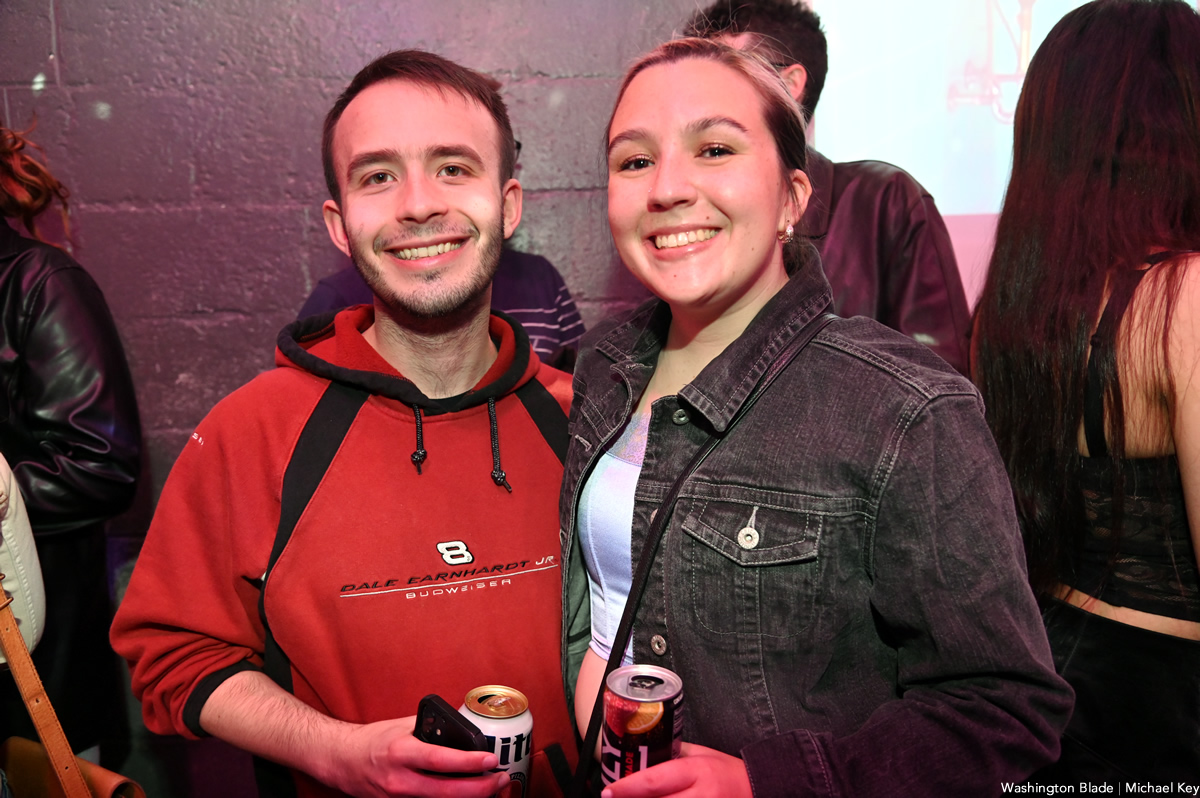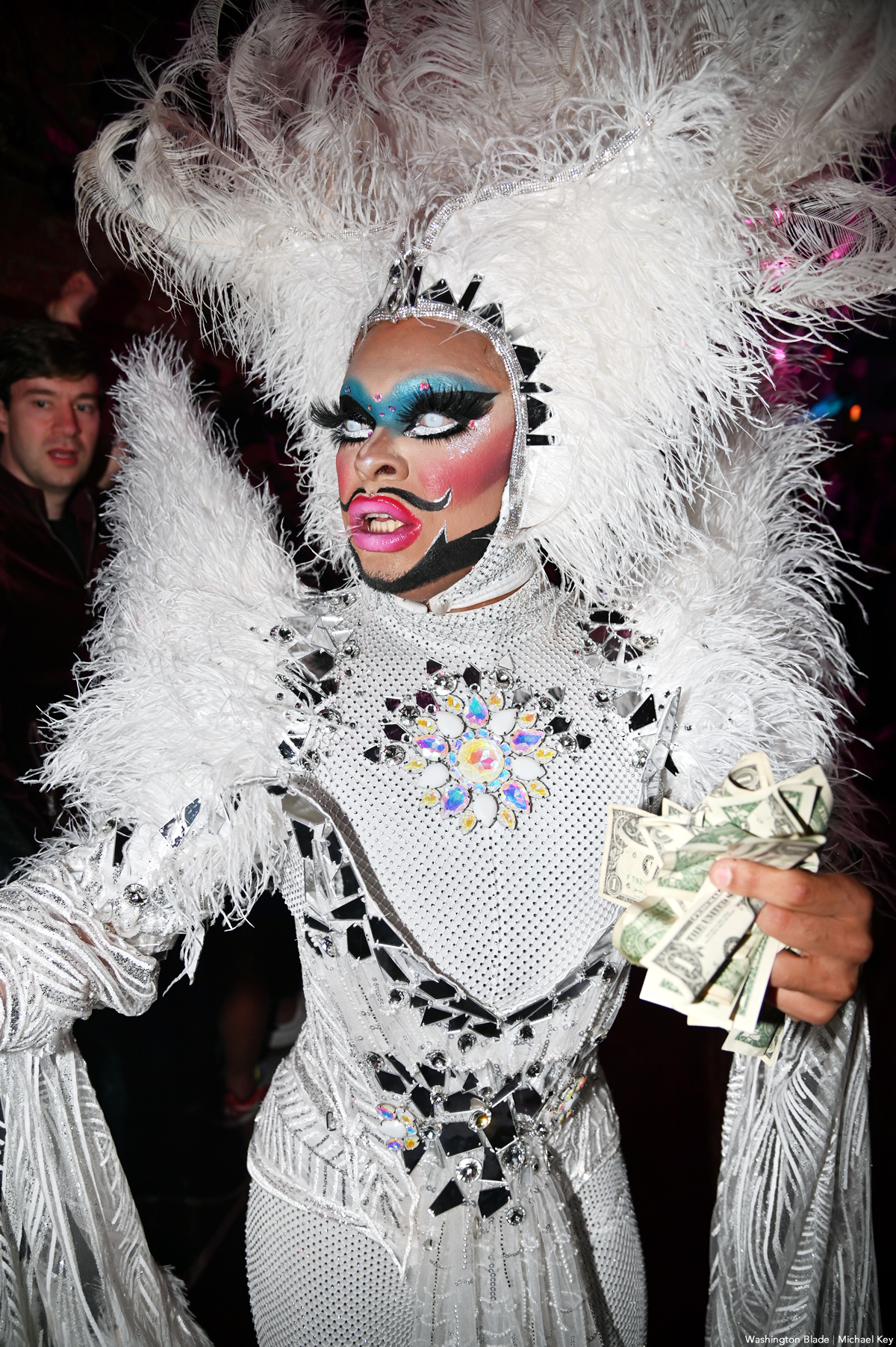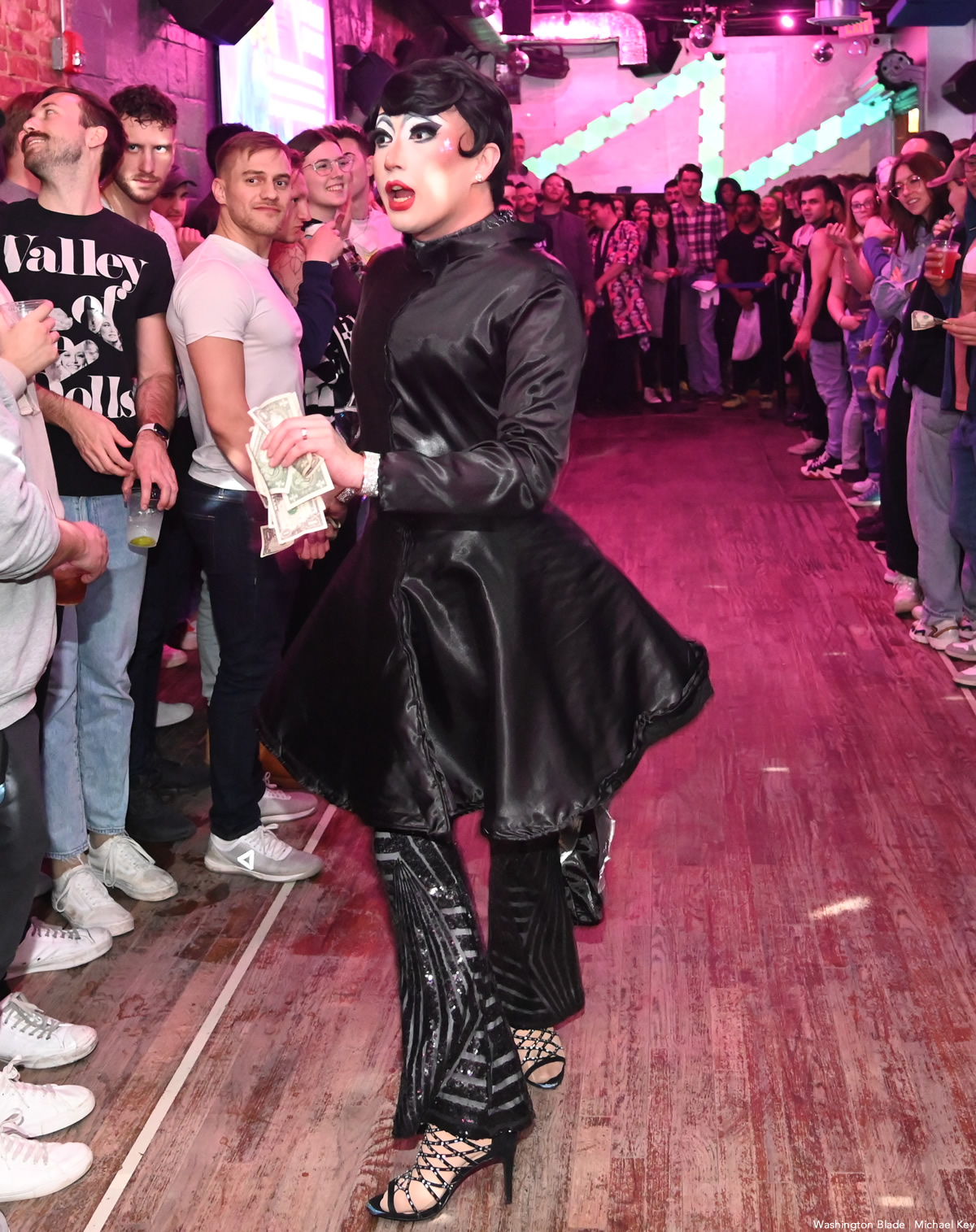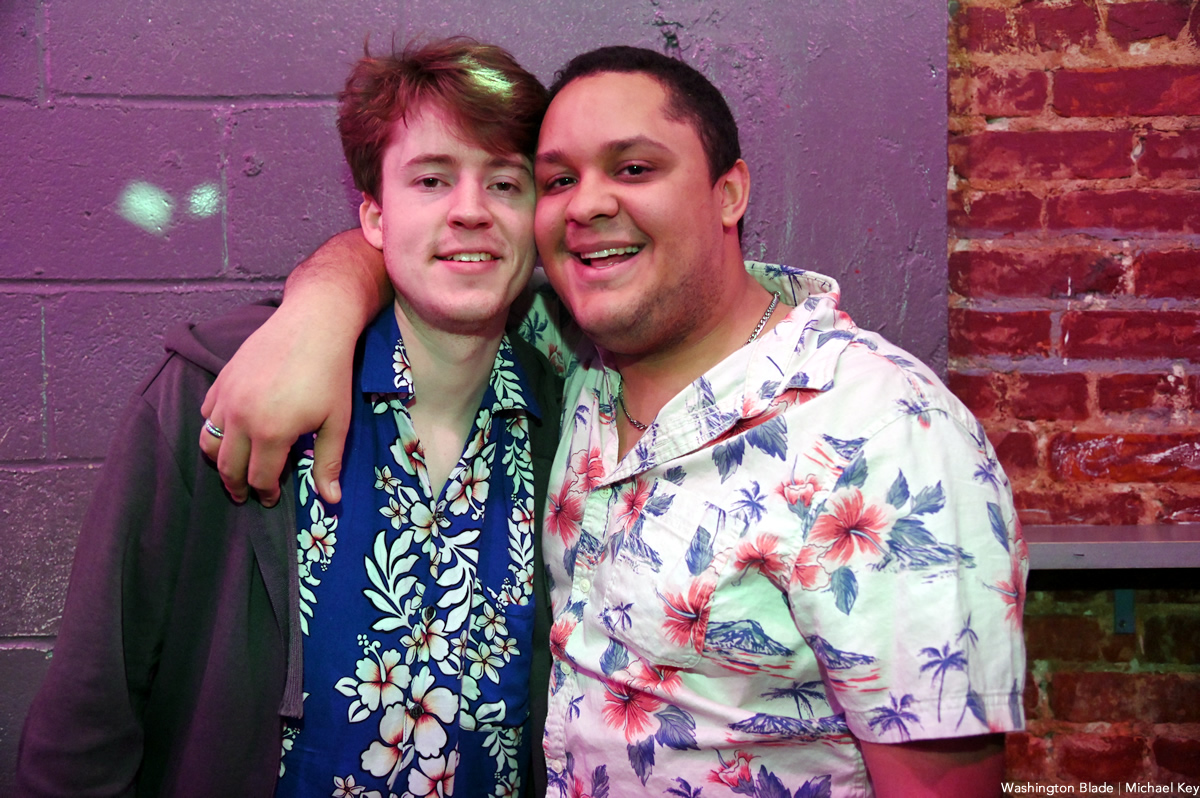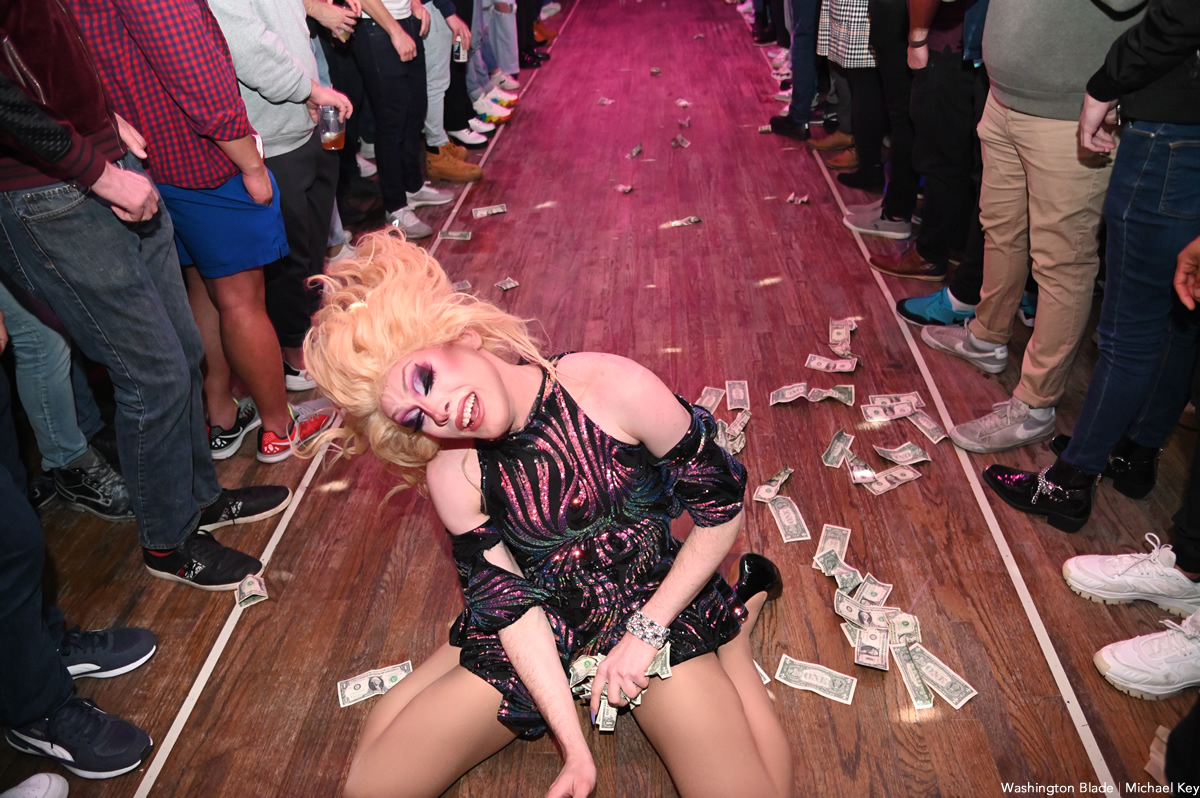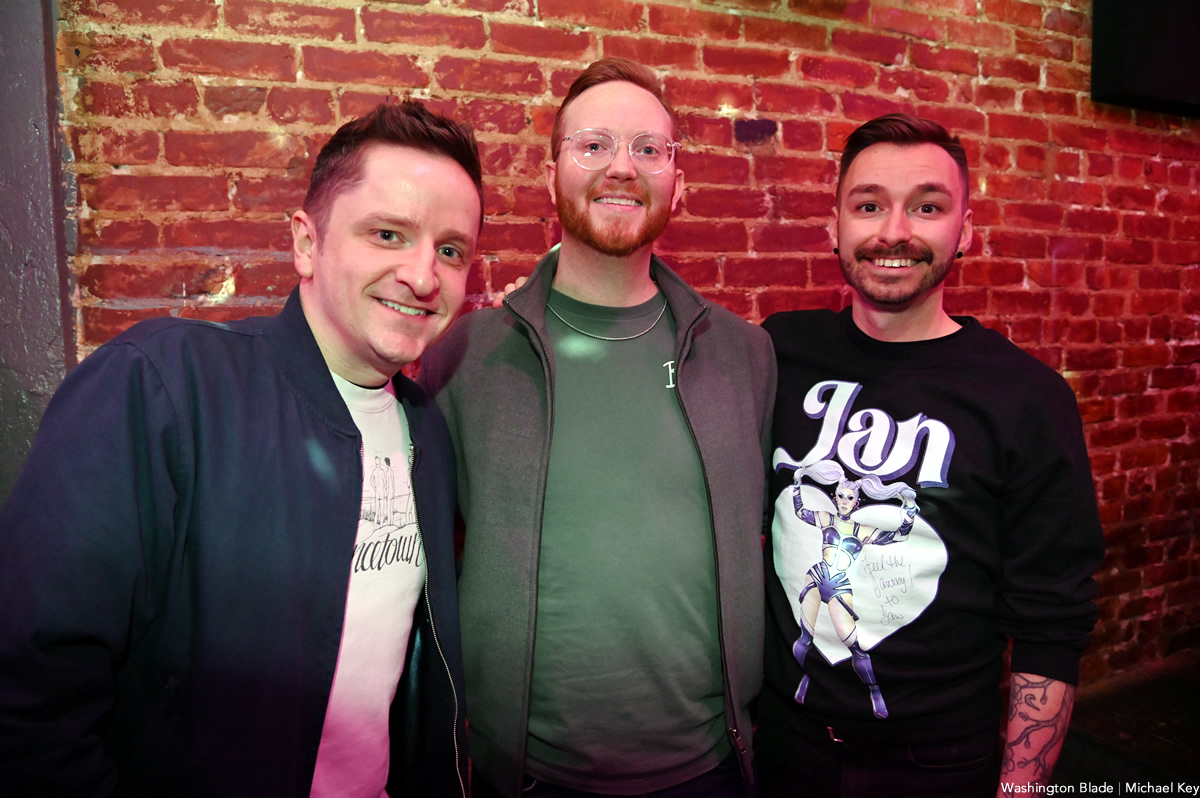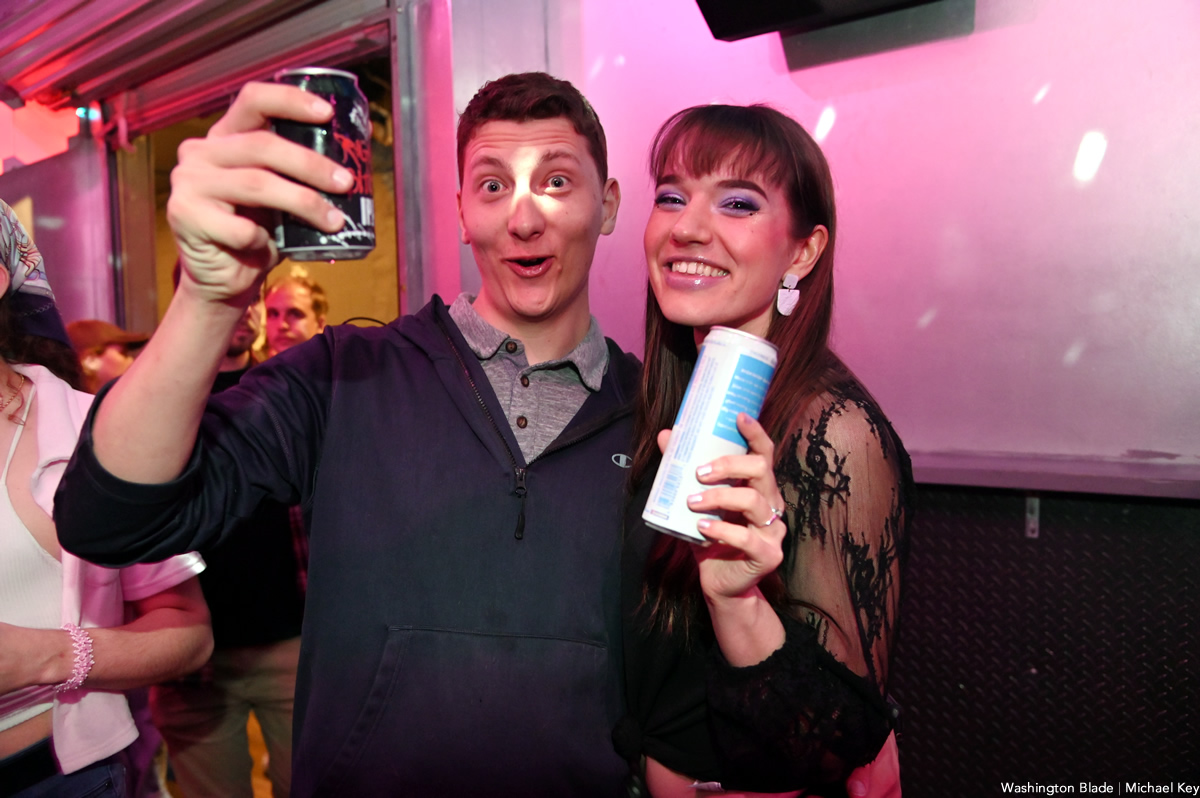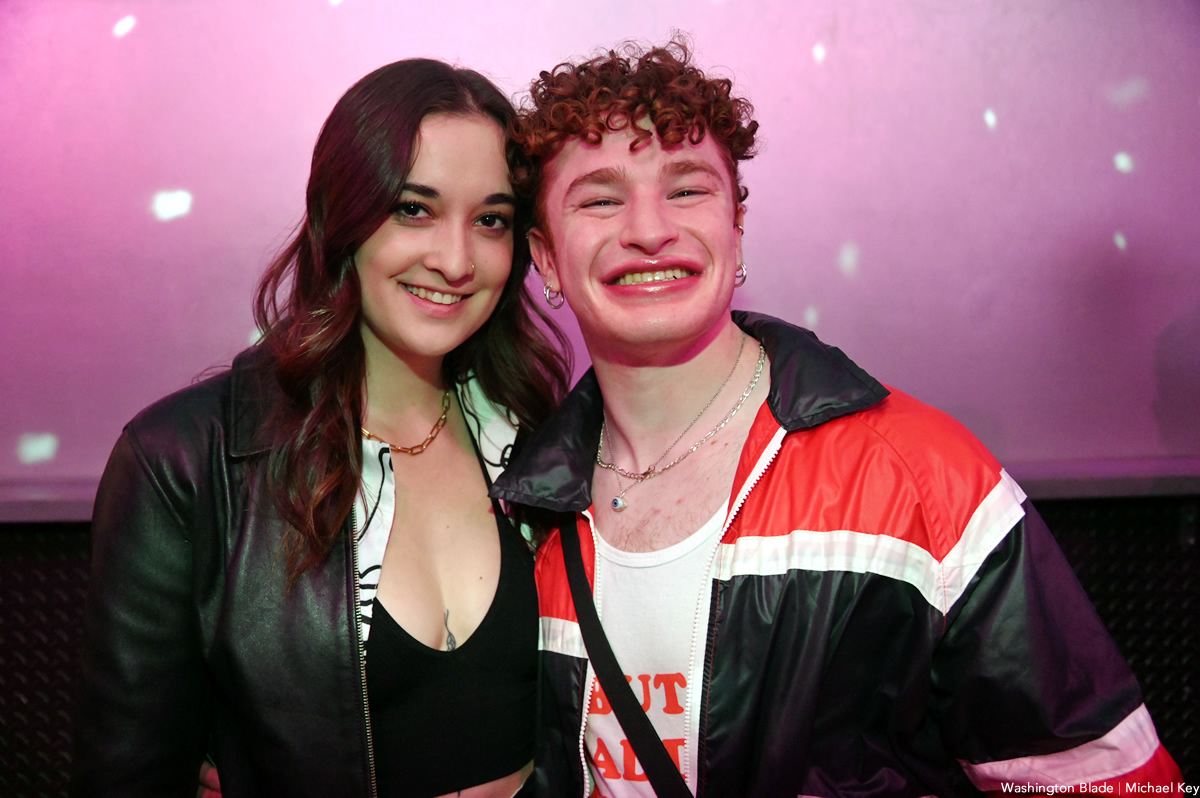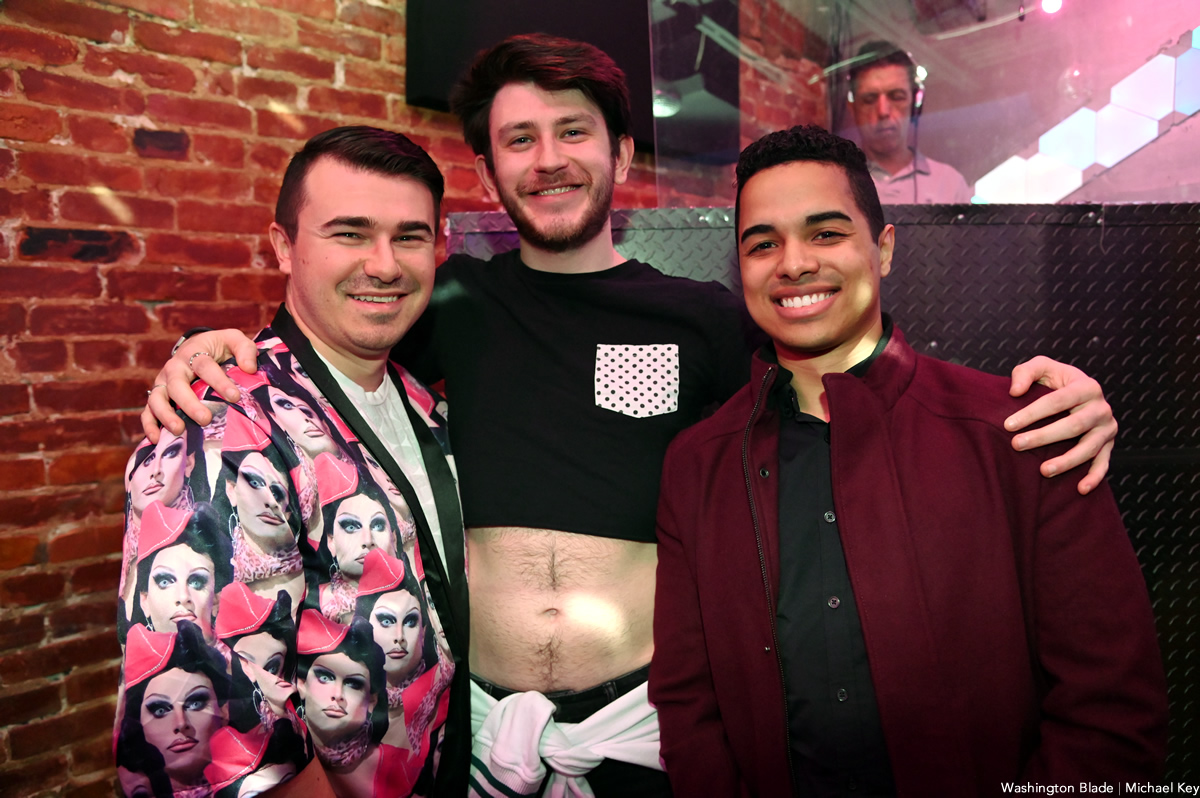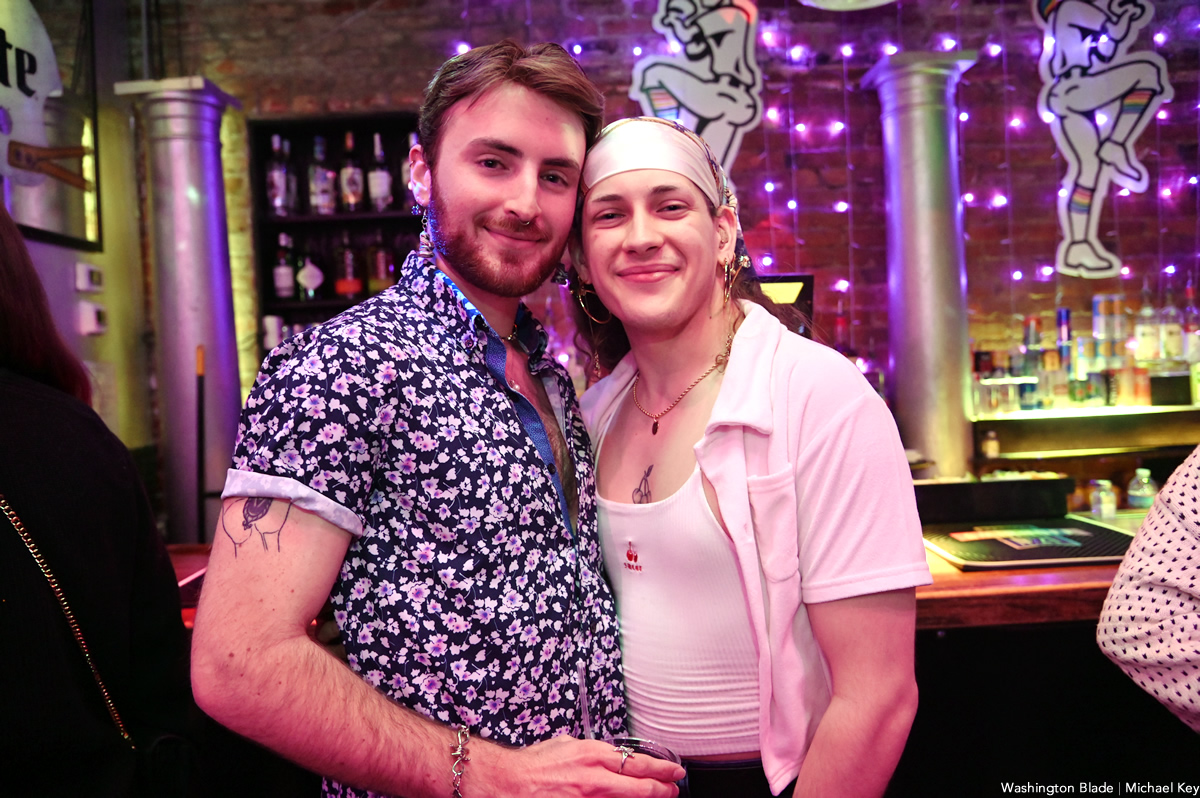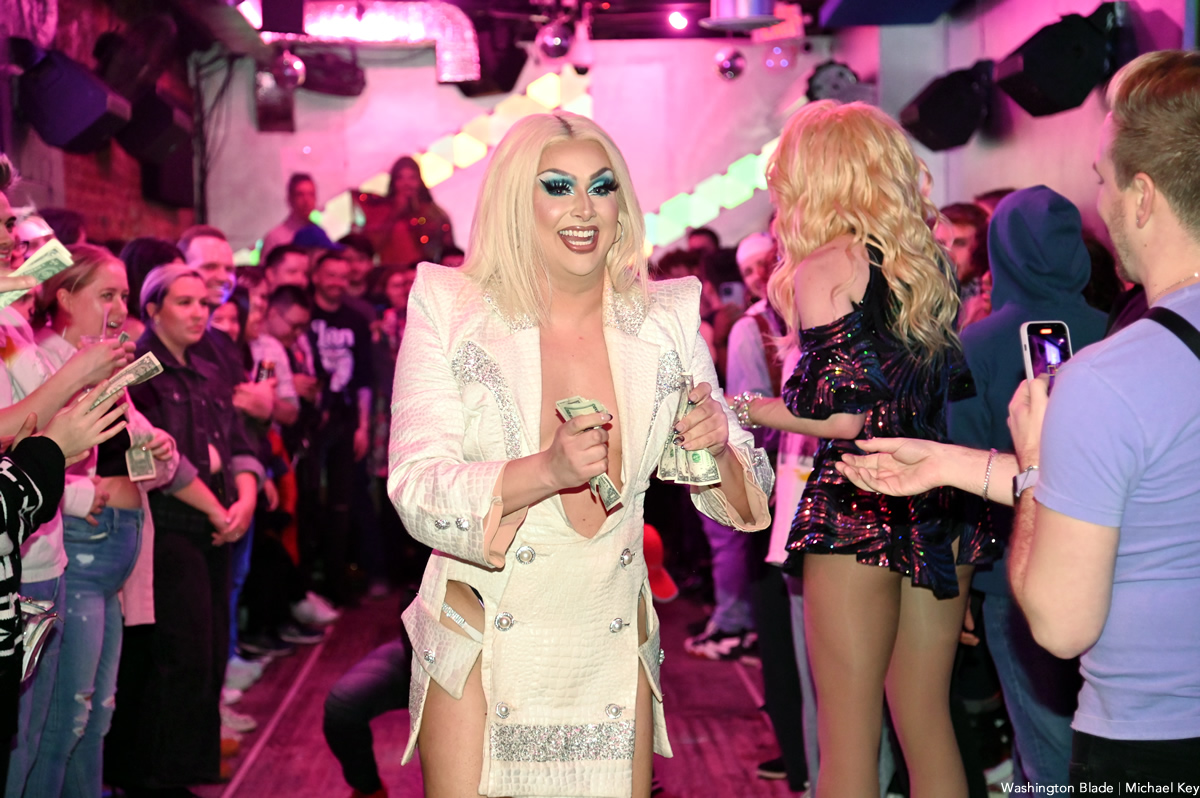 Covering @RuPaulsDragRace @JackieCoxNYC at @PitchersDC for @WashBlade . pic.twitter.com/DkB4P3GrJC

— Michael Patrick Key (@MichaelKeyWB) March 30, 2023