Stein Club president withdraws from consideration for new club election
Special meeting on Wednesday to consider invaliding Dec. 3 election of new slate of officers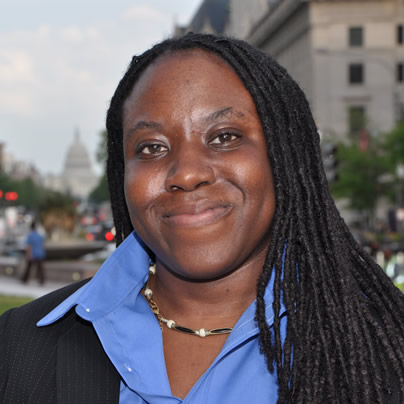 Lateefah Williams, the president of the Gertrude Stein Democratic Club who lost her race for a second term in the club's Dec. 3 election, announced on Sunday that she won't be a candidate if the club decides to invalidate the balloting for her seat and calls a new election.
Her announcement comes in the wake of an uproar among many of the club's longtime members over the successful campaign by three young activists who won control of the club by defeating Williams and two vice presidential candidates running on Williams' slate.
Gay political consultant Martin Garcia, 27, who beat Williams by a vote of 47 to 45, is credited with playing the lead role in organizing the upset victory by arranging for at least 46 mostly young LGBT activists to join the club less than a week before the election and vote for him and his vice presidential running mates.
Angela Peoples, 26, a policy analyst for the U.S. Consumer Financial protection Bureau, and Vincent Villano, 26, communications director for the National Center for Transgender Equality, won the two vice presidential seats on Garcia's slate.
Club treasurer Barrie Daneker and club secretary Jimmie Luthuli were not challenged by Garcia's backers and won re-election unopposed. But in winning three of the club's five officer's positions, Garcia, Peoples, and Villano were expected to gain control of the club when they take office Jan. 1.
Last week, several longtime members, including transgender activist Jeri Hughes, called for an official challenge to Garcia, Peoples, and Villano's election. The club's existing officers responded by calling a special meeting for Dec. 19 to decide whether the election should be invalidated based on the challenges.
Daneker, who is in charge of maintaining the club membership list, said a review of the online application forms for 17 of the new members raised questions about whether some qualified for a lower priced special membership category.
Daneker said the review of the application forms also indicated some of the new members did not submit a valid home address, which could be a violation of club rules.
Those challenging the election say the election should be invalidated if the club determines some of the new members should be disqualified due to membership "irregularities" and the number of disqualified members exceeds the margin of victory of Garcia, Peoples, and Villano. All three won by a margin of between two and seven votes.
The longtime members who called for the special meeting, which is to decide whether the election should be upheld or invalidated, are believed to be supporters of Williams and her slate of officers who lost the election.
Williams announced her withdrawal from consideration for retaining her seat after her current term expires on Dec. 31 in an open letter sent by email on Sunday to the club's membership.
"While I am deeply humbled and profoundly grateful for the support of these longtime members and I believe that it is important to investigate potential election irregularities, I am also very concerned about the future of the club," Williams said in her Dec. 16 email.
"It is imperative that the Stein Club move forward into the future as a unified organization, so that we may continue to focus on effectively advocating for the District's LGBT community," she said. "To that end, I am removing myself from consideration as the 2013 Stein Club president."
Williams noted that she recused herself from the vote by the club's officers, who make up the group's executive board, to call the special meeting.
"While the decision to hold the special meeting and to possibly invalidate the election results is, and always has been, a different matter than my candidacy, I want to state my intentions unequivocally, so that it's clear that any decision that is made by the membership at the special meeting should be made independent of me," Williams said in her email.
Daneker said the club had a total of 190 members prior to the effort by Garcia and his supporters to recruit new members. According to Daneker, 46 new members, including Garcia, Peoples, and Villano, who had not appeared on the club's membership rolls before, joined the club in the week prior to the Dec. 3 club election.
Although some of the new members have said their recruitment effort doubled the club's membership, Daneker said the new members appear to have increased the membership from 190 to 236, which is about 24 percent.
Confusion over the membership totals surfaced, Daneker said, when the balloting at the Dec. 3 election showed that a total of 92 ballots had been cast, with Garcia beating Williams by a razor-thin two vote margin. He said some people incorrectly assumed that the 92 people who voted in the election made up most or all of the membership.
When asked why he thought as many as 145 of the 190 existing members didn't show up for the election, Daneker said, "Historically, we don't get all the members to come to every single meeting."
Garcia and his supporters have argued that their election recruitment effort brought in energetic new members who will reinvigorate the club.
"We are disappointed that the Stein leadership intends to challenge new members who want to contribute to Stein's growth," Garcia said in a statement released last week.
"These new members are young people, people of color, and people from low-income backgrounds who were otherwise not engaged in Stein's activities…We should be having a special meeting celebrating these new members and finding ways to engage them."
In a series of Facebook messages and a commentary in the Blade, Hughes has emerged as the lead advocate for invaliding the election and holding a new election for president and the two vice president's seats.
An attorney who reviewed the question of whether the Stein Club election can be invalidated has said such an action could only take place if it can be shown that new members gave a false address or joined at the $15 membership rate rather than the standard $35 rate when they were not qualified or the lower rate. The $15 membership is limited under the club's bylaws to students, senior citizens, and "limited income" members.
Hughes, while saying the issue of possible membership irregularities should be resolved, has called the election a "farce" because the new members stacked the meeting with their supporters.
"It became a farce when a group of new members – most of whom have never attended a Stein Club meeting or participated in the local issues affecting the District – attended the election night process with the sole intention of usurping the Stein Club leadership," she said in her commentary.
"They are strangers," she said. "By their own admission, none had been Stein Club members for more than a week."
Not all of the club's longstanding members agree with Hughes that the election should be challenged.
Gay Democratic activist Rick Rosendall, who won election last week as president of the Gay and Lesbian Activists Alliance, is a longtime Stein Club member.
"Jeri, they won according to the rules," he told Hughes in a Facebook posting. "They represent the biggest influx of talent and energy into the group in a long time. Forcing them out in a special meeting which itself violates the rules is not legitimate," he said. "Nor does it advance our cause."
D.C. transgender activist Julius Agers, the club's vice president for political and legislative affairs, who did not run for re-election, said he, too, considers the influx of new members to be beneficial to the club.
"Let us all strive as hard as we can to be open minded, and not let old thoughts and old prejudices and old loyalties blur our vision," he wrote in a Facebook posting on Saturday. "These young people have earned their respect from many circles. In fact, they have done amazing things and I for one am thrilled that they are bringing their passion in our direction."
The special meeting is scheduled for 7 p.m. Wednesday, Dec. 19, in Room 120 of the John A. Wilson D.C. city hall building at 14th Street and Pennsylvania Ave., N.W.
LULAC Lambda announces 2021 scholarship awards
Castro, Javier Rodriguez win $1,000 honors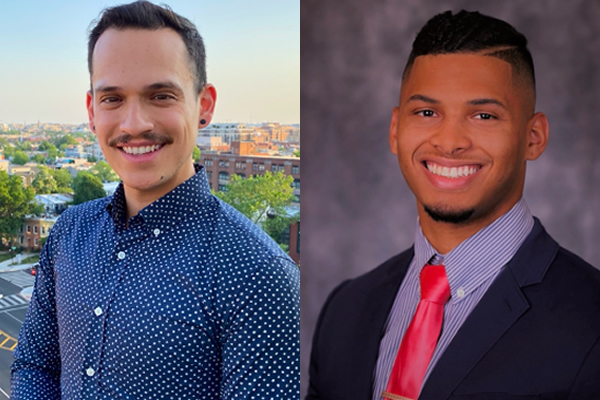 The D.C.-based LGBTQ Latinx organization LULAC Lambda has announced it has selected two D.C. residents bound for graduate studies in foreign affairs and higher education to receive its 2021 annual scholarship award.
"For a fourth year in a row, LULAC Lambda will provide scholarships to outstanding scholars who come from our LGBTQ+ Latinx community," said Erik Rodriquez, the LULAC Lambda president, in a statement released by the group. "Our scholarship program will help these scholars achieve their academic goals and reduce their student debt," Rodriquez said.
The statement says one of the two scholarship awards, for $1,000, will go to Brian Castro, who will begin studies for a master's degree in the fall of 2021 at Georgetown University's Walsh School of Foreign Service.
"The generous scholarship provided by LULAC Lambda will complement my studies by going directly into my tuition costs," Castro said in the statement. "Though I have been a resident of Washington, D.C., working full-time at a leading public health consulting firm, I am grateful to have received the support from an organization that is also committed to social justice," he said.
The other scholarship, for $1,300, will go to Victor Javier Rodriguez for his doctoral work in education at Florida State University. The LULAC Lambda statement says Javier Rodriquez's academic interest lies in "exploring the relationship between school communities and districts' implementation of anti-racist practice and student success."
In his own words, Javier Rodriquez said, "A long-term career goal of mine is to affect change at the federal level through the United States Department of Education, in which I would work to address our nation's education crisis by advocating for equitable policies and practices that improve the outcome for all our students, especially those who are most vulnerable."
LULAC Lambda says it was founded in October 2014 "to mobilize and strengthen the LGBTQ+ and Latinx communities of Washington, D.C. through community and civic engagement." It is one of 1,000 chapters across the country affiliated with the League of United Latin American Citizens (LULAC), the nation's largest and oldest Latinx volunteer-based civil rights organization, the group's statement says.
Missing gay man found 'alive and well'
Police say Richard 'Rick' Woods found in good health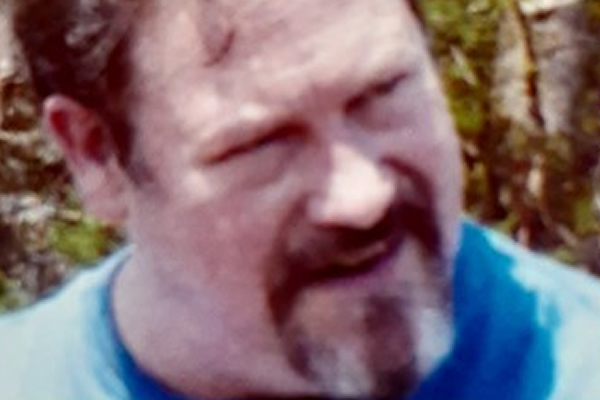 D.C. police announced on Friday that Richard G. 'Rick' Woods, a 65-year-old gay man who police said was reported missing and last seen on July 14, has been located. But the announcement doesn't provide information on where he was found or why he went missing.
Friends who know Woods say he operated for many years an antique wood furniture restoration business in various locations in D.C. The most recent location of his business, friends said, was in Georgetown a short distance from where police said he was last seen on the 1600 block of Wisconsin Avenue, N.W.
"MPD does not publicly disclose the circumstances surrounding a missing person and how they are found, however we do release their flyer as well as a notification when they are located," said D.C. police spokesperson Brianna Burch. "Mr. Woods was found in good health," Burch told the Blade.
Police sought help from the public in their initial announcement that Woods was missing. The announcement said he was reported missing to police on Friday, July 23.
Logan Circle Advisory Neighborhood Commissioner and LGBTQ rights advocate John Fanning, who said he has been friends with Woods for many years, said he was delighted to hear Woods was found in good condition.
"Rick is known by many in our community," Fanning told the Blade at the time Woods was reported missing. Fanning said he and others who know Woods stand ready to provide support for him should he be in need of such support.
The Blade couldn't immediately reach Woods for comment.
Some D.C. gay bars to require proof of COVID vaccination
Action prompted by mayor's order reinstating masks indoors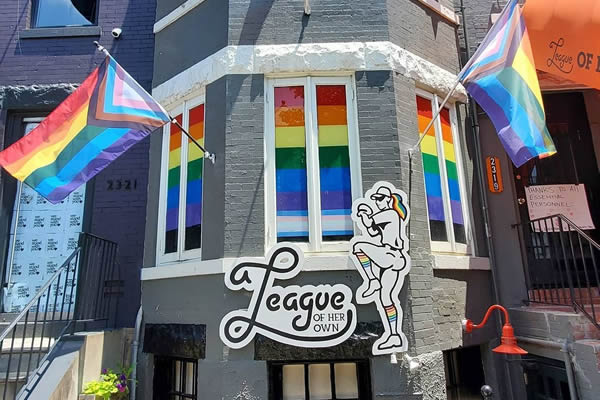 At least six D.C. gay bars announced last week on social media that they will require patrons to show proof that they have been vaccinated for COVID-19 as a condition for being admitted to the bars.
They include the Logan Circle area gay bars Number Nine and Trade, which are operated by the same co-owners; the Adams Morgan gay sports bars Pitchers and A League of Her Own, which are also operated by the same owner and share the same building; the 17th Street, N.W. gay bar JR.'s; and the U Street, N.W. gay bar The Dirty Goose.
The six bars, which also offer dining service, announced their proof of vaccination requirement shortly after D.C. Mayor Muriel Bowser on Thursday, July 29, issued a new order reinstating the city's requirement that facial masks be worn inside all businesses and other public establishments.
The mayor's order applies to all vaccinated and unvaccinated people over the age of two. It took effect at 5 a.m. Saturday, July 31.
At a July 29 news conference, Bowser pointed to a new U.S. Centers for Disease Control and Prevention guidance issued two days earlier recommending that fully vaccinated people resume wearing masks indoors in places where transmission of the coronavirus is considered "substantial" or "high."
The mayor said that, at the advice of her public health experts, she decided to issue the new order to help curtail the rising number of COVID cases in D.C. over the past month or more due to the rapid spread of the virus's Delta variant, which is surging throughout the nation. Like other parts of the country, Bowser and D.C. Department of Health Director Dr. LaQuandra Nesbit said people who are unvaccinated in D.C. make up nearly all of the newly infected cases.
"I know D.C. residents have been very closely following the public health guidelines, and they will embrace this," Bowser said in referring to the new mask requirement.
The four-page order released by the mayor's office, similar to the city's earlier mask requirements, allows indoor patrons of restaurants and bars to remove their masks while "actively" eating or drinking.
But some representatives of restaurants and bars have pointed out that other jurisdictions, including Maryland and Virginia, have followed the CDC's initial policy of making mask wearing a recommendation rather than a requirement.
"Mayor Bowser's announcement that nightlife hospitality patrons must wear a mask indoors when not 'actively eating or drinking' renders the reinstated mandate essentially unenforceable and results in the rule being reduced to a largely theatrical requirement," said Mark Lee, director of the D.C. Nightlife Council, a local trade association representing bars, restaurants, nightclubs, and other nightlife related businesses.
"The greatest disappointment for many venue operators and staff, however, is that the mayor's decision does not allow an option for establishments to admit only fully vaccinated patrons and be exempt from the mandate, as a number of other jurisdictions across the country have done," Lee said.
John Guggenmos, co-owner of the bars Trade and Number Nine, told the Washington Blade he and his co-owners adopted the proof of vaccination policy as an added means of protecting the safety of both patrons and employees of the two bars.
"We're hopeful that this will be in effect for just a few weeks or a month or two," Guggenmos said. "Our patrons have always been very supportive," he said in referring to the city's public health directives last year and early this year in which masks were required up until May of this year.
Guggenmos said Trade and Number Nine would allow an alternative to the vaccination requirement if patrons provide proof of a negative COVID-19 test conducted within the previous three days of their admission to the bars.
In its social media postings, Pitchers and A League of Her Own said their proof of vaccination requirement was based on the concern for the health of their patrons and staff.
"We will require proof of a COVID vaccination until further notice at Pitchers/ALOHO and masks per the mayor," a Facebook posting says. "We take guidelines and the health of our patrons and staff very seriously. We will accept a picture or hard copy of your COVID vaccination card," it says. "No exceptions, no arguing, no talking to the manager."
Tammy Truong, owner of the gay bar Uproar Lounge at 639 Florida Ave., N.W., told the Blade the bar has no immediate plans to require proof of vaccination as a requirement for admission, but Uproar will fully comply with the mayor's order requiring indoor masks.
Justin Parker, co-owner of the nearby gay bar The Dirty Goose at 913 U St., N.W., told the Blade he and his staff decided on July 30 to also put in place a requirement that patrons show either proof of vaccination or proof of a negative COVID-19 test within the past five days. He said a five-day window for the COVID test, which the CDC allows in some cases, was chosen rather than a three-day requirement to accommodate people who may not be able to get tested during weekends.
Owners of other D.C. queer bars couldn't immediately be reached. But the Blade could not find any announcements by the other bars as of Friday afternoon that they planned to put in place a proof of vaccination requirement.