House GOP cost cap for DOMA defense reaches $3 million
Agreement reached in secret on first day of 113th Congres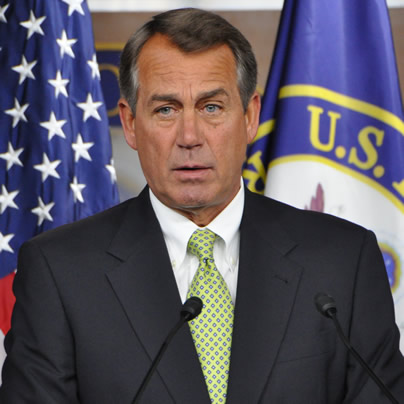 House Republicans secretly agreed to raise the cost for defending the Defense of Marriage Act in court to $3 million in the first week that the 113th Congress was sworn into office, according to a copy of the contract obtained by the Washington Blade on Tuesday.
The contract, signed by new House Committee on Administration Chair Candace Miller (R-Mich.), allows for expenses to pay for outside counsel to defend DOMA in court to reach $3 million — a full $1 million more than the previous cost cap agreed to in September. In a statement this week, House Democrats said the agreement was reached in secret and they weren't aware of it until late Monday.
"The General Counsel agrees to pay the Contractor for all services to be rendered pursuant to this Agreement a sum not to exceed $2,750,000.00," the contract states. "It is further understood and agreed that, effective January 4, 2013, the aforementioned $2,750,000.00 cap may be raised from time to time up to, but not exceeding, $3,000,000, upon written notice of the General Counsel to the Contractor specifying that the General Counsel is legally liable under this Agreement for a specific amount."
The contact was signed by House General Counsel Kerry Kircher and private attorney Paul Clement, the former Bush administration U.S. solicitor general hired to defend DOMA in court, on Jan. 3, or the first day of the 113th Congress. Miller signed the contract on Jan. 4.
On the same day the attorneys signed the contract, the House approved as part of its rules for the 113th Congress language giving authority for the House Republican-led Bipartisan Legal Advisory Group to defend DOMA in court. The cost cap was raised almost one month after the Supreme Court agreed to take up litigation challenging DOMA, known as Windsor v. United States.
The new agreement means that a cost cap initially set at $500,000 has been raised to $1.5 million, again to $2 million and now most recently to $3 million. Like the previous agreements, the contract states the cost cap may yet again be raised if the parties involved agree to a higher amount in another written contract.
But there's new language in the contract putting a time limit on the services rendered by Clement; it'll terminate when litigation is complete or at noon on Jan. 3, 2015 — whichever comes first. The contract also allows for an extension of time limit for parties involved. However, this time limit is almost certainly beyond the time the Supreme Court would reach a decision on DOMA before the end of its term in June.
House Republicans elected to take up defense of DOMA in court in March 2011 after the Obama administration announced it would no longer defend the statute. House Speaker John Boehner (R-Ohio) directed House general counsel to defend the anti-gay law after a party-line vote approving the decision to do so on the five-member House Republican-led Bipartisan Legal Advisory Group.
It's not the first time that Democrats have accused Republicans of agreeing to raise the cost cap of DOMA in secret. The previous contract that raised the cost cap to $2 million was signed in September, but House Democrats said they didn't obtain a copy until last month.
House Minority Leader Nancy Pelosi (D-Calif.) and House Minority Whip Steny Hoyer (D-Md.), the two "no" votes on BLAG, responded to news that the cost cap to defend DOMA was yet again raised and raised in secret with consternation.
In a letter to Boehner dated Jan. 15, they jointly renew their call on House Republicans to discontinue defense of DOMA — but also made a new call for Republicans to demonstrate their defense of DOMA more transparently — calling the actions a "clandestine commitment of taxpayer funds" as well as "highly irregular and objectionable."
"Until Republicans decide to abandon this effort once and for all, we ask you to make your legal plans clear; to make public every contract signed with outside counsel in this case in a timely manner; to declare the total cost of this case to the taxpayers; and to abide by the highest standards of transparency and accountability," Pelosi and Hoyer wrote.
Pelosi and Hoyer emphasize the House defense of DOMA doesn't "reflect the will of the House or the consensus of the BLAG." House Democrats have been filing friend-of-the-court briefs against DOMA before the appellate courts considering the constitutionality of the anti-gay law.
A spokesperson for Boehner deferred questions to the House Committee on Administration, which didn't immediately respond to a request to comment. It's the first time over the course House Republican defense of DOMA that Boehner's has deferred comment and provided a response or simply decline to answer.
Last month, Boehner told the Washington Blade during a news conference when asked he whether supports raising the cost cap to defend DOMA, "If the Justice Department is not going to enforce the law of the land, the Congress will."
———————–
Below is the full text of the letter from Pelosi and Hoyer:
January 15, 2013
The Honorable John Boehner
Speaker
United States House of Representatives
Washington, D.C.  20515
Dear Speaker Boehner:
As the two Democratic Members of the Bipartisan Legal Advisory Group (BLAG), we wish to strongly reaffirm our objections to the repeated actions by the Republican leadership to secretly and dramatically increase the contract between the House and outside counsel in arguing to uphold the discriminatory Defense of Marriage Act (DOMA) in more than a dozen cases. This is not the first time that House Republicans have made a unilateral decision to raise the ceiling on expenditures for this wasteful litigation that supports a discriminatory statute, without any public discussion or advance notice to Democratic members of the BLAG, Members of the House, or the public. This clandestine commitment of taxpayer funds is highly irregular and objectionable, and it must end now.
Let us be clear: these steps do not reflect the will of the House or the consensus of the BLAG. Democrats do not support any decisions to invest taxpayer funds in defense of an indefensible law. We remain united in our opposition to any effort to preserve, protect, and defend discrimination in our country.
From the start, the Republican-led campaign to defend DOMA has been a practice in futility and a waste of Americans' hard-earned tax dollars. The Republican-appointed, taxpayer-funded legal team has lost in every case. Courts across the nation have stood on the side of justice and equality for all Americans. DOMA is on its way into the dustbin of history.
It would be bad enough if Republicans were losing in court and accepting the result. Yet it is the height of hypocrisy for House Republicans to waste public funds in one breath then claim the mantle of fiscal responsibility in the next. With Republicans willing to take our economy and our country to the brink of default in the name of deficit reduction, there is simply no excuse for any Member of Congress to commit taxpayer dollars to an unnecessary – and futile – legal battle.
Until Republicans decide to abandon this effort once and for all, we ask you to make your legal plans clear; to make public every contract signed with outside counsel in this case in a timely manner; to declare the total cost of this case to the taxpayers; and to abide by the highest standards of transparency and accountability.
The Defense of Marriage Act now sits before the Supreme Court. We believe it is only a matter of time before this offensive law is a discarded relic of a bygone era. We look forward to the day when this measure is declared unconstitutional by the highest court in the land and when all of America's families can know the blessings of equal protection under the law.
Thank you for your attention to this matter.
best regards,
NANCY PELOSI
Democratic Leader
STENY H. HOYER
Democratic Whip
Two men charged with attacking trans Puerto Rican woman plead guilty to federal hate crimes charges
Alexa Negrón Luciano attacked with paintball gun before her murder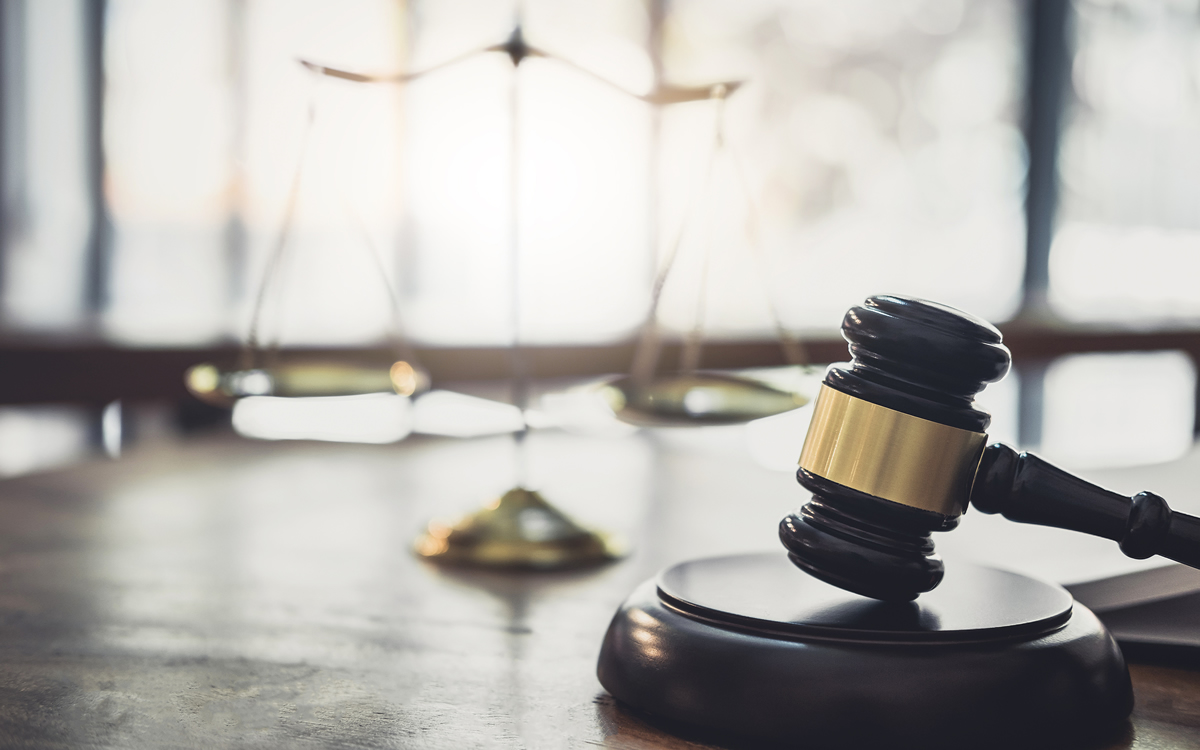 Two men on Monday pleaded guilty to federal hate crimes charges in connection with attacking a transgender woman in Puerto Rico in 2020.
A Justice Department press release notes Jordany Laboy Garcia, Christian Rivera Otero and Anthony Lobos Ruiz "were out driving together" in Toa Baja, a municipality that is about 15 miles west of San Juan, early on Feb. 24, 2020, "when they saw" Alexa Negrón Luciano "standing under a tent near the side of the road."
"The defendants recognized A.N.L. from social media posts concerning an incident that had occurred the day prior at a McDonald's in Toa Baja," reads the press release. "During that incident, A.N.L. had used a stall in the McDonald's women's restroom."
"Upon recognizing A.N.L., Lobos-Ruiz used his iPhone to record a video of himself yelling, 'la loca, la loca,' ('the crazy woman, the crazy woman') as well as other disparaging and threatening comments to A.N.L. from inside the car," it notes. "The defendants then decided to get a paintball gun to shoot A.N.L. and record another iPhone video. Within 30 minutes, they retrieved a paintball gun and returned to the location where they had last seen A.N.L., who was still at that location. Lobos-Ruiz then used his iPhone to record Laboy-Garcia shooting at A.N.L. multiple times with the paintball gun. After the assault ended, Lobos Ruiz shared the iPhone video recordings with others."
Negrón was later killed in Toa Baja.
Laboy and Rivera pleaded guilty to conspiracy to commit a hate crime and obstruction of justice. El Nuevo Día, a Puerto Rican newspaper, notes a federal judge sentenced Lobos to two years and nine months in prison after he pleaded guilty to hate crimes charges last November.
Laboy and Rivera are scheduled to be sentenced on Nov. 10.
They, along with Lobos, have not been charged with Negrón's murder.
"To assault an innocent victim who posed no threat to the defendants for no other reason than her gender identity is reprehensible behavior that will not be tolerated," said U.S. Attorney W. Stephen Muldrow for the District of Puerto Rico in the Justice Department's press release. "The Justice Department will continue to vigorously defend the rights of all people, regardless of their gender identity, to be free from hate-fueled violence. Our community must stand together against acts of violence motivated by hate for any group of people — we remain steadfast in our commitment to prosecute civil rights violations and keep our communities safe and free from fear."
Pedro Julio Serrano, spokesperson for Puerto Rico Para Todes, a Puerto Rican LGBTQ rights group, on Tuesday welcomed the guilty pleas. Serrano also urged authorities to bring those who killed Negrón to justice.
"The time for total justice for Alexa is now," said Serrano in a press release. "Her murder was a hate crime. Nobody doubts this. They falsely accused her, persecuted her, hunted her, insulted her with transphobic epithets, uploaded onto social media a video of them accosting her and they killed her. There are already three individuals who will serve time in federal prison for attacking her in a hate crime. That's some justice, but not complete." 
Barbara Lee: PEPFAR is 'more in peril' than ever before
Congress has yet to reauthorize funding for Bush-era HIV/AIDS program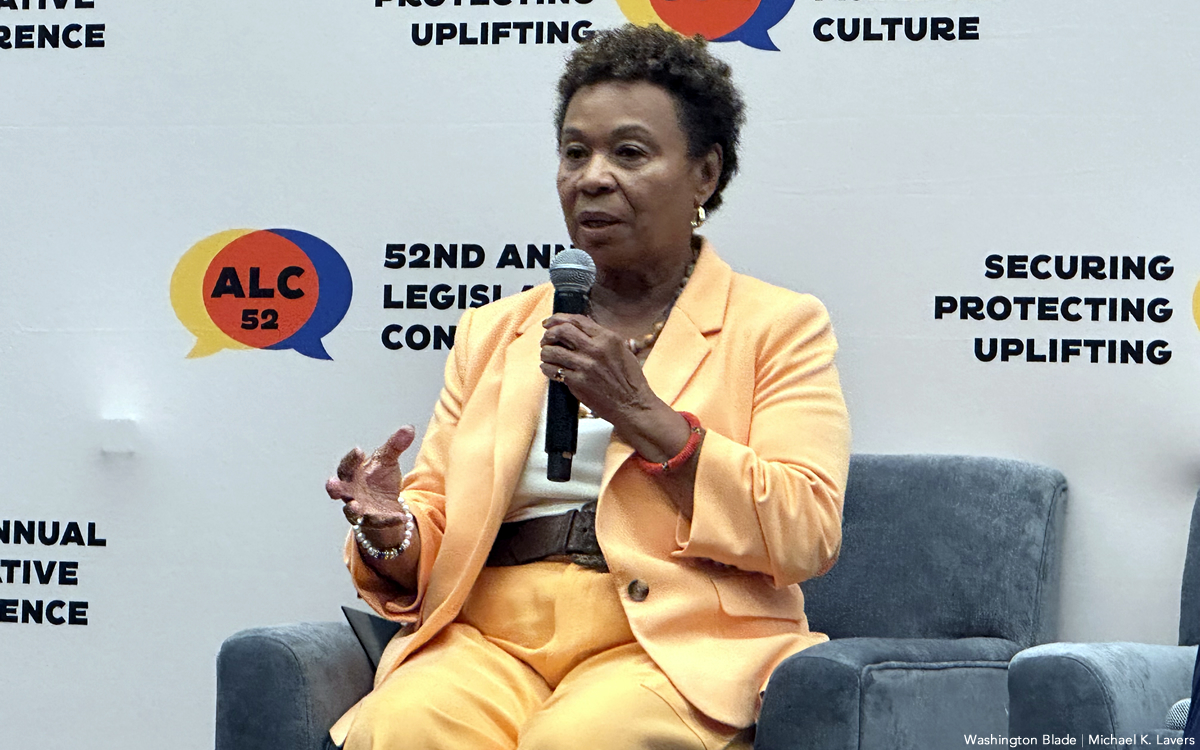 California Congresswoman Barbara Lee on Sept. 22 said the President's Emergency Plan for AIDS Relief is "more in peril" now than at any point since its launch two decades ago.
"This program is reauthorized every five years, but it's always on a bipartisan basis," said Lee during a panel at the Congressional Black Caucus Foundation's Annual Legislative Conference that took place at the Walter E. Washington Convention Center in D.C. "As we approach the benchmark of an AIDS-free generation by 2023, it is unfortunately more in peril now than ever before."
Then-President George W. Bush in 2003 signed legislation that created PEPFAR.
Lee noted PEPFAR as of 2020 has provided nearly $100 billion in "cumulative funding for HIV and AIDS treatment, prevention and research." She said PEPFAR is the largest global funding program for a single disease outside of COVID-19.
New PEPFAR strategy includes 'targeted programming' for marginalized groups
The panel took place amid the continued push for Congress to reauthorize PEPFAR for another five years. The federal government will shut down on Oct. 1 if Congress does not pass an appropriations bill.
Secretary of State Antony Blinken last December at a World AIDS Day event in D.C. acknowledged HIV/AIDS continues to disproportionately impact LGBTQ and intersex people and other marginalized groups. A new PEPFAR strategy the Biden-Harris administration announced that seeks to "fill those gaps" over the next five years includes the following points:
• Targeted programming to help reduce inequalities among LGBTQ and intersex people, women and girls and other marginalized groups
• Partnerships with local organizations to help reach "hard-to-reach" communities.
• Economic development and increased access to financial markets to allow countries to manufacture their own antiretroviral drugs, tests and personal protective gear to give them "the capacity to meet their own challenges so that they're not dependent on anyone else."
The Family Research Council Action in an email to supporters urged them to tell Congress to "stop Biden from hijacking PEPFAR to promote its radical social policies overseas." Family Watch International has said PEPFAR "has been hijacked to advance a radical sexual agenda."
"Please sign the petition to tell the U.S. Congress to ensure that no U.S. funds go to organizations that promote abortion, LGBT ideology, or 'comprehensive sexuality education,'" said the group in an email to its supporters.
A group of lawmakers and religious leaders from Kenya and other African countries in a letter they wrote to members of Congress in June said PEPFAR, in their view, no longer serves its original purposes of fighting HIV/AIDS because it champions homosexuality and abortion.
"We wrote that letter to the U.S. Congress not to stop PEPFAR funding to Kenya, but to demand the initiative to revert to its original mission without conditioning it to also supporting LGBTQ as human rights," it reads.
Biden in 2021 signed a memo that committed the U.S. to promoting LGBTQ and intersex rights abroad as part of his administration's overall foreign policy.
American officials earlier this year postponed a meeting on PEPFAR's work in Uganda in order to assess the potential impact the country's Anti-Homosexuality Act will have on it. The law, which Ugandan President Yoweri Museveni signed on May 29, contains a death penalty provision for "aggravated homosexuality."
Biden in his U.N. General Assembly speech last week noted LGBTQ and intersex rights and highlighted PEPFAR. Family Watch International in its email to supporters included a link to the letter from the African lawmakers and religious leaders.  
The Southern Poverty Law Center has designated both the FRC and Family Watch International as anti-LGBTQ hate groups.
"[PEPFAR is] not about abortions," said Lee.
U.S. Agency for International Development Administrator Samantha Power during the panel referenced Bush's recent op-ed in the Washington Post that urged lawmakers to reauthorize PEPFAR.
"The way he put it is no program is more pro-life [than] one that has saved more than 25 million lives," said Power.
Power referenced the "manufactured controversy that is making it difficult to get this reauthorization." U.S. Global AIDS Coordinator Dr. John Knengasong said a failure to reauthorize PEPFAR would weaken "our own foreign policy and diplomacy."
"Once again the United States will be missing in action," stressed Lee.
Assistant Health and Human Services Secretary for Legislation Melanie Egorin and Kenny Kamson, a Nigerian HIV/AIDS activist, also spoke on the panel that MSNBC host Jonathan Capehart moderated.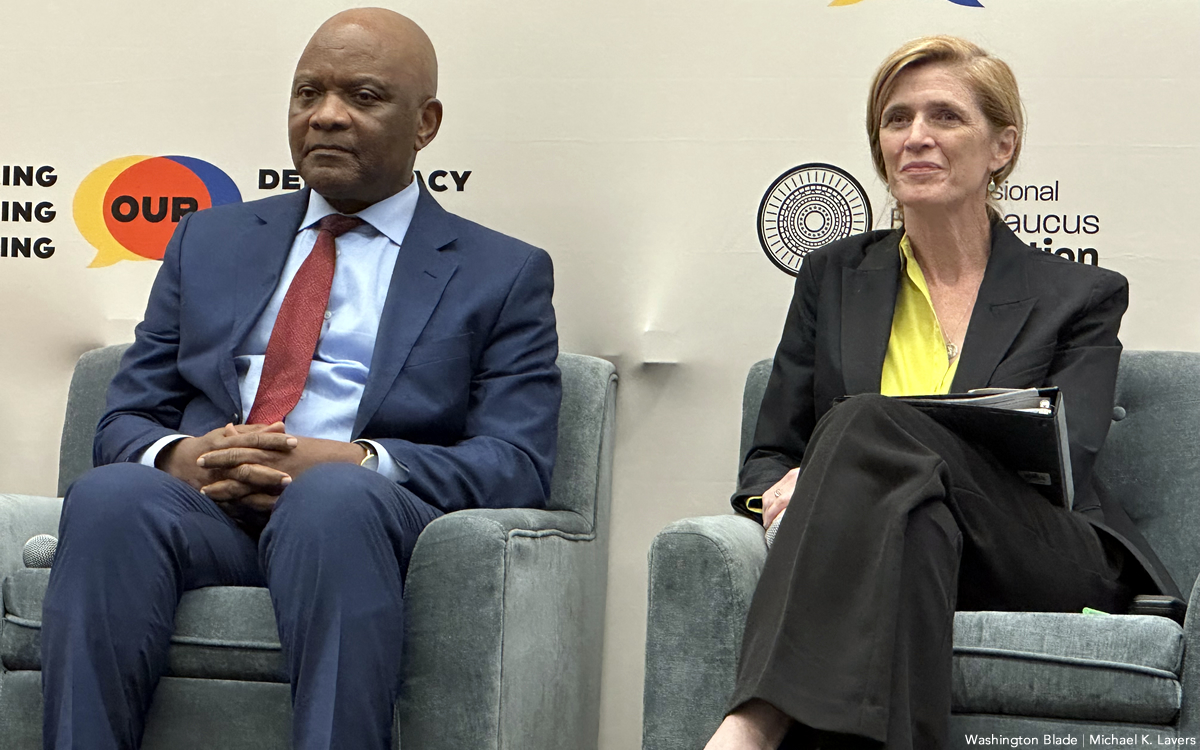 Biden, Harris, deliver remarks for White House Office of Gun Violence Prevention
Pulse survivor Brandon Wolf among those who spoke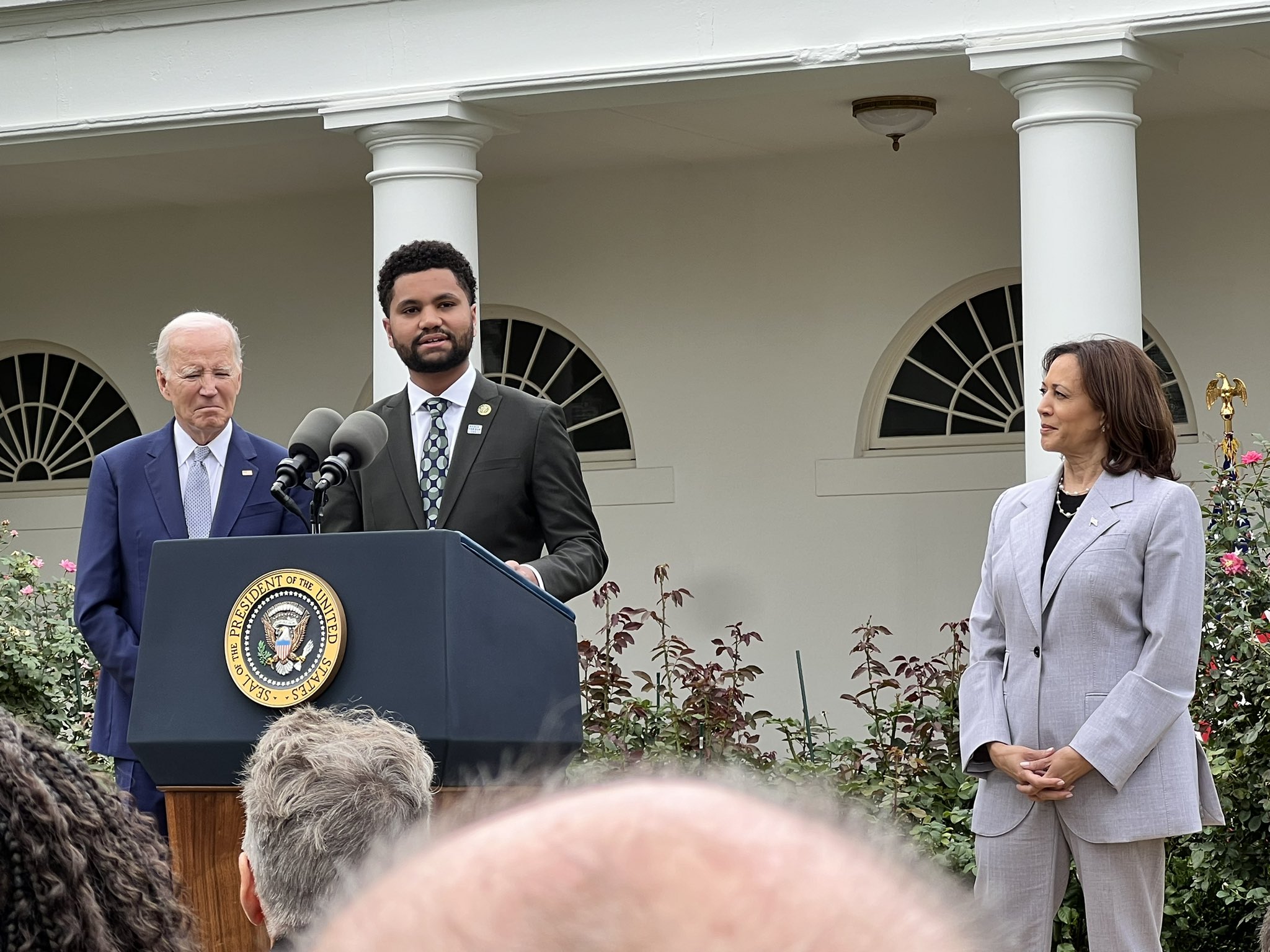 President Joe Biden, Vice President Kamala Harris, and U.S. Rep. Maxwell Frost (D-Fla.) addressed an audience from the Rose Garden of the White House on Friday to honor the establishment of a first-ever White House Office of Gun Violence Prevention.
In a press release Thursday announcing the move, the administration said its aim is to implement and expand the provisions of last year's Bipartisan Safer Communities Act along with those contained in the president's executive orders targeting issues of gun violence.
Additionally, Biden explained in his remarks, the office will coordinate more support for survivors, families and communities, including mental health services and financial aid; identify new avenues for executive action; and "expand our coalition of partners in states and cities across America" given the need for legislative solutions on the local and state level.
Harris, who will oversee the office, pledged to "use the full power of the federal government to strengthen the coalition of survivors and advocates and students and teachers and elected leaders to save lives and fight for the right of all people to be safe from fear and to be able to live a life where they understand that they are supported in that desire and that right."
The vice president noted her close experiences with the devastating consequences of gun violence in her work as a federal prosecutor, San Francisco district attorney, California attorney general and in her current role.
Biden's comments also included highlights of his administration's accomplishments combatting gun violence and a call to action for Congress to do more. "It's time again to ban assault weapons and high capacity magazines," he told lawmakers.
The president also credited the the work of advocates including those who were gathered at the White House on Friday: "all of you here today, all across the country, survivors, families, advocates — especially young people who demand our nation do better to protect all; who protested, organized, voted, and ran for office, and, yes, marched for their lives."
Taking the stage before introducing Biden, Frost noted that "Right before I was elected to Congress, I served as the national organizing director for March for Our Lives, a movement that inspired young people across the nation to demand safe communities."
"The president understands that this issue especially for young people, especially for marginalized communities, is a matter of survival," the congressman said. And the formation of this office, "comes from Pulse to Parkland," he said, adding, "we fight because we love."
Human Rights Campaign National Press Secretary Brandon Wolf, a survivor of the 2016 Pulse nightclub shooting, which was America's second deadliest mass shooting and the deadliest against the LGBTQ community, shared a comment with the Washington Blade after Friday's ceremony:
"Seven years ago, when my best friends and 47 others were murdered at our safe place — Pulse Nightclub — we promised to honor them with action. This is what that looks like. This deep investment in the fight to end gun violence matters, and I cannot wait to see Vice President Harris lead these efforts. We can blaze the path toward a future free of gun violence. And today marked an important step in that direction."