January 25, 2013 at 6:00 am EST | by Kevin M. Norris
Giving back with style
What better way to take care of yourself than to buy a new outfit? My favorite clothing boutique in Washington is Caramel Boutique, owned and operated by Sarah Watkins since June 2006.
Watkins drew inspiration from her grandparents who owned and operated independent grocery stores for 40 years. Growing up in a family business environment, Watkins always hoped to open her own business one day. She's spent most of her professional career managing educational programs and fundraising for non-profit organizations. Watkins continues to work part-time as a professional fundraiser while she manages Caramel. The store is named after Sarah's grandfather's favorite candy.
Caramel is located on what I call the wellness loop of U Street at 1603 U Street, NW. Across the street is VIDA, Bang Salon, Fit to be Tan and some restaurants. On this strip, you can do everything for your own self care. In one fell swoop, you can do the wellness loop and tend to your hair, nails, gym, tan, eat and finish with an all new wardrobe from Caramel Boutique.
Caramel Boutique stocks international, national and local designers, belts, jewelry and ever-changing artwork. Sometimes there's only one or two of the hottest fashion choices so nobody else in fashion-starving D.C. is wearing the same thing. Also, Watkins hosts art shows there for local artists on a monthly basis, gratis. But Watkins is not just a one-trick clothes horse with a flair for fitting and a knack for procuring awesome clothes. Her generosity and support for the LGBT has been ongoing since the store opened.
Watkins has hosted Team D.C., the D.C. Sentinels Basketball Team on several occasions and the Cherry Fund in April 2011 for an evening of fashion with local designer, Andrew Nowell. Twenty percent of the sales for the evening went to HIV/AIDS prevention.
Watkins, also fully supports several local businesses and endeavors. Monthly she hosts local artists for evenings of art and shopping.  On Thursday, Watkins once again offered up her store, this time for a new local health, fitness and wellness professionals group that I originated in November by hosting the group's first networking and business development meet-up, again gratis.
On Feb. 21 from 6 to 8 p.m., Watkins and Caramel host the first of PFLAG's multiple events scheduled for the year. These events help celebrate, commemorate and raise money in honor of PFLAG'S 30th anniversary .The 30/30/30 project will result in 30 events, with 30 attendees at $30/person throughout the D.C. metro area. Artist Linda Button will donate 30 percent of art sales and Caramel will donate 30 percent of retail sales during the event.
In addition to being the hostess with the absolute mostess, Watkins, a straight ally, makes financial contributions to the D.C. Sentinels, The D.C. Center for its Fall Reception and the Cherry Fund. She never misses a Gay Men's Chorus performance.
When I go out on the town I am dressed exclusively by Sarah Watkins and her fantabulous designs at Caramel Boutique. Isn't it time you bought some new clothes so you too can look and feel your best?  Spring fashions will arrive in the store and will be hot off the racks in February. Come and leave dressed as if you don't live in Washington.
Caramel Boutique store hours are Thursday and Friday from noon-8 p.m., Saturday from 11 a.m.-7 p.m. and Sunday from noon-6 p.m. Further details about the store can be found at caramelfashion.com.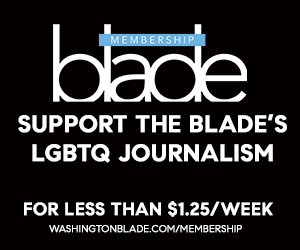 Sign Up for Blade eBlasts