Council race heats up
Gay politicos divided over support for GOP candidate Mara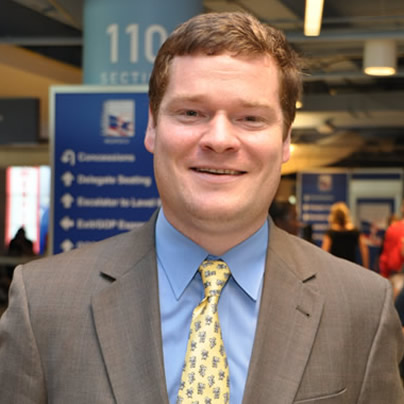 Gay Democratic activist Peter Rosenstein raised eyebrows last week when he called on the LGBT community not to vote for pro-gay Republican candidate Patrick Mara in the April 23 special election for an at-large seat on the D.C. City Council.
In his political column in the Blade, Rosenstein reminded LGBT voters that Mara, while saying he personally supports LGBT rights, was a delegate at the Republican National Convention last summer for GOP presidential candidate Mitt Romney, who opposed nearly all LGBT rights initiatives.
"Mara tells anyone who will listen that he doesn't agree with the Republican Party platform and personally favors marriage equality and full civil rights for the LGBT community and that he is pro-choice," Rosenstein wrote. "In so doing, he asks us to overlook his active support for candidates and a party that don't believe those things."
But longtime gay Democratic activist and D.C. civic leader Joel Lawson, who's supporting Mara, said Mara's support for Romney doesn't bother him and shouldn't be a problem for others in the LGBT community who are considering voting for Mara.
"I'm a lifelong active Democrat," Lawson told the Blade. "And the only 'R' I'm worried about is reform. And those attacks on Pat are just more nasty fighting that's hurt D.C."
Lawson added, "This race is between Pat Mara and business as usual, and Pat is the strongest [candidate] for reform."
Political observers say people like Lawson – both gay and straight – appear to be part of a growing bloc of voters who are angry about the long list of ethical lapses that have surfaced in city politics over the past several years.
Among the concerns of these voters were the arrest and guilty pleas on corruption related charges by former D.C. Council Chair Kwame Brown and former Ward 5 Council member Harry Thomas, both Democrats, who were sentenced to time in jail.
The U.S. Attorney's office continues to investigate illegal campaign finance practices uncovered in Mayor Vincent Gray's 2010 election campaign. And the City Council last month voted to reprimand gay Council member Jim Graham (D-Ward 1), who was accused of violating city ethics rules by reportedly interfering with a city contract. Graham disputes allegations that he acted improperly on the contract matter.
Similar to most elections in D.C. over the past 20 years or longer, each of the seven candidates running in the special election – five Democrats, one Republican (Mara), and a Statehood Green Party candidate – are strong supporters of LGBT equality, including same-sex marriage.
The candidates include Democrats Michael Brown, a former Council member who lost his re-election bid last year to David Grosso (D-At-Large); Anita Bonds, chair of the city's Democratic State Committee, which elected her as interim Council member until the special election is held; former Washington Post and Washington City Paper reporter Elissa Silverman, who most recently has worked as a budget analyst for the progressive think tank D.C. Fiscal Policy Institute; and local attorneys Paul Zuckerberg  and Matthew Frumin, who operate D.C. law firms.
Also running is community activist and ex-offender advocate Perry Redd, who was nominated by the Statehood Green Party.
The Gay and Lesbian Activists Alliance is expected to rate each of the candidates on LGBT issues later this month based on their responses to a GLAA questionnaire that the group has been giving to candidates running for local office for more than 30 years. The Blade will report on the candidates' detailed positions on LGBT issues when the GLAA questionnaire results are released.
The Gertrude Stein Democratic Club, the city's largest LGBT political group, is scheduled to hold a forum for the Democratic candidates on March 21 at the Metropolitan Community Church of Washington. The club is also scheduled to vote on an endorsement at the forum. But club members say an endorsement is uncertain due to the group's requirement that a candidate receive a 60 percent majority vote among members to earn the club's backing.
With each of the candidates supportive on LGBT issues, activists following the campaign say the so-called "gay vote" could be driven by non-gay issues as well as name recognition and the perception of the candidates' visibility in the LGBT community.
Brown and Mara have run for City Council seats in the past, and each has done well in precincts known to have high concentrations of LGBT residents at various times. Bonds, who has been active in city politics for many years, is less known to non-activists but has support from several key LGBT movers and shakers. Among them is David Meadows, a former Stein Club president, who now works on her Council staff.
Silverman, Redd, Frumin, and Zuckerberg are newcomers to electoral politics and must overcome a lack of widespread name recognition, political observers have said. Silverman, Frumin, and Zuckerberg told the Blade they have been longtime supporters of LGBT equality and, if elected, would push for city policies and laws that strengthen the ongoing quest to achieve full equality for LGBT city residents. Each said they would have voted for the city's same-sex marriage law had they been on the Council when it came up for a vote in 2009.
Redd couldn't immediately be reached for comment. Longtime Statehood Green Party leader and LGBT rights supporter David Schwartzman told the Blade that Redd is a strong supporter of LGBT equality, including same-sex marriage.
D.C. political consultant Chuck Thies is among the local political observers who believe Mara and Brown are the two frontrunners in the race. Thies told the Blade that gay Democratic activists may be worried about Mara because he has received a significant number of Democratic votes in two previous runs for a Council seat.
In a 2011 special election for an at-large seat, Mara came in second, just behind Vincent Orange, a Democrat with wide name recognition who won the eight-candidate race. Mara beat Democratic candidate Sekou Biddle, who was backed by most LGBT Democratic leaders.
In a development that surprised some gay Democratic activists, Mara won by large margins in at least seven of the 14 voter precincts with high concentrations of LGBT voters.
In the special election set for April 23, Mara has a solid bloc of the city's Republican voters and could benefit by his Democratic opponents splitting the vote among each other while capturing a sizable portion of the Democratic vote as a perceived reform candidate, Thies said.
Mara's appeal to Democrats this year surfaced at the Stein Club's February meeting, when a resolution was introduced to allow Mara to participate in the club's candidate forum on March 21, even though the club's bylaws bar the club from endorsing a non-Democrat in races where Democrats are competing.
"Some of us thought it would be useful to the community to give him a chance to speak," said Christopher Dyer, the Stein Club member and director of the city's Office of GLBT Affairs under Mayor Adrian Fenty, who introduced the resolution.
The resolution lost by a wide margin, with many club members saying a Democratic group shouldn't be giving a platform to a Republican candidate. However, longtime club members said the fact that such a resolution even came up suggests that Mara appeals to LGBT voters.
Thies called Frumin the dark horse candidate, who could be a strong competitor to Mara and Brown based on his ability to raise campaign funds. The most recent campaign finance reports filed with the city show he raised just under $72,000 in contributions and kicked in $10,628 of his own money, making him the best funded candidate in the race so far.
Mara has raised just over $20,000 and Silverman has raised a little over $36,000 as of the last finance reporting period. Brown and Zuckerberg had raised around $9,500 during the same reporting period, with Bonds raising $11,000. Redd came in last in fundraising, with just $900.95 as of the last reporting period ending Jan. 31.
Like most special elections, voter turnout is expected to be low, giving key voting blocs, including the LGBT vote, the ability to play a decisive role in who wins. And so far, the buzz within LGBT political circles has been over whether gay Democrats should remain faithful to their party or break ranks and vote for Mara.
"Mara will not win LGBT votes if the community holds him responsible for his work for, and support of, an ultra-conservative party and Romney/Ryan," Rosenstein told the Blade.
Veteran gay Democratic activist John Klenert, who's supporting Mara, said that to him, Mara's strengths outweigh his support for Romney.
"This race comes down to a personal issue: that Pat will serve honestly, with integrity and strong ethics," Klenert told the Blade. "This is about new blood for an ethically challenged City Council."
D.C. officials vow to fight any GOP effort to ban abortion in nation's capital
Without statehood, District vulnerable to congressional interference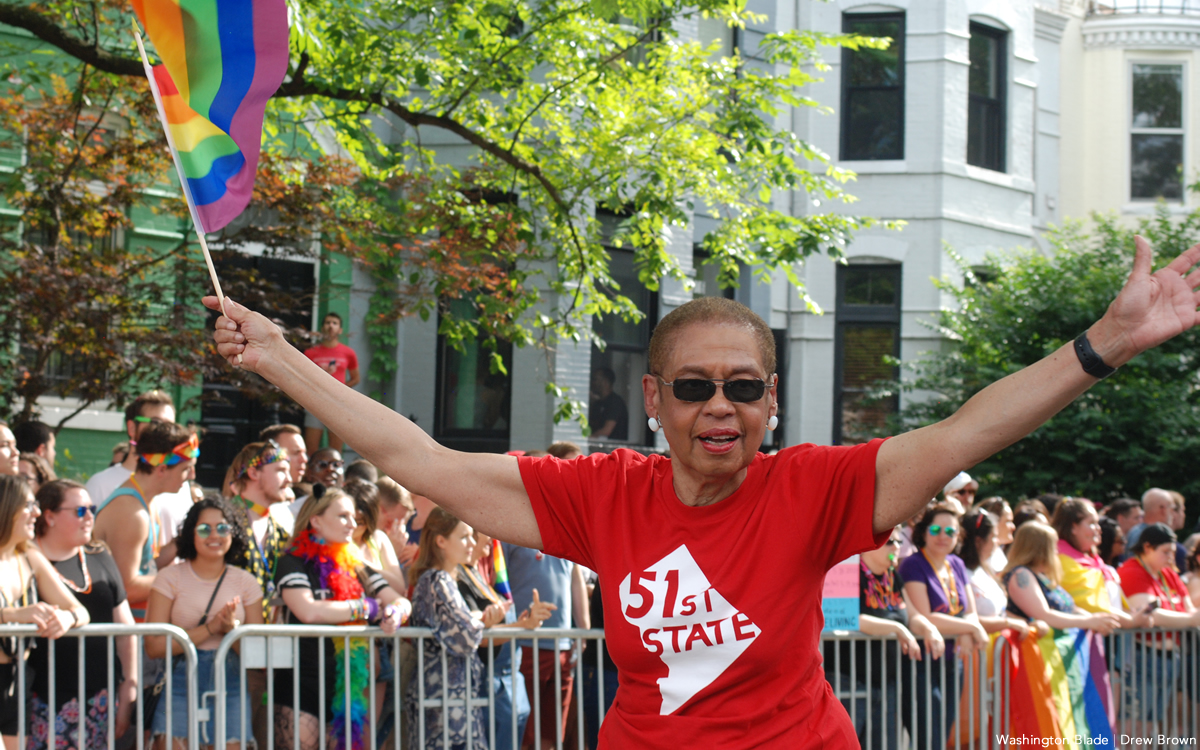 D.C. Mayor Muriel Bowser, D.C. Congressional Del. Eleanor Holmes Norton, and six members of the D.C. Council said they were united in fighting an attempt by Congress to ban abortions in the nation's capital following the Supreme Court's decision to overturn Roe v. Wade.
At a press conference on the day the Supreme Court handed down its controversial decision, the D.C. officials pointed out that unlike any of the states, D.C. is vulnerable to the authority Congress has over the city under its limited Home Rule Charter, including the authority by Congress to pass a law to ban abortions in the city.
The press conference was held at the headquarters in Northeast D.C. of Planned Parenthood of Metropolitan Washington, D.C., whose leaders said they would continue to provide abortion services in the District at the present time.
At this time, "Nothing has changed in Washington, D.C.," Bowser said at the press conference. "Abortion remains legal, and women and girls we know, however, are worried," the mayor said. "We are worried because we know we are vulnerable as a jurisdiction because of our lack of statehood."
Norton told news media representatives and others attending the press conference that she expects at least some congressional Republicans to introduce legislation to ban abortions in D.C. now that the Supreme Court has given them the authority to do that.
"We are subservient still to the House and Senate," she said. "I'm calling on the Congress to immediately codify the right to an abortion in federal law," Norton said. "That is the very least the District needs to save this city from what will surely be an attempt by Republicans in Congress to move first on the District of Columbia to make sure that abortions are not available for women in our city."
Norton added, "We always have more work cut out for us than other jurisdictions. But I assure you I am up to the task. There is a lot to fight for here, and I'm ready for that fight."
Norton and Bowser also pointed out that Congress over a decade ago added a permanent provision to D.C.'s annual budget that prohibits the city from using any of its funds to pay for abortions either directly or through the funding of private organizations like Planned Parenthood that provide abortion related services.
With the prospect that Republicans might regain control of the House or Senate or both in the November congressional elections, D.C. officials said they were especially concerned about an attempt to ban or greatly restrict abortions in the city.
D.C. Council Chair Phil Mendelson said he was hopeful that such an attempt would be blocked by a Democratic-led filibuster in the Senate as well as by a presidential veto if President Biden or another Democrat continues to occupy the White House.
Bowser, Mendelson, and D.C. Councilmember Mary Cheh (D-Ward 3) also pointed out that the legal reasoning used by the justices to overturn Roe v. Wade, especially the rationale given by Justice Clarence Thomas, could be used in future cases to overturn previous court rulings establishing a constitutional right to same-sex marriage and the right to intimate sexual acts between same-sex couples.
"We are about to enter into decades of darkness with this court that we have," Cheh said at the press conference. "And don't be fooled. We're told, OK, it's just abortion," she said. "Don't you believe it. The very reasoning of the case – and I spend a lot of time teaching constitutional law – means that many other liberties will be in jeopardy."
LGBTQ rights advocates have pointed to the concurring opinion handed down by Justice Thomas on the day the court overturned Roe v. Wade that specifically calls on the high court to "reconsider" the 2003 ruling of Lawrence v. Texas, which overturned state laws banning sodomy between consenting adults, both gay and straight. Thomas's concurring opinion also called for reconsidering the high court's 2015 Obergefell ruling, which legalized same-sex marriage nationwide.
Others speaking at the June 24 press conference included Laura Meyers, president of Planned Parenthood of the D.C. area, and D.C. Council members Elissa Silverman (I-At-Large), Christina Henderson (I-At-Large), and Brooke Pinto (D-Ward 2).
Va. delegate comes out as bisexual
Del. Kelly Convirs-Fowler spoke at Hampton Roads Pride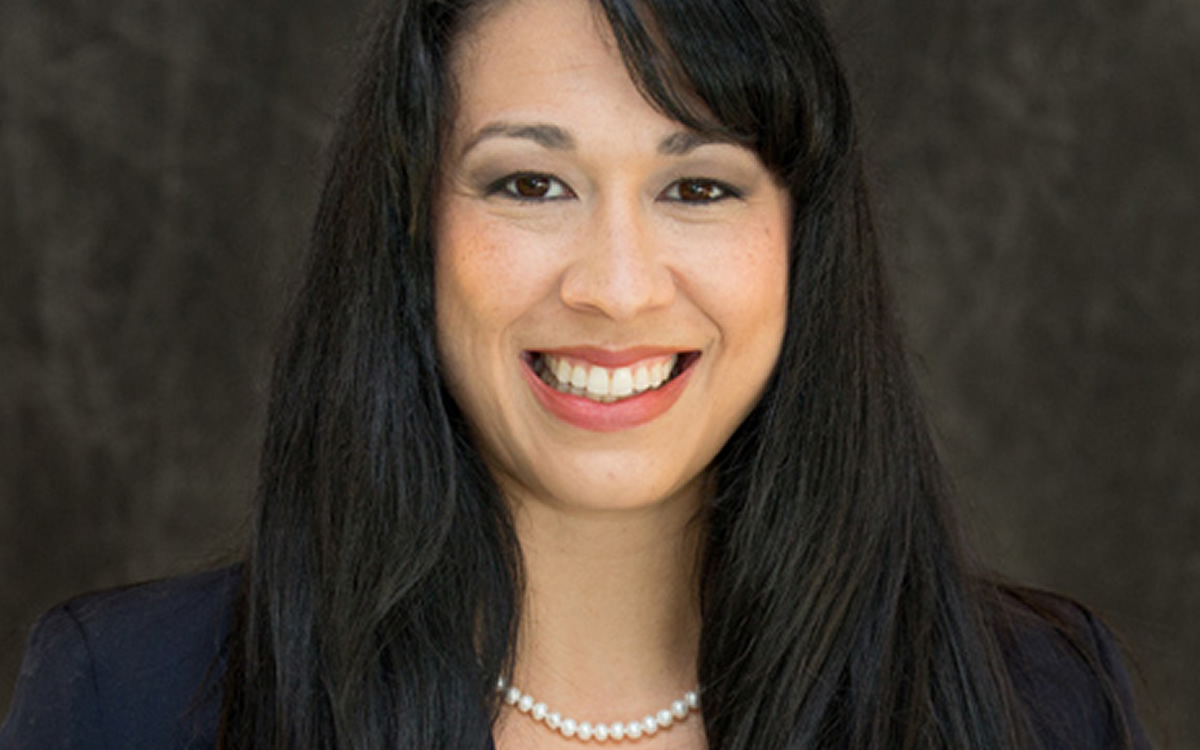 Virginia state Del. Kelly Convirs-Fowler (D-Virginia Beach) came out as bisexual on June 25 during an appearance at Hampton Roads Pride in Norfolk.
"I'm bisexual," the Virginia Beach Democrat told Pride attendees. "I just never felt like I could say that out loud."
I said what I said. I'm Proud. #HappyPrideMonth #loveislove #LGBTQ pic.twitter.com/urAalkWZM1

— Del. Kelly Convirs-Fowler (@FowlerforVA) June 28, 2022
Convirs-Fowler has represented Virginia's 21st House District since 2018.
State Del. Mark Sickles (D-Fairfax County) is gay and state Del. Dawn Adams (D-Richmond) is a lesbian. State Del. Danica Roem (D-Manassas) in 2018 became the first openly transgender person seated in any state legislature in the U.S.
"For those who don't know, Del. @FowlerforVA and I are both part of the Class of 2017 #RedToBlue legislators who flipped seats that Nov. 7," tweeted Roem on Monday. "We've both earned re-election twice since then and I couldn't be more proudof her declaration of Pride =)."
Equality Loudoun hosts its first Pride celebration
'Our plans for next year are going to be bigger, bolder'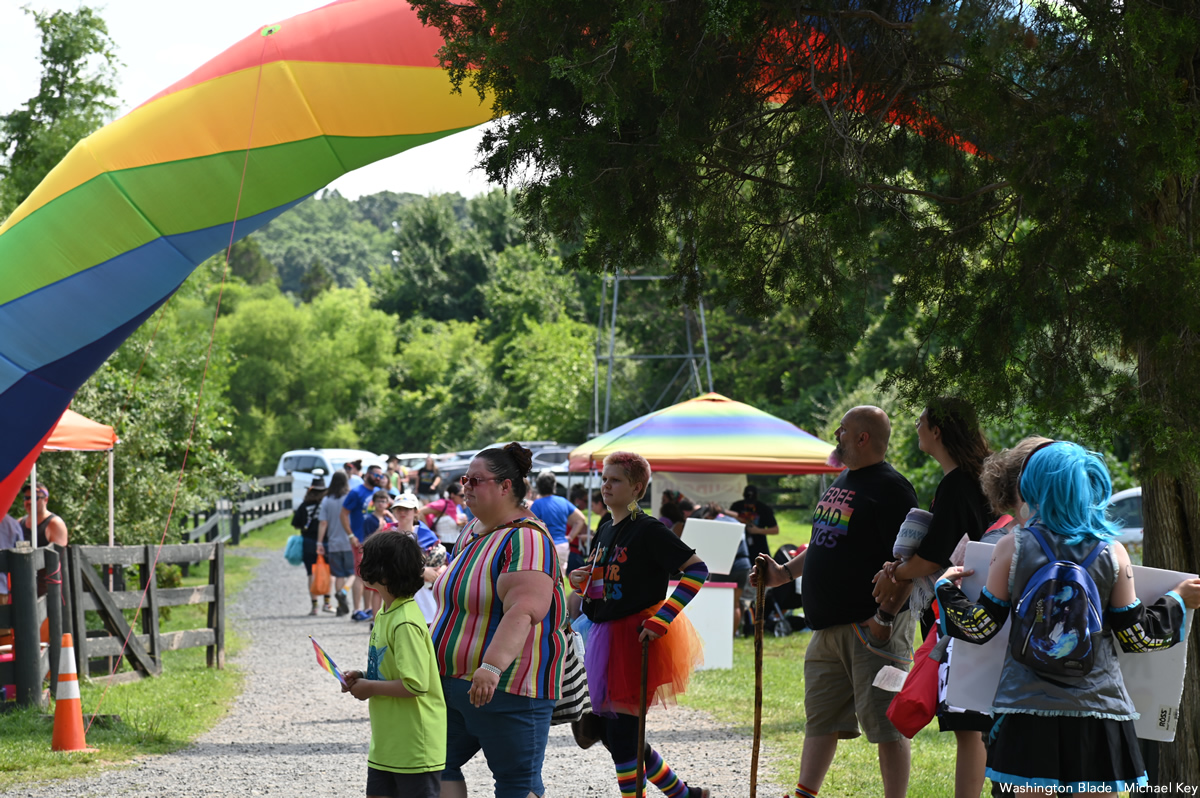 A year after a controversial brawl between parents and administration officials regarding the implementation of trans-friendly policies in public schools in Loudoun County, Va., a local LGBTQ organization hosted its inaugural Pride festival in solidarity with the area's LGBTQ community.
"Pride means a chance to show this county that the loud voices who have been standing against LGBTQ equality do not represent the voices of [everyone] in the [county]," said Cris Candiace Tuck, president of Equality Loudoun. "[A lot of us] here believe in equality."
Equality Loudoun hosted its Pride celebration on June 26 at Claude Moore Park in Sterling, Va.
When planning for Pride month festivities, the organization designed the events to reflect the diverse interests and identities of Loudoun County's queer population. There was a wide collection of vendors selling Pride merchandise, advocacy non-profit organizations and musical acts featured on the main stage.
There was also a "Loudoun Pride Drag Stage" event where the "hottest of Loudoun Royalty" showcased their musical talents.
"We want everyone to … recharge emotional batteries that have been drained," said Tuck.
Planning Equality Loudoun's Pride festival did not come without its fair share of surprises. Initially, the organization had planned for a smaller event. However, when more individuals began showing interest, the organization was forced to switch to a bigger venue to allow more vendors to attend.
"We had many vendors call in and we had to turn a [number] away," said Tuck.
The organization planned its festivities in 90 days, two weeks during which it raised $45,000 — three times as much as it had originally expected.
Equality Loudoun has its sights set on getting LGBTQ community members and allies connected to the resources the organization offers through education and health advocacy.
"Pride [will always be] a celebration of our heritage," said Tuck. "It's a moment to recognize what we have gained and lost."
Tuck said that ideas for next year are already underway.
"Our plans for next year are going to be bigger, bolder and brighter," he said.
Click HERE to see more photos from the event.