Obama signs LGBT-inclusive domestic violence bill
VAWA has non-discrimination rules, provides grants to LGBT programs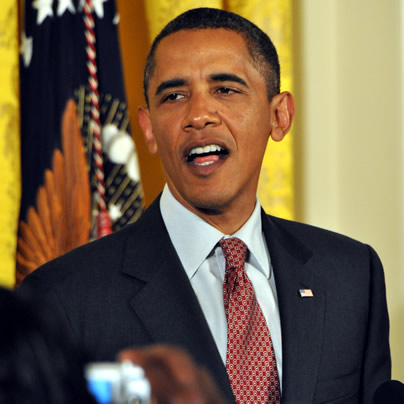 Flanked by lawmakers and women's rights advocates, President Obama on Thursday afternoon signed into law LGBT-inclusive legislation aimed at combating domestic violence and helping its victims.
Obama signed the reauthorization of the Violence Against Women Act during a ceremony in the auditorium of the Department of the Interior, concluding the signing by saying, "There you go, everybody!"
The law reauthorizes the 1994 anti-domestic violence measure written by Vice President Biden, which provides funding for the investigation and prosecution of violent crimes crimes against women as well as funding for victims assistance services.
Additionally, the reauthorization institutes new provisions to help more victims of domestic violence, such as those in the LGBT community and individuals in Native American tribes.
In remarks before the signing the bill, Obama emphasized the importance of VAWA reauthorization as a means to continue the protections put in place by the 1994 version of the law while making an oblique reference to the LGBT community.
"Because of this bill, we'll keep in place all the protections and services that Joe described, and, as he said, we'll expand them to cover even more women," Obama said. "Because this is a country where everybody should be able to pursue their own measure of happiness and live their lives free from fear, no matter who you are, no matter who you love."
At one point as Obama was offering his remarks someone in audience shouted, "We love you, Mr. President!" Obama replied, "I love you back!"
Among those joining Obama on stage was Sharon Stapel, executive director of the New York-based National Coalition of Anti-Violence Programs.
The president thanked her for her work on domestic violence issue as he noted the LGBT protections in the bill.
"Today is about all the Americans who face discrimination based on sexual orientation and gender identity when they seek help," Obama said. "So I want to thank Sharon Stapel… for the work she's doing–the great work she's doing with the Anti-Violence Project. But Sharon and all the other advocates who are focused on this community, they can't do it alone. And then now they won't have to. That's what today is all about."
In a statement, Stapel said the VAWA reauthorization includes the LGBT community "in truly historic, unprecedented ways."
"For the first time in history, federal law includes LGBT anti-discrimination provisions, a huge victory for the LGBT communities and a great step forward for LGBT inclusion in our nation's laws," she said. "By including LGBT people in VAWA, we can say to all survivors of violence: you matter and there is support for you."
Also on stage with Obama was U.S. Attorney General Eric Holder as well as lawmakers like House Minority Leader Nancy Pelosi (D-Calif.,) Senate Judiciary Chair Patrick Leahy (D-Vt.) and House Minority Whip Steny Hoyer (D-Md.) Sen. Mike Crapo (R-Idaho,) Rep. Gwen Moore (D-Wis.), sponsors of the reauthorization measure, were onstage, as well as 1994 co-author Rep. John Conyers (D-Mich.)
Also standing behind Obama was Biden, who offered his own thoughts on the importance of the legislation.
"Those of you who have been around a while with me know that I quote my father all the time who literally would say, the greatest sin that could be committed, the cardinal sin of all sins was the abuse of power, and the ultimate abuse of power is for someone physically stronger and bigger to raise their hand and strike and beat someone else," Biden said. "In most cases that tends to be a man striking a woman, or a man or woman striking a child. That's the fundamental premise and the overarching reason why John Conyers and I and others started so many years ago to draft the legislation called the Violence Against Women Act."
The VAWA reauthorization helps protect the LGBT community against domestic violence and supports it victims in three ways:
• First, the law requires all programs that receive funding under VAWA to provide services regardless of a person's actual or perceived sexual orientation or gender identity.
• Second, the law explicitly includes the LGBT community in the largest VAWA grant program, the "STOP Grant Program," which provides funding to providers who collaborate with prosecution and law enforcement officials to address domestic violence.
• Lastly, the bill sets up a grant program specifically aimed at providing services and outreach to underserved populations, including programs that provide care specifically for LGBT people.
The LGBT community continues to face issues with domestic violence along the same level as straight people. A 2012 report from the National Coalition of Anti-Violence Programs found 3,930 incidents of domestic violence in the LGBT and HIV/AIDS community in that year. Additionally, the report found that 61.6 percent of LGBT domestic violence victims were denied access to shelters — nearly a 20-point increase from the 44.6 percent in the previous year.
VAWA reauthorization is the second-ever piece of legislation signed into law with explicit pro-LGBT protections. The first legislation with both a reference to sexual orientation and gender identity was the hate crimes protections legislation Obama signed into law in 2009. The Hate Crimes Statistics Act, which collects data on hate crimes, was the first to mention sexual orientation, not gender identity.
The repeal of "Don't Ask, Don't Tell" lifted the ban on openly gay servicemembers from the books, but didn't institute any pro-LGBT protections in its place.
A number of LGBT advocates were present in the auditorium and hailed the enactment of the legislation as yet another milestone for the advancement of LGBT rights.
David Stacey, deputy legislative director for the Human Rights Campaign, lauded VAWA reauthorization for its historical inclusion and its practical impact on LGBT people.
"From a movement perspective, this is a really an important step forward," he said. "Then, of course, the substantive fact that more and more victims of domestic violence and sexual assault that are LGBT will have access to services when they need them when they are in crisis."
Mara Keisling, executive director of the National Center for Transgender Equality, said VAWA will be particularly important for the transgender community, which faces high levels of domestic violence as it does with other kinds of violence.
"It really does some really important things for victims of violence and trans people tend to overrepresented in that as victims of that," she said. "It's a really important bill on its own, but politically it's also the second bill to become a law with LGBT people in it, and there was relatively little problem with the LGBT components."
VAWA reauthorization is also significant because it marks the first time the House under Speaker John Boehner (R-Ohio) allowed a bill with pro-LGBT language to pass.
However, House Republicans only allowed the bill to pass after a version without LGBT language failed on the House floor. Then, they took up the LGBT-inclusive bill already passed by the Senate.
Julie Kruse, policy director of Immigration Equality, said she's "thrilled" with the LGBT-inclusion in VAWA reauthorization and hopes that passage in the House bodes well for passage of immigration reform legislation for bi-national same-sex couples.
"We're thrilled at how much support the president gave to LGBT inclusion, and this is where we are," she said. "We think it's a very awesome precedent for the comprehensive immigration reform that's coming up."
But Stacey cautioned against giving House Republicans credit for passage of the domestic violence legislation.
"There still was very significant Republican opposition in the House, however, the fact that at the end of the day, they let a bill go that had every Democrat voting for it and a large number of Republicans is a good step forward," he said. "I think the really significant side is the Senate, where we had a majority of the Republican conference voting for this bill with the sexual orientation and gender identity provisions in it."
Department of Education investigating BYU LGBTQ+ discipline policy
"They've wronged marginalized communities at BYU and they need to be held accountable for it" ~ former gay student at BYU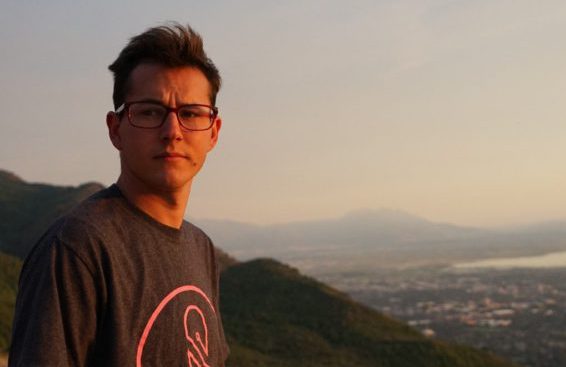 PROVO, Ut. – The U.S. Department of Education has opened an investigation into policies at Brigham Young University (BYU) that discipline LGBTQ students, aiming to determine whether or not the private religious school, owned by the Church of Jesus Christ of Latter-day Saints (LDS), is violating their civil rights.
The Education Department is investigating a complaint that came after BYU removed rules banning "homosexual activity" from its honor code in 2020, only to clarify weeks later that same-sex partnerships were still prohibited.
The probe, which opened in October of last year, will focus on Title IX, a law prohibiting universities from discriminating against students and others based on gender.
Last year, President Joe Biden signed an executive order mandating every federal agency, including the Education Department, clarify that civil rights laws protect LGBTQ people from discrimination. However, religious schools have Title IX exemptions, making federal scrutiny rare.
"It's really significant that investigators are stepping in now," Michael Austin, a BYU alumnus and vice president at the University of Evansville, told the Salt Lake Tribune. "It means there's some reason to think the university has gone beyond the religious exemptions it has and is discriminating even beyond those."
The investigation, headed by the Office of Civil Rights within the department, seems to be about whether faith-based exemptions apply even if the behavior is not directly related to education or expressly written in the honor code. BYU also bans alcohol, beards and piercings, among other things.
BYU did not respond to the Blade's request for comment. But a spokesperson told the Associated Press that the school does not anticipate any further action because "BYU is exempt from application of Title IX rules that conflict with the religious tenets" of the LDS.
Though the LDS has softened some of its rules around LGBTQ issues, the church remains opposed to same-sex marriage and sex outside of marriage.
In a November 2021 letter to the Education Department, Kevin Worthen, president of BYU, argued that religious exemptions do apply to the school. The letter adds that all BYU students, faculty, administrators and staff "'voluntarily commit to conduct their lives in accordance with the principles of the gospel of Jesus Christ.'"
The Department of Education responded to the letter, affirming that the university has some religious exemptions, but the department had to investigate if the complaint falls under those exemptions.
An Education Department spokesperson confirmed the investigation to the Blade but declined further comment.
Queer students at BYU celebrated the school's removal of the anti-LGBTQ language in the honor code. Yet, the university announced weeks later that there was "some miscommunication" as to what the changes meant, clarifying that "the principles of the Honor Code remain the same."
Bradley Talbot, a former gay student at BYU, was on campus during the apparent reversal, saying it "instilled a lot of fear and a lot of students."
"There are still a lot of feelings of betrayal and apprehension around it," he told the Blade.
At BYU, students who hold hands or kiss someone of the same sex can face punishment, including expulsion. LGBTQ+ students face harsher discipline than heterosexual couples at the school.
Talbot said he knew of "quite a few people" who lost their degrees and were kicked out during his time at BYU because of the gay dating ban. "People were turned in by roommates. Some people were turned in by their own parents," he added.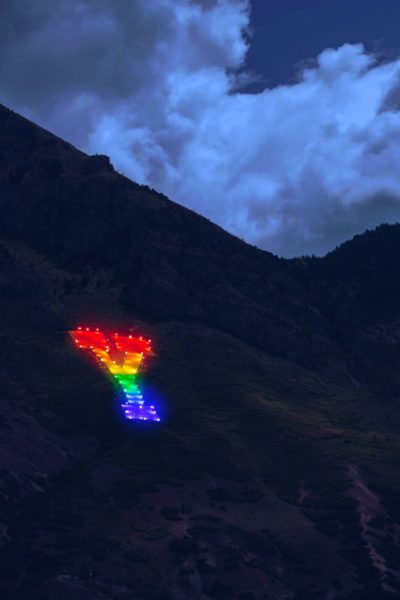 The university's clarification frustrated LGBTQ students, according to Talbot. In response, he organized a demonstration in March of 2021, lighting the "Y" that sits above BYU's campus – one of the school's oldest traditions – in rainbow Pride colors on the one year anniversary of the university's letter sent to students that clarified the LGBTQ dating policy.
"We did it to reclaim that traumatic day and spin in a positive light of support, love and unity to create more visibility and awareness," said Talbot. "And also to take a stand that we weren't going to put up with just being tossed around by BYU. We deserve to be a part of the BYU community and a part of the LGBTQ community."
The school has since updated its policies, banning protests and other demonstrations on Y Mountain, where Talbot staged his demonstration, in December of last year.
"Demonstrations should be consistent with BYU's faith-based mission, intellectual environment and requirements described in the policy," a statement added.
Still, Talbot, who is now graduated, has hope that the Education Department's investigation will "finally change" things at BYU. "This has been something that's been going on for decades," he said. "They've wronged marginalized communities at BYU and they need to be held accountable for it."
LGBTQ advocates fight on for trans athletes, but they may be losing the battle
Transgender women competing in women's sports remains unpopular in polls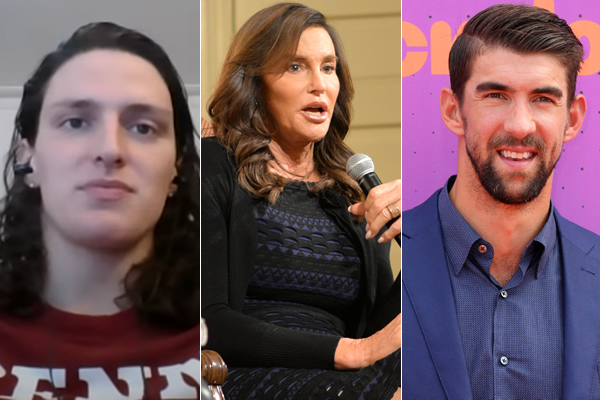 In the wake of the NCAA changing its policies regarding transgender athletes and state legislatures advancing new legislation against trans inclusion in school sports, LGBTQ advocates continue the fight to ensure athletes can compete consistent with their gender identity, although they may be losing the battle.
As public polling has demonstrated, transgender athletes competing in sports — especially trans women in women's sports — remains unpopular even among pro-transgender people. Key figures have emerged in recent days opposing transgender inclusion amid the focus on Lia Thomas, a recently transitioned swimmer at the University of Pennsylvania who has been smashing records in women's aquatics.
Nonetheless, LGBTQ advocates charged with fighting for transgender rights are continuing the efforts. After a coalition of LGBTQ advocates sent a letter to the NCAA urging the organization to include a non-discrimination provision in its updated constitution, the Human Rights Campaign condemned the organization for refusing to keep the language, which appears to have the effect of allowing the sports division to decline to allow transgender athletes to compete consistent with their gender identity, and sent an action alert to supporters.
Joni Madison, interim president of the Human Rights Campaign, said in a statement the NCAA "needs to show us their playbook for protecting LGBTQ+ and specifically transgender athletes from discrimination" as state legislatures advance legislation against transgender kids in sports.
"The NCAA has so far proven to be an unreliable ally to LGBTQ+ athletes across the country who depend upon the organization to protect them from discrimination and now they owe these athletes answers," Madison said.
Instead of reaffirming non-discrimination protections, the NCAA announced a change in policy that goes in different directions but appears aimed at limiting participation of transgender women without taking full responsibility for it. On one hand, the NCAA delegates to the bodies governing individual sports the policies for transgender participation, but on the other hand requires transgender women to document having limited testosterone levels over a certain period of time.
The fight now continues in state legislatures as sports bills are among the latest crop of measures seeking to limit access for transgender people. After South Dakota Gov. Kristi Noem made a push for legislation against transgender kids in sports at the start of the year, the state legislature responded by advancing such a measure. On Wednesday, a South Dakota House committee favorably reported out legislation already approved by wide margins in the Senate that would make biological sex the standard for sports in an attempt to limit transgender participation.
Sam Ames, director of advocacy and government affairs at The Trevor Project, said in a statement upon the committee vote the legislation "has nothing to do with fairness — and everything to do with South Dakota politicians using transgender youth as pawns on a political chessboard.
"Proponents of this blanket ban are hard-pressed to find examples of transgender students making South Dakota sports less fair or safe," Ames said. "Research from The Trevor Project makes clear that many already opt out of sports due to fear of bullying and discrimination."
Although the issue of transgender women in sports has emerged in recent years as conservative activists found a way to challenge LGBTQ rights in a way that was palatable to the public, the fervor peaked as Thomas made headlines for breaking records in the pool.
After having previously competed in men's aquatics, Thomas — after she transitioned — began competing in women's events and was beating her competitors by wide margins. In one event in December, Thomas came in first in the 1,650-yard freestyle and 38 seconds ahead of her closest competitor. The NCAA rules would appear to have the effect of barring Thomas from further competition.
Public polling, which has shown strong support for LGBTQ rights in general, continues to show the sentiment is against transgender women competing in sports, although the outcome of the poll can change considerably depending on the wording of the question. One Gallup poll last year found only 34 percent of those surveyed supported transgender athletes participating on teams consistent with their gender identity, while 62 percent said transgender people should have to compete with other athletes of their gender designated at birth.
One LGBTQ strategist, who agreed to speak on condition of anonymity, said the time may have come for LGBTQ advocates to admit a fait accompli if they want to seek broader civil rights protections in employment, housing and public accommodations with the Equality Act or other federal legislation.
"Advocates should just admit this is a very different issue than a trans person applying for a job or finding an apartment," the strategist said. "Equality principles differ by situation — that's why we have separate men's and women's sports in the first place. The same public opinion overwhelmingly supportive of the Equality Act is also clearly skeptical of a one size fits all federalization of all sports everywhere."
Adding fuel to the fire are recent comments from key figures in athletics.
Caitlyn Jenner, who before she transitioned was an Olympic champion in the 1970s, has been among the more prominent voices to speak out against transgender women in sports and said on a recent appearance on Fox News it represents "a woke world gone wild."
Jenner, who came out against transgender participation in sports during her unsuccessful gubernatorial campaign last year in the California recall election, said the NCAA "just kicked the can down the road" on the transgender sports issue and had choice words for Thomas.
"When you do transition and you do go through this, you have to take responsibility and you have to have integrity," Jenner said. "I don't know why she's doing this."
Michael Phelps, the decorated Olympic swimmer, also declined to support transgender athletes fully when asked about the issue during an interview on CNN, bringing up doping in sports in comparison.
"I don't know what it looks like in the future," Phelps said. "It's hard. It's very complicated and this is my sport, this has been my sport my whole entire career, and honestly the one thing I would love is everybody being able to compete on an even playing field."
To be sure, advocates for allowing transgender people to compete in sports consistent with their gender identity also have their supporters in the sports world, including tennis legend Billie Jean King. On Monday, Dorian Rhea Debussy, who's non-binary and one of 54 facilitators in the NCAA Division III LGBTQ OneTeam program, resigned in protest over recent NCAA actions.
"I'm deeply troubled by what appears to be a devolving level of active, effective, committed, and equitable support for gender diverse student-athletes within the NCAA's leadership," Debussy said. "As a non-binary, trans-feminine person, I can no longer, in good conscience, maintain my affiliation with the NCAA."
Arguably, schools complying with the new NCAA policy and states enacting anti-transgender laws would be violating Title IX of the Education Amendment of 1972, which prohibits discrimination on the basis of sex in education, especially after the U.S. Supreme Court's ruling in Bostock v. Clayton County finding anti-transgender discrimination is a form of sex discrimination.
One federal court last year blocked a West Virginia state law against transgender participation in sports on that legal basis. No litigation, however, appears to be in the works at this time challenging colleges or the NCAA policy.
Florida House committee passes "Don't Say Gay" bill
"LGBTQ people are your neighbors, family members, and friends. We are a normal, healthy part of society and we will not be erased"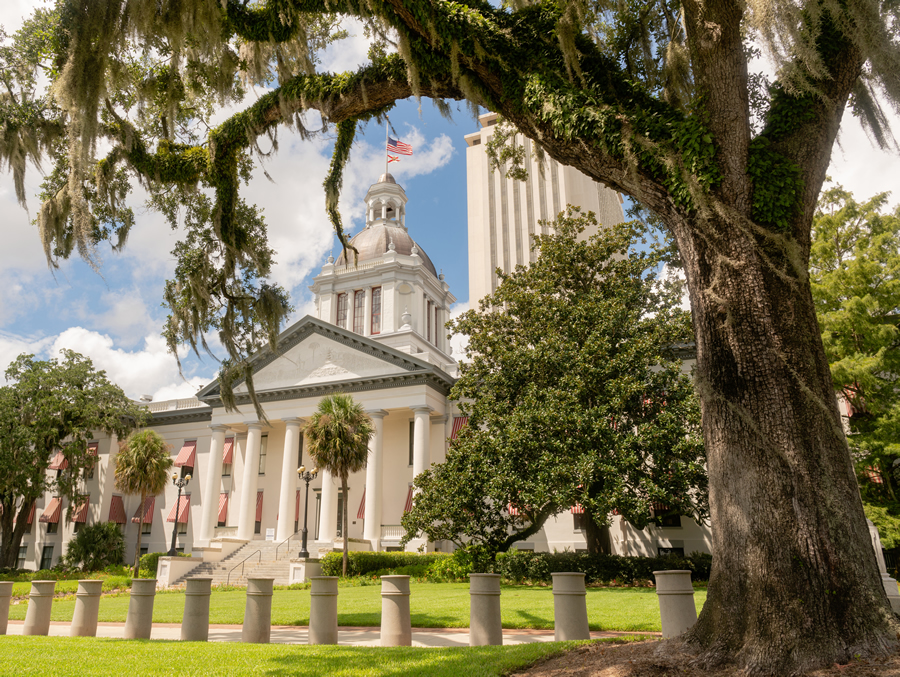 TALLAHASSEE – A Republican majority Florida House Education & Employment Committee passed HB 1557, the Parental Rights in Education bill, colloquially referred to as the "Don't Say Gay" bill advancing the measure to the full House.
HB 1557 and its companion Senate bill SB 1834, would ban classroom discussions about sexual orientation and gender identity in schools, erasing LGBTQ identity, history, and culture — as well as LGBTQ students themselves.
The bill also has provisions that appear to undermine LGBTQ support in schools and include vague parental notification requirements which could effectively "out" LGBTQ-identifying students to their parents without their consent.
"The Trevor Project's research has found that LGBTQ youth who learned about LGBTQ issues or people in classes at school had 23% lower odds of reporting a suicide attempt in the past year. This bill will erase young LGBTQ students across Florida, forcing many back into the closet by policing their identity and silencing important discussions about the issues they face," said Sam Ames, Director of Advocacy and Government Affairs at The Trevor Project. "LGBTQ students deserve their history and experiences to be reflected in their education, just like their peers."
In an email to the Blade, Brandon J. Wolf, the Press Secretary for Equality Florida noted; "Governor DeSantis' march toward his own personal surveillance state continues. Today, the Don't Say Gay bill, a piece of legislation to erase discussion of LGBTQ people from schools in Florida, passed its first committee and became another component of an agenda designed to police us in our classrooms, doctor's offices, and workplaces. Make no mistake — LGBTQ people are your neighbors, family members, and friends. We are a normal, healthy part of society and we will not be erased."
This will kill kids, @RonDeSantisFL. You are purposefully making your state a harder place for LGBTQ kids to survive in. In a national survey (@TrevorProject), 42% of LGBTQ youth seriously considered attempting suicide last year. Now they can't talk to their teachers? https://t.co/VtfFLPlsn3

— Chasten Buttigieg (@Chasten) January 20, 2022
The Trevor Project's 2021 National Survey on LGBTQ Youth Mental Health found that more than 42% of LGBTQ youth seriously considered attempting suicide in the past year, including more than half of transgender and nonbinary youth.
According to a recent poll conducted by Morning Consult on behalf of The Trevor Project, 85% of transgender and nonbinary youth — and two-thirds of all LGBTQ youth (66%) — say recent debates about state laws restricting the rights of transgender people have negatively impacted their mental health.
When asked about proposed legislation that would require schools to tell a student's parent or guardian if they request to use a different name/pronoun or if they identify as LGBTQ at school, 56% of transgender and nonbinary youth said it made them feel angry, 47% felt nervous and/or scared, 45% felt stressed, and more than 1 in 3 felt sad.
If you or someone you know needs help or support, The Trevor Project's trained crisis counselors are available 24/7 at 1-866-488-7386, via chat at TheTrevorProject.org/Get-Help, or by texting START to 678678.