No DOMA repeal bill until court decision
Log Cabin expects Portman to sign on as co-sponsor
Lawmakers are holding off on introducing legislation that would repeal the Defense of Marriage Act until after the Supreme Court rules on the anti-gay law, according to multiple sources familiar with the bill, as one Republican LGBT organization expects Sen. Rob Portman (R-Ohio) to sign on as a co-sponsor.
A number of LGBT advocates familiar with the legislation, which has been known as the Respect for Marriage Act, told the Washington Blade its lead sponsors — Rep. Jerrold Nadler (D-N.Y.) in the House and Sen. Dianne Feinstein (D-Calif.) in the Senate — are delaying introduction until after the expected court ruling in June.
Fred Sainz, HRC's vice president of communications, said his organization supports the decision to postpone introduction of the bill until after a decision is reached in the DOMA case, known as Windsor v. United States.
"The lead sponsors of the RMA have decided to wait until after the court rules in Windsor," Sainz said. "We support that decision and look forward to continuing to work with them to advance this important legislation."
Ian Thompson, legislative representative for the ACLU, said his organization, which filed the lawsuit against DOMA, has a similar understanding that the lead sponsors won't introduce the Respect for Marriage Act until the Supreme Court rules on plaintiff Edith Windsor's challenge.
"The ACLU understands and respects that decision, and is committed to continuing to work with our sponsors in Congress and coalition partners to advance the Respect for Marriage Act and a full repeal of DOMA to ensure that the federal government recognizes and respects the marriages of same-sex couples across the nation," Thompson said.
Still, the lawmakers are staying mum. Ilan Kayatsky, a Nadler spokesperson, said he had "no news to report yet" on the timing for the introduction of the DOMA repeal bill, and Feinstein's office declined to comment.
In the event that the Supreme Court decides to uphold DOMA, the Respect for Marriage Act would be the next approach to lifting the 1996 anti-gay law, which prohibits federal recognition of same-sex marriage. Moreover, as previously reported by the Blade, legislation still may be necessary if DOMA is overturned to clear up lingering inequities for married same-sex couples, such as in situations where they move from one state that recognizes their union to another that doesn't.
Previous versions of the bill had a "certainty provision" spelling out that federal benefits would continue to flow to married gay couples — even if they live in a state that doesn't recognize same-sex marriage.
David Codell, legal director at the Williams Institute of the University of California, Los Angeles, explained that the Respect for Marriage Act "would serve important purposes" even if the Supreme Court were to strike down the ban on federal recognition of same-sex marriage.
"The Respect for Marriage Act would make clear that the federal government would treat as valid for federal purposes all marriages of same-sex couples in the United States if the marriages were valid where entered — regardless of whether a couple currently lives in a state that permits same-sex couples to marry or recognizes such marriages," Codell said. "The Act would mean that a validly married same-sex couple could move anywhere in the country without losing federal benefits tied to marriage."
As they await introduction of a bill, LGBT advocates say they're continuing to work to bring on additional co-sponsors for the bill, which closed the 112th Congress with 161 co-sponsors in the House and 32 co-sponsors in the Senate. That effort was highlighted by Evan Wolfson, president of Freedom to Marry.
"Freedom to Marry's focus right now is on continuing to add co-sponsors as we prepare to introduce the bill with the strongest momentum possible when ready to move forward," Wolfson said.
While the House bill had Republican co-sponsors in the 112th Congress — Rep. Ileana Ros-Lehtinen (R-Fla.), Rep. Richard Hanna (D-N.Y.) and former Rep. Charlie Bass (R-N.H.) — the Senate version of the bill has never had GOP support. Even Sen. Susan Collins (R-Maine), who's considered an LGBT advocate and champion of "Don't Ask, Don't Tell" repeal, wasn't a co-sponsor.
But the Log Cabin Republicans say that will change. Gregory Angelo, the organization's executive director, said he expects Portman — who came out in favor of marriage equality after he learned his son is gay — to be among the sponsors of the DOMA repeal.
"Congresswoman Ileana Ros-Lehtinen and Congressman Richard Hanna were Republican co-sponsors in the 112th Congress, and we have every expectation they will continue as co-sponsors when the bill is reintroduced," Angelo said. "Given his recent evolution on marriage equality, we expect Republican Senator Portman to be a co-sponsor in the Senate."
Angelo later clarified that he's had no assurances from Portman that he'll be a sponsor, but was basing his assessment on the senator's past statements in favor of same-sex marriage.
Portman's office didn't respond to a request for comment on whether he'll sign on as co-sponsor to the Respect for Marriage Act. According to a Cleveland Plain Dealer article at the time Portman came out for marriage equality, Portman told reporters he believes legally married gay couples should receive the federal benefits of marriage, but the report doesn't quote him as saying he'll sign on as a sponsor to DOMA repeal legislation per se.
Rep. Pocan introduces legislation to create nat'l LGBTQ history museum
Bills seek answer on including site as part of Smithsonian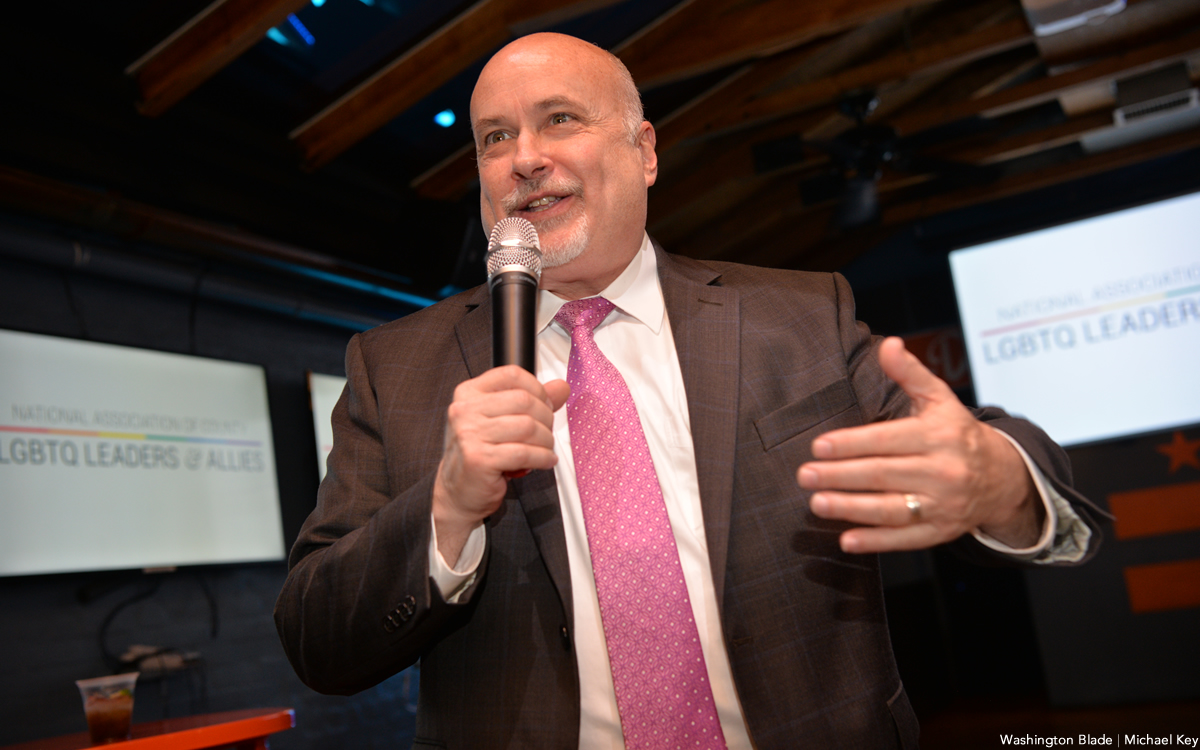 Rep. Mark Pocan (D-Wis.) has introduced legislation that would set up the process to create a National Museum of American LGBTQ+ History & Culture, potentially as an official site within the Smithsonian Institution in Washington, D.C.
Pocan, one of nine openly gay members of the U.S. House and co-chair of the LGBTQ+ Equality Caucus, said in a statement Thursday the measures would are effort to preserve LGBTQ history "as our community faces unprecedented attacks and attempts to erase our history." The pair of bills is H.R.9070 and H.R.9071.
"It is vital to remember our collective past – particularly when certain states seek to constrain and repeal existing rights by passing bills that harm LGBTQ+ youth and our community at large," Pocan said. "Let's tell these stories, and honor the many contributions the LGBTQ+ community has made to this nation with a museum in Washington, D.C."
The first bill, according to a news statement, would creates an eight-member commission of individuals with expertise in museum planning or LGBTQ+ research and culture "to look into the viability of establishing such a facility in the nation's Capital."
Among other things, the commission would be charged with recommending a plan on action for museum, including fundraising for the museum, and submitting to Congress a plan for construction of the museum, the statement says.
The bill would also instruct the commission to address whether the museum should be part of the Smithsonian Institution, based in the nation's capital and the world's largest museum and research complex, per the news statement. The full study, the statement says, would have to be completed in 18 months.
If the Smithsonian were to adopt the a museum on LGBTQ history and culture, it would be similar to other museums under its jurisdiction focused on minority populations in the United States, including the National Museum of African American History & Culture and the National Museum of the American Indian.
The second bill, according to a news statement, would be eligible for consideration by Congress after the commission completes its work and issues its recommendations and allow for formal creation of the museum. More than 50 lawmakers, including all nine openly gay members of the U.S. House, co-sponsor the legislation.
Analysis: Nevada Democratic senator faces attacks on LGBTQ record that defy logic
Masto criticized for defending marriage ban, but GOP opponent Laxalt agreed with her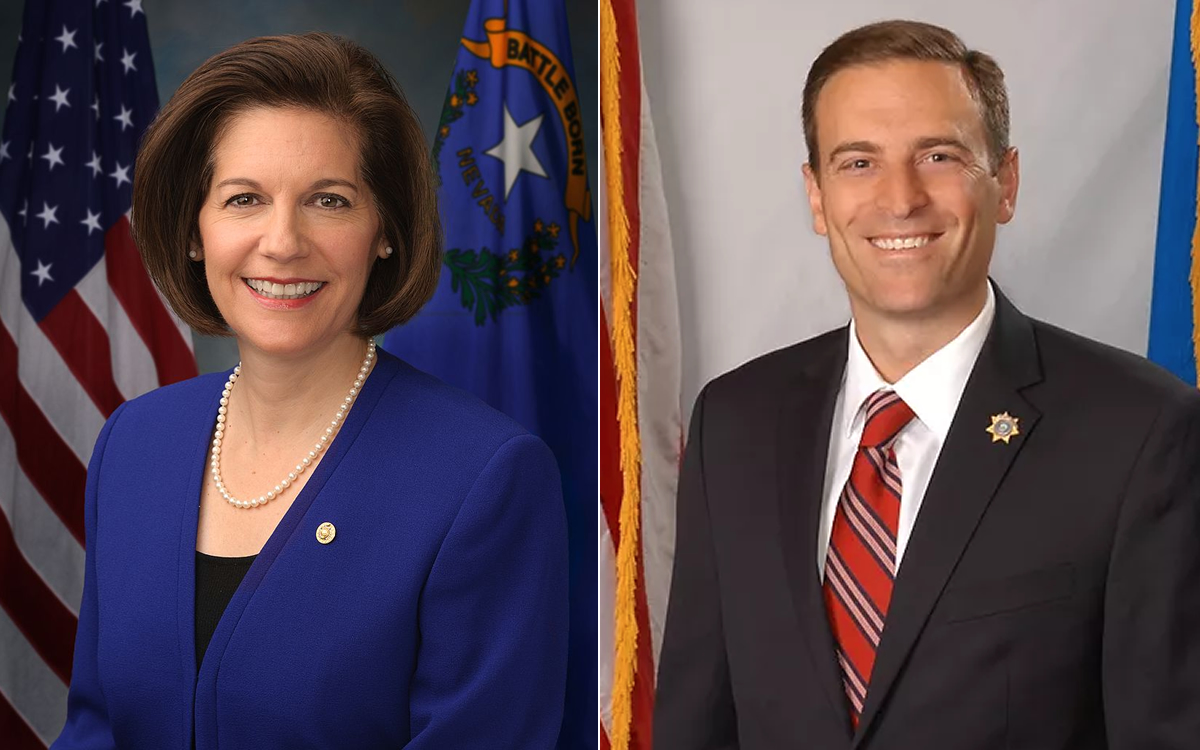 The race for the U.S. Senate seat in Nevada — which may decide control of that chamber of Congress in the upcoming election — is coming down to the wire as polls shows a tight race between Sen. Catherine Cortez Masto (D) and the Republican challenger Adam Laxalt. If Republicans get their way, it will have everything to do with Cortez Masto's defending her state's ban on same-sex marriage as Nevada attorney general — and nothing at all to do with the long record against LGBTQ rights of her Republican opponent.
Cortez Masto, as Republicans want you to remember, made the decision in 2014 as Nevada attorney general initially to defend her state's ban on same-sex marriage against a legal challenge in court. It was after the Supreme Court's ruling against the anti-gay Defense of Marriage Act, which prompted a wave of litigation throughout the country against state bans on same-sex marriage as legal advocates saw a new opportunity to overturn them under the new precedent.
Some other attorneys general at the time came to a different conclusion and determined they didn't need to defend their state bans in court, making legal conclusions the laws were unconstitutional and thus indefensible. Cortez Masto also had some choice words in her initial legal brief comparing the ban on same-sex marriage to bigamy and incest, which Republicans are now able to pounce on largely thanks to the Washington Blade's original reporting at the time drawing attention to the language in the brief.
Matt Wolking, vice president of Axiom Strategies, is among the Republican political strategists invoking Cortez Masto's defense of the marriage ban, rebuking her on Twitter on the basis she opposes gay rights — all while promoting her GOP opponent despite a column he wrote in favor of "Don't Ask, Don't Tell," the military's gay ban.
"Laxalt served in our military. Catherine Cortez Masto did not," Wolking tweeted. "She's been in government her whole life. 4 years after Laxalt's column & 3 years after DADT was repealed, Masto defended Nevada's ban on gay marriage, comparing it to bigamy and incest."
But what Republicans aren't telling voters is that Cortez Masto's legal position on her state's ban on same-sex marriage didn't last long. After issuing a statement the next day signaling she was reconsidering her defense of the law, she later announced after the review she would reverse her position and join legal advocates in seeking to overturn the law.
In 2022, Republican efforts to draw attention to Cortez Masto's record is the latest indication that the issue of same-sex marriage, which years ago was an unpopular idea that sent Democrats running for the hills, has been turned on its head in terms of its political implications. For example, Democrats in the House just this year were eager to bring the floor legislation seeking to codify same-sex marriage after the U.S. Supreme Court decision overturning Roe v. Wade. Support for same-sex marriage is so high that one-fourth of the Republican caucus went along with them.
The Nevada race, however, takes public support for same-sex marriage to a whole new level. Now, Republicans are criticizing a Democratic incumbent up for re-election for defending the ban on same-sex marriage and her choice of words in an initial legal brief when Republicans have largely been responsible for enacting the bans in the first place. The latest Republican Party platform from 2016 continues the party's position in favor of a constitutional amendment that would ban same-sex marriage form coast-to-coast.
As such, it would be hard for Republicans to assert they are bringing up Cortez Masto's record out of a genuine concern for same-sex marriage and not simply as a political ploy to disaffect Democrats and suburban women, whose turnout would be necessary for Democrats to retain control of Congress in a mid-term election with a Democratic president.
Consider the alternative: Laxalt is a conservative who is notorious for having an anti-LGBTQ record. Take, for example, the aforementioned op-ed Laxalt wrote for the National Review in 2010 in favor of "Don't Ask, Don't Tell" when repeal of the ban on openly gay service members was being considered in Congress.
Changing the law, Laxalt wrote, would make "fighting wars harder" on the basis that men "love to have sex" and the military "cannot tolerate the tensions that surround sexual relationships or potential ones" that would come with openly gay service members.
"To those who currently tolerate homosexuals but retain their God‐given right to reject homosexuality as a practiced lifestyle — could you do the above as a leader?" Laxalt wrote. "Even for your country? It is one thing for the military to ask its members to accept
homosexuals, but another for the military to ask its members to accept and live with
homosexuality, the homosexual lifestyle."
That's just one part of Laxalt's longer record, which includes signing a legal brief in favor of allowing a Washington florist to refuse wedding services to same-sex couples based on religious objections and dubbing as "coercive" the Obama administration's guidance on transgender students to use the bathroom consistent with their gender identity.
The real kicker: Laxalt himself said when running for the position of Nevada attorney general he would defend the state's ban on same-sex marriage. During a 2014 interview with the Las Vegas Sentinel, Laxalt emphatically made the case the role of attorney general is to defend state law on the marriage ban.
"As attorney general of Nevada, I would follow and uphold the law as passed by the people of Nevada through our constitutional process, and I would vigorously defend that law when challenged," Laxalt said.
Unlike Cortez Masto, there's nothing in the public record suggesting that Laxalt ever changed his position on same-sex marriage or otherwise embraced LGBTQ rights (save for accepting the endorsement from Log Cabin Republicans and strong support from Richard Grenell). Meanwhile, Cortez Masto has sponsored the Equality Act, legislation that would expand protections against LGBTQ discrimination under civil rights law, and is now a co-sponsor of the Respect for Marriage Act, which supporters say will come up for a vote in lame duck after the election.
If, at the end of the day, Nevada voters decide to oust Cortez Masto and replace her with Laxalt, they would be replacing a supporter of LGBTQ rights measures before Congress with a voice stridently against them. One wonders if Republicans criticizing Cortez Masto for her short-lived defense of her state's ban will come back to criticize Laxalt for voting "no" on those measures based on their newfound standards for political candidates.
In first, gay Democrat and gay Republican face off in congressional race
GOP candidate was present at Stop the Steal rally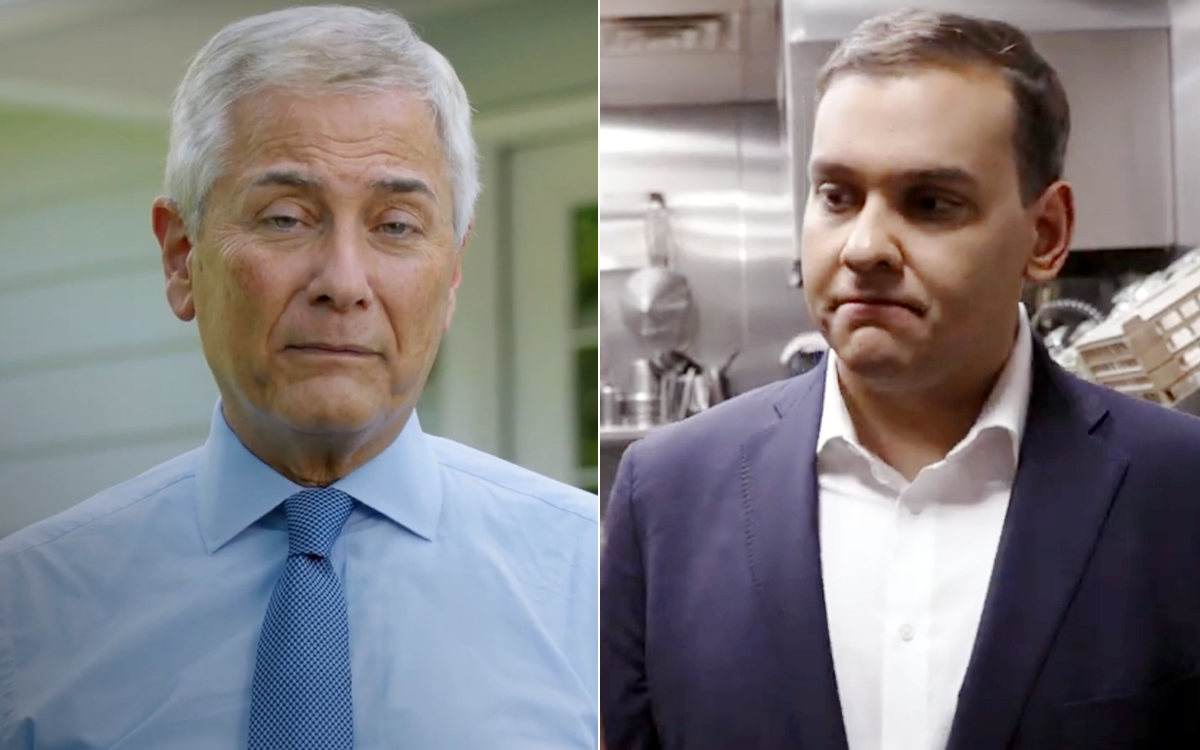 The race in New York's 3rd congressional district is seen as critical in the mid-term elections as Republicans are poised to retake the House and Democrats are trying to preserve their razor-thin majority. But the New York race holds another important distinction as the two candidates — Robert Zimmerman and George Santos — are openly gay, marking the first time out gay candidates from the two major parties have squared off in a House race.
In separate interviews with the Washington Blade, the candidates had markedly different takes on the nature of the historic first, with one saying his sexual orientation influenced his approach to politics and the other utterly rejecting its importance.
Zimmerman, a progressive Democrat and communications official who supports causes like LGBTQ rights, abortion rights, and gun reform, said being gay and closeted in his youth living on Long Island in the 1970s shaped his view of politics.
"I went to speak to an educator I trusted, and he suggested to me I try a doctor to make me better, because in those days, that was the path, conversion therapy," Zimmerman said. "And I certainly didn't do that, but it just reflects how isolating that period was, but I guess out of that period, that sense of isolation, it helped me to look at the world around me and see a lot of other folks who felt unseen and unheard, and it helped me find my voice that brought me to protest lines, brought me into political activism."
The first protest for Zimmerman, he said, was in front of the Democratic Party's headquarters. He's now a member of the Democratic National Committee in New York. Zimmerman said his political activism also brought him to the office of his member of Congress, where he became a congressional intern and later a member of his senior staff.
Santos, a conservative Republican, downplayed the importance of being a gay congressional candidate and said he doesn't make it an issue in his campaign, although he conceded,"it feels awesome that the opportunities are equal for everybody in this country."
"It's great to see that opportunities are equal to all in this country," Santos said. "It's always been that way. … So I don't make it a campaign issue as far as I don't campaign on that issue. It's not a campaign issue for me. I think it's a distraction, really about the real issues plaguing our country right now. I'd rather talk about that stuff all day long than talk about my sexual preference."
Key issues for Santos, he said, were many of the same issues Republicans are running on as part of the 2022 mid-term elections, such as inflation, the cost of energy, and crime, which he said are issues that affect every American to varying degrees regardless of their socioeconomic status.
Although he downplays the significance of his sexual orientation, Santos would have the distinction if elected as the first openly gay Republican in Congress since the departure of former Rep. Jim Kolbe in 2009. Santos would also have the distinction of being the first openly gay non-incumbent Republican candidate elected to Congress.
Not exactly fitting the mold of gay members of Congress seen in the past, Santos has aligned himself with a conservative ideology. He has called abortion rights "barbaric," and spoken favorably about the Florida "Don't Say Gay" bill signed into law by Florida Gov. Ron DeSantis. Footage exists of Santos saying he was at the Ellipse for the rally with former President Trump that preceded the Jan. 6 insurrection at the U.S. Capitol.
Santos didn't deny that he was present at the "Stop the Steal" rally, but said he "did not go" to the U.S. Capitol building on Jan . 6 and downplayed the significance of his presence at the rally.
"I just don't see how that's relevant to this interview, and to what we're doing in 2022," Santos said. "I just really think the American people deserve journalists to really focus on the future. I really liked this interview to be about proposals and what I'm going to present in Congress come 2023 instead of looking at two years ago, and really reminiscing on that."
Amid news stories of Republican candidates continuing to deny the outcome of the 2020 election, Santos indicated he wasn't among them. Asked whether President Biden won the 2020 election, Santos replied, "He's the president of the United States, I never contested that." Asked whether Biden is president because he won the election, Santos replied, "Of course."
Albert Fujii, spokesperson for the LGBTQ Victory Fund, said the records of both candidates made it easy for the organization, which endorses openly LGBTQ people running for public office, to decide whom to support.
"Victory Fund proudly endorsed Robert Zimmerman because of his life-long LGBTQ advocacy, commitment to public service and fierce pro-equality and pro-choice vision for America," Fujii said. "We believe abortion rights are LGBTQ rights and since our inception have always required candidates be pro-equality and pro-choice to receive our endorsement."
Fujii added Santos never approached the Victory Fund to seek an endorsement. Gay Republicans have sometimes criticized the organization as being a partisan tool of Democrats.
Political outsiders have rated New York's 3rd congressional district as "leaning Democratic." Although some initial polling was favorable to Santos as Republicans had an advantage with inflation and gas prices being a major issue, the tide appears to have turned nationwide after the Supreme Court ruling against Roe v. Wade served as a wakeup call to the Democratic base.
Zimmerman said the ruling in the Dobbs case has stirred a high level of activism, predicting LGBTQ rights would be next on the chopping block due to the concurrence of U.S. Associate Justice Clarence Thomas, who called for revisiting the decision in favor of same-sex marriage.
"You're seeing a level of energy and activism as a result of the Dobbs decision," Zimmerman said. "That is truly unprecedented for a midterm election When you take away 50 years of protection for women, and people also understand that's just the opening bid. They're coming after our rights of the LGBTQ+ community next, and they're coming after our rights in so many other areas. You've seen a level of engagement, coalition building, and activism that is really unprecedented."
Santos, presenting a different take on the Dobbs decision, said he thought the ruling "was great" and "gave the states back its power of the Tenth Amendment."
"I don't think it affects us here in New York," Santos said. "I do understand that there's other states with different decisions, but that's precisely what the Tenth Amendment does — it gives the rights back to the state so that on a more hyperlocal concentrated issue, the people's constituency, get to pick what they think is best for them."
Thomas's concurring opinion in the Dobbs decision is also not a threat, Santos said, although he criticized it as an "unfortunate moment."
"He had an unfortunate moment in a dissenting opinion that the majority did not sign on," Santos said. "Clearly, that's why it has no legal value. It's nothing more than a legal essay. A legal essay written by a Supreme Court justice with — I'm just going to go out on a limb and say not the brightest moment in his career."
One of the consequences of the Dobbs decision was the introduction in Congress of legislation knowns as the Respect for Marriage Act, which would seek to codify same-sex marriage into law regardless of whether or not the Supreme Court decides to revisit it.
Santos, asked whether he's in favor of the bill, replied, "If the bill is put through committee properly? Yes." Santos went on to say he had calls from Republicans about the legislation and told them it's the law of the land and a matter of "if you feel comfortable supporting my right to marry my spouse of my choosing."
"My only hang up with it is I really wish to give it more legitimacy and not leave any questions open for pundits on both sides of the aisle … let's just get it passed," Santos said. "I mean, I have no issue. Of course I'd vote for it."
When the Blade pointed out he appeared to be leaving the door open to vote "no" based on objections of not going through the regular order of the committee process, Santos denied that was the case: "I didn't say that. I just said I want it to be that way, so there's no questions about it. I never in any instance suggested to you I would say 'no.'"