Another good education idea gone awry?
Contract with Hogan Lovells must include input from teachers, parents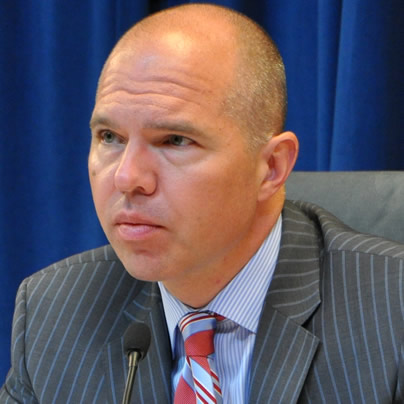 It's fair to ask why Council member David Catania hired Hogan Lovells to handle research and development of new education legislation and why — if this is so important — it's being paid for with private donations rather than public funds. Is there public oversight that will be avoided by paying for it this way?
The Hogan Lovells Education Practice Group has some impressive individuals, including Elizabeth Meers, practice area leader. They have a wealth of background working with schools and higher education. But there is little in their online biographies to engender confidence in their familiarity with teaching or running K-12 schools. Only one member of the practice group claims a background as a principal and teacher and that is in the Montgomery County Schools. She also has a connection to Teach for America, which sounds like a warning bell to some.
None of this should stop them from doing a good job in researching D.C. education regulations and policies; looking at other policies around the nation; or helping to draft new legislation. But it does make you wonder why there aren't D.C. education experts, administrators, teachers and parents as part of an initial group doing this research and discussing and debating the relevance of the research found.
Catania should be applauded for taking the time to learn about education, visiting schools and meeting with parents, administrators and teachers. But that begs the question of whether the people at Hogan Lovells will be meeting with them directly. Will the final product from Hogan Lovells be a surprise to everyone except Catania?
D.C. has recent experience with someone making decisions about our schools and our children without really listening to parents, administrators and teachers. That happened during the tenure of Michelle Rhee. What began as an exciting idea ended in defeat for both Mayor Fenty and his chancellor with recriminations on all sides continuing. It will be a shame if the $300,000 spent on the team at Hogan Lovells ends up the same way — a good idea gone awry.
School reform means different things to different constituencies. There have been various reform efforts going back to the 1960s; from Ocean Hill/Brownsville in New York to Rhee in D.C. with educators moving to open classrooms and ridding schools of ability grouping and back again. Every 10 or so years we give an old idea a new name and call it reform. We went from saying you can't educate children in classrooms with more than 20 students to again saying good teachers can teach larger classes. We tried all kinds of reading programs from Hooked on Phonics to Success for All and still have huge achievement gaps, students who can't read and low high school graduation rates.
I taught grade school in Harlem, served as executive director of the National Association for Gifted Children for 14 years and served on the education transition teams of Adrian Fenty and Vincent Gray. I both fought the teachers union and was a member of the union and can attest that education reform is neither easy nor simple. I agree with Sam Chaltain who wrote, "Despite public stereotypes of the profession, K-12 education is a complex web of cognitive, social, emotional, language, ethical and physical challenges and opportunities."
George H.W. Bush's much-touted 1989 education summit resulted in six national education goals. We have never successfully attained the first "All children in America will start school ready to learn" and in many ways that is the crux of the problem. We know the first five years of a child's life are crucial to brain function and making synapse connections. If a child isn't challenged in those five years because of where or how they grow up, they spend years trying to catch up.
With this knowledge, many in the community will be uncomfortable turning to a bunch of lawyers, no matter how smart, to do the research and make recommendations on how to improve education without having direct and ongoing input from parents, teachers and local education experts.
The future of lesbian bars
Resolve to support our queer spaces in 2022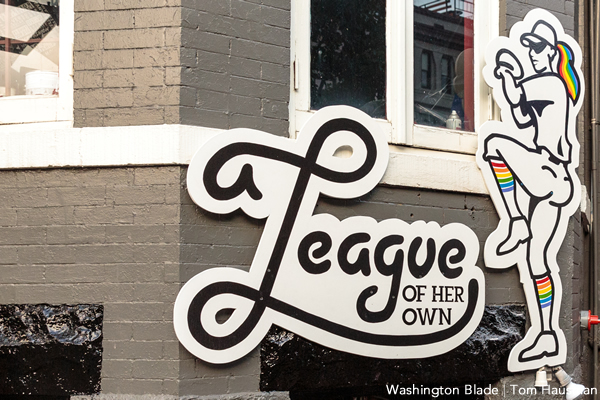 This New Year, I hope you wish for more lesbian bars across the country. The story of lesbian bars in the U.S. has been slightly tragic of late: as of January 2021, there were only 15 clubs or bars dedicated to queer women across the country.
That's right—only 15. Across all 50 states.
In Washington, D.C., my hometown, A League of Her Own stands out as the only lesbian bar in the city, dedicated to queer women. Located in Adams Morgan, A League of Her Own, also known as ALOHO, is a small mecca for queer ladies to pass through, socialize, and flirt. ALOHO is a chic gathering point for all queer folk, with posters of softball players dotting the walls and gender neutral signs lying about.
Several years ago, another lesbian bar called Phase 1 existed in Southeast, where queer women could slam eight balls in pool games and engage in raunchy yet ever-so-hot jello wrestling competitions.
Unfortunately, Phase 1 shut its doors in 2016.
So what explains the closure of so many lesbian bars, while bars for gay men continue to flourish? Perhaps many queer women view gay bars as a space for their own as well, whereas gay men view lesbian bars as less of a place for them to socialize.
Either way, we need to give support to lesbian bars now more than ever. Tokens of support can take many forms.
For one, make sure to socialize in spaces dedicated to queer ladies. There are three lesbian bars in New York City: Cubbyhole (281 W. 12th St.), Gingers in Brooklyn (363 5th Ave.), and Henrietta Hudson (438 Hudson St.). Next time you visit the Big Apple, make sure to give these three spots some love. Maybe drag your experimenting bi friend to these locations. Or your pansexual roommate.
Back in D.C., you can buy unisex shirts in A League of Her Own's merchandise store, available online.
Proceeds will go toward funding the bar, and making sure it stays afloat, especially during this COVID economy.
Most of all, I hope you encourage your queer lady friends to keep on frequenting queer lady destinations. After all, there is only one thing that will keep lesbian bars afloat—and that is attendance.
I, for one, will be frequenting many lesbian destinations this new year.  
Isaac Amend is a Yale graduate and participated in National Geographic's 'Gender Revolution' documentary. He also is a member of the LGBT Democrats of Virginia, and contributes regularly to the Blade. Follow him on Twitter and Instagram at @isaacamend.
Breaking barriers as an out trans 'Jeopardy' champion
Amy Schneider's run inspires us all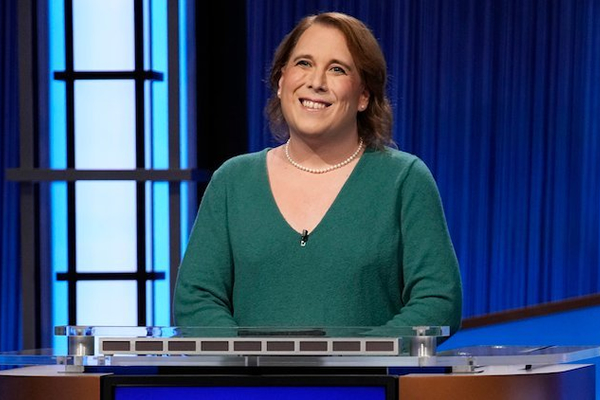 "When was the last time anybody said 'wow!'" a friend asked me.
I couldn't remember the last time anyone I know (including me) had any "Wow!" moments. Until I heard about trans woman and software engineering manager Amy Schneider's 29-game winning streak on "Jeopardy."
You wouldn't think anything could dispel our COVID exhaustion and political divisiveness. Yet, news about a champion on "Jeopardy," a quiz show that has been on TV since 1964, has broken through our gloom.
In our culture, there are few things that everyone loves. But, "Jeopardy" is beloved by many, from theater geeks to 80-year-old sports nuts. A progressive friend was over the moon when his brother was a "Jeopardy" contestant. A buddy, a hetero (non-Trump) Republican, is a "Jeopardy" fanatic and a gay librarian pal is a "Jeopardy" freak.
Many of us daydream about being on "Jeopardy." But we know that we wouldn't have a chance on this legendary quiz show with its deceptively simple format: You give the answer to the (often incredibly hard) clues in the form of a question. You have to have a strategic military commander's and a world-class athlete's coordination: so you can press the buzzer to answer the clue.
The game's categories run the gamut from opera to mountain ranges. Most of us, mere mortals, would be lucky to know even one category in the first round of the game. Let alone in the "Double Jeopardy" round or the "Final Jeopardy" clue. I might jump on clues about Katharine Hepburn movies or M&Ms. But that would be it for me.
It's exciting to watch a "Jeopardy" contestant become a long-running champion. You marvel at the player's intelligence, endurance, and nerve. It's thrilling when the contestant on a winning-streak is part of your community.
Many of us LGBTQ "Jeopardy" fans are thrilled by Schneider's record-setting winning streak. As I write this, Schneider has won more than $1 million in 29 games of "Jeopardy." She is the fifth millionaire in "Jeopardy" history, and only the fourth player to reach this milestone in the regular season. She has won more than any other female "Jeopardy" contestant.
Schneider, like so many of us, doesn't want to be defined by her gender identity or sexuality. Schneider's life is multi-faceted; she has many interests. Schneider lives with her girlfriend Genevieve. They have a cat named Meep.
Yet, Schneider doesn't want to hide that she's trans. On "Jeopardy," Schneider brilliantly dealt with this dilemma. She didn't make a big deal about being out. She just wore the trans Pride flag pin.
"It was something that I wanted to get out there and to show my pride in while not making it the focus of what I was doing there," Schneider told the New York Times. "Because I was just there to answer trivia questions and win money."
As a cisgender lesbian, I can't speak to how Schneider's record-setting "Jeopardy" streak feels to transgender people.
But, as a trans ally, I'm cheering for Schneider. Kudos for her bravery! At a time when many states are passing anti-trans laws, it takes guts to be out on TV and the Internet.
Few things are as mainstream as "Jeopardy." I bet that many "Jeopardy" viewers who are frightened at the idea of trans people, will become more comfortable with transgender people after watching Schneider on the popular quiz show. Because folks on TV come into our living and bedrooms and we feel as if we know them after watching them for a while.
"Amy looks like everybody else," my neighbor said when I told her Schneider was trans. "She doesn't act odd. She's not strange."
Transgender people encounter violence and discrimination in everything from housing to health care to employment.
I know Schneider's "Jeopardy" triumph won't end transphobia. But her winning streak will go a long way toward jumpstarting a change in hearts and minds.
Kathi Wolfe, a writer and a poet, is a regular contributor to the Blade.
SCARY: Tucker Carlson now the conscience of GOP
Cruz bows down, kisses ring of Fox host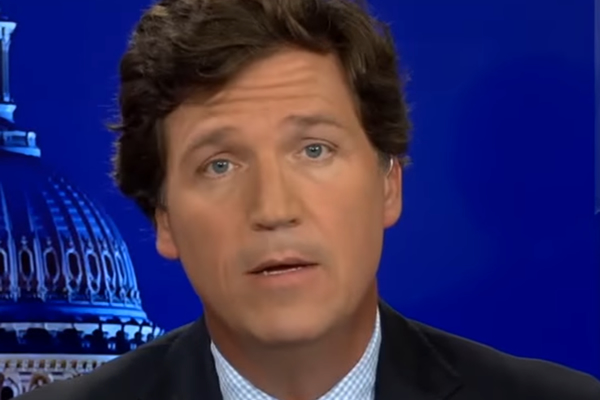 The Republican Party has sunk to a new low, hard to do, when a sleazebag like Tucker Carlson is now their conscience. Seeing Sen. Ted Cruz (R-Texas) groveling before him is laughable, disgusting, and frightening all at the same time.
As reported in Rolling Stone, Cruz said, "We are approaching a solemn anniversary this week. It is an anniversary of a violent terrorist attack on the Capitol where we saw the men and women of law enforcement demonstrate incredible courage, incredible bravery, risk their lives to defend the men and women who serve in this Capitol." Then "Cruz was lambasted by Tucker Carlson that night, prompting him to hop on Carlson's show Thursday and beg for forgiveness. "The way I phrased things yesterday, it was sloppy and it was frankly dumb," Cruz said before Carlson cut him off and said he didn't believe him. Cruz took it up a notch, stammering through an absurd bit about how he wasn't talking about the "patriots across the country supporting President Trump," only those who assaulted police officers, and that he's always described anyone who assaults a cop as a terrorist.
Carlson has made a career of being a pompous commentator. Interestingly he worked at CNN, PBS, and MSNBC, before finally landing at Fox in 2009. According to his Wikipedia page he went to Trinity College where he earned a bachelor's degree and Carlson's Trinity yearbook describes him as a member of the "Dan White Society," an apparent reference to the American political assassin who murdered San Francisco Mayor George Moscone and Supervisor Harvey Milk. After college, Carlson tried to join the CIA, but his application was denied, after which he decided to pursue a career in journalism with the encouragement of his father, who advised him that "they'll take anybody." Reading this clearly raised my opinion of the CIA and based on what we see in some media today I agree with Carlson's father on his view of journalism.
When you have a moment of silence in the House of Representatives to honor those who lost their lives on Jan. 6 and only two Republicans show up, Rep. Liz Cheney (R-Wyo.) and her father Dick Cheney, the former vice president, one understands the influence Carlson has on the GOP. The rest were afraid of being criticized on-air by him or lambasted by Trump.
Dick Cheney remarked on the GOP, "It's not a leadership that resembles any of the folks I knew when I was here for 10 years." He spoke to ABC News saying, "I'm deeply disappointed we don't have better leadership in the Republican Party to restore the Constitution."
There is a leadership void in the Republican Party today. Their so-called leaders are afraid to say what they think if it differs in any way from Trumpism or Carlson's view of the world, which requires total fealty to Trump. He found a home on Fox where he can lie with impunity and have millions believe his lies.
President Biden said, in what many think was the best speech of his presidency so far, these people are "holding a dagger to the neck of democracy." He went on to say, "For the first time in our history, a president not just lost an election, he tried to prevent the peaceful transfer of power as a violent mob breached the Capitol."
Tucker Carlson and his ilk have never bothered to answer a question the president threw at them, which is how they can accept all their down ballot victories, governors, and members of Congress, which occurred on the same ballots, cast by the same people, on the same day, as those for president. Of course, Carlson has no need to make sense, tell the truth, or speak rationally because of his platform on Fox, which doesn't require that.
My question is whether Carlson is as dumb as he makes himself sound or is he brilliant and this is all a big act? Either way the acolytes that follow Trump don't seem to care and are bowing down to Carlson's big audience. It's as if he can tell any Republican senator or congressperson, or Republican candidate for those jobs, to just 'bend over and take it' and they do. All we can do is mourn for the GOP of Lincoln and Eisenhower. Non-Trumpers will have to work hard and speak out if they ever want to resurrect a GOP that can be respected.
Peter Rosenstein is a longtime LGBTQ rights and Democratic Party activist. He writes regularly for the Blade.