End of the movement?
Allies, athletes, bloggers, celebrities, musicians, lawmakers & locals discuss the future of LGBT advocacy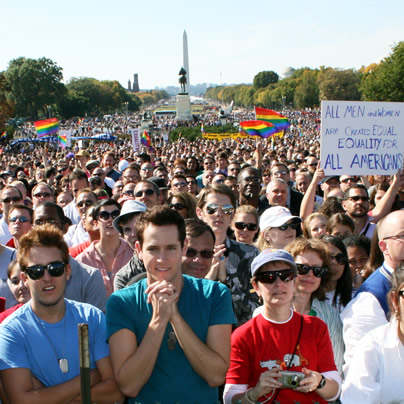 With the Supreme Court wrestling with some of our biggest issues and marriage rights expanding around the country, we asked several LGBT folks from all walks of life if the end of the movement could be near. Specifically, we asked:
"Have we reached a turning point in the LGBT rights movement and what does the end of the movement look like to you?"
Their answers will delight, surprise, provoke — and make you think.
(Compiled by Blade staff writers Michael K. Lavers, Chris Johnson, Lou Chibbaro Jr., Phil Reese and Joey DiGuglielmo)
SEE MORE ARTICLES IN THIS SERIES HERE
Heather Mizeur (Maryland State Delegate)
We have definitely reached a tipping point. With 12 states and counting, LGBT equality is on the march and there is no turning back. It was exciting for Maryland to play such a central role in being the first state below the Mason-Dixon line to pass marriage equality, and the first to affirm its support through the popular vote at the ballot box in 2012. In Takoma Park, when I ran for City Council a decade ago, my sexual orientation was not seen as anything interesting or special because the community had already grown to fully embrace all of its LGBT residents. Now, as I explore a run for governor of Maryland, I find that voters throughout the state are more impressed and interested in my ideas for the future than any concern over the fact that my wife would be their First Lady. We have come a long way.
I do not ever envision an "end of the movement" because as soon as we are done securing our own equality, we move on together as a community to address and tackle inequality every place it exists – poverty, racial bias and gender discrimination, to name a few. We will continue to work collaboratively, putting our community's best talents forward, to affect positive social change for everyone.
Felipe Sousa-Rodriguez (GetEQUAL)
It's time to push for what we deserve.
Forty-four years ago, a group of drag queens and trans women of color — tired of the constant institutional violence perpetuated against our community — led the Stonewall riots. Riots turned into Pride and Pride continues to be our community's opportunity to reflect on our progress, set forth our vision for equality and organize — because our lives depend on it.
Though we have made many gains, we are still severely unequal under United States law. We only have 15 percent of the rights of our straight counterparts. In my home state of Florida, I can be denied work, credit, housing, a marriage license and all manner of other rights essential to living the American dream. These issues become even more magnified when taking into account the multiple oppressions of race, immigration status, gender, etc. We have much ground to cover and waiting around is not an option.
Congress and the White House will continue to play politics with our lives unless we stand up now and push for what we truly deserve. Recently, Democratic leaders denied same-sex bi-national couples protections under immigration law; the president is sitting on an executive order that could protect 25 percent of the labor force in our nation against workplace discrimination. The incremental approach to equality is ineffective. We need a full federal equality bill. We owe it to those first mavericks who rose up and fought back against our oppression. It's time for us to push our allies in Congress to stand up for our equality.
Gautam Raghavan (White House adviser)
In his second inaugural address, President Obama spoke of our nation's commitment to advancing equality for all people, a journey that "guided our forebears through Seneca Falls and Selma and Stonewall."  For the LGBT community and allies, those words were received with deep gratitude, applause and more than a few tears.
Since 2009, we have seen tremendous change unfold across the country: "Don't Ask, Don't Tell" repealed, hate crimes laws expanded to better protect the community,  anti-bullying efforts increased, discrimination in federal housing prohibited and benefits for same-sex couples extended. As President Obama has said, this progress has not been led by lawmakers in Washington, but by ordinary citizens. It's change driven by friends, families, colleagues and neighbors having important, heartfelt, sometimes tough conversations in neighborhoods, small towns and cities all across America.
As we reflect upon this rapid progress in the context of a decades-long movement toward equality, it can be easy to assume we're near our journey's end.
But if we take the president's words to heart — "Seneca Falls, Selma, Stonewall" — we remember that movements for equality and social justice require continued commitment. Today, more than 160 years after the Seneca Falls Convention, women still don't receive equal pay in the workplace. Nearly 50 years after Bloody Sunday, we continue to work toward full racial equality in education, housing and voting. And although the protesters at Stonewall may not have imagined marriage equality in their lifetime, their experience of violence, harassment and discrimination at work and at home still resonate in our community today.
This Pride month, we celebrate the progress we have made — through laws, policies and victories at the ballot box and in the courtroom — and we recommit ourselves to continuing our march toward a more perfect union.
I'm confident that our president will be with us every step of the way.
U.S. Rep. Mark Takano (D-Calif.)
The LGBT rights movement is undoubtedly at a turning point as public opinion has moved in favor of LGBT rights and there are more LGBT federal elected officials than ever before.
But even more evident is that legislation coming out of Congress has become more reflective of true equality as laid out in the Constitution. With the Matthew Shepard Act and the repeal of "Don't Ask, Don't Tell," hate-crimes protections were expanded and gay service members were allowed to serve openly in the military. Meanwhile, an increasing number of states have approved marriage equality and prohibited employment discrimination against the LGBT community through state initiatives and legislation.
For the first time in United States history, the president and a majority of United States senators support marriage equality and the Department of Justice is no longer defending the Defense of Marriage Act (DOMA) in court.
Martin Luther King Jr. once said, "The arc of the moral universe is long, but it bends toward justice." At this moment in the LGBT rights movement, the arc is actually an acceleration curve. This is a turning point, but there is more to do before we reach the end of the arc, where full equality is recognized under the law and throughout our society.
Hassan Naveed (Gays and Lesbians Opposing Violence)
I think we're at a crossroads. We've witnessed tremendous strides toward equality in the past few years. Public opinion on LGBT issues is progressing unquestionably in our community's favor.
The recent political victories for marriage equality in several states represent major milestones. As we celebrate these successes and others to come, it's important to recognize that only history will attest to the true turning points of the LGBT rights movement.
For now, advocates must stride toward equality mindful of all the issues faced by LGBT peoples. Job discrimination, unfair immigration policies, health inequities, homelessness and hate crimes are not new problems, but continue to haunt our community.
The movement's path forward must address the needs of the most vulnerable and continually accommodate our immense diversity. We've reached a crossroads and the direction forward will be the true test of our morality as a people and our success as a movement. For me, the movement will end when we are truly free; to live our lives to the fullest without barriers based on gender expression and identity or sexuality.
Martin Garcia (Gertrude Stein Democratic Club)
As we watch the news and look at the national trends, it gets me very excited seeing all signs pointing to moving toward full equality. The number of successes in achieving marriage equality on the state level, the optimistic views on the upcoming Supreme Court decisions, national polls showing a rise in favor of LGBT rights show we definitely have the wind at our backs.
However, we still have a very long journey ahead of us on a number of issues affecting LGBT people and will need to continue fighting.
We need to continue the fight for HIV/AIDS research, education and funding to decrease the infection rate and raise awareness, that schools are safe for all LGBT students and staff, that we are secure being out at our jobs, that we are not discriminated against when finding housing, that we are supporting our youth to ensure they do not end up homeless or worse no longer with us, and fight to ensure that not only some of us are winning but that we are lifting everyone in our community up.
So as exciting and promising as these recent, and hopefully soon-to-be, victories are, we are not done and need to continue the fight for full equality.
Chad Griffin (president, Human Rights Campaign)
This Pride month, the LGBT movement has so many reasons to be hopeful. From historic oral arguments at the Supreme Court, to victories for marriage equality in Delaware, Rhode Island and Minnesota, to the out-and-proud leadership of athletes like Jason Collins, Brittney Griner and Robbie Rogers, LGBT people and our families have never been so visible and so welcome in American life.
But, as a community, we can't let progress distract us from the work left to do. We've got to make sure that every person in this country gets to see that progress, too.
The fact is that when transgender people still face truly shocking rates of harassment and violence, when a gay man can still be openly murdered on the streets of New York City for who he is, when LGBT youth are still roughly 10 times more likely to be homeless, our work is far from complete. We're not even close to where we need to be.
So as we gather as a community to celebrate Pride, this movement needs a fire in its belly now more than ever. As long as any LGBT young person feels unwelcome in their community, their church or even around their own dinner table, we've got work to do.
Pride, after all, is a celebration with a message: equality everywhere for everyone. And that vision isn't achieved until it reaches every single person in every corner of this vast country.
Amy Loudermilk (Mayor's Office of GLBT Affairs)
I think we've absolutely hit a turning point in the LGBT rights movement. With the recent explosion in the number of states approving marriage-equality measures, our president supporting full equality and the two Supreme Court cases set to be decided very soon, how could anyone deny the country's mood is changing about this issue and that the momentum is very much in favor of equality? I also couldn't be more proud that the District was one of the first jurisdictions with marriage equality.
That said, there are still lots of legal issues that need to be addressed and will take some time, with everything from retirement benefits to the availability of restraining orders to same-sex couples involved in domestic-violence situations. Ultimately, I don't know what the end of the movement will look like because I don't necessarily think it will end. For example, the women's rights movement is still going on today because women still don't make equal pay for equal work and in some states don't have full control over their own bodies. Similarly, the civil rights movement continues today because we are still trying to fix policies that unfairly target people of color and still overcoming the lingering effects of centuries of institutionalized racism.
Prejudice in general will always exist, so I think this movement and others will continue for a very long time. And it should continue because the world's learned a lesson about what happens when you are silent about discrimination.
Scott Wooledge (activist)
There is no end.
The work is never done, nearly 50 years after the Voting Rights Act was passed, the battle to stamp out institutionalized racism that denies people of color their votes is still front and center; in the Supreme Court, in lower courts and legislatures. And 93 years after the 19th Amendment was ratified, women still hold only 18.3 percent of the 535 seats in the 113th U.S. Congress (and zero presidents thus far).
Though we have nearly all one could hope for in here in New York, we have yet to pass transgender protections. And all LGBT communities will forever be tasked with fighting for their seats at the table and ensuring government serves the unique and specific needs of our community. In New York, we have ongoing battles to ensure our leaders don't balance tightening state and local budgets by slashing funding for our most vulnerable (and lobbyist-free). Constituencies like indigent with HIV and homeless youth depend on our voices. Social safety net programs, like unemployment, are particularly important to a community that faces discrimination in employment and housing.
But of course I have seen the LGBT community evolve dramatically in my lifetime.
We've long been bound by our shared desire not to be outcasts from stalwart mainstream institutions, like the military, the Boy Scouts and marriage. And we're winning. The question becomes, does the LGBT community have core values that bind us other than just being shunned by straight people? Fighting to expand options will result in more people exercising them. Witness the malaise of the gayborhood as LGBT people no longer feel awkward and unwelcome in more traditionally straight areas.
Ironically, there now seems to be a sense among some that actually choosing to join those institutions is an expression of betrayal to the larger community; "assimilate" and "heteronormatives" are said with derision.
I tip my hat as enthusiastically to the gender-transgressive anarchist as I do the Marine and the suburban soccer mom. I am confident this is the beautiful mosaic that makes our community, and America, beautiful.
Zack Ford (ThinkProgress.org)
The LGBT movement will not end during any of our lifetimes. In the next few decades, we may complete many of our legislative goals, such as marriage equality, nondiscrimination protections, bullying oversight and others, but the work will continue. These legal victories will shift the priorities of our movement to focus more on education, advocacy and support, but opponents of LGBT equality will no doubt continue to challenge our community's full inclusion in society.
People of color still endure unfair treatment under "Stop and Frisk" and voter suppression laws; women still don't have equitable salaries or access to health care; and people with disabilities still must fight for accessibility as they challenge basic prejudices. History proves that a change in the laws does not automatically end all oppression.
As LGBT people, we will always be a minority with identities that are, by nature, invisible. We will always have to come out; we will always have to help other people understand how our lives are different. But my perspective is not a pessimistic one. Our momentum is strong and the work is rewarding. For many people, advocacy — and even pride — may become a much smaller priority as it becomes easier for them to integrate, an acknowledgment of the movement's success. But equality is not a box to be simply checked off; it must be maintained like a garden. Until being queer is as uncontroversial as being left-handed, there will always be a place for the movement in some form.
Michael Crawford (Freedom to Marry)
I'm not sure that there will be an end to the LGBT movement. We tend to think about the "LGBT movement" as being about established groups and activists fighting to pass legislation and that the goals of the movement as being primarily legislative. I think we limit our possibilities for achieving true equality if we limit ourselves to thinking solely about passing legislation.
Instead, we should think about our legislative goals around issues like nondiscrimination, marriage and bullying as first steps toward transforming and reshaping the dominant culture in ways that will result in freedom for everyone.
I also think we need to take seriously the responsibility we have to help improve the lives of LGBT people across the globe. And we need to recognize that we have a lot to learn from activists in other countries who are advancing more rapidly than we are.
Just as there's a continued need for black advocacy groups, I think there will be a continued need for activists who push us toward greater freedom. What those activists and advocacy groups will look like will change as we change the culture, but there will be a continued need for them as long as there are LGBT people.
Emily Saliers (Indigo Girls)
It's a very good and complicated question. What's good for some of us is good for all of us. Gay marriage — even if the whole population of queer folks decided not to get married, that's not the point — is an important right to have. And I know exactly what the other issues are. We've got high teen suicide rates and homelessness. You can start talking about the church and forget about it. I've seen the personal pain, the issues of health, gay couples lacking protection. I know all these realities. But gay marriage has become the linchpin because for society, it's such a huge shift. The idea that gay marriage could be legislated and protected is one of those massive, massive things that is good for all of us.
The evolution of social issues is painfully slow. Just ask an African American if they're still suffering the effects of slavery. Of course they are. You see it all the time in the stereotyping of black people in culture. My partner is Canadian, so the day after our show I'm going to be on the Hill with my partner and my baby to say, "This is what a family looks like." If DOMA isn't repealed, we're moving to Canada. We'll have no other choice. But having the right to get married is a massive sociological shift and for gay marriage to be legislated, I don't have anything negative to say. It's about the recognition of equal rights.
Bil Browning (Bilerico Project)
The LGBT movement will never die. Instead it will slowly amorphize as the dollars dry up and interest wanes. As we've already seen after the repeal of DADT, success means downsizing is inevitable.
Once basic protections for employment, public accommodations and housing have been passed and same-sex marriages are recognized at a federal level, LGBT people will become complacent. The fight for LGBT rights will move to the states as each one separately fights for marriage equality.
Groups that work on other issues will consolidate with larger organizations as funding shrinks and our community is mainstreamed. As with African-American civil rights organizations currently, a couple of groups will dominate the landscape with smaller orgs buzzing around the periphery.
I see Freedom To Marry flourishing by investing in these local battles and wouldn't be surprised if it became deeply involved internationally. It would likely require a name change, but it could easily swallow other groups that work on family issues like Immigration Equality, Family Equality Council and PFLAG. Established and respected organizations like GLAAD, Trevor Project, Outserve/SLDN, and the Task Force all do valuable work, but in the end could comfortably be incorporated into a more broadly invested HRC, which already has more funding and name recognition.
Sadly, many of these third-tier groups are already struggling financially and will always remain in the "also ran" category because they're not as well known. The non-profit industry at its core is a business like any other. As in the corporate world, the LGBT movement will consolidate for ease of operation, a larger customer base and maximum profits.
Carl Schmid (The AIDS Institute)
The LGBT rights movement has progressed slowly over several decades, spurred on by distinct events, including the AIDS crisis in the early '80s that led many gay men to publicly "act up" and all too often see either themselves or their friends and loved ones die. Sadly, thousands did die, though much has changed since those early days, in some ways things are still the same. Although we know how HIV can be prevented and treated, and research continues toward finding a vaccine and cure, the end is not in sight.
While people are living longer due to the advent of antiretroviral medications, gay men still shoulder two-thirds of all new HIV infections, about 33,000 new cases each year. A recent study found that one in five gay men in 21 cities have HIV, half of whom do not even know it. Unfortunately, the number of new cases is rising for those under age 25, particularly among young black gay men.
But how many of your friends talk about HIV or their own HIV? While the stigma and discrimination surrounding LGBT people has decreased, the same cannot be said for people with HIV.
It is my hope the progress that has been made in the LGBT movement can impact HIV among gay men. With a more accepting and affirming society and legalization of same-sex marriage, perhaps some factors that lead to HIV transmission will be reduced.
While much progress has been made, I do not see an end of the movement as it relates to HIV among gay men until parents and schools not only teach sexual education that encompasses homosexuality but normalizes being gay and gay relationships. Yes, great strides have been made, but so much more must occur.
Dave Kolesar (WGAY)
I think we have reached a turning point in the LGBT rights movement. When my partner Patrick Wojahn and I first became involved in the Maryland marriage lawsuit in 2004, many of our friends thought we were crazy. Support for same-sex marriage was polling in the 30s and Massachusetts was looking like an outlier, having just granted equal marriage rights to same-sex couples.
Almost 10 years later, marriage equality exists in about a dozen states and the victories for LGBT issues in four states at the ballot box last year showed not only that the sky didn't fall, but that momentum has decisively swung in favor of the LGBT movement.
I don't know what the end of the movement would look like, as I think it still has a long way to go. The marriage question may be largely settled within a decade, but there are many other important issues that need to be addressed — employment discrimination and transgender rights are probably the next big fights. And while we certainly have been successful over the past few years, recent attacks in New York City suggest that we have to be on guard against a violent counter-reaction to the success of our movement.  Unfortunately it seems that in society, wherever there is a minority, there is discrimination and the hope is that one day there will be enough moral progress such that we all realize that all of us have much more in common than we do differences.
Chris Kluwe (Oakland Raiders, ally)
This is a question that I don't think has an answer anyone wants to hear.
I've always tried to be honest and examine the world through the lens of what is, not what I would like it to be and yes, I think we've reached a turning point in the LGBT rights movement in the United States, but I don't think we're anywhere close to the end of the movement.
The struggle for LGBT rights is the same struggle for women's rights, the same struggle for religious rights and the same struggle for civil rights humanity has waged for the entirety of its existence, and it's happening all over the globe — the struggle to live your own life, free of oppression, without oppressing others.
This is the battle that every generation in every nation has to fight, and will continue fighting, until the day comes when we're all finally empathic enough to understand what effect our actions can have on other people.
Yet even though we may not see the end of that struggle in our lifetime, it is a struggle worth fighting for, because every step we take, every inch we gain in treating others with respect and dignity, is another building block our children can use to make their own progress, to build their own better world.
The end of the movement may never come, but that doesn't mean we should stop working toward it.
Ruby Corado (transgender activist)
No, we haven't reached a turning point in the LGBT rights movement yet. We have helped others reach that point and helped changed the minds of many people.
These days we have many politicians who are legislating for us not just against us. We have a mainstream media that covers more positive stories about our lives than ever before. We have faith communities that are embracing our pursuit of dignity. We have America understanding LGBTs as human beings not just as a sexual orientation, gender identity and/or expression. But our LGBT movement has not reached a turning point among those who are LGBT. We are a movement divided by race, gender, social and economic status, ideals, geographical areas. We are a movement that does not support the young, the elder, the disadvantaged, the marginalized, the gender non-conforming and/or transgender.
I see the end of our movement looking like the rainbow that we love and embrace so much, a movement where every color (every gay, lesbian, bisexual and transgender) complements, sticks together and supports one another no matter what challenges or struggles we face through our individual storms.
At the end, we, just like the rainbow, shine together happily.
Hector Fonseca (DJ)
I think there have been a number of turning points recently. The end of "Don't Ask, Don't Tell." Legalization of marriage in several states and countries. An active pro athlete coming out. Those are all great moments and turning points in the LGBT community we should celebrate.
I personally think Lady Gaga should get more credit than she is getting. In my eyes, she got the ball really rolling a few years ago. Gaga made it cool again for other pop artists and celebrities like her to care about gay rights again. Kudos to her for restarting the movement.
The end of the movement to me would be a few things including openly gay pro athletes, an openly gay president and the same full equal rights that heterosexuals globally enjoy. I don't think any of this will happen until we as a community really stick together to support LGBT causes and those who respect our community, only.
We also need to stop glorifying bullying and putting hateful people on pedestals (e.g. "She's such a bitch, I love her."). When we stop doing this, we will get much further much quicker. We have come a long way but there is much more work to be done.
Holly Twyford (actress)
There's a big difference between a tipping point and an end point. The biggest challenge the gay community has always had is we've never had any clear agenda other than equality. Is marriage equality the golden egg? Maybe legally so, but what does it really mean for us to reach an end point because you have to address the continued bigotry that still exists.
Of course it's incredibly important that marriage is in front of the Supreme Court but now we need Joe Schmoe American to say, "OK, I buy into that too" or "I just met two lesbians with a child and they seemed like great parents." So I guess my answer is yes and no. Yes, it's a huge, exciting paradigm shift, but is it the end of the movement? No.
I think marriage is being very much held up as the brass ring because it's a clear, visible, everyday symbol of what has been denied to us. You know, we can talk about workplace discrimination, but it's harder to see, whereas me and my partner getting up in front of a church and someone saying, "By the power vested in me … " that's something very visible and you can say wife, not partner. It's like, "Oh, OK, so you're not married?" "Well no, but we've been together 20 fucking years — we've been together longer than you and your husband." It's just so great not to have to explain all that. It's a huge symbol.
Melissa Etheridge (singer)
I don't think there will ever be an end of the movement.
I think the time we can kinda go, "Whew," is when we know that we can walk in any city and beside any stranger and understand that what makes me different from them is not something that's fearful to them. I've seen such fear among people of what is not understood and what we've done over the last 20 years is to slowly, day by day, say, "We are people. We're your neighbors, your children, your friends, we work with you, we are part of every community. We're everywhere in the whole world, we are a piece of every civilization and what we bring to the table only makes us better as a nation and as a world."
To understand that diversity and not be fearful of it is really the ultimate step. Gay marriage is important because it's actually something you can legislate. You can't go before the Supreme Court and say, "They've gotta stop hating me," you just can't pass that kind of a law. But you can find a way to legislate certain rights. I'm not saying we should all get married. Anybody can see I personally haven't really been very good at it so far. Yet to have the right to do so is vitally important.
When I was a teen, for instance, there wasn't even really any sense of gay marriage as a concept. We didn't even really have the words for it or if there was, it was all bad. And yet here it is a generation later in front of the Supreme Court. As every new generation comes along, the fear dilutes.
Mame Dennis/Carl Rizzi (Academy of Washington)
We've had gay weddings in the Academy for years. They weren't legal of course, but we had them. I guess if the Supreme Court makes them legal and everything, that's fine, but I don't really think it's going to solve anything.
I have to be honest, I shudder a bit when I think of all these people who will probably rush out and get married. I do think the gay girls take it a little more seriously than the men, but I think with the guys, they trick with someone and think they're in love and I can easily see them running off and getting married and then what, eight weeks later or something, realize, well no, I'm not really in love. I'm concerned about the after effects. I think there's going to be a huge spate of gay divorces if this goes through and that will look really bad for the community. That might give us an even worse name. You know how some of these queens are.
I think we have to spend more time earning respect and acceptance in the workplace and in the community and society in general. That's the most important thing we have to concentrate on.
People seem so obsessed with this marriage stuff and there are so many things out there that are more important. I'm also concerned with how it will turn out when these queens run out and jump into marriage and realize later they can't get out of it so easily. That's not to say everyone will get divorced, of course, but some will and we've been so used to just shacking up for so many years and being able to leave whenever we want. It won't always be so easy to do that. The gay girls, at least the ones I know and have been associated with, seem to stay in their relationships forever. They seem to want to make more of a commitment.
David Lett/Lena Lett (priest/drag queen)
For me, marriage is not the brass ring. It certainly is a milestone and it does get us a little bit closer to overall equality, but is this the end of the movement? Unfortunately I don't think that will ever happen. I don't think blacks could ever foresee a day when the NAACP could go away and everything would be fine from then on. Even struggles that we think of as being from a totally different era, like the Irish fully finding their place in society, as long as there's sickness and sadness in the world, there will be discrimination and as long as you have people bound by ignorance and bound by fear, then you will have the haves and the have nots and there has to be a group for the have nots.
I don't think it's realistic at all given human nature, for any of the groups to just say, "OK, we're done — let's pack up and go home." The people who are there to make sure these things are fully accepted over the long haul, those people will always have a job.
I don't really see marriage — and this is from somebody who performs them — as that big a deal. I can see it symbolically and for long-term relational issues like money and securities and inheritance and that sort of thing, but it's not really as big as some of the other issues.
If you think about it, most professionals who are involved in weddings — clergy, dress designers, event coordinators, cake decorators, organists — you're dealing with a lot of people who happen to be gay themselves and so to be denied that themselves is a real slap in the face. It's the same thing as it was for black people — "Oh, it's OK for me to work in the dining room but it's not OK to sit in the dining room?" That shit doesn't work anymore. We've progressed too far and worked for too long to get where we are.
And all this will outlast the conservative movement. They've basically said, "Marriage, oh my God, you can't touch that, we'll have a constitutional amendment," but once you start messing with the Constitution, that's a really big deal. That's not just a little state picking on you, that's the whole government saying, "No, you're an invalid creature." But no, you will not mess with the Constitution to say that I am less than. The movement has really been the perfect example of Newton's Law — for every action, there is an equal and opposite reaction. They came out with this stuff and we came back full force. I don't see that ending anytime soon.
Allyson Robinson (OutServe-SLDN)
At OutServe-SLDN, we've seen the future of the LGBT civil rights movement. We live in that future every day.
As the morning of September 20, 2011 dawned on American military installations around the world, gay and lesbian service members awoke to a new reality: their service in defense of this country would no longer be contingent on a willingness to lie about who they were. Ending "Don't Ask, Don't Tell" was an historic accomplishment, decades in the making, and with it, our two predecessor organizations — Servicemembers Legal Defense Network and OutServe — achieved the goal around which they had been rallying support for years.
But when the celebrations ended and we took stock of the new military we'd helped create, we realized our work wasn't over. It was just getting started. Gay and lesbian troops could now be "out," but they were anything but equal.
Passing good laws and enacting good policies is hard work. Changing culture is much harder. That's the mission we've claimed for ourselves at OutServe-SLDN — building a culture of inclusion and respect for LGBT people in our military — even as we continue the fight to end the discriminatory policies that remain. And that's the work that awaits nearly every LGBT advocacy organization in America on the other side of that new world we're hoping to create by pulling down DOMA and enacting nondiscrimination policies. It will be the work of generations, but take it from us: if you haven't started yet, you're already behind the power curve.
Helpful tips for homebuyers in seller's market
2021 has been a great year for home sales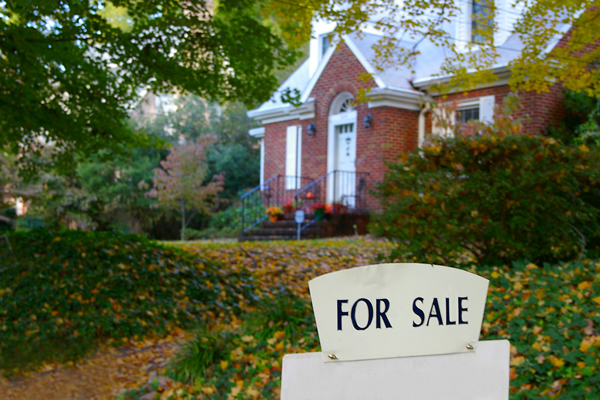 Without question, 2021 was a great year for home sales. Sellers across the country, in many cases, found themselves listing their homes and quickly having not just one, but multiple offers, many of which were at asking price or above. With limited inventory and high demand, it has been an ideal year to sell—and conversely, often a difficult year to buy. Buyers who are interested in a particular home, or even in a specific neighborhood, often find themselves facing stiff competition to have offers accepted.
Fortunately, this doesn't mean that many buyers haven't had successful and rewarding home buying experiences—just that doing so often means making an extra effort and taking helpful steps to make an offer the most competitive that it can be. With that in mind, let's take a look at a few helpful tips for buyers in a seller's market:
Plan ahead with mortgage pre-approval: While there are certainly a wide variety of strategies that real estate agents and financial advisors may recommend, and while those strategies might vary depending upon the buyer and the circumstances of a particular market, one thing almost all experts agree on is that obtaining a mortgage preapproval is a smart decision. A mortgage preapproval is an ideal way to reassure sellers that a reputable lender has verified your credit and approved your buying power up to a certain limit. If you're caught in a bidding war with another potential buyer, having preapproval establishing that you are ready, willing, and able to buy just might give you the advantage you need in a competitive market.
Be willing to look under budget so you can bid higher: In this highly competitive market, many home buyers find themselves in a situation where they are in a bidding war with another—or even several other—buyers. In that situation, you may find yourself having to make an offer at, or even in many cases, above, the asking price. This means that you may want to adjust your budget—and bidding—accordingly. Choosing to make an offer on a home that has an asking price that is already at the top of your budget may mean that you simply don't have much wiggle room when it comes to making an offer over that price. Choosing a home slightly under the top of your budget means you'll have more flexibility to make a bid that is more competitive and likely to be accepted.
Consider offering non-price-oriented incentives: Without question, making a highly competitive offer is going to be the key to increasing your chances of having that offer accepted. It's important to remember that there is more to an offer than just price, however. Buyers may want to consider increasing the appeal of an offer by supplementing it with other incentives beyond just the dollar amount itself. Examples of such incentives might include things like foregoing the seller-paid home warranty that is often offered as part of the process, offering a shorter closing period, not making the purchase contingent upon the sale of a currently-owned home, or other such incentives. Doing so may give you the edge you need to have your offer selected over other competitive bids.
Retain the right real estate agent: Often, for LGBTQ buyers, especially in a competitive market, this piece of the puzzle is particularly important. In many, although certainly not all, cases LGBTQ buyers are drawn to specific areas of a city or community where other LGBTQ individuals live. That means that in a market where inventory is already limited and going quickly, there can be even fewer homes available upon which to bid. When that is the case, you will need a real estate agent who knows the community that you're interested in, and who can quickly help you identify and take action toward making offers on homes that fit your needs. Having the right agent can make all the difference between a smooth and successful home-buying experience, and a stressful one
Jeff Hammerberg (he/him/his) is the Founding CEO of Hammerberg & Associates, Inc. Reach him at 303-378-5526, [email protected] or GayRealEstate.com
Jane Jane brings throwback joy to busy 14th Street
Cocktail bar characterized by warm Southern hospitality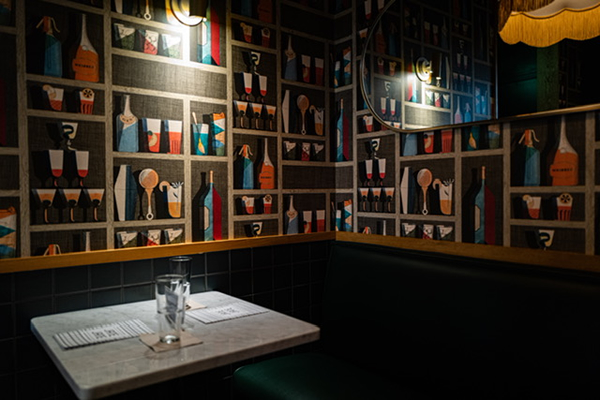 There is no standing at Jane Jane, the new classic cocktail bar in the heart of 14th Street. Its 850 square feet is for sitting and savoring, drinking in the relaxed retro vibe and the thoughtful craft cocktails.
At the foot of the mixed-use Liz development where Whitman-Walker is the major tenant, Jane Jane's creative use of a shoebox-sized space brings throwback joy to a busy thoroughfare.
In the pre-COVID days of 2019, Whitman-Walker approached the Jane Jane owners, hospitality veterans Jean Paul (JP) Sabatier, Ralph Brabham and Drew Porterfield, all gay men, to make good use of the vacant parcel, and ensure it would be run by LGBTQ entrepreneurs. "It required some gymnastics because of the layout," says Brabham, "but we came up with this cozy classic cocktail concept."
The hangout spot is an effort by the trio to "celebrate hospitality. We want everyone who walks into the space to feel like friends of ours we are having over for drinks or a bite. Its a cocktail party in our home," he says. They felt connected to the idea of a tiny bar—a space where they would want to have a drink.
Named for Brabham's mother, Jane Jane is as alluring and lively as it is intimate, each detail in the experience characterized by warm Southern hospitality—right from the bowl of spiced nuts that swiftly appear at each table at the beginning of service.
Sabatier, who has held stints at D.C. institutions like Rappahannock Oyster Bar, Maydan, and Compass Rose, oversees the bar and cocktail program, organized by spirit. (For their part, Brabham and Porterfield, romantic partners, also act as co-owners of Beau Thai and BKK Cookshop; Porterfield is also the current Curator and Director of Long View Gallery in Shaw.)
Sabatier has presented classic cocktails with a few noteworthy nods to current zeitgeist, as imagined by his lengthy experience behind the bar. The booklet-like menu includes a broad selection of familiar favorites like a Negroni, Manhattan, martini, but also features Sabatier's handpicked favorite classics like the Boulevardier (a whiskey Negroni), Last Word (gin married to herbaceous green chartreuse) and Air Mail (rum, honey and cava). Drinks fall in the $13-$16 range; a "Golden Hour" runs daily until 7 p.m. featuring beer and wine specials and a punch of the day.
Sabatier's creative juices flow on the first page through cocktails like the vividly named Tears at an Orgy, with brandy, orange and maraschino, as well as the best-selling, highly Instagrammable Crop Top, a gin cocktail with a red-wine floater—and a name that matches the look of the bi-color drink. "It's fun, delicious, and speaks to the space," says Sabatier. He notes that their vodka of choice comes from Civic, a local, women- and LGBTQ-owned distillery.
Sabatier, a classically trained chef and Culinary Institute of America graduate, also oversees the small selection of bar bites (the space has no kitchen, part of the required "gymnastics" to make it functional.)
Beyond the complimentary vessel of rosemary-flecked mixed nuts, other bar snacks run from pickled vegetables to a Southern-style Pimento cheese dip and an onion dip creamy enough to make your grandmother blush. The "Jane's Caviar" dish is a spread of trout roe and crème fraiche and comes with a towering mound of shatteringly crisp chips. A weekend brunch is in the works, which will serve goodies from local bakeries.
The retro-style interior recalls both California and the South, with only 32 seats inside and a 14-seat patio. Cozy booths done up in a hunter green as warm and inviting as a cool aunt are slung below walnut-wood walls and bar. Bright patterned tiles run the length of the floor; the back wall has playful cocktail wallpaper. A charming needlepoint by the restrooms kindly requests of guests, "please don't do coke in the bathroom."
The owners note that while Jane Jane is not explicitly a gay bar, its location in a traditionally gay-welcoming institution means that it has LGBTQ in its bones.
"Supporting LGBTQ people, businesses, and causes has been in Jane Jane's ownership's DNA at every establishment at which they have been involved," they say, having supported local LGBTQ+ organizations like Casa Ruby, Victory Fund, SMYAL and the Human Rights Campaign, among others.
Porterfield says that they were surprised that, given the locale, people assumed Jane Jane was a gay bar. "It's not a gay or straight bar, just a fantastic cocktail bar that welcomes anyone to hang out with us," he says.
Nevertheless, the owners have taken into consideration the significance of being in the Liz development, as both gay men and as part of the hospitality industry. "It highlights the lack of representation as gay owners in this bar and restaurant world," says Porterfield. They note the lack of women, LGBTQ and BIPOC representation.
"It's very special to us that we opened in this space," says Porterfield, "so we want to show that we have opened a place that is all about inclusivity."
One lean, mean green machine
New Ford Mustang Mach-E is electrifying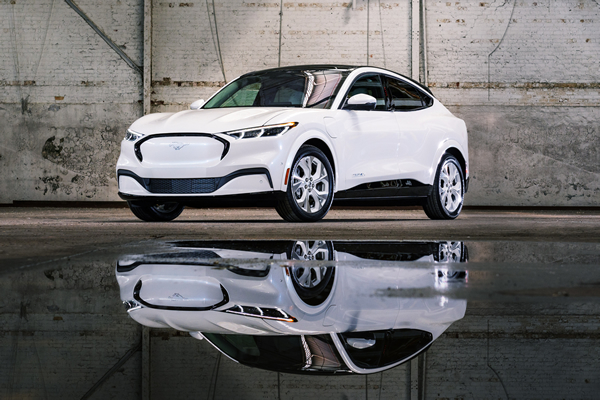 Here's a shocker: Electric vehicles have been around for over 180 years. By the time of the first Hershey bar in 1900, EVs had hit their own sweet spot—surging to almost 30 percent of all vehicles sold in the U.S. But when Henry Ford began to produce cars on his moving assembly line in 1913, the popularity of the gas-powered Model T soon short-circuited EV sales. Cue to a century later, when the debut of the all-electric Nissan Leaf in 2010 sent a jolt through the auto industry. Yet it would take another decade to get drivers charged up about anything other than gas-powered rides. Today, it's hard to keep track of all the EVs out there, along with other green machines like hybrids. While the current microchip shortage has slowed or stopped production on many cars for now, I was lucky enough to drive the all-new, all-electric Ford Mustang Mach-E. The experience was, well, truly electrifying.
Ford Mustang Mach-E
$47,000
Range: up to 305 miles
0 to 60 mph: 4.2 seconds
When the Ford Mustang Mach-E was first announced, many auto aficionados were left scratching their heads. After all, a Mustang is one of the most iconic muscle cars ever created, and the Mach-E designation sounds suspiciously like the "Mach-1" branding used on flashy high-performance Stangs. Yet this new Mustang is a crossover SUV—and an electric one to boot. While the initial designs were captivating, plenty of skeptics remained. Luckily, they needn't have worried. I was mesmerized the moment the Mach-E arrived, eager to run my hand along its sinewy side panels and strapping rear end. To keep the design as aerodynamic as possible, there are no traditional door handles. Instead, you use the key fob, your smartphone or a push button on the window frame to pop open the door.
On the inside, there's a small latch in the armrest versus the typical door handle. Such design elements are not only aesthetically pleasing, they also save space and reduce weight. Other novelties: This is the first Ford vehicle to use recycled animal-free fabrics, as well as a vegan steering wheel that's as durable as leather. On the space-age dashboard, the premium Bang & Olufsen speakers are concealed beneath fabric covers that mimic the look of pricey home-theater speakers. And the unique design of the quiet cabin allows for a subwoofer that is 50 percent lighter than usual, yet still retains a deep rich clarity. As for the gigantic 15.5-inch vertical touchscreen in the center of the dash, it resembles a sort of funky oversized iPad from "The Orville." Along with large climate controls for easier viewing, the touchscreen has interactive maps to locate the nearest charging stations. Those maps came in handy during two weekend trips, as did the heavily bolstered seats that helped prevent driver fatigue but also were easy on the tush. In total, there are five Mach-E trim levels, each with differing configurations for power and range (the distance you can travel on a full charge).
While even the base-model Mach-E is fast and lively, it's the high-test GT version that strikes like a thunder bolt. Rocketing from 0 to 60 seconds in just 3.8 seconds, the Mach-E GT is quicker than a Toyota Supra super coupe. And thanks to lower-than-expected ground clearance and a superb suspension, the Mach-E is just as agile. Those grippy regenerative brakes help, of course, allowing you to speed up or slow down using only the accelerator pedal.
It's worth noting there are other EVs in the Ford stable, including the electric F-150 Lightning full-size pickup, the E-Transit commercial van and various green machines on the way. By 2030, Ford is aiming for 40 percent of its global sales to be EVs. That's a great goal for a company that once helped pull the plug on the "electric horseless carriage" but today is leading the charge with its own cutting-edge EVs.