Attacker says drag performer threatened to give her AIDS
D.C. police take conflicting reports over attack captured on video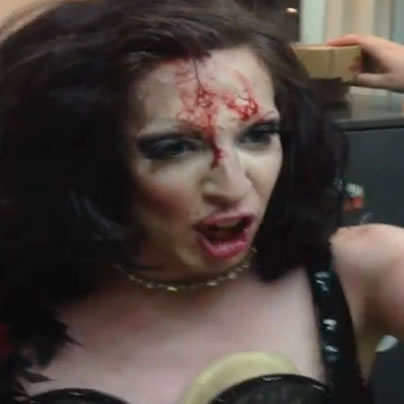 One of two women shown in a video posted online punching and kicking a gay male drag performer while pulling him by his hair inside a D.C. carryout restaurant has filed a police report accusing the man of biting her leg and telling her "now you have AIDS."
The report given by the woman, which D.C. police made public Tuesday afternoon, was the latest development stemming from an incident early Sunday morning, June 23, at Manny & Olga's pizzeria on 14th Street, N.W., in which Miles Denaro, 24, says he was attacked by two women who called him a "tranny" and "faggot."
Denaro said he bit the women in self-defense but denies he ever told her she had or would get AIDS.
He said he came to the restaurant to take out food shortly after he performed under his drag name Heidi Glum at the Black Cat nightclub located on the same block as Manny & Olga's. He was in drag when he entered the restaurant.
The video shows the two women hitting Denaro with their fists while dragging him by his hair across the floor of the restaurant as bystanders, including a man taking the video, laughed and cheered.
According to Denaro, no one, including about six Manny & Olga employees, came to his aid during the assault.
Denaro said he chose not to call police at the time of the assault. He filed a separate police report on Monday, June 24, accusing the two women of assaulting him. He told the Blade the assault began after one of the women made fun of his makeup and words were exchanged between them, prompting one of the women to slap him in the face twice.
"Then I flipped out," he said. "I spit in her face and her friend jumped in and they started dragging me around by my hair while punching me in the face repeatedly and kicking me," he said.
He initially identified himself to the media as Miles DeNiro. When asked by the Blade why the police report spelled his last name as Denaro, he said he has used "DeNiro" as a stage name and that his legal birth name is Denaro.
The police report taken from the woman, who is identified as Rachel Manna Sahle, 22, of Gaithersburg, Md., classifies her biting allegation against Denaro as a felony aggravated assault that carries a maximum sentence of 10 years in jail.
The police report taken from Denaro classifies the assault by the two women against him as a misdemeanor simple assault, which has a maximum sentence of six months in jail and/or a fine of $1,000.
Police spokesperson Gwendolyn Crump said police would have no comment on any details of the case because it remains under investigation. No arrests had been made in the case as of Wednesday.
It couldn't immediately be determined why the police reports classified the woman's allegation as a more serious offense than Denaro's complaint – which is backed up by the video – that the two women injured him in a violent attack.
Denaro told the Blade he did, in fact, bite Sahle on her leg but said he did so in self-defense in a desperate attempt to get her to stop pulling out his hair. He denies telling her she had or would get AIDS.
"She was ripping my hair out," he said. "I have a bag full of my own hair that I picked up off the floor. She ripped my hair out repeatedly. There was nothing I could do to get her off of me because the other girl was on top of me and she was really huge."
Added Denaro, "At that time, with my face on the ground in her legs, the only thing to help get out of it was to bite her. It didn't draw any blood. I don't think I broke the skin. I just bit her hard enough so that she would let go of me. And it worked. She did."
The police report of Sahle's allegation against Denaro says Sahle gave a different version of what happened from that of Denaro.
The report says Sahle told police Denaro "became verbally combative" with her at the restaurant. It says Sahle claims that after she and Denaro exchanged words "several people began to fight inside the establishment." During that altercation, Denaro "bent down and bit Complainant 1 [Sahle] on the right thigh."
It says that shortly after biting her Denaro stated, "That's why I bit you, now you have AIDS, bitch."
Based on the conflicting statements made by Denaro and Sahle, police investigators and prosecutors from the U.S. Attorney's office will have to decide who to believe and who to charge with a possible crime such as assault.
Denaro told the Blade that he is HIV positive. The video shows him shouting at the other woman who assaulted him that she would get AIDS as he wiped blood dripping over his face. He said the blood came from two head wounds he sustained when the women knocked him down and his head hit the floor.
"I was doing what I thought was the responsible thing to do – to tell the girl I'm positive," he said.
The police report taken from Denaro says Denaro told police that the two women started the altercation when one of them criticized his makeup and started touching his face. The report taken from Denaro contradicts the report taken from Sahle by saying the altercation was limited to Denaro and the two women.
Comings & Goings
Umana named associate with Gustafson Guthrie Nichol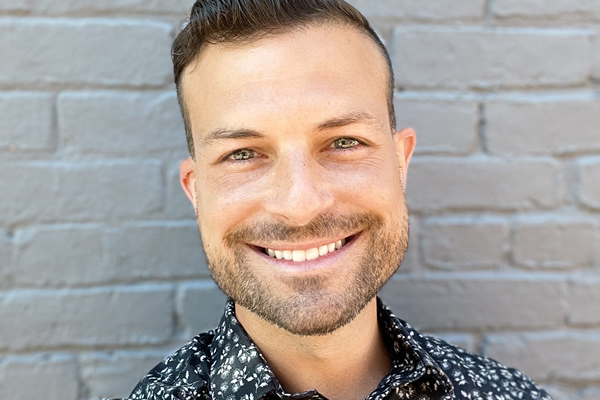 The Comings & Goings column is about sharing the professional successes of our community. We want to recognize those landing new jobs, new clients for their business, joining boards of organizations and other achievements. Please share your successes with us at: [email protected]. 
Congratulations to Wolfgang Umana on being named an associate with Gustafson Guthrie Nichol (GGN). He has been with them for more than five years and is currently its D.C. studio's office manager.
"I am honored to become GGN's newest Associate," Umana said. "I have the glorious privilege of supporting GGN's continuing dedication to progress, inclusion, social justice, sustainability, and beautification of the world we live in."
Umana also works with NBR Computer Consulting as an LLC Computer Technician consultant. He has experience in social media, communications, outreach, and technical services, and provides a dynamic approach to the fast-changing world of technology. NBR Computer Consulting, LLC is a gay-owned business. 
Umana has also served as D.C. Army National Guard Director of Environmental Affairs and with EMS Consultation Services.
He has his bachelor's in Environmental Science & Public Policy, Human and Ecosystem Response to Climate Change, from George Mason University.
Capital Pride bids for D.C. to host World Pride 2025
International event draws thousands of visitors
The Capital Pride Alliance, the group that organizes D.C.'s annual LGBTQ Pride events, announced on Sept. 21 that it has submitted a bid to host 2025 World Pride, the international Pride event that draws thousands of participants from throughout the world to the host city.
The announcement by Capital Pride says its bid to host the event in D.C. notes that the event, among other things, would commemorate the 50th anniversary of D.C.'s first LGBTQ Pride event in 1975, which began as a block party near Dupont Circle.
World Pride is licensed and administered by the international LGBTQ organization InterPride. The World Pride events themselves, which usually take place every other year, are organized by InterPride's member organizations such as Capital Pride Alliance.
The Capital Pride announcement notes that World Pride "promotes visibility and awareness of lesbian, gay, bisexual, transgender, intersex and queer (LGBTIQ+) issues on a global level." The announcement adds, "World Pride events include parades, marches, festivals and other cultural activities often enjoyed at Pride celebrations, along with other components such as a human rights conference and large-scale opening and closing ceremonies."
The InterPride website says the deadline for submitting a bid for the 2025 World Pride has passed. It says D.C.'s Capital Pride and Kaohsiung Pride, located in the large Taiwan port city of Kaohsiung, are the only two remaining cities in competition for hosting the 2025 World Pride.
Ryan Bos, Capital Pride's executive director, said InterPride was expected to make its decision on which of the two cities to select sometime in November of this year.
"A recent study conducted by Booz Allen Hamilton revealed that the annual Capital Pride Celebrations, during normal years, result in approximately $371 million in positive economic impacts to the region, a number that may be doubled if the organization is awarded the prestigious event," the Capital Pride statement says.
The 2021 World Pride took place earlier this year in Copenhagen, Denmark. The 2019 World Pride was held in New York City to commemorate the 50th anniversary of New York's Stonewall riots, which many activists consider the start of the modern LGBTQ rights movement.
InterPride says the 2023 World Pride will take place in Sydney, Australia.
Va. county supervisors back resolution against 'required' pronoun questions
Unanimous vote in Stafford County allows school defunding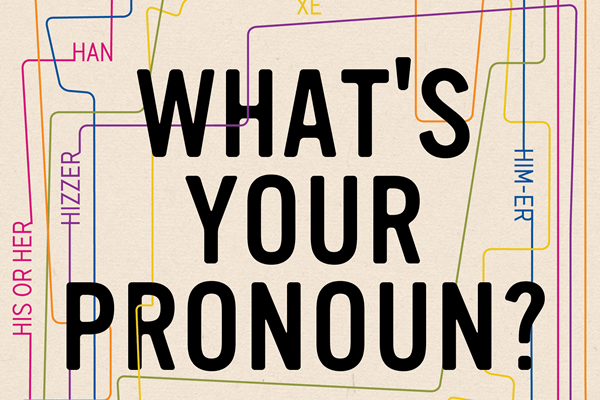 The Stafford County Board of Supervisors on Tuesday unanimously approved a resolution that gives it the authority to deny funds to schools that require students to give their pronouns and teach the 1619 Project and critical race theory.
The resolution denounces "the teaching of the 1619 Project and critical race theory (CRT) and related principles in Stafford County Public Schools," and states the board does not support Stafford County Public School students "being required to identify their chosen pronouns."

The approved document had been updated to change "requested" to give pronouns to "required."

Republican Supervisor Gary Snellings told the board he brought the resolution forward, which passed by a 6-0 vote margin, in response to communication from parents. One supervisor was not present.

Snellings called critical race theory "racism." He also called the New York Times' 1619 Project published on the 400th anniversary of the arrival of enslaved Africans to the Virginia colony a "theory."

Critical race theory is not taught in Virginia public schools, but a state law passed in 2020 requires local school boards to adopt policies that are more inclusive for transgender and non-binary students that follow, or exceed, guidelines from the state's Department of Education.

Snellings said the problem with preferred pronouns was in requiring students to give them. He said that was not in the governing Virginia law.

"This (resolution) does not eliminate anything. It just follows state law," Snellings said.

A Virginia court in July dismissed a lawsuit that challenged the Department of Education's guidelines for trans and non-binary students. Equality Virginia and the American Civil Liberties Union of Virginia were parties to the amicus brief in support of the protections.

"We are deeply disappointed that these adults made such a hateful decision for kids in the community," tweeted the ACLU of Virginia in response to the board's vote.