Rubio continues hold on gay black judicial nominee
Florida Republican only obstacle to advancing nomination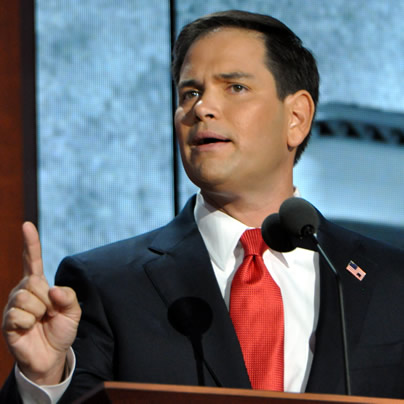 LGBT groups are pressuring the Senate to push forward with the confirmation of the first openly gay black male to the federal bench now that a hold from Sen. Marco Rubio (R-Fla.) is the only hold up in the process.
The confirmation of William Thomas, whom President Obama first named in November for a seat on the U.S. District Court for the Southern District of Florida, was as of last week held up by both U.S. senators in Florida — Bill Nelson and Rubio — who had yet to return the "blue slips" for the nomination even though it had been pending for more than eight months.
But on Wednesday, following the publication of several media reports on the issue — including one from the Washington Blade — Nelson submitted the blue slips for the nomination, according to Senate sources familiar with the process. Dan McLaughlin, a Nelson spokesperson, confirmed the Florida Democrat had returned the blue slips for the nomination.
Nelson's office had previously said the senator hadn't submitted the blue slips because the Senate Judiciary Committee hadn't yet completed the background investigation on the nomination.
Nelson's lifting of his hold on the nominee means Rubio is now the only senator obstructing Thomas from proceeding through the confirmation process. Other judicial nominees renominated at the start of the 113th Congress have received confirmation, but no action has been taken on Thomas.
Rubio's office didn't respond to repeated requests from the Blade over the past two weeks to comment on why he continues to hold up the Thomas nomination. According to a report last week in the Tampa Bay Times, Rubio has concerns about Thomas's involvement in a controversial case in which a man was given a sentence of just 364 days in jail for the hit-and-run death of a cyclist.
A judge is seeking to allay these concerns about Thomas in a letter to Rubio that was obtained by the Blade.
In the July 19 missive, Nushin Sayfie, administrative judge for the criminal division of the Eleventh Judicial Circuit in Florida, says the sentence Thomas gave in the case was within his guideline range. The name of the case, the victim and the defendant aren't found in the letter.
Sayfie maintains that unlike what the media reported, the defendant wasn't charged in the death of the victim, but "charged with leaving the scene of an accident (involving death)." Further, Sayfie said the defendant filed a motion for downward departure on the grounds that he suffered from a rare blood disease that placed him at risk of death during a prison sentence, but Thomas denied this motion.
According to Sayfie, Thomas sentenced the defendant to 23 months in state prison followed by two years of community control, but allowed him to finish the sentence locally to accommodate his medical condition.
"I hope this communication helps to answer some of the concerns you might have," Sayfie concludes. "I have known Judge William Thomas as a colleague and friend for approximately nineteen (19) years. It was my pleasure to serve as a reference for him for the federal bench (and be interviewed at length by the ABA, the FBI and the White House Counsel's Office!) He is a dedicated, intelligent and hard-working public servant."
Thomas has experience both as a defense attorney and as a judge. He's been a circuit judge in Florida's 11th Judicial Circuit since 2005, where he has presided over both civil and criminal matters. Before that, he was an assistant federal public defender in the Southern District of Florida and represented indigent clients in federal criminal cases.
Rubio faced criticism last week from members of the Congressional Black Caucus for holding up both the Thomas confirmation and that of Brian Davis, another black judicial nominee who was nominated for a seat on the U.S. District Court for Middle District of Florida. The Gay & Lesbian Victory Fund also called for the Thomas nomination to move forward.
Rubio continues to hold up the Thomas nomination even though he and Nelson recommended Thomas for the seat following approval from Florida's Federal Judicial Nominating Commission, which makes recommendations to the state's senators.
But in the aftermath of Nelson lifting his hold, other LGBT groups stepped up the pressure for movement on the nomination when asked for comment by the Washington Blade.
Fred Sainz, vice president of communications for the Human Rights Campaign, is among those calling for Rubio to take action.
"He should return the blue slip and allow this well-qualified jurist to get confirmed by the U.S. Senate," Sainz said. "The federal district court system is already backlogged. There's no good reason why justice should be further delayed when Judge Thomas is ready, willing and able to serve."
Sharon Lettman-Hicks, CEO of the National Black Justice Coalition, said as a Floridian for more than 25 years, she's "disgusted" by Rubio's lack of action on the Thomas nomination.
"By the accounts of Florida's Federal Judicial Nominating Commission and even Senator Rubio, himself, Judge Thomas has been a principled jurist who would serve our nation with distinction on the federal bench," Lettman-Hicks said. "Judge Thomas deserves a nomination process unobstructed by the malevolent politics of the right-wing agenda, and it is inexcusable that Senator Rubio would block the nomination of such a highly qualified and exemplary candidate, particularly at a time when our judicial system is hemorrhaging with a bevy of judicial vacancies in critical seats."
No one has alleged discrimination based on sexual orientation as a reason for the holdup on the Thomas nomination, although the Congressional Black Caucus last week drew attention to the fact that Rubio was holding up two black judicial nominees.
Shin Inouye, a White House spokesperson, joined in the calls for movement on the Thomas nomination after being silent last week when both Florida senators were holding it up.
"The president nominated Judge William Thomas more than eight months ago," Inouye said. "This judicial vacancy has been declared a 'judicial emergency,' and the non-partisan American Bar Association has rated Judge Thomas 'well-qualified.' Unfortunately, his nomination continues to be stalled, and the Senate should promptly consider it without further delay."
Thomas would be the first openly gay black male to serve on the federal judiciary; U.S. District Judge Deborah Batts — who was appointed by President Clinton in 1994 — is black and a lesbian.
State Department acknowledges Intersex Awareness Day
Special LGBTQ rights envoy moderated activist roundtable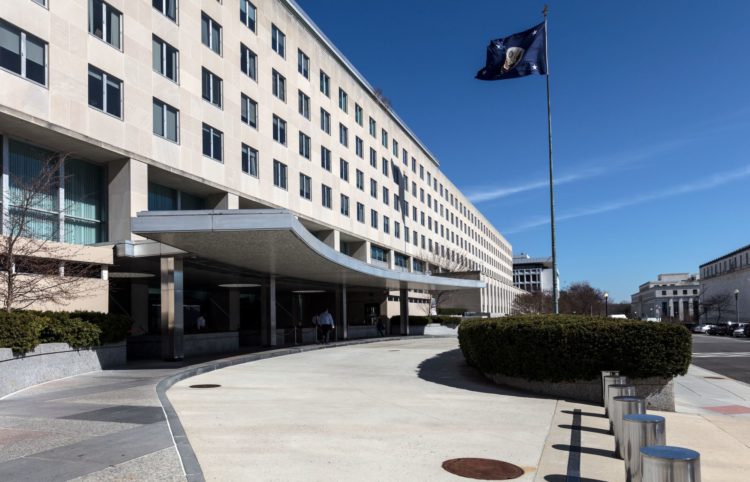 The State Department on Tuesday acknowledged the annual Intersex Awareness Day.
"We proudly recognize the voices and human rights of intersex people around the world," said State Department spokesperson Ned Price in a statement. "The Department of State is committed to promoting and protecting the rights, dignity, and equality of all individuals, including intersex persons."
Price in his statement said U.S. foreign policy seeks to "pursue an end to violence and discrimination on the basis of gender, sexual orientation, gender identity or expression, and sex characteristics, while acknowledging the intersections with disability, race, ethnicity, religion, national origin, or other status." Price also acknowledged intersex people "are subject to violence, discrimination, and abuse on the basis of their sex characteristics" and "many intersex persons, including children, experience invasive, unnecessary, and sometimes irreversible medical procedures."
"The department supports the empowerment of movements and organizations advancing the human rights of intersex persons and the inclusion of intersex persons in the development of policies that impact their enjoyment of human rights," he said.
Jessica Stern, the special U.S. envoy for the promotion of LGBTQ rights abroad, on Tuesday moderated a virtual panel with intersex activists from around the world.
Starting now! Go to https://t.co/Am0tYpCep1 to listen in on a rich discussion with Special Envoy for LGBTQI+ Rights Jessica Stern, @glifaa, and intersex activists from around the world. #IntersexAwarenessDay pic.twitter.com/ZMiPyMR8Gy

— Bureau of Democracy, Human Rights, and Labor (@StateDRL) October 26, 2021
Intersex Awareness Day commemorates the world's first-ever intersex protest that took place in Boston on Oct. 26, 1996.
Dana Zzyym, an intersex U.S. Navy veteran who identifies as non-binary, in 2015 filed a federal lawsuit against the State Department after it denied their application for a passport with their sex listed as "X." The State Department in June announced it would begin to issue gender-neutral passports and documents for American citizens who were born overseas.
The U.S. and more than 50 other countries earlier this month signed a statement that urges the U.N. Human Rights Council to protect the rights of intersex people.
Anti-LGBTQ Daily Wire host says 2 men shouldn't be allowed to adopt babies
" […] because babies need mothers. They also need fathers, which is why two women shouldn't be allowed either."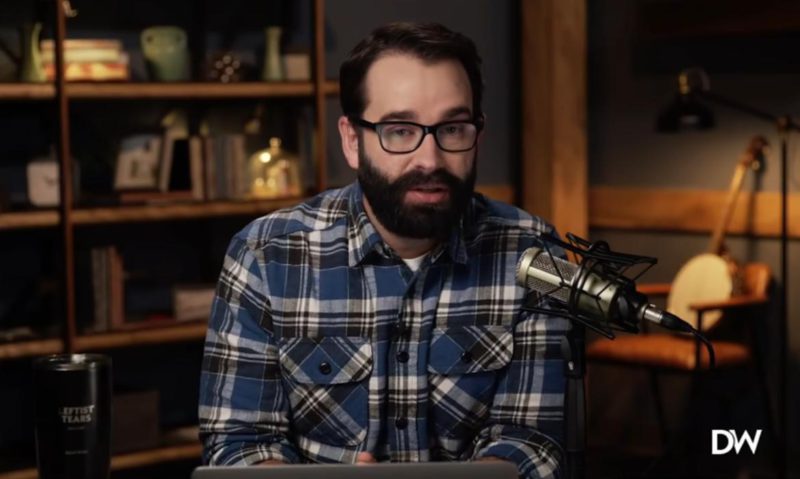 NASHVILLE – Anti-LGBTQ Daily Wire podcast and YouTuber Matt Walsh joined the growing chorus of far-right and conservative voices outraged that U.S. Secretary of Transportation Pete Buttigieg went on paternity leave from his job in August after he and his husband Chasten had adopted two children.
On his show Monday Walsh not only criticized Buttigieg, but he attacked same-sex couples adopting children altogether.
"It's absurd for any public employee, paid on taxpayer dime, to be given that much time off. Now, you can make an argument for women on maternity leave but not for men. Paternity leave is a nice luxury for private companies that can afford it. The U.S. government is not a private company – it's a public institution, deeply in debt, failing in just about every way and everywhere. So this is not a time and not the place for those kinds of luxuries. But that's the somewhat safer point to make, right? You are in a much more hazardous place, you are in more hazardous waters when you go away from that and, instead, you start saying mildly critical things about paternity leave in general as a concept."
"I also didn't say that there's nothing at all for a man to do for his family after a child is born. I said that as far as caring for the newborn himself, most of that is going to be done by the mother. She, in most cases, will be feeding the child. The child also needs and wants his mother's presence, his mother's touch, her voice. The father should be interacting with the baby also, obviously, but the infant is far more focused on his mother at that age. And needs his mother more. There is no mother in the Buttigieg household, but that doesn't change the point here."
"Babies need their mothers, which is why two men shouldn't be allowed to adopt babies in the first place. And the outrage mob can now start a secondary campaign over that comment. But I'll say it again. Two men should not be allowed to adopt babies because babies need mothers. They also need fathers, which is why two women shouldn't be allowed either."
Pete Buttigieg calls out Tucker Carlson over attack
Fox News host mocked transportation secretary over paternity leave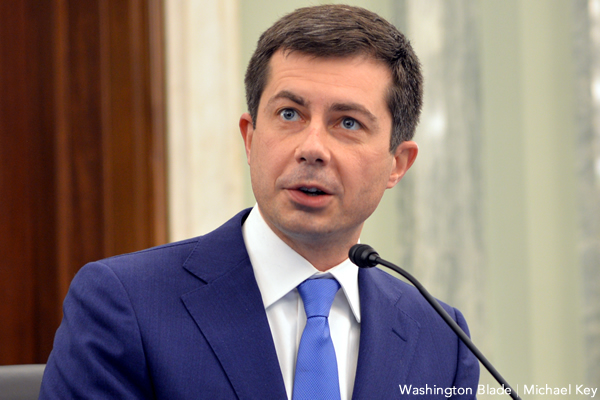 Appearing remotely on MSNBC's Nicolle Wallace's politics program Friday, U.S. Transportation Secretary Pete Buttigieg called out Fox News host Tucker Carlson for the attack on his parental leave.
"This attack is coming from a guy who has yet to explain his apparent approval for the assassination of Harvey Milk, " Buttigieg said.
During his Thursday evening program Carlson said, "Pete Buttigieg has been on leave from his job since August after adopting a child—paternity leave, they call it—trying to figure out how to breastfeed. No word on how that went. But now he's back in office as the transportation secretary and he's deeply amused, he says, to see that dozens of container ships can't get into this country."
Sec. Pete Buttigieg calls out Tucker Carlson for the attack on his parental leave, "This attack is coming from a guy who has yet to explain his apparent approval for the assassination of Harvey Milk, " pic.twitter.com/DsyQgCyUNO

— Sarah Reese Jones (@PoliticusSarah) October 15, 2021
Tucker Carlson mocks Pete Buttigieg for taking paternity leave: "Paternity leave, they call it, trying to figure out how to breastfeed, no word on how that went." pic.twitter.com/zFnp6uSser

— nikki mccann screamírez 👻 (@NikkiMcR) October 15, 2021