Conservative group files lawsuit against N.J. 'ex-gay' therapy ban
Complaint argues Christie's law violates freedoms of speech and religion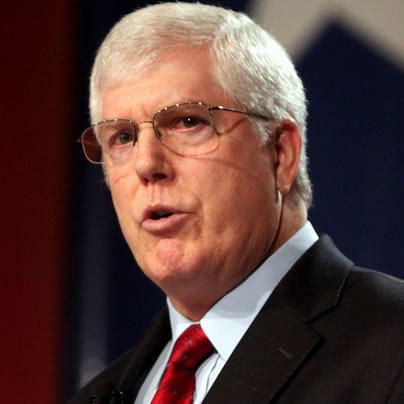 A socially conservative group on Thursday filed a lawsuit in federal court in New Jersey that seeks to overturn the state's ban on widely discredited "ex-gay" conversion therapy that Gov. Chris Christie signed into law this week.
The Liberty Counsel filed the 46-page complaint before the U.S. District Court of New Jersey against Christie, who signed a law on Monday barring sexual orientation conversation therapy for minors within his state, as well as other state officials.
The lawsuit alleges the law violates freedoms of speech and religion under the U.S. and New Jersey Constitutions. Additionally, the lawsuit contends the law violates parental rights under the First and Fourteenth Amendments.
The group filed the lawsuit on behalf of two Christian counselors who practice sexual orientation conversion therapy and two fringe psychological groups that have endorsed it: the National Association for Research & Therapy of Homosexuality, or NARTH, and the American Association of Christian Counselors.
"This law went into full effect immediately, upon being signed by Governor Christie on August 19, 2013, and thus time is of the essence to obtain judicial relief because plaintiffs, their clients, and the members of the plaintiff associations are currently suffering immediate and irreparable injury to their most cherished constitutional liberties," the filing states.
Mat Staver, founder and chair of Liberty Counsel, said in a statement on the day the lawsuit was filed that the law is "a tyrannical overreach of government authority."
"With this law, parents may face Child Protective Services investigating their home and even law enforcement taking their children if they seek change therapy," he said said.
"Ex-gay" conversion is widely discredited and refuted by major mainstream psychological groups, such as American Psychological Association. In June, the largest ex-gay group, Exodus International, closed its doors after its executive director Alan Chambers issued an apology acknowledging "the pain and hurt others have experienced" through failed attempts at conversion therapy.
Still, plaintiffs in the lawsuit contend its effective. One of the plaintiff counselors, Tara King, identified as a lesbian and was in a same-sex relationship between the ages of 19 and 23. But after attending ex-gay conversion therapy at Exodus International, she, according to the complaint, left "the homosexual lifestyle 23 years ago and has experienced the change and reform that her Christian faith has brought into her life."
King, who holds a Masters Degree in Christian counseling from Liberty University, in 2000 founded the King of Hearts Counseling Center in Brick, N.J., — a counseling center that focuses on counseling from a Biblical perspective.
The other plaintiff counselor in the lawsuit is Ronald Newman, a licensed psychiatrist who obtained advanced degrees in psychology from Trinity Evangelical Divinity School. In 1998, Newman founded the Christian Counseling Consortium of South Jersey, which had engaged in providing ex-gay conversion therapy to minors.
The complaint adds that some of the individuals who decided to stop conversion counseling therapy with Newman "still benefitted from the counseling sessions despite deciding that their same-sex attractions, behaviors, or identity were not unwanted."
"Newman and his patients are suffering and, absent injunctive relief, will continue to suffer irreparable harm as a result of A3371," the lawsuit states. "By prohibiting minors from receiving SOCE counseling, A3371 has made a portion of Dr. Newman's practice illegal and unethical."
Liberty Counsel seeks a preliminary injunction enjoining the Christie administration and other state officials from enforcing the law, a permanent injunctions to the same effect, a declaratory judgment rendering the law unconstitutional, as well as nominal damages and compensation for court costs.
Wayne Besen, executive director of Truth Wins Out, which has spoken out about "ex-gay" therapy and its dangers, criticized the lawsuit as a waste of time for the judicial system.
"The Liberty Counsel has filed a frivolous lawsuit that confuses religious liberty with license to abuse LGBT youth," Besen said. "The claim is without merit, relies on perpetuating junk science, and is in defense of a fraudulent product. With evidence and facts on our side, the Liberty Counsel is wasting time and money — similar to the clients of ex-gay therapists."
Still, Liberty Counsel has achieved at least temporary success with filed a similar lawsuit known as Pickup v. Brown against the ex-gay therapy in ban in California. In January, the U.S. Ninth Circuit Court of Appeals issued an emergency injunction barring the California law from going into effect.
Christie's office didn't immediately respond to a request to comment on the lawsuit.
Virginia Beach high school students stage walkouts to support transgender rights
City's school board approved policy to out trans students to parents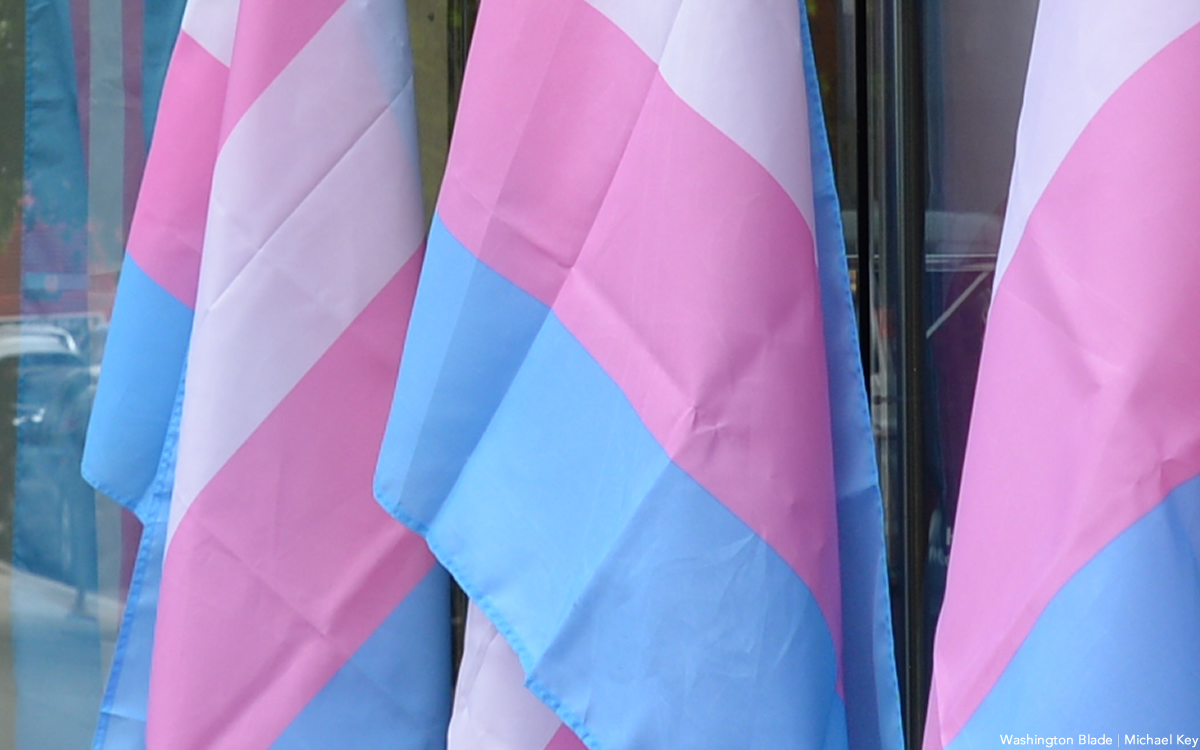 Students at five Virginia Beach high schools on Friday staged walkouts in support of transgender rights.
The walkout is in response to the Virginia Beach School Board approving policy 5-31, which the Pride Liberation Project says will require schools to out trans students to their parents.
Students have been organizing walkouts across the state since Republican Gov. Glenn Youngkin earlier this year announced new guidelines for trans and nonbinary students.
"Students like me aren't going to be able to talk to our teachers if we're constantly worried about our school officials calling home to forcibly out us," AJ, a trans Kellam High School Student, told the Pride Liberation Project.
State Department hosts intersex activists from around the world
Group met with policy makers, health officials, NGOs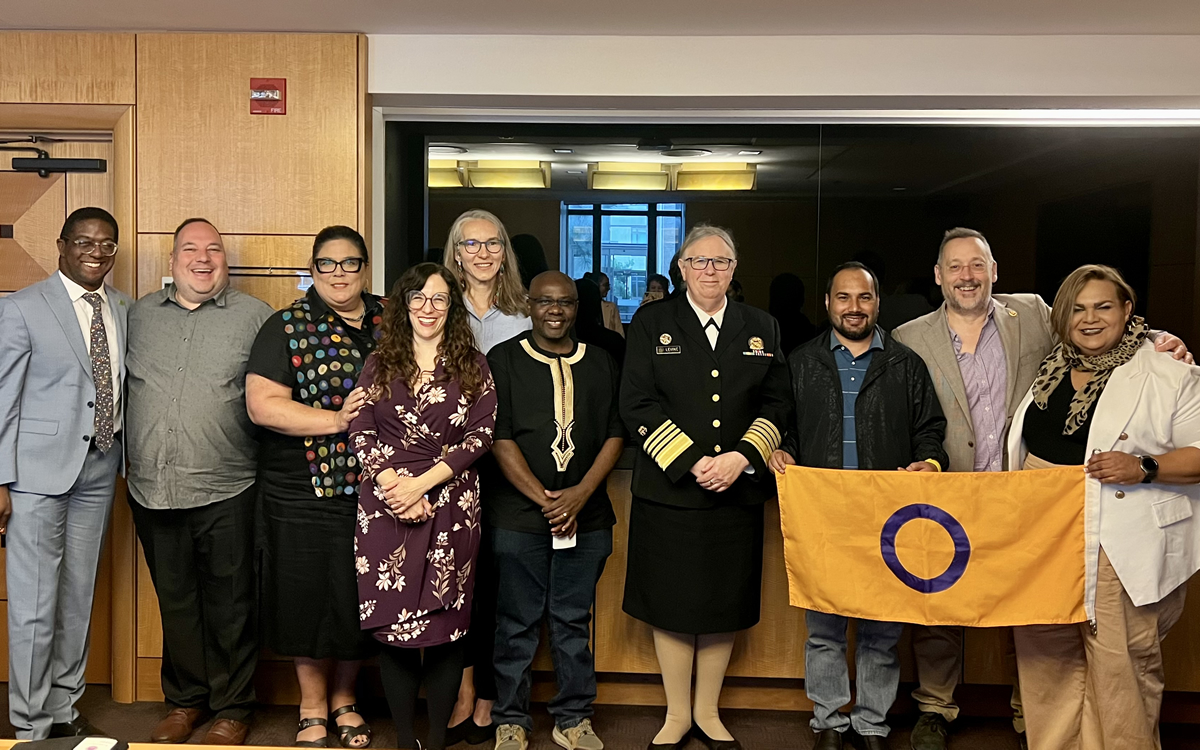 The State Department last week hosted five intersex activists from around the world.
Kimberly Zieselman, a prominent intersex activist who advises Jessica Stern, the special U.S. envoy for the promotion of LGBTQ and intersex rights abroad, brought the activists to D.C.
• Morgan Carpenter, co-founder and executive director of Intersex Human Rights Australia
• Natasha Jiménez, an intersex activist from Costa Rica who is the general coordinator of Mulabi, the Latin American Space for Sexualities and Rights
• Julius Kaggwa, founder of the Support Initiative for People with Atypical Sex Development Uganda
• Magda Rakita, co-founder and executive director of Fujdacja Interakcja in Poland and co-founder of Interconnected UK
• Esan Regmi, co-founder and executive director of the Campaign for Change in Nepal.
Special U.S. Envoy for Global Youth Issues Abby Finkenauer and Assistant Health Secretary Rachel Levine are among the officials with whom the activists met.
Zieselman told the Washington Blade on Sept. 21 the activists offered State Department officials an "intersex 101" overview during a virtual briefing.
More than 60 Save the Children staffers from around the world participated in another virtual briefing. Zieselman noted the activists also met with Stern, U.N. and Organization of American States officials, funders and NGO representatives while in D.C.
"The people we met were genuinely interested," Rakita told the Blade.
Stern in an exclusive statement to the Blade said "the visiting intersex activists clearly had an impact here at State, sharing their expertise and lived experience highlighting the urgency to end human rights abuses, including those involving harmful medical practices against intersex persons globally." Andrew Gleason, senior director for gender equality and social justice at Save the Children US, in a LinkedIn post he wrote after attending his organization's meeting with the activists echoed Stern.
"There are many learnings to recount from today's discussion, but one thing is clear, this is unequivocally a child rights issue, and one that demands attention and action at the intersection of LGBTQI+ rights, reproductive rights and justice, disability justice and more," wrote Gleason. "Gratitude to the panelists for sharing such poignant testimonies and providing insights into what organizations like ours can do to contribute to the broader intersex movement; and thank you to Kimberly for your leadership and bringing this group together."
The activists' trip to D.C. coincided with efforts to end so-called sex "normalization" surgeries on intersex children.
Greek lawmakers in July passed a law that bans such procedures on children under 15 unless they offer their consent or a court allows them to happen. Doctors who violate the statute face fines and prison.
Germany Iceland, Malta, Portugal and Spain have also enacted laws that seek to protect intersex youth.
A law that grants equal rights and legal recognition to intersex people in Kenya took effect in July 2022. Lawmakers in the Australian Capital Territory earlier this year passed the Variation in Sex Characteristics (Restricted Medical Treatment) Bill 2023.
Intersex Human Rights Australia notes the law implements "mechanisms to regulate non-urgent medical care to encourage child participation in medical decisions, establish groundbreaking oversight mechanisms and provide transparency on medical practices and decision making." It further points out the statute "will criminalize some deferrable procedures that permanently alter the sex characteristics of children" and provides "funding for necessary psychosocial supports for families and children."
"It's amazing," Carpenter told the Blade when discussing the law and resistance to it. "It's not perfect. There was some big gaps, but physicians are resisting every step of the way."
The State Department in April 2022 began to issue passports with an "X" gender marker.
Dana Zzyym, an intersex U.S. Navy veteran who identifies as non-binary, in 2015 filed a federal lawsuit against the State Department after it denied their application for a passport with an "X" gender marker. Zzyym in October 2021 received the first gender-neutral American passport.
Pepco, Exelon announce $2.7 million in funding for four minority-owned businesses
'It's good business sense to bring more people to the table'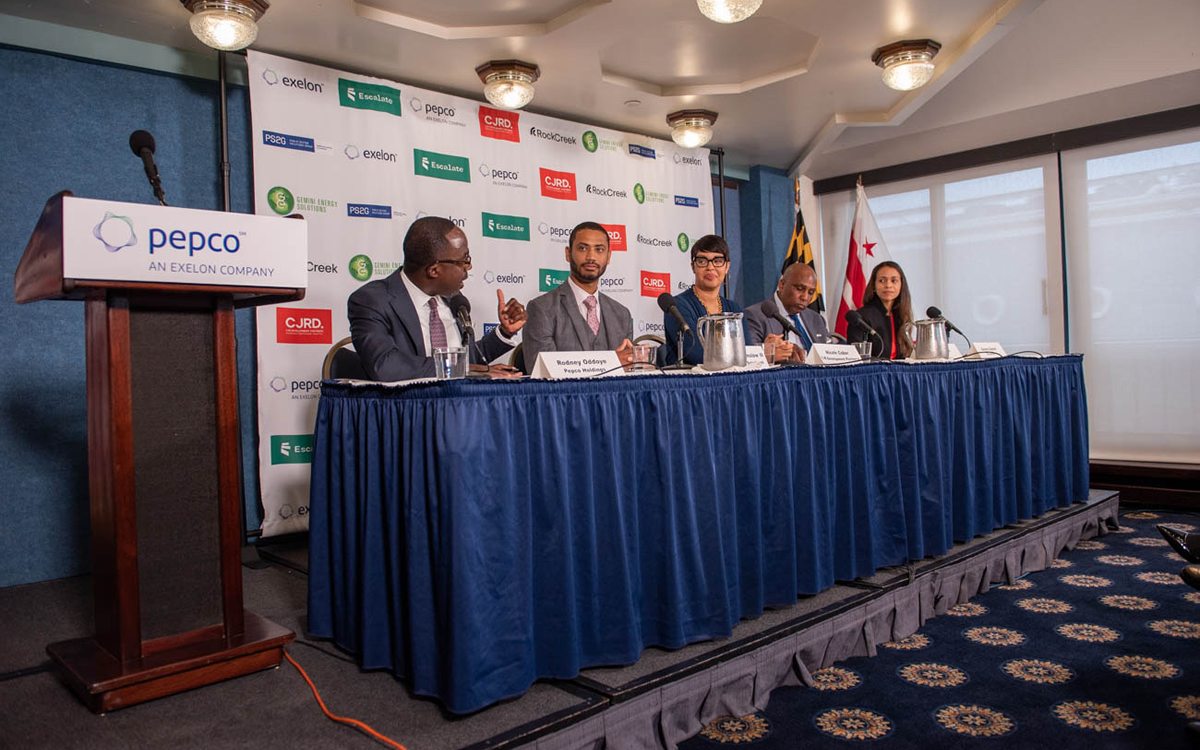 Pepco and Exelon announced a $2.7 million investment in four minority-owned businesses on Friday.
"Today's been a long time coming," said Pepco Vice President of Governmental and External Affairs Valencia McClure.
Pepco's parent company, Exelon, launched the Racial Equity Capital Fund (RECF) in 2022 to expand capital access to diverse businesses. This latest $2.7 million investment is just a portion of RECF's $36 million in funding.
At the announcement, D.C. Mayor Muriel E. Bowser spoke about the other ways Pepco and Exelon have "put their money where their mouth is" through their partnership with the D.C. Infrastructure Academy. She reported that all 22 of the residents that graduated from the program last week have a job offer from Pepco.
"We know that is not just a job, but a career," she said to the crowd's applause. "We know that working together, we can invest in D.C. residents, provide opportunity, and ensure that our D.C. businesses are a part of D.C.'s growing prosperity."
The four minority businesses that received funding were Gemini Energy Solutions, Public Sector Solutions Group, CJR Development Partners, and Escalate.
"It's good business sense to bring more people to the table," said fund recipient Nicole Cober, CJR Development's Principle Managing Partner.
Gemini Energy Solutions, which is Black owned, received $1 million, the most of the four companies. Its mission is to equitably scale energy efficiency to marginalized communities. For the founder and CEO Anthony Kinslow II, this investment means that he is able to get paid and advance the work of his organization.
"We are now able to accelerate the work in our software and technology development," he said. "What we were going to do in two years, we are now going to do in six months."
For Escalate, a workforce development platform focused on frontline worker retention, the funding means that it will be able to double the pay for frontline workers.
Public Sector Solutions Group CEO Darryl Wiggins emphasized that this investment was not just 'charity' work, but mission-driven work.
"The principle and the intent is greater than the money we receive," he said. Public Sector Solutions is Black owned.
Public Sector Solutions Group received a $600,000 debt investment; CJR Development, a minority and woman-owned small business, received a $600,000 debt investment; and Escalate, a majority Black and woman-owned company, received a $500,000 equity investment.
Exelon launched the RECF in partnership with RockCreek, one of the world's largest diverse-owned global investment firms, in 2022. The RECF expands capital access to diverse businesses so they can create more jobs, grow their companies and reinvest in their neighborhoods and communities, according to a statement from Exelon.
New RECF applications are accepted on a rolling basis. Interested businesses may apply online or contact RockCreek at [email protected] for more information.