Will Manning case harm effort to lift trans military ban?
Convicted soldier: 'I am Chelsea Manning. I am female'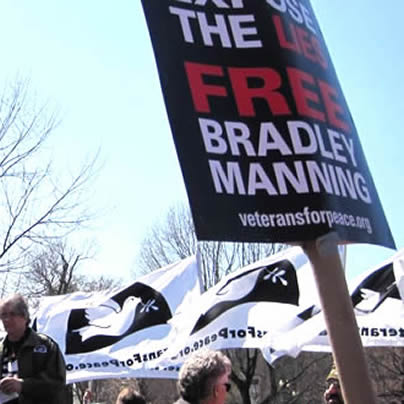 One day after a military judge sentenced then-U.S. Army private Bradley Manning to 35 years in prison for leaking classified documents to Wikileaks, the 25-year-old soldier released a statement through her attorney coming out as transgender.
"As I transition into this next phase of my life, I want everyone to know the real me," Manning said. "I am Chelsea Manning. I am a female."
Manning's dramatic announcement was first disclosed on NBC's "The Today Show" early Thursday morning by her lead defense attorney, David Coombs, who said Chelsea Manning will request from prison authorities permission to undergo hormone therapy.
If prison officials don't agree to Manning's request, "then I'm going to do everything in my power to make sure they are forced to do so," Coombs said.
Manning's sentencing and declaration that she is a transgender woman follows a protracted trial that transgender activists fear has set back their quest to persuade the military to lift its ban on transgender service members.
The sentence came one week after Manning's attorneys argued that Manning's decision to leak more than 700,000 classified military and diplomatic documents along with video footage of battlefield scenes was due, in part, to the stress Manning was experiencing over her gender identity.
Earlier in the trial, the defense disclosed that Manning – who initially identified as a gay man – had been quietly struggling over whether she was a transgender woman.
Last week, defense attorneys released a photo of Manning dressed as a woman with a blond wig. Her attorney presented as a witness a military therapist who testified that Manning emailed him the photo along with a letter describing her gender identity as a "problem."
"You put him in that kind of hyper-masculine environment, if you will, with little support and few coping skills, the pressure would have been difficult to say the least," the Associated Press quoted the therapist, Capt. Michael Worsley, as saying in his testimony last week at the sentencing phase of Manning's court martial. "It would have been incredible."
Two prominent transgender activists who have served in the military before transitioning from male to female told the Washington Blade — just before Manning disclosed she's transgender — that a large number of closeted transgender service members currently are performing their duties flawlessly while experiencing some of the same pressures related to their gender identity that Manning might have experienced.
The future of transgender military service
"Our view is Manning's gender identity — no matter what it is — does not justify what he did," Brynn Tannehill, a transgender woman and former Lt. Commander in the Navy, told the Blade prior to Manning's Thursday announcement. She currently serves as spokesperson for the Trans Chapter of SPART*A, a group representing mostly active duty LGBT service members.
"If Bradley Manning is transgender and if he struggles over this, we can empathize over that," Tannehill told the Blade in a telephone interview Tuesday night. "But we do not believe it should excuse what he did."
Tannehill added, "We know many trans military people with highly distinguished careers. So the argument that being transgender made him do this is patently false."
Tannehill and transgender advocate Autumn Sandeen, who transitioned from male to female after retiring from the Navy, said the negative publicity surrounding Manning's personal struggle with her gender identity is overshadowing the overwhelming majority of service members grappling with their gender identity who quietly do their jobs well.
The two noted that as many as 120 closeted transgender service members affiliated with the SPART*A group can't come out as positive role models because they would be subject to discharge under a military regulation that strictly prohibits "transsexualism" and "gender transformation" within the military.
"In my last four years in the Navy I was grappling with gender identity and yet I did my job," said Sandeen, who lives in San Diego.
Among other things, Sandeen said she had access to classified information while serving on a ship. She says she and other transgender people she knows had similar access to classified information never mishandled or released such information.
"[Manning] will be used as an example of why transgender people shouldn't serve in the military," she said.
Sandeen said the transgender people she knows, both civilians and military members, are divided over whether what Manning did was good or bad for the country, just as other Americans are divided over the issue.
Chelsea Manning and Wikileaks
In July Manning was found not guilty of aiding the enemy, the most serious charge filed against her. But the military judge, Army Col. Denise Lind, found her guilty of nearly all of the other charges filed against her, including six counts of violating the U.S. Espionage Act.
Manning's supporters say the information she leaked to the whistleblower group Wikileaks shined a spotlight on flawed U.S. policies and military practices in the Iraq and Afghanistan wars that would not otherwise have been brought to the attention of the American public.
Government prosecutors argued that Manning's actions placed U.S. troops in jeopardy by revealing classified information that terrorists and other enemies could use against U.S. military and civil personnel stationed overseas.
"Personally, if Manning comes out as transgender I will be someone who owns him, but owns him as a person who did wrong," Sandeen told the Blade the day prior to Manning's announcement that she was transitioning. "We have to take the good with the bad."
Mara Keisling, executive director of the National Center for Transgender Equality, told the Blade on Thursday following Manning's announcement that she's a transgender woman that the Manning case was a "temporary blip" in the ongoing efforts to obtain equal rights for transgender people.
"In the long run, this won't have an impact on the LGBT rights movement," Mara said. "With thousands of transgender people coming out, we are moving ahead on the education front concerning transgender equality."
Keisling criticized a statement released by the Army on Thursday that Manning most likely would not be allowed to obtain hormone treatment to facilitate her gender transition while serving time in an Army prison in Fort Leavenworth, Kan.
"That's not going to be the final word," she said. "You can't deny health care to prisoners. That's unconstitutional because it amounts to cruel and unusual punishment."
Keisling was referring to the prevailing views of the medical and mental health professions, including the American Medical Association, that being transgender is a medical condition that requires various means of treatment, including hormone therapy, to facilitate a healthy transition from one gender to another.
Glenn Youngkin sworn in as Va. governor
Republican backed teacher who opposed trans student guidelines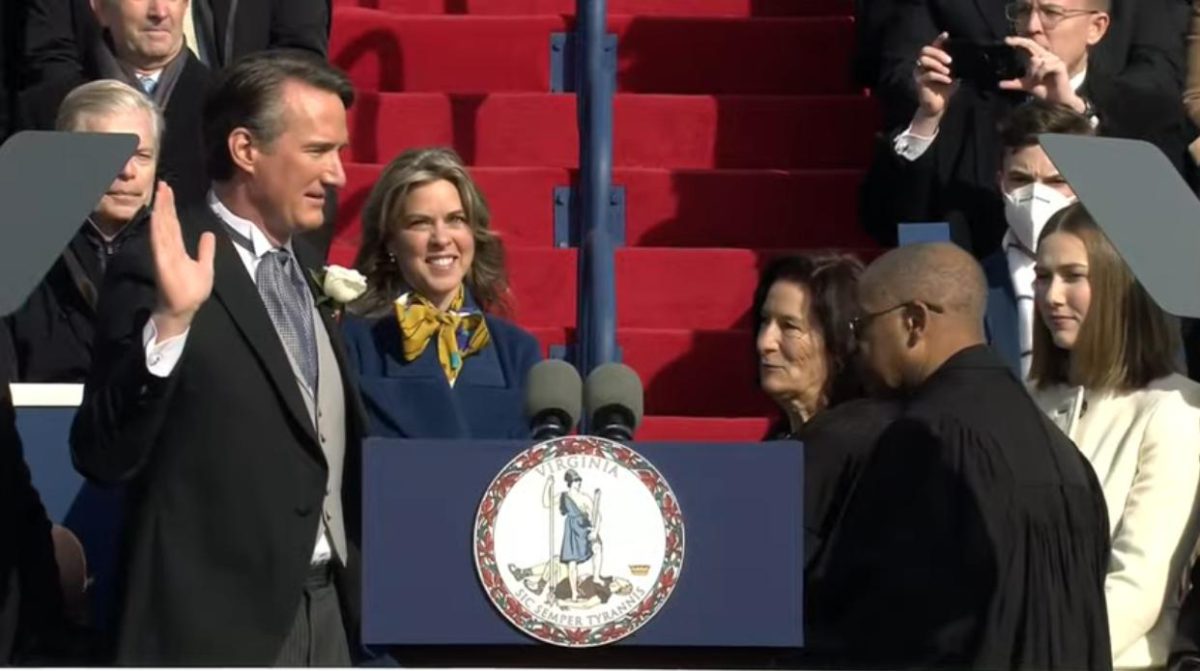 Republican Virginia Gov. Glenn Youngkin took office on Saturday amid concerns that he will seek to curtail LGBTQ rights in the state.
"Today we gather not as individuals, not as Republicans and Democrats," said Youngkin after his swearing in. "Today we gather as Virginians."
Former Gov. Ralph Northam and U.S. Sen. Tim Kaine (D-Va.) are among those who attended the ceremony that took place at the State Capitol. Terry McAuliffe, who Youngkin defeated in the general election, did not attend because of a COVID-19 scare.
Youngkin during his campaign against McAuliffe expressed support for Tanner Cross, a gym teacher at a Leesburg elementary school who was suspended from his job after he spoke out against Virginia Department of Education guidelines that are designed to protect transgender and non-binary students. Youngkin has also said he does not support allowing trans children to play on sports teams that are consistent with their gender identity.
Youngkin on Thursday named Elizabeth Schultz, an anti-LGBTQ former member of the Fairfax County School Board, to his administration.
"We will remove politics from the classroom and focus on the essentials," said Youngkin in his inaugural speech, without specifically mentioning LGBTQ students.
He added "parents should have a say in what is taught in schools."
Youngkin has also expressed his opposition to marriage equality, but stressed it is "legally acceptable" in Virginia and would "support that" as governor.
Lieutenant Gov. Winsome Sears and Attorney General Jason Miyares also took office on Saturday.
Winsome, a former member of the Virginia House of Delegates, is the first woman and first female of color elected lieutenant governor. Miyares, a former House member whose mother was born in Cuba, is Virginia's first Latino attorney general.
Youngkin in his inaugural speech noted "the people of Virginia just elected the most diverse leadership" in the state's history. Youngkin's first executive order ends "the use of" so-called "critical race theory" (which is not taught in Virginia schools) and other "divisive concepts" in Virginia's public schools.
The General Assembly's 2022 legislative session began on Wednesday.
Republicans control the House by a 52-48 margin. Democrats have a 21-19 edge in the Virginia Senate.
Va. school board names new chair who called for burning books
Kirk Twigg backed torching of materials with "sexually explicit" content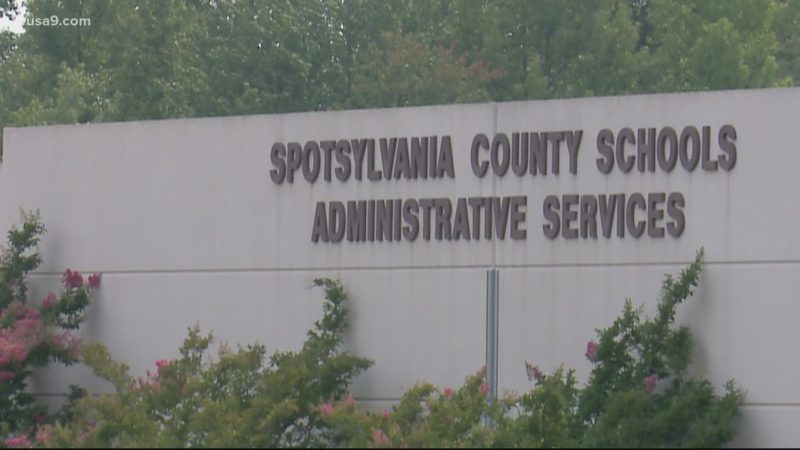 The Spotsylvania County School Board voted Monday to name Kirk Twigg, who advocated for burning books he deemed "sexually explicit" in November, as its new chair. 
His win gives conservatives the majority on the board as Republicans across the country continue an effort to ban books dealing with LGBTQ issues and racism from schools.
Spotsylvania County has been involved in the controversy from the beginning, voting last year to remove books containing "sexually explicit" materials — only to rescind the order a week later.  
Monday's board meeting, Twigg's first as chair, would prove to be disorganized and, at times, unruly.
Twigg's first order of business was to call an unscheduled, closed-door session, which may have violated Virginia's open meeting requirements. According to Virginia Code, a closed meeting cannot be called without a public body approving a motion that states the subject matter and the purpose of the meeting, as well as an applicable exemption from open meeting requirements.
After the board returned from the closed-door session, Twigg said well-regarded Superintendent Dr. Scott Baker would be fired without cause. Baker had already announced he would be resigning at the end of the school year in December.
After Baker decided to resign, a longtime Spotsylvania resident penned a letter in the Free Lance-Star, calling him "the finest superintendent, by far."
"Dr. Baker is trusted and respected by parents, students and employees of Spotsylvania Schools; and he never lost sight of his mission for good reason," it read. "He did so despite the noise and disruption from those few board members dedicated to bringing political disruption and dissidence into our public educational system. Shame on the few."
As Twigg made the announcement, another member of the board interrupted him, saying: "Um, Mr. Twigg, no he is not. You need to make a motion — there needs to be a motion and a vote."
Board members continued to speak over each other as conservative members attempted a vote. But Board Member Nicole Cole told the chairman she had comments.
"I believe that the board members who have lodged this termination owe our citizens and our students of Spotsylvania County a justification for firing Dr. Baker," said Cole. "You have not stated any justification or ability to fill the position. How is this good for the students, the children of Spotsylvania? How does this make sense?"
In a rebuke of the chaotic meeting, she added that Twigg "couldn't even properly chair a meeting."
After approximately 7 minutes of heated discussion where members from both sides got noticeably frustrated, the board voted 4-3 to fire Baker.
Twigg, Lisa Phelps, April Gillespie and Rabih Abuismail, who also advocated for burning books, voted in favor.
The Free Lance-Star reported that Baker was escorted from the building before the board returned from the second closed-door meeting.
An emergency meeting has been scheduled for Friday to name an interim superintendent.
"It's just very sad to hear that a superintendent who has been fully engaged in this community for 10 years is just let go with no rhyme or reason," said Board Member Dawn Shelley, while noting Baker's accomplishments.
Melissa Etheridge to host Heather Mizeur fundraiser
Virtual event to take place on Tuesday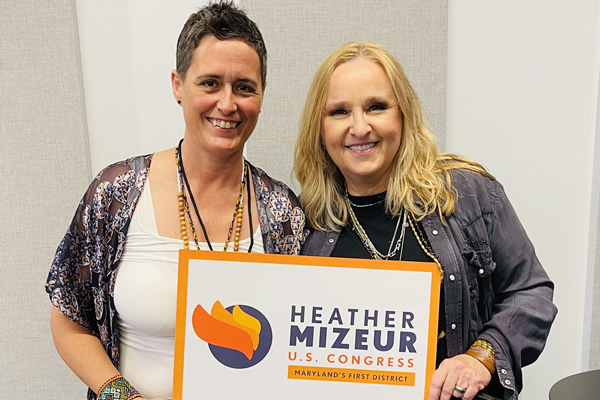 Singer Melissa Etheridge next week will hold a virtual fundraiser for Heather Mizeur's congressional campaign.
The fundraiser will take place on Tuesday at 8 p.m. with tickets starting at $50. Supporters who donate at least $250 will be able to speak with Etheridge and Mizeur in a private Zoom room.
Mizeur, a former member of the Maryland House of Delegates who lives on the Eastern Shore with her wife, is running against anti-LGBTQ Republican Congressman Andy Harris in Maryland's 1st Congressional District. Mizeur ran for Maryland governor in 2014.
Mizeur on Thursday noted to the Washington Blade that her congressional campaign has raised more than $1 million.
"It's going really, really great," said Mizeur.