Martina Navratilova: Coming 'full circle'
Navratilova on why the Sochi games must go on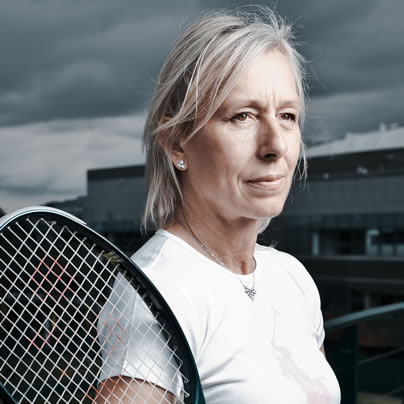 Martina Navratilova broke more than one glass ceiling during her career.
She won 18 Grand Slam singles titles – including nine women's singles championships at Wimbledon during her time on the tennis circuit that spanned more than three decades from 1975 to her official retirement in 2006. Navratilova also won 31 major women's doubles and 10 major mixed doubles titles.
She also made history in 1981 as one of the first professional athletes who came out as gay.
FIND MORE OF THE WASHINGTON BLADE SPORTS ISSUE HERE.
Navratilova, 56, told the Washington Blade during an interview that fans had a mixed reaction to her decision to publicly disclose her sexual orientation.
"I'd get some ovation from some," the retired Czech-born tennis champion said, noting she didn't receive endorsement deals after she came out. "From some they would just not clap at all and some would be whistling and booing."
Navratilova credited positive media coverage over the last decade with improving the way LGBT athletes are treated.
"Back then it was people who cheered me on that were looked at funny, so it's just totally come around," she said. "I didn't know how bad it was in the stands until I met some people that were my fans back in the day and they're like, 'you had no idea what people used to say,' so it's nice to know that it's kind of full circle. People couldn't get away with that stuff anymore."
Navratilova spoke to the Blade a few weeks after former Washington Wizards center Jason Collins came out as gay in a Sports Illustrated op-ed.
"His coming out will have a positive impact on an untold amount of lives," she said. "It's just adding to the groundswell of acceptance."
Collins' representatives have declined the Blade's requests to interview him.
Collins described Navratilova as "one of my heroes" during an interview with ABC News' George Stephanopoulos shortly after he came out. He also said she is one of his role models.
"You never know how you affect somebody in what way and it was just really nice to know just by being who I am made a difference — a positive difference in somebody else," Navratilova said, noting she and Collins have exchanged e-mails since he came out. "It's very empowering and humbling at the same time."
Navratilova spoke to the Blade shortly after Russian lawmakers unanimously passed a bill by a 436-0 margin that sought to ban the "promotion of homosexuality" to minors. President Vladimir Putin on June 30 signed the so-called gay propaganda measure into law.
Putin also signed a bill that bans foreign same-sex couples and those from countries that allow same-sex marriage from adopting Russian children. Groups that receive funding from outside Russia that do not register as "foreign agents" under a 2012 law face a fine of up to 500,000 rubles (or $15,220.)
"I feel like Putin's just trying to go against whatever the West is doing," Navratilova said. "If the West would be bad about gays, he would have gay marriage, but because the West is good with the gays — or getting better, he goes the other way."
Navratilova is among the current and former LGBT professional athletes who oppose calls to boycott the 2014 Winter Olympics in Sochi over Russia's gay rights record. Others include Olympic diver Greg Louganis, who was unable to compete in the 1980 Summer Olympics in Moscow because the U.S. boycotted the games over the Soviet Union's invasion of Afghanistan the year before; figure skater Johnny Weir and former George Washington University basketball player Kye Allums.
Blake Skjellerup, a gay speed skater from New Zealand, plans to wear a rainbow pin during the Sochi games.
Navratilova said Russia shouldn't "have gotten the Olympics in the first place," but stressed she "never believed in boycotts." She referenced the gay advocacy groups that boycotted Colorado after voters in 1992 approved a constitutional amendment that barred the state from enacting anti-gay discrimination laws to further prove her point.
The U.S. Supreme Court struck it down in 1996 in the Romer v. Evans decision.
"It's more effective to get in people's faces and prove them wrong rather than run away," Navratilova said. "To me a boycott kind of runs away from the problem."
She was also a Tennis Channel commentator during the men's final at the French Open in early June when opponents of France's same-sex marriage law interrupted the match between Spanish tennis players Rafael Nadal and David Ferrer. Navratilova said the shirtless protester who ran onto the court with a flare in his hand near Nadal reminded her of the man who stabbed Monica Seles during a German tennis match in 1993.
"You're like holy shit, you're still not safe on the tennis court," she said. "On top of that, it's these asshole protesters who have nothing better to do but complain about gay people having the same rights as they do."
Navratilova also recalled seeing some of the more than 100,000 people who marched against France's same-sex marriage law in Paris on May 26 — three days before the first gay couple legally tied the knot in the country. Opponents of nuptials for same-sex couples also gathered along portions of the Tour de France route last month to protest the statute.
"I couldn't believe the masses of people who were out protesting against something that doesn't affect them in any way," Navratilova said, referring to the May 26 march in the French capital. "To really see real people that are so emotionally invested in denying you equality is really disconcerting."
Raiders player Carl Nassib comes out as gay, first active player in NFL history
Nassib also announced that he is donating $100,000 to the Trevor Project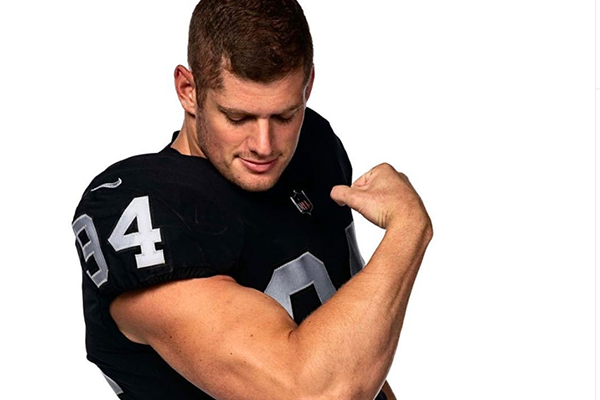 Raiders defensive end Carl Nassib came out today, making him the NFL's only openly gay player.
"I just want to take a quick moment to say that I'm gay," Nassib said in a video he posted on his Instagram account. "I've been meaning to do this for a while now but I finally feel comfortable enough to get it off my chest. I really have the best life. I've got the best family, friends and job a guy could ask for. I'm a pretty private person, so I hope you guys know I'm not doing this for attention, but I think representation matters."
Nassib also announced that he is donating $100,000 to the Trevor Project.
Vulgar anti-gay slur halts championship final soccer match
The league has written rules and guidelines that call for the referees on the field to halt game play if fans ignore warnings
DENVER, CO. – The Confederation of North, Central America and Caribbean Association Football, (CONCACAF) league's final match in the Mile-High City Sunday was halted after fans disrupted the game play by shouting a homophobic chant directed at players on the field.
ESPN reported the pause occurred during the final moments of the second half before the game went to extra time in the U.S. men's national team's 3-2 win. Referee John Pitti resumed the match after three minutes as players on both sides pleaded with the crowd to stop using the chant.
The league has written rules and guidelines that call for the referees on the field to halt game play if a warning to the spectators by the announcer over the stadium's public address has already warned the crowd to cease and desist. Should the crowd not stop, then the referee has the authority to send the players to the locker rooms and can also call for the match to be abandoned.
ESPN also reported that this was the second tournament match to be halted due to anti-gay chants at Empower Field at Mile High. Mexico's semifinal win over Costa Rica was also briefly paused. That match also saw several fans ejected from the stadium.
Outsports Webzine reported this past Spring that the disgraceful "puto" chant —a vulgar slur for male prostitute — is ubiquitous at Mexican soccer matches, and up until recently, Soccer's governing body, Fédération Internationale de Football Association or FIFA, has been ambivalent towards its eradication. The organization has punished Mexico at least 12 times for the chant since 2015, and yet, it hasn't disappeared.
In March, FIFA opened an investigation into anti-gay chanting by Mexico supporters during an Olympic qualifier against the Dominican Republic ESPN noted.
WATCH: USA Beats Mexico FULL MATCH [CONCACAF Nations League Final] | from CBS Sports. Game play is halted at the 1 hour thirty seven minute mark on the YouTube video:
Niners kick-off Pride with NFL's 1st-ever gender-neutral gear
The team hopes to score another win for its diverse fanbase Thursday with a new retail line that isn't limited by binary gender styles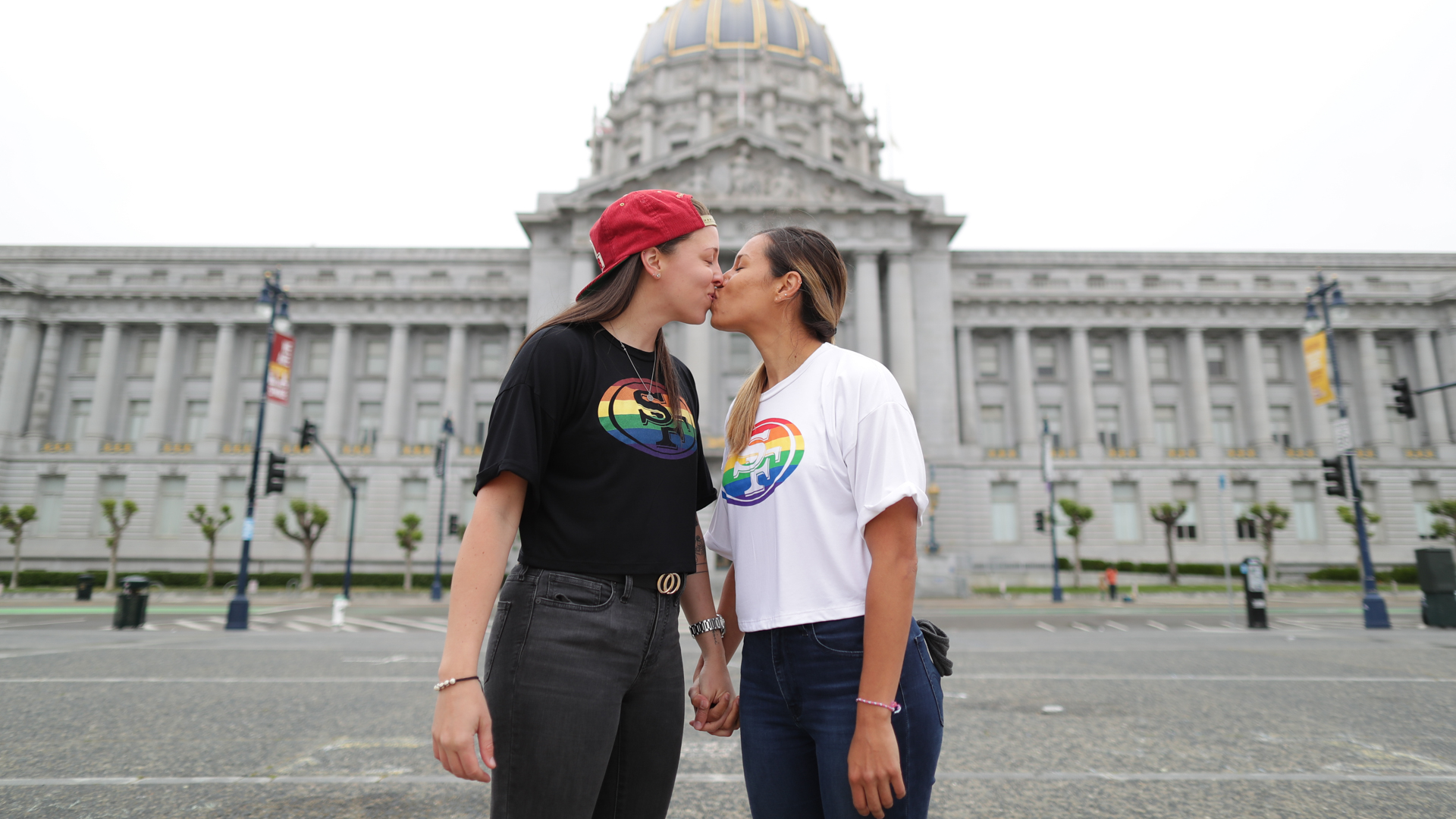 SANTA CLARA, CA. – The San Francisco 49ers have announced month-long plans for the organization's annual celebration of June LGBTQ+ Pride month. Led by 49ers PRIDE, the official fan club of 49ers Faithful who identify as LGBTQ+ and allies, the 2021 celebration will be highlighted by the 2021 49ers PRIDE Collection.
Every fan can feel seen
The San Francisco 49ers call their new retail line of rainbow-logo'd tops, tees and jackets "genderless." We think you'll call them cool- two years after the San Francisco 49ers led the NFL with the first official community for LGBTQ fans and allies, back in May 2019, the team hopes to score another win for its diverse fanbase Thursday with a new retail line that isn't limited by binary gender styles.
The new array of team-branded and Pride-themed clothing is the league's first and only "genderless" collection, according to a news release from the Niners. The threads are by Fanatics and the team promises 100% of the proceeds from this collection will benefit the San Francisco LGBT Center, the Oakland LGBT Center and The LGBTQ Youth Space: San Jose.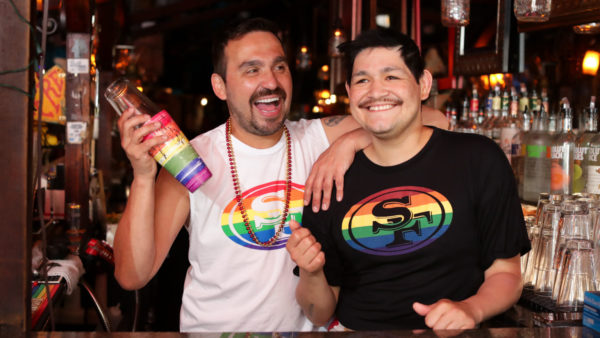 "Supporting the LGBTQ+ community in sports is a priority for the 49ers organization because sport has not always been inviting," the 49ers' Hannah Gordon told the Los Angeles Blade. Gordon is entering her tenth season with the 49ers and third as chief administrative officer and general counsel.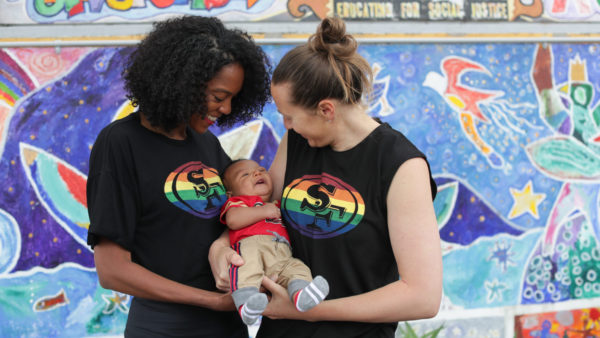 "We created 49ers PRIDE to make space for all of our LGBTQ+ fans and allies and it quickly became an incredible community. This year, we designed the first genderless retail line by an NFL team because we don't want there to be 49ers fan who wants gear but doesn't feel seen. If you want to support the Niners, we have something for you."
There will still be items available that fans who prefer a feminine cut can purchase at the team's online store, but the 2021 Pride collection is specifically geared toward Niners fans who aren't interested in reinforcing gender stereotypes when they support their team and fly their Pride colors.
"With this line, we have pieces that were designed so that however you identify, you can find a fit and any two people can express different styles with the same piece," said Gordon. "I love seeing how our fans wear these pieces and express their style. Doing it your own way is faithful to the Bay."
Click here to view the collection and find out more about 49ers Pride.