Putin signs 'anti-gay propaganda' bill into law
Measure comes amid increased anti-gay violence, discrimination in Russia
The Associated Press reported Putin signed the measure — under which individuals will face fines of between 4,000 and 5,000 rubles ($124-$155) and government officials would face fines of between 40,000 and 50,000 rubles ($1,241-$1,551) — less than a week after Russia's upper house of Parliament approved it.
Organizations will also face a fine of up to 1 million rubles ($31,000) or suspension of their activities for up to 90 days. Foreigners will also face up to 15 days in jail and deportation.
The Russian Duma on June 11 passed the bill in an unanimous vote.
"I was sure it would be passed," Nikolai Alekseev of Gay Russia, an LGBT advocacy group, told the Washington Blade during an interview from Moscow after the Duma vote. "It will now be signed by the president, who is very much using this fight against homosexuals in his campaign to attract voters."
Putin signed the bill into law against the backdrop of growing concern over anti-LGBT discrimination and violence in Russia.
Two men in Volgograd and on the Kamchatka Peninsula in Russia's Far East in recent weeks have been killed during what local authorities have described as anti-gay attacks.
Police in St. Petersburg on Saturday arrested 40 LGBT advocates and a handful of the estimated 200 nationalists who challenged them during a gay rights rally. Authorities on May 24 arrested Alekseev and 29 other gay activists who tried to stage a Pride celebration outside Moscow City Hall.
The State Department, the European Union and retired tennis champion Martina Navratilova are among those who have criticized Russian lawmakers and Putin over their opposition to LGBT rights in the country.
Alekseev and a growing number of other LGBT rights advocates have also called for a boycott of the 2014 Winter Olympics in Sochi and the 2018 World Cup that will also take place in Russia.
"[They are] a very good opportunity to raise particular concerns," Alekseev told the Blade earlier this month. "One of the ways for many countries would be to boycott these international sporting events because they take place in a country which doesn't respect basic human rights."
Russian President Vladimir Putin on Sunday signed a bill into law that bans the "promotion of homosexuality" to minors.
Eight jailed across Canada during anti-LGBTQ sex ed rallies
Prime minister condemned bigotry; counterprotests outnumbered demonstrations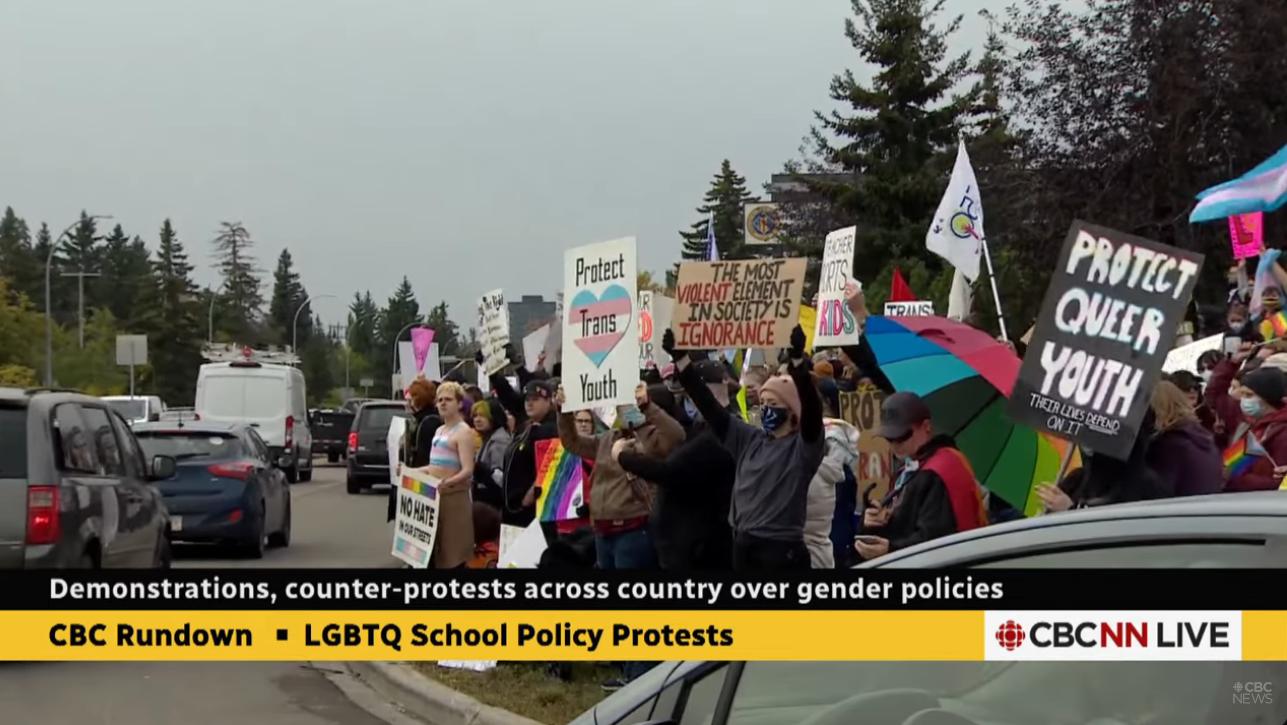 A highly coordinated series of anti-LGBTQ protests rocked more than 80 cities across Canada on Wednesday, in a significant escalation of tactics by Canada's anti-LGBTQ extremists.
The coordinated protests dubbed 1 Million March 4 Children are demanding an end to discussions on sexual orientation and gender identity in Canadian classrooms. They come as several Canadian provinces have enacted policies that require students to have parental permission to change their preferred name or pronoun used in schools, and shortly after the federal Conservative Party adopted a series of anti-trans policies at its national convention.
According to its website, 1 Million March 4 Children is calling for "the elimination of the Sexual Orientation and Gender Identity (SOGI) curriculum, pronouns, gender ideology and mixed bathrooms in schools." The website also lists among its supporters numerous groups that were opposed to masking policies during the COVID-19 pandemic, anti-vaccine groups, groups that promote conspiracy theories, and groups that support the truck convoys that laid siege to Ottawa and several U.S. border crossings last year.
Protests happened from coast to coast, in big cities, suburbs and small towns, but in most cases, they were met with coordinated counter-protests in support of LGBTQ rights who greatly outnumbered the protesters.
CBC reported that counter-protesters numbered roughly double the anti-LGBTQ protesters in St. John's, Newfoundland.
Inclusive sex education has long been part of school curriculums in most provinces in Canada and has generally enjoyed support from all major political parties.
While the protests where mostly peaceful, at least four anti-LGBTQ protesters were arrested after getting into altercations with counter-protestors in British Columbia, and police advised that the protest in front of the provincial legislature had become "unsafe."
Police in Nanaimo, British Columbia, tackled and arrested one man who attempted to flee after allegedly getting into a physical altercation at City Hall. Two protestors were also arrested in Victoria, British Columbia, as they demonstrated in front of the provincial legislature, and another protester was arrested in Vancouver. Police in both cities did not provide additional information.
Ottawa police also arrested two protesters for allegedly inciting hatred and another for causing a disturbance in at the protest in front of Parliament.
And Toronto police arrested 47-year-old protester Julia Stevenson for allegedly bringing a weapon to the demonstration outside the provincial legislature. Police did not give further details about what kind of weapon she is alleged to have been carrying.
Prime Minister Justin Trudeau, who was at the U.N. General Assembly in New York, condemned the anti-LGBTQ protests in a tweet on X, formerly Twitter.
"Let me make one thing very clear: Transphobia, homophobia and biphobia have no place in this country. We strongly condemn this hate and its manifestations, and we stand united in support of 2SLGBTQI+ Canadians across the country — you are valid and you are valued," he wrote.
Conservative Party leader Pierre Poilievre did not put out any statement on the protests, nor did deputy leader Melissa Lantsman, who is openly lesbian and has previously spoken out on LGBTQ issues on behalf of the party.
The leader of the left-leaning New Democratic Party Jagmeet Singh joined the counter-protestors who demonstrated in Ottawa and marched toward Parliament Hill.
"We know that there's a lot of folks that don't feel safe because of the rise in hate and division that's targeting vulnerable people," Singh told CTV. "But then you see a lot of people coming together, and it shows the strength of solidarity, of us supporting each other, of having each other's back."
Alberta Teachers' Association President Jason Schilling says the protesters are part of a North America-wide movement fomenting hatred against queer people using misinformation and lies.
"Using 'parental consent' as camouflage, this rally was part of a coordinated strike across North America to promote misinformation, intolerance and hate toward the 2SLGBTQIA+ community, as well as toward teachers who work to protect the safety and well-being of all students," Schilling said in a statement.
In many cities, the anti-LGBTQ protests were officially condemned by mayors and school boards.
Toronto Mayor Olivia Chow, who has publicly supported LGBTQ rights since the 1980s, issued a strong statement condemning the protests.
"We stand against all forms of discrimination, hatred and bigotry, and for the safety and well-being of all young people. Some wish to target our schools and libraries to spread hate. We know these must be spaces that welcome everyone, especially students," Chow wrote.
The city of Whitehorse, Yukon, issued a statement condemning bigotry in advance of the protests.
"While the city supports people's right to organize and protest, we stand by our 2SLGBTQIA+ community members and their right to live their true selves safely and free of harassment and hate. The promotion of anti-2SLGBTQIA+ ideas has no place in our community and messages that target fellow community members will not be tolerated," the statement says.
However, New Brunswick Primer Blaine Higgs, who was the first to introduce a "parental consent" policy for trans students, joined the protesters in front of the provincial legislature in Fredericton.
"I think our parents should become knowledgeable about what their kids are being taught and what is important for them to learn in schools and what's important for parents to make decisions on with kids that are under 16-years-old," Higgs told reporters.
British Columbia Conservative Party leader John Rustad went further in a statement on the protests. While he says he doesn't "officially" support the protests, if his party wins next year's election, he promised to cancel the province's sex ed curriculum and implied he would ban transgender girls from sports.
India penal code reform bills do not include LGBTQ, intersex rights
Supreme Court earlier this year heard marriage equality cases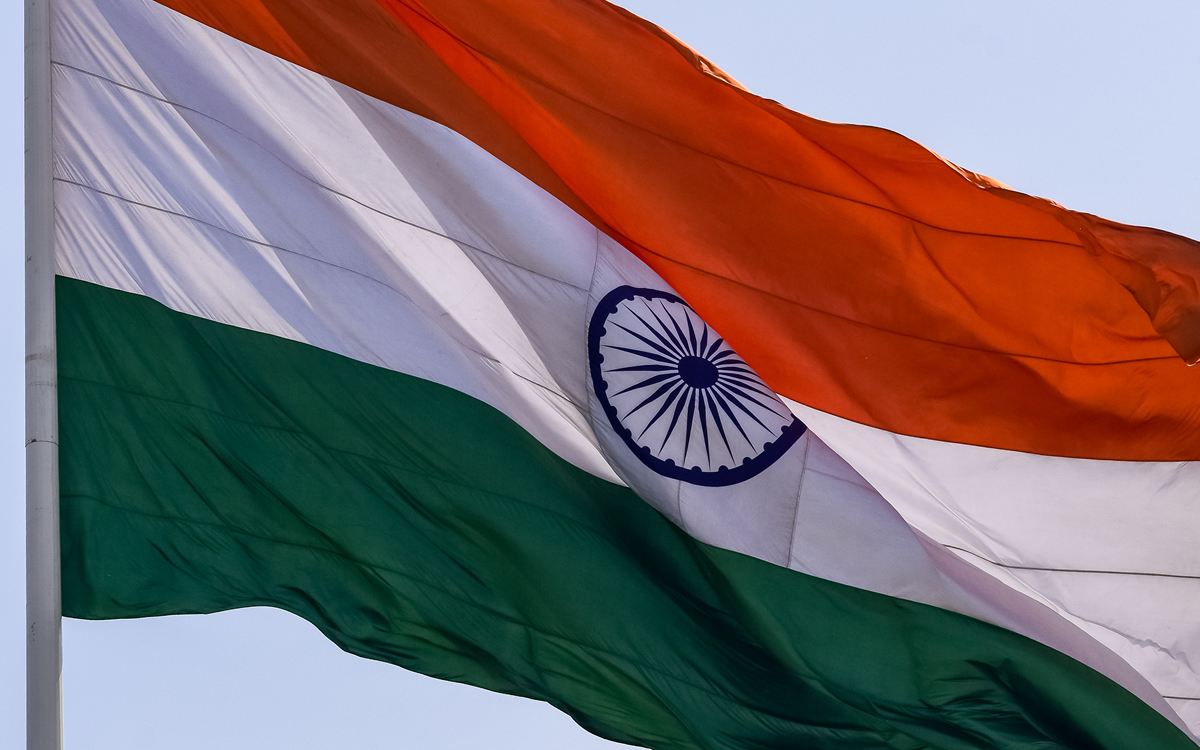 Indian Prime Minister Narendra Modi in 2019 said that all the laws implemented during British rule should be made in accordance with modern norms and with society's interests in account after adequate discussion and consideration. The government this year introduced a bill that would amend India's criminal laws, but the measure is not inclusive.
Home Minister Amit Shah on Aug. 11 introduced the Bharatiya Nyaya Sanhita Bill 2023, Bharatiya Nagarik Suraksha Sanhita Bill 2023 and Bharatiya Sakhshya Bill 2023 in the Lok Sabha, the lower house of the Indian Parliament. The three bills would replace the Indian Penal Code of 1860, the Criminal Procedure Code of 1898 and the Indian Evidence Act of 1872.
Shah said while introducing the bill that these three laws strengthened and protected British rule, and their purpose was to punish, not to give justice.
"The soul of three new laws will be to protect all the rights given to Indian citizens by the constitution, and their purpose will not be to punish but give justice," said Shah. "These three laws made with Indian thought process will bring a huge change in our criminal justice system."
Shah, while introducing the bill, also said that the government has taken a very principled decision to bring citizens to the center, instead of governance. These laws, however, still fail to be inclusive.
Chapter Five of the proposed revision to the penal code, which deals with offenses against women and children, did not talk about people who do not fall under specified categories, leaving out LGBTQ and intersex rights.
Section 63 of the code still defines rape as sexual assault by a man against a woman and continues to preserve gender stereotypes. The definition fails to recognize sexual assault by a man against another man or by a woman against another woman.
Another concerning section of the proposed criminal code, Section 38, would extend the right to private defense of the body to voluntarily causing the death of or any other harm to an assailant if an assault is with the intention of gratifying "unnatural lust." The code does not define "unnatural lust" though it is very similar to now abolished Section 377 that criminalized consensual same-sex sexual relations.
The Supreme Court in 2018 decriminalized homosexuality in India, thus repealing Section 377.
The British first introduced Section 377 and it was modelled on the Buggery Act of 1533. Thomas Macaulay in 1838 wrote the colonial-era law and it came into force in 1860. The Buggery Act defined buggery as an unnatural sexual activity against the will of God and man.
Section 377 of the Indian Penal Code defines unnatural offenses as whoever voluntarily has carnal intercourse against the order of nature with any man, woman or animal, shall be punished with imprisonment for life or with imprisonment of either description for a term which may extend to 10 years, and shall also be liable to fine.
Even though Section 377 has been repealed, the new criminal laws do not include the LGBTQ and intersex community under the same legal protection that is available to others. The new bill fails to mention LGBTQ and intersex people, leaving out any protection against violent crime.
There are no official statistics available on crimes against LGBTQ and intersex people, including those based on sexual orientation or gender identity, in India.
"The language of the new laws has undergone substantial positive changes to further include the LGBTQ community. After the passage of the Transgender Persons (Protection of Rights) Act 2019, the proposed new criminal laws also have gender-inclusive language," said Krishna Deva Rao, vice chancellor of the National Academy of Legal Studies and Research in Telangana state. "For instance, the meaning of the term 'gender' has been expanded as section 2(9) of Bharatiya Nyaya Sanhita (the law to replace the existing Indian Penal Code 1860) now defines 'gender' as the pronoun 'he' and its derivatives are used of any person, whether male, female or transgender. The penal law in Bharatiya Nyaya Sanhita has also formally removed the controversial provision Section 377 from the IPC."
Rao said that the government should have done a better job of further addressing the discriminatory treatment meted out to such marginalized communities.
In an email to the Washington Blade, Rao said that despite the Supreme Court's landmark NALSA verdict in 2014, the government has yet to provide horizontal reservations to the transgender community.
"Despite the passage of the Transgender Persons Act 2019, the concerns of the community remain unredressed as the penalties provided therein are very low. Similarly, despite the 2014 Supreme Court verdict providing for self-determination of gender identity without having to undergo surgical intervention, the 2019 Act and related rules are interpreted in a way to mandate surgery," said Rao. "Recently, in August 2023 Hyderabad police came under heavy scrutiny for cracking down on a begging racket. The police personnel discriminated against members of the transgender community because they had not undergone surgery or had genitalia not corresponding to their identified gender."
In a statement made about Chapter Five of the newly proposed Bharatiya Nyaya Sanhita Act, Rao said that the law catered to address crimes against women and children. Rao added it should have been expanded to include the LGBTQ and intersex community as well.
"While Section 377 has been struck down from the IPC, as per the landmark Navtej Singh Johar decision by the Supreme Court of India in 2018 the provision was only partially read down to exclude consensual homosexual relationships. By removing the provision entirely, non-consensual or illegal acts of intercourse against men as well as transgender community are left completely unaddressed by the new penal law," said Rao. "The arrest and medical examination safeguards under the criminal procedure have been exclusively catered to the protection of women. For instance, women survivors of sexual abuse have to be medically examined in a prescribed way, women can't be arrested after sunset and before sunrise, etc. Such procedures should also be extended to people from the LGBTQ community. Similarly, when transgender persons have to be examined, they should be allowed to provide their written consent for the gender of the doctor."
Two Supreme Court judges in their 2014 NALSA vs. Union of India ruling said that trans people fall within the purview of the Indian constitution and thus are fully entitled to the rights guaranteed therein.
"In a country which once considered us to be a 'minuscule populace', the LGBTQIA+ community has been overlooked as a demographic group to be considered during any revelations of the constitution," said Ankana Dey of Sappho for Equality, an activist forum for lesbian, bisexual woman and trans men. "In research in 2018, the LGBTQIA+ group was one of the 12 groups in India that was least represented in any research or legislative amendments. In context to the Bharatiya Nyaya Sanhita bill, it is no different for us. However, the LGBTQIA+ movement will continue to fight for its rights and representation in legal reforms. LGBTQIA+ activists and groups will continue to navigate the laws and policies in order to bring relief of some form to the community and will continue spreading that information with a bottoms-up approach."
In an email to the Blade, Dey said that every time Sappho for Equality's team is in the field, they work along the lines of advocacy and try to strike a dialogue with the legal representatives of the state such as police, lawyers and paralegal workers.
"Through these dialogues, we understood that the laws which have been passed and have not been circulated enough within the networks of legal representatives. Most of the lawyers in our state are unaware of what constitutes the NALSA judgment, The Transgender Persons Protection of Rights Act and Bill, and even the Mental Healthcare Act. The State Legal Services Authority (SALSA) categorically mentions that any person from the LGBTQIA+ community who has faced violence and discrimination has the right to free legal services from the state," said Dey. "Albeit most of the community persons are not aware of this service and even if they are, money extortion and intimidation are grave concerns that make these services severely inaccessible. Some of these dialogues have translated into heated conversations since most lawmakers do not enjoy being told that their knowledge lacks constructive information and their work generally surrounds misinformation, stigma, and stereotypes associated with us. Despite this, we are hellbent on continuing our fight to counter the legalities that affect us negatively. We are intently striving towards working with lawyers at a regional level and sensitizing them about queer-trans* lives and liveabilities."
Dey said that most of these bills that would specifically address trans lives have not been implemented since the NALSA ruling in 2014. She said there is a severe lack of implementation of these laws at the grassroots level.
"We strongly believe that with the revised IPC that deals with offenses against women and children, there is an urgent need to expand the very definition of a 'woman,'" said Dey.
While talking to the Blade, Harish Iyer, an equal rights activist, said he hopes that the actual draft will be more inclusive for all genders and sexualities.
"I think culture is not static, culture is evolutionary. Our laws also have evolved from time to time. We have made more progressive laws. With gender and sexuality, I would hope that the changes in laws would be more inclusive for all citizens of India," said Iyer. "It is an Indian culture to accept different sexuality. British culture was Section 377 of IPC. If we are going to define the law that is not IPC, it becomes imperative for us to follow Indian culture. We have always accepted and respected LGBTQI+ people."
Ankush Kumar is a reporter who has covered many stories for Washington and Los Angeles Blades from Iran, India and Singapore. He recently reported for the Daily Beast. He can be reached at [email protected]. He is on Twitter at @mohitkopinion.
Global anti-LGBTQ rights backlash overshadows UN General Assembly
Uganda's Anti-Homosexuality Act signed into law in May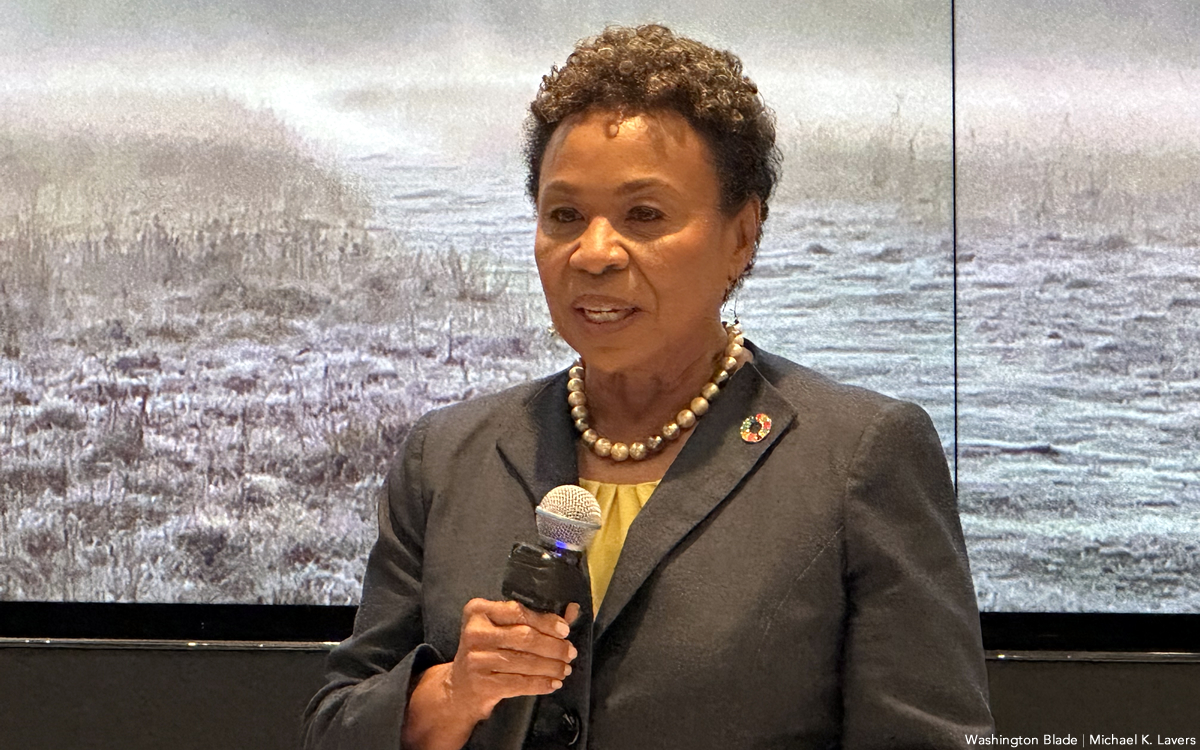 NEW YORK — Government officials, politicians and activists who traveled to New York for the U.N. General Assembly expressed their growing concern over the global backlash against LGBTQ and intersex rights.
"The emergence of this new wave of anti-LGBTQ+ laws first of all is scary, but secondly is deadly," said U.S. Rep. Barbara Lee (D-Calif.) on Monday during an event the African Services Committee hosted in Manhattan. "We have to really understand what's at stake with these laws."
Jessica Stern, the special U.S. envoy for the promotion of LGBTQ and intersex rights abroad, and Dr. Rebecca Bunnell, acting principal deputy coordinator for the President's Emergency Plan for AIDS Relief, are among those who also spoke at the event. Outright International Executive Director Maria Sjödin, Rainbow Railroad Executive Director Kimahli Powell, activists from Uganda, Kenya, Tanzania and Ghana and journalist Anne-Christine d'Adesky also participated.
Ugandan President Yoweri Museveni on May 29 signed his country's Anti-Homosexuality Act, which contains a death penalty provision for "aggravated homosexuality." Lawmakers in Kenya and Tanzania over the last year have proposed similar measures.
A bill that would criminalize LGBTQ and intersex identity and allyship in Ghana is currently before the country's lawmakers. Police in Nigeria's Delta state last month arrested more than 200 people at a same-sex wedding.
Lee noted African leaders who champion these bills and laws have alliances with U.S.-based groups that oppose LGBTQ and intersex rights.
"Hate is everywhere and it's really important that our government do a better job of tracking — of course U.S. persons and organizations and what their role has been advancing these laws," said the California Democrat.
D'Adesky noted Congress has yet to reauthorize PEPFAR and there is "an enormous fight."
"The anti-LGBTQ forces, which are the family values (supporters) in the GOP and the extreme right, have been using this issue of HIV funding and HIV programs as a kind of proxy … to go after democratic societies, not just here in the United States, but everywhere," said D'Adesky. "It's a very deliberate strategy to link the issue of LGBTQ rights and homosexuality with HIV service provision."
President Joe Biden on Tuesday in his U.N. General Assembly speech noted PEPFAR has saved "more than 25 million lives" in more than 55 countries around the world.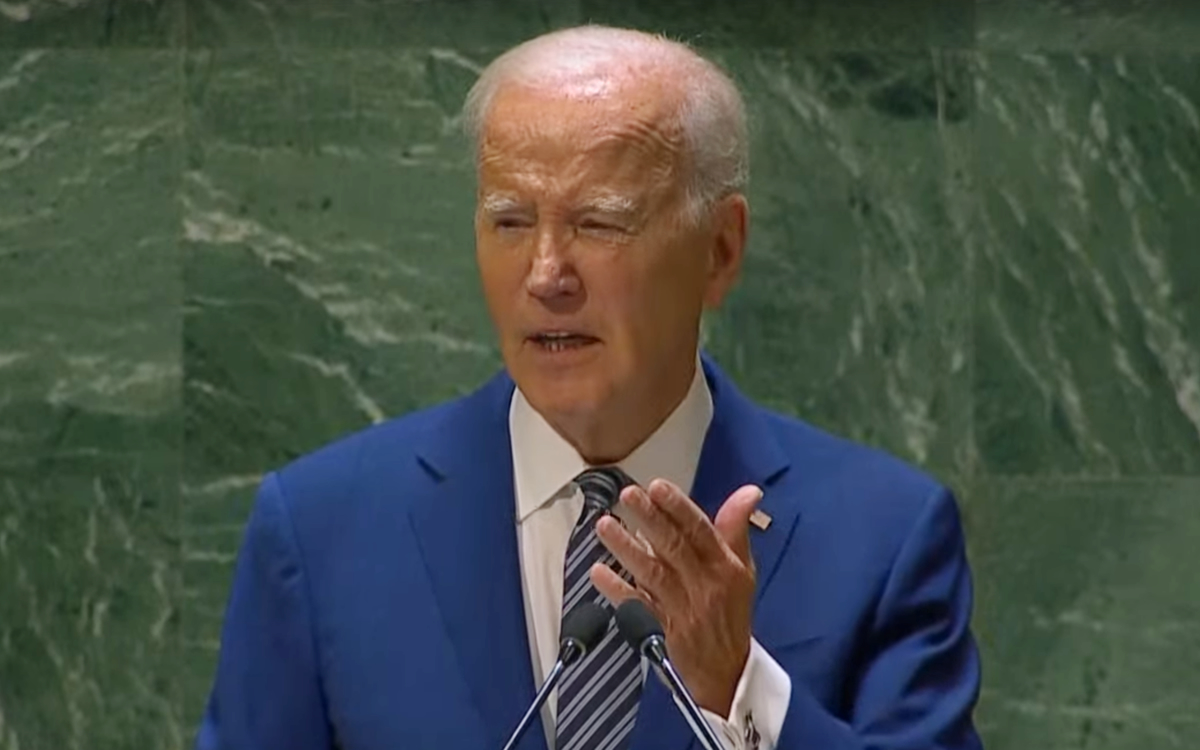 American officials earlier this year postponed a meeting on PEPFAR's work in Uganda in order to assess the Anti-Homosexuality Act's potential impact on it.
UNAIDS in a report it released in July raised concerns over a spike in HIV among gay and transgender people in eastern and southern Africa due to anti-homosexuality laws. The U.N. body noted laws that criminalize consensual same-sex sexual relations remain a significant obstacle in preventing and treating HIV among LGBTQ and intersex people.
"We have been trying to find communities and groups that can ensure that everybody has access to life saving services for HIV testing, prevention, PrEP, treatment, etc.," said Bunnell during the African Services Committee event.
Bunnell, who previously lived and worked in Uganda, described the country's Anti-Homosexuality Act as "horrific." Bunnell nevertheless added the law has made LGBTQ, intersex and HIV-specific issues more visible.
"At some level it's really heartening to see that we are at least able to talk openly and have a conversation where we are now addressing issues that were completely hidden at that time," she said. "We're in a very challenging, but better place in that sense."
Bunnell said she and her colleagues are in "active communication" with Stern and other Biden-Harris administration officials to see "what we can do, where could we restrict funding, where could we make statements, where can we protest against the absolutely horrific legislation in Uganda, where can we more proactively look at other countries that we've heard from today."
The U.S. in June imposed visa restrictions on Ugandan officials.
The World Bank Group on Aug. 8 announced the suspension of new loans to Uganda. The European Union last week said it would continue to provide funding to the country.
Sjödin after the African Services Committee event noted to the Washington Blade that the World Bank has human rights safeguards in place. Sjödin stressed, however, the issue of cutting aid to countries with anti-LGBTQ and anti-intersex rights records is "extremely nuanced."
"I don't think that cutting aide is a general remedy for any of this," said Sjödin. "I don't think that in general you can say, oh stop all foreign aid to any country where discrimination occurs because as we know this is not isolated to a few countries in Africa. We do know that LGBTIQ people are actively persecuted in many more."
Openly gay Irish prime minister speaks at UN LGBTQ, intersex rights event
Biden in his General Assembly speech referenced violence and persecution based on sexual orientation and gender identity.
U.S. Ambassador to the U.N. Linda Thomas-Greenfield during an interview with MSNBC's Rachel Maddow on Monday described Uganda's Anti-Homosexuality Act as "horrific" and said the U.S. "is doing everything in our power to support the LGBTQ community in Uganda, to ensure their safety and to ensure they are not damaged by this law."
"We are looking at … how we can continue to provide the good support that PEPFAR provides directly to individuals, to help save their lives without putting that funding through the Ugandan government or through individuals in the Ugandan government who are responsible for implementing this law," said Thomas-Greenfield. "It's a huge dilemma, but we have to find a way to do that and we have to find a way to hold those accountable who are basically violating the human rights of the LGBTQ community in Uganda."
Lee reiterated her criticisms of the Anti-Homosexuality Act when she spoke at an event at the U.N. on Monday that marked the U.N. LGBTI Core Group's 15th anniversary.
"The United States is deeply troubled by Uganda's passage of the Anti-Homosexuality Act," said Lee. "The legislation has already led to arrest, violence and evictions of LGBTQI+ Ugandans and undermine the safety of human rights defenders and healthcare providers serving this population."
"The United States and Uganda have enjoyed long standing cooperation that have benefited our bilateral relationship and made the region healthier, more prosperous and more secure," she added. "However, our partnership and Uganda's standing on the world stage is at risk due to the worsening trends of a closing political and civic space and increasing violations and abuses of human rights, the threat of privacy and the safety of everyone in Uganda, including through the enactment and enforcement of the Anti-Homosexuality Act. These actions ferment hate, support violence, and are no threat to the principle of human rights, development and good governance enshrined in the (Universal) Declaration (of Human Rights.)"
The U.S. is among the dozens of countries that are members of the U.N. LGBTI Core Group, a group of U.N. countries that have pledged to support LGBTQ and intersex rights.
Lee noted Singapore, the Cook Islands, Antigua and Barbuda and St. Kitts and Nevis over the last year have decriminalized consensual same-sex sexual relations. The California Democrat also highlighted Switzerland and Slovenia in 2022 extended marriage rights to same-sex couples; while Iceland, Spain and Cyprus banned so-called conversion therapy.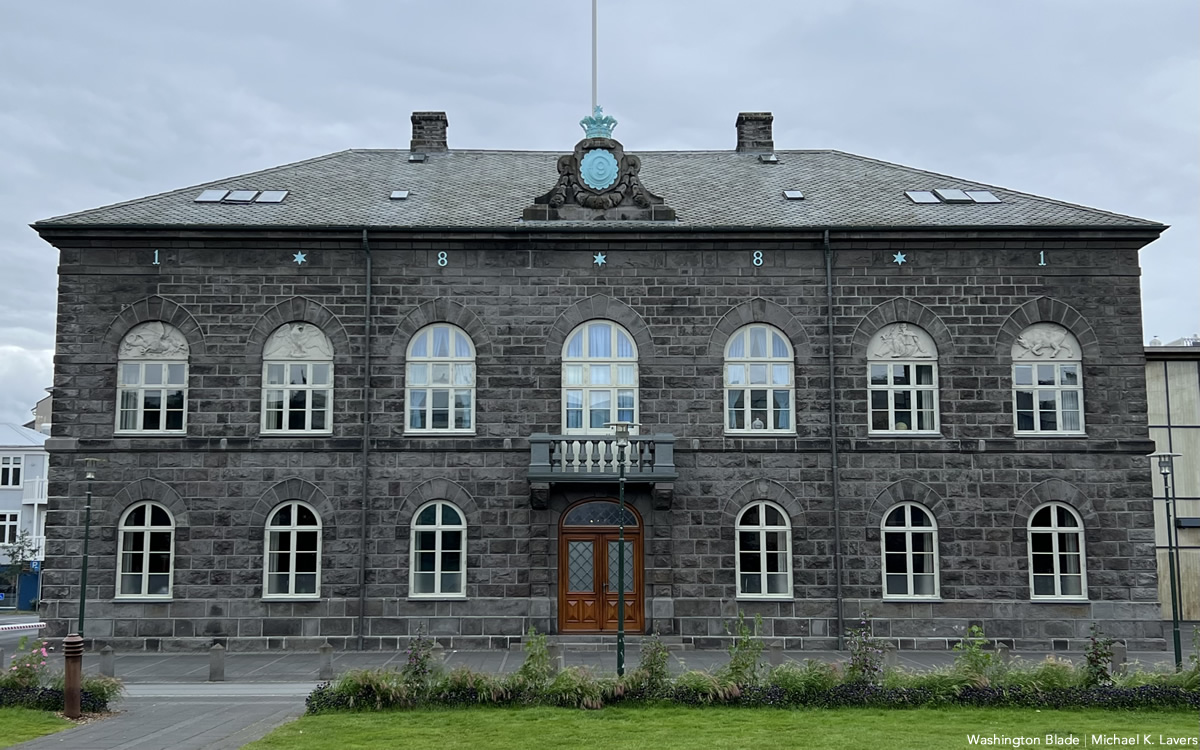 Edgars Rinkēvičs in June became Latvia's first openly gay president. Spanish lawmakers in February approveda landmark transgender rights law that allows anyone who is over 16-years-old to legally change their gender without medical intervention.
"Despite these gains, LGBTQI+ persons worldwide continue to experience alarming levels of violence, discrimination and isolation," said Lee. "We are seeing increasingly coordinated efforts to undermine progress on human rights of LGBTQI+ persons worldwide, while seemingly targeted at a small slice of the population."
Lee in her remarks specifically referenced the U.S. as one of the countries in which "we are seeing hateful shameful attacks on and against the LGBTQI+ persons, especially against LGBTQI children." 
Openly gay Irish Prime Minister Leo Varadkar, Chilean Foreign Minister Alberto Van Klaveren, Norwegian Foreign Affairs Minister Anniken Huitfeldt, Danish Development Cooperation and Global Climate Policy Minister Dan Jørgensen, Belgian Foreign Affairs Minister Hadja Lahbib, French Europe and Foreign Affairs Minister Catherine Colonna, Colombian Multilateral Affairs Vice Minister Elizabeth Taylor Jay, Brazilian Multilaterial Political Affairs Vice Minister Carlos Marcio Bicalho Cozendey and South African Department of International Relations and Cooperation Director General Zane Dangor are among those who also spoke at the event that Victor Madrigal-Borloz, the outgoing independent U.N. expert on LGBTQ and intersex issues, chaired.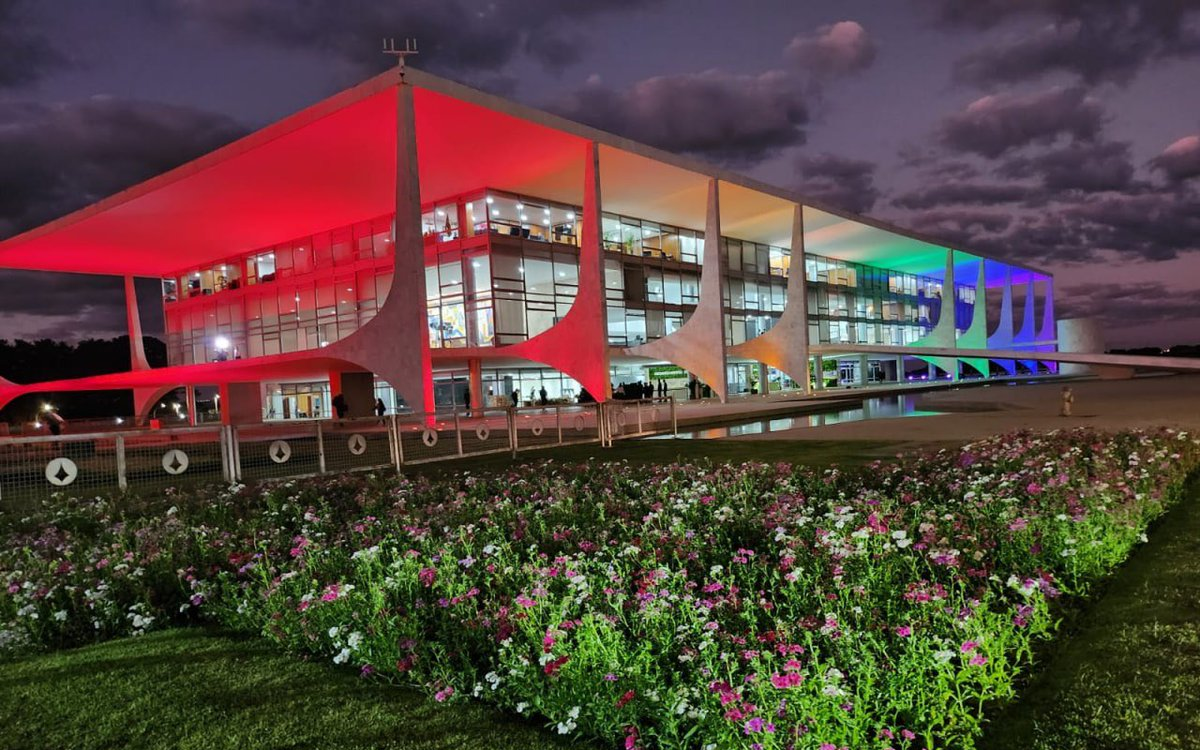 Human Rights Watch Executive Director Tirana Hassan and Chitsanupong Best Nithiwana, a transgender rights activist from Thailand, also participated. Openly gay Luxembourgish Prime Minister Xavier Bettel spoke virtually.
"My country, Ireland, has come a long way in recent years, particularly when we think about its LGBTI+ inclusion," said Varadkar.
Varadkar said he was in high school when Ireland decriminalized consensual same-sex sexual relations in 1993.
Ireland in 2015 became the first country to extend marriage rights to same-sex couples through a popular vote. Ireland's Gender Recognition Act took effect the same year. Varadkar noted his government is currently working to expunge convictions under the country's sodomy law and plans to ban conversion therapy in the country.
"These are major legislative changes, but I think the real effect runs much deeper," he said. "Our culture and our society has changed and there's a better understanding of family and inclusion. The Ireland of today is a more understanding or accepting more inclusive and more equal country than it was in the past and more willing to respect fluidity, diversity and personal freedom."
Varadkar, like Lee and others who spoke at the LGBTI Core Group event, expressed concern "about the alarming pushback against LGBT rights in some parts of the world, particularly criminalization, and the rise of violence, hatred towards members of our community at home and abroad."
"We see in some countries, the reintroduction of draconian laws, including threat of the death penalty, openness, discrimination, as an increasing backlash against very vulnerable transgender people, and heightened political polarization, including here in the U.N," he said. "I deeply regret the escalating attempts made by some states to undermine existing international commitments and standards."