Anti-gay bill passes in Russian parliament
Measure would ban "promotion of homosexuality" to minors
Russian lawmakers on Tuesday approved a bill that would ban the "promotion of homosexuality" to minors.
The Russian LGBT Network said on its Facebook page the measure passed in the Duma by a 436-0 vote margin with one abstention. Individuals would face fines of between 4,000 and 5,000 rubles ($124-$155,) and government officials would face fines of between 40,000 and 50,000 rubles ($1,241-$1,551.)
Organizations would face a fine of up to 1 million rubles ($31,000) or suspension of their activities for up to 90 days. Foreigners could also face up to 15 days in jail and deportation.
"This is a very sad day for the Russian LGBTI community and for Russian democracy," Martin K. I. Christensen, co-chair of ILGA-Europe's Executive Board, said.
Lawmakers passed the bill amid growing concerns over anti-LGBT violence and discrimination in the country.
Two men allegedly sodomized Vladislav Tornovoi with empty beer bottles and set his body on fire near Volgograd on May 10 after he reportedly came out to them. Reuters on June 3 reported authorities on the Kamchatka Peninsula in Russia's Far East said three men stabbed and trampled a gay man to death late last month before they set his car on fire with his body inside.
Authorities on May 24 arrested Nikolai Alekseev, co-founder of Moscow Pride, and 29 other gay activists who tried to stage a Pride celebration outside Moscow City Hall. The Russian LGBT Network said police detained advocates who kissed outside the Duma before today's vote.
The State Department in January criticized the passage of the "promotion of homosexuality" to minors bill. The United Nations and Amnesty International have also spoken out against the measure.
"Russia is trying very hard to make discrimination look respectable by calling it 'tradition,' but whatever term is used in the bill, it remains discrimination and a violation of the basic human rights of LGBT people," Graeme Reid, LGBT rights program director at Human Rights Watch, said. "To try to exclude LGBT people as 'non-traditional' is to try and make them less than human. It is cynical, and it is dangerous."
The Federation Council, Russia's upper house of parliament, still needs to approve the bill, but observers expect it will easily pass in the chamber.
President Vladimir Putin is expected to sign it into law.
Federal judge blocks White House from ending Title 42
Advocacy groups say policy further endangered LGBTQ asylum seekers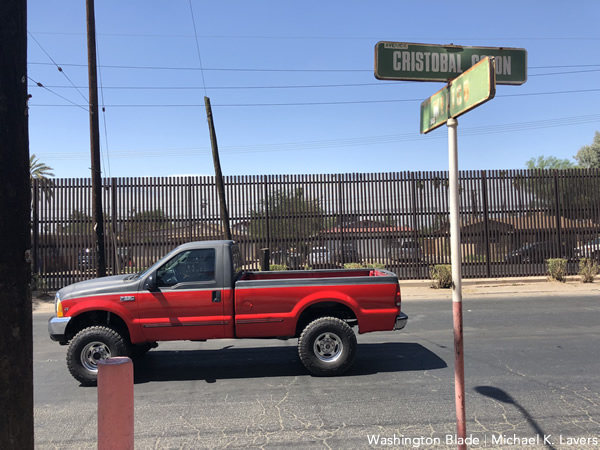 A Centers for Disease Control and Prevention rule that closed the Southern border to most asylum seekers and migrants because of the pandemic was to have ended Monday, but it remains in place after a federal judge blocked the Biden administration's plans to end it.
The White House last month announced it would terminate Title 42, a policy the previous administration implemented in March 2020.
U.S. District Judge Robert Summerhays in Louisiana on May 20 issued a ruling that prevented the Biden administration from terminating the Trump-era policy. White House Press Secretary Karine Jean-Pierre in a statement announced the Justice Department will appeal the decision, while adding the administration "will continue to enforce the CDC's 2020 Title 42 public health authority pending the appeal."
"This means that migrants who attempt to enter the United States unlawfully will be subject to expulsion under Title 42, as well as immigration consequences such as removal under Title 8 (of the U.S. Code)," said Jean-Pierre.
Advocacy groups and members of Congress with whom the Washington Blade has spoken since Title 42 took effect say it continues to place LGBTQ asylum seekers and other vulnerable groups who seek refuge in the U.S. at even more risk.
Oluchi Omeoga, co-director of the Black LGBTQIA+ Migrant Project, last month described Title 42 as a "racist and harmful policy." ORAM (Organization of Refuge, Asylum and Migration) Executive Director Steve Roth said Title 42 "put asylum seekers in harm's way in border towns and prevented them from seeking safety in the United States."
Title 42 was to have ended less than a month after five members of Congress from California visited two LGBTQ shelters for asylum seekers in the Mexican border city of Tijuana.
The Council for Global Equality, which organized the trip, in a tweet after Summerhays issued his ruling described Title 42 as a "catastrophe."
"The Biden administration cannot breathe a sign of relief until it's a matter of the past," said the Council for Global Equality on Saturday. "We remain committed to end Title 42."
#Title42 is a catastrophe — and the Biden administration cannot breathe a sigh of relief until it's a matter of the past. We remain committed to #EndTitle42. https://t.co/9EKJTiJzoV

— The Council for Global Equality (@Global_Equality) May 20, 2022
U.S. official meets with Brittney Griner
Consular visit took place on May 19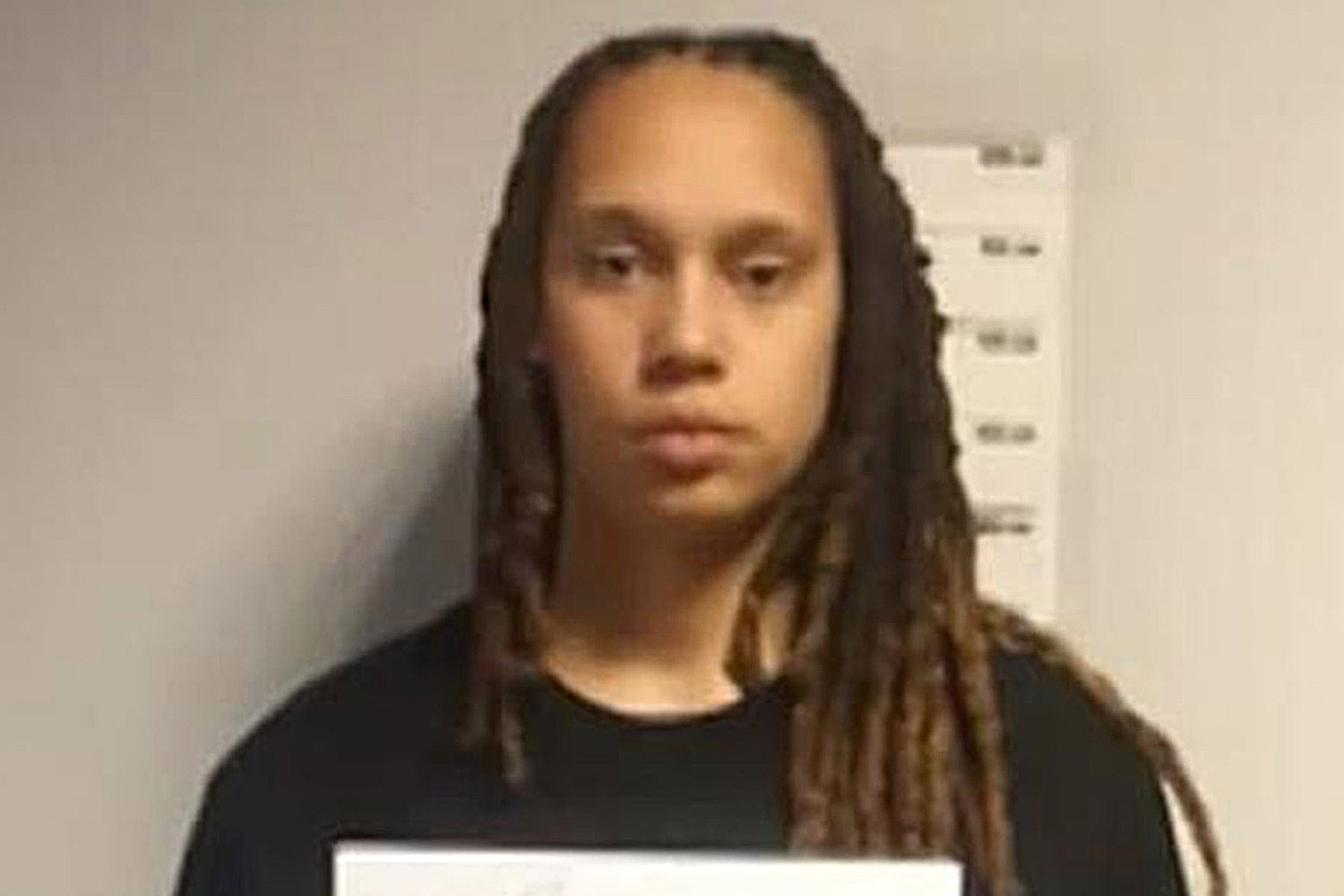 A U.S. consular official on May 19 visited detained WNBA star Brittney Griner in Russia.
State Department spokesperson Ned Price on Friday told reporters during a virtual briefing the officer "found her continuing to do as well as could be expected under these exceedingly challenging circumstances." The officer met with Griner two days after U.S. Ambassador to Russia John Sullivan said Russian officials had denied consular visits with her three times this month.
"Our message is a clear and simple one," said Price. "We continue to insist that Russia allow consistent and timely consular access to all U.S. citizen detainees. One-off visits are not sufficient, and we will continue to call on Moscow to uphold its commitments under the Vienna Convention for consistent and timely access as well."
Griner — a center for the Phoenix Mercury and a two-time Olympic gold medalist who is a lesbian and married to her wife — was taken into custody at Moscow's Sheremetyevo Airport in February. Russian officials said customs inspectors found hashish oil in her luggage.
The State Department has determined Russia "wrongfully detained" Griner.
A Russian court on May 13 extended her detention for another month. The Women's National Basketball Players Association, a union that represents WNBA players, has endorsed a petition that urges the Biden administration to "prioritize" Griner's release.
Secretary of State Antony Blinken spoke with Griner's wife, Cherelle Griner, on May 14.
U.S. announces more funding to fight HIV/AIDS in Latin America
Jill Biden made announcement on Saturday in Panama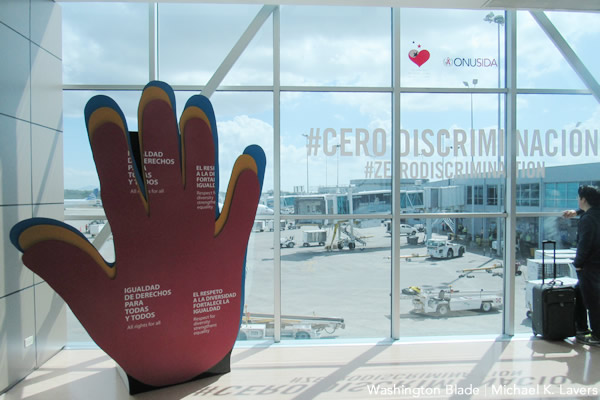 First lady Jill Biden on Saturday announced the U.S. will provide an additional $80.9 million to the fight against HIV/AIDS in Latin America.
Biden during a visit to Casa Hogar el Buen Samaritano, a shelter for people with HIV/AIDS in Panama City, said the State Department will earmark an additional $80.9 million for President's Emergency Plan for AIDS Relief-funded work in Latin America. A Panamanian activist with whom the Washington Blade spoke said LGBTQ people were among those who met with the first lady during her visit.
Pope Francis visited the shelter in 2019.
"I'm glad we have the opportunity to talk about how the United States and Panama can work together to combat HIV," said the first lady.
Michael LaRosa, the first lady's spokesperson, noted Panama will receive $12.2 million of the $80.9 million in PEPFAR funding.
"This funding, pending Congressional notification, will support expanded HIV/AIDS services and treatment," said LaRosa.
UNAIDS statistics indicate an estimated 31,000 Panamanians were living with HIV/AIDS in 2020. The first lady's office notes the country in 2020 had the highest number of "newly notificated cases of HIV/AIDS" in Central America.
The first lady visited Panama as part of a trip that included stops in Ecuador and Costa Rica.
The Summit of the Americas will take place next month in Los Angeles. The U.S. Agency for International Development and PEPFAR in April announced they delivered more than 18 million doses of antiretroviral drugs for Ukrainians with HIV/AIDS.