Texas Nat'l Guard withholding spousal benefits for gay troops
Lesbian couple rejected at Camp Mabry facility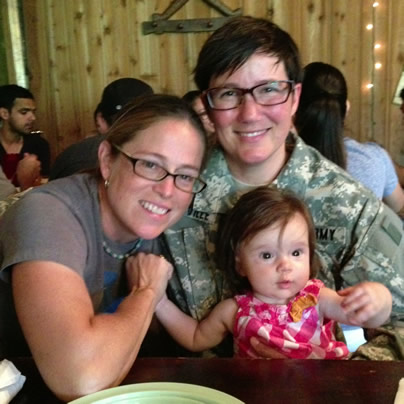 Amid celebration for many gay service members on the day that the Pentagon begins to award same-sex spousal benefits, the Texas Military Forces is withholding such benefits for gay troops on the basis that state law prohibits same-sex marriage.
Alicia Butler, an Austin, Texas, attorney, said she was rejected when she tried to register with the Defense Enrollment Eligibility Reporting System, or DEERS, the military's health benefits system, when she applied on Tuesday at Camp Mabry, where her spouse, Judith Chedville, a nurse and Iraq war veteran, is stationed as a member of the National Guard.
"We were told that Texas would not register us into the system and would not issue an ID card for me," Butler said. "We were told that if she was active duty they would do that for me, but not for a National Guard member because she's part of the Texas National Guard."
The explanation the couple was given, Butler said, was that they were denied because she and her spouse are the same gender. Butler said she and her spouse were legally married in California.
Butler added she and her spouse were directed to another facility in Texas that is run by the federal government.
"They told us to go to a different facility, such as Ft. Hood in San Antonio, where the federal government runs the facility, so that we could get the ID card," Butler said. "That's an hour-and-a-half drive for me, and we have a five-month-old, so that's kind of hard."
But Butler, 43, added even if she and her spouse made that trip, Camp Mabry would still not recognize her as the spouse of Chedville, 38, at that facility.
"We were also told that even if my spouse went there without me and got the registration and that all taken care of, Camp Mabry still would not take my photograph and issue the ID, which is something that's normally done," Butler said.
Butler said she was left with the impression that Camp Mabry would continue to deny benefits for guard members with same-sex spouses "indefinitely."
Tuesday marks the first day that the U.S. armed forces started offering partner benefits, including military IDs, to troops with same-sex spouses after a period of implementation this year. In the wake of the Supreme Court decision against the Defense of Marriage Act, gay troops are now eligible for major spousal benefits, including health and pension benefits as well as equal access to housing.
Butler said she was denied benefits as the American Military Partner Association, an LGBT military group, says it was leaked guidance indicating that Texas Military Forces, or the Texas National Guard, wouldn't honor the U.S. armed forces' plan to begin offering partner benefits to gay troops because the Texas Constitution prohibits same-sex marriage.
"The TXMF is a state agency under the authority and direction of the Texas state government," the guidance states. "Therefore, the TXMF must consider that the Texas Constitution and Texas Family Code 6.204 conflicts with the DoD policy extending benefits to same-sex spouses. Due to this potential conflict, we are unable to enroll same-sex families into DEERs at our state supported facilities until we receive legal clarification."
Similar to what Butler and Chedville were told, the guidance says troops who are affected by this issue should seek a federal facility to apply for benefits.
"However, the TXMF remains committed to ensuring its military personnel and their families receive the benefits to which they are entitled," the guidance states. "As such, we encourage anyone affected by this issue to enroll for benefits at a federal installation."
The American Military Partner Association has a photo of the guidance written on an official and letterhead signed by Adjutant General Maj. Gen. John Nichols. It's posted at the end of this article.
Laura Lopez, a Texas Military Forces spokesperson, confirmed the guidance is accurate, but said she doesn't known when the legal uncertainty cited in the guidance will be resolved.
"Our goal in the Texas Military Forces is to provide the benefits available to our Soldiers and Airmen under existing federal law and policy, while also adhering to applicable Texas state law," Lopez said. "The Texas Military Forces will continue to follow state law until legal clarification is determined. It is important to note that Soldiers and Airmen are not being denied these benefits, there are multiple locations throughout the state where they can enroll for same sex benefits."
Lopez added unlike Fort Hood or Randolph Air Force Base, Camp Mabry receives state funding for property, equipment, and personnel, so personnel and the operation of facilities are subject to Texas state law.
"Despite the legal conflict, the TXMF remains committed to ensuring military personnel and their families receive the benefits to which they are entitled," Lopez said. "As such, we fully support same-sex families enrolling for benefits at the nearest federal installation."
Stephen Peters, president of the American Military Partner Association, said apparent decision to withhold benefits is a "disgrace" for Texas and Texas Gov. Rick Perry "should be ashamed."
"Our military families are already facing enough challenges, and discrimination from the state of Texas only compounds those challenges," Peter said. "It's simply disgusting that Gov. Perry would try to play politics with our military families. Considering the far majority of the funding for the Texas Guard facilities comes from the federal government, I don't believe they have a leg to stand on."
Jeremy Johnson, co-chair of the newly formed LGBT military group SPART*A, said withholding benefits to gay troops in Texas amounts to state-sanctioned discrimination and the issue should be resolved immediately.
"The Department of Defense no longer discriminates against same-sex military families and instead embraces them as an important part of the support structure for uniformed members," Johnson said. "This announcement by Texas Military Forces makes clear that that they are either unwilling or incapable of doing the same. If that is the case, the Department of Defense must ensure that there is no question about the rights of same-sex military families and their ability to access the benefits to which they are entitled."
According to the Associated Press, the Mississippi National Guard will join Texas in refusing to grant benefits to gay troops with same-sex spouses, but only at state-owned facilities. A spokesperson was quoted as saying Mississippi National Guard offices on federal property would accept the applications.
But the AP also reported that officials in 13 other states that ban same-sex marriage — including Arizona, Oklahoma, Florida, Michigan and Georgia — said offices would follow the federal directive and process all couples' applications for benefits the same way.
Lt. Cmdr. Nathan Christensen, a Pentagon spokesperson, said he's unable to confirm the Texas guidance, but said federal military installations in the state will provide a military ID to troops with same-sex spouses.
"All Federal Military installations in Texas will issue IDs to all who provide a valid marriage certificate from a jurisdiction that recognizes same-sex marriage," Christensen said.
Kamala Harris hosts Pride month reception
Upwards of 200 people attended Naval Observatory event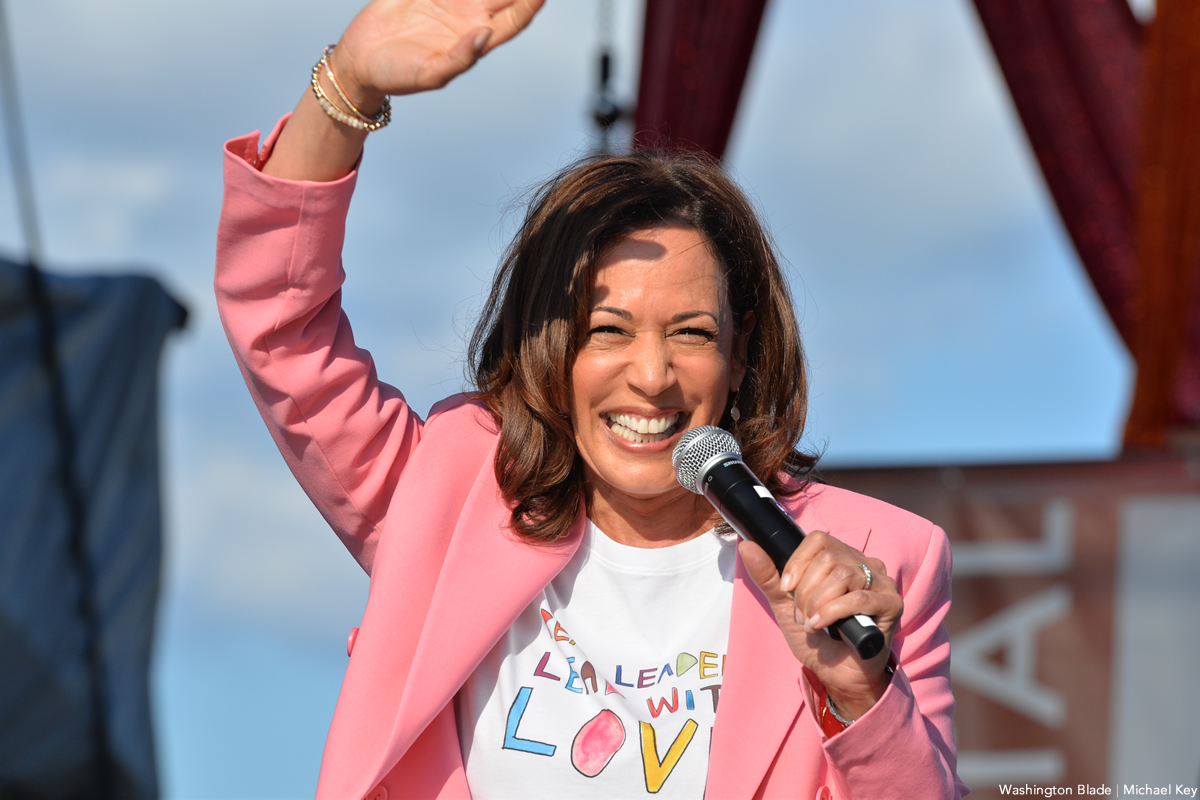 Vice President Kamala Harris helped bring Pride Month to a close Tuesday at her residence with a celebration for high-profile members of the LGBTQ community, recognizing successes achieved but also urging continued movement.
"When we celebrate Pride, it's because we understand not only the strength of what we have accomplished, and the fight for equality, but we [also] understand the fragility of these gains, and so we know what we must do to be vigilant and maintain [those rights]," Harris said.
The Advocate reported in coverage of the event the Pride celebration was the first ever to take place at the vice president's residence, but that's incorrect.
President Biden as vice president hosted a Pride event with LGBTQ leaders in 2014. Harris also said during the event her understanding was it was a first for a sitting vice president.
An estimated 200 attendees were present for the event at the Naval Observatory in D.C., which serves as the vice president's official residence. Guests at the party mingled by the pool and partook of drinks served on a spinning wheel placed just outside.
High-profile officials from the Biden administration who were present included Transportation Secretary Pete Buttigieg and Interior Secretary Deb Haaland. Neither delivered remarks. Also at the event was "RuPaul's Drag Race" star Shangela, who addressed the crowd.
Kris Perry and Sandy Stier, who were among in plaintiffs in the litigation against California's Proposition 8, were also present at the event. Harris married the couple in 2013 as soon as the U.S. Supreme Court issued a ruling restoring marriage equality to the state.
Perry and Stier spoke before the crowd and urged them to continue to stand strong in the aftermath of the Supreme Court's recent decision overturning Roe v. Wade.
White House: 'We have made clear' Brittney Griner is being 'unjustly detained'
Biden officials spoke to athlete's wife 'in the last few days'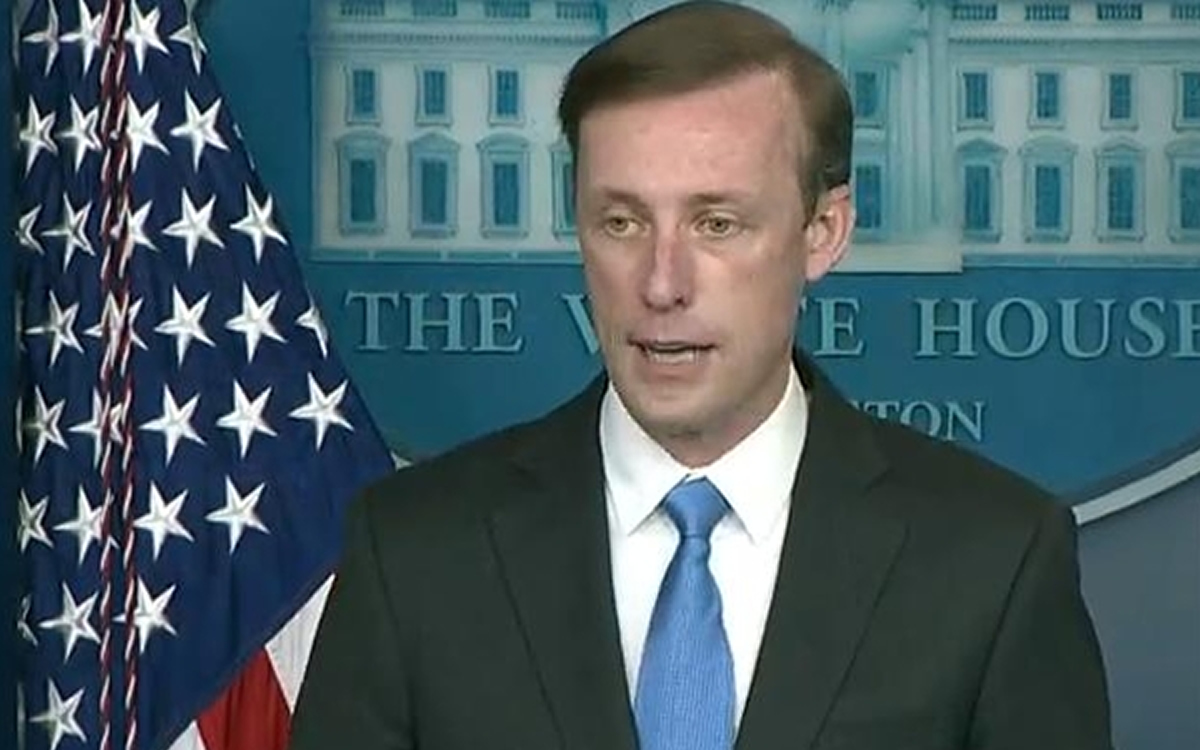 White House National Security Adviser Jake Sullivan said Tuesday he has spoken in the last few days with the wife of Brittney Griner as part of a larger effort within the Biden administration to secure the release of the lesbian basketball player in Russia whom supporters say is being unlawfully detained.
Sullivan made the comments speaking with reporters aboard Air Force One during President Biden's trip to Europe in response to a question about efforts within the Biden administration to bring Griner home ahead of her expected trial in Russia.
"So first, Brittney Griner is wrongfully detained, unjustly detained, and we have made that clear as an official determination of the U.S. government," Sullivan said. "Second, the Russian government should release her and allow her to be returned and reunited with her family and come home safe and sound."
Sullivan added he — as well as Secretary of State Antony Blinken — have spoken with Griner's wife Cherelle, to "convey our very deep sympathy, to convey that, you know, we just can't even begin to imagine what the family must be going through, what Brittney — what Brittney must be going through."
Griner, a professional basketball player for the Phoenix Mercury within the Women's National Basketball Association, was detained in February by Russian Customs on allegations that cartridges of hashish oil were found in her luggage. Griner had gone to Russia to play with the Russian Premier League during the WNBA off-season.
Sullivan said the U.S. government "is actively engaged in trying to resolve this case and get Brittney home," but added he's constrained in what he could say because of confidentiality about the sensitive issue.
"But I will tell you it has the fullest attention of the president and every senior member of his national security and diplomatic team," Sullivan said. "And we are actively working to find a resolution to this case, and will continue to do so without rest until we get Brittney safely home."
The Biden administration, Sullivan added, is additionally working to return all unjustly detained Americans and hostages being held overseas," including detainees in Iran, Afghanistan, Russia, Venezuela, and China.
The Washington Blade has placed a request with the State Department for a readout on Blinken's role in the Biden administration's talks with Griner.
Pelosi hints at legislation to codify same-sex marriage rights
House Dems lay out plans following end to Roe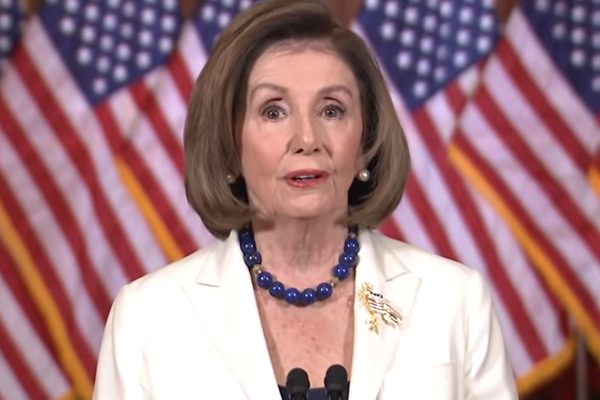 House Speaker Nancy Pelosi hinted at the possibility of legislation to codify the right of same-sex couples to marry, which many fear is in danger after the U.S. Supreme Court's decision overturning Roe v. Wade, as part of an effort to secure "freedoms which Americans currently enjoy."
Pelosi suggested such legislation could be in the works in a "Dear Colleague" letter on Monday to fellow members of the House Democratic caucus addressing plans for congressional action after the ruling last week in Dobbs v. Women's Health Organization, which eliminated the right for women to access an abortion.
The concurrence of U.S. Associate Justice Clarence Thomas is a core component of the letter from Pelosi, who expressed consternation about his rejection of finding unenumerated rights under the 14th Amendment of the U.S. Constitution.
"It is still appalling to me that the Chief Justice of the Supreme Court would agree that a Constitutional right does not exist if it was not spelled out explicitly and in public when the 14th Amendment was ratified over 150 years ago," Pelosi said. "While this extremist Supreme Court works to punish and control the American people, Democrats must continue our fight to expand freedom in America. Doing so is foundational to our oath of office and our fidelity to the Constitution."
Thomas said in his concurring opinion he welcomes vehicles that would allow the court to revisit other major decisions, such as the Griswold decision guaranteeing the right to contraceptives; the Lawrence decision decriminalizing sodomy for same-sex couples and others; and the Obergefell decision legalizing same-sex marriage nationwide.
Although Pelosi doesn't explicitly say she'll introduce legislation on same-sex marriage, she brought up "access to contraception and in-vitro fertilization to marriage equality," then added, "Legislation is being introduced to further codify freedoms which Americans currently enjoy. More information to follow."
"It is clear from how Donald Trump and Mitch McConnell stacked the Supreme Court that elections have ramifications," Pelosi said. "It is essential that we protect and expand our pro-choice Majorities in the House and Senate in November so that we can eliminate the filibuster so that we can restore women's fundamental rights – and freedom for every American."
Any legislation seeking to codify marriage equality would have to get around marriage being an issue administered by the states under the guidelines of the U.S. Constitution. In the past, Rep. Jerrold Nadler (D-N.Y.) has introduced the Respect for Marriage Act, which would have required the federal government to recognize same-sex marriage and states to recognize same-sex marriage performed elsewhere.
Pelosi's office didn't respond to a request for comment on the possibility of marriage legislation or the timeline for U.S. House approval of such a measure. Nadler's office also didn't immediately respond to a request for comment.