ENDA witness to lead the Task Force's trans project
Broadus was first trans person to testify on LGBT discrimination before the Senate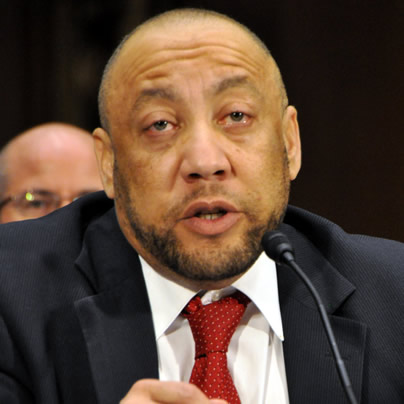 The first-ever transgender person to testify before the U.S. Senate on the Employment Non-Discrimination Act has been tapped by the National Gay & Lesbian Task Force to become head of its transgender initiative.
Kylar Broadus, a transgender man who founded the Missouri-based Trans People of Color Coalition, was named head of the Task Force's Transgender Civil Rights Project, which provides strategy assistance for groups working to enact pro-trans policy and laws.
"I am extremely honored and excited to be working at the National Gay & Lesbian Task Force given its history in general as a progressive organization but particularly the leadership it has provided in the transgender movement," Broadus said. "I intend to build off this great work and continue to make the Task Force a key player in the transgender movement."
According to a bio provided by the Task Force, Broadus has engaged in his career as an activist, writer, lawyer, professor, lobbyist and public speaker. As a lawyer, Broadus had a focus on LGBT law — with a particular focus on transgender rights. He's now serving as faculty at Lincoln University in Missouri.
Shannon Minter, legal director for the National Center for Lesbian Rights, had high praise for Broadus upon the news that he'd lead trans issues at the Task Force.
"Throughout his career, Kylar has continually developed cutting edge strategies to protect transgender people, worked to raise the visibility and leadership of transgender people of color, and demonstrated unfailing collegiality and collaboration," Minter said. "He is a great leader, and I look forward to working with him closely in his new role at the Task Force."
Last year, Broadus became the first openly transgender person to testify before the Senate on ENDA during a hearing that was set up Senate Health, Education, Labor & Pensions Committee Chair Tom Harkin (D-Iowa). At the time, he recalled the discrimination that he faced at a major financial institution when he announced that he would transition in 1995.
"At work, when I decided to actually transition, I had been there for a number of years, and I'm a workaholic, and it was disheartening to me that all this could be pulled out from under me because people weren't comfortable with the person that I am," Broadus said at time.
His written testimony details receiving harassing phone calls, receiving assignments after hours that were due early the next morning and being forbidden from talking to certain people.
During his testimony, Broadus called on Congress to pass ENDA to put into place federal workplace non-discrimination protections.
"I think it's extremely important that this bill be passed to protect workers like me," Broadus said at the time. "There are many cases that I hear everyday, and people call me everyday with these cases around the country because I'm also an attorney that practices and deals with people that suffer employment discrimination."
Dutch government formally apologies for forced sterilization of trans, intersex people
Gender Change Act was in place from 1985 to 2014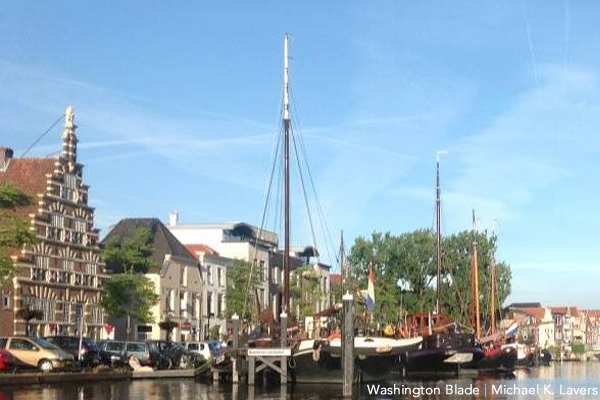 The Dutch government on Saturday formally apologized to transgender and intersex people who were forced to become sterile in order to legally change their gender.
The Gender Change Act, which was also known as the Transgender Act, was in effect in the Netherlands from 1985 until its repeal in 2014.
Education, Culture and Science Minister Ingrid van Engelshoven and Law Minister Sander Dekker last year on behalf of the Dutch government apologized to trans and intersex people who had undergone forcible sterilizations. The Dutch government also agreed to pay 5,000 euros ($5,633.68) to around 2,000 trans people who had sterilization surgeries.
A ceremony did not take place because of the pandemic.
Van Engelshoven issued Saturday's the formal apology during a meeting with trans and intersex people that took place at the Ridderzaal, a 12th century building in The Hague that the Dutch government uses for speeches from the country's royal family and other important ceremonial events.
"For decades we have had a law that has harmed transgender and intersex people," said van Engelshoven. "People have undergone medical treatment that they did not want, or have been forced to postpone becoming themselves. Today, on behalf of the entire Cabinet, I make our deepest apologies. Recognition of and apologies for what has been done to these people and which has caused a lot of grief for those involved is extremely important and is central to this special day in the Ridderzaal."
Vanmiddag heeft @ivanengelshoven namens het kabinet excuses aangeboden voor de oude Transgenderwet. Mensen konden hun geslachtsaanduiding in de geboorteakte veranderen, onder voorwaarde van geslachtsveranderende operaties en blijvende onvruchtbaarheid ⬇️https://t.co/iQwLTmWeP5 pic.twitter.com/13QmUUczPb

— Ministerie van Onderwijs, Cultuur en Wetenschap (@MinOCW) November 27, 2021
Transgender Netwerk Nederland in a press release said the Netherlands is the first country in the world to issue such an apology. The advocacy group notes the Dutch government last month began to compensate trans and intersex people who were forcibly sterilized, but adds the amount of money they will receive remains too low.
"The government has structurally disadvantaged and damaged transgender and intersex people for almost 30 years," said Willemijn van Kempen, who spearheaded the campaign for the formal apology. "It is important that it now apologizes for that."
Botswana Court of Appeals upholds decriminalization ruling
'Today is a momentous day in history'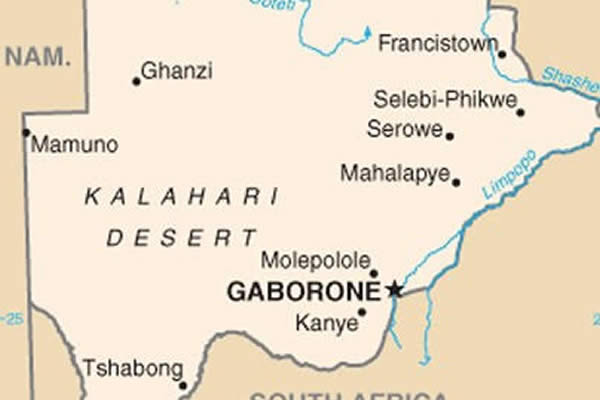 The Botswana Court of Appeals on Monday upheld a 2019 ruling that decriminalized consensual same-sex sexual relations in the country.
Five justices unanimously ruled sections of the Batswana Penal Code that criminalize homosexuality with up to seven years in prison "violated the right to privacy … the right to liberty, security of person and equal protection under the law … and the right to freedom from discrimination" under the country's constitution.
Botswana's High Court in 2019 unanimously ruled these provisions were unconstitutional.
The Batswana government appealed the landmark decision. The High Court heard the case last month.
Lesbians, Gays and Bisexuals of Botswana, which challenged the criminalization law with the support of the Southern Africa Litigation Center, applauded Monday's ruling.
"Today is a momentous day in history, a victorious win in ascertaining liberty, privacy and dignity of the LGBTIQ persons in Botswana and definitely, this judgement sets precedence for the world at large," says LEGABIBO CEO Thato Moruti. "Moreover, a new dawn for better education and awareness about the LGBTIQ issues. I anticipate that more engagement with various arms of government will also set a trajectory towards a more inclusive and diverse nation."
Pan Africa ILGA in a tweet proclaimed Monday as a "beautiful day" in Botswana. UNAIDS described the ruling as "a great win for human rights."
Va. businessman apologizes for burning of rainbow flag poster
'Shocked and horrified': Ashburn incident caught on video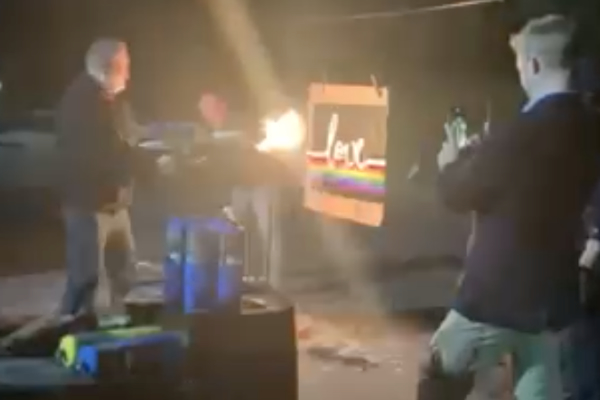 The owner of a Virginia technology company that hosted a private Veterans Day party on the grounds of an Ashburn, Va., brewery in which a company employee used a flame-throwing device to ignite a rainbow flag poster said the selection of the poster was a mistake and he and his company have no ill will toward the LGBTQ community.
The Washington Blade learned about the poster burning from a customer of the Old Ox Brewery in Ashburn, where the incident took place on its outdoor grounds. The customer made a video of the incident with his cell phone and sent a copy of the video to the Blade.
The video, which includes an audio recording, shows a man using a hand-held flame-throwing device to ignite the rainbow poster, which was hanging from a cable and appeared to be mounted on cardboard or a thin sheet of wood. Bystanders can be heard laughing and cheering as the poster is set on fire.
The poster consisted of a variation of the LGBTQ Pride rainbow flag that included the word "love" configured from an upper white stripe on the rainbow symbol.
The customer who took the video, who has asked not to be identified, thought the decision to set the poster on fire was a sign of disrespect if not hatred toward a longstanding symbol of LGBTQ equality and pride.
Chris Burns, Old Ox Brewery's president, shared that view, telling the Blade he and his staff were "shocked and horrified" when they learned later that a rainbow flag poster had been burned on the brewery's grounds. Burns said Old Ox supports the LGBTQ community and participated in LGBTQ Pride month earlier this year.
He said the company that held the private party paid a fee to hold the event on the brewery's grounds, but the brewery did not know a rainbow poster would be burned.
"I'm mortified that our event was interpreted in this way," said Nate Reynolds, the founder and partner of Hypershift Technologies LLC, the Falls Church, Va.-based technology company that organized the Nov. 11 party at Old Ox Brewery. "I can assure you that ZERO ill-will or offense was meant," Reynolds told the Blade in a Nov. 24 email.
"We held a small private party for a few clients, which included a demonstration of Elon Musk's Boring Company 'Not a Flamethrower,'" he said in his message. He was referring to one of billionaire businessman Elon Musk's companies that specializes in boring through the ground to create tunnels for cars, trains, and other purposes.
"After so many being isolated during COVID, we wanted to have an event that was lighthearted and to some small effect, silly," Reynolds said in his message to the Blade.
According to Reynolds, in thinking about what should be used for "fodder" for the flame-thrower, he went to a Five Below discount store and purchased items such as stuffed animals and posters, including a "Space Jam" movie poster as well as what he thought was a poster of the British rock group The Beatles.
"When I pulled the Beatles poster out of the tube it was instead the 'Love' poster," he said, referring to the rainbow flag poster the Blade asked him about in an earlier email.
"All I focused on was the 'Love' wording and not the rainbow and did not draw the conclusion that the poster was an icon that represents the LGBTQ community," Reynolds said. "It was my own ignorance of not connecting the symbolism of the poster. If I had realized it was a symbol of the LGBTQ community, I would not have used it," he said.
"I feel terrible, and I want to emphasize that I am solely responsible for this mistake – not the Old Ox Brewery," he wrote in his message. "Nobody at Old Ox had anything to do with this activity."
Reynolds added, "Hate has no place in my heart, and I sincerely apologize for any offense that could have been drawn from what I now realize was poor judgement on my part. I simply didn't correlate this poster with the LGBTQ pride symbol."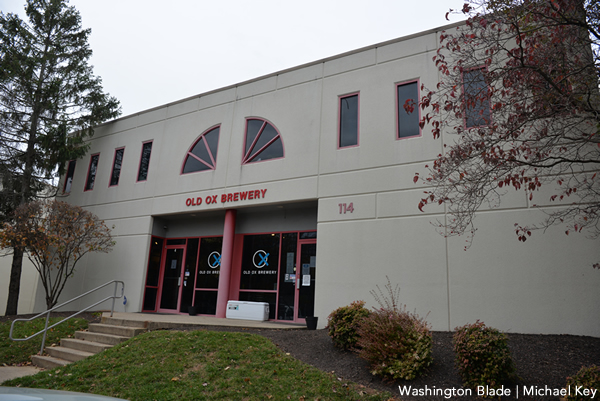 Before Reynolds issued his statement of apology, Burns, the Old Ox Brewery co-owner, told the Blade in an email he was "saddened and upset" over the rainbow poster burning on the grounds of his brewery.
"We do not wish to benefit from this event," he said in his email message. "Therefore, Old Ox is donating 100% of the revenue generated from the private event to GLSEN."
GLSEN is a national LGBTQ advocacy group that focuses on education and support for LGBTQ youth. Burns said Old Ox Brewery also donated proceeds from a Pride month event it organized earlier this year to GLSEN.
LGBTQ activists and organizations contacted by the Blade said they were unfamiliar with the variation of the rainbow flag with the word "love" that was the subject of the poster burning incident. The poster is available for sale at Five Below stores in the D.C. metropolitan area for $5.
Small print writings on the poster show it is produced by Trends International LLC, which describes itself on its website as "the leading publisher and manufacturer of licensed posters, calendars, stickers and social stationery products." The Blade couldn't immediately determine who designed the poster.
The video of the poster burning incident can be viewed here: