September 25, 2013 at 12:26 pm EDT | by Mariah Cooper
Not forgotten
The 15th anniversary of Matthew Shepard's death, a college student who was tied to a fence and tortured for being gay, is being commemorated with the East Coast premiere of Michele Jouse's documentary "Matthew Shepard is a Friend of Mine" at the Washington National Cathedral (3101 Wisconsin Ave., N.W.) on Oct. 4 at 7:30 p.m. and a month-long run of "The Laramie Project" at Ford's Theatre (511 10th St., N.W.) beginning Sept. 27.
"Matthew Shepard Is A Friend of Mine" explores who Shepard was as a person, rather than the sensationalized LGBT rights icon he eventually became, through interviews with his family and close friends. Jouse, who met Shepard at boarding school, explains that making the documentary was therapeutic for her.
"It feels like yesterday sometimes," she says. "I hadn't really allowed myself to talk about it so much because it was so painful but its really helped with the healing process to talk about something that was so difficult."
The film delves into personal moments between Shepard and his family and friends but also shows Jouse go through her own journey to better understand Shepard and the depression he dealt with before his death. Jouse visits Shepard's home, the boarding school in Switzerland where they met and became friends and the University of Wyoming where Shepard was a student at the time of his death.
"The Laramie Project" begins its month-long run at Ford's Theater today and goes through Oct. 27. Every Monday night at 7 p.m., a free panel discussion is scheduled with special guests Judy Shepard, Shepard's mother, in conversation with Cokie Roberts Sept. 30 and former Laramie sheriff Dave O'Malley on Oct. 7. Ford's hosts a special "Pay What You Can" preview performance Sunday at 7:30 p.m.
In celebration of National Coming Out Day, Dennis Shepard, Shepard's father, will join leaders of the D.C. faith community in a candlelight vigil on Oct 11. There is also a world premiere exhibition showing through Nov. 3 of "Not Alone: The Power of Response" in which artist Jeff Sheng's photograph "Where Matthew Lay Dying" is paired with a selection of letters sent to the Shepard family. Ford's Theatre's decision to participate in the anniversary is an important one for them.
"Matthew Shepard's death in 1998 ignited a debate about the definition of hate crimes and strengthened the resolve of many to advocate for social justice," says Paul Tetreault, Ford's Theatre director.
Among these celebrations of Shepard's life, the controversial new book "The Book of Matt: Hidden Truths About the Murder of Matthew Shepard" by journalist Stephen Jimenez has been released. The book claims the reason for Shepard's murder was not because he was gay, but because he was a part of the "drug underworld" in Laramie, Wyo., the place of Shepard's death. Jouse refutes the claim and says she has no plans to read the book because the sources are "anonymous and unreliable."
"If people would really like to learn more about Matt as a real person and what happened to him, I would hope they watch our film and hear about it through the point of view of people who actually knew him and loved him," Jouse says.
Since his death Shepard has become a symbol for LGBT rights and major LGBT equality efforts with The Matthew Shepard Foundation and the Matthew Shepard Act. Shepard's death sparked an outcry for change from the public despite the large number of hate crimes that have occurred since. The documentary states that 33 hate crimes were committed during the year Shepard died alone. Jouse believes the reason for the interest in Shepard is a personal connection.
"I think people saw Matt and recognized him as someone they could have been friends with or saw something in Matt that reminded them of themselves," Jouse says. "The idea of a hate crime can become an abstraction that you hear about in the news, but Matt made that personal and showed how hate can encroach in their lives and in their circles of friends."
Tickets for "Matthew Shepard is a Friend of Mine" are $16. For more details and to purchase tickets, visit nationalcathedral.org or matthewshepardisafriendofmine.com. For more information on "The Laramie Project" and to purchase tickets, visit fords.org.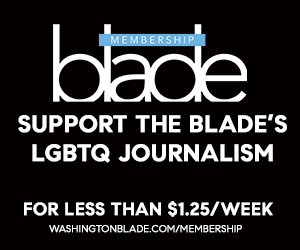 Sign Up for Blade eBlasts