Virginia gubernatorial candidates clash over marriage, anti-gay statements
Terry McAuliffe and Ken Cuccinelli debated each other in McLean in Fairfax County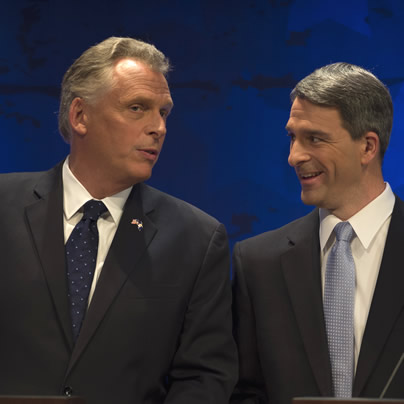 McLEAN, Va.—Former Democratic National Committee Chair Terry McAuliffe and Virginia Attorney General Ken Cuccinelli on Wednesday clashed over same-sex marriage and other gay-specific issues during the commonwealth's latest gubernatorial debate that took place at the Capital One Conference Center in McLean.
"I do have some tremendous challenges because of the issues of economic development, job creation that I need to focus on, but I have come out for marriage equality," McAuliffe said, noting the repeal of 'Don't Ask, Don't Tell' prompted him and his wife to back the issue. "The idea we could send men and women across the globe to fight for us and then they come back and they don't have the same equal opportunities and equal rights I just think was plain wrong."
McAuliffe added he would sign a same-sex marriage bill if one were to reach his desk, even though it remains highly unlikely the Republican-controlled General Assembly would approve such a measure. Cuccinelli pointed out a proposed constitutional amendment to overturn the commonwealth's same-sex marriage ban that voters approved in 2006 would never go before the governor.
"I understand and respect the fact that this is a sensitive issue to a lot of Virginians," Cuccinelli said. "But I'm one of those who do believe that the institution of marriage should remain between one man and one woman."
The candidates' comments come nearly two months after the American Civil Liberties Union and Lambda Legal filed a federal lawsuit on behalf of two lesbian couples who are challenging the commonwealth's gay nuptials ban and the state's refusal to recognize same-sex marriages legally performed in other states. A gay couple from Norfolk in July filed a separate federal lawsuit against Virginia's same-sex marriage ban in response to the U.S. Supreme Court ruling that found the Defense of Marriage Act unconstitutional.
"This is a very important issue," McAuliffe said.
Cuccinelli denies anti-gay comments
McAuliffe further accused Cuccinelli of promoting an "ideological agenda" on LGBT-specific and women's issues.
The former DNC chair said defense contractor Northrup Grumman Corp. in 2010 threatened to abandon plans to relocate 300 employees to its northern Virginia headquarters after Cuccinelli directed colleges and universities in the commonwealth to remove sexual orientation and gender identity and expression from their non-discrimination policies. McAuliffe also accused his opponent of describing gay Virginians as "self-destructive and soulless human beings."
"There are consequences to this mean-spirited attack on women's health, on gay Virginians," he said. "If we're going to build a new economy in Virginia, we're going to do it by bringing everyone together."
Cuccinelli dismissed the Northrup Grumman claim, and described McAuliffe's allegation he described gays and lesbians as "soulless" as "offensively false."
LGBT advocates remain critical of Cuccinelli, GOP ticket
The Fairfax County Chamber of Commerce and NBC 4 took place two days after the release of a Washington Post-Abt SRBI poll shows McAuliffe ahead of Cuccinelli by a 47-39 point margin. 10 percent of respondents said they back Libertarian gubernatorial candidate Robert Sarvis.
Democrats and LGBT rights advocates have repeatedly criticized Cuccinelli over his position against nuptials for gays and lesbians and other LGBT-specific issues.
Chief Justice John Roberts last month denied Cuccinelli's request to place a stay on a three-judge panel's March ruling against Virginia's anti-sodomy statute while the U.S. Supreme Court considers his appeal of it. Cuccinelli in July said during a debate against McAuliffe that Judy Woodruff of PBS NewsHour moderated that his "personal beliefs about the personal challenge of homosexuality haven't changed."
Advocates have also criticized Republican lieutenant gubernatorial candidate E.W. Jackson over his anti-gay statements that include comparing gay men to pedophiles and describing them as "very sick people." The Chesapeake minister who will square off against state Sen. Ralph Northam (D-Norfolk) in November reiterated his opposition to same-sex marriage on September 22 as he spoke at a Shenandoah County church.
"The family was ordained by God," Jackson said as the Richmond Times-Dispatch reported. "He ordained it one man and one woman in the bonds of holy matrimony. (In the Bible) I don't hear anything about two people of the same sex being married."
Northam challenged Jackson over his controversial statements against gays and lesbians, marriage and other issues during a debate at George Mason University's Arlington campus on Tuesday.
"Our job as lieutenant governor is going to be to unite people and to move Virginia in a positive direction," Northam said as the Washington Post reported. "Making statements against LGBT individuals, making statements against Democrats, they're anti-God, that they're anti-life. Those kind of statements, they're all offensive."
State Sen. Mark Herring (D-Loudoun) will square off against state Sen. Mark Obenshein (R-Harrisonburg) in November to succeed Cuccinelli as attorney general.
Cuccinelli: Marriage is 'a very sensitive issue'
McAuliffe again sought to portray Cuccinelli as an extremist as he spoke to reporters after the debate. He also said his first executive order as governor would ban discrimination against gay state employees.
"As governor, we'll work in a mainstream, partisan way," McAuliffe said.
Cuccinelli told the Washington Blade as he spoke to reporters after the debate that the economy remains the top priority among the majority of Virginia voters. He remained ambiguous as to whether he feels his opposition to same-sex marriage and other LGBT-specific issues has received too much attention during the campaign.
"That's a very sensitive issue, and I respect that," Cuccinelli told the Blade as he discussed nuptials for gays and lesbians. "There are people who feel very strongly about it, and I respect that. And for those folks they want to hear about it, it is one of a range of issues."
Bowser's highest-level adviser resigns after sexual harassment allegation
Female staffer accuses John Falcicchio of longstanding abuse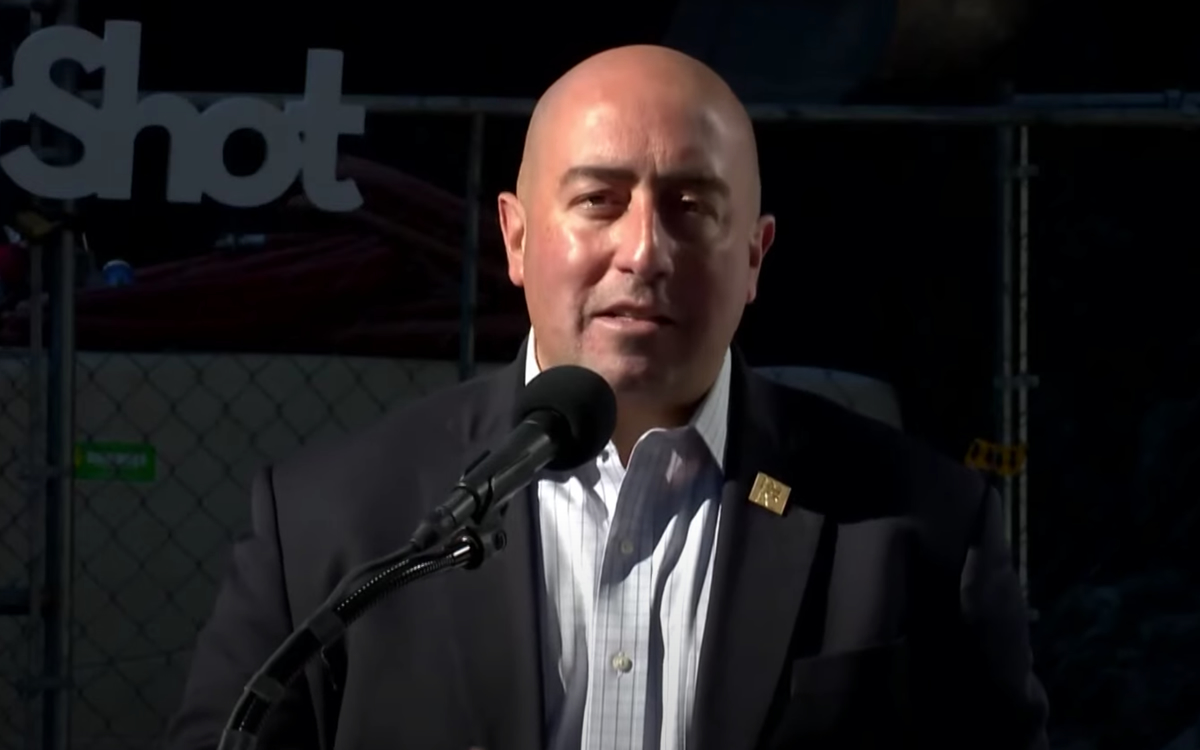 Lawyers representing a D.C. government employee shook up the city's political establishment on Monday when they announced that the employee filed a sexual harassment complaint against John Falcicchio, the now former D.C. Deputy Mayor for Planning and Economic Development and Mayor Muriel Bowser's longtime chief of staff.
The attorneys, Debra Katz and Kayla Morin, did not identify the city employee.
The announcement by Katz and Morin in a press release came shortly after Mayor Bowser issued her own announcement at a news conference on the same day. The mayor confirmed that Falcicchio's sudden resignation last Friday, March 17, followed her decision to launch an investigation into allegations against Falcicchio.
But Bowser said issues surrounding her longtime adviser's departure amounted to "a sensitive matter that includes privacy concerns" that prevented her from disclosing why she initiated the investigation and why Falcicchio abruptly resigned.
She said the investigation was being conducted by the city's Office of Legal Counsel, which is "following established policies and procedures" and that all relevant D.C. government staff members were fully cooperating with the investigation.
"I can also tell you that this investigation does not involve any allegations of improprieties related to business transactions," Bowser told reporters attending the news conference, which was initially called to celebrate the completion of the city's 9th Street, N.W. protected bike lane project and to discuss updates on the Capital Bikeshare program.
"I have every confidence in my new chief of staff, Lindsey Parker, and in our new Interim Deputy Mayor for Planning and Economic Development, Keith Anderson," Bowser said at the news conference. "And I have immense confidence in the 37,000 employees of the D.C. government who will keep us moving forward," she said.
Parker has served as the city's chief technology officer since 2019 and as assistant city administrator since 2022. Anderson has served as director of the D.C. Department of General Services, which oversees the city's buildings and properties.
"We represent an employee of the District of Columbia who came forward to report serious allegations of sexual harassment by former Chief of Staff and Deputy Mayor for Planning and Economic Development John Falcicchio," the statement released by attorneys Katz and Morin says.
"It is our understanding that this behavior is longstanding, and our client is cooperating fully with the investigation, which Mayor Bowser initiated immediately," the statement continues. "Our client is courageous. She came forward to ensure accountability and protect other women," it says. "Given the gravity of our client's allegations – which involve unwelcome advances and sexual contact – we ask the media to respect her privacy," the statement says.
It concludes by encouraging "everyone affected" to contact Maia Ellis, the Associate Director of the Mayor's Office of Legal Counsel, who's leading the investigation, at [email protected].
Katz is a founding partner and Morin is an associate of the D.C. law firm Katz Banks Kumin, which specializes in sexual harassment law, whistleblower law, and employment law, according to a write-up on its website.
Md. Senate approves transgender rights bill
Maryland House of Delegates passed similar measure on Saturday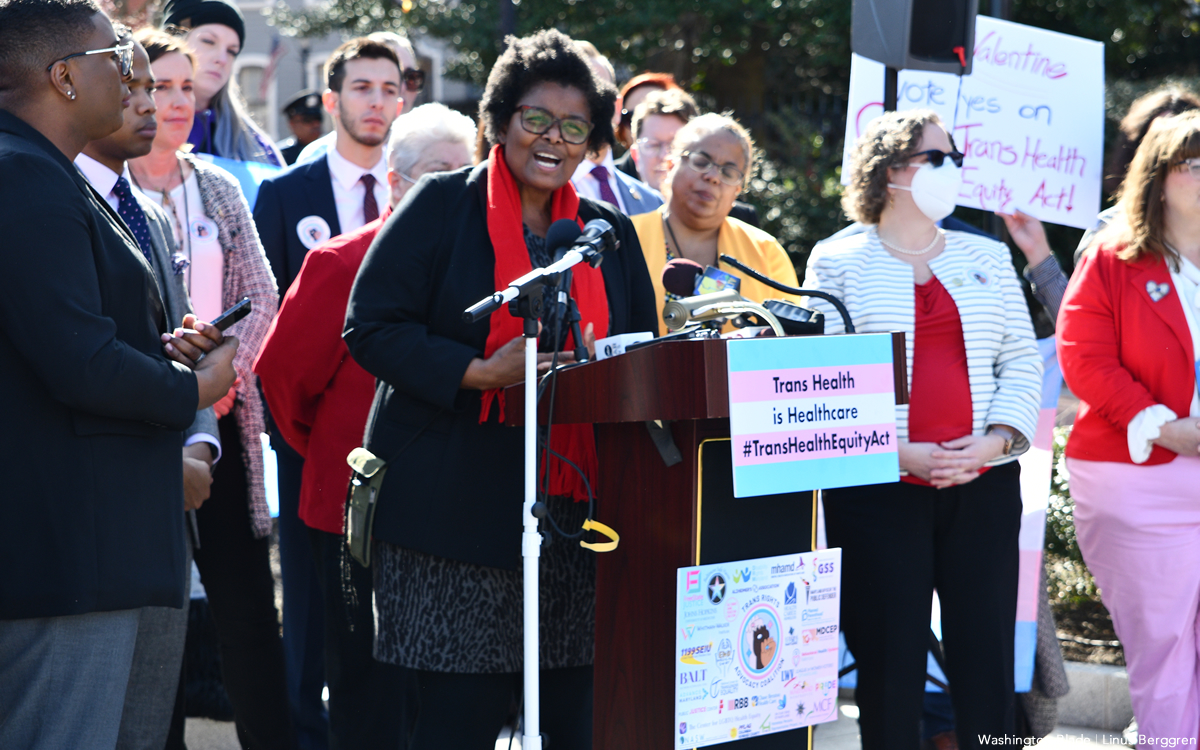 The Maryland Senate on Monday approved a bill that would require the state's Medicaid program to cover gender-affirming treatment for transgender people.
Senate Bill 460 or the Trans Health Equity Act passed by a 31-15 vote margin.
"Requiring, beginning on Jan. 1, 2023, the Maryland Medical Assistance Program to provide gender-affirming treatment in a nondiscriminatory manner; requiring that the gender-affirming treatment be assessed according to nondiscriminatory criteria that are consistent with current clinical standards; prohibiting the issuance of an adverse benefit determination related to gender-affirming treatment unless a certain experienced health care provider has reviewed and confirmed the appropriateness of the determination; etc," reads a summary of the bill.
The Maryland House of Delegates on Saturday passed a similar measure.
Md. House of Delegates approves transgender rights bill
State Medicaid program would be required to cover gender-affirming treatment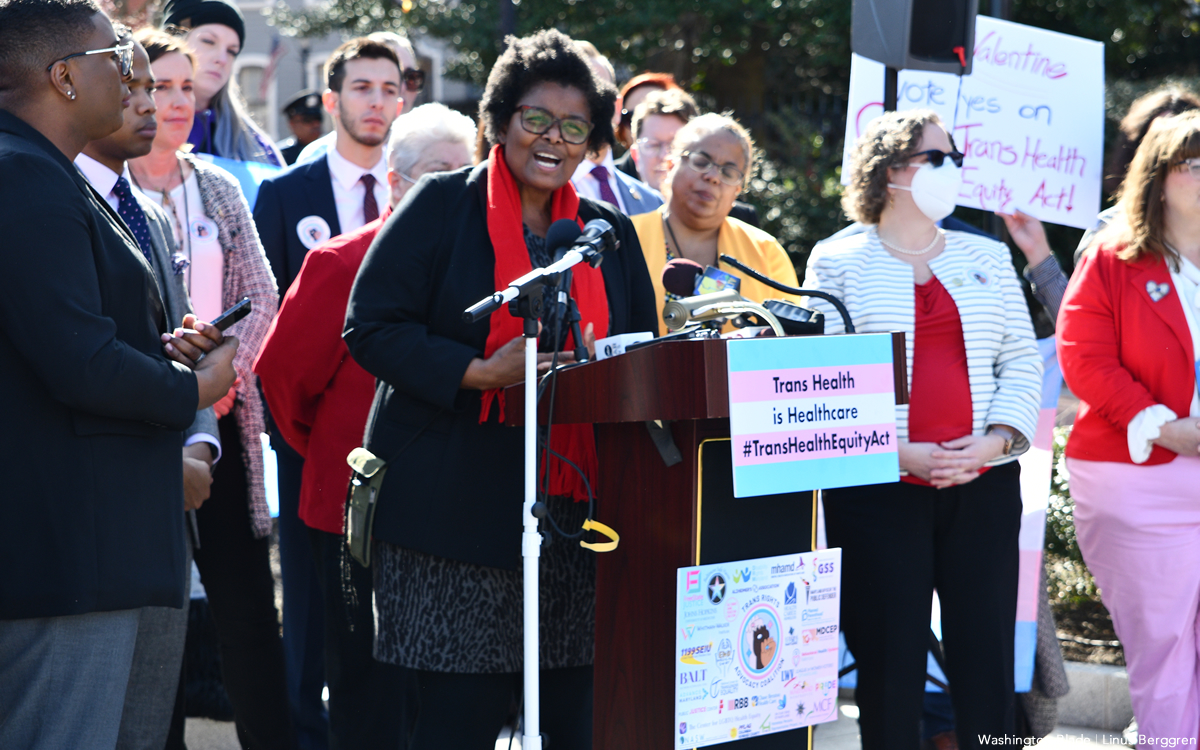 The Maryland House of Delegates on Saturday approved a bill that would require the state's Medicaid program to cover gender-affirming treatment for transgender people.
House Bill 283, or the Trans Health Equity Act, passed by a 93-37 vote margin. The measure now goes before the Maryland Senate.
"Proud that the MD House of Delegates passed the Trans Health Equity Act with such a strong majority," tweeted state Del. Anne Kaiser (D-Montgomery County), who introduced HB 283.
Proud that the MD House of Delegates passed the Trans Health Equity Act with such a strong majority. #TransHumanity pic.twitter.com/1E8MoDFQex

— Anne R. Kaiser (@DelegateKaiser) March 18, 2023