IOC criticized over latest comments on anti-gay Russian law
Dutch LGBT rights group "outraged" by comments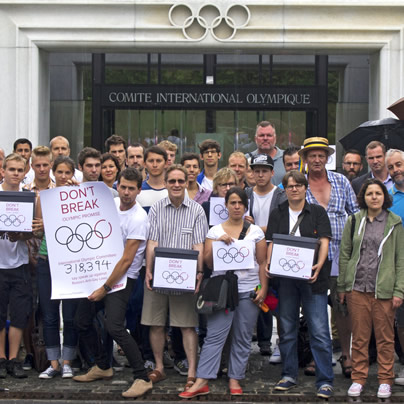 The Associated Press on Thursday reported a member of the International Olympic Committee who is charged with overseeing preparations for the upcoming 2014 Winter Games said the IOC is "fully satisfied" that Russia's gay propaganda to minors ban does not violate the Olympic charter.
The news agency reported Jean-Claude Killy, chair of the IOC Coordination Commission, made the comments during a press conference in Sochi, Russia. The news agency said Killy indicated the committee also concluded "the IOC doesn't have the right to discuss the… laws that are in place in the country hosting the games" unless they clearly violate the Olympic charter.
Killy's comments come against growing outrage over the gay propaganda law and Russia's overall LGBT rights record that threatens to overshadow the Sochi games that will take place in February.
Actor and playwright Harvey Fierstein and others have called for a boycott of the Olympics. Author Dan Savage and LGBT rights advocate Cleve Jones are among those who have called for a boycott of Russian vodka.
President Obama, who met with Russian LGBT rights advocates during the G-20 summit that took place in St. Petersburg earlier this month, opposes any boycott of the Sochi games. Retired tennis champion Martina Navratilova, gay Olympic diver Greg Louganis and a coalition of LGBT advocacy groups that include Outsports.com have also taken a similar position.
U.S. Sen. John McCain (R-Ariz.) last week criticized the Kremlin over its gay rights record in an op-ed the Russian online newspaper Pravda published. Cher told Reuters on September 17 she turned down a request to perform at the Sochi games because of Russia's gay propaganda law.
Russian police on Wednesday arrested a group of LGBT rights advocates who tried to stage a gay Pride event outside the Sochi games' headquarters in Moscow.
An IOC spokesperson provided the Washington Blade with a statement about the IOC Coordination Commission's latest trip to Sochi to oversee preparations for the games. It did not include any references to the gay propaganda law and Russia's LGBT rights record.
The IOC later told the Blade the AP misquoted Killy during the Sochi press conference, saying he said "as long as the Olympic Charter is respected, we are satisfied."
"That is clearly not expressing any view on the law itself, and Mr. Killy made it abundantly clear that the IOC never comments on national legislation," the Olympic body said.
The IOC added it "will continue to work to uphold the Olympic Charter, which allows all participants, from spectators to athletes, to attend the games regardless of race, gender or sexual orientation."
Human Rights Campaign President Chad Griffin is among those who criticized Killy's remarks on Thursday.
"If this law doesn't violate the IOC's charter, then the charter is completely meaningless," Griffin said. "The safety of millions of LGBT Russians and international travelers is at risk, and by all accounts the IOC has completely neglected its responsibility to Olympic athletes, sponsors and fans from around the world."
Members of COC Nederland, a Dutch LGBT advocacy group, on September 17 met with members of the National Olympic Committee of the Netherlands to discuss their concerns over the safety of LGBT athletes who will compete in the games and others who will travel to Sochi. They also requested a meeting with Dutch IOC member Camiel Eurlings to address the aforementioned issues.
COC Nederland President Tanja Ineke on Thursday said her organization is "outraged" by Killy's comments on Russia's gay propaganda law.
"This conclusion is unheard of," she said. "The European Union, Council of Europe, United Nations and numerous governments have all clearly stated that this law is discriminatory and an infringement of the human rights of LGBT people. The IOC disregards these conclusions and instead chooses to be the accomplice of the homophobic Russian government."
Ineke added her organization will "urgently" ask Eurlings to "protest" the IOC's position on the law.
Victory Fund honors Maine House speaker at D.C. conference
Ryan Fecteau is gay Catholic University alum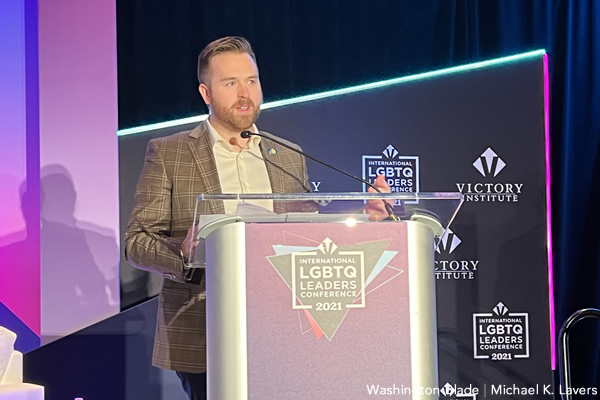 The Victory Fund on Saturday honored Maine House Speaker Ryan Fecteau on the last day of its International LGBTQ Leaders Conference in D.C.
Fecteau — an openly gay Catholic University of America alum — won a seat in the Maine House of Representatives in 2014. He became the chamber's speaker in 2018.
"Hate and intolerance will not derail us," said Fecteau after Florida state Rep. Carlos Guillermo Smith presented him with the Tammy Baldwin Breakthrough Award, which is named after U.S. Sen. Tammy Baldwin (D-Wis.). "Our community will not be intimidated."
The Victory Fund on Friday honored Guatemalan Congressman Aldo Dávila, a gay man who is living with HIV.
Victory Fund honors gay Guatemalan congressman at D.C. conference
Aldo Dávila a vocal critic of country's government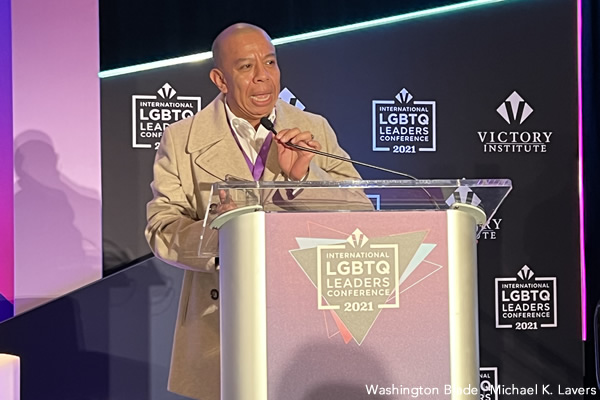 The Victory Fund on Friday honored an openly gay Guatemalan congressman who has faced death threats because of his efforts to fight corruption in his country.
Dávila — a member of the Winaq movement, a leftist party founded by Rigoberta Menchú, an indigenous human rights activist and Nobel Peace Prize winner — in 2019 became the first openly gay man elected to Guatemala's congress. Dávila, who also lives with HIV, had previously been the executive director of Asociación Gente Positiva, a Guatemala City-based HIV/AIDS service organization.
Supporters of President Alejandro Giammattei have lodged several formal complaints against Dávila after he publicly criticized the government over corruption, its response to the pandemic and other issues.
Three men on April 19 approached Dávila's vehicle near Guatemala's National Library and tried to rob him. One of Dávila's bodyguards shot one of the men, but the two other assailants fled the scene before police officers and passersby arrived.
Dávila told the Washington Blade in September during an interview at a Guatemala City hotel that he and his partner installed cameras in their apartment after someone killed their dog.
Two female police officers who arrived at the hotel with Dávila sat in the lobby while he spoke with the Blade. The government a few weeks later reduced his security detail.
"Guatemala is living through the worst democratic crisis in the last 40 years," said Dávila after he accepted the Victory Fund's Global Trailblazer Award at its 2021 International LGBTQ Leaders Conference that is taking place in-person at the JW Marriott in downtown D.C. "Guatemala right now is being paralyzed by corruption and impunity and my voice is uncomfortable because of this."
Dávila became emotional at the end of his remarks.
"I will keep fighting for our rights," he said.
Comings & Goings
Nathanson takes role at Outright Action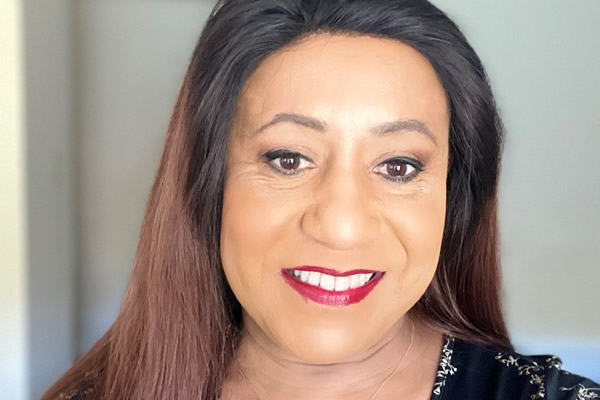 The Comings & Goings column is about sharing the professional successes of our community. We want to recognize those landing new jobs, new clients for their business, joining boards of organizations and other achievements. Please share your successes with us at: [email protected]
The Comings & Goings column also invites LGBTQ+ college students to share their successes with us. If you have been elected to a student government position, gotten an exciting internship, or are graduating and beginning your career with a great job, let us know so we can share your success.
Congratulations to Rikki Nathanson on her new position as Senior Advisor – Global Trans Program with OutRight Action International in New York. Nathanson will be based in D.C.
"I am absolutely thrilled to be taking on this new role as Senior Advisor in OutRight's Global Trans Program," said Nathanson. "I have finally found the perfect fit for me: as a trans woman who has been fighting for equality not only for myself, but for others globally, this position is not only a job, it's intrinsically part of who I am. So, what better way to live, nurture and grow myself."
Nathanson will be working closely with all program staff to ensure a cohesive and intentional approach to gender issues throughout OutRight's programs, including its approach to gender ideology movements. She will lead new initiatives on gender advocacy and policy change, focused but not limited to legal gender recognition and anti-discrimination legislation and policies.
Prior to this Nathanson was director of housing programs at Casa Ruby in D.C. She has also held a number of other positions including: founder/executive director of Trans Research, Education, Advocacy & Training (TREAT), Zimbabwe; chairperson Southern Africa Trans Forum, SATF, Cape Town, South Africa; executive director, Ricochet Modeling Agency, Zimbabwe; and company secretary for Dunlop Zimbabwe Limited, Zimbabwe.