On the 'GO!'
LGBT sports group offers several resources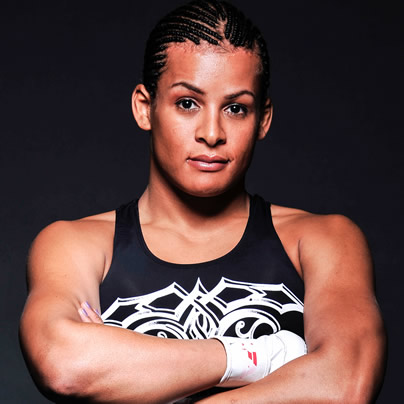 With the LGBT sports movement reaching new highs over the past three years, there has been some crossover in the advocacy groups in terms of what they're trying to accomplish.
One of the many things discussed at the LGBT Sports Summit in Portland last June was the need for collaboration among the various groups and establishing niche targets for their advocacy.
One group that has found its niche is GO! (Generation Out) Athletes. The group was formed in 2008 by seven current and former LGBT athletes who came together to discuss the different issues and challenges that are common among LGBT athletes. The result has been to create a national network of current and former LGBT student-athletes and allies at the high school, collegiate and post-graduate levels that serves to educate and empower.
Their services include confidential peer support, consultation and workshops for coaches, staff and athletes, leadership meetings, providing education materials and speaking at school and community events.
They are currently in the midst of two international Twitter campaigns utilizing their LGBT sports network to respond to negative blog posts and commentary about two hot button topics — Fallon Fox and the Sochi Olympics. The underlying goals of the campaigns are to educate and raise awareness for specific events or causes.
The #fight4fallon campaign was launched to combat transphobic commentary and disrespectful treatment towards Mixed Martial Arts (MMA) fighter Fallon Fox. UFC (Ultimate Fighting Championship) fighter Matt Mitrione, who was suspended and fined for his transphobic rant against Fox, recently made a public apology, due in part to the backlash from the GO! Athletes campaign.
"We had several people reach out from the MMA community," says Anna Aagenes, executive director of GO! Athletes. "The #fight4fallon campaign has served to build unexpected connections."
The second campaign, #out4olympics was launched to support the LGBT Olympic athletes who will soon be competing on the world stage despite the severe anti-LGBT laws currently in place in Russia. The campaign will be retooled in the coming months as the Sochi Games will begin onFeb. 7, 2014.
Once a month, GO! Athletes representatives hold conference/network calls with their national network of student-athletes. The calls, which sometimes include as many as 35 athletes, are a way for people to check in about their lives. The student-athletes can either speak or just listen.
"We have begun to reach out to K-12 student-athletes," Aagenes says. "The network is comprised of closeted and out athletes and the conversations vary from empowerment to choosing an LGBT-friendly college."
Based in Philadelphia, GO! Athletes have recently taken the steps to establish national chapters with Washington being the pilot city. The group is hoping to develop a mentorship program in D.C. aligning former athletes with current athletes to help them through the coming out process.
"We are lucky to have positive momentum with athletes and administrators," says Brian Goldthorpe, a D.C. resident and director of communications. "We are looking to fill critical needs and delivering for folks at the highest level. In 2014, we will begin establishing connections with the LGBT sports teams of Washington D.C."
Another facet of the GO! Athletes organization is their Collegiate Ambassadors, who serve the critical role of representing the voices of the LGBT student-athlete community and connecting universities with the national GO! network.
One of the athletes in D.C. is Craig Cassey, a Georgetown University student and former track athlete.
"One of my roles is to reach out to athletes and administrators on campus," Cassey says.  "I help them to understand so they can make better decisions in the future. It has been inspirational for me to help shape our own culture."
As the organization continues to grow, they will be trying to create sustainable national chapters and student groups in multiple cities across the United States.  More information on their outreach is available at goathletes.org.
Fallon Fox will fight in a Championship Fighting Alliance (CFA) match on Oct. 12 in Coral Gables, Fla., against Ashlee Evans-Smith.
Trans women banned from track and field, intersex athletes restricted
World Athletics Council policy to go into effect March 31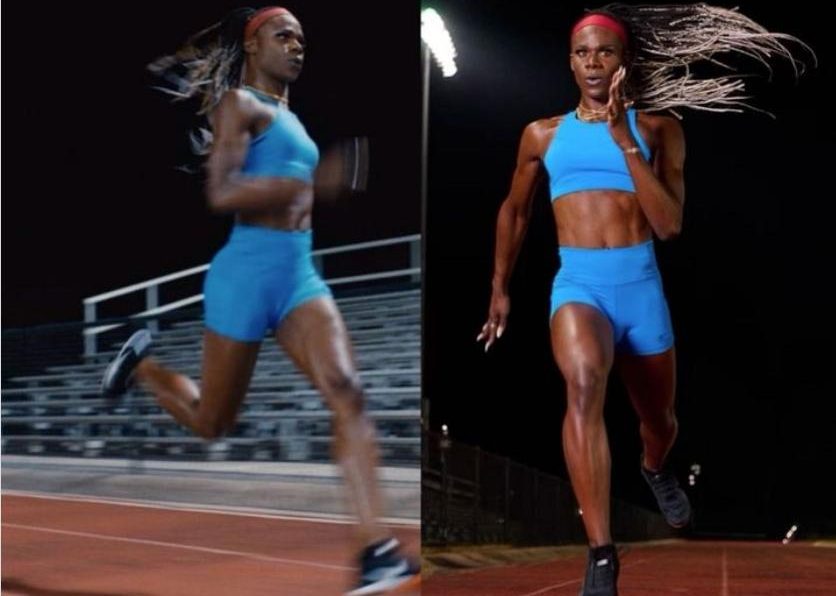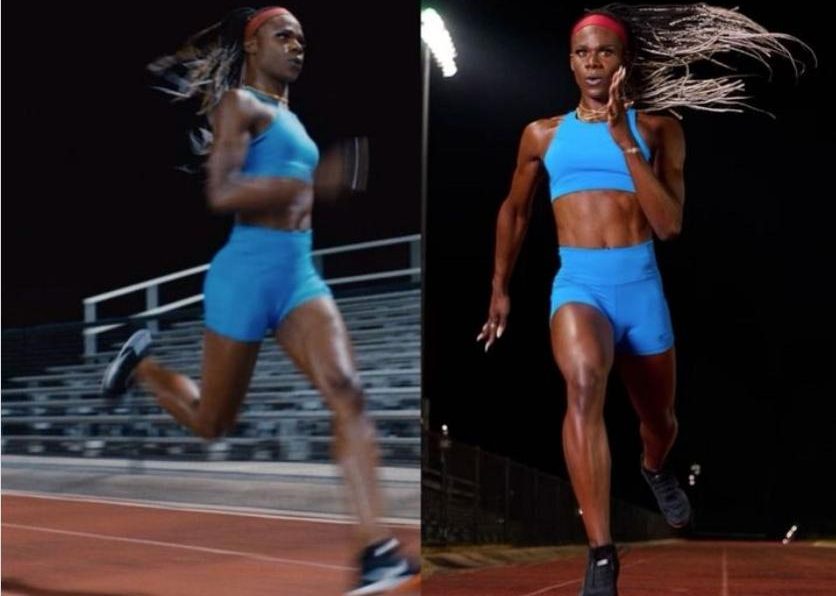 The organization that makes the rules for track and field meets around the world declared Thursday it will bar transgender women who have experienced male puberty from competing, a move that was anticipated following a similar trans ban issued last year by the governing body for world swimming.
As the Associated Press noted, at this moment there are zero trans women competing at the elite level of track and field. But the edict, which the World Athletics Council announced will take effect on the Transgender Day of Visibility, March 31, is crushing news for one hopeful.
In May 2019, CeCé Telfer won the 400m hurdles at the Division II championships and became the first out trans woman to win an NCAA title. She's been training ever since for her shot at the Olympics, despite being ruled ineligible for Beijing at the trials in 2021. The Jamaican-American had set a goal of qualifying for Paris in 2024. But the World Athletics ban ends that dream.
Telfer tweeted Thursday, "It feels as though the world stopped moving."
It feels as though the world stopped moving…

— CeCe Telfer (@CeceTelfer) March 23, 2023
Another ruling by the group will likely mean no shot at the Olympics for another Black woman athlete, two-time gold medalist Caster Semenya. The South African track icon is not trans, but because of her higher than typical testosterone levels, she has been barred from competing in her signature event, the 800m. World Athletics took that from her around the same time Telfer made history, in May 2019.
The group issued an eligibility ruling that prohibits female athletes like Semenya who have Differences in Sexual Development from competing in women's events, from the 400m to one mile (1600m), unless they reduce their testosterone levels. So, Semenya chose to run in longer events than she did previously. She finished 13th in her qualifying heat at 5,000 meters at world championships last year as she worked to adapt to longer distances, in preparation for Paris.
"I'm in the adaptation phase, and my body is starting to fit with it. I'm just enjoying myself at the moment, and things will fall into place at the right time," the South African runner told the AP.
That time may now never come. On Thursday, World Athletics announced athletes who have DSD will have to undergo hormone-suppressing treatment and maintain a testosterone level of below 2.5nmol/L for 24 months, in order to be eligible to compete in any event in the female category.
Semenya vowed following the 2019 ruling that she would never again take any testosterone suppressing medication, terming the rules discriminatory and unfair.
This new rule could impact not only Semenya but also as many as a dozen other elite runners, World Athletics President Sebastian Coe said. Among them, Olympic 200-meter silver medalist Christine Mboma of Namibia, who won a silver medal in Tokyo two years ago but didn't compete last year because of an injury. Mboma has not publicly stated whether she would be willing to undergo hormone therapy.
Like Semenya, Olympic 800-meter silver medalist Francine Niyonsaba of Burundi has said she will not undergo hormone suppression.
Even though Niyonsaba, Mboma and Semenya are not trans like Telfer and former Connecticut high school track athletes Andraya Yearwood and Terry Miller — who have been targeted in federal court by opponents of inclusion — there is one thing all these women have in common: They are all women of color, and all targeted for being too fast because of their natural gifts.
Chicago Blackhawks: No Pride jerseys over Russia concerns
Several of the team's players are Russian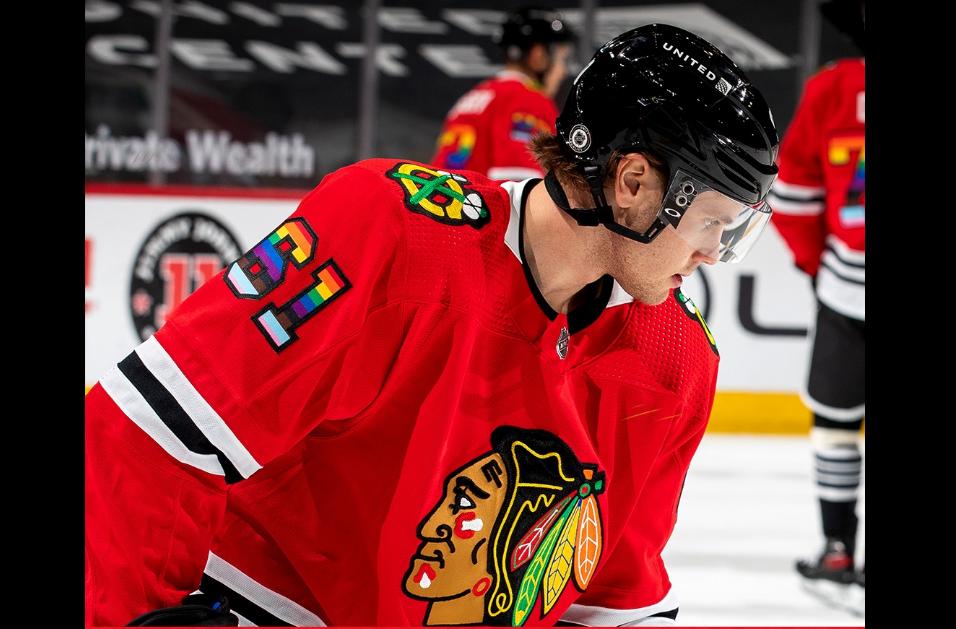 The National Hockey League's Chicago Blackhawks franchise have opted to not wear the team's Pride-themed warmup jerseys before Sunday's Pride Night game against the Vancouver Canucks based on security concerns over the recently expanded Russian law prohibiting mention of LGBTQ rights in Russia the Associated Press reported.
According to the AP, the decision was made by the NHL organization following discussions with security officials within and outside the franchise, according to a person familiar with the situation who spoke to the AP on Wednesday on condition of anonymity because of the sensitivity of the move.
Blackhawks defenseman Nikita Zaitsev is a Moscow native, and there are other players with family in Russia or other connections to the country the AP noted.
The team has participated in the LGBTQ themed part of the 'Hockey is for everyone' campaign and has in previous years set aside recognition for the LGBTQ community in Pride night celebrations.
The Blackhawks will not wear Pride-themed warmup jerseys before Sunday's Pride Night game against Vancouver because of security concerns. https://t.co/33idpM8BDD

— USA TODAY Sports (@usatodaysports) March 23, 2023
While the team will forgo the jerseys, the AP noted that DJs from the LGBTQ community will play before the game and during an intermission, and the Chicago Gay Men's Chorus also is slated to perform. There also are plans to highlight a couple of area businesses with ties to the LGBTQ community.
The decision by the team has sparked outage including Outsports editor Cyd Zeigler, who noted on Twitter that the NHL has an inclusion problem as the Chicago team joins the New York Rangers, who opted not to wear Pride jerseys or use Pride stick tape as part of their Pride night this past January despite previously advertising that plan. The Rangers' Pride Night was held 10 days after Ivan Provorov, the alternate captain for the National Hockey League's Philadelphia Flyers, opted out of participating in the team's Pride Night charity event before the game Tuesday, claiming a religious exemption based on his Russian Orthodox faith.
San Jose Sharks goalie James Reimer didn't take part in the Sharks Pride Night wearing Pride-themed jerseys in support of the LGBTQ community, telling multiple media outlets that support of the LGBTQ community runs counter to his religious beliefs.
Wow! that's insane. The #Blackhawks had no problem supporting Ukraine – with whom Russia is AT WAR -for a game.

But rainbows on Pride Night? "Oh what will Russia think??!?! We better not!"

The @NHL has a very serious LGBT-inclusion problem on its hands.https://t.co/qVAig47zeM https://t.co/QTjZulo8wa

— Cyd Zeigler (@CydZeigler) March 23, 2023
Put this out gay trailblazer's supportive coach in your bracket
'Coach Willard's awesome,' says Derrick Gordon of Maryland's Kevin Willard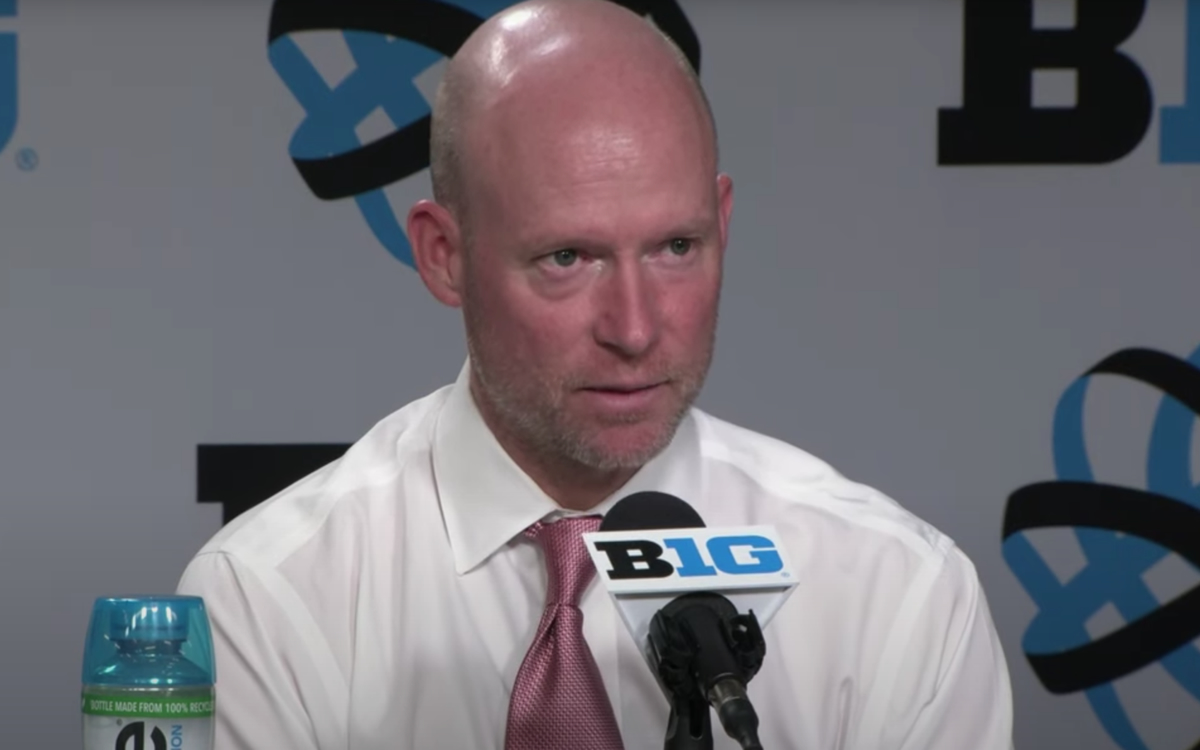 When the 8th seeded Maryland Terrapins faced off against No. 1 Alabama in the second round of the NCAA Men's Basketball Championships last weekend, it wasn't just the players on the hardwood who were working hard for the win. Nate Oats coached the Crimson Tide to a 73-51 victory less than an hour from their home court. And on the other side was Kevin Willard, who is not just a seasoned coach, but a strong LGBTQ ally.
Willard was Derrick Gordon's coach at Seton Hall when he transferred from UMass in 2015, a year after he came out as the first out gay Division I Men's basketball player in the NCAA.
Gordon has credited Willard with creating a comfortable environment, after he "bumped heads" with former UMass coach Derek Kellogg during his two seasons with the Minutemen. In contrast, he said he instantly connected with Willard, and told his teammates and Willard following his final season at Seton Hall that he wished he had another year of eligibility remaining. He's said he considered Willard the best coach he'd ever played for.
"He just made it comfortable for me," Gordon told Glenn Clark Radio in an interview broadcast on March 22, 2022. "He said, 'You know what, we're more focused on who you are as a person and a basketball player and what you bring to the team.' He voiced that over and over again. When I went on my visit, I just felt even more comfortable, met a couple of the guys. They made me feel right at home as well, so it was kind of like an easy decision. Coach Willard's awesome. He's an amazing guy."
If you don't believe Gordon, ask the West Virginia Mountaineers, who lost to the Terrapins in the first round 67-65. Maryland's win "took the paint off the floor at Legacy Arena" in Birmingham, Ala., as Brendan Quinn wrote in The Athletic. He described Willard's style of coaching this way:
"Willard paced the sideline, as he does. The man is intense. Doesn't suffer fools. Serious stuff. No BS. Black eyes screwed deep in a bald head, no pupils. He regards things sideways, incredulous toward anyone who doesn't come correct. It's his whole thing. If Guy Ritchie cast a college basketball coach, it'd be Willard."
Gordon told Glenn Clark Radio that he particularly recalled the kind of support Willard gave him in one practice early in his Seton Hall career, according to Press Box Online.
"I remember a particular situation that happened in practice — came down the court and I was wide open and I didn't shoot it," Gordon said in the 2022 interview. "[Willard] stopped practice and he said, 'You're not at [UMass] anymore. I trust you. I believe in you. Shoot the ball.' Ever since then, my confidence was through the roof, especially dealing with I had to deal with when I was at UMass with that coach to playing under Coach Willard and him telling me that specifically, he just let me play my game."
Last July, Gordon posted on Instagram that after playing a few seasons in Europe for Cyprus and Germany, "I decided to end my career as a professional athlete."
Gordon is now 31, and he told his followers he is working on a book about his life "on and off the court," in hopes he might "help gay young people, student athletes in particular and others who are struggling to pursue careers in professional sports or any career paths they chose without fear or shame."
Since Christmas, he's been sharing posts that include photos with his boyfriend, actor Scott Backman of Los Angeles, including one from last week, captioned: "Every time we're together, it's like falling in love all over again."