Sigh of relief as shutdown ends
HIV service providers spared; staffers return to work
UPDATE: The federal government shutdown ended Thursday and thousands of employees returned to work in D.C. and across the country. This story was posted shortly before Congress passed a bill to fund the government and avert a default:
As the federal government's shutdown entered its third week, LGBT and AIDS advocates expressed alarm that community-based AIDS service providers in D.C. and across the nation could be forced to lay off employees and curtail services if the shutdown and its related funding reductions continued much longer.
Democratic and Republican leaders in the Senate announced a bipartisan agreement on Wednesday calling for raising the debt ceiling and ending the government shutdown. Although political observers thought there were enough votes to approve the agreement in both the Senate and the House, no one was certain whether the GOP-controlled House would pass the compromise bill initiated in the Senate.
Leonard Hirsch, president of the LGBT federal workers group Federal GLOBE, said that, like all federal workers, thousands of furloughed LGBT federal employees continued as of Wednesday to struggle without a paycheck.
The shutdown, which closed many but not all federal agencies, left more than 800,000 federal employees furloughed, according to the U.S. Office of Personnel Management. With the federal government being the largest employer in the D.C. metro area, the area is said to have been affected the most by the shutdown.
"Everyone that I know in the federal workforce is very frustrated that they're not allowed to be getting work done, that things are piling up, that their clients are not being served," said Hirsch, who has worked at the Smithsonian Institution for 24 years.
Hirsch said he and nearly all the federal workers he knows – LGBT and straight – are especially troubled over accusations by Obama administration critics, including former GOP vice presidential candidate Sarah Palin, that the U.S. Park Service is being disrespectful to veterans and other citizens by denying them access to the World War II Memorial and other monuments in Washington.
"The law is clear," he said. "If Congress has not appropriated money you cannot work on things and do things. And so we can't open parks. We can't open museums and monuments because Congress has not appropriated the money."
Added Hirsch, "I don't know a single person at the Park Service who is happy about closing doors, and I know a lot of people at the Park Service…It's putting the federal worker in this horrible bind to say we can't do these things and being abused for following Congress's direction."
Don Blanchon, executive director of Whitman-Walker Health, the D.C. area's largest private agency providing medical and social services to people with HIV and the LGBT community, said Whitman-Walker has "weathered" the federal shutdown so far largely because it accumulated a substantial reserve fund over the past several years.
"By and large, the impact of the shutdown directly on our operations and patient care is minimal," he told the Blade on Monday. "We're open. We're serving patients. And for the foreseeable future we don't see this shutdown causing us a tremendous amount of difficulty right now," he said.
But Blanchon noted that Whitman-Walker along with other D.C. community-based health groups serving people with HIV has been hit by D.C.'s inability to pay its Medicaid reimbursements. Under a federal law, D.C. is prohibited from spending its own money obtained through local tax revenue if Congress doesn't approve the city's annual budget.
With Congress deadlocked over the federal budget, under which the D.C. budget falls, the city has been unable to spend much of its own funds since the federal shutdown began on Oct. 1 at the start of the new fiscal year. Since D.C.'s budget is intertwined with the federal budget, D.C. has been impacted by the shutdown in a way that no other city or state has, a development that has infuriated D.C. Mayor Vincent Gray.
At an Oct. 11 town hall meeting Gray said the shutdown has forced the city to tap into its reserve funds to keep city agencies open and to continue city services through the end of this week or next, at which time he said the usable portion of the reserve fund would be depleted.
But Gray said the reserve fund wasn't large enough to enable the city to cover $90 million in Medicaid reimbursement payments to the city's private clinics and medical providers that take Medicaid patients during the previous week.
Blanchon said the delay in the Medicaid payments resulted in Whitman-Walker not receiving about $70,000 in reimbursements for its Medicaid patients.
While Whitman-Walker's reserve fund will enable the LGBT health provider to "weather the storm" for the time being, as Blanchon put it, other community-based health providers don't have such a financial cushion, officials with those groups have said. Some of them have already been forced to lay off employees and curtail services, including HIV-related services, the officials have said.
"We're already seeing services cut back for LGBT and Latino community clients," said Ruby Corado, director of the LGBT community center Casa Ruby. Corado said Casa Ruby, which is funded largely by private donors, wasn't immediately affected by the shutdown.
Ron Simmons, executive director of Us Helping Us, a D.C.-based HIV service provider that reaches out to black gay men, said his group has also managed to get buy for the past two weeks "without any noticeable impact."
But Simmons said Us Helping Us won't be able to operate without possible service interruptions if the federal shutdown continues indefinitely. Although his organization doesn't have the type of reserve fund that Whitman-Walker has, Simmons said much of the group's federal funding for the fiscal year has already been appropriated by Congress through various grants. He said the payments through those grants, including one from the U.S. Centers for Disease Control and Prevention, have continued uninterrupted during the shutdown.
Similar to other HIV service providers in D.C. and across the nation, funding from the Ryan White federal AIDS program also had been appropriated by Congress prior to the shutdown, enabling groups receiving Ryan White grants to continue to receive the funds through the rest of the fiscal year, according to Carl Schmid, deputy director of the AIDS Institute, a national HIV/AIDS advocacy organization.
"Luckily, the grants went out in April," said Schmid in referring to the Ryan White program, which he said provides millions of dollars to AIDS groups across the country.
But Schmid cautioned that if the federal shutdown were to continue, AIDS service providers would be adversely impacted in a number of ways.
One immediate effect, he said, was federal officials who provide support for the processing of Ryan White grant applications were furloughed as soon as the shutdown began on Oct. 1.
"The new grant applications are due Oct. 31," he said. "So what if people have questions about putting their grant applications together in the cities and states? Right now there's no one to turn to."
Schmid noted that most of the federal officials that administer the Obama administration's national AIDS strategy program as well as the White House Office on AIDS Policy were also on furlough since Oct. 1.
"One or two days are one thing," said Schmid. "But now this is going on too long and we're definitely going to have ramifications. Let's hope this gets solved soon."
Michael Cole-Schwartz, a spokesperson for the Human Rights Campaign, told the Blade that LGBT-related implications of the shutdown could, among other things, include a cutback in the enforcement of the federal hate crimes act that covers hate crimes targeting LGBT people.
Cole-Schwartz said the furloughing of Justice Department personnel could negatively impact enforcement of both the hate crimes law and Title IX of an existing civil rights statute that protects women and transgender people from gender-related discrimination.
'Gay marriage, gay sex are going to fall like fucking dominoes'
Anger, fear as protesters decry Supreme Court ruling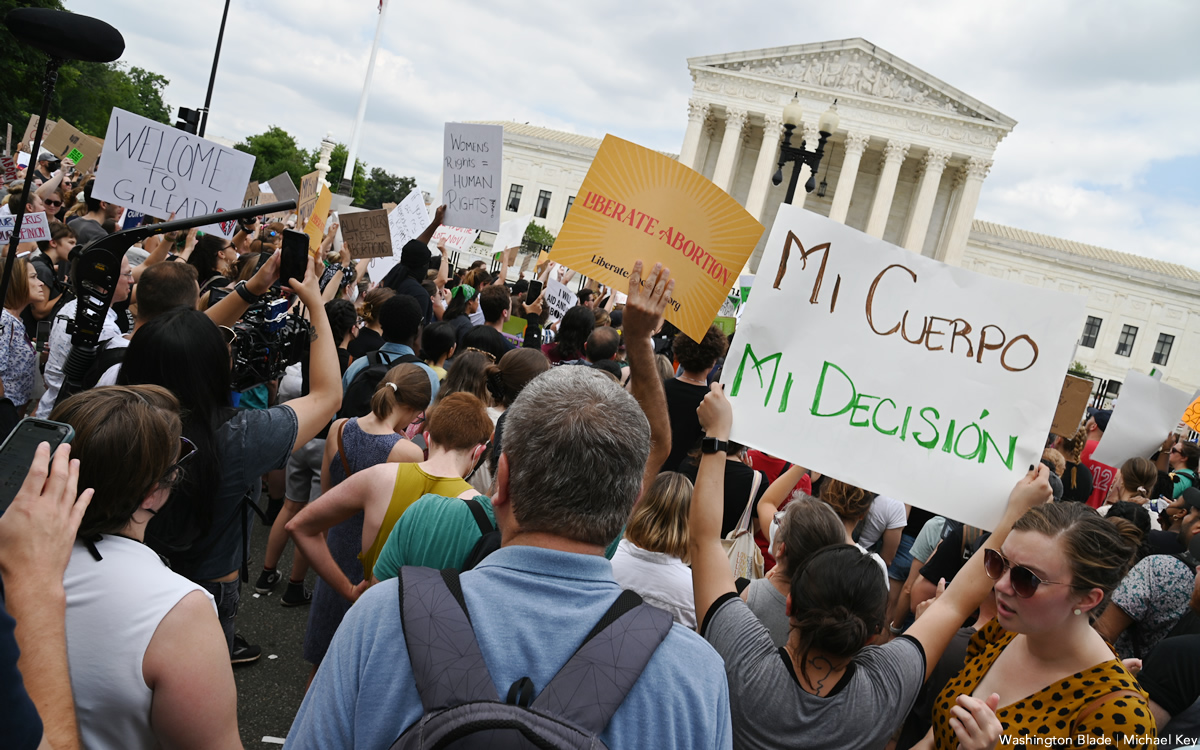 Just moments after the U.S. Supreme Court delivered its decision on Friday overturning its landmark ruling in Roe v. Wade that had legalized abortion nationwide for 49 years, hundreds gathered outside the court to both protest and celebrate the ruling.
In a 6-3 decision in Dobbs v. Jackson Women's Health Organization, the court found that access to abortion was not a right guaranteed under the language of the Constitution. The ruling effectively reversed the court's 1973 decision that mandated states to allow the procedure in most instances throughout the first two trimesters of pregnancy.
Immediately following the decision, a group of those welcoming the decision quickly gathered in front of the court.
Anna Lulis, a member of Students for Life of America, welcomed the decision as long overdue.
"I think it is a huge victory for human rights," Lulis said. "For far too long, since 1973, human rights have been infringed upon at an egregious level."
Beside Lulis, Olivia Cowin, a member of Survivors LA, shared a similar reason for gathering outside the court.
"This is a celebratory day to show our support of the unborn and of women and support both simultaneously," Cowin said.
But across the way from the court's west side, Virginia resident Alysia Dempsey feared what the verdict in Dobbs could mean for women's rights – including those of her four daughters.
"I believe in women's rights, and I think that our country needs to be able to start listening to each of our stories and to have empathy for them in so many different aspects," Dempsey said. "I feel like we're sort of going back in time with regard to so many rights."
Hailing from Arizona, a state under Republican legislative leadership where Planned Parenthood has already halted all abortion services pending legal clarity from the state, Hannah Waldrip cast doubt on the sincerity of anti-abortion rationale.
"For a country about personal rights and personal freedom, we're doing an awful lot right now to limit women's or people with uterus' ability to do what they want with their body," Waldrip said.
Stark divisions between the groups arose as ideological lines could be seen physically emerging between the crowds.
And as the day progressed, those protesting the ruling quickly began to outnumber its supporters.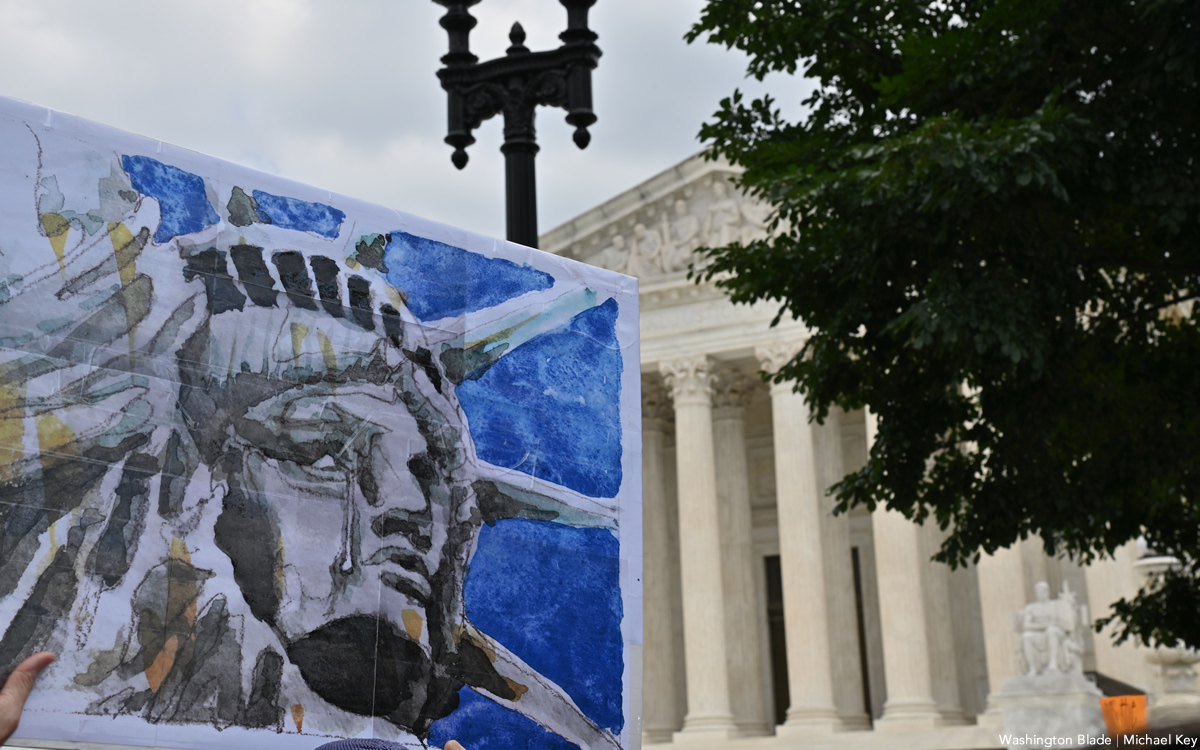 Among the protesters, the color green – a symbol for abortion rights activists borne out of similar movements in Argentina and elsewhere in Latin America – could be seen lining the street on scarves, shirts, stickers, and elsewhere.
As the crowd grew and green began to eclipse the simmering pavement beneath the protesters, several speakers emerged at the center of the crowd.
One of those speakers was Elizabeth Paige White, a civil rights lawyer working under nationally renowned attorney Ben Crump.
In connecting Friday's decision to the United States' history of patriarchal structure, White called into focus the disproportionate effect the repeal of nationwide abortion access is widely expected to have on minorities and communities of color with fewer resources to travel to abortion-friendly states.
"As Black, brown, and all these women out here know, we've been fighting for our rights since the inception of this country," White said. "We have been fighting to have rights over our own bodies since the inception of this country."
With the repeal of Roe, decisions on whether to legalize or outlaw abortion will now be left to each state. As of Friday's ruling, 13 states are set to make almost all abortions illegal, having passed "trigger bans" designed to take effect in the immediate aftermath of Roe's demise or within the next month.
However, many abortion rights supporters, activists, and lawmakers still fear that the curtailing of reproductive rights won't end with the court's decision.
Sen. Catherine Cortez-Masto (D-Nev.) addressed the crowd with a message of urgency and revelation.
"At the end of the day, let me just say, here's what's next," Cortez-Masto said. "I've got some of my Republican colleagues based on this decision who are already drafting legislation to restrict abortion in this country. If they win this election, they will pass that legislation and it will preempt all of the state laws we have protecting women in this country when it comes to our right to choose."
Beyond a nationwide restriction on abortion, some fear even more privacy restrictions are coming.
Such privacy rights have been established in other Supreme Court rulings based on the same Due Process and Equal Protection clauses of the 14th Amendment that justices used to interpret nationwide abortion rights nearly half a century ago. These cases have included those that established access in all states to contraception, same-sex marriage, interracial marriage, and the right to same-sex relations in the privacy of one's home.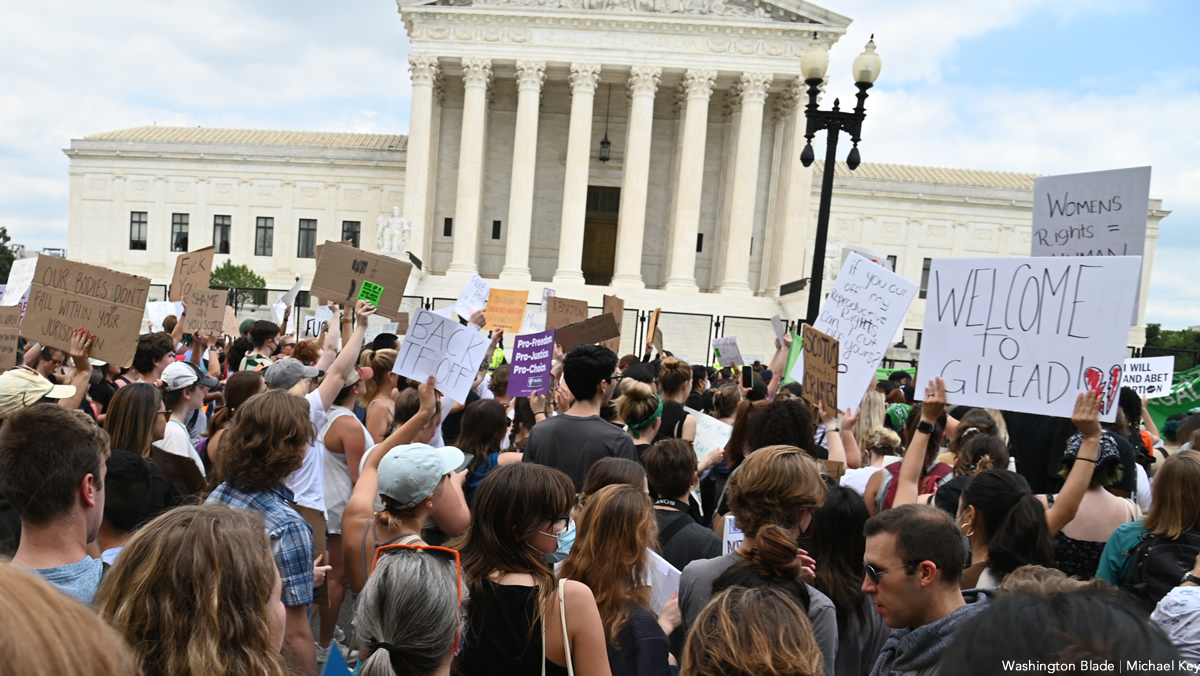 Among the crowd gathered on Friday, such was a sobering outlook for many.
"Gay marriage, interracial marriage, gay sex are going to fall like fucking dominoes if we let them," one speaker outside the court said.
Anger and fear could be felt permeating the crowd. Activists, however, were determined to turn their compatriots' fears into action and change.
"We must get out in the streets," the speaker said. "We need millions of people all around the country because this affects every single living, breathing person in this country whether they realize it yet or not."
Among protesters' trepidation regarding the future of women's rights and privacy rights in America, many clung to a message of hope as speakers and activists pledged to continue fighting.
"They have worked to keep us down, they worked to keep us enslaved, they worked to keep us out of the polls, they worked to keep us out of political offices, they've worked to keep us in the home," White said. "But we know, as we fought for centuries, that this will not stand."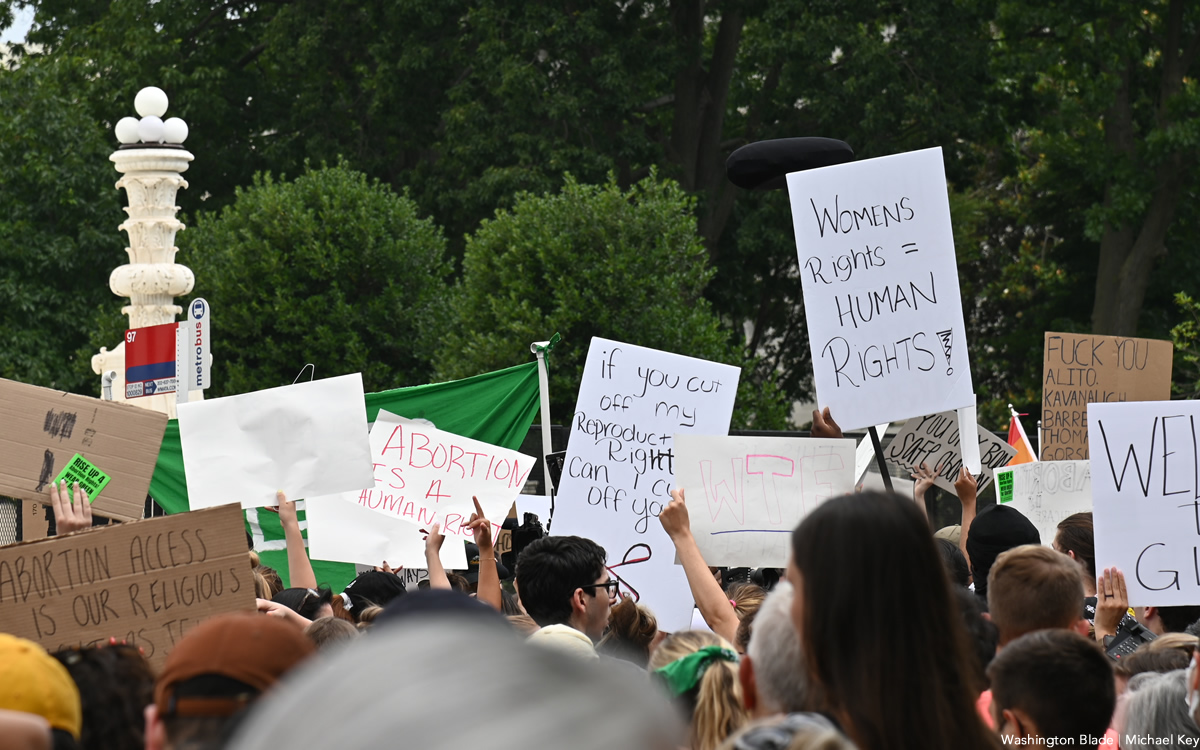 LGBTQ activists alarmed over concurring opinion in abortion ruling
Justice Thomas calls for 'reconsideration' of marriage, sodomy rulings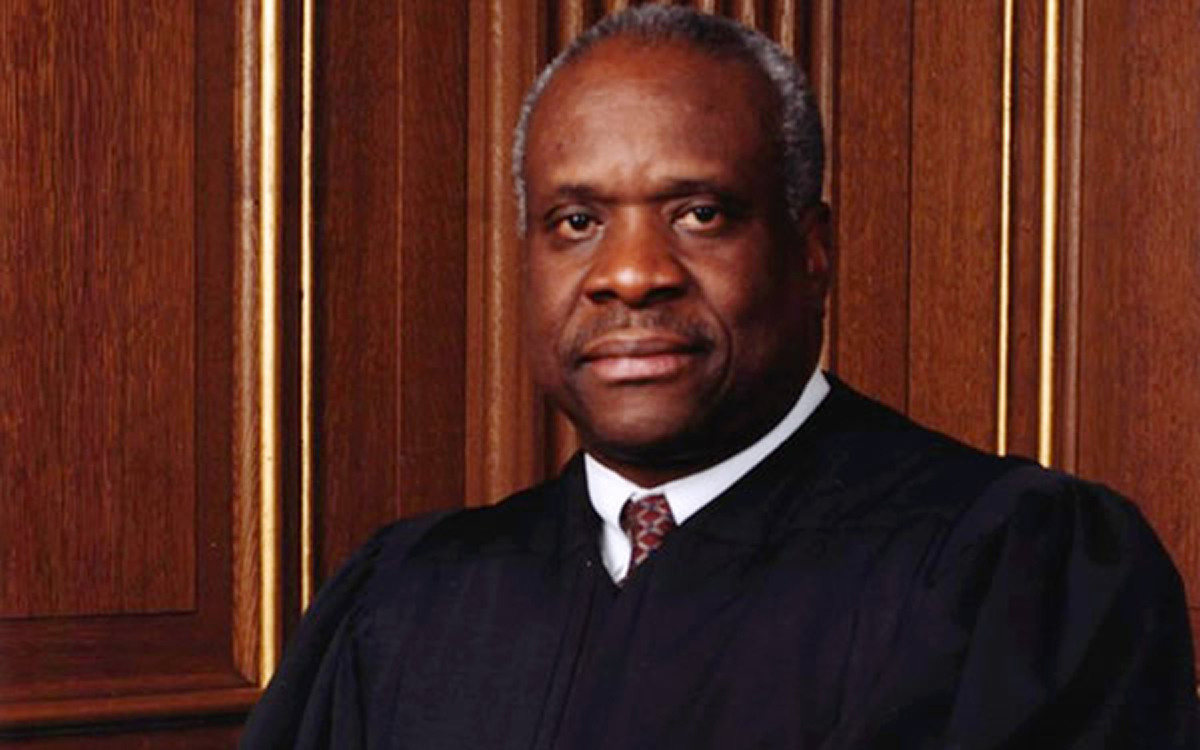 LGBTQ activists have expressed alarm over a concurring opinion issued on Friday by U.S. Supreme Court Justice Clarence Thomas calling for the high court to "reconsider" previous decisions overturning state sodomy laws and legalizing same-sex marriage as a follow-up to the court's controversial ruling on Friday to overturn the Roe v. Wade decision on abortion rights.
In an action that drew expressions of outrage from abortion rights advocates and strong support by right-to-life advocates, the Supreme Court handed down a 6-3 ruling on Friday overturning the fundamental right to an abortion that the court established nearly 50 years ago in its landmark decision known as Roe v. Wade.
In his concurring opinion, Thomas said he supports the high court's majority opinion overturning Roe v. Wade. He states that he agrees with the ruling that nothing in the majority opinion "should be understood to cast doubt on precedents that do not concern abortion."
But he also states that in potential future cases, "we should reconsider all of this Court's substantive due process precedents, including Griswold, Lawrence, and Obergefell."
He was referring to the past Supreme Court Griswold ruling that overturned state laws banning or restricting birth control such as contraceptives; the high court's 2003 Lawrence v. Texas ruling that overturned state laws banning sodomy between consenting adults; and the 2015 Obergefell ruling that legalized same-sex marriage nationwide.
"Justice Thomas's concurring opinion is obviously concerning, but it is important to note that not one other justice agreed with him," said Sarah Warbelow, legal director of the Human Rights Campaign, the nation's largest LGBTQ rights advocacy group. "In fact, the majority took pains to disagree with him and clarify that this opinion relates only to abortion. Justice Thomas stands alone," Warbelow told the Washington Blade in a statement.
"With that said, we know that if the court was willing to overturn 50 years of precedent with this case, that all of our constitutional rights are on the line," Warbelow said. "Lawmakers will be further emboldened to come after our progress. So, we must be vigilant in protecting our hard-won rights — we're ready."
Paul Kawata, executive director of the National Minority AIDS Council (NMAC), said the Supreme Court ruling overturning Roe v. Wade would have a "disastrous effect" on healthcare for women, especially women of color. He said the ruling could also lead to future rulings that adversely impact LGBTQ people and other minorities.
"We have no doubt that the conservative supermajority on the court will not stop with Roe," Kawata said in a statement. "Justice Thomas's chilling concurring opinion makes it very clear that the court could target other rights provided by the court — marriage equality, contraception access, and LGBTQ+ intimacy in private to name a few," he said.
Biden labels Supreme Court ruling on Roe v. Wade 'a sad day for court'
"Imagine, woman having to carry a child that's a consequence of incest, with no option" to terminate the pregnancy, Biden said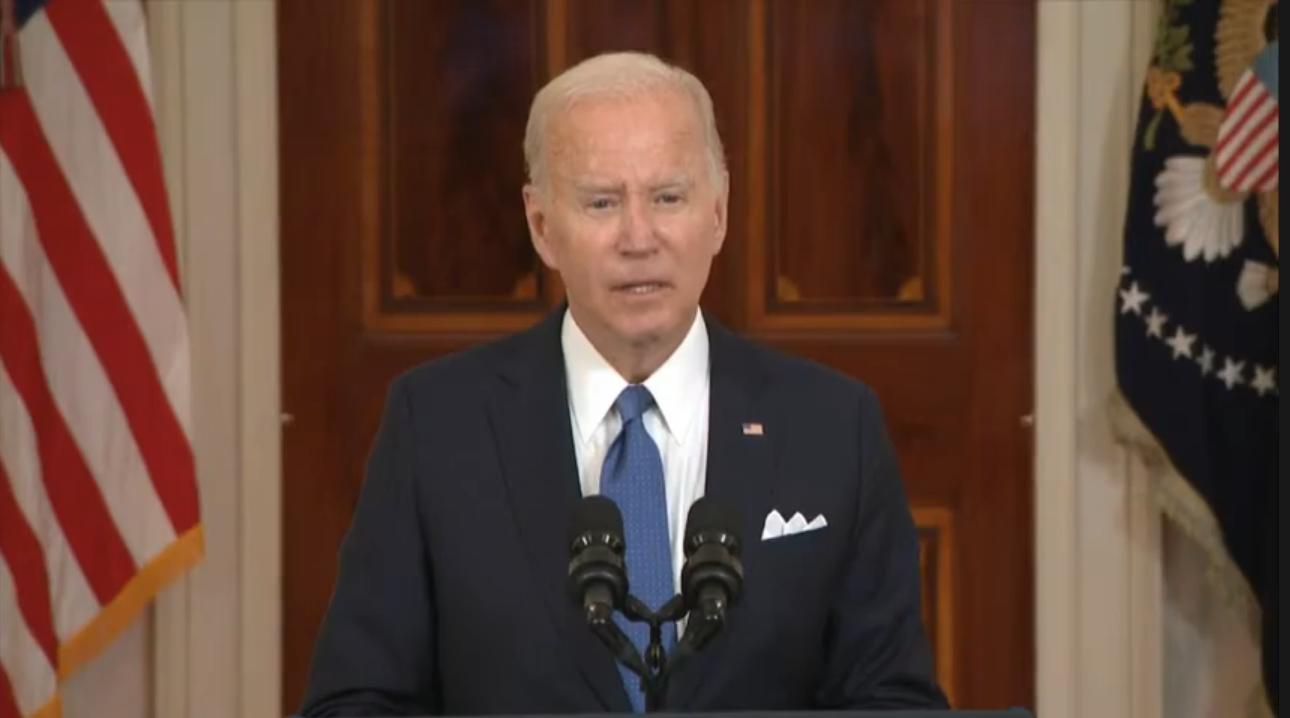 WASHINGTON – Just after the Supreme Court's conservative majority moved to overturn the constitutional right to abortion on Friday in a 6-3 ruling, President Joe Biden vowed to protect American women from prosecution for traveling to other states to terminate their pregnancies.
Thirteen states have made or will soon make abortion illegal, some without exceptions for rape and incest, following today's ruling. After a draft of that ruling was leaked in May, some state legislatures considered bills to prevent women from circumventing their restrictions on abortion.
"If any state or local official high or low tries to interfere with a woman exercising her basic right to travel, I will do everything in my power to fight that unamerican attack," Biden said.
Delivering his remarks from the Great Cross Hall of the White House, the President looked visibly upset, particularly when discussing the extreme abortion bans in some states that will now be allowed to go into effect.
"They are so extreme that women can be punished for protecting their health; that some women and girls will be forced to bear their rapists' child," Biden said. It was at this point that he appeared to go off-script to share his personal feelings on the ruling and its implications. "It just stuns me," he said. "Imagine, woman having to carry a child that's a consequence of incest, with no option" to terminate the pregnancy.
Biden called for those who share his anger and outrage – many who gathered on the steps of the Supreme Court in protest – to remain peaceful. He urged Americans to vote to give Democrats in Congress the majority that will be necessary for them to codify the constitutional right to abortion first established by the Supreme Court's 1973 ruling in Roe v. Wade and overturned today with the decision in Dobbs v. Jackson Women's Health.
Biden warned of the "dangerous path the court is taking us on," pointing to Justice Thomas's comments in the decision that "In future cases, we should reconsider all of this court's substantive due process precedents, including Griswold, Lawrence, and Obergefell."
Should the court revisit the precedents established by those cases, it could mean constitutional protections for the return of laws banning birth control, sodomy and same-sex marriage.
Biden noted Americans' constitutional right to abortion was affirmed in multiple decisions by the Supreme Court, endorsed by justices who were appointed by presidents from both parties.
"It was three justices named by one president, Donald Trump, who were the core of today's decision to upend the scales of justice and eliminate a fundamental right for women in this country," Biden said.
President Biden speaks on Supreme Court decision to overturn Roe v. Wade:
Full transcript:
REMARKS BY PRESIDENT BIDEN
ON THE SUPREME COURT DECISION
TO OVERTURN ROE V. WADE
Today is a — it's not hyperbole to suggest a very solemn moment. Today, the Supreme Court of the United States expressly took away a constitutional right from the American people that it had already recognized.

They didn't limit it. They simply took it away. That's never been done to a right so important to so many Americans.

But they did it. And it's a sad day for the Court and for the country.

Fifty years ago, Roe v. Wade was decided and has been the law of the land since then.

This landmark case protected a woman's right to choose, her right to make intensely personal decisions with her doctor, free from the inter- — from interference of politics.

It reaffirmed basic principles of equality — that women have the power to control their own destiny. And it reinforced the fundamental right of privacy — the right of each of us to choose how to live our lives.

Now, with Roe gone, let's be very clear: The health and life of women in this nation are now at risk.

As Chairman and Ranking Member of the Senate Judiciary Committee, as Vice President and now as President of the United States, I've studied this case carefully. I've overseen more Supreme Court confirmations than anyone today, where this case was always discussed.

I believe Roe v. Wade was the correct decision as a matter of constitutional law, an application of the fundamental right to privacy and liberty in matters of family and personal autonomy.

It was a decision on a complex matter that drew a careful balance between a woman's right to choose earlier in her pregnancy and the state's ability to regulate later in her pregnancy. A decision with broad national consensus that most Americans of faiths and backgrounds found acceptable and that had been the law of the land for most of the lifetime of Americans today.

And it was a constitutional principle upheld by justices appointed by Democrat and Republican Presidents alike.

Roe v. Wade was a 7 to 2 decision written by a justice appointed by a Republican President, Richard Nixon. In the five decades that followed Roe v. Wade, justices appointed by Republican Presidents — from Eisenhower, Nixon, Reagan, George W. [H.W.] Bush — were among the justices who voted to uphold the principles set forth in Roe v. Wade.

It was three justices named by one President — Donald Trump — who were the core of today's decision to upend the scales of justice and eliminate a fundamental right for women in this country.

Make no mistake: This decision is the culmination of a deliberate effort over decades to upset the balance of our law. It's a realization of an extreme ideology and a tragic error by the Supreme Court, in my view.

The Court has done what it has never done before: expressly take away a constitutional right that is so fundamental to so many Americans that had already been recognized.

The Court's decision to do so will have real and immediate consequences. State laws banning abortion are automatically taking effect today, jeopardizing the health of millions of women, some without exceptions.

So extreme that women could be punished for protecting their health.

So extreme that women and girls who are forced to bear their rapist's child — of the child of consequence.

It's a — it just — it just stuns me.

So extreme that doctors will be criminalized for fulfilling their duty to care.

Imagine having — a young woman having to ch- — carry the child of incest — as a consequence of incest. No option.

Too often the case that poor women are going to be hit the hardest. It's cruel.

In fact, the Court laid out state laws criminalizing abortion that go back to the 1800s as rationale — the Court literally taking America back 150 years.

This a sad day for the country, in my view, but it doesn't mean the fight is over.

Let me be very clear and unambiguous: The only way we can secure a woman's right to choose and the balance that existed is for Congress to restore the protections of Roe v. Wade as federal law.

No executive action from the President can do that. And if Congress, as it appears, lacks the vote — votes to do that now, voters need to make their voices heard.

This fall, we must elect more senators and representatives who will codify a woman's right to choose into federal law once again, elect more state leaders to protect this right at the local level.

We need to restore the protections of Roe as law of the land. We need to elect officials who will do that.

This fall, Roe is on the ballot. Personal freedoms are on the ballot. The right to privacy, liberty, equality, they're all on the ballot.

Until then, I will do all in my power to protect a woman's right in states where they will face the consequences of today's decision.

While the Court's decision casts a dark shadow over a large swath of the land, many states in this country still recognize a woman's right to choose.

So if a woman lives in a state that restricts abortion, the Supreme Court's decision does not prevent her from traveling from her home state to the state that allows it. It does not prevent a doctor in that state — in that state from treating her.

As the Attorney General has made clear, women must remain free to travel safely to another state to seek the care they need. And my administration will defend that bedrock right.

If any state or local official, high or low, tries to interfere with a woman's ex- — exercising her basic right to travel, I will do everything in my power to fight that deeply un-American attack.

My administration will also protect a woman's access to medications that are approved by the Food and Drug Administration — the FDA — like contraception, which is essential for preventative healthcare; mifepristone, which the FDA approved 20 years ago to safely end early pregnancies and is commonly used to treat miscarriages.

Some states are saying that they'll try to ban or severely restrict access to these medications.

But extremist governors and state legislators who are looking to block the mail or search a person's medicine cabinet or control a woman's actions by tracking data on her apps she uses are wrong and extreme and out of touch with the majority of Americans.

The American Medical Association and the American College of Obstetricians and Gynecologists wrote to me and Vice President Harris stressing that these laws are not based on — are not based on evidence and asking us to act to protect access to care. They say by limiting access to these medicines, maternal mortality will climb in America. That's what they say.

Today, I'm directing the Department of Health and Human Services to take steps to ensure that these critical medications are available to the fullest extent possible and that politicians cannot interfere in the decisions that should be made between a woman and her doctor. And my administration will remain vigilant as the implications of this decision play out.

I've warned about how this decision risks the broader right to privacy for everyone. That's because Roe recognized the fundamental right to privacy that has served as the basis for so many more rights that we have come to take — we've come to take for granted that are ingrained in the fabric of this country: the right to make the best decisions for your health; the right to use birth control — a married couple — in the privacy of their bedroom, for God's sake; the right to marry the person you love.

Now, Justice Thomas said as much today. He explicitly called to reconsider the right of marriage equality, the right of couples to make their choices on contraception. This is an extreme and dangerous path the Court is now taking us on.

Let me close with two points.

First, I call on everyone, no matter how deeply they care about this decision, to keep all protests peaceful. Peaceful, peaceful, peaceful. No intimidation. Violence is never acceptable. Threats and intimidation are not speech. We must stand against violence in any form regardless of your rationale.

Second, I know so many of us are frustrated and disillusioned that the Court has taken something away that's so fundamental. I know so many women are now going to face incredibly difficult situations. I hear you. I support you. I stand with you.

The consequences and the consensus of the American people — core principles of equality, liberty, dignity, and the stability of the rule of law — demand that Roe should not have been overturned.

With this decision, the conservative majority of the Supreme Court shows how extreme it is, how far removed they are from the majority of this country. They have made the United States an outlier among developed nations in the world. But this decision must not be the final word.

My administration will use all of its appropriate lawful powers. But Congress must act. And with your vote, you can act. You can have the final word. This is not over.

Thank you very much. I'll have more to say on this in weeks to come. Thank you.