Will Mich. judge make a surprise ruling for marriage equality?
Decision could immediately follow oral arguments this week
The national landscape for marriage equality could change abruptly following oral arguments in a Michigan lawsuit on Wednesday if the federal judge presiding over the case issues a decision saying gay couples should be able to wed in the state.
The U.S. District Court for Eastern District of Michigan is set to hear arguments in the case of DeBoer v. Snyder, a lawsuit filed by private attorneys that seeks to overturn the constitutional ban on same-sex marriage approved by Michigan voters in 2004.
Because requests for summary judgment were filed by both the plaintiffs and the state, U.S. District Judge Bernard Friedman could issue a decision immediately after he hears arguments in the courtroom.
Dana Nessel, one of four private attorneys representing the lesbian plaintiff couple in the lawsuit, said she's "very hopeful" at the end of arguments Friedman will issue a ruling against the marriage ban in Michigan.
"We don't know that that's going to happen, but certainly, we'd be thrilled to have a resolution to this case as early as possible," Nessel said. "This case has been pending for a very long time, and there are hundreds and hundreds, maybe thousands, of LGBT couples in this state that have been awaiting a ruling in this case."
The case was filed in January 2012 by a lesbian couple, April DeBoer and Jayne Rowse, in Hazel Park, Mich., who were seeking a ruling granting them the ability to adopt their three children.
Michigan law has no explicit ban on gay adoption, but restricts adoptions to either single persons or married couples. Meanwhile, the Michigan marriage law restricts the state's legal definition of marriage to opposite-sex couples. Some judges have interpreted that to mean gay couples can't adopt because they're unable to marry.
After Friedman reviewed the case last year, he suggested to the couple that they were actually seeking the right to marry because the right to adopt in the state was tied to marriage. The couple amended their case in March to seek marriage equality in Michigan, while still pursuing their goal of adoption rights, on the basis that the marriage ban violates the due process and equal protection clauses of the Fourteenth Amendment to the U.S. Constitution.
Jay Kaplan, a staff attorney at the ACLU of Michigan, said the judge may decide to wait beyond the day of oral arguments — perhaps indeterminately — to issue a decision on marriage, and could ultimately avoid the marriage issue altogether in his decision.
"There are many different scenarios that could happen here," Kaplan said. "The judge could decide maybe just to focus in terms of the right to jointly adopt, and he could say that's separate from the issue of marriage, or he could decide it's tied to the issue of marriage and could also then decide to deny the right to marry is unconstitutional in the state of Michigan."
It's the first oral arguments in federal court after the U.S. Supreme Court decision striking down the Defense of Marriage Act. Presenting the oral arguments on behalf of the plaintiff couple will be private attorney Carole Stanyar. The attorney arguing in favor of the ban will likely be the lead counsel representing the state, Assistant Attorney General Kristin Heyse.

One thing to watch is whether the decision in United States v. Windsor will have bearing on the judge's questioning or any decision he issues. Although that decision struck down a law prohibiting federal recognition of same-sex marriage, state courts and attorneys general have already drawn on the language in that decision to determine that state bans on marriage equality are unconstitutional.
Nessel said the decision will be a "tremendous benefit" in efforts to lift the ban on same-sex marriage in Michigan because of Associate Justice Anthony Kennedy's language in the ruling expressing concern for children raised by gay couples.
"Our feeling was why talk about children being raised in same-sex households in a case that didn't involve that at all unless Justice Kennedy specifically meant for that to apply to our case, to cases like ours," Nessel said. "There it is. Right in the Windsor decision where it didn't have to be. There's no reason to talk about that unless it was meant to apply to our scenario, and we think it does."
The ACLU of Michigan, Kaplan said, filed a friend-of-the-court brief in the case in favor of the plaintiffs along with Lambda Legal, the National Center for Lesbian Rights and the Human Rights Campaign. Prior to the Supreme Court ruling on DOMA, in December 2012 these groups urged the court to hold off on a decision on the basis that it was more "prudent" to make a decision after receiving guidance from the high court — a request the judge followed.
Another question is whether Gov. Rick Snyder, a Republican who has side-stepped the issue of same-sex marriage, or Michigan State Attorney General Bill Schuette, who has a reputation for being a conservative, will appeal a ruling in favor of same-sex marriage to the U.S. Sixth Circuit Court of Appeals. Such an appeal could mean a stay on the ability of county clerks to grant licenses to gay couples despite a ruling in favor of marriage equality.
The Michigan attorney general's office didn't respond to the Washington Blade's request for comment on Schuette's expectations for the lawsuit or whether he would appeal a ruling in favor of same-sex marriage. Joy Yearout, spokeswoman for Schuette, told the Detroit Free Press the state would defend the marriage ban in court, but wouldn't comment on what would happen if the court ruled in favor of marriage equality.
Kaplan predicted that Schuette would make the appeal to the Sixth Circuit because the attorney general is "no supporter of LGBT equality in our state."
"He's indicated that he believes things should be the status quo with regard to relationship recognition the way things exist now in our state," Kaplan said. "Chances are that he would appeal."
Oral arguments in the case are taking place in the Michigan lawsuit amid a slew of activities throughout the country on marriage equality following the Supreme Court decision against DOMA and California's Proposition 8. At least 35 marriage equality lawsuits are pending in 19 states.
Michael Cole-Schwartz, an HRC spokesperson, said a ruling in favor of marriage equality from the Michigan court — even if it were appealed — would be a tremendous boon to the pursuit of marriage equality across the country.
"This is one of many cases that calls into question the irrational exclusion of lesbian and gay couples from marriage and we are hopeful that as momentum builds, these darks walls of discrimination will fall," Cole-Schwartz said.
HRC declares national emergency over anti-LGBTQ laws
More than 75 laws against community signed in 2023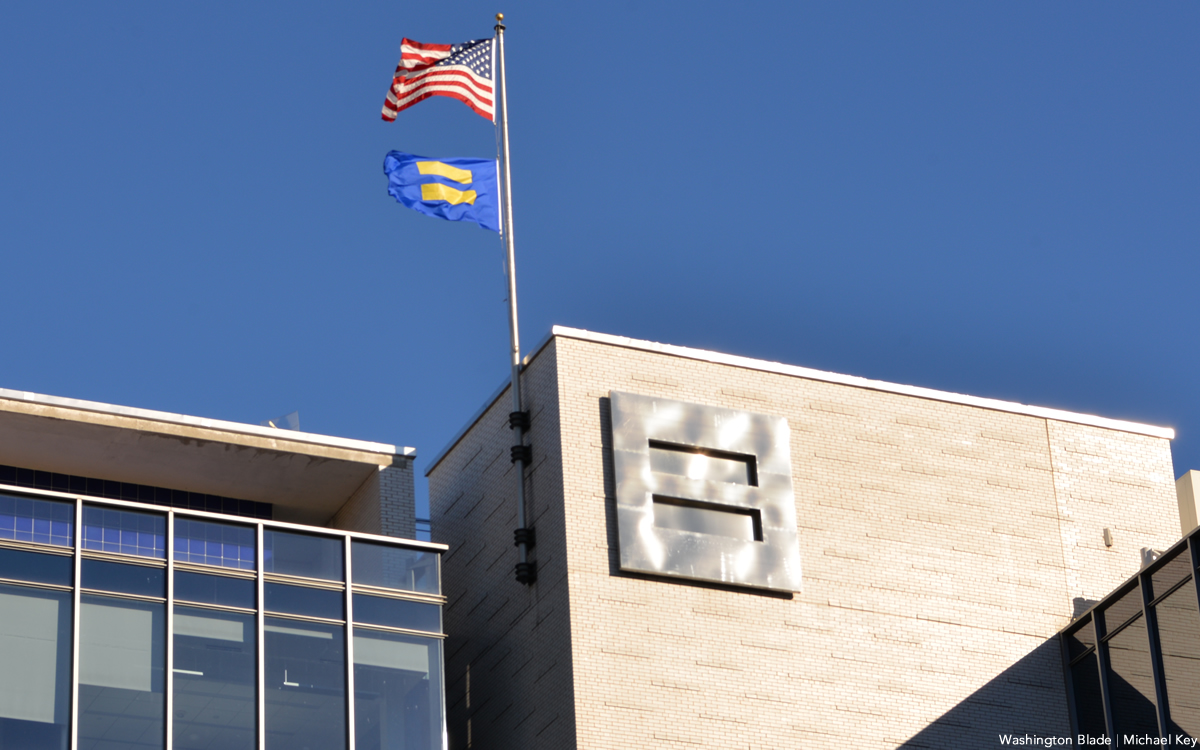 The Human Rights Campaign on Tuesday declared a state of emergency for LGBTQ people in the U.S., "following an unprecedented and dangerous spike in anti-LGBTQ+ legislative assaults sweeping state houses this year."
America's largest LGBTQ organization, which has never before made such an announcement in its 40+-year history, also featured findings from its new report, LGBTQ+ Americans Under Attack, which "details more than 75 anti-LGBTQ bills that have been signed into law this year alone, more than doubling last year's number, which was previously the worst year on record."
In a press release, HRC explained, "The sharp rise in anti-LGBTQ+ measures has spawned a dizzying patchwork of discriminatory state laws that have created increasingly hostile and dangerous environments for LGBTQ people, prompting HRC today to also issue a national warning and downloadable guidebook for the LGBTQ+ community. "
These include resources for health and safety, "a summary of state-by-state laws, 'know your rights' information, and information designed to support LGBTQ+ travelers as well as those already living in hostile states."
For the first time ever, we're declaring a national state of emergency as LGBTQ+ Americans face extremist attempts to roll back our rights. It's more important than ever we have the necessary resources to stay safe no matter where we are. https://t.co/EcnZgqDDCp pic.twitter.com/q0axEWCM1N

— Human Rights Campaign (@HRC) June 6, 2023
"LGBTQ+ Americans are living in a state of emergency," HRC President Kelley Robinson said in a statement.
"The multiplying threats facing millions in our community are not just perceived — they are real, tangible and dangerous," she said. "In many cases they are resulting in violence against LGBTQ+ people, forcing families to uproot their lives and flee their homes in search of safer states, and triggering a tidal wave of increased homophobia and transphobia that puts the safety of each and every one of us at risk."
Pelosi to throw first pitch for Tuesday's Washington Nationals Night OUT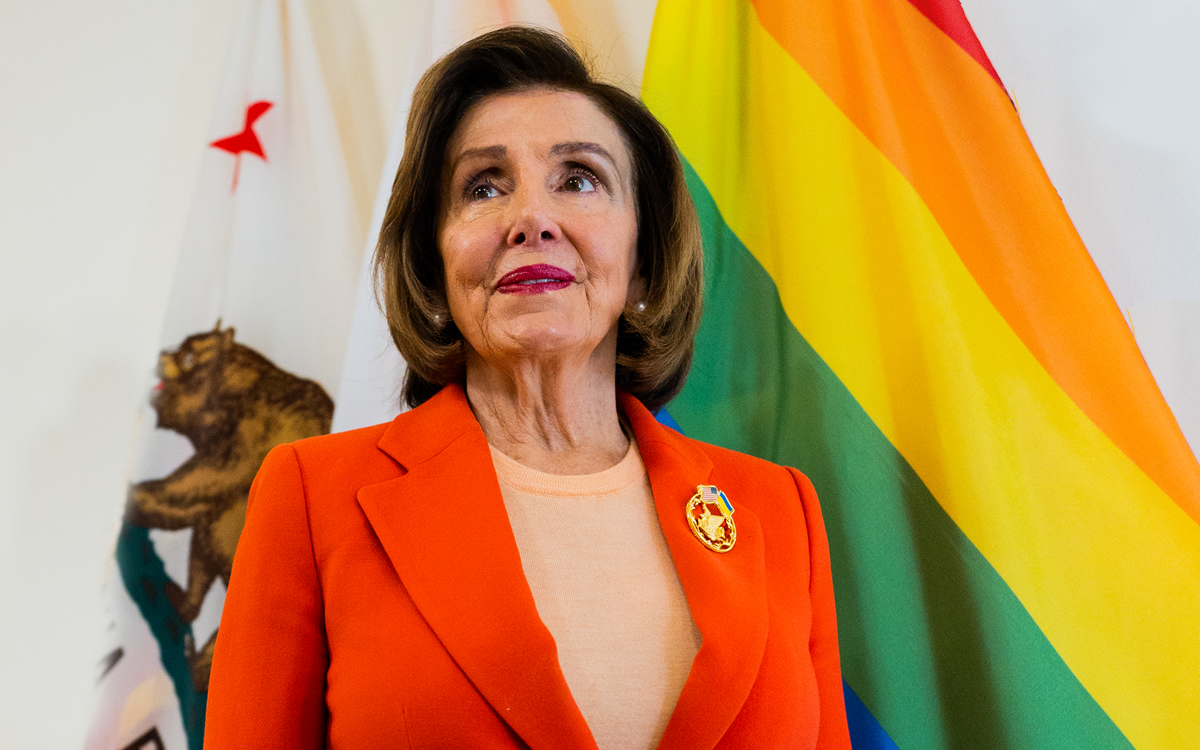 Speaker Emerita U.S. Rep. Nancy Pelosi (D-Calif.) on Tuesday will throw the ceremonial first pitch for the annual Washington Nationals Night OUT celebration, Major League Baseball's longest-running Pride event.
Pelosi will be honored for her work advancing equal rights for the LGBTQ community throughout her career, from her first speech on the House floor addressing the AIDS crisis in 1987 to her leadership codifying protections for same-sex couples through passage of the Respect for Marriage Act last year.
Pelosi, as a special guest of the LGBTQ sports group Team DC, will throw the pitch shortly after Tuesday's game begins at 7:05 p.m. ET.
According to a press release from the Washington Nationals, "The first 20,000 fans in attendance will receive a Screech Night OUT bobblehead, and fans who purchase a special Night OUT ticket will also receive an exclusive T-shirt with $5 of every special ticket purchased donated to Team DC."
Tickets for Night OUT are available for purchase.
Pelosi reflected on her record of advocating for LGBTQ Americans during an interview with the Washington Blade in January, shortly after her planned departure from Democratic leadership, where she had served for two decades, including as Speaker of the House.
"Nancy D'Alesandro Pelosi is the most consequential Speaker in American history and I am humbled by the opportunity to recognize her as Speaker Emerita," Democratic House Leader Rep. Hakeem Jeffries (N.Y.) said last November, following the unanimous vote to bestow the honorific on Pelosi.
The move celebrates "Speaker Pelosi's lifetime of service as a legendary legislator, notorious negotiator and a fabulous facilitator. Our Caucus and our country are better off for her leadership, without question, and this title is but a small token of our gratitude," Jeffries added.
Elon Musk pledges to lobby for criminalizing healthcare interventions for transgender youth
Twitter executive estranged from trans child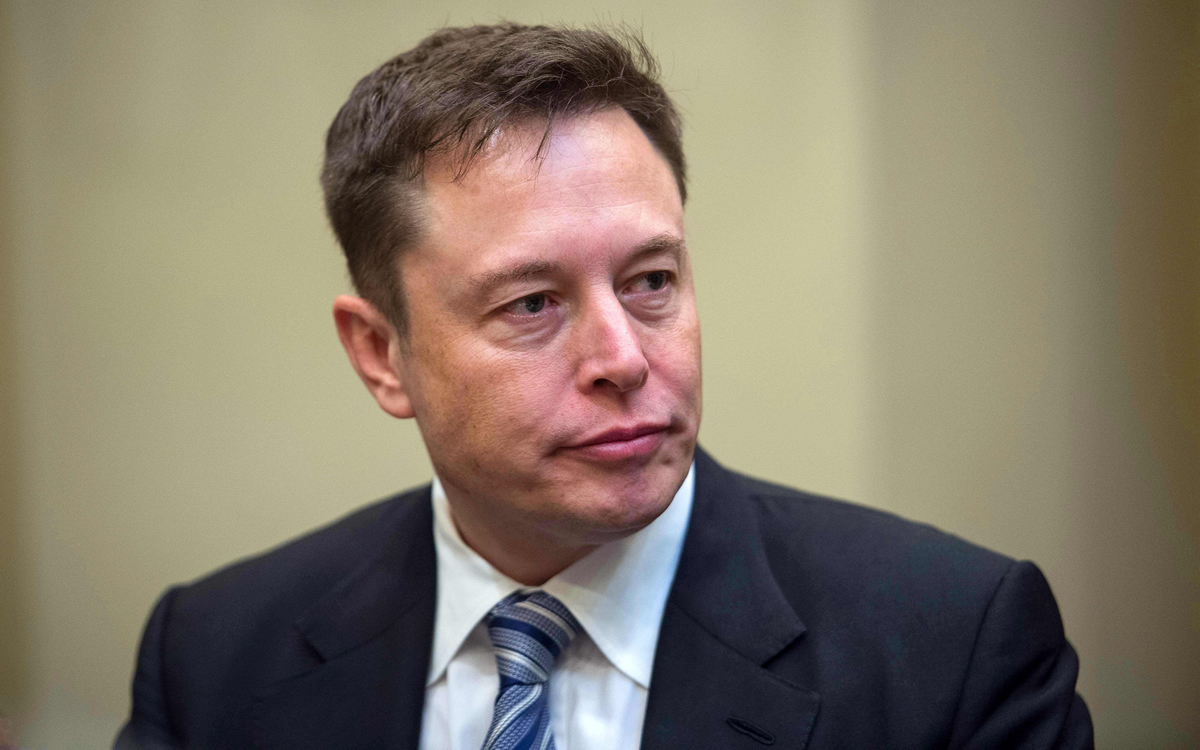 Elon Musk started Pride month with a series of transphobic tweets that constitute his most extreme attacks against the community to date and included a pledge on Thursday that he will be "actively lobbying to criminalize" healthcare interventions for transgender youth.
Also on Thursday, Musk responded "totally agree" to a tweet from a trans-exclusionary LGB account that said, "LGB don't even want Pride month anymore. We just want to be separated from the TQ+."
And then on Friday, the Twitter owner intervened on behalf of anti-trans pundit Matt Walsh when the platform took steps to limit the reach of his "documentary" attacking the community, and then he re-tweeted Walsh's video.
The New Republic named Walsh "Transphobe of the Year" in 2022, noting that he stood out in a crowded field of hate purveyors, having "raised his profile by spreading grotesque conspiracy theories about grooming" and pedophilia in the LGBTQ community."
Responding to Musk's promise to fight for the criminalization of gender affirming care, anti-trans conservative media commentator and University of Toronto Professor Jordan Peterson tweeted, "Prison. Long term. Without Parole. No Mercy. And maybe for the compliant 'therapists' and the butchers they enable." Musk replied, "Absolutely."
Medical societies that develop and publish clinical practice guidelines for the treatment of gender dysphoria in minor patients do not generally recommend genital surgeries before the age of 18.
Access to the interventions proscribed in these guidelines, which are supported by every mainstream scientific and medical body, have been shown to dramatically reduce rates of depression, suicidal ideation and suicides among trans youth. Studies show rates of post-treatment regret are exceedingly rare.
Musk has long been known as an online provocateur, often taking aim at institutions like Hollywood, big business and the mainstream news media that he believes promote a left-leaning agenda without providing room for dissenting voices.
However, the tech billionaire has increasingly aligned himself with more extreme right-wing politics and conservative political figures like Republican Florida Gov. Ron DeSantis, who launched his 2024 presidential campaign last week with a Twitter Spaces discussion hosted by Musk just days after signing some of the most extreme anti-trans laws of any state in the country.
Likewise with his public statements concerning the trans community. A few years ago, Musk courted controversy for mocking and complaining about the practice of calling trans and nonbinary people by their preferred pronouns. This week's anti-trans tirade was markedly more extreme.
Last year, Insider noted Musk's comments about gender pronouns in its coverage of a Reuters report that the South African-born entrepreneur's 18-year-old trans daughter had filed papers in a California court to legally change her first and last name and request a new birth certificate.
Per Reuters, the teen said that she no longer wished to be "related to my biological father in any way, shape or form."
A month later, the elder Musk publicly declared his support for the Republican Party. In an interview with the Financial Times, he said the reason for his estrangement from his daughter was "full on communism" in elite colleges and universities.