At the center of LGBTQ Frederick
Group celebrates 2nd anniversary helping youth, others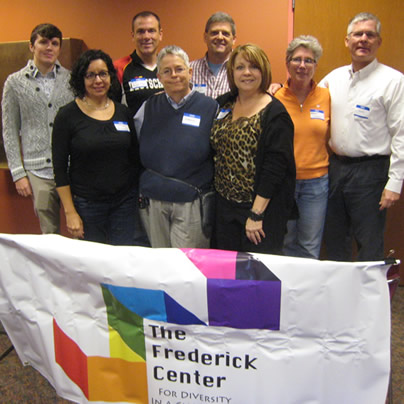 There was a flurry of activity at the public library on E. Patrick Street in the heart of the historic district in Frederick, Md. on a recent Saturday morning. Inside, several people were lugging pamphlets, name tags, business cards, beverages and pastries into the library's community room while others were setting up tables and chairs and preparing a Power Point presentation.
Outside the building on this cool October morning, you could peer through the famous spires of Frederick and see the autumn colors on Maryland's mountains in the west. The foliage may as well have been rainbow colors, as the folks performing these tasks inside were getting ready for the second annual general meeting of the LGBTQ Frederick Center or simply The Frederick Center (TFC).
Fifteen years ago, the idea of a gay center in Frederick would have been considered unimaginable. Alex X. Mooney, a virulently anti-gay conservative Republican from Frederick was elected to the state Senate in 1998 using, in part, a message warning voters of the "homosexual agenda." He once said, "Homosexual activists have managed to gain legal recognition as a minority, based solely on their lifestyle choices, through so-called 'hate crimes' and domestic partnership laws."
Employing divisive rhetoric like that, Mooney was elected two more times, reaffirming Frederick's conservative leanings, but with decreasing margins each time. But Mooney was finally unseated in 2010 by pro-LGBT former Frederick Mayor Ron Young.
Frederick County, an exurb of Washington D.C. and Baltimore—roughly equidistant to both—has seen a growth in population of around 25 percent since 2000. Much of this increase is attributed to an influx of young married white-collar workers and professionals or singles moving into new housing developments. Indeed, the median age in the county is seven years younger than the rest of the state.
With the arrival of younger, more educated residents, a less conservative tilt exists, but the political landscape has not shifted to the point where it is like Montgomery County or Baltimore City. Brian Walker, president of the TFC board, said while there has been progress inside Frederick especially due to the increasing number of affirming churches, "the attitude toward LGBT folks outside of Frederick has been spotty."
But a pro-LGBTQ mindset appears to be on the rise here. Although in 2012, Mitt Romney defeated President Obama by a 50-47 percent margin in Frederick County, voters affirmed Question 6 on same-sex marriage by 2,400 votes or 51-49 percent.
The Frederick Center emerged because its founder realized something was missing.
"I felt there was a need for an LGBTQ center in Frederick because of my experience," says Austin Beach, 21, who is also the executive director of TFC. "As a young man discovering my identity I had no resources that where easily available to me and I felt firsthand how that affected me. I didn't want anyone else to go through that same process of feeling there was no one there to help them."  In January 2012, TFC was born.
Cindie Beach heads up TFC's youth group, where "over the past two years, there had been a total of 70 youth and of those, seven were at one time homeless." She said she also performed four suicide interventions. "To succeed, the youth must have a roof over their heads and food in their mouths," she said. "We need emergency housing and long-term housing for these kids and a support system in place. Some get thrown out for being LGBT and appear at my door. It breaks my heart."
TFC does not have a permanent home as of yet. It holds events in Frederick's affirming churches and other pro-LGBTQ business establishments. But that could change.
"I envision the center being a focal point of support, resources, and education for Marylanders LGBTQ community both inside, but especially outside of the D.C. and Baltimore areas," says Austin. "I hope to soon see us having our own space, offering transitional services, counseling, shelter space, etc. to the LGBTQ community and if all goes well, being on the forefront of LGBTQ advocacy in Maryland in the ever-growing area of Frederick"
For more information about The Frederick Center, visit thefrederickcenter.org.
McAuliffe: School boards should make 'own decisions' on trans students policy
Former Va. governor debated Republican challenger on Thursday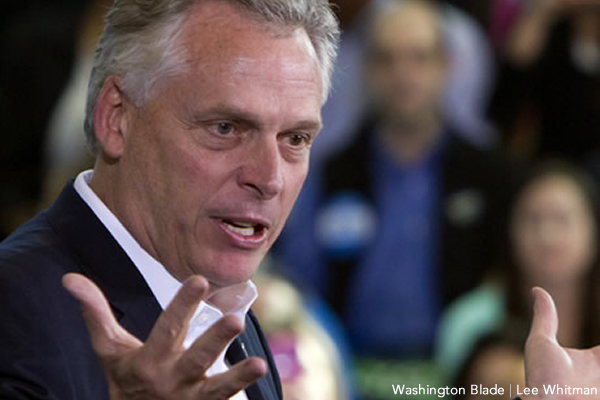 Terry McAuliffe on Thursday hotly debated Republican challenger Glenn Youngkin at the Appalachian School of Law in southwestern Virginia on a variety of issues that include vaccine mandates, economic development, abortion access and policing. The former Virginia governor's support for a law that protects transgender students, however, seemed less clear.
When the moderator asked if local school boards should be allowed to reject Virginia Department of Education "model policies" developed as part of a state law passed last year to protect trans and non-binary students from discrimination, McAuliffe said school boards "should be making their own decisions."

This soft support for the law that Gov. Ralph Northam signed is in contrast to the Human Rights Campaign's endorsement this week for his work as governor that includes signing an executive order prohibiting discrimination against LGBTQ state employees and vetoing anti-LGBTQ bills.  

HRC called out Youngkin, a former business executive and vocal Trump supporter, for "anti-LGBTQ and transphobic language" during his campaign. (HRC in 2019 named the Carlyle Group, the private equity company that Youngkin previously ran, as a "Best Place to Work for LGBTQ Equality" in its annual Corporate Equality Index.)
"Once again, we are proud to have achieved a perfect score on the @HRC's Corporate Equality Index. We know there is much work to be done and look forward to continuing the progress for our LGBTQ colleagues." – Carlyle Co-CEOs, Kewsong Lee & Glenn Youngkin https://t.co/lwm53kZiKY pic.twitter.com/xatLs2WmOk

— The Carlyle Group (@OneCarlyle) March 28, 2019
Younkin has supported Tanner Cross, a Loudoun County elementary school teacher who was suspended in June after he spoke against the Virginia Department of Education policy known as Policy 8040. The Virginia Supreme Court last month supported Cross' reinstatement on First Amendment grounds.
"As governor, I will stand up for teachers like Tanner Cross," the Republican candidate tweeted.

Youngkin also told Fox News the school board was trying to "cancel" Cross "simply for expressing his views that are in the best interests of the children and expressing his faith."

But state Del. Danica Roem (D-Prince William County), one of the bill's co-sponsors, told the Washington Blade in an earlier interview that the 2020 law passed with bipartisan support and most school boards are acting in accordance with the nondiscrimination law.

"Loudoun is catching headlines, but look at all of the other school districts who have adopted this without controversy," said Roem, who in 2018 became the first openly trans person seated in a state legislature in the U.S. "They are acting in compliance with Department of Education best practices for how to humanely treat transgender kids in schools."

McAuliffe, after stating that decisions regarding implementing trans student protections should be left to local school boards, said he hated seeing all of the "divisiveness" and "children being demonized." He then pivoted to his talking points about increasing both teacher pay and broadband access for students.

Early in-person voting in Virginia is underway and lasts until Oct. 30. Election day is Nov. 2.
Black gay man hopes to 'shatter lavender ceiling' in Annapolis
Keanuú Smith-Brown is running to unseat Ward 3 incumbent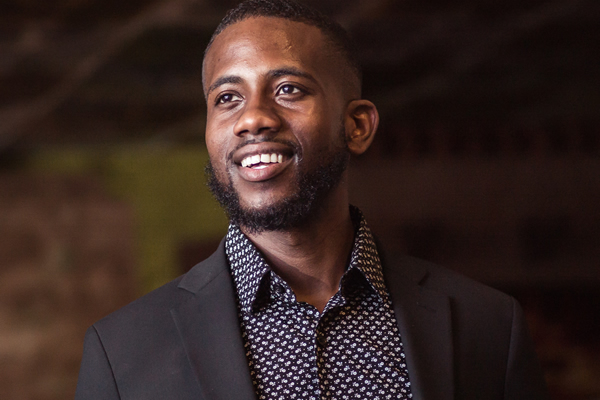 Keanuú Smith-Brown, who is affectionately called KSB by his friends, is running to unseat incumbent Annapolis Alderwoman Rhonda Pindell Charles (D-Ward 3) and become the first out LGBTQ elected official in the city.

"Keanuú is on-track to shatter a lavender ceiling in Annapolis, becoming the first out LGBTQ person ever elected in the city," Victory Fund Vice President of Communications Elliot Imse told the Washington Blade.
Smith-Brown, a 26-year-old substitute teacher, announced in February that he was challenging Pindell Charles, who has represented his ward since 2013. They will face off in a Democratic primary on Sept. 21, then the winner advances to the general election on Nov. 2.
The Annapolis native is the eldest of six siblings, raised by a single mother and a first-generation college graduate who describes himself as a proud Black gay man. His opponent, also a Democrat, stated on an Annapolis Pride survey that she supports the LGBTQ community, just "not overtly."

"But his candidacy is about more than just making history," Imse said. "When in office, Keanuú will ensure the interests of the LGBTQ community are considered in every policy discussion and every piece of legislation that comes before the council."

Smith-Brown told the Blade he is running to represent "those who have been left out," emphasizing that "there is an urgent need for change in our ward."

The Annapolis native first came out as gay while still a senior in high school, the same year Pindell Charles was first elected as his Ward 3 representative.

"I grew up surrounded by drug addiction and witnessed domestic violence both in my family and in my community," he told the Blade, sharing he was raised by a single mom while his father was incarcerated during most of his life.

He still lives in the home in which he grew up, and within five minutes of his partner's house "if you're driving fast."

After graduating from the University of Baltimore in 2017 with a bachelor's degree in government and public policy, Smith-Brown began working with legislators and advocating for LGBTQ bills in Maryland.

As president of the District 30 Democratic Club, Smith-Brown advocated for House Bill 1147 and its companion Senate Bill 401, which were both similar to neighboring D.C.'s requirement for single-occupancy bathrooms to be marked gender-neutral.

Both bills died in committee during the General Assembly's pandemic-shortened session in 2020, but Smith-Brown's advocacy continued.

He marched during the Black Lives Matter protests following the murder of George Floyd by then-Minneapolis police officer Derek Chauvin, and he continued to be a public advocate for LGBTQ rights and visibility as a member of Annapolis Pride.

"I have led and joined LGBTQ+ marches, rallies and events, even hosting a campaign 'Love with Pride and Unity' Drag Brunch," Smith-Brown wrote in response to Annapolis Pride's first LGBTQ-issues survey. "I helped organize for Maryland's Health Care Decisions Act which would extend the rights of partners when making medical or funeral decisions."
Pindell Charles, by contrast, in her survey response stated she did not consider her advocacy for the LGBTQ community to be "overt."

"My support for the LGBTQ+ community, and even other communities, usually revolves around me working with persons individually, which I prefer," she wrote. "One-on-one, rather than as a group, or public displays."
FreeState Justice, Maryland's statewide LGBTQ rights organization supports public advocacy.

"It's extremely important for LGBTQ community members to participate in civic engagement — especially as elected officials," Executive Director Jeremy LaMaster told the Blade in an email.

FreeState Justice has encouraged LGBTQ Marylanders to speak out at public hearings in support of legislation such as the state's "panic defense" ban, waiving the publication of name change petitions and the establishment of a state commission on LGBTQ affairs. All of these measures passed during the 2021 legislative session.

"There is such immense power for our community that can be built at the grassroots level. From leading neighborhood associations to sitting on city councils, or representing the community in the General Assembly," said Smith-Brown. "As the world changes, so do the ways in which issues disproportionately or uniquely impact the LGBTQ community, especially for our youth, elders, trans and Black siblings."

Pindell Charles, who did not respond to the Blade's requests for comment prior to publication, is a retired Baltimore City prosecutor and chairs the Annapolis City Council's Public Safety Standing Committee.
During her time in public service, her advocacy included a variety of "groups and communities considered to be 'underrepresented,'" according to her Annapolis Pride survey response.

Smith-Brown said Ward 3 deserves better.

"She is saying this is in a position of power, that she's not willing to get out of her comfort zone," he told the Blade. "You may not be okay with seeing two men or two women together, but when you don't allow yourself in your position to be inclusive of all people you are now failing in your position."

"If someone said that about the Black community, it would not be taken in the same way," he added. "Admit that you don't need to be here in this way. We can all do our best to do better."

The Capital Gazette in February reported Pindell Charles intends to run for a third term and welcomes Smith-Brown's challenge.

"We need to win this," Smith-Brown said, encouraging LGBTQ and all voters to get out and vote. "My being at that seat at the table means that we are all in that seat. What is it they say? If I eat, we eat. That is the impact on our future, and I'm in it to win it."
LGBTQ Democrats briefed on D.C. ranked choice voting bill
Council may already have enough votes to pass it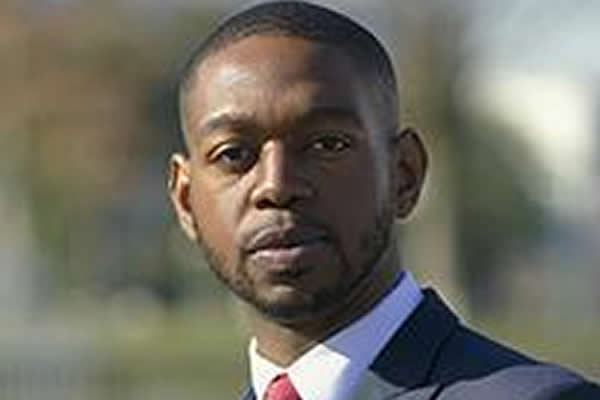 Members of D.C.'s Capital Stonewall Democrats, the city's largest local LGBTQ political group, received a briefing Monday night from the chief of staff for D.C. Council member Christina Henderson (I-At Large) on a bill she introduced in July calling for a "ranked choice" voting system for D.C. elections.
The bill, called the Voter Ownership, Integrity, Choice, and Equity (VOICE) Amendment Act of 2021, calls for D.C. to join about 50 other jurisdictions across the country, including New York City and San Francisco, in giving voters the option of ranking up to five candidates for a particular office in the order of their preference.
Under the ranked choice voting system, if a candidate receives more than 50 percent of the "first choice" votes, the candidate is declared the winner. But if no candidate receives greater than 50 percent of the first-choice votes in a race where there are three or more candidates, the system provides an instant runoff.
"The candidate with the fewest votes is eliminated, and voters who picked that candidate will have their votes count for their next choice," according to a statement released by Henderson at the time she introduced the legislation. "This process continues in rounds until there's a majority winner," the statement says.
T.J. Maloney, Henderson's chief of staff, told Capital Stonewall Democrats members during a virtual Zoom meeting that studies of the ranked choice voting system in jurisdictions where it has been adopted show that overall voter turnout has increased and, following a voter education process, voters appear to adjust and support the system.
Six other D.C. Council members joined Henderson in co-introducing the VOICE ranked choice voting bill, indicating it may already have a seven-vote majority in its favor on the 13-member Council. However, Council Chair Phil Mendelson (D-At-Large) does not support the current version of the bill, according to spokesperson Lindsay Walton.
Councilmember Charles Allen (D-Ward 6), the chair of the Council's Judiciary Committee where the bill was sent and one of the bill's co-introducers, has scheduled a public hearing on the bill for on Nov. 18. The hearing, which will be virtual, will be broadcast live on the Council's website.
Last week, the D.C. Democratic State Committee, which is the governing body of the D.C. Democratic Party and of which the Capital Stonewall Democrats is an affiliated member, voted to oppose the VOICE Act legislation. Some of its members said they believe a ranked choice voting system would be beneficial to the city's smaller political party candidates, including Republicans and Statehood Green Party candidates, and would place Democratic Party candidates at a disadvantage.
Gay Democratic activist John Fanning, who was an unsuccessful candidate for the Ward 2 D.C. Council seat in the 2020 D.C. Democratic primary, said he favors a simple runoff election system over a ranked choice voting system in cases where multiple candidates run, and none receive at least 50 percent of the vote.
Among the ranked choice bill's supporters is gay Democratic activist Austin Naughton, who serves as chair of the Ward 2 Democratic Committee. Naughton told the Washington Blade he is not an expert on the ranked choice voting system but his initial research into the system leads him to believe the system has the potential for providing a greater electoral voice for minority communities, including possibly the LGBTQ community and LGBTQ candidates who run for public office.
Capital Stonewall Democrats President Jatarious Frazier said the group was in the process of learning more about the ranked file voting system. No one raised the issue of the group taking a position on the legislation at Monday night's meeting.