Gay journalist, political organizer Doug Ireland dies
New Yorker contributed to Gay City News, Village Voice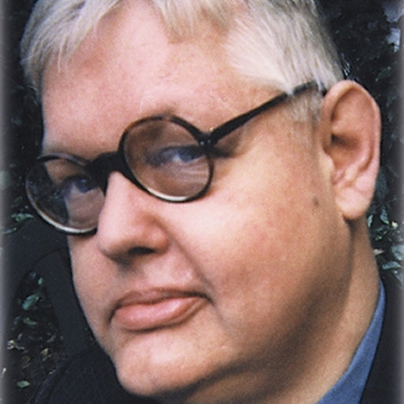 Doug Ireland, a longtime LGBT rights advocate who switched roles from an organizer of progressive political causes and election campaigns in the 1960s and 1970s to become an internationally recognized journalist and commentator, died Oct. 26 in his home in New York's East Village. He was 67.
Since at least the 1980s, Ireland has worked at various times as a columnist for The Village Voice, The New York Observer, New York Magazine, POZ Magazine, the L.A. Weekly, the Paris-based daily newspaper Liberation, and the French political-investigative magazine BAKCHICH, according to biographical information on his Linked-In page.
He served since 2005 as international contributing editor to Gay City News, the New York weekly newspaper for the LGBT community.
Ken Sherrill, professor emeritus in political science at New York's Hunter College and a friend of Ireland's since the early 1960s, said Ireland emerged in his early career as an "extraordinary" organizer of political campaigns, both for liberal-left causes and for progressive public officials, such as the late-U.S. Rep. Bella Abzug (D-N.Y).
"He was an excellent campaign organizer," Sherrill said. "He reinvented himself as an excellent journalist and most important he had a passionate commitment to justice."
Ireland's longtime friend Valerie Goodman told Gay City News he had been suffering in recent years from diabetes and the after-effects of two strokes.
"Despite chronic, at times debilitating pain and frequent hospitalizations, Ireland remained a dogged reporter and book critic in recent years, writing articles for nearly every issue of Gay City News," said Paul Schindler, the Gay City News editor, in an article published after Ireland's death.
Sherrill and others who knew Ireland said he became involved in the early 1960s with the new left movement initially as a member and later as one of the leaders of Students for a Democratic Society (SDS) beginning at the age of 17.
According to a Wikipedia biography of Ireland, he dropped out of the SDS in 1966 to devote his time and energy to electoral organizing against the Vietnam War, initially with several U.S. labor unions and later on behalf of anti-war candidates running for public office.
Among other things, Ireland joined the staff of the 1968 campaign of then Democratic U.S. Sen. Eugene McCarthy, who challenged President Lyndon Johnson for the Democratic Party nomination on an anti-Vietnam War platform. Although McCarthy lost his bid for the nomination to then Vice President Hubert Humphrey after Johnson withdrew as a candidate, the McCarthy campaign and Ireland's efforts have been credited with helping open the way for the election of anti-war candidates to Congress.
Two such candidates, Allard Lowenstein of Long Island and Bella Abzug of New York City, won their races for the U.S. House of Representatives with Ireland serving as a lead organizer of their campaigns, Sherrill told the Blade.
"He was an extraordinary organizer," Sherrill said. "He could bring people together who would ordinarily not talk to each other."
Sherrill said Ireland succeeded where some left-leaning political advocates failed because he was "capable of supreme pragmatism" to achieve political objectives, even when, at times, he enlisted the help of machine politicians.
New York-based gay freelance travel writer and photographer Michael Luongo praised Ireland's skills as a reporter as well as a commentator, saying Ireland developed a vast network of sources and contacts in the U.S. and abroad.
"I fully admired his work, always amazed at his network of contacts and how he was able to go deep on issues around the world relating to the LGBT struggle," Luongo said.
Luongo said that in his conversations with Ireland in recent years, which were mostly by phone, he was moved by Ireland's enthusiastic willingness to help him in his own work on travel related stories and to explain how he gathered news for his own reporting.
"My phone is always on," he quoted Ireland as telling him. "I never sleep."
Ireland went on to explain, said Luongo, "There were always people he knew in trouble who might need his help at any time among the activists and contacts scattered around the globe and throughout the time zones. That was what struck me most in my conversations with him," Luongo said.
"You would simply read his stuff and wonder, how did he get that? And then I knew; he was on the phone, on email, constantly trying to find people to interview."
SMYAL Director Shakir to step down Dec. 31
Board to launch Executive Search beginning in January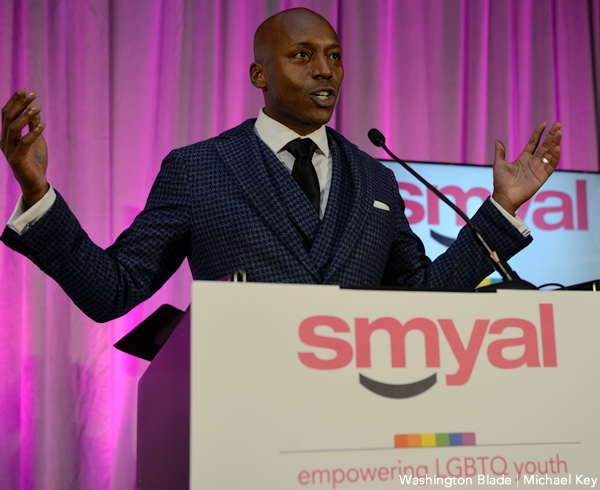 Sultan Shakir, who has served as executive director of D.C.'s LGBTQ youth advocacy organization SMYAL since August 2014, announced on Friday that he will be stepping down from his position effective Dec. 31.
In a Dec. 3 announcement, SMYAL said details of Shakir's future career plans would be announced in the coming weeks.
"While we are sad to see Sultan leave, we wish him nothing but the same success in his new endeavor as he had at SMYAL," said Rob Cogorno, SMYAL's board chair. "His leadership and vision enabled SMYAL to expand greatly needed services to LGBTQ youth in the DC metro area throughout his tenure," Cogorno said.
"I am immensely proud of the work we have been able to accomplish together in my time at SMYAL," Shakir said in a statement released by SMYAL. "SMYAL has been an integral and vital resource in the DMV community for over 37 years, and while we have come a long way in combating homophobia, transphobia, racism, sexual health stigma, homelessness, violence against the LGBTQ community, and oppression, we have a long way to go," he said.
"This work has never been about one person," said Shakir. "SMYAL was founded by our community and we're still around because of our community," he said. "I leave knowing that the commitment and passion of the SMYAL Board, staff, volunteers, and youth leaders have created a solid foundation from which our work will continue to grow until LGBTQ youth no longer need us."
The SMYAL statement says that under Shakir's tenure, SMYAL, which stands for Supporting and Mentoring Youth Advocates and Leaders, expanded its programs and services for LGBTQ youth. Among other things, in 2017 SMYAL opened its first of several housing facilities for homeless LGBTQ youth that include culturally competent case management, education and employment assistance.
"The Youth Housing Program now comprises five programmatic models that serve a combined 61 youth residents," the statement says.
It points out that also under Shakir's leadership, SMYAL expanded the age range of the youth its programs serve under a new Little SMYALs program, which welcomes LGBTQ youth ages 6-12. And earlier in 2021 under Shakir's guidance, SMYAL began a new Clinical Services Department "which provides affirming and accessible mental health counseling," the statement says.
"The SMYAL Board of Directors will officially launch an Executive Search beginning in January 2022 and expects to have named a new Executive Director by summer 2022," the statement says. It says the board will soon name an interim executive director to work with SMYAL's Deputy Executive Director, Jorge Membreno, and the organization's leadership team to oversee the day-to-day activities until a new executive director is named.
Rainbow History Project to honor LGBTQ 'Pioneers'
Virtual celebration to take place on Dec. 9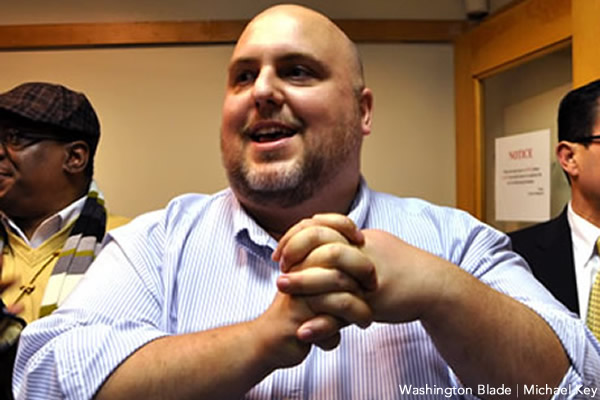 D.C.'s Rainbow History Project says it will honor and recognize 12 individuals and one organization by designating them as Community Pioneers "for their diverse contributions to the Washington-area LGBTQ community" at a Dec. 9 virtual celebration.
"Rainbow History Project is an all-volunteer organization dedicated to collecting, preserving and sharing the LGBT history of metropolitan Washington, D.C.," the group says in a statement announcing the event. "The Pioneers awards recognize diverse community leaders for their roles as organizational founders, innovators, advocates and volunteers," the statement says.
"The Pioneers celebration will be held virtually and is designed with special features that reproduce the feeling of attending in-person, such as live streaming and video chatting with other attendees and Pioneers before and after the core awards programing," according to the statement.
"Celebrating our Community Pioneers has been a cherished tradition since Rainbow History Project's founding 21 years ago," said Rob Berger, the organization's chairperson. "It's always an inspiring event, and we are happy that our virtual platform will still allow participants to meet and talk with the Pioneers," Berger said in the statement.
The virtual event is free and open to the public, the statement says. Organizers released this link for those interested in attending, saying a short registration process may require registering in advance.
Following is the list of Community Pioneers scheduled to be honored at the Dec. 9 event as released by Rainbow History Project along with the project's description of their backgrounds.
– Arlington Gay and Lesbian Alliance, a local group that since its founding has addressed equal rights issues for LGBTQ Virginians from a state and local perspective.
– Eboné F. Bell, founder and editor-in-chief of Tagg Magazine and Tagg Communication LLC.
– Bart Forbes, founding member of "Gay Fairfax," a pioneering television newsmagazine program in Northern Virginia.
– Ellen Kahan, youth and family advocate, president of Rainbow Families, former director of the Lesbian Services Program at Whitman-Walker Health, and currently senior director of programs and partnerships at the Human Rights Campaign Foundation.
– Theodore Kirkland (deceased), a co-founder of D.C. Black Pride in 1991, member of the Gay Liberation Front and Skyline Faggots, active community health volunteer and advocate.
– Paul Marengo, community leader through LGBTQ organizations including Reel Affirmations, Cherry Fund, and Pride celebrations for youth, Latino, Black and Transgender communities.
– David Mariner, executive director of CAMP Rehoboth, and former executive director of the D.C. Center for the LGBT Community.
– Mark Meinke founder longtime chair, Rainbow History Project, and co-founder of Rainbow Heritage Network, a national organization for the recognition and preservation of sites, history and heritage associated with sexual and gender minorities.
– Michael "Micci" Sainte Andress, artist, health educator and advocate and an early leader in bringing African Americans into HIV/AIDS clinical trials.
– Boden Sandstrom, founder and owner of Woman Sound (later City Sound), the first all-woman sound company, which makes LGBTQ rights rallies and the women's music scene possible.
– Casse Culver (deceased), nationally acclaimed D.C. lesbian feminist singer-songwriter, and partner of Boden Sandstrom, whose followers said her love songs and feminist lyrics moved audiences from foot stomping to silent reflection.
– Alan Sharpe, playwright, director and co-founder of the African American Collective Theater in Washington, D.C., in 1976, which now focuses on LGBTQ life and culture in the Black community.
Minnesota middle school principal ousted for displaying Pride flag
Critics ramped up attacks on the career educator- some compared her to the Devil after publicly associating with LGBTQ+ people and students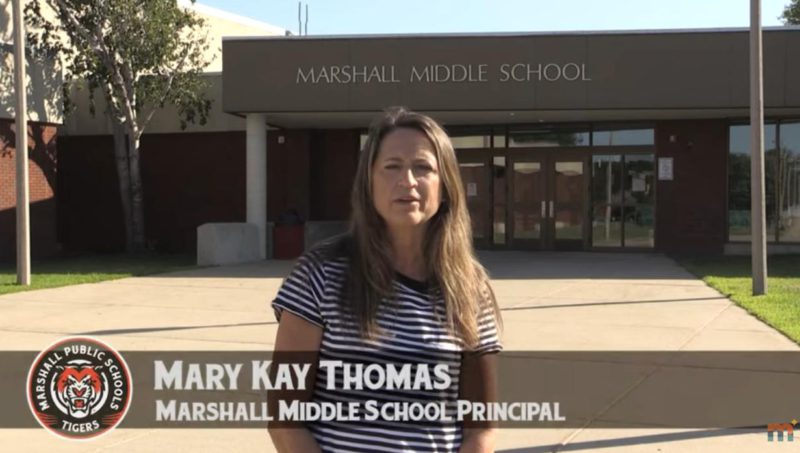 MARSHALL, Mn. — A former middle school principal in Minnesota who lost her job after displaying a Pride flag alleges in a federal lawsuit that the school system retaliated against her for supporting LGBTQ+ students.
Mary Kay Thomas filed the complaint against Marshall Public Schools in the U.S. District Court of Minnesota Tuesday after anti-LGBTQ+ middle school staff, parents, students and local clergy began efforts to remove the Pride flag that she put up in her middle school's cafeteria in 2020 as a part of an inclusiveness effort.
According to the lawsuit, Thomas has been a teacher and principal for more than three decades with a long track record of success. She held the principal position at Marshall Middle School for 15 years, receiving contract renewals, pay raises and praise for her performance.
"But when Thomas decided to display an LGBTQ Pride Flag in the school cafeteria in early 2020, everything changed," reads the complaint.
Thomas refused to take down the Pride flag as critics ramped up attacks on the career educator. The lawsuit alleges that some even compared her to the Devil after publicly associating with LGBTQ+ people and students.
"Sadly, the Marshall School District has sided with these critics," her lawyers wrote.
What followed was an "escalating series of adverse actions" taken by the Marshall School District, said the lawsuit. She claims that the school targeted her by threatening her employment, conducting a "bad-faith" investigation, putting her on indefinite involuntary leave, suspending her without pay and putting a notice of deficiency in her personnel file.
The complaint says that the deficiencies were "false, distorted, and/or related to Thomas's association with members of the LGBTQ community."
Thomas also claims that the District attempted to get her to quit by removing her as principal and assigning her to a "demeaning 'special projects' position."
At one point, Marshall Public Schools Superintendent Jeremy Williams, who is named as a defendant in the case, told Thomas he could "make this all go away" if she stepped down, according to the complaint.
The school removed the Pride flag in August 2021 after settling a lawsuit brought by residents who opposed it.
The Blade reached out to Williams for comment but did not receive a response. However, according to the Marshall Independent, Williams did release a statement on the matter.
"Marshall Public Schools is committed to the education of every child and has strong policies and practices in place against discrimination, against both students and staff members. The school district is committed to creating a respectful, inclusive, and safe learning and working environment for students, staff and our families," Williams said. "While the school cannot comment about the specific allegations made in the complaint, the school district strongly denies any allegation of discriminatory conduct. The school will vigorously defend itself against these allegations."
In addition, Thomas alleges that she resisted unwanted sexual advancements from school board member Bill Swope. She claims she told Williams about the sexual harassment.
As of Thursday, the school has not filed a response, and no hearing has been scheduled yet.
Thomas is seeking a jury trial, damages and reinstatement as principal of Marshall Middle School.