New momentum for ENDA as Senate vote nears
Senate Dems united in support of legislation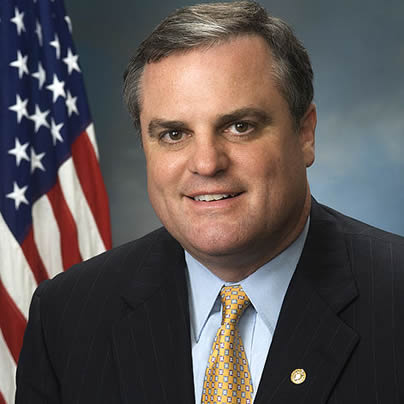 In the days after Senate Majority Leader Harry Reid (D-Nev.) announced on Monday a floor vote would take place on the Employment Non-Discrimination Act before Thanksgiving, the Democratic caucus has become united on the bill, but some Republican senators are still undecided.
Following Reid's announcement, the three Democratic holdouts — Sens. Bill Nelson (D-Fla.), Mark Pryor (D-Ark.) and Joe Manchin (D-W.Va.) — signaled they'd support the legislation as Sen. Rob Portman (R-Ohio) reportedly said he's "inclined to support" the measure.
Meanwhile, Sen. Jeff Flake (R-Ariz.) expressed opposition to ENDA in its current form and Orrin Hatch (R-Utah) may be wavering following his support for the bill in committee.
Reid said during his routine weekly news conference on Tuesday that he feels "pretty good" about ENDA, but wasn't more specific about the timing of the vote.
"I don't know if we'll do it next week but we're going to do it this work period," Reid said. "The lead Democrat on that has been [Sen.] Jeff Merkley of Oregon and he said earlier today he has 59 supporters. So, that's pretty good. That's counting a new senator on Thursday."
The bill, which has languished in Congress in various versions since the 1970s, would prohibit businesses from discriminating against or firing workers for being LGBT.
Merkley, ENDA's chief sponsor, was optimistic when speaking with the Washington Blade on Capitol Hill about whether he thinks the bill will pass the Senate.
"I think it will," Merkley said. "There's just a tremendous sense that this is an issue of fairness, an issue of equality under our Constitution, an issue of opportunity. If you don't have a chance to have fairness in getting a job, you really don't have a fair chance to live the American dream."
Merkley wouldn't predict the number of votes that ENDA will receive on the Senate floor and deferred details about the timing of the vote to Democratic leadership, but said "momentum continues to build."
Following Nelson's signal earlier Tuesday that he would become the 54th sponsor of ENDA, Pryor, in a development first reported by Arkansas Times, announced he'd vote for the legislation on the floor. Michael Teague, a Pryor spokesperson, confirmed to the Blade that Pryor "will vote 'yes' on ENDA."
Tico Almeida, president of Freedom to Work, said Pryor's support for ENDA is evidence that momentum for the legislation is "building fast."
"We applaud him for standing up for basic fairness and predict that his decision will be supported by Arkansas business leaders from small to big," Almeida said. "It helps that Wal-Mart, the state's largest employer, has protected gay and lesbian workers from discrimination for nearly 10 years, and adopted workplace protections for transgender employees two years ago."
The next day, Sen. Joe Manchin (D-W.Va.) signaled he'd also for vote ENDA. Asked whether he could confirm a tweet via the New York Times that the senator would vote for the bill, Jonathan Kott, a Manchin spokesperson, replied, "I can."
Republicans hold differing views
Sen. Chuck Schumer (D-N.Y.), a senator known for his outreach to the LGBT community, was optimistic when speaking to the Blade about ENDA's chances on the Senate floor.
"I think it has a very good chance of passing; I'm very positive about it," Schumer said. "There are at least four Republicans who have either voted for it, or committed to voting for it, and five or six other who seem positive. I'm very optimistic."
One Republican who may be in that column is Portman, who earlier this year after learning his son is gay. The Cincinnati Inquirer reported that Portman said Tuesday he's "inclined to support" ENDA.
Caitlin Dunn, a Portman spokesperson, told the Blade afterward the Ohio Republican supports the basic premise of the legislation, but has concerns about "religious liberties."
"Sen. Portman agrees with the underlying principle of ENDA and supports ending unjust discrimination based on one's sexual orientation," Portman said. "He doesn't think one of his constituents should be able to be fired just because he or she is gay. The bill as it stands, however, is not perfect, and he continues to discuss his concerns with the bill's sponsors and is exploring ways to strengthen the bill, including its religious liberties provisions."
But other Republicans considered possible "yes" votes on ENDA don't share the same view.
Flake, who voted for a gay-only version of ENDA without transgender protections as U.S. House member in 2007, told the Blade in response to how he'll vote on the bill this time around, "If it's the House version, I'll vote for it, like I did then."
When the Blade pointed out that the 2013 version of ENDA in the Senate is different from the 2007 version in the House, Flake replied, "If they don't change it, I'll vote 'no.'"
Asked if it was the trans protections in the current version of ENDA to which he had objections, Flake replied, "Yeah. I have issues with that."
Another Republican previously cited as a potential "yes" vote on ENDA, Sen. Pat Toomey (R-Pa.) told the Blade he hadn't seen ENDA, nor would he say if he was leaning to vote one way or the other.
Sen. Marco Rubio (R-Fla.) had similarly said he hasn't thoroughly examined ENDA when speaking with the Blade, but indicated some initial concerns about the legislation.
"I need to look at the bill," Rubio said. "I just saw yesterday news reports that it might come up next week, so I'll be studying it. I can just tell you my initial read on it. I have concerns about it that I'll address at a later time."
Sen. John McCain (R-Ariz.), identified by Freedom to Work as a potential ENDA supporter, was similarly non-committal about the legislation.
"I haven't had a chance to examine it carefully," McCain told the Blade. "I don't know when it's coming up to tell you the truth."
The Washington Post reported last week that Cindy McCain, the senator's wife, signed a postcard to her husband given to her by a Human Rights Campaign volunteer encouraging him to support ENDA.
McCain acknowledged he has received the postcard as he maintained he hasn't yet taken a position on ENDA.
"My wife is — as most women are — a very independent thinker and is entitled to her views, and I respect those views — not only of my wife, but of my daughter and my sons," McCain said.
Additionally, the two Republicans that joined Democrats on the Senate Health, Education, Labor & Pensions Committee in voting left the door open for them to vote "no" on the Senate floor when speaking with the Washington Blade.
Sen. Orrin Hatch (R-Utah), one of these Republicans, gave himself considerable latitude in reversing the "yes" vote that he delivered in committee on ENDA.
"I'm looking at it," Hatch said. "I want to make sure I understand it fully before I make a decision."
Sen. Lisa Murkowski (R-Alaska), the other Republican, also opened the door for her to vote "no" when asked if she'd vote on the floor for the bill she supported in committee.
"Obviously, we're going to see what's happening with amendments, but, yes, I was supportive of ENDA as it came out in committee, and I'm looking forward to seeing it on the floor," Murkowski said.
Assuming these two Republicans continue their support for ENDA, the 54 sponsors of ENDA vote for it as well as Manchin and Pryor, the legislation now has the 59 votes that Reid cited during the news conference. That's still one vote short of overcoming a filibuster.
Religious exemption draws concern
Meanwhile, concerns among some LGBT advocates persist over the religious exemption over fears the language is too broad and provides insufficient protection for LGBT people working at religious organizations.
The grassroots LGBT group GetEQUAL is petitioning Sens. Elizabeth Warren (D-Mass.), Al Franken (D-Minn.), Kirsten Gillibrand (D-N.Y.), and Sherrod Brown (D-Ohio) to speak out against ENDA's broad religious exemptions on the floor of the Senate, touting more than 5,600 petition signatures.
Heather Cronk, managing director of GetEQUAL, said her organization doesn't support ENDA with the current religious exemption in place.
"We don't support the current version of ENDA specifically because the broad religious exemptions contained in the bill will set a really harmful precedent that discrimination against LGBT folks is acceptable if the person or institution discriminating simply claims religion," Cronk said.
Currently, ENDA has a religious exemption that provides leeway for religious organizations, like churches or religious schools, to discriminate against LGBT employees. That same leeway isn't found under Title VII of the Civil Rights Act of 1964, which prohibits religious organizations from discriminating on the basis of race, gender or national origin.
The lack of support for ENDA from GetEQUAL — as well as concern expressed by groups like the American Civil Liberties Union — recalls the discontinued support for ENDA in 2007 when the transgender protections were dropped before a House vote took place. Despite this concern, groups such as Freedom to Work and the Human Rights Campaign continue to support ENDA with its current religious exemption.
Merkley reiterated on Tuesday he's happy with the current language, but noted there will be a debate process and opportunity for amendments on the Senate floor.
"I'm very satisfied with the religious exemption" Merkley said. "I'm sure there'll be a variety of amendments put forward, but I think it strikes the right balance."
According to sources familiar with the bill, Merkley rejected an ACLU proposal prior to ENDA's introduction to limit the religious exemption.
One question is whether the White House is actively engaged in pushing lawmakers to support ENDA. On Monday, White House Press Secretary Jay Carney told the Blade that President Obama "will encourage continued movement" on ENDA, but wouldn't go into details about legislative strategy.
Merkley said he hasn't seen the White House or Obama engage in lobbying efforts on ENDA, but assumed that would take place at a later point in time.
"At this point, the conversation has been mostly within the Senate, but I'm sure they'll have something to say about it before we're done," Merkley said.
Among the undecided senators claiming that he hasn't heard from the White House is Toomey. Asked by the Blade whether Obama or the White House has reached out to him about the bill, Toomey said he hasn't heard anything.
Even if the Senate approves ENDA, the more challenging obstacle is passage in the House, where Republican control will make progress significantly more challenging.
For his part, Schumer said the vote in the Senate will create momentum regardless of the fate of ENDA in the House.
"You never know," Schumer said. "You build momentum in the Senate and it's the right thing do. Remember what Martin Luther King said, 'The arc of history is long, but it bends in the direction of justice.' So, that's what I say with the House of Representatives."
UPDATE: This article has been updated in the aftermath of news that Sen. Joe Manchin (D-W.Va.) would sign on as an ENDA supporter.
D.C. ends funding for Casa Ruby LGBTQ homeless shelter
Group scrambles to raise private donations to prevent Oct. 1 shutdown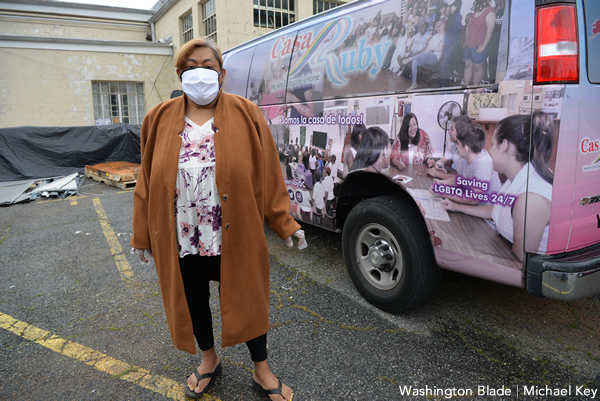 The D.C. Department of Human Services on Sept. 24 informed the LGBTQ community services center Casa Ruby that it will not renew its annual $850,000 grant that, among other things, funds Casa Ruby's emergency "low-barrier" shelter for homeless LGBTQ youth and adults.
Casa Ruby founder and CEO Ruby Corado said DHS informed her of its decision to discontinue the grant less than a week before the end of the current fiscal year when the funding is set to expire, which could result in the shutdown of the shelter on Oct. 1.
Corado has since launched a GoFundMe appeal seeking help from the community so that the 50-bed shelter and 24-hour drop-in space located at the Casa Ruby headquarters at 7530 Georgia Ave., N.W. might continue to serve LGBTQ people in need of emergency housing.
"After 9 years of serving thousands of homeless LGBTQ youth & adults, we are forced to close the doors to our most important program @Casa Ruby (Our Low Barrier Housing) on October 1st, 2021," Corado states in her GoFundMe appeal.
"This is also a terrible loss of 30 jobs that will impact the lives of Trans & Gender Non-Binary & other employees who now may face homelessness themselves – A HORRIBLE TRAGEDY," the GoFundMe appeal states.
Corado told the Washington Blade on Monday that she and the Casa Ruby staff were hopeful but uncertain whether emergency contributions from members of the community might be able to prevent a complete shutdown of the shelter.
"We appreciate the work that Casa Ruby has done to serve homeless youth in the District of Columbia," said DHS Interim Deputy Administrator Sheila Strain Clark in a Sept. 24 letter informing Corado of the decision to discontinue the funding.
"Under Article VI. A. of Grant Agreement #DHS-FSA-HYRA-006-18 LGBTQ Homeless Youth Low-Barrier Beds (Grant Agreement), DHS at its discretion, and subject to the availability of funding, may extend the Grant Agreement for additional terms," Strain Clark says in her letter. "At this time, DHS has decided not to extend the Grant Agreement for Fiscal Year (FY) 2022," she wrote.
Strain Clark didn't provide a specific reason for the DHS decision to discontinue the funds in her letter to Corado. In response to a request from the Blade for the reason why the grant was terminated, a DHS spokesperson sent the Blade a statement from DHS Director Laura Zeilinger commenting on the DHS decision, but that also did not provide a specific reason for the funding cutoff.
"DHS is committed to the safety and well-being of youth, including LGBTQ+ youth, who we know disproportionately experience homelessness," Zeilinger says in the statement. "We are not decreasing funding for LGBTQ+ youth services which will continue to be offered through the Continuum of Care," the statement says.
"Covenant House Washington and True Colors will now provide LGBTQ+ specific services for youth in the Deanwood community of Ward 7. These are new services in this community," the statement continues.
"Grant renewal decisions are based on ensuring accountability and continuity of quality services and the safety of our residents," the statement says. "We value the community organizations who deliver these services and honor the contribution of Casa Ruby."
The decision by DHS to discontinue the Casa Ruby homeless shelter grant came just under six months after Casa Ruby filed an administrative complaint against DHS, charging the D.C. government agency with ignoring and failing to stop one of its high-level officials from allegedly engaging in anti-transgender discrimination and retaliation against Casa Ruby.
The six-page complaint, which was prepared by Casa Ruby's attorneys and signed by Corado, says the DHS official in question, whose name is redacted from the publicly released copy of the complaint, had acted in an abusive and discriminatory way toward Corado and other Casa Ruby employees. It says the targeted employees were overseeing three DHS grants awarded to Casa Ruby that funded shelters providing emergency housing for homeless LGBTQ people.
DHS has declined to comment on the complaint, saying it was investigating its allegation.
Corado told the Blade at the time Casa Ruby announced it had filed the complaint that the DHS official named in the complaint appeared to be retaliating against Casa Ruby, among other reasons, for a decision by Corado to decline a request by DHS that Casa Ruby move its main homeless shelter to a site on Division Avenue in Northeast D.C. Corado said she believed the location would be unsafe for Casa Ruby's transgender clients.
Corado points out that the location to which the DHS official wanted the Casa Ruby shelter to move was near the site on Division Avenue where transgender woman Deeniquia "Dee Dee" Dodds, 22, was shot to death during a July 4, 2006, armed robbery in which D.C. police said a group of male suspects were targeting transgender women.
Corado said that as of Tuesday, members of the community and supporters had contributed about $75,000 through the GoFundMe appeal, raising hope that an immediate shutdown of the shelter could be averted.
Africa reeling from scourge of gender-based violence
The pandemic, poverty has exacerbated problem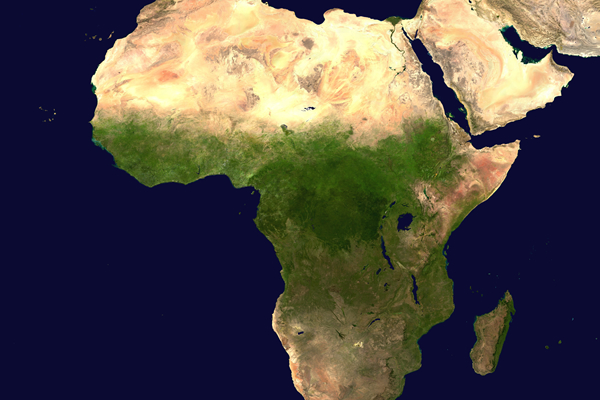 The effects of gender-based violence in Africa are now being reverberated throughout the continent and have been exacerbated by the current COVID-19 pandemic.
A country like South Africa, according to Public Works and Administration Minister Ayanda Dlodlo, has the highest rate of gender-based violence in the world, a sentiment which was recently echoed by Police Minister Bheki Cele, who cited that over 1,000 cases of gender-based violence are recorded on a daily basis in South Africa.
However, regardless of South Africa being a hotspot of gender-based violence, it is not the only country on the continent that is witnessing a surge in the cases. Relatively all the countries in Africa are now seeing an increase in the number of gender-based violence cases.
Although cultural and religious norms have been seen as the major contributing facets to the issue of gender-based violence, unemployment and poverty have also been highlighted as among the major reasons of the scourge and as a matter of fact, Africa is regarded as the poorest continent by organizations such as the U.N., the World Bank and the International Monetary Fund with millions surviving on less than $1 per day.
As a result, the anger associated with hunger, unemployment and lack of financial stability is in most cases channeled towards the "weaker gender" as Nicola Rodda, a victim and gender-based violence activist from South Africa who I interviewed aptly states.
"My view of the cause of GBV is that the abuser feels a lack of power in some situation and regains the sense of power through abusing the weaker victim whether be it sexually, physically, emotionally or financially with male on female and male on child violence being the most common but they are not the only forms that occur but the two I have mentioned are the most prevalent," said Nicola.
With that being said, I also took up the cause by interviewing Knowledge Chuma from Zambia, the founder and chairperson of the Zambia Wushu Kungfu Federation, a non-profit organization that focuses on the issues of gender-based violence and he also shared the same sentiment as Nicola citing poverty and cultural norms as the root cause of GBV in Africa.
"The causes of GBV are deeply rooted in discriminatory cultural beliefs and attitudes that perpetuate inequality and powerlessness, in particular of women and girls. Various actors such as poverty, lack of education, livelihood opportunities, impunity for crimes and abuse also tend to contribute and reinforce the culture of discrimination and violence based on the gender. Such factors are frequently aggravated in terms of conflict and displacement as the rule of law, as societies and families are torn apart," said Knowledge.
So now that the root cause of gender-based violence has been established one would now ask how then can the continent rid itself from such a heinous act? Rest assured this is the follow-up question I also brought before Knowledge and Nicola which they tackled immaculately and not only that but they both came out with ways a victim of gender-based violence can be able to get assistance from law enforcement agents and how friends and family members can help in the journey to recovery.
"The best way for the continent to tackle gender-based violence is multifactorial. In Africa, we tend to have patriarchal societies in which men hold greater power than women so it is easy for a conflict to degenerate into a situation where a man exerts his power over the woman either physically or sexually. So the solution to that is not just changing patriarchal roles although education can play a large role of understanding gender equality and equal gender rights, however, in the broader context the sense of helplessness and powerlessness created in the abuser can often be the result of poverty, unemployment, feeling powerless in the face of economic or other social pressure so uplifting the continent as a whole in terms of job availability, quality of life, quality of services would help in bringing out gender-based violence in addition to a strong element of education on gender equality and the right of a female or child not to live in fear of their abuser.
Moreover, if one reports a case of gender-based violence to the police and no action is taken then the victim should approach the head of the police and if there is still no action then the victim has to approach the courts directly for perfection and the best way family members and friends can assist a victim of gender-based violence would be to help the victim, remove herself or himself from the circumstances because by and large it is true that an abuser who abuses once will abuse again so the best way is not to allow the victim near the abuser.
In addition, a victim can also approach trauma counsellors that can be accessed through the police or gender-based violence organizations free of charge and also to find further recourse of being able to defend herself or himself be it physically or financially through organizations like Legal Aid or religious organizations because that can protect the victim and provide support for the victim in the longer term from being re-abused either by the original abuser or another person who might perceive him or her vulnerable. Gender-based violence is one of the biggest scourges that is being faced on the African continent," said Nicola.
Moreover, Knowledge cited that education is the most important factor and also shared some words of wisdom on how friends and family can be able to approach and engage with a victim of gender-based violence that does not show apathy.
"What the African continent must do to avert the issue of GBV is to educate youths and adults about this serious issue. We need to give the youths the arts, sports or academic skills that they might need in future to avoid lack of employment that leads to depression and anxiety because that also contributes to the causes of GBV.
If friends or family are approached by the victim the best way is by responding in a soothing manner such as, I believe you! I am here for you! You can tell me as much or as little as you want! It is not your fault! I am glad you told me! I am glad you came to me! So we need to support them because if we do not it becomes discriminatory," said Knowledge.
The onus is now upon every African to do their best in lynching off gender-based violence as on a daily basis it leaves someone with a mental or physical challenge and catastrophic challenges for the bereaved.
Columbia University researcher helps evacuate LGBTQ Afghans
Taylor Hirschberg working with Belgian lawmaker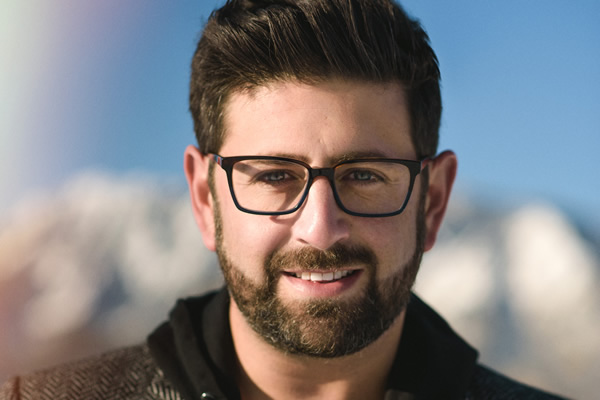 Some of the 50 human rights activists that a Columbia University researcher has helped evacuate from Afghanistan since the Taliban regained control of the country are LGBTQ.
A press release the Washington Blade received notes Taylor Hirschberg — a researcher at the Columbia Mailman School of Public Health who is also a Hearst Foundation scholar — has worked with Belgian Sen. Orry Vandewauwer to help 50 Afghan "activists leave the country."
"The refugees included those who identify as LGBTQI+ or gender non-conforming and their families," notes the press release.
The Blade has seen the list of names of the more than 100 people that Hirschberg and Vandewauwer are trying to evacuate from Afghanistan. These include the country's first female police officer, the independent U.N. expert on Afghanistan and a number of LGBTQ activists.
"There are many more human rights advocates we are still trying to get out of the country," said Hirschberg.
Hirschberg has previously worked in Afghanistan.
He and Vandewauwer were also once affiliated with Skateistan, an NGO that works with children in the Middle East and Africa. The documentary "Learning to Skateboard in a Warzone" features it.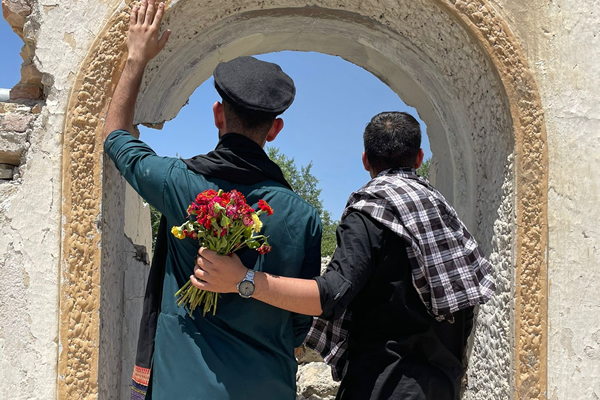 The Taliban entered Kabul, the Afghan capital on Aug. 15 and toppled then-President Ashraf Ghani's government.
A Taliban judge over the summer said the group would once again execute gay men if it were to return to power in Afghanistan.
The U.S. evacuated more than 100,000 people from the country before American troops completed their withdrawal from the country on Aug. 30. It remains unclear whether the U.S. was able to successfully evacuate LGBTQ Afghans from Kabul International Airport, but Immigration Equality earlier this month said it spoke "directly" with 50 LGBTQ Afghans before the U.S. withdrawal ended.
Secretary of State Antony Blinken on Sept. 13 during a House Foreign Affairs Committee hearing expressed concern over the fate of LGBTQ Afghans who remain in the country.
The Human Rights Campaign; Immigration Equality; the Council for Global Equality; Rainbow Railroad; the International Refugee Assistance Project and the Organization for Refuge, Asylum and Migration have called upon the Biden administration to develop a 10-point plan to protect LGBTQ Afghans that includes prioritizing "the evacuation and resettlement of vulnerable refugee populations, including LGBTQI people." Canada is thus far the only country that has specifically said it would offer refuge to LGBTQ Afghans.
Hirschberg on Monday told the Blade that he and Vandewauwer have charted an airplane to evacuate Afghans, but they have not secured a "third country" to which they can bring them.
"Currently, we are working towards a multi-country collaboration for resettlement," he said. "Our work has now expanded to include election officials and women activists, including those from the LGBTQI+ community."
Hirschberg also urged the U.S. and humanitarian organizations to do more to help evacuate LGBTQ people, human rights activists and others from Afghanistan
"I understand that this is complicated and that I do not have all the working pieces but why does the United States ignore those who helped in building their agenda in Afghanistan. The same goes for multilateral organizations," he told the Blade. "Why are neither funding charters and creating agreement with partnering states? If they are why have the not contacted the countries that we are creating collaborations with?"