New momentum for ENDA as Senate vote nears
Senate Dems united in support of legislation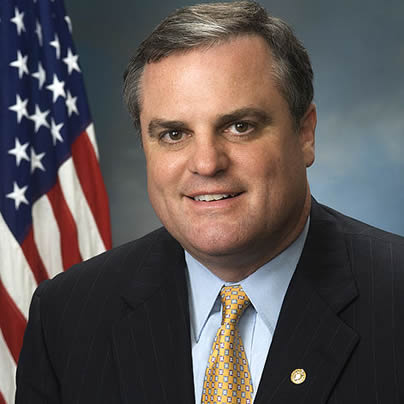 In the days after Senate Majority Leader Harry Reid (D-Nev.) announced on Monday a floor vote would take place on the Employment Non-Discrimination Act before Thanksgiving, the Democratic caucus has become united on the bill, but some Republican senators are still undecided.
Following Reid's announcement, the three Democratic holdouts — Sens. Bill Nelson (D-Fla.), Mark Pryor (D-Ark.) and Joe Manchin (D-W.Va.) — signaled they'd support the legislation as Sen. Rob Portman (R-Ohio) reportedly said he's "inclined to support" the measure.
Meanwhile, Sen. Jeff Flake (R-Ariz.) expressed opposition to ENDA in its current form and Orrin Hatch (R-Utah) may be wavering following his support for the bill in committee.
Reid said during his routine weekly news conference on Tuesday that he feels "pretty good" about ENDA, but wasn't more specific about the timing of the vote.
"I don't know if we'll do it next week but we're going to do it this work period," Reid said. "The lead Democrat on that has been [Sen.] Jeff Merkley of Oregon and he said earlier today he has 59 supporters. So, that's pretty good. That's counting a new senator on Thursday."
The bill, which has languished in Congress in various versions since the 1970s, would prohibit businesses from discriminating against or firing workers for being LGBT.
Merkley, ENDA's chief sponsor, was optimistic when speaking with the Washington Blade on Capitol Hill about whether he thinks the bill will pass the Senate.
"I think it will," Merkley said. "There's just a tremendous sense that this is an issue of fairness, an issue of equality under our Constitution, an issue of opportunity. If you don't have a chance to have fairness in getting a job, you really don't have a fair chance to live the American dream."
Merkley wouldn't predict the number of votes that ENDA will receive on the Senate floor and deferred details about the timing of the vote to Democratic leadership, but said "momentum continues to build."
Following Nelson's signal earlier Tuesday that he would become the 54th sponsor of ENDA, Pryor, in a development first reported by Arkansas Times, announced he'd vote for the legislation on the floor. Michael Teague, a Pryor spokesperson, confirmed to the Blade that Pryor "will vote 'yes' on ENDA."
Tico Almeida, president of Freedom to Work, said Pryor's support for ENDA is evidence that momentum for the legislation is "building fast."
"We applaud him for standing up for basic fairness and predict that his decision will be supported by Arkansas business leaders from small to big," Almeida said. "It helps that Wal-Mart, the state's largest employer, has protected gay and lesbian workers from discrimination for nearly 10 years, and adopted workplace protections for transgender employees two years ago."
The next day, Sen. Joe Manchin (D-W.Va.) signaled he'd also for vote ENDA. Asked whether he could confirm a tweet via the New York Times that the senator would vote for the bill, Jonathan Kott, a Manchin spokesperson, replied, "I can."
Republicans hold differing views
Sen. Chuck Schumer (D-N.Y.), a senator known for his outreach to the LGBT community, was optimistic when speaking to the Blade about ENDA's chances on the Senate floor.
"I think it has a very good chance of passing; I'm very positive about it," Schumer said. "There are at least four Republicans who have either voted for it, or committed to voting for it, and five or six other who seem positive. I'm very optimistic."
One Republican who may be in that column is Portman, who earlier this year after learning his son is gay. The Cincinnati Inquirer reported that Portman said Tuesday he's "inclined to support" ENDA.
Caitlin Dunn, a Portman spokesperson, told the Blade afterward the Ohio Republican supports the basic premise of the legislation, but has concerns about "religious liberties."
"Sen. Portman agrees with the underlying principle of ENDA and supports ending unjust discrimination based on one's sexual orientation," Portman said. "He doesn't think one of his constituents should be able to be fired just because he or she is gay. The bill as it stands, however, is not perfect, and he continues to discuss his concerns with the bill's sponsors and is exploring ways to strengthen the bill, including its religious liberties provisions."
But other Republicans considered possible "yes" votes on ENDA don't share the same view.
Flake, who voted for a gay-only version of ENDA without transgender protections as U.S. House member in 2007, told the Blade in response to how he'll vote on the bill this time around, "If it's the House version, I'll vote for it, like I did then."
When the Blade pointed out that the 2013 version of ENDA in the Senate is different from the 2007 version in the House, Flake replied, "If they don't change it, I'll vote 'no.'"
Asked if it was the trans protections in the current version of ENDA to which he had objections, Flake replied, "Yeah. I have issues with that."
Another Republican previously cited as a potential "yes" vote on ENDA, Sen. Pat Toomey (R-Pa.) told the Blade he hadn't seen ENDA, nor would he say if he was leaning to vote one way or the other.
Sen. Marco Rubio (R-Fla.) had similarly said he hasn't thoroughly examined ENDA when speaking with the Blade, but indicated some initial concerns about the legislation.
"I need to look at the bill," Rubio said. "I just saw yesterday news reports that it might come up next week, so I'll be studying it. I can just tell you my initial read on it. I have concerns about it that I'll address at a later time."
Sen. John McCain (R-Ariz.), identified by Freedom to Work as a potential ENDA supporter, was similarly non-committal about the legislation.
"I haven't had a chance to examine it carefully," McCain told the Blade. "I don't know when it's coming up to tell you the truth."
The Washington Post reported last week that Cindy McCain, the senator's wife, signed a postcard to her husband given to her by a Human Rights Campaign volunteer encouraging him to support ENDA.
McCain acknowledged he has received the postcard as he maintained he hasn't yet taken a position on ENDA.
"My wife is — as most women are — a very independent thinker and is entitled to her views, and I respect those views — not only of my wife, but of my daughter and my sons," McCain said.
Additionally, the two Republicans that joined Democrats on the Senate Health, Education, Labor & Pensions Committee in voting left the door open for them to vote "no" on the Senate floor when speaking with the Washington Blade.
Sen. Orrin Hatch (R-Utah), one of these Republicans, gave himself considerable latitude in reversing the "yes" vote that he delivered in committee on ENDA.
"I'm looking at it," Hatch said. "I want to make sure I understand it fully before I make a decision."
Sen. Lisa Murkowski (R-Alaska), the other Republican, also opened the door for her to vote "no" when asked if she'd vote on the floor for the bill she supported in committee.
"Obviously, we're going to see what's happening with amendments, but, yes, I was supportive of ENDA as it came out in committee, and I'm looking forward to seeing it on the floor," Murkowski said.
Assuming these two Republicans continue their support for ENDA, the 54 sponsors of ENDA vote for it as well as Manchin and Pryor, the legislation now has the 59 votes that Reid cited during the news conference. That's still one vote short of overcoming a filibuster.
Religious exemption draws concern
Meanwhile, concerns among some LGBT advocates persist over the religious exemption over fears the language is too broad and provides insufficient protection for LGBT people working at religious organizations.
The grassroots LGBT group GetEQUAL is petitioning Sens. Elizabeth Warren (D-Mass.), Al Franken (D-Minn.), Kirsten Gillibrand (D-N.Y.), and Sherrod Brown (D-Ohio) to speak out against ENDA's broad religious exemptions on the floor of the Senate, touting more than 5,600 petition signatures.
Heather Cronk, managing director of GetEQUAL, said her organization doesn't support ENDA with the current religious exemption in place.
"We don't support the current version of ENDA specifically because the broad religious exemptions contained in the bill will set a really harmful precedent that discrimination against LGBT folks is acceptable if the person or institution discriminating simply claims religion," Cronk said.
Currently, ENDA has a religious exemption that provides leeway for religious organizations, like churches or religious schools, to discriminate against LGBT employees. That same leeway isn't found under Title VII of the Civil Rights Act of 1964, which prohibits religious organizations from discriminating on the basis of race, gender or national origin.
The lack of support for ENDA from GetEQUAL — as well as concern expressed by groups like the American Civil Liberties Union — recalls the discontinued support for ENDA in 2007 when the transgender protections were dropped before a House vote took place. Despite this concern, groups such as Freedom to Work and the Human Rights Campaign continue to support ENDA with its current religious exemption.
Merkley reiterated on Tuesday he's happy with the current language, but noted there will be a debate process and opportunity for amendments on the Senate floor.
"I'm very satisfied with the religious exemption" Merkley said. "I'm sure there'll be a variety of amendments put forward, but I think it strikes the right balance."
According to sources familiar with the bill, Merkley rejected an ACLU proposal prior to ENDA's introduction to limit the religious exemption.
One question is whether the White House is actively engaged in pushing lawmakers to support ENDA. On Monday, White House Press Secretary Jay Carney told the Blade that President Obama "will encourage continued movement" on ENDA, but wouldn't go into details about legislative strategy.
Merkley said he hasn't seen the White House or Obama engage in lobbying efforts on ENDA, but assumed that would take place at a later point in time.
"At this point, the conversation has been mostly within the Senate, but I'm sure they'll have something to say about it before we're done," Merkley said.
Among the undecided senators claiming that he hasn't heard from the White House is Toomey. Asked by the Blade whether Obama or the White House has reached out to him about the bill, Toomey said he hasn't heard anything.
Even if the Senate approves ENDA, the more challenging obstacle is passage in the House, where Republican control will make progress significantly more challenging.
For his part, Schumer said the vote in the Senate will create momentum regardless of the fate of ENDA in the House.
"You never know," Schumer said. "You build momentum in the Senate and it's the right thing do. Remember what Martin Luther King said, 'The arc of history is long, but it bends in the direction of justice.' So, that's what I say with the House of Representatives."
UPDATE: This article has been updated in the aftermath of news that Sen. Joe Manchin (D-W.Va.) would sign on as an ENDA supporter.
Bomb threat shuts down Takoma Park holiday drag show
MotorKat evacuated when Tara Hoot was performing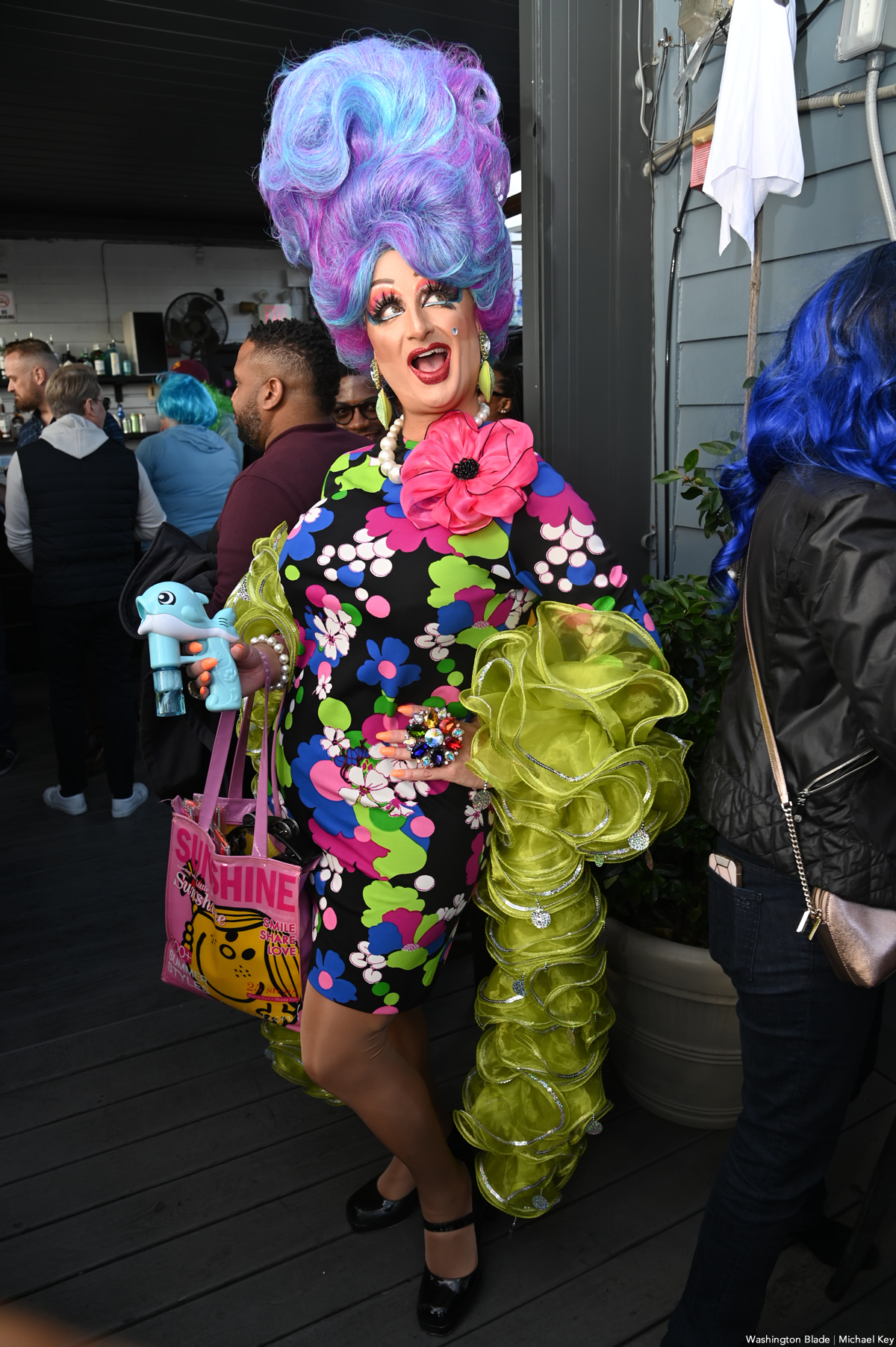 Police cordoned off a popular strip in Takoma Park on Saturday after a bomb threat shut down businesses, including a holiday performance by drag artist Tara Hoot.
MotorKat General Manager Mike Rothman told the Washington Blade that Takoma Park police notified them of a bomb threat to their business around noon.
Tara Hoot was delivering a holiday brunch performance at the MotorKat when the evacuation order came in.
Rothman said they were notified "five minutes into her final performance." Tara Hoot herself told the audience to leave for their safety.
Police proceeded to tape off the area and evacuated all businesses between Eastern and South Carroll Avenues, including TakomaBevCo, which is co-owned by MotorKat Wine Director Seth Cook.
Cook told the Blade that police brought in "bomb-sniffing dogs" to clear the area before allowing businesses to reopen around 2 p.m.
"The timing is unfortunate as this is one of the busiest weekends before the holidays," Cook said.
Rothman was also disappointed by the lost revenue due to what ultimately was a false threat, but he was firm that the Takoma Park LGBTQ community is resilient and would continue to thrive despite this setback.
"Takoma Park is a pretty proud and resilient community," he said. "I don't expect people to lay down and be scared by this."
MotorKat and TakomaBevCo reopened for business around 3 p.m.
Anti-LGBTQ provisions removed from NDAA
New version omits restriction on gender affirming care, book and drag bans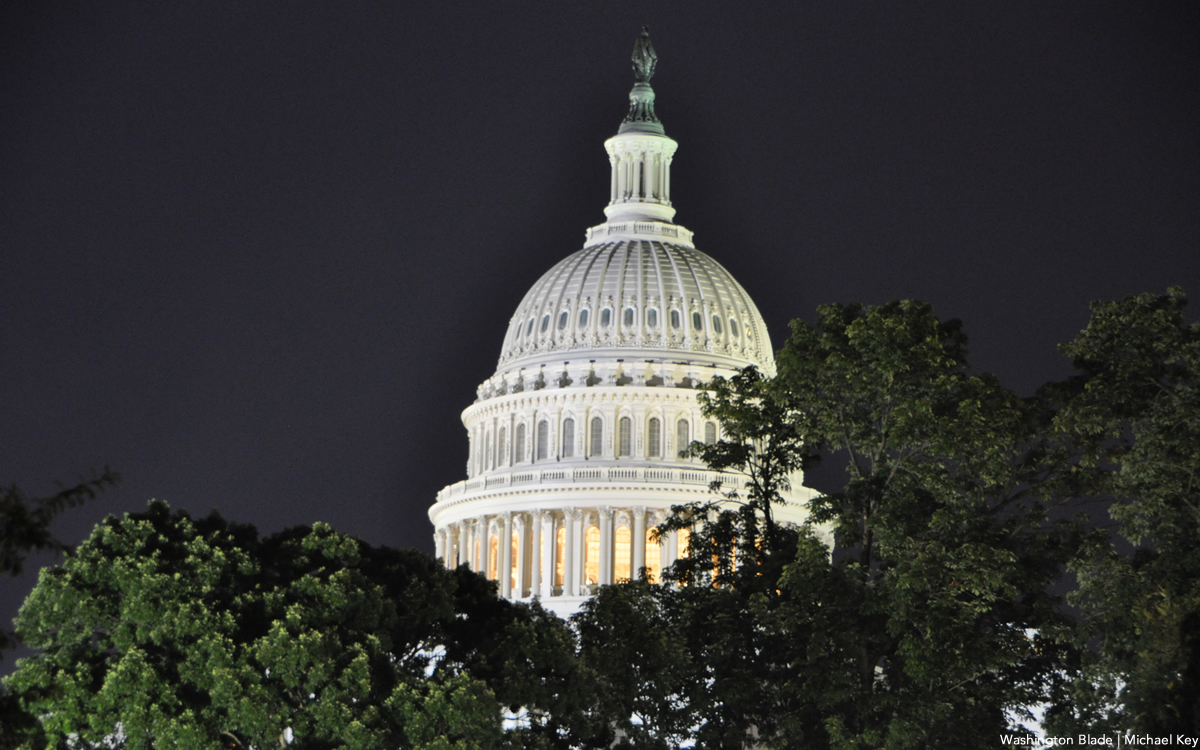 Anti-LGBTQ provisions submitted by House Republicans to the National Defense Authorization Act (NDAA) have been removed from the defense spending bill, triggering outrage from conservative lawmakers and praise from LGBTQ groups.
The conference version of the bill was released on Thursday.
This week saw the revocation of two measures targeting gender affirming care along with the book ban and drag ban. Language stipulating the list of approved flags that can be flown at military bases was amended such that more flags can be added on a discretionary basis.
"MAGA members of Congress tried to hijack the National Defense Authorization Act to advance their anti-LGBTQ+ agenda, attempting to riddle it with discriminatory riders," Human Rights Campaign National Press Secretary Brandon Wolf said in a statement to the Washington Blade.
His statement continued, "They failed and equality won. Anti-LGBTQ+ provisions, including efforts to restrict access to gender affirming care, were rejected. The anti-LGBTQ+ agenda continues to be deeply unpopular across the country and a failing political strategy."
Wolf thanked U.S. Sen. Jack Reed (D-R.I.) and U.S. Rep. Adam Smith (D-Wash.) for "defending equality and defeating attacks on the community."
Pledging to vote "no" on the bill, Republican U.S. Rep. Marjorie Taylor Greene (Ga.) said in a post on X, "I was appointed to the NDAA conference committee but NEVER got to work on the final version of the NDAA bc they made the deal behind closed doors and here are the horrible results."
I was appointed to the NDAA conference committee but NEVER got to work on the final version of the NDAA bc they made the deal behind closed doors and here are the horrible results 👇

I'm voting NO!!! pic.twitter.com/jnmTHCgzNG

— Rep. Marjorie Taylor Greene🇺🇸 (@RepMTG) December 8, 2023
Transgender people seek government job consideration in India's Maharashtra state
Court petition filed on Nov. 29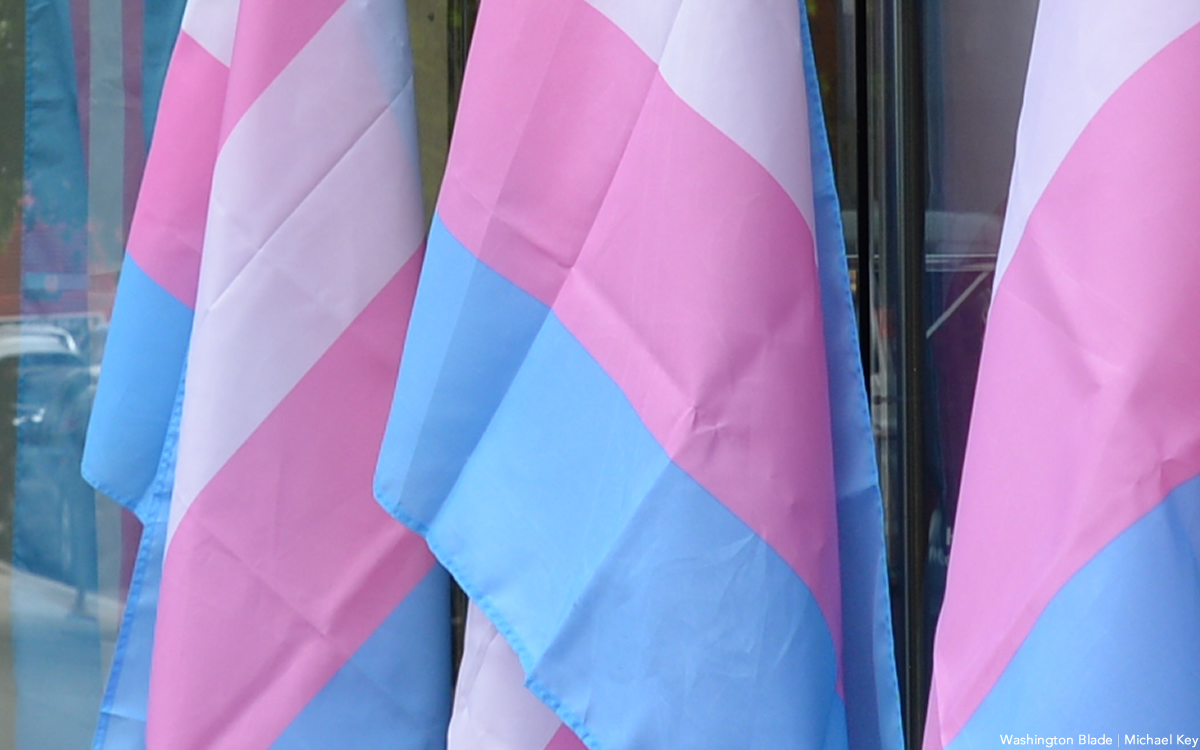 Ancient texts in India have recorded the history and cultural importance of transgender people, but the community is still marginalized and vulnerable in the country. Although the government offers many vulnerable castes a specific number of slots for education and government jobs, trans people still have no such benefit and continue to face discrimination across the nation.
Three trans people from Maharashtra state on Nov. 29 filed an application to the Maharashtra Administrative Tribunal seeking slots for trans people in government jobs and a "third gender" option in online job applications. Two applicants had applied for police officer posts, while the other had applied for a revenue officer post — both of which are government jobs in India.
While hearing the application, the Maharashtra Administrative Tribunal, a court that has all the powers of the High Court, said it cannot direct the state government to give slots for trans people in public employment and education. The Maharashtra Administrative Tribunal did say, however, that the state government should take more steps towards inclusivity for the community in mainstream society.
Maharashtra's government told the tribunal it would not be possible to provide slots to trans people in government jobs or education.
The Maharashtra Administrative Tribunal in a 26-page order directed the state government to give applicants the necessary points to qualify for the job if the applicant has secured 50 percent of the total marks for the concerned post. The tribunal also directed the government to provide age relaxation to trans applicants if they earned 45 points.
In India, every government job seeker goes through an examination to qualify for the job. Government job examinations are one of the toughest in India because there are millions of applications for a few positions, resulting in the need to secure higher marks to get a position.
More than one million applicants applied for 18,331 police officer positions in 2022. The government, however, provides slots to backward class applicants and gives points relaxation in examinations. Trans people in India are most marginalized and vulnerable with no slots in education or employment.
Retired Justice Mridula Bhatkar, who chairs the Maharashtra Administrative Tribunal and member Medha Gadgil in the ruling said the fact that not a single trans person who has come out received a job in the government sector speaks volumes.
"The transgender people are humans and are citizens of our great country who are waiting for their inclusion in the mainstream," said the tribunal. "We have historical, mythological and cultural instances of eunuchs and their participation in political, social or cultural fields."
The tribunal also said trans people are in the minority.
Although the majority forms the government, the majority cannot suppress the rights of marginalized sections of society. The tribunal further added the situation in which the trans community finds itself is worse than what women faced in the past while demanding equality.
The tribunal highlighted the mere acknowledgment of the separate identity of trans people was not enough, but they also need to be given opportunities in government jobs.
"The State of Maharashtra has been very progressive in its thought and culture," said the tribunal. "Therefore, it is desirable on the part of the government to take necessary measures to enable these transgender applicants to get jobs in the government sector."
The tribunal mentioned Indian Constitution prohibits any kind of discrimination based on sex under articles 15 and 16.
"To get into public employment is a handicapped race for transgenders," said the tribunal. "Though they are not physically disabled and are able-bodied persons, their activities, actions, growth are paralyzed due to the negative approach of society, family in all schools, colleges in all places at all levels."
While representing the petitioners, Kranti LC, a lawyer, said that the Indian states of Tamil Nadu, Chattisgarh, Karnataka, Jharkhand and Bihar have provided reservations to trans people. The tribunal, however, noted it understands the state has reached the limit of vertical slot of 62 percent, but ordered the law can reach equality and harmony through social engineering.
"The courts are for justice and cannot ignore any societal problem when placed before it," said the tribunal. "Under such circumstances, though courts are not the lawmakers while interpreting the law, a legally permissible solution is to be applied to meet the ends of justice."
According to the Indian Supreme Court's 1992 Indra Sawhney vs. Union of India ruling, nine judges upheld the 50 percent ceiling on slots and denied slots in promotion in government jobs. This means no government agencies or institutions can give slots more than 50 percent of total job openings. Maharashtra state already crossed the limit.
"It is very unfortunate, because transgender people are one of the most vulnerable people in India, and of the most marginalized population in our country," said Kalki Subramaniam, a trans rights activist and founder of Sahodari Foundation, an organization that works for trans Indians. "For the horizontal reservation, we need to get the support of our government. We need to sensitize our members of Parliament. I think, all political parties do support (the) transgender community, and do understand the plight of the community and difficulties we face."
Kalki told the Washington Blade the community needs to work hard. She said the community needs to start campaigning for horizontal slots. She said the community needs to MPs to get the necessary support for it.
While talking to the Blade, Rani Patel, an activist and founder of Aarohan, a nonprofit organization that works with trans Indians, said that it is right that the trans community needs to have reservations in jobs and education so that they can be mainstreamed in the society.
"I have been working with the transgender community for last 11 years in Delhi. We had worked very hard for the scraping of section 377," said Patel. "All the equality and rights given by the Supreme Court of India is of no use until and unless they are not provided with reservation, because there is a stigma in the society against the transgender people, the community feel rejected and detached from the society."
Patel told the Blade that only a few trans children are getting an education in the country. She said most of the trans people in India need to be skilled in whichever field for which they have an interest. Patel further said that while getting skills, the government should provide slots to trans people, otherwise giving skills will be of no use.
Patel and Aarohan were instrumental in drafting the Delhi government's trans bill.
Ankush Kumar is a reporter who has covered many stories for Washington and Los Angeles Blades from Iran, India and Singapore. He recently reported for the Daily Beast. He can be reached at [email protected]. He is on Twitter at @mohitkopinion.