Report documents anti-trans violence, bias in Brazil
Gay congressman said problem has 'long history' in country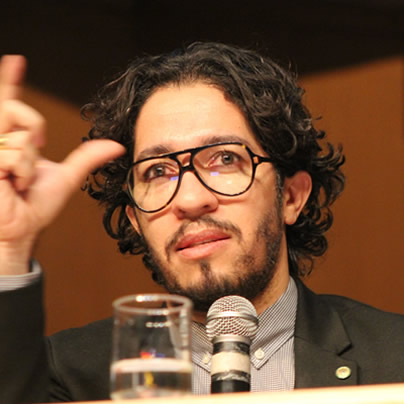 A D.C.-based international human rights organization earlier this month released a report that documents violence and discrimination against transgender Brazilians of African descent.
The Global Rights report includes statistics from the Brazilian Secretariat of Human Rights that indicate trans Brazilians accounted for slightly more than half of the 300 reported LGBT murder victims in the country last year. The group noted an estimated 52 percent of them were people of color.
Grupo Gay da Bahia, a Brazilian advocacy group that has tracked anti-LGBT violence in Brazil for nearly two decades, said it saw a 21 percent increase in LGBT murders in the country between 2011 and 2012. The organization reported 128 of the 338 reported LGBT homicide victims in Brazil in 2012 were trans.
Grupo Gay da Bahia further noted 250 LGBT Brazilians have been killed so far this year. The Inter-American Commission on Human Rights reported 20 trans people were murdered in Brazil in August and September.
The Global Rights report also cites additional statistics that show the homicide rate among Brazilians of African descent rose 5.6 percent between 2002 and 2010, compared to the 24.8 percent decline in these crimes among white Brazilians during the same period.
The Global Rights report also documents pervasive discrimination against trans Brazilians of African descent in law enforcement and employment and in the country's education and health care systems because of their gender identity and expression and race.
The organization says Brazilian police frequently force trans women of color to strip naked in public and use racial, transphobic and homophobic slurs against them. The Global Rights report also documents cases where authorities transport trans suspects and detainees in the trunks of police cars and other confined spaces.
It also cites a researcher who documents anti-trans discrimination in Brazil that concluded an estimated 90 percent of trans women in the country are functionally illiterate due to discrimination they experienced in the Brazilian education system. A 2012 study from the Latin American School of Social Sciences, which is an inter-governmental initiative that UNESCO founded in the late 1950s, found roughly 51 percent of Brazilians of African descent are functionally illiterate.
"With a reality marked by multiple forms of discrimination, the LGBT community in Brazil has struggled to ensure that the human rights to life and public policies reach these groups," Naiara Leite of the Odara Black Woman's Institute in the city of Salvador said during a hearing on violence against trans Brazilians of African descent that the Inter-American Commission of Human Rights held in D.C. on Oct. 29. "Over the last few years, the Brazilian LGBT rights movement has been greatly concerned with the excessive increase of murders and violence against gays, lesbians, bisexuals and most importantly with the increase in violence against trans people."
Brazil is among the 15 countries in which same-sex couples can legally marry.
Then-President Fernando Henrique Cardoso in 1997 created what became known as the Secretariat for Human Rights. Brazil in 2003 became the first country in the world to establish a government ministry specifically charged with promoting racial equality.
Brazilian Congressman Marco Feliciano in March became president of the Commission for Human Rights and Minorities in the lower house of Brazil's Congress amid controversy over anti-gay and racist statements he posted to his Twitter account. Gay Congressman Jean Wyllys and other commission members resigned in protest of Feliciano's election and formed a separate human rights caucus that lacks legislative authority.
The Commission for Human Rights and Minorities last week approved a measure that would suspend the National Council of Justice ruling in May that opened the door to same-sex marriage in South America's largest country. Commissioners also backed a proposal that seeks to hold a national referendum on gay nuptials and rejected a bill that would have extended tax and legal benefits to same-sex couples and their dependents.
"If there is a country in the world that has made efforts in combating racial discrimination it is Brazil," Carlos Quesada of Global First said during the Inter-American Commission on Human Rights hearing. "In spite of these efforts to promote human rights, the reality in the country is different."
João Guilherme Maranhão of the Brazilian Ministry of Foreign Relations defended his country's LGBT rights record during the hearing.
He noted Brazil and Uruguay were the first countries to introduce an LGBT rights resolution to the United Nations in 2007.
The Organization of American States during its 2008 general assembly adopted an anti-LGBT violence resolution that Brazil introduced. Maranhão noted to the commission it has subsequently been renewed and expanded.
"The situation of violence faced by transsexuals and transvestites in Brazil is an issue that merits the state's attention," he said.
Wyllys, who represents the state of Rio de Janeiro in the Brazilian Congress, told the Washington Blade earlier this month that discrimination against trans people of African descent has "a long history in Brazil."
"The trans population is less educated and the most vulnerable to experience sexual and police violence," he told the Blade during an interview from Brasilia, the country's capital.
Wyllys added he feels President Dilma Rousseff has responded "shamefully" to the problem.
The Global Rights report specifically calls upon Rousseff to condemn "all incidents of discrimination, violence and human rights violations" against trans and other LGBT Brazilians of African descent. It also calls upon her government to develop a comprehensive plan to address the aforementioned issues.
The organization also urges Brazilian lawmakers to ban anti-LGBT discrimination and violence.
"We need more political and public discourse to increase understanding," he said.
Missing gay man found 'alive and well'
Police say Richard 'Rick' Woods found in good health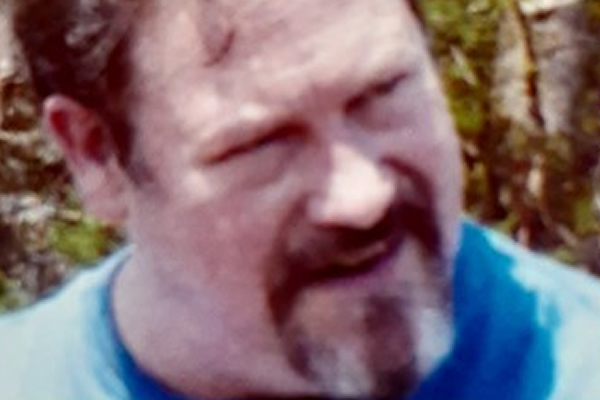 D.C. police announced on Friday that Richard G. 'Rick' Woods, a 65-year-old gay man who police said was reported missing and last seen on July 14, has been located. But the announcement doesn't provide information on where he was found or why he went missing.
Friends who know Woods say he operated for many years an antique wood furniture restoration business in various locations in D.C. The most recent location of his business, friends said, was in Georgetown a short distance from where police said he was last seen on the 1600 block of Wisconsin Avenue, N.W.
"MPD does not publicly disclose the circumstances surrounding a missing person and how they are found, however we do release their flyer as well as a notification when they are located," said D.C. police spokesperson Brianna Burch. "Mr. Woods was found in good health," Burch told the Blade.
Police sought help from the public in their initial announcement that Woods was missing. The announcement said he was reported missing to police on Friday, July 23.
Logan Circle Advisory Neighborhood Commissioner and LGBTQ rights advocate John Fanning, who said he has been friends with Woods for many years, said he was delighted to hear Woods was found in good condition.
"Rick is known by many in our community," Fanning told the Blade at the time Woods was reported missing. Fanning said he and others who know Woods stand ready to provide support for him should he be in need of such support.
The Blade couldn't immediately reach Woods for comment.
Biden to nominate LGBTQ synagogue rabbi to religious freedom commission
Sharon Kleinbaum joined NYC's Congregation Beit Simchat Torah in 1992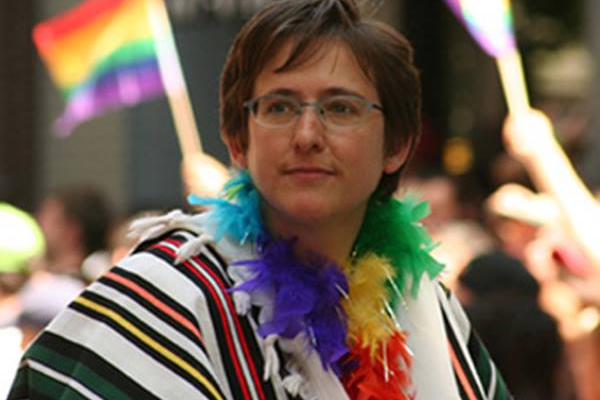 President Biden on Friday announced he plans to nominate the chief rabbi of an LGBTQ synagogue in New York City to the U.S. Commission on International Religious Freedom.
Rabbi Sharon Kleinbaum joined Congregation Beit Simchat Torah in 1992.
"She was installed as CBST's first rabbi in 1992, arriving at the height of the AIDS crisis when the synagogue was in desperate need of pastoral care and spiritual leadership," reads a bio that announced Biden's intention to nominate Kleinbaum to the commission. "She guided the congregation through a period of loss and change, while addressing social issues and building a strong and deeply spiritual community. Under her leadership as senior rabbi, CBST has become a powerful voice in the movement for equality and justice for people of all sexual orientations, gender identities and expressions."
Kleinbaum is married to American Federation of Teachers President Randi Weingarten.
The commission seeks to defend religious freedom in the U.S. and around the world. The president and Democratic and Republican leaders in Congress nominate members.
Some D.C. gay bars to require proof of COVID vaccination
Action prompted by mayor's order reinstating masks indoors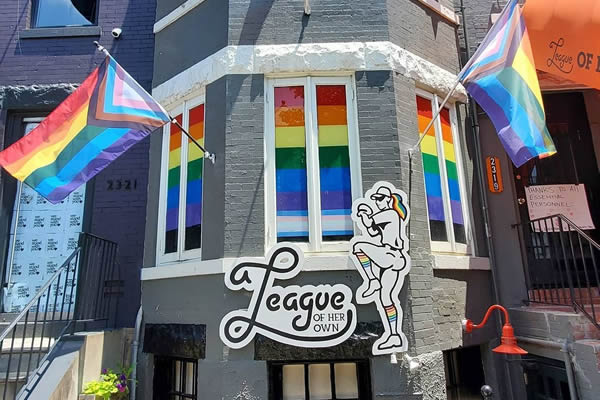 At least four D.C. gay bars announced this week on social media that they will require patrons to show proof that they have been vaccinated for COVID-19 as a condition for being admitted to the bars.
They include the Logan Circle area gay bars Number Nine and Trade, which are operated by the same co-owners, and the Adams Morgan gay sports bars Pitchers and A League of Her Own, which are also operated by the same owner and share the same building.
The four bars, which also offer dining service, announced their proof of vaccination requirement shortly after D.C. Mayor Muriel Bowser on Thursday issued a new order reinstating the city's requirement that facial masks be worn inside all businesses and other public establishments.
The mayor's order applies to all vaccinated and unvaccinated people over the age of two. It was scheduled to take effect 5 a.m. Saturday, July 31.
At a July 29 news conference, Bowser pointed to a new U.S. Centers for Disease Control and Prevention guidance issued two days earlier recommending that fully vaccinated people resume wearing masks indoors in places where transmission of the coronavirus is considered "substantial" or "high."
The mayor said that, at the advice of her public health experts, she decided to issue the new order to help curtail the rising number of COVID cases in D.C. over the past month or more due to the rapid spread of the virus's delta variant, which is surging throughout the nation. Like other parts of the country, Bowser and D.C. Department of Health Director Dr. LaQuandra Nesbit said people who are unvaccinated in D.C. make up nearly all of the newly infected cases.
"I know D.C. residents have been very closely following the public health guidelines, and they will embrace this," Bowser said in referring to the new mask requirement.
The four-page order released by the mayor's office, similar to the city's earlier mask requirements, allows indoor patrons of restaurants and bars to remove their masks while "actively" eating or drinking.
But some representatives of restaurants and bars have pointed out that other jurisdictions, including Maryland and Virginia, have followed the CDC's initial policy of making mask wearing a recommendation rather than a requirement.
"Mayor Bowser's announcement that nightlife hospitality patrons must wear a mask indoors when not 'actively eating or drinking' renders the reinstated mandate essentially unenforceable and results in the rule being reduced to a largely theatrical requirement," said Mark Lee, director of the D.C. Nightlife Council, a local trade association representing bars, restaurants, nightclubs, and other nightlife related businesses.
"The greatest disappointment for many venue operators and staff, however, is that the mayor's decision does not allow an option for establishments to admit only fully vaccinated patrons and be exempt from the mandate, as a number of other jurisdictions across the country have done," Lee said.
John Guggenmos, co-owner of the bars Trade and Number Nine, told the Washington Blade he and his co-owners adopted the proof of vaccination policy as an added means of protecting the safety of both patrons and employees of the two bars.
"We're hopeful that this will be in effect for just a few weeks or a month or two," Guggenmos said. "Our patrons have always been very supportive," he said in referring to the city's public health directives last year and early this year in which masks were required up until May of this year.
Guggenmos said Trade and Number Nine will allow an alternative to the vaccination requirement if patrons provide proof of a negative COVID-19 test conducted within the previous three days of their admission to the bars.
In its social media postings, Pitchers and A League of Her Own said their proof of vaccination requirement was based on the concern for the health of their patrons and staff.
"We will require proof a COVID vaccination until further notice at Pitchers/ALOHO and masks per the mayor," a Facebook posting says. "We take guidelines and the health of our patrons and staff very seriously. We will accept a picture or hard copy of your COVID vaccination card," it says. "No exceptions, no arguing, no talking to the manager."
Tammy Truong, owner of the gay bar Uproar Lounge at 639 Florida Ave., N.W., told the Blade the bar has no immediate plans to require proof of vaccination as a requirement for admission, but Uproar will fully comply with the mayor's order requiring indoor masks.
Justin Parker, co-owner of the nearby gay bar The Dirty Goose at 913 U St., N.W., told the Blade he and his staff decided on Friday to also put in place a requirment that patrons show either proof of vaccination or proof of a negative COVID-19 test within the past five days. He said a 5-day window for the COVID test, which the CDC allows in some cases, was chosen rather than three a requirement to accomodate people who may not be able to get tested during weekends.
Owners of other D.C. gay bars couldn't immeidately be reached. But the Blade could not find any announcements by the other gay bars as of Friday afternoon that they planed to put in place a proof of vaccination requiremenet.