Ill. lesbian couple granted immediate marriage license
Terminally ill woman and partner sought to wed immediately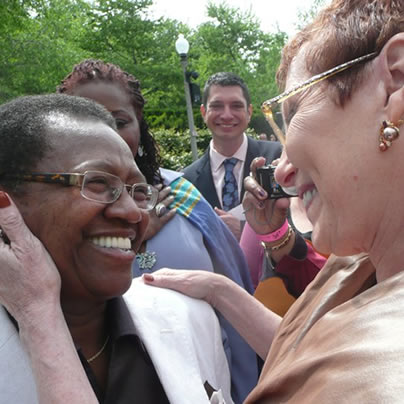 A state court in Illinois has granted a temporary restraining order to a lesbian couple in which one person in the relationship is terminally ill so the two can wed before the effective date of the state's recently signed marriage equality law.
U.S. District Judge Thomas Durkin, an Obama appointee, signed a proposed temporary restraining order on Monday ordering Cook County Clerk David Orr to grant Vernita Gray and Patricia Ewert a marriage license and register their marriage.
"Defendant is ordered to issue a marriage license to Plaintiffs upon their application and satisfaction of all legal requirements for a marriage in Cook County except for the requirement that they be of different sexes, and Defendant is ordered to register their solemnized marriage as is presently required for all other marriages," Durkin writes.
Durkin adds in his own handwriting that the proposed order will expire on Dec. 9 unless otherwise extended.
According to the complaint filed on Friday, Gray was diagnosed in 1996 with breast cancer that has since proved terminal as it has metastasized into her bones and brain. She may only have weeks left to live.
Even though the Cook County couple entered into a civil union in 2011, Gray and Ewert wish to marry in Illinois before Gray passes away. Erik Roldon, a spokesperson for Lambda Legal, said now that the couple has the temporary restraining order, they could marry as soon as Wednesday.
In a statement, Gray expressed tremendous joy that she'd finally be able to marry her long-time partner in their home state.
"I have two cancers, bone and brain and I just had chemo today — I am so happy to get this news," Gray said. "I'm excited to be able to marry and take care of Pat, my partner and my family, should I pass."
Gov. Pat Quinn (D) signed into law last week legislation granting same-sex couples the right to marry to Illinois, but that law doesn't go into effect until June 1.
Lambda Legal and the ACLU of Illinois filed the lawsuit Friday on behalf of the couple to seek immediate action. The advocacy groups — joined by counsel at Kirkland & Ellis and Miller, Shakman & Beem — asked that the court hear the case on an emergency basis.
Camilla Taylor, marriage project director for Lambda Legal, said the temporary restraining order will bring quick action for the two in their remaining days.
"Vernita is terminally ill and she wishes to marry the woman she loves before she dies — and now she won't have to wait another day," Taylor said. "These two women, who have loved and cared for each other in good times and bad, through sickness and through health, will get to know what it means to be married."
John Knight, LGBT Project Director at the ACLU of Illinois, said the judge issued the order because of the "arbitrary nature of the start date" of the new law.
"Their love deserves the dignity of marriage now and there is simply no justification for forcing them to wait," Knight said.
According to the complaint, both Gray and Ewert have engaged in various forms of activism even before the time they met.
Gray, 64, spent 20 years working as a victim's advocate in the Cook County court systems and served as LGBT liaison in the Cook County State's Attorney's Office. For her work in combatting hate crimes, Gray was invited to the White House in 2009 to witness President Obama's signing of the Matthew Shepard & James Byrd, Jr., Hate Crimes Prevention Act.
Ewert, 65, and a breast cancer survivor, is currently community outreach coordinator for Illinois State Rep. Kelly Cassidy and a former executive director for Lives on Target, a non-profit dedicated to providing archery resources.
Natalie Bauer, a spokesperson for Illinois Attorney General Lisa Madigan, said her boss filed a brief before the court in support of the order and supports the decision.
"While the State has now taken the historic step of extending marriage to gay and lesbian couples, Ms. Gray's terminal illness is expected to prevent her from living until June 1 when she and Ms. Ewert could finally obtain the rights and benefits of being married," Bauer said. "Continuing to ban this committed couple from marrying violates their right to equal protection and serves no legitimate purpose."
Courts have previously ordered county clerks to grant marriage licenses to gay couples statewide and a federal judge in Ohio has issued temporary restraining orders requiring the recognition of the union of same-sex couples who wed elsewhere.
However, the Illinois order is the first time a court has through a temporary restraining order required a county clerk to provide a marriage license to a same-sex couple. It's also the first time a court has granted an expedited license following a state legislature's passage of marriage equality.
Evan Wolfson, president of Freedom to Marry, said the judge's order builds on the realization by the Illinois state legislature that there's no reason to prohibit same-sex couples from marrying.
"The Illinois Legislature found no good reason to exclude gay couples from marriage; now the court found no good reason to deny this loving committed couple their marriage license even one more day," Wolfson said. "The judge, like a majority of Americans, understood the human reality that gay couples' exclusion from marriage is painful and unjust, and that every day of denial is a day of real harm."
Pope, Canterbury archbishop, Presbyterian leader denounce criminalization laws
Religious officials made comments after leaving South Sudan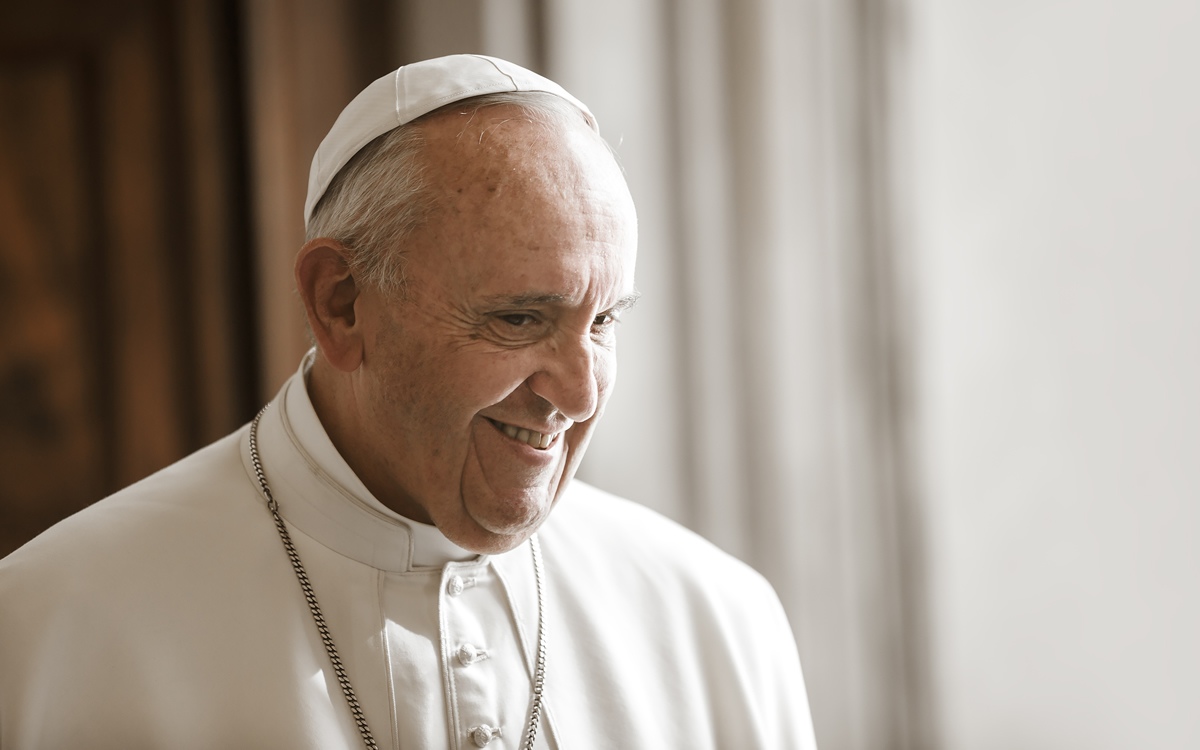 Pope Francis, Archbishop of Canterbury Justin Welby and the world's top Presbyterian minister on Sunday publicly denounced laws that criminalize LGBTQ and intersex people and said their respective churches should welcome them.
The Associated Press noted Francis told reporters during a press conference onboard his plane after it departed from South Sudan that "criminalizing people with homosexual tendencies is an injustice." Welby and the Rt. Rev. Iain Greenshields, the Presbyterian moderator of the Church of Scotland, were standing alongside the pontiff.
"There is nowhere in my reading of the four Gospels where I see Jesus turning anyone away," said Greenshields, according to the AP. "There is nowhere in the four Gospels where I see anything other than Jesus expressing love to whomever he meets."
"And as Christians, that is the only expression that we can possibly give to any human being, in any circumstance," added Greenshields.
Francis during an exclusive interview with the AP on Jan. 24 described criminalization laws as "unjust" and said "being homosexual is not a crime."
The pontiff acknowledged some Catholic bishops support criminalization laws and other statutes that discriminate against LGBTQ and intersex people. Francis told the AP that cultural backgrounds contribute to these attitudes, and added "bishops in particular need to undergo a process of change to recognize the dignity of everyone."
Francis spoke to the AP ahead of his trip to Congo and South Sudan, which is among the nearly 70 countries in which consensual same-sex sexual relations remain criminalized.
The pontiff — who was a vocal opponent of the marriage equality bill in his native Argentina before then-President Cristina Fernández de Kirchner signed it into law in 2010 — now supports civil unions for same-sex couples.
The AP notes the Church of Scotland allows same-sex marriages. The Church of England allows clergy to bless same-sex civil marriages, but LGBTQ couples cannot marry in its churches.
The Vatican's tone towards LGBTQ and intersex issues has softened since Francis assumed the papacy in 2013, but the church continues to consider homosexuality a sin. The Vatican also opposes marriage for same-sex couples and blessings of them.
Defendant pleads guilty to second-degree murder in Vongell Lugo case
Victim's family, friends upset over proposed 14–16-year sentence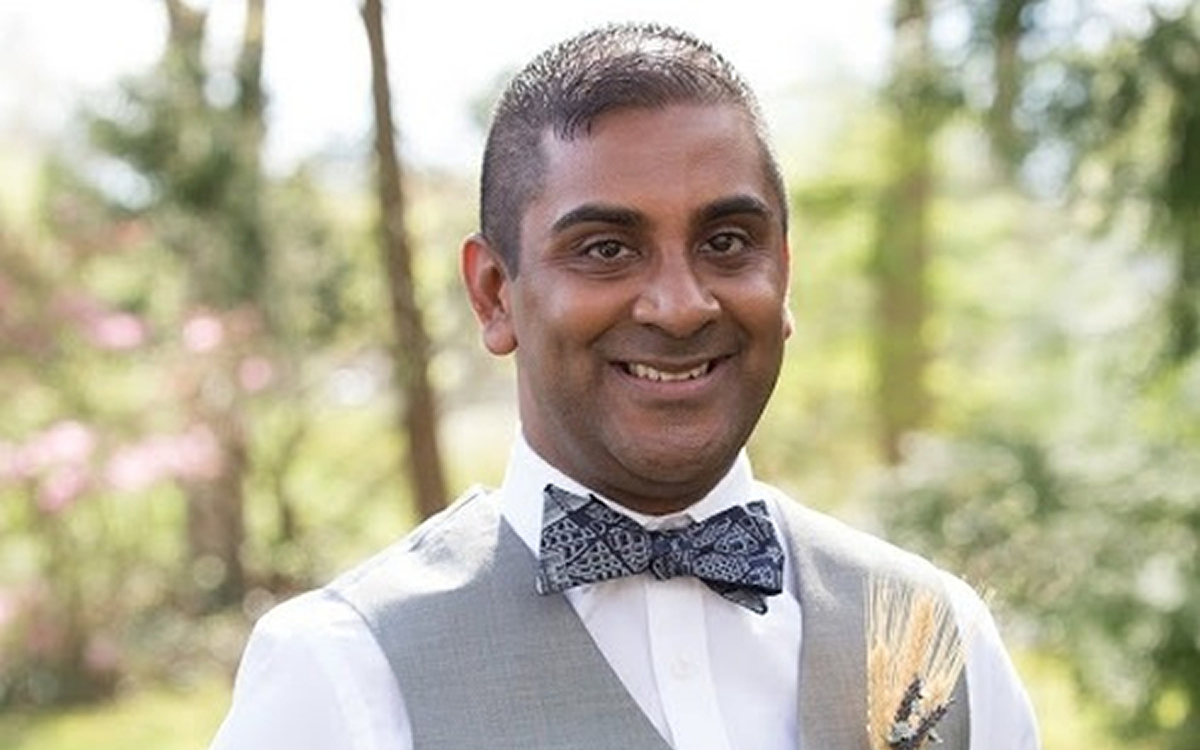 A man charged with premeditated first-degree murder while armed for the Jan. 6, 2019, murder of gay corporate manager Vongell Lugo pleaded guilty in D.C. Superior Court on Feb. 3 to a single count of second-degree murder while armed as part of a plea bargain deal offered by prosecutors.
As part of the plea offer, prosecutors with the Office of the U.S. Attorney for the District of Columbia agreed to drop the first-degree murder charge against Collin J. Potter. The agreement also calls for prosecutors to ask Superior Court Judge Marisa Demeo, who's presiding over the case, to hand down a sentence of between 14 and 16 years of incarceration.
Under D.C. law, second-degree murder carries a maximum sentence of 30 years in prison. Demeo scheduled a sentencing hearing for April 14.
Potter's guilty plea came just over two weeks after Demeo on Jan. 23 approved a motion filed by Assistant U.S. Attorney Peter V. Roman, the lead prosecutor in the case, calling for dismissing four of the five counts in a grand jury indictment against Potter handed down in August 2019. The counts that were dismissed included two counts of felony murder while armed (aggravating circumstances,) kidnapping while armed and first-degree sexual assault while armed.
Roman's motion called for leaving in place the fifth count of the grand jury indictment: First degree murder while armed (premeditated) (aggravating circumstances.)
Court records show that Demeo dismissed that charge as part of the plea agreement after Potter pleaded guilty on Feb. 3 to second-degree murder while armed. The three-page plea agreement filed in court also states that second-degree murder while armed carries a maximum sentence of 30 years of incarceration under the D.C. criminal code and the judge would make the final decision on a sentence for Potter.
Two longtime friends of Lugo, Hannah Davis Hastings and Juliana Geller, who said they were representing Lugo's family, spoke briefly at the Feb. 3 court hearing at the invitation of Roman.
The two women told Demeo, who agreed to allow them to speak, that they and the Lugo family strongly object to the recommendation that Potter be sentenced to a range of 14 to 16 years, saying a just and fair sentence should be significantly greater. Demeo told the two women they and others will be given an opportunity to speak and express their concerns at the April 14 sentencing hearing.
At the time of his arrest in January 2019, Potter, then 26, was serving as a U.S. Navy Hospital Corpsman. He has been held in jail since the time of his arrest and during the more than four years that the case has gone on while Potter was awaiting a trial.
In addition to agreeing to the plea bargain offer, Potter agreed to and signed a one-page Proffer of Facts submitted by prosecutors that states in detail the allegations against Potter that it says would have been proven beyond a reasonable doubt had the case gone to trial.
The proffer begins by telling what happened after police and prosecutors say Lugo and Potter met, possibly for the first time, at the Black Whiskey bar at 1410 14th St., N.W., on the night of the murder, at which time Lugo, 36, invited Potter to Lugo's apartment in Northwest D.C.
"On Sunday, Jan. 6, 2019, at approximately 4:00 a.m., the defendant and the decedent, Vongell Lugo, were alone together in Mr. Lugo's apartment," the proffer states. "The defendant, unprovoked, attacked Mr. Lugo," it says.
"The defendant grabbed one of Mr. Lugo's kitchen knives from Mr. Lugo's kitchen and stabbed Mr. Lugo 42 times in the head, neck, and torso, killing Mr. Lugo," the proffer continues. "According to the autopsy, the defendant, at some point, also punched Mr. Lugo in the face. Mr. Lugo never fought back, beyond yelling for help," the proffer says, adding that two neighbors heard the calls for help and called 911.
"The defendant then attempted to clean the knife in the kitchen sink," it states. "Around 4:20 a.m. the defendant pulled Mr. Lugo's naked body out into the hallway, where Mr. Lugo's body was found and the defendant was discovered by MPD officers, standing naked, uninjured and covered in Mr. Lugo's blood."
Court records show that Potter was arrested on the scene and initially charged with second degree murder while armed. The court records show that prosecutors a short time later offered a plea bargain deal, which Potter through his attorney rejected, calling for Potter to plead guilty to second-degree murder in exchange for the government not seeking a grand jury indictment on first-degree murder and other charges.
The grand jury then handed down its five-count indictment in August 2019 that included the first-degree and felony murder charges along with the sexual assault and kidnapping charges. For reasons not provided in the public court records, the case dragged on for the next four years until a trial was scheduled to take place April 18, 2023.
The U.S. Attorney's office has declined to provide a reason why it decided for the second time to offer the plea agreement for second-degree murder rather than bring the case to trial on the charges included in the indictment.
"They just said this is a better way to do this," Hastings, Lugo's friend, told the Washington Blade after the Feb. 3 court hearing. "I don't think there is anything more we can share on this," she said.
Attorneys familiar with criminal cases like this one have said prosecutors sometimes offer plea deals when they are not certain they can obtain a conviction on first-degree murder in a trial by jury. In some cases, when the defense establishes a "reasonable doubt" in the minds of jurors, a verdict of not guilty has emerged in murder cases, lawyers have said.
Longtime D.C. defense attorney Mindy Daniels, who practices criminal law, said in the case of the Lugo murder, where there were no witnesses and the two men were in the apartment alone, the defense could have argued a number of claims that could have an impact on a jury, such as the defendant acted in self-defense after being attacked by the victim.
"Trials are unpredictable," Daniels said. "When they can get a murder conviction without a trial, the government is often satisfied," she said, noting that a second-degree murder conviction is still a murder conviction. "A jury might find the defendant guilty of second-degree murder at trial anyway," Daniels said. "A plea is a guaranteed conviction."
At the time of his death, Lugo had been working as an associate manager for TransPerfect, an international company that provides foreign language translation, interpretation and business services. Friends of Lugo have said that prior to joining TransPerfect in 2016, he worked as a manger in the men's clothing department at the D.C. area retail stores J Crew, Bloomingdale's, and the Gap beginning in 2003.
"Everyone who met him became his friend for life," said one friend who was among more than 80 people, including co-workers, friends and family members, who attended a Jan. 11, 2019, candlelight vigil celebrating Lugo's life. "Vongell was a beloved son, brother, uncle and coworker" who was a "kind soul, the center of the party, and a beacon of light that made an impact on everyone he came into contact with," another friend said at the vigil.
Va. House committee advances two anti-transgender bills
Democrats in state Senate will likely kill measures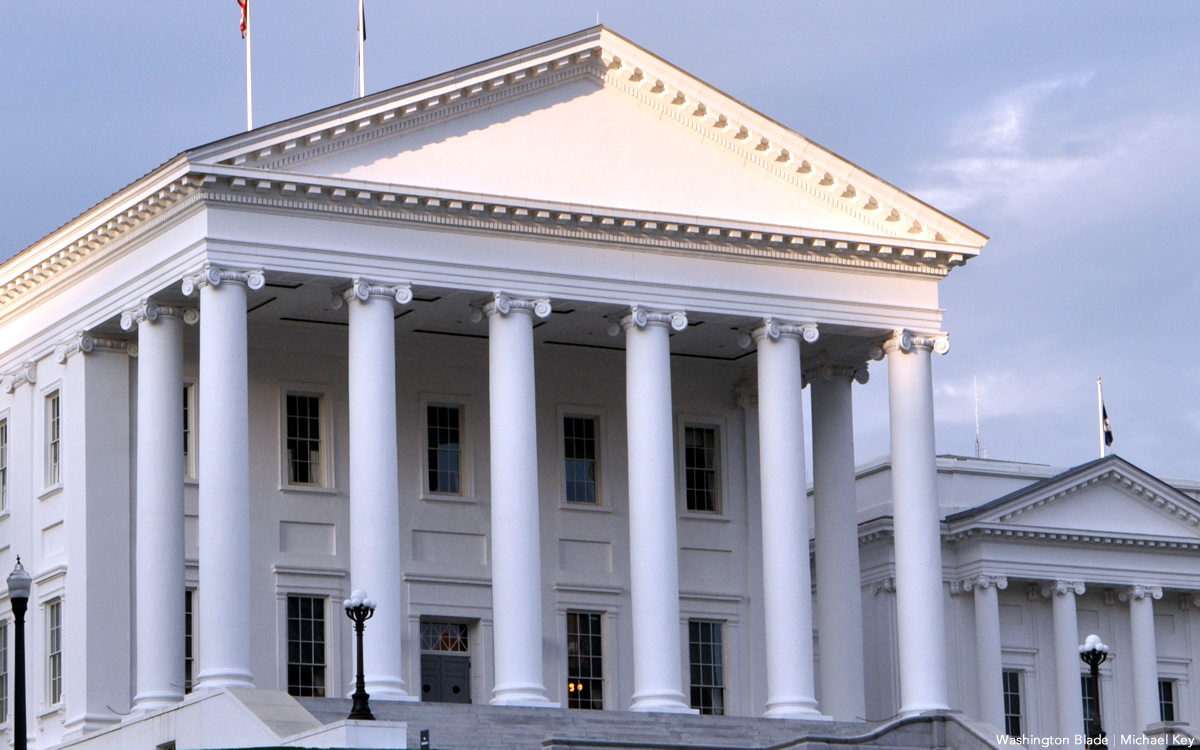 The Virginia House Education Committee on Friday approved two anti-transgender bills.
Committee members advanced state Del. Karen Greenhalgh (R-Virginia Beach)'s House Bill 1387, which would ban transgender athletes from school sports teams that correspond with their gender identity, and state Del. Dave LaRock (R-Loudoun County)'s House Bill 2432, which would require school personnel to out trans students to their parents.
A House subcommittee earlier this week approved the two bills.
Republicans control the House of Delegates by a 51-47 margin. Democrats have a 22-18 majority in the Virginia Senate.
The Senate Education Committee on Thursday killed six anti-trans bills. It is likely HB 1387 and HB 2432 will meet the same fate once they reach the state Senate.