Nevada AG invokes bigamy, incest to defend marriage ban
State interest is 'to protect and perpetuate traditional marriage'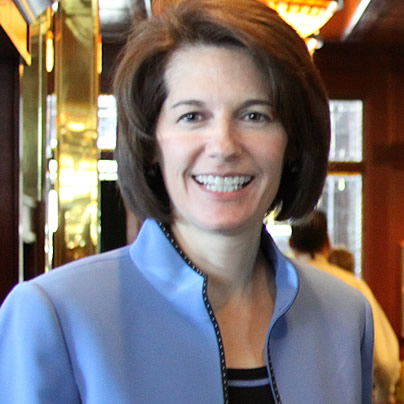 Ask the attorney general of Nevada about the definition of marriage, and she'll tell you it doesn't include the union of a same-sex couple. But in the same breath, she'll tell you it also doesn't include incest or bigamy either.
In a 55-page brief filed on Tuesday, Nevada Attorney General Catherine Cortez Masto urges the U.S. Ninth Circuit Court of Appeals to uphold the state's constitutional ban on same-sex marriage on the basis that it reflects the will of the people.
"The interest of the State in defining marriage in this manner is motivated by the state's desire to protect and perpetuate traditional marriage," Masto writes. "In establishing this criterion and others — e.g., age, consanguinity, unmarried status, etc. — the state exercises its prerogative as a State, and that exercise is entitled to respect."
But in a section titled "Marriage Defined" explaining "what marriage is" and "what marriage is not," Masto reminds the court that in addition to not being for same-sex couples under Nevada law, marriage is also not for those engaging in bigamy or incest.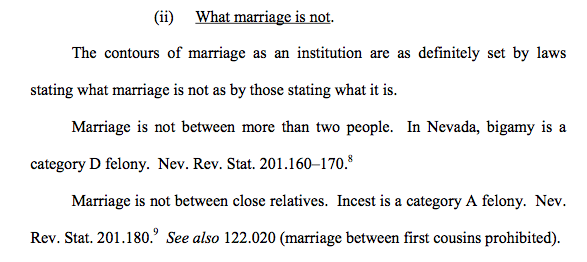 The invocation of bigamy and incest in Nevada's brief before the Ninth Circuit recalls the first legal brief the Obama administration filed in support of the Defense of Marriage Act when it was still defending the law in court. That brief invoked bigamy and pedophilia to assert the constitutionality of the ban on federal recognition of same-sex marriage, which riled LGBT advocates.
Evan Wolfson, president of Freedom to Marry, took Masto to task for making an implicit comparison between same-sex marriage and bigamy or incest while saying she makes no solid argument against allowing gay nuptials in Nevada.
"Marriage is not 'defined' by who is denied it, and nothing in the brief explains why loving and committed couples of the same sex should be denied the legal commitment and bundle of obligations and protections that are available to different-sex couples," Wolfson said. "To invoke bigamy and incest, as the attorney general does — at least she stopped short of bestiality! — doesn't supply an explanation; it makes clear that the state has nothing to offer to justify the discrimination against same-sex couples in Nevada.
But Wolfson said he concurs with another argument within the attorney general's brief: domestic partnerships, which are permitted under Nevada law, aren't equivalent to and don't provide a substitute for marriage.
The brief was filed in the case of Sevcik v. Sandoval, a challenge filed by Lambda Legal against Nevada's ban on same-sex marriage in 2012.
Jon Davidson, Lambda's legal director, said "of course, we find any such comparison objectionable" between same-sex marriage and bigamy or incest. The organization is slated to file its formal response to the attorney general's brief next month.
Masto is a Democrat and has served in the role of attorney general for Nevada since 2007. Other Democrats holding the office in other states — most recently Virginia Attorney General Mark Herring — have elected not to defend marriage bans in the state on the basis that they're unconstitutional.
Notably, Masto argues at length that the Ninth Circuit shouldn't apply heightened scrutiny, or a greater assumption a law is unconstitutional, to the ban on same-sex marriage. That argument is somewhat dated after the Ninth Circuit on Tuesday applied heightened scrutiny in ruling that a juror cannot be excluded from a trial based on sexual orientation — a decision that will have precedent in the marriage case.
"Under an objective application of due process and equal protection analyses, there is no basis for heightened review of the State's purpose in defining marriage by its traditional meaning," Masto writes. "There exists neither fundamental right, nor suspect or quasi- suspect class, justifying a different standard of review."
But the invocation of bigamy and incest isn't the only part of the brief that is raising concerns among LGBT advocates.
Responding to the various friend-of-the-court briefs filed in the case on behalf of same-sex marriage, Masto takes issue with the way some say marriage is about children and others say it isn't.
"There is some irony in the inconsistency in certain arguments made by amici," Masto writes. "A brief by the Family Equality Council, et al., posits that the policy issue is primarily about children, presenting 'testimonials from the children raised in such families [those with same-sex parents].' In a separate brief, Family Law Professors (who are 'scholars of family law') argue that marriage is not about children."
Masto concludes these divergent views on the role of children in marriage serve to "reinforce the conclusion that the state's legislature is the democratic crucible where the issues should be debated and decided."
Emily Hecht-McGowan, the Family Equality Council's director of public policy, slammed the attorney general for her interpretation of its brief in favor of marriage equality.
"The Attorney General is missing the primary point of our Voices of Children brief, which is not that marriage is primarily about children but rather that the denial of marriage equality fundamentally harms children being raised by same-sex couples by rendering them and their families second-class citizens," Hecht-McGowan said. "We trust that the Justices reading our brief and hearing oral arguments will reach the same conclusion that Justice Kennedy reached in his majority opinion in U.S. v. Windsor — that laws denying marriage recognition to same-sex couples 'humiliate children' and are a violation of equal protection under the law."
Flight attendants union endorses Sarah McBride
Del. lawmaker would be first transgender member of Congress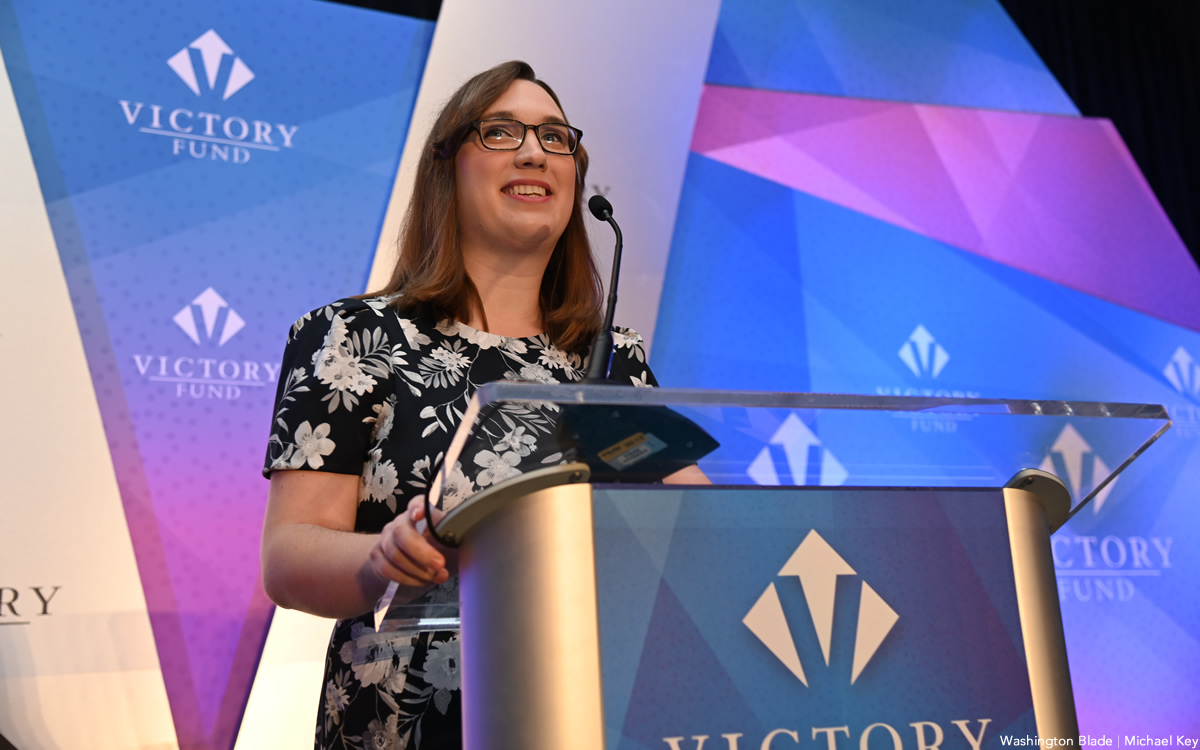 Delaware congressional candidate Sarah McBride has earned the support of the Association of Flight Attendants, the nation's most prominent flight attendant union.
It's the second big labor endorsement for McBride after the United Food and Commercial Workers Local 27's endorsement. The Association of Flight Attendants praised her for spearheading efforts to bring paid family and medical leave to Delaware, which will take effect in 2026.
"Sarah's record in the Delaware Senate shows that she understands how to work collaboratively, build power and make big things happen," the union's president, Sara Nelson, wrote in a press release shared exclusively with the Washington Blade. "That's the kind of leader we need in Congress, and we're proud to endorse her candidacy."
McBride also announced her support for creating a list of abusive passengers and banning them from flying. Each airline has a list of passengers banned from flying, but airlines don't share the lists with each other, though Delta Air Lines has asked them, because of "legal and operational challenges," as a representative for the airline industry trade group Airlines of America told a House committee in September 2021.
"Right now, someone can be violent towards a flight attendant or another passenger and walk directly off of that flight and onto one with a different airline to endanger more people," an Association of Flight Attendants spokesperson wrote in a statement.
The Protection from Abusive Passengers Act would put the Transportation Security Administration in charge of building the database of passengers fined or convicted of abuse and has bipartisan support but has sat idly in committee since March. It failed to pass last year, and civil rights groups including the American Civil Liberties Union have charged that the list would disproportionately target people of color and strip and a better step to reducing hostility would be making flights more comfortable. Reports of defiant and unruly passengers have more than doubled between 2019, before the COVID-19 pandemic, and 2022.
"I thank the Association of Flight Attendants for endorsing our campaign," McBride wrote in the press release. "It's important that we recognize and celebrate the symbiotic relationship between strong, unionized workforces and the continued growth of employers here in our state."
The union representing 50,000 flight attendants across 19 airlines is putting pressure on airlines to grant union demands in contract negotiations. At American Airlines, unionized flight attendants voted to authorize a strike — putting pressure on the airline to accede to its demands. Flight attendants at Alaska Airlines say they are ready to strike but have not voted to authorize one yet. United Airlines flight attendants picketed at 19 airports around the country in August, ratcheting up the pressure.
The union's endorsement adds to a growing list of McBride endorsements, including 21 Delaware legislators, the United Food and Commercial Workers, the Human Rights Campaign, EMILY's List, and Delaware Stonewall PAC. McBride, who would be the first openly transgender politician in Congress, has powerful connections in Washington — including with the White House — and is favored to win Delaware's lone House seat.
A poll commissioned by HRC shows her leading the pack of three candidates vying for the seat — 44 percent of "likely Democratic voters" told pollster company Change Research, which works with liberal organizations. The poll of 531 likely Delaware Democratic primary voters, though, was conducted only online — meaning those with less familiarity or access to the internet may not have been counted — and Change Research's methodology for screening likely voters is unclear. The company also did not provide a breakdown of respondents by age, gender, and race, but says it uses an algorithm to make the results representative.
Nelson said McBride's time in Delaware's state Senate shows her prowess in building power and working collaboratively.
"That's the kind of leader we need in Congress, and we're proud to endorse her candidacy," she wrote.
Biden, Harris, deliver remarks for White House Office of Gun Violence Prevention
Pulse survivor Brandon Wolf among those who spoke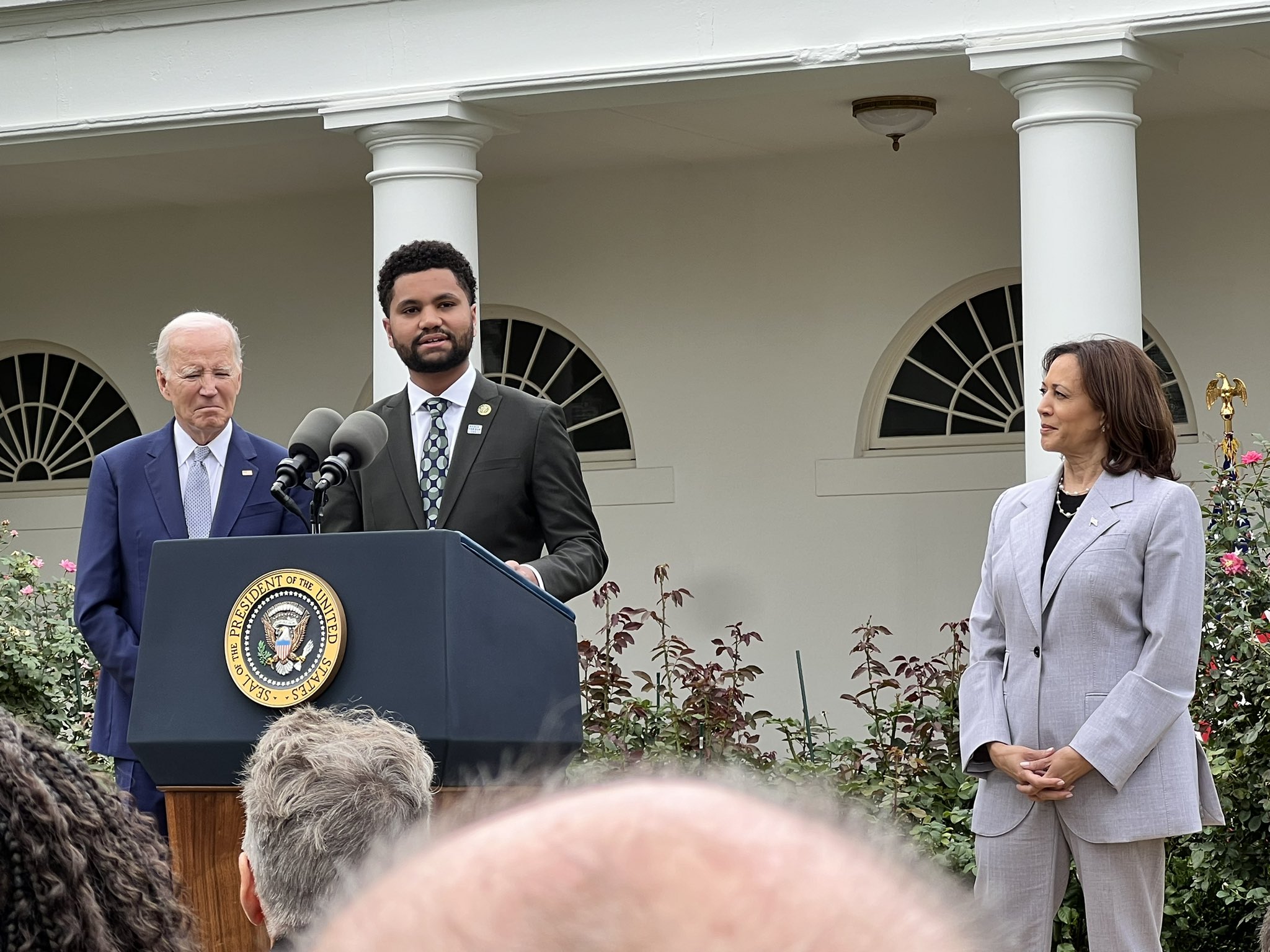 President Joe Biden, Vice President Kamala Harris, and U.S. Rep. Maxwell Frost (D-Fla.) addressed an audience from the Rose Garden of the White House on Friday to honor the establishment of a first-ever White House Office of Gun Violence Prevention.
In a press release Thursday announcing the move, the administration said its aim is to implement and expand the provisions of last year's Bipartisan Safer Communities Act along with those contained in the president's executive orders targeting issues of gun violence.
Additionally, Biden explained in his remarks, the office will coordinate more support for survivors, families and communities, including mental health services and financial aid; identify new avenues for executive action; and "expand our coalition of partners in states and cities across America" given the need for legislative solutions on the local and state level.
Harris, who will oversee the office, pledged to "use the full power of the federal government to strengthen the coalition of survivors and advocates and students and teachers and elected leaders to save lives and fight for the right of all people to be safe from fear and to be able to live a life where they understand that they are supported in that desire and that right."
The vice president noted her close experiences with the devastating consequences of gun violence in her work as a federal prosecutor, San Francisco district attorney, California attorney general and in her current role.
Biden's comments also included highlights of his administration's accomplishments combatting gun violence and a call to action for Congress to do more. "It's time again to ban assault weapons and high capacity magazines," he told lawmakers.
The president also credited the the work of advocates including those who were gathered at the White House on Friday: "all of you here today, all across the country, survivors, families, advocates — especially young people who demand our nation do better to protect all; who protested, organized, voted, and ran for office, and, yes, marched for their lives."
Taking the stage before introducing Biden, Frost noted that "Right before I was elected to Congress, I served as the national organizing director for March for Our Lives, a movement that inspired young people across the nation to demand safe communities."
"The president understands that this issue especially for young people, especially for marginalized communities, is a matter of survival," the congressman said. And the formation of this office, "comes from Pulse to Parkland," he said, adding, "we fight because we love."
Human Rights Campaign National Press Secretary Brandon Wolf, a survivor of the 2016 Pulse nightclub shooting, which was America's second deadliest mass shooting and the deadliest against the LGBTQ community, shared a comment with the Washington Blade after Friday's ceremony:
"Seven years ago, when my best friends and 47 others were murdered at our safe place — Pulse Nightclub — we promised to honor them with action. This is what that looks like. This deep investment in the fight to end gun violence matters, and I cannot wait to see Vice President Harris lead these efforts. We can blaze the path toward a future free of gun violence. And today marked an important step in that direction."
Lawsuit seeks to force Virginia Beach schools to implement state guidelines for trans, nonbinary students
Va. Department of Education released new regulations in July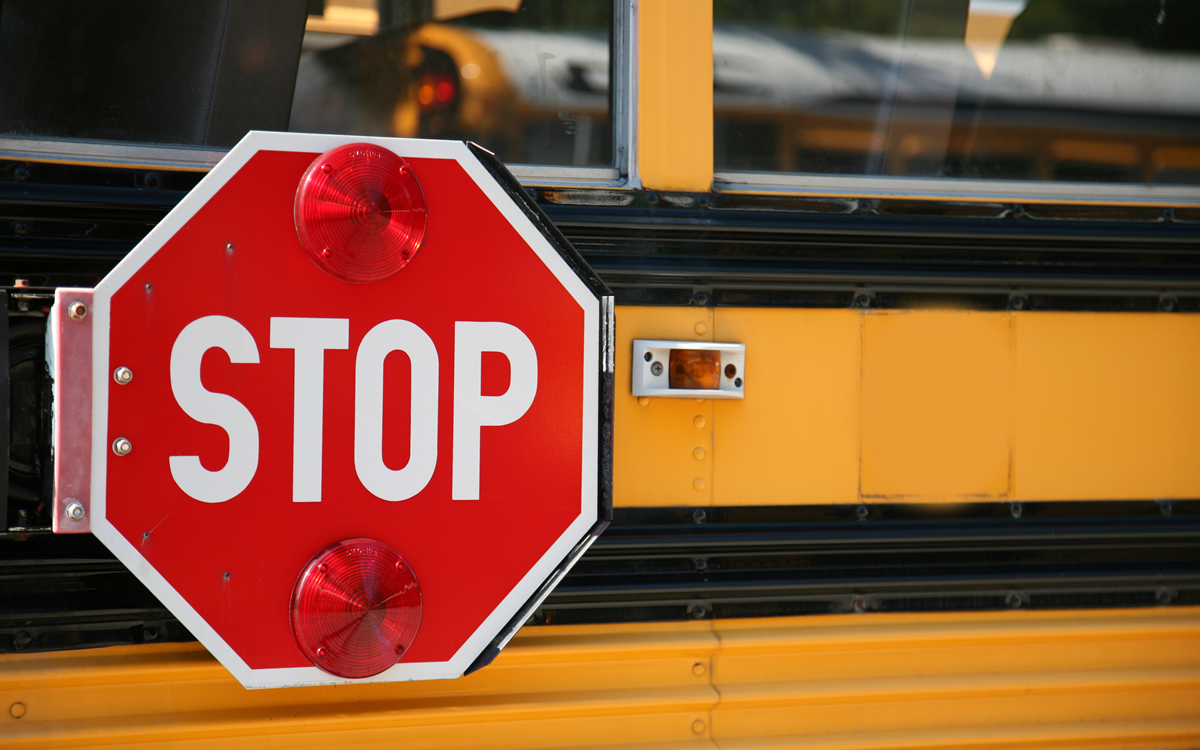 Two parents in Virginia Beach have filed a lawsuit that seeks to force the city's school district to implement the state's new guidelines for transgender and nonbinary students.
NBC Washington on Friday reported Cooper and Kirk, a D.C.-based law firm, filed the lawsuit in Virginia Beach Circuit Court.
The Virginia Department of Education in July announced the new guidelines for which Republican Gov. Glenn Youngkin asked. Arlington County Public Schools, Fairfax County Public Schools and Prince William County Schools are among the school districts that have refused to implement them.