January 23, 2014 at 12:00 pm EST | by Chris Johnson
Nevada AG invokes bigamy, incest to defend marriage ban
Ask the attorney general of Nevada about the definition of marriage, and she'll tell you it doesn't include the union of a same-sex couple. But in the same breath, she'll tell you it also doesn't include incest or bigamy either.
In a 55-page brief filed on Tuesday, Nevada Attorney General Catherine Cortez Masto urges the U.S. Ninth Circuit Court of Appeals to uphold the state's constitutional ban on same-sex marriage on the basis that it reflects the will of the people.
"The interest of the State in defining marriage in this manner is motivated by the state's desire to protect and perpetuate traditional marriage," Masto writes. "In establishing this criterion and others — e.g., age, consanguinity, unmarried status, etc. — the state exercises its prerogative as a State, and that exercise is entitled to respect."
But in a section titled "Marriage Defined" explaining "what marriage is" and "what marriage is not," Masto reminds the court that in addition to not being for same-sex couples under Nevada law, marriage is also not for those engaging in bigamy or incest.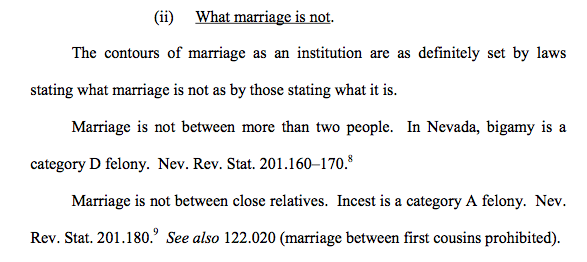 The invocation of bigamy and incest in Nevada's brief before the Ninth Circuit recalls the first legal brief the Obama administration filed in support of the Defense of Marriage Act when it was still defending the law in court. That brief invoked bigamy and pedophilia to assert the constitutionality of the ban on federal recognition of same-sex marriage, which riled LGBT advocates.
Evan Wolfson, president of Freedom to Marry, took Masto to task for making an implicit comparison between same-sex marriage and bigamy or incest while saying she makes no solid argument against allowing gay nuptials in Nevada.
"Marriage is not 'defined' by who is denied it, and nothing in the brief explains why loving and committed couples of the same sex should be denied the legal commitment and bundle of obligations and protections that are available to different-sex couples," Wolfson said. "To invoke bigamy and incest, as the attorney general does — at least she stopped short of bestiality! — doesn't supply an explanation; it makes clear that the state has nothing to offer to justify the discrimination against same-sex couples in Nevada.
But Wolfson said he concurs with another argument within the attorney general's brief: domestic partnerships, which are permitted under Nevada law, aren't equivalent to and don't provide a substitute for marriage.
The brief was filed in the case of Sevcik v. Sandoval, a challenge filed by Lambda Legal against Nevada's ban on same-sex marriage in 2012.
Jon Davidson, Lambda's legal director, said "of course, we find any such comparison objectionable" between same-sex marriage and bigamy or incest. The organization is slated to file its formal response to the attorney general's brief next month.
Masto is a Democrat and has served in the role of attorney general for Nevada since 2007. Other Democrats holding the office in other states — most recently Virginia Attorney General Mark Herring — have elected not to defend marriage bans in the state on the basis that they're unconstitutional.
Notably, Masto argues at length that the Ninth Circuit shouldn't apply heightened scrutiny, or a greater assumption a law is unconstitutional, to the ban on same-sex marriage. That argument is somewhat dated after the Ninth Circuit on Tuesday applied heightened scrutiny in ruling that a juror cannot be excluded from a trial based on sexual orientation — a decision that will have precedent in the marriage case.
"Under an objective application of due process and equal protection analyses, there is no basis for heightened review of the State's purpose in defining marriage by its traditional meaning," Masto writes. "There exists neither fundamental right, nor suspect or quasi- suspect class, justifying a different standard of review."
But the invocation of bigamy and incest isn't the only part of the brief that is raising concerns among LGBT advocates.
Responding to the various friend-of-the-court briefs filed in the case on behalf of same-sex marriage, Masto takes issue with the way some say marriage is about children and others say it isn't.
"There is some irony in the inconsistency in certain arguments made by amici," Masto writes. "A brief by the Family Equality Council, et al., posits that the policy issue is primarily about children, presenting 'testimonials from the children raised in such families [those with same-sex parents].' In a separate brief, Family Law Professors (who are 'scholars of family law') argue that marriage is not about children."
Masto concludes these divergent views on the role of children in marriage serve to "reinforce the conclusion that the state's legislature is the democratic crucible where the issues should be debated and decided."
Emily Hecht-McGowan, the Family Equality Council's director of public policy, slammed the attorney general for her interpretation of its brief in favor of marriage equality.
"The Attorney General is missing the primary point of our Voices of Children brief, which is not that marriage is primarily about children but rather that the denial of marriage equality fundamentally harms children being raised by same-sex couples by rendering them and their families second-class citizens," Hecht-McGowan said. "We trust that the Justices reading our brief and hearing oral arguments will reach the same conclusion that Justice Kennedy reached in his majority opinion in U.S. v. Windsor — that laws denying marriage recognition to same-sex couples 'humiliate children' and are a violation of equal protection under the law."