Court asked to overturn marriage bans in Nevada, Hawaii
14 attorneys general and Hawaii governor among those to file briefs.
Five months after the U.S. Supreme Court issued two decisions in favor of marriage equality, a chorus of voices is calling on the U.S. Ninth Circuit to make a similar ruling on behalf of gay couples seeking marriage rights in Nevada and Hawaii.
Legal briefs were submitted to the Ninth Circuit by numerous public figures who've previously articulated their support for marriage equality, ranging from Hawaii Gov. Neil Abercrombie to Delaware Attorney General Beau Biden. However, the Obama administration didn't submit a brief to the court by the deadline articulating its views of favor of same-sex marriage.
The cases before the court are Sevick v. Sandoval, a federal lawsuit filed by Lambda Legal last year seeking marriage equality in Nevada, and Jackson v. Abercrombie, a similar lawsuit filed by private attorneys seeking to overturn the ban on same-sex marriage in Hawaii. Both are on appeal before the Ninth Circuit after district courts in those states affirmed that the bans on same-sex marriage were constitutional.
Abercrombie, who previously said he wouldn't defend the ban on same-sex marriage in court, submitted an opening brief from his lawyers on Oct. 18 that seeks permission to file an additional, more lengthy document because the lawsuit a "landmark civil rights case."
But the 112-page brief makes initial arguments about why the ban on same-sex marriage is unconstitutional, arguing that it fails any rational basis test and laws related to sexual orientation should be subject to heightened scrutiny.
"Only legalization of same-sex marriage would allow plaintiffs, and tens of thousands of other same-sex couples in Hawaii, to 'pursue the happiness' and assume the mutual responsibilities — important to human 'existence and survival' — that are at the heart of the fundamental right to marry," the brief states. "And only legalization will give plaintiffs the equality they so justly deserve."
On Friday, friend-of-the-court briefs were also due before the Ninth Circuit. One high-profile brief was signed by 14 attorneys general who had previously signed a brief before the Supreme Court arguing in favor of marriage equality. Signers of the brief include Massachusetts Attorney General Martha Coakley, who's running for governor, California Attorney General Kamala Harris and Biden.
The 32-page argues that the bans on same-sex marriage in Hawaii and Nevada are unconstitutional, among other reasons, because including same-sex couples into the institution of marriage enhances state interest and the current laws aren't rationally related to interests in procreation or child-rearing.
"Since the founding, states have sanctioned marriages to support families, strengthen communities, and facilitate governance," the brief states. "Because same-sex couples form families, raise children, and avail themselves of the benefits and abide by the obligations of marriage in the same manner as different-sex couples, the states' interest in marriage are furthered by allowing same-sex couples to marry."
The 14 states represented in the brief are California, Connecticut, Delaware, Iowa, Illinois, Maine, Maryland, Massachusetts, New Hampshire, New Mexico, New York, Oregon, Vermont and Washington. D.C. Attorney General Irving Nathan also signed.
Because the cases are before the Ninth Circuit, they are the most advanced federal lawsuits on marriage equality and the closest to the Supreme Court. However, the lawsuits may not be the ones to reach the high court first because the Ninth Circuit is notoriously slow in reviewing litigation.
Both briefs from the attorneys general and Abercrombie make use the Supreme Court's decision against the Defense of Marriage Act.
The brief filed by the attorneys generals says in a footnote that the DOMA decision has particular impact on gay couples in Hawaii and Nevada because marriage laws in those states are now preventing them from accessing the federal benefits of marriage.
"Nevada and Hawaii marriage laws now prevent same-sex couples and their families from obtaining important federal benefits and protections otherwise available to married couples," the brief states. "This works significant and practical harm to those families and further undercuts the rationality of state laws that create two classes of state-sanctioned relationships."
The attorneys general filed a brief before the Ninth Circuit even though they had previously articulated their views on marriage before the Supreme Court, but one party that didn't follow suit is the Obama administration.
The Justice Department filed a friend-of-the-court brief when California's Proposition 8 had come before the Supreme Court, arguing the ban on same-sex marriage is unconstitutional and suggesting states with domestic partnerships must allow marriage rights for gay couples.
Although Nevada and Hawaii similarly have domestic partnership registries, the Obama administration didn't make a filing in the Nevada or Hawaii cases. The Justice Department didn't respond to a request to comment on why no brief was filed.
Evan Wolfson, president of Freedom to Marry, nonetheless said the lack of a brief from the Obama administration isn't of concern.
"It is not disappointing and not a problem; the Department of Justice's conclusion that the denial if the freedom to marry violates the Constitution is clear and a matter of record," Wolfson said.
Lambda Legal had previously said it would "welcome" a brief from the Obama administration in the Nevada case for the Ninth Circuit. In response to an inquiry about the absence of input from the Justice Department, Lambda Staff Attorney Peter Renn pointed to the friend-of-the-court briefs filed by other parties in the lawsuit.
"A total of 17 amicus briefs were filed, in support of ending the unconstitutional exclusion of same-sex couples from marriage and the real harm it does to same-sex couples and their families," Renn said. "The Obama Administration's support for marriage equality is already well-established, and there may be future opportunities to file amicus briefs in this case as it proceeds further."
A number of other parties submitted friend-of-the-court briefs before the Ninth Circuit in favor of overturning the bans on same-sex marriage.
* A group of 13 political scientists filed a 39-page brief arguing the marriage bans should be overturned because laws related to sexual orientation should be subject to heightened scrutiny. Gay people, the political scientists say, should be considered a suspect class because they continue to lack political power.
"Gay men and lesbians lack political power," the brief states. "They are underrepresented in political office; they are viewed negatively by a majority of Americans; their interests are opposed by powerful, well-funded interest groups that use ballot initiatives to try to undo the limited political successes that gay men and lesbians have achieved; and they have limited influence over their political allies."
* Another brief was filed by the National Association for the Advancement of Colored People, which argues that the 1967 Supreme Court decision overturning state bans on interracial marriage in Loving v. Virginia applies to prohibitions on same-sex marriage.
"The basic 14th Amendment principles addressed in Loving are not limited to race," the brief states. "To the contrary, they govern any state action that denies two consenting adults – including those of the same sex – the right to marry. While the nature of discrimination against lesbians and gay men differs fundamentally from the de jure racial segregation at issue in Loving, the legal issues addressed by Loving are analogous to the legal issues raised in these appeals."
Other briefs were filed by Gay & Lesbian Advocates & Defenders, the American Psychological Association, the Columbia Law School Sexuality & Gender Law Clinic and the Gay & Lesbian Medical Association.
UPDATE: This article has been updated with a comment from Lambda Legal and a listing on the states that signed the brief from the attorneys general.
Pelosi to throw first pitch for Tuesday's Washington Nationals Night OUT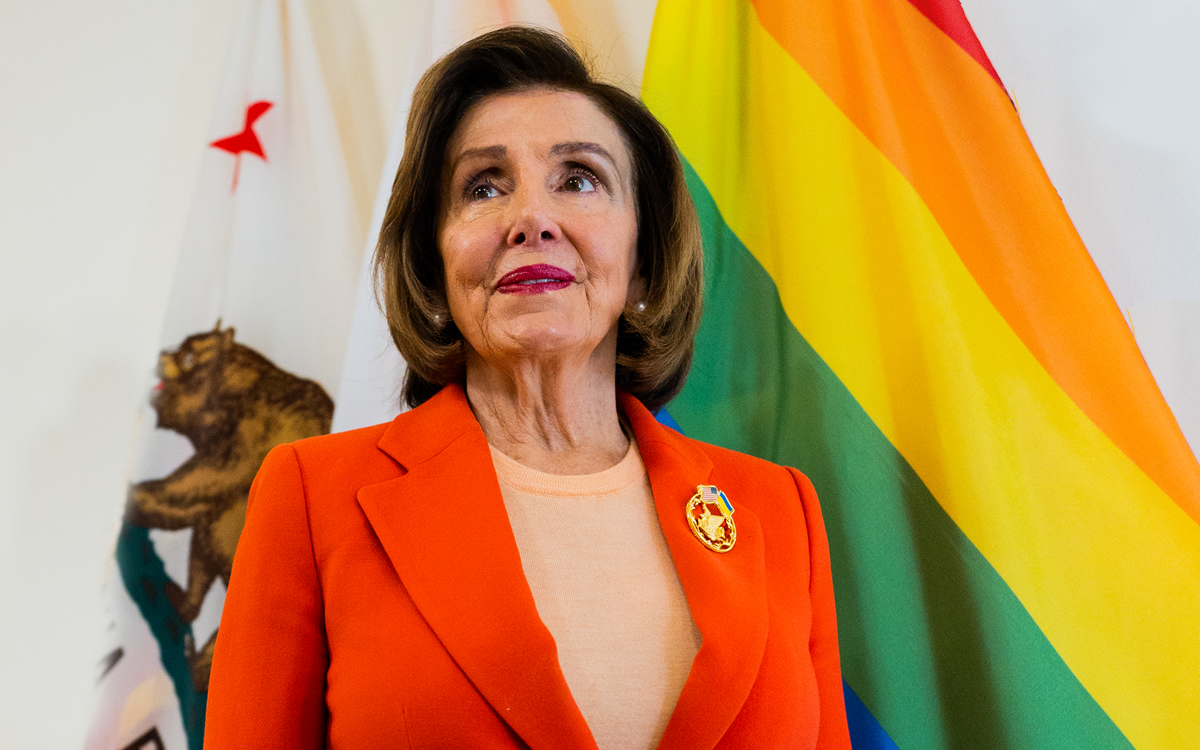 Speaker Emerita U.S. Rep. Nancy Pelosi (D-Calif.) on Tuesday will throw the ceremonial first pitch for the annual Washington Nationals Night OUT celebration, Major League Baseball's longest-running Pride event.
Pelosi will be honored for her work advancing equal rights for the LGBTQ community throughout her career, from her first speech on the House floor addressing the AIDS crisis in 1987 to her leadership codifying protections for same-sex couples through passage of the Respect for Marriage Act last year.
Pelosi, as a special guest of the LGBTQ sports group Team DC, will throw the pitch shortly after Tuesday's game begins at 7:05 p.m. ET.
According to a press release from the Washington Nationals, "The first 20,000 fans in attendance will receive a Screech Night OUT bobblehead, and fans who purchase a special Night OUT ticket will also receive an exclusive T-shirt with $5 of every special ticket purchased donated to Team DC."
Tickets for Night OUT are available for purchase.
Pelosi reflected on her record of advocating for LGBTQ Americans during an interview with the Washington Blade in January, shortly after her planned departure from Democratic leadership, where she had served for two decades, including as Speaker of the House.
"Nancy D'Alesandro Pelosi is the most consequential Speaker in American history and I am humbled by the opportunity to recognize her as Speaker Emerita," Democratic House Leader Rep. Hakeem Jeffries (N.Y.) said last November, following the unanimous vote to bestow the honorific on Pelosi.
The move celebrates "Speaker Pelosi's lifetime of service as a legendary legislator, notorious negotiator and a fabulous facilitator. Our Caucus and our country are better off for her leadership, without question, and this title is but a small token of our gratitude," Jeffries added.
22 ways to celebrate Pride month in Delaware
From Wilmington to Rehoboth, there's something for everyone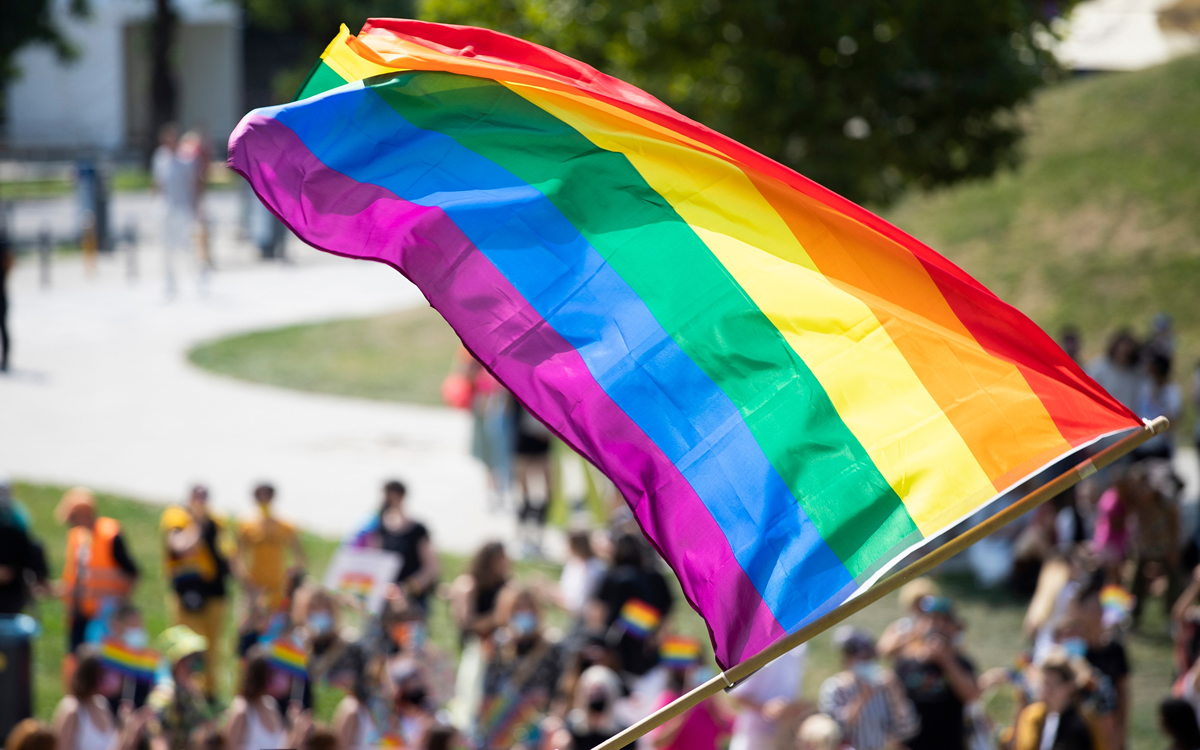 FRIDAY, JUNE 9
QUEER FILM: The Rehoboth Beach Film Society and CAMP Rehoboth kick off the three-day Pride Film Festival featuring 12 movies, ranging from "The Rocky Horror Picture Show" to "Going to Mars: The Nikki Giovanni Project," which explores author Giovanni's life and six decades of work. The schedule has not been announced yet as of publication of this guide. The films will be shown at Cinema Art Theatre at 17701 Dartmouth Rd. #2 in Lewes. $12 per film.
A HISTORY LESSON: Delaware LGBTQ history researcher Carolanne Deal explores the queer history of Sussex County and a new exhibition with parts of Delaware's queer history in the Zwannendael Park by the museum with the same name. 5 p.m. at 102 Kings Highway in Lewes. Free.
SATURDAY, JUNE 10
PRIDE FESTIVAL: Delaware Pride is putting on its annual Pride festival, with more than 100 vendors and many entertainers making up the single largest LGBTA gathering in Delaware, the organization says. Seventeen entertainers are listed on Delaware Pride's Facebook page, including "American Idol" contestant Alisabeth Von Presley – "Lady Gaga meets Pat Benatar with a dash of Michael Jackson," Little Village Magazine writes; Aunt Mary Pat, the drag queen and singer; Jenna Tall, who's won five Miss titles; The Manhattan Prairie Dogs, a dance group that's legal to watch despite prairie dogs being illegal to keep as a pet in New York; and Ryan Cassata, a singer and public speaker on trans issues. That's not even mentioning 83 vendors that are scheduled to attend. 10 a.m.-5 p.m. at 411 Legislative Ave. in Dover. Free.
PRIDE AFTER-PARTY: Double D's Taphouse is hosting an after-party throughout Saturday night for adults 21 and over, hosted by Scarlett Masters (who's also hosting the drag bingo above). 6-10 p.m. at 137 Jerome Drive in Dover. $15.
COUNTRY DANCING: Get yir boots on and saddle up, gays! Atlantic Sands Hotel & Conference Center is hosting a country dance party for gay men and women in Rehoboth. 7 p.m. at 1 Baltimore Ave. on the Boardwalk in Rehoboth. $10.
BRING YOUR GAY ASS OVER HERE: Flash your colors at Wilmington's Crimson Moon bar. Brush up on your gay history to understand why: When it was illegal to be gay, LGBTQ people put a colored handkerchief in their back pocket to signal their queerness to other community members. Community leaders periodically changed that color so they would not reveal their sexuality to undercover cops. Over time, it evolved into what it is today – a way to show who you are and what you're looking for. 9 p.m. at 1909 W. 6th St. in Wilmington. No cover.
SUNDAY, JUNE 11
RUN FOR FUN AT THE FUN RUN: Fun for run, no, run for fun in Rehoboth, organized by a Delaware shoe store, Charm City Run. 8-9 a.m. at 200 Rehoboth Ave. in Rehoboth. Free.
MIDDLETOWN PRIDE: Middletown is hosting its second annual Pride Walk and Festival – with vendors this time. 12-5 p.m. in Middletown. Free.
BINGO FOR A CAUSE: AIDS Delaware is hosting a spring bingo with The Rainbow Chorale in the Mill Creek Fire Company's Chambers, with all proceeds benefitting the two organizations. It's hosted by drag queens Scarlet Masters and Aura Buboyz and organizers encourage guests to dress in Pride attire or your "best ally" attire. Doors open at 5 p.m., games begin at 6 p.m. at 3900 Kirkwood Hwy in Wilmington. $15 for admission and one game board.
SUPPORT AGING LGBTQ+ PEOPLE: Learn about the challenges facing older LGBTQ adults and resources for them in a roundtable discussion hosted by Sussex Pride at the Unitarian Universalists of Southern Delaware's building in Lewes. 6-7:45 p.m. at 30486 Lewes Georgetown Hwy. Free.
THURSDAY, JUNE 15
A NIGHT OUT: Bring your friends and (queer) family to this LGBTQ social event at Constitution Yards Beer Garden. It had a record turnout of about 300 last year, and organizers are hoping to crack 400 this year. 6-9 p.m. at 308 Justison St. in Wilmington. Free.
GAME NIGHT: If going out isn't your thing and you'd prefer a more chill night, fear not: Sussex Pride is hosting a game night in the Epworth United Methodist Church. 6:30-8:15 p.m. at 19285 Holland Glade Rd. in Rehoboth. Free.
FRIDAY, JUNE 16
GET INTO THE HOMO SPIRIT: Listen to CAMP Rehoboth's Chorus singing all-time favorites like Chad & Jeremy's "A Summer Song," Chicago's "Saturday in the Park," and, of course, a Beach Boys medley at Epworth United Methodist Church. Friday and Saturday 7 p.m., and Monday 3 p.m. at 19285 Holland Glade Road in Rehoboth. $25.
GAYEST SONGS EVER: Celebrate the super gay pop hits of yesteryear (and this year) with performer Todd Alsup. 8:30-10:30 p.m. at The Pines, 56 Baltimore Ave. in Rehoboth. $25-150.
SATURDAY, JUNE 17
DRAG BRUNCH: Miss Troy, who is also performing at the Pride Festival, is hosting a drag brunch at The Queen in its Crown Room. The Queen is normally a live music venue but has a history of hosting all kinds of events. 12 p.m. at 500 N. Market St. in Wilmington. $39-61.50
POOL PARTY: If you want to take a splash in the pool while being a little tipsy this is the place to do it. Bring your own booze if desired, and bring food if you wish. 3-9 p.m. at 128 Honey Brook Lane in Felton. Free.
PLAY DUNGEONS & DRAGONS: Take a break from celebrating with a round of Dungeons & Dragons hosted by Sussex Pride at the Groome Church. 6:30-8 p.m. at 601 Savannah Rd. in Lewes. Free.
SUNDAY, JUNE 18
QUEER STORY TIME: Bring your little (or not so little) kids to the Woodlawn Library and read picture books with LGBTQ characters. You must register for the event beforehand here. Masks are strongly encouraged at the event. 11 a.m.-12 p.m. at 2020 W. 9th St. in Wilmington. Free.
BRING YOUR DADDY TO BRUNCH: Goolee's Grill encourages you to bring your dad (or daddy) to this family-friendly drag brunch because it's Father's Day. The event is hosted by the runner up for Rehoboth's Best Drag Queen in the 2019 Blade awards, Regina Cox. 12-2 p.m. at 11 South 1st St. $15.
SATURDAY, JUNE 24
ZOO VISIT: The Brandywine Zoo is holding its annual Pride Day – only the third – with educational programming, a scavenger hunt, and story time. 10 a.m.-3:30 p.m. at 1001 N. Park Dr. in Wilmington. $7 for seniors and youth, $9 for adults.
SUNDAY, JUNE 25
STONEWALL RELIVED: Listen to four actors recreate the 1969 Stonewall Uprising at CAMP Rehoboth with the words of those that were there – reporters, drag queens, trans youth, gay people, and homeless kids that confronted the police, letting out their anger. It wasn't the first LGBTQ uprising of the era, but the most consequential. 4 p.m. & 7 p.m. at 37 Baltimore Ave. in Rehoboth. $25.
FRIDAY, JUNE 30
GAY COMEDY: Standup comedian Jen Kober, an out lesbian from Louisiana, is touring the country and stopping in Rehoboth Beach at The Pines along with Jeff D. She won NPR's Snap Judgment of Comedic Performance of the Year and went viral for her standup about Girl Scout cookies. 7 p.m. at The Pines in Rehoboth.
Did we miss anything? Let the author know at [email protected]
People of Pride: A look at Maryland's LGBTQ community
Prominent activists, leaders spoke with the Baltimore Banner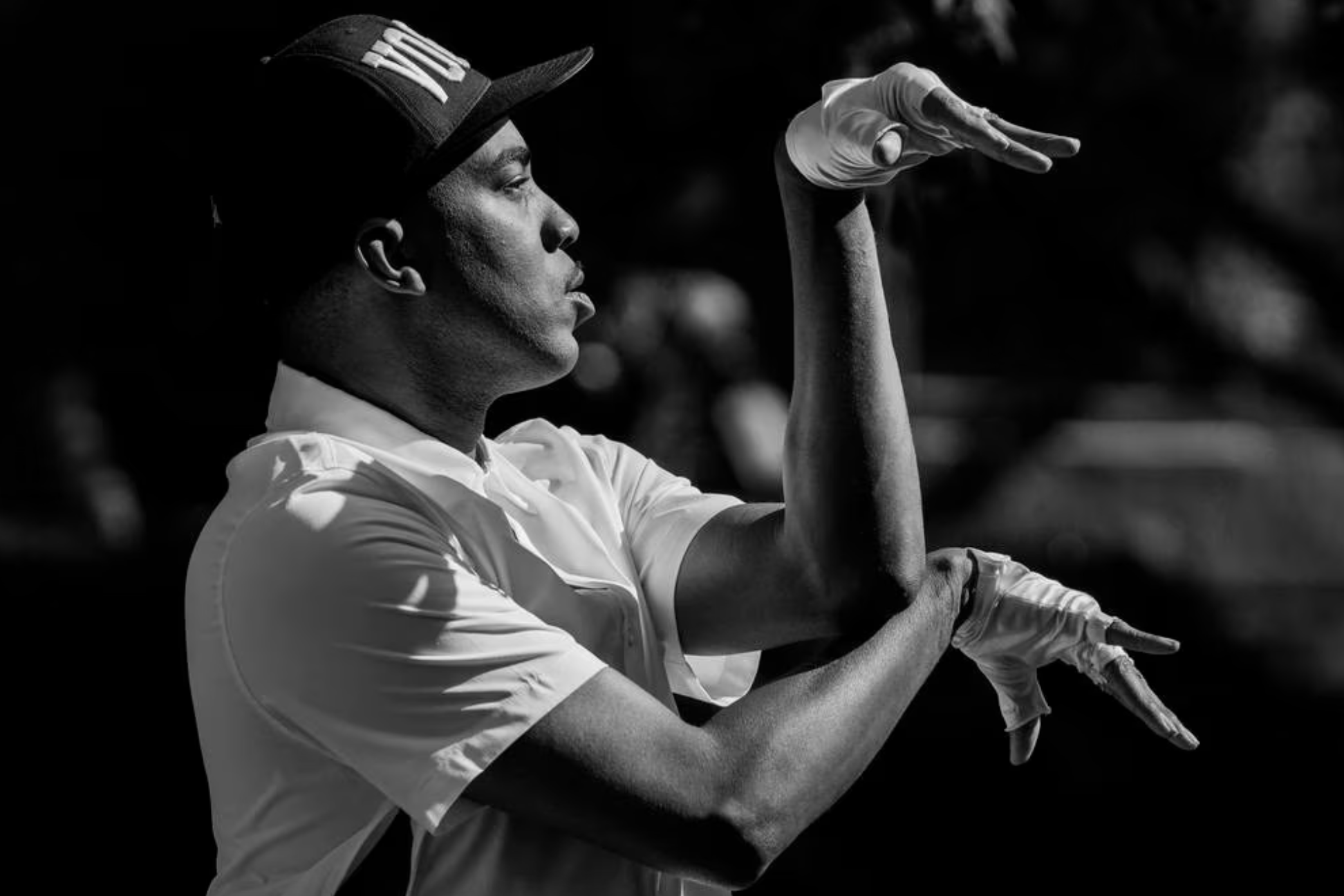 By John-John Williams IV | With the LGBTQ community under assault in many states, LGBTQ Marylanders say Pride month has taken on added meaning this year.
There are an estimated 11 million LGBTQ adults in the United States, with 151,000 in the state of Maryland, according to the Williams Institute on Sexual Orientation and Gender Identity Law and Public Policy at UCLA School of Law. The community covers a diverse spectrum of genders, identities, races and cultures.
The Baltimore Banner spoke and emailed with members of the community about the meaning of pride and the greatest challenges facing the LGBTQ community. Here are their answers, some of which have been edited for length and clarity.
The rest of this article can be found on the Baltimore Banner website.