Stein Club unable to endorse in 3 Council races
Graham, Bonds finish second to challengers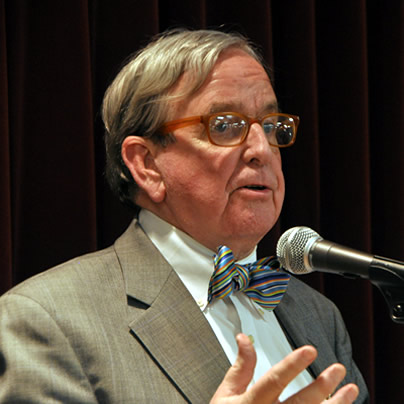 The Gertrude Stein Democratic Club, the city's largest LGBT political organization, was unable to make an endorsement in three of the five City Council races it considered Wednesday night when no candidate in three of the contests was able to capture a required 60 percent of the vote from more than 140 members in attendance.
D.C. Council Chair Phil Mendelson (D-At-Large), a longtime supporter of the LGBT community, easily won the club's endorsement in his re-election bid after beating Democratic challenger Calvin Gurley by a vote of 120 to 13.
"I'm pleased and honored," Mendelson told the Blade after the vote. "I'm very proud of my record on LGBT issues, not the least of which is marriage equality," he said. "I've tried to be very supportive and I appreciate the support in return."
Council member Kenyan McDuffie (D-Ward 5) also won the club's endorsement by beating Democratic challenger Kathy Henderson by a vote of 124 to 13. A third candidate running in the April 1 Democratic primary for the Ward 5 Council seat, Carolyn Steptoe, didn't attend the forum.
In a development that surprised some club members, challenger Brianne Nadeau finished ahead of gay Council member Jim Graham (D-Ward 1), a four-term incumbent, by a vote of 70 to 64, with one person voting for no endorsement. Although Nadeau's supporters called the outcome a victory for her, the vote total came nowhere near the 60 percent threshold needed for an endorsement.
Graham's supporters, including former Stein Club President Kurt Vorndran, said the close vote between Nadeau and Graham didn't reflect the true sentiment of LGBT voters, whom they said would vote overwhelmingly for Graham in the April 1 primary.
Nadeau supporters dispute that assessment, saying the Ward 1 civic activist and former Advisory Neighborhood Commission member has emerged as Graham's strongest challenger in years.
The voting took place after incumbents and challengers running for Council seats in Wards 1, 5 and 6; an at-large seat; and the position of Council Chair gave opening remarks and answered questions from the audience.
Many of the questions were about non-LGBT issues, highlighting what some Stein Club members said was the perception that LGBT issues may no longer be a key factor because nearly all candidates running for public office in D.C. support LGBT equality.
Close to 200 people attended what the Stein Club called a combined endorsement meeting and candidate forum, which was held at Unity of Washington Church at 1225 R St., N.W.
In yet another surprise to some of the attendees, challenger Nate Bennett-Fleming, who holds the position of shadow U.S. Representative, finished ahead of incumbent Council member Anita Bonds (D-At-Large) by a vote of 68 to 51 in a run-off ballot.
In the first ballot vote, Bennett-Fleming beat Bonds by a vote of 60 to 53. Challengers John Settles and Pedro Rubio came in third and fourth with 14 votes and 12 votes respectively.
In the Ward 6 race, Democratic activist Charles Allen, former chief of staff for Council member Tommy Wells (D-Ward 6), finished ahead of Darrel Thompson, a former chief of staff for U.S. Senate Majority Leader Harry Reid (D-Nev.), by a vote of 68 to 65. Both have expressed strong support for LGBT rights and have worked on LGBT issues in their previous jobs.
Similar to the Ward 1 and At-Large races, the vote spread between Allen and Thompson was too close to give Allen the 60 percent margin he needed for an endorsement.
"When you have these endorsement processes it's about who can bring their people out and who can electrify their constituency – and I think everyone did that," said Earl Fowlkes, a member of the Democratic National Committee from D.C. and Stein Club member who served as moderator at the forum.
"That's why there were these close races," he said. "The people that are involved believe their candidate is better and they came out on a cold winter night and stayed for two ballots."
Fowlkes said the club shouldn't be disappointed in the lack of endorsements in the three Council races because the division in the vote reflects the sentiment of the club's members.
All of the candidates speaking at the forum except Gurley, Mendelson's challenger, expressed strong support for LGBT rights and promised, if elected, to be an advocate for the LGBT community.
Gurley, who received a "0" rating from the Gay and Lesbian Activists Alliance, spoke mostly about non-LGBT issues, saying he is committed to cleaning up corruption and waste in the city, which he said would benefit all residents, including LGBT people.
GLAA said it gave Gurley a 0 rating because he didn't return the group's questionnaire and it had no knowledge of his view on LGBT issues. At the forum, Gurley said he never received the questionnaire. GLAA President Rick Rosendall has said the group is meticulous in making sure that questionnaires are mailed or emailed to the addresses the candidates submit to the Board of Elections when they file papers to run.
During a period of discussion among club members following the forum, speakers appeared to be equally divided in their support between Graham and Nadeau.
Lesbian activist Barbara Helmick, a longtime Ward 1 resident, praised Graham for his long record of support on LGBT issues but said it was time for "new blood" on the Council.
"Let's give the new gal a chance," she said, in urging fellow club members to vote for Nadeau.
Patricia Hawkins, former deputy director of the Whitman-Walker Clinic, told of her work with Graham during the years he served as director of Whitman-Walker at the height of the AIDS epidemic and prior to his election on to the Council.
"He's an important asset to our community and every community," she said.
The Stein Club is scheduled to hold a similar endorsement meeting and candidate forum on March 6 for the eight Democratic candidates running for mayor, including Mayor Gray. The event is scheduled for 7 p.m. at the Metropolitan Community Church of Washington, 474 Ridge St., N.W.
17th Street High Heel Race draws large crowd
D.C. Mayor, three Council members, police chief mingle with drag queens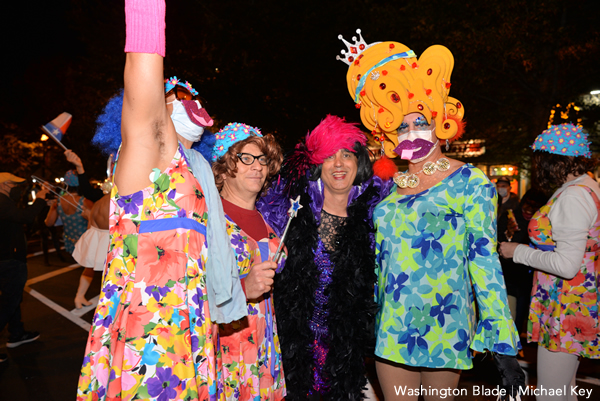 Close to 1,000 spectators turned out Tuesday night to watch D.C.'s 34th Annual 17th Street High Heel Race in which several dozen men dressed in drag and wearing colorful high heel shoes raced along a three-block stretch of 17th Street near Dupont Circle.
As she has in past years, D.C. Mayor Muriel Bowser, whose office organizes the annual event, gave the official signal for the runners to start the race from a stage at the intersection of 17th and R streets, N.W.
Joining the mayor on the stage was Japer Bowles, who Bowser recently named as director of the Mayor's Office of LGBTQ Affairs, which plays the lead role in organizing the High Heel Race.
Also appearing on stage after being introduced by Bowser were D.C. Council Chair Phil Mendelson (D-At-Large) and Council members Robert White (D-At-Large) and Brooke Pinto (D-Ward 2).
Bowser, who along with the three Council members delivered brief remarks before the start of the race, said the event highlights the city's diversity and resilience coming after over a year of coping with the COVID-19 pandemic.
"What we want the world to know – that even in a pandemic, even when we had to trim the budget, we stayed focused on how we can make life better for our LGBTQ community," Bowser told the crowd. "And we're going to keep on doing it," she said. "We're investing in making sure everybody in our community is accepted and safe."
D.C. Police Chief Robert Contee, who walked along the three-block section of 17th Street before the race began, was greeted warmly by bystanders, some of whom called out his name to welcome him to what has become the city's largest Halloween celebration.
"This is a great event," Contee told the Washington Blade. "I enjoy coming out to be among D.C. residents and all who find our D.C. culture," he said. "It's just a great evening, so we're happy to be out here supporting our community."
Members of the D.C. police LGBT Liaison Unit were among the police contingent on duty at the event and overseeing the closing of the streets surrounding 17th Street.
Like past years, many of the race participants and dozens of others dressed in Halloween costumes paraded up and down 17th Street beginning at 6:30 p.m., more than two hours before the start of the race, which was scheduled to begin at 9 p.m.
However, the mayor this year gave the signal to start the race at about 8:35 p.m. Although a large number of drag runners participated in the race, some who planned to join the race didn't make it to the starting line in time because they expected the race to begin at 9 p.m. as advertised, according to people in the crowd who knew those who missed the race.
To ensure that everyone had an opportunity to participate, Bowles and others from the mayor's office agreed to hold a second race about a half hour after the first one. The number of participants in the second race appeared to be about the same as those who joined the first race, indicating many of the drag participants ran twice.
"This is a special treat," said one bystander. "We got to see two races instead of one."
The High Heel Race was cancelled last year due to restrictions related to the COVID pandemic. Many in the crowd watching the race on Tuesday night said they were delighted the city decided to go ahead with the event this year at a time when other large events continue to be canceled or postponed.
Also similar to past years when the High Heel Race took place, the restaurants and bars that line 17th Street were filled on Tuesday night, including the gay bars JR.'s and Windows as well as the longtime LGBTQ-friendly Annie's Paramount Steakhouse.
Prior to the mayor's arrival, gay local radio and TV personality Jimmy Alexander of DCW 50 TV served as host to a drag show and costume contest on the stage. DCW 50 also set up and hosted a separate stage on the sidewalk next to JR.'s bar in which race participants and others dressed in costumes were invited to have their pictures taken and provided with copies of the photos of themselves.
"I think it's amazing," Bowser told the Blade after the completion of the first race. "It's good to be back. It was tough missing a year of activities," she said referring to the business shutdowns brought about by the pandemic. "We had a lot of great, beautiful racers. And so, I'm really excited about it."
To see more photos from this event, click here.
Gay attorney's plans to run for Del. Senate foiled by redistricting
Activists say move will 'dilute' LGBTQ vote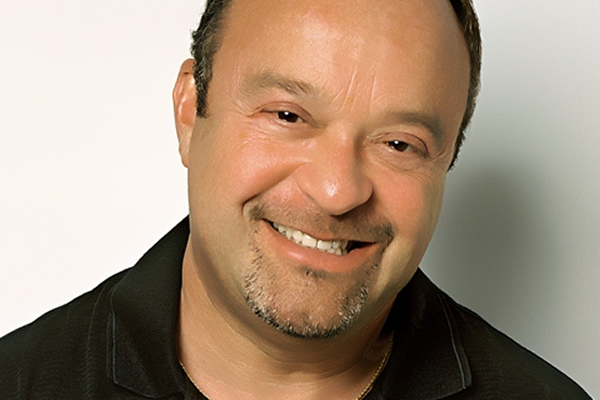 Plans by Delaware gay attorney and Democratic Party activist Mitch Crane to run for a seat in the Delaware State Senate in a district that included areas surrounding the town of Lewes, where Crane lives, and Rehoboth Beach ended abruptly this week when state officials approved a redistricting plan that removes Crane's residence from the district.
The seat for which Crane planned to run is in Delaware's 6th Senate District which, in addition to Lewes and Rehoboth, includes the towns of Dewey Beach, Harbeson, Milton, and surrounding areas, according to the state Senate's website.
The seat is currently held by Ernesto "Ernie" Lopez, a moderate Republican who became the first Hispanic American elected to the Delaware Senate in 2012. Lopez announced in July that he would not seek re-election in 2022.
The redistricting plan, which was approved by leaders of the Democratic-controlled Delaware General Assembly, places the section of the Lewes postal district where Crane lives into the 19th Senate District. Crane said that district is in a heavily Republican and conservative part of the state dominated by supporters of President Donald Trump who remain Trump supporters.
Under Delaware law, changes in the district lines of state Senate and House districts, which takes place every 10 years following the U.S. Census count, are decided by the Delaware General Assembly, which is the state legislative body.
Crane told the Washington Blade that neither he nor any other Democrat would have a realistic chance of winning the State Senate seat next year in the 19th District.
"Jesus could not win in that district if he was a Democrat," said Crane.
Crane said a Democratic candidate could win next year in the reconfigured 6th Senate District now that incumbent Lopez will not be seeking re-election.
The Cape Gazette, the Delaware newspaper, reported in an Oct. 22 story that Crane was one of at least two witnesses that testified at a two-day virtual hearing held Oct. 18-19 by a State Senate committee, that the proposed redistricting would dilute the LGBTQ vote in the 6th District and the draft proposal should be changed.
"The proposed lines remove a significant percentage of the LGBTQ residents from the current 6th District where most of such residents of southern Delaware live and place them in the 19th District which has a smaller such population," the Cape Gazette quoted Crane telling the committee. "By doing so, it dilutes the impact of the gay community which shares political beliefs," the newspaper quoted him as saying.
"The proposed lines dilute the voting power of the LGBTQ community in addition to others who respect diversity," the Cape Gazette quoted 6th District resident Sandy Spence as telling the committee.
In an Oct. 10 email sent to potential supporters before the redistricting plan was approved, Crane said he believes he has the experience and record that make him a strong candidate for the state Senate seat. He is a former chair of the Sussex County Democratic Party, where Rehoboth and Lewes are located; and he currently serves as an adjunct professor at Delaware State University's graduate school, where he teaches American Governance and Administration.
He is a past president of the Delaware Stonewall PAC, a statewide LGBTQ advocacy group, and he's the state's former Deputy Insurance Commissioner.
"I intend to focus on smart growth in Sussex County; work on the problems of homelessness and the need for affordable housing; and assuring that this district receives its fair portion of tax dollars," he said in his Oct. 10 email message announcing his candidacy.
Crane said he posted a Facebook message on Oct. 26 informing supporters that the redrawn district lines removed him from the district, and he is no longer a candidate.
MSNBC's Capehart to host SMYAL's Fall Brunch Nov. 6
Ashland Johnson to serve as keynote speaker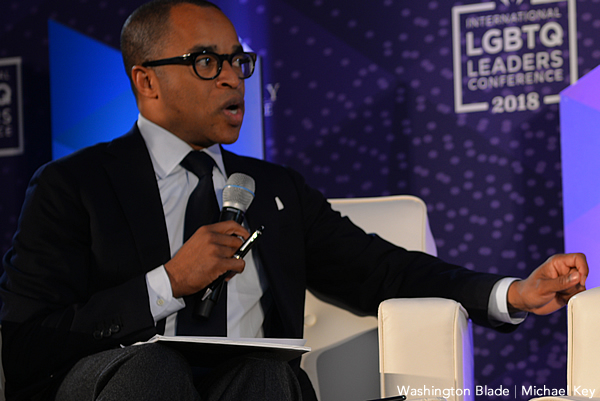 Pulitzer Prizing-winning gay journalist Jonathan Capehart, the anchor of MSNBC's "Sunday Show with Jonathan Capehart," will serve as host for the 24th Annual SMYAL Fall Brunch scheduled for Saturday, Nov. 6, at D.C.'s Marriott Marquis Hotel.
The annual Fall Brunch serves as one of the largest fundraising events for SMYAL, which advocates and provides services for LGBTQ youth in the D.C. metropolitan area.
"Each year, a community of advocates, changemakers, and supporters comes together at the Fall Brunch to raise much-needed funds to support and expand critical programs and services for queer and trans youth in the DMV area," a statement released by the organization says.
The statement says attorney and former Division I women's collegiate basketball athlete Ashland Johnson will be the keynote speaker at the SMYAL Fall Brunch. Johnson founded the sports project called The Inclusion Playbook, which advocates for racial justice and LGBTQ inclusion in sports.
Other speakers include Zahra Wardrick, a SMYAL program participant and youth poet; and Leandra Nichola, a parent of attendees of Little SMYALs, a program that SMYAL says provides support for "the youngest members of the LGBTQ community" at ages 6-12. The SMYAL statement says Nichola is the owner and general manager of the Takoma Park, Md., based café, bar, retail, and bubble tea shop called Main Street Pearl.
According to the statement, the SMYAL Fall Brunch, including a planned silent auction, will be live streamed through SMYAL's Facebook page for participants who may not be able to attend in person. For those attending the event in person, proof of COVID-19 vaccination will be required, and masks will also be required for all attendees when not actively eating or drinking, the statement says.
The statement says that for attendees and supporters, the Fall Brunch is "a community celebration of how your support has not only made it possible for SMYAL to continue to serve LGBTQ youth through these challenging times, it's allowed our programs to grow and deepen."
Adds the statement, "From affirming mental health support and housing to fostering community spaces and youth leadership training, we will continue to be there for queer and trans youth together."