Sympathy for the devil?
Long-but-rich 'Judas' is bold, provocative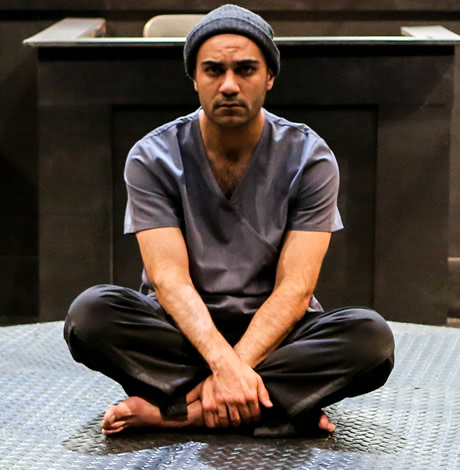 'The Last Days of Judas Iscariot'

Through June 14

Forum Theatre

Round House Theatre Silver Spring

8641 Colesville Road, Silver Spring, MD

$20-25

1-800-838-3006
Judas Iscariot: a name synonymous with betrayal.
Judas, of course, was the disciple who sold out Christ for 30 pieces of silver. Whether he did it for the cash or because he wanted to set off a rebellion against the occupying Roman army is debatable. Either way, he's never been a popular guy.
In Stephen Adly Guirgis' darkly comic "The Last Days of Judas Iscariot" (now at Forum Theatre), the follower-turned-traitor's motives, character and possibilities of redemption are all put on trial. Set in a corner of purgatory called Hope, the proceedings are presided over by bigoted Judge Littlefield (Brian Hemmingsen) assisted by his callow bailiff (Thony Mena). The action pits tough and sexy Fabiana Aziza Cunningham (Julie Garner), a non-believing defense attorney who's arguing that god's mercy mandates her client's release from eternal damnation, against oily prosecuting attorney Yusef El-Fayoumy (Scott McCormick) whom the judge simply addresses as Mr. El Fajita. The colorful litany of witnesses — a veritable who's who of Biblical and historical types — include Mary Magdalene (Nora Achrati), Saint Peter (Eric Porter), a naughty Mother Teresa (Achrati again), Saint Monica from the hood (Alina Collins Maldonado) and a self-satisfied Sigmund Freud (Jesse Terrill).
Throughout the play, Judas (Maboud Ebrahimzadeh) lies catatonic center stage on a raised circular platform. Occasionally he rouses for flashbacks, showing him as a young and impetuous idealist on the playground and later as an embittered adult at Bathsheba's Bar & Grill where a remorseful and very drunk Judas runs into Satan: "You wanna play the lute, sing Mary-Chapin Carpenter, that's what heaven's for," warns the Gucci-clad prince of darkness. "You wanna rock? Hell's the venue."
At three hours, "Judas Iscariot" is long, but never dull. The script is all over the place moving from corny exchanges to raw humor to darker places. Fortunately the superb and diverse cast of local actors is more than up for it. Boldly staged by Vreeke, who's gay, this production is a reprise of Forum's fantastic "Judas Iscariot" from six years ago that was mounted at the now-shuttered H Street Playhouse. This time around, the venue has changed — Forum's home at Round House Silver Spring's large and chilly black box space (take a sweater) — but the production remains equally compelling.
Along with talented director Vreeke, many of the production's original cast returned. Patrick Bussink makes a memorable cameo as a casual and quiet Jesus of Nazareth. Again, Jim Jorgensen plays Satan — happily hung over and deliciously evil. Frank Britton is back too as a badass, street smart Pontius Pilate who refuses to take the blame for just doing his job. (Britton was mugged and badly beaten by four men near the Silver Spring Metro Station after Monday night's opening. He's expected to return to the part soon.)
As with Guirgis' other plays like "Our Lady of 121st Street," "Jesus Hopped the 'A' Train" and "The Motherfucker with the Hat," "Judas Iscariot" plumbs meaning from losers' lives and gives a spot-on portraiture of urban street life. The humor is irreverent and the characters are delightfully foulmouthed. Yet, the work's deeper meaning is never lost. There are quiet, moving moments too: the show opens with Judas' sorrowful mother Henrietta (Annie Houston) recounting how she buried her son alone. Later Butch Honeywell (Frank B. Moorman), a Joe Six-pack with a bent for poetry, mourns not having been the husband and father he might have been. Like Judas Iscariot, his sadness comes from not being able to change what's already been done.
André Leon Talley dies at 73
Iconic Black fashion journalist was born in D.C.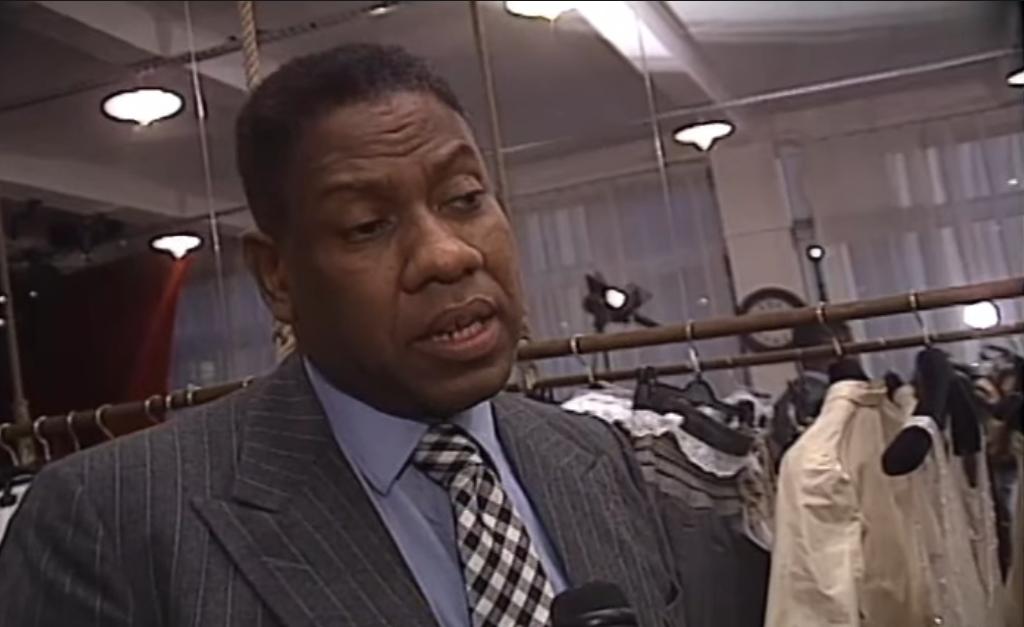 André Leon Talley, a formidable iconic fashion journalist and the former creative director and one-time editor-at-large of Vogue magazine, passed away at age 73 of unspecified causes at a hospital in White Plains, an inner suburb of New York City in Westchester County, New York.
News of the famed fashion journalist's death Tuesday was first reported by celebrity news and gossip site TMZ.
Andre Leon Talley, a giant in the fashion world, has died at 73. https://t.co/eckqP7zdwk

— TMZ (@TMZ) January 19, 2022
Talley was known for his close friendships with designers like Karl Lagerfeld, Tracy Reese, Rachel Roy, and singer/actress Jennifer Hudson, and Vogue magazine editor-in-chief Anna Wintour among others.
Talley worked at Vogue during an unprecedented time of growth in the fashion industry in the 1980's and 1990's. From 1983 until late 1987, he was the magazine's the news director and was then promoted to Vogue's creative director in 1988, a post he held until 1995. He later came back to the magazine in 1998 as the editor-at-large until his departure in 2013.
Born in D.C. on Oct. 16, 1948 and raised in North Carolina, Talley graduated with a Bachelor of Arts degree in French Literature in 1970 from North Carolina Central University. He later attended Brown University, after he was awarded a scholarship, where he earned a Master of Arts degree in French Literature in 1972.
Talley's early career as a journalist saw him working at Andy Warhol's Factory and Interview magazine. He later became the Paris bureau chief for Women's Wear Daily.
His later career saw Talley hosting his own radio show principally concerned with fashion and pop culture on Sirius XM. He also released a book "The Chiffon Trenches: A Memoir" on May 19, 2020, which detailed his early career start and some of the issues he encountered as a Black man.
Talley was also an LGBTQ icon. When asked about his sexual orientation by daytime chat show host Wendy Williams during a May 29, 2018 appearance, he stated, "No, I'm not heterosexual; I'm saying I'm fluid in my sexuality, darling."
André Leon Talley, fashion's godfather | fashion icon profile:
VideoFashion profile in 2020 marking of the release of André Leon Talley's memoir, "THE CHIFFON TRENCHES."
André Leon Talley | full address | Oxford Union:
DC Center to host estate planning seminar series
Three sessions presented by Murray Scheel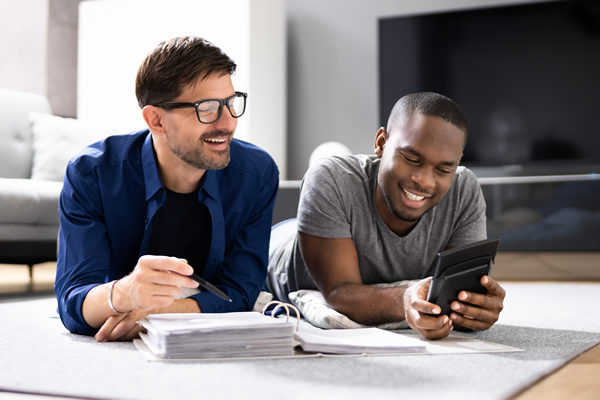 The DC Center for the LGBT Community and the DC Department on Aging and Community Living will host "Estate Planning Tools with Murray Scheel" via Zoom. 
Scheel will walk guests through the process of taking care of the end-of-life planning business that needs to be addressed during the golden years. Scheel is Senior Staff Attorney at Whitman-Walker Health's Legal Services.
This event series will consist of three 1.5-hour sessions:
Jan. 19, 3 p.m. – "Tools for while you're living" (overview, general power of attorney, healthcare power of attorney, disposition of remains, etc.)
Jan. 26, 3 p.m. – "Tools for after you're gone" (living wills, last wills, assets, etc.)
Feb. 2, 3 p.m. – "Healthcare insurance & long term care" (Medicare, Medicaid, correcting misinformation, skilled nursing, hospice care, etc.)
To register for this event, visit the DC Center website.
DC Center to host legal seminar for trans people
Attorney Richard Tappan and paralegal Miranda Shipman to give legal advice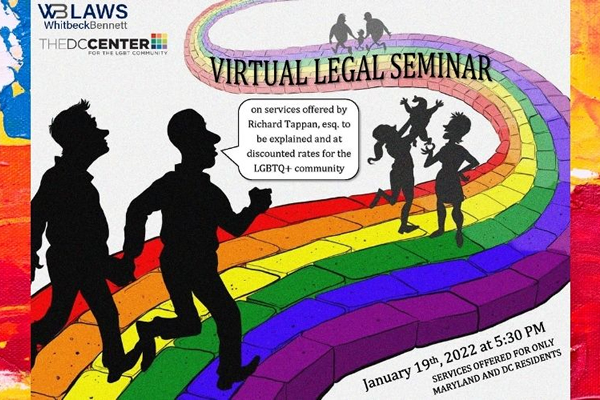 The DC Center for the LGBT Community will host a "Gender and Name Change Legal Seminar" on Wednesday, Jan. 19 at 5:30 p.m. online.
Attorney Richard Tappan and paralegal Miranda Shipman will give legal advice and speak on the importance of the legal community within the LGBTQ community, the difficulties of the LGBTQ community in the legal field and name and gender changes.
Guests can find the link at the DC Center website.