Best of Gay D.C. XIII: Dining
Winners from the Blade's readers poll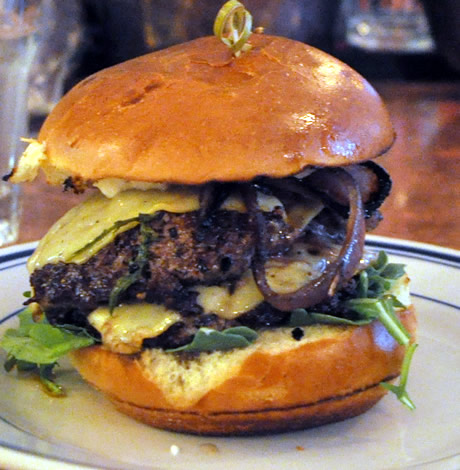 To see the winners of the Washington Blade's Best of Gay D.C. readers poll in other categories, click here.
Best new restaurant
Barcelona
Runner-up: Rose's Luxury
In the heart of the booming 14th Street N.W. corridor near Logan Circle is Barcelona, an always-bustling spot that has one of the largest outdoor seating areas in the neighborhood and a classy-yet-low-key vibe on the block between Q and R streets. Part of a chain, the restaurant, under the direction of Executive Chef John Critchley, features mostly tapas but has a few entrees as well. Many are Spanish-inspired (e.g. spiced beef empanadas or potato tortilla) but not all. It opened October 2013. (JD)
Barcelona Wine Bar & Restaurant
1622 14th St., N.W.
202-588-5500
Best Date Restaurant
Floriana
Runner-up: Le Diplomate
Best Wine Bar
Dito's Bar at Floriana
Runner-up: Cork
The perfect date night is planned for you at Floriana. Authentic Italian food, like butternut squash ravioli and lasagna, can transport any date from D.C. to Italy. Stop by Dito's Bar for a drink to complete the romantic evening. All you have to do is show up. (MC)
Floriana
1602 17th St., N.W.
202-667-5937
Best Dessert
Curvy Mama Pies
Runner-up: Cake Love
Never grab a grocery store pie for the party again. Curvy Mama Pies' online ordering service can have your pies ready in 48 hours. Try old favorites like "The Best Apple Pie Ever" and pumpkin pie or step outside the pie box and try "Aztec Chocolate Chess" or "Sweet Potato Bourbon." (MC)
Curvy Mama Pies
Bethesda, Md.
301-717-3010
Best Boozy Brunch
Level One
1639 R St., N.W.
202-745-0025
Runner-up: Freddie's Beach Bar
Best Chef
Jamie Leeds (Hank's Oyster Bar)
Runner-up: Jose Andres (Jaleo, Oyamel, etc.)
Long-time out restaurateur Jamie Leeds adds another accolade to her long list. In Washington since 2002, she opened the first Hank's Oyster Bar in 2005 and now has locations in Capitol Hill and Old Town Alexandria in addition to its Q Street location just off 17th Street, N.W. If you're into oysters, competitor Pearl Dive Oyster Palace on 14th, is undeniably great, but Hank's always has a bounty of nirvana-inducing selections from a bewilderingly far-flung group of locales that are always mind bogglingly fresh. D.C. oyster heaven doesn't get any better than this. (JD)
Hank's Oyster Bar
1624 Q St., N.W.
Washington
202-462-HANK
1026 King St.
Alexandria, Va.
703-739-HANK
633 Pennsylvania Ave., S.E.
Washington
202-733-9171
Best Late Night Restaurant
Amsterdam Falafel
Runner-up: Annie's Paramount Steak House
Don't let your standards slip just because it's after hours. Fresh falafels are made to order here with 21 sauces and toppings to choose from. Customize the fries as well with dressings and sauces like Dutch mayo or homemade peanut sauce. (MC)
Amsterdam Falafel
1830 14th St., N.W.
202-232-6200
Best Coffee Shop
Soho Tea and Coffee
Runner-up: The Coffee Bar
Ditch the Starbucks and try a specialty coffee at Soho Tea and Coffee. Drinks with fun names like Hello Gorgeous Macchiato and Betty Boop, white or dark chocolate mixed with coffee, make this not your typical coffee shop. (MC)
2150 P St., N.W.
202-463-7646
Best Rehoboth Restaurant
Dos Locos
Runner-up: Purple Parrot
Whether you're looking to watch a game with friends at the bar while downing the renowned margaritas or in need of a family-friendly place for dinner, the gay-owned Dos Locos delivers. There are seasonal specials (don't miss the pumpkin margarita), tequila tasting dinners, inventive entrees (we love the duck quesadilla) and unbeatable specials (like the $20 pitchers of sangria on Saturdays). (KN)
Dos Locos
208 Rehoboth Ave.
302-227-3353
Best Caterer
Chef Patrick
Runner-up: R&R Catering
Best Pizza
Matchbox
Locations vary
Runner-up: &Pizza
Best Burger
Duke's Grocery
Runner-up: Shake Shack
Inspired by East London corner cafes, Duke's Grocery provides a casual environment. The menu changes daily based on which ingredients, sourced from local purveyors, are fresh and seasonal. The burgers, like all other dishes, are made from scratch. (SMH)
Duke's Grocery
1513 17th St., N.W.
202-733-5623
Best Baltimore Restaurant
Woodberry Kitchen
Runner-up: City Café
Woodberry Kitchen is celebrating seven years in business and it's still impossible to get a table without a reservation. Woodberry was an early proponent of the now-ubiquitous trend of farm-to-table cuisine. Chef Spike Gjerde is a James Beard semi-finalist as is the bar program. Woodberry supports sustainable agriculture, using ingredients from the Chesapeake region in its New American dishes. The success helped spawn a hot new spot, Parts & Labor, a butcher shop and restaurant, but there's nothing like the original. Just make a reservation. (KN)
Woodberry Kitchen
2010 Clipper Park Road, #126
410-464-8000
Best Food Truck
D.C. Empanadas
Runner-up: Red Hook Lobster
D.C.'s only mobile gourmet empanada truck takes great care to provide hand-made delicacies using only local ingredients. A wide variety of beef, pork, chicken and vegetarian options rotate daily. Check Twitter @DCEmpanadas for the truck's location. (SMH)
D.C. Empanadas
703-400-5363
Best Cheap Eat
District Taco
Runner-up: Stoney's
What originated as a food truck in 2009 now serves the community in four locations in and around D.C. The Yucatan-style tacos are simple, healthful and made from quality ingredients and served in environmentally friendly packaging. (SMH)
District Taco
703-560-0369
Best Farmer's Market
Eastern Market
225 7th St. S.E.
202-698-5253
Runner-up: Dupont Circle FRESHFARM Market
Best Steak
Ray's The Steaks
Runner-up: Ruth's Chris Steak House
Satisfy that steak craving at Ray's The Steaks. A New York strip, filet mignon or one of their butcher cuts is guaranteed to hit the spot. Their beef is all aged in house and cuts butchered daily for the ultimate tasting experience. (MC)
Ray's The Steaks
2300 Wilson Blvd., Arlington, Va.
703-841-7297
Best Donut
Winner: District Doughnut
Runner-up: Krispy Kreme
Caramel apple streusel, maple butter pecan, apple cider and the list goes on for the donut flavors you can try here. The flavor schedule changes daily so be sure to come back again and again to indulge in something new. (MC)
District Doughnut
749 8th St., S.E.
202-350-0799
Have to pee? Check out new John Waters Restrooms
BMA introduces gender-neutral facilities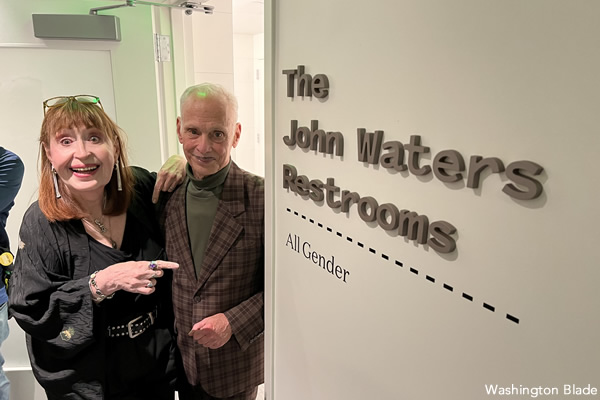 The Baltimore Museum of Art unveiled its latest addition on Wednesday: the John Waters Restrooms, named for the iconic filmmaker who is a trustee of the museum.
There were plenty of snickers and jokes about who would be the No. 1 and No. 2 patrons of the new facilities, but beneath the potty humor was an important message about access to the most fundamental spaces in society.
Joining Waters at a BMA event Wednesday to officially dedicate the gender-neutral restrooms was Elizabeth Coffey, a transgender actress and longtime friend and collaborator of Waters'. Coffey noted the importance of access to public spaces to the trans community. Preceding her at the lectern was Christopher Bedford, the Dorothy Wagner Wallis director of the BMA, who noted that adding the gender-neutral restrooms was the right thing to do.
After brief remarks, Coffey and Waters led a group of museum supporters and reporters downstairs to see the new space and Coffey cheekily took the inaugural trip into one of four private stalls. The stalls and adjoining communal washroom were designed by Quinn Evans Architects and feature white tile with bright red tile in the stalls. The idea for naming the restrooms came from Waters when he bequeathed his fine art collection to the BMA, according to a museum statement. 
The John Waters Restrooms will open to the public on Sunday, Dec. 12, in conjunction with the adjacent Nancy Dorman and Stanley Mazaroff Center for the Study of Prints, Drawings and Photographs and Ruth R. Marder Center for Matisse Studies. Waters is about to embark on a national tour of spoken-word performances.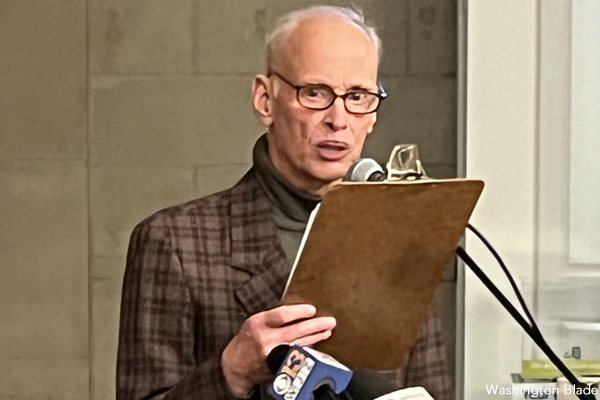 Sharon Gless on new memoir and connection to LGBTQ community
Beloved TV icon's book was seven years in the making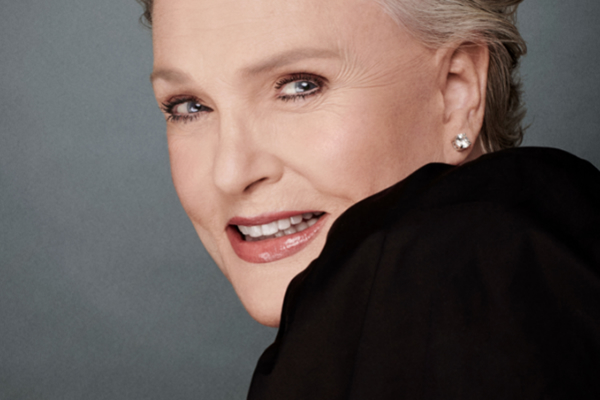 Have you ever read a memoir that is so intimate, so revealing, so honest, that as you were turning the pages it felt like the writer was sitting next to you, speaking directly to you?
Kudos to multiple Emmy Award-winning actress Sharon Gless for making that a part of the experience of reading her new memoir "Apparently There Were Complaints" (Simon & Schuster, 2021). The Los Angeles native with Hollywood in her veins (her maternal grandfather was a hotshot entertainment lawyer), Gless rose to prominence via her portrayal of New York police detective Christine Cagney in the popular and groundbreaking 1980s TV series "Cagney & Lacey"(alongside Tyne Daly). As if she hadn't already established an LGBTQ following through that show, she went on to play Debbie Novotny, the smart and sassy mother of Michael on Showtime's equally groundbreaking "Queer As Folk"in the early 2000s. Gless sat down for an interview in advance of the publication of her book.
BLADE: Your new memoir, "Apparently There Were Complaints" opens on a serious note with your 2015 pancreatitis diagnosis. So, I'd like to begin by saying that, from one Gemini to another, I hope you are in good health.
SHARON GLESS: Thank you, honey, I'm in very good health. Thank you, my fellow Gemini.
BLADE: Why was now the time to write your memoir?
GLESS: Well, it's taken seven years. It's not like it was yesterday. I never actually intended to write a memoir, Gregg. I was called in to a meeting by CBS for what I thought was a conversation to offer me a new series. We talked for an hour and, apparently, I was so entertaining that at the end of the hour meeting, the president of CBS said, "You know we own Simon & Schuster." I said, "I didn't know that." She said, "We do, and I think you've got a book in you." I said, "I don't usually write." She said, "That doesn't matter. You're a storyteller, Sharon." So I walked out with a book deal [laughs] with Simon & Schuster and not the series I was hoping for. Actually, I didn't meet (with) Simon & Schuster for another year. I sort of let it go. The next day there was a text from the president of Simon & Schuster. I sort of ignored it because I didn't want to do that. I wanted to act! A year went by, and I wasn't so busy, and I was in New York, and I said, "What the hell!" I went to meet him. I read one chapter to him, one chapter that I had written in case he asked for anything. He signed me that day [laughs].
BLADE: Were you a journal or diary keeper or did you rely on your memory for the details?
GLESS: Never. No. My very best friend Dawn (LaFreeda), who's been my best friend forever and … I'm a talker, a storyteller, and I would tell her stories about my life throughout our relationship. She kept them! She said, "You have a book in you." So, there's another person saying so. She kept the stories. When Simon & Schuster made me the offer, Dawn dragged out all my stories. A couple of times I had gatherings at my house where I had four people over, and I said, "Ask me some questions," and put a recorder down. I'd just start talking. Then as more of my life coming out on the page, which is hard to do, I started remembering more and more. It took a form that I had always intended. I came up with the title, "Apparently There Were Complaints," very early on. I made the book about all the complaints people had about me throughout my life. It helped that Dawn had kept records of all the stories I've told. Some of those I used in the book. It's funny, as you write, as you keep going, you start remembering more and more and more because one emotion leads to the next emotion or the next time someone hurts your feelings or the next complaint.
BLADE: I'm glad you mentioned the emotional part of it, because writing a memoir means revisiting the past, including your complicated relationship with your grandmother, whom you called Grimmy, as well as your parents. Did you find it to be painful, freeing or both?
GLESS: Sometimes because some of the memories were painful. There were times when I was reading some of it that I would go back to that place. I just finished recording [the audio book] a couple of weeks ago. What surprised me is when I'd get to certain places, especially about Grimmy, you can hear on the recording, my voice breaks. I left it in. They asked me if I wanted to rerecord it and I said, "No. Leave it in." She was really the best thing that ever happened to me. It's that she was tough.
BLADE: One of the things that stood out to me about "Apparently There Were Complaints"is the way that not only does it sound like you — I've interviewed you before so in reading the book, it sounded like you…
GLESS: Thank you! It's very important to me that you hear my voice in that.
BLADE: It totally comes through. The other thing that shines through is your sense of humor and comic timing.
GLESS: Thank you!
BLADE: How important was it for you to make that aspect of your personality a part of the book?
GLESS: Very important. I do have a sarcastic, not a mean sarcastic, a funny sarcastic side. Some of the complaints and some of my addictions and some of the things I talk about…you've got to take some of it lightly or who's going to want to read that? Clearly, I survived. It's not all bad news. When I came up with the title, [laughs] which was perfect because there were so many complaints about me in my life, sometimes you just have to laugh, even at the sadder stuff. I'm still standing, Gregg!
BLADE: Yes, you are! Memoirs, like TV shows such as "Finding Your Roots," are a way for both the subject and the audience to uncover fascinating details that might not otherwise have been public knowledge. The story about your boarding school classmate Gibbie, also known as the late Abigail Folger, in chapter seven feels like an example of that. Would you ever consider being on one of those genealogy tracing shows?
GLESS: I didn't know a show like that existed. I would never do something like "This Is Your Life"[laughs], remember that? I didn't know about a show that traces your genealogy. I'm always fascinated in my background. I'm certainly not opposed to anybody scraping up my genealogy.
BLADE: You write about your interactions with LGBTQ+ people in your life, personally and professionally, and Chapter 43, titled "I'll Be There," which is about your experience playing Debbie Novotny in Showtime's "Queer As Folk"made me weep, it was so beautiful. This is less a question than it is an expression of gratitude for, well, being there.
GLESS: Thank you! The pleasure, for lack of a better word, is all mine. You have all changed my life. I became so much more educated. I thought, "Oh, I know it all. All my best friends are gay." Right? But I learned so much on "Queer As Folk." Thestories that they wrote and the performances. I didn't realize the real plight, the behind-the-scenes pain that went on in the gay community. Because of "Queer As Folk" I became quite educated and impassioned. I meant it when I said, "I'll be there."
BLADE: The Peacock streaming service is doing a "Queer As Folk" reboot. What do you think about that?
GLESS: Yes, I'm aware they're doing a reboot of it. What I think about it is I'm so sorry they're not using the original cast. It's never going to be better. But good luck to them, and I hope they have even close to the hit we were. I think the biggest star of that show right now is going to be the city of New Orleans. We'll see how the stories go.
BLADE: Because the entertainment industry is a central component to your memoir, if "Apparently There Were Complaints"was to be made into a theatrical movie or TV miniseries, who would you want to play you?
GLESS: It would take several actresses because there's a lot of years. If there was somebody who could span it. I'm a big fan of Jennifer Lawrence. She has a husky voice, too. And there's also an irreverence and a sensitivity to her. If anybody ever wanted to do that, I think she'd be great.
BLADE: Finally, in addition to us both being Geminis, we also share South Florida as our home. What do you like best about living here?
GLESS: The happiness on my husband's (TV producer Barney Rosenzweig) face. When he retired he moved us here. I'm married to a man who if he's happy, everybody's happy [laughs]. He adores Florida. Los Angeles was always my home. I was born there, raised there. I'm an Angeleno, through and through. I've been to Los Angeles over the last year and I don't like what's happened to it. Now I'm grateful to be returning to an island as beautiful as the one I live on. Los Angeles needs a total reboot, rebuild, re-everything. It's fallen on hard times, L.A. I remember it when I lived there. It was a magical city.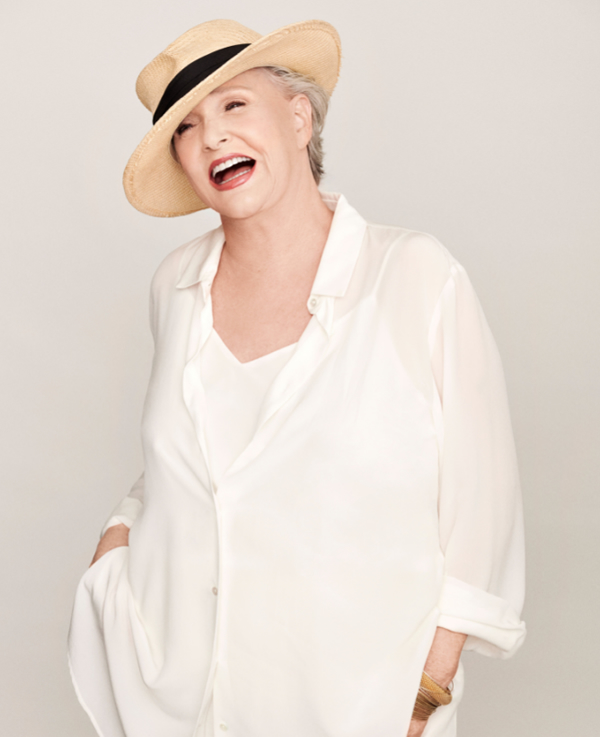 PHOTOS: High Heel Race
Spectators cheered along drag queen contestants for the 24th annual event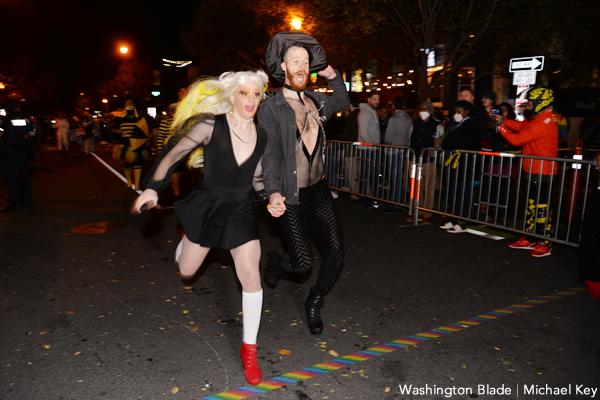 The 34th annual High Heel Race was held along 17th Street on Oct. 26. The winners this year were @dragqueenathena and "Dan." D.C. Mayor Muriel Bowser, D.C. Police Chief Robert Contee and members of the D.C. Council joined drag queen contestants and hundreds of spectators for the event.
(Washington Blade photos by Michael Key)