Best of Gay D.C. XIII: Dining
Winners from the Blade's readers poll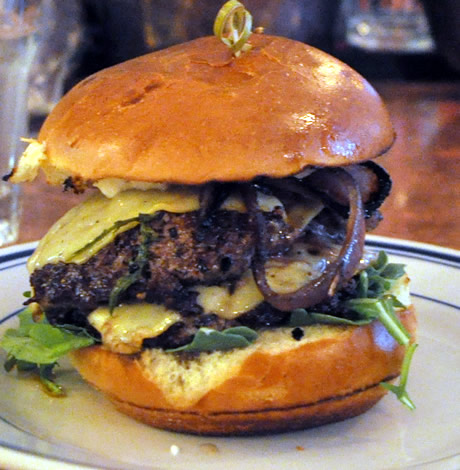 To see the winners of the Washington Blade's Best of Gay D.C. readers poll in other categories, click here.
Best new restaurant
Barcelona
Runner-up: Rose's Luxury
In the heart of the booming 14th Street N.W. corridor near Logan Circle is Barcelona, an always-bustling spot that has one of the largest outdoor seating areas in the neighborhood and a classy-yet-low-key vibe on the block between Q and R streets. Part of a chain, the restaurant, under the direction of Executive Chef John Critchley, features mostly tapas but has a few entrees as well. Many are Spanish-inspired (e.g. spiced beef empanadas or potato tortilla) but not all. It opened October 2013. (JD)
Barcelona Wine Bar & Restaurant
1622 14th St., N.W.
202-588-5500
Best Date Restaurant
Floriana
Runner-up: Le Diplomate
Best Wine Bar
Dito's Bar at Floriana
Runner-up: Cork
The perfect date night is planned for you at Floriana. Authentic Italian food, like butternut squash ravioli and lasagna, can transport any date from D.C. to Italy. Stop by Dito's Bar for a drink to complete the romantic evening. All you have to do is show up. (MC)
Floriana
1602 17th St., N.W.
202-667-5937
Best Dessert
Curvy Mama Pies
Runner-up: Cake Love
Never grab a grocery store pie for the party again. Curvy Mama Pies' online ordering service can have your pies ready in 48 hours. Try old favorites like "The Best Apple Pie Ever" and pumpkin pie or step outside the pie box and try "Aztec Chocolate Chess" or "Sweet Potato Bourbon." (MC)
Curvy Mama Pies
Bethesda, Md.
301-717-3010
Best Boozy Brunch
Level One
1639 R St., N.W.
202-745-0025
Runner-up: Freddie's Beach Bar
Best Chef
Jamie Leeds (Hank's Oyster Bar)
Runner-up: Jose Andres (Jaleo, Oyamel, etc.)
Long-time out restaurateur Jamie Leeds adds another accolade to her long list. In Washington since 2002, she opened the first Hank's Oyster Bar in 2005 and now has locations in Capitol Hill and Old Town Alexandria in addition to its Q Street location just off 17th Street, N.W. If you're into oysters, competitor Pearl Dive Oyster Palace on 14th, is undeniably great, but Hank's always has a bounty of nirvana-inducing selections from a bewilderingly far-flung group of locales that are always mind bogglingly fresh. D.C. oyster heaven doesn't get any better than this. (JD)
Hank's Oyster Bar
1624 Q St., N.W.
Washington
202-462-HANK
1026 King St.
Alexandria, Va.
703-739-HANK
633 Pennsylvania Ave., S.E.
Washington
202-733-9171
Best Late Night Restaurant
Amsterdam Falafel
Runner-up: Annie's Paramount Steak House
Don't let your standards slip just because it's after hours. Fresh falafels are made to order here with 21 sauces and toppings to choose from. Customize the fries as well with dressings and sauces like Dutch mayo or homemade peanut sauce. (MC)
Amsterdam Falafel
1830 14th St., N.W.
202-232-6200
Best Coffee Shop
Soho Tea and Coffee
Runner-up: The Coffee Bar
Ditch the Starbucks and try a specialty coffee at Soho Tea and Coffee. Drinks with fun names like Hello Gorgeous Macchiato and Betty Boop, white or dark chocolate mixed with coffee, make this not your typical coffee shop. (MC)
2150 P St., N.W.
202-463-7646
Best Rehoboth Restaurant
Dos Locos
Runner-up: Purple Parrot
Whether you're looking to watch a game with friends at the bar while downing the renowned margaritas or in need of a family-friendly place for dinner, the gay-owned Dos Locos delivers. There are seasonal specials (don't miss the pumpkin margarita), tequila tasting dinners, inventive entrees (we love the duck quesadilla) and unbeatable specials (like the $20 pitchers of sangria on Saturdays). (KN)
Dos Locos
208 Rehoboth Ave.
302-227-3353
Best Caterer
Chef Patrick
Runner-up: R&R Catering
Best Pizza
Matchbox
Locations vary
Runner-up: &Pizza
Best Burger
Duke's Grocery
Runner-up: Shake Shack
Inspired by East London corner cafes, Duke's Grocery provides a casual environment. The menu changes daily based on which ingredients, sourced from local purveyors, are fresh and seasonal. The burgers, like all other dishes, are made from scratch. (SMH)
Duke's Grocery
1513 17th St., N.W.
202-733-5623
Best Baltimore Restaurant
Woodberry Kitchen
Runner-up: City Café
Woodberry Kitchen is celebrating seven years in business and it's still impossible to get a table without a reservation. Woodberry was an early proponent of the now-ubiquitous trend of farm-to-table cuisine. Chef Spike Gjerde is a James Beard semi-finalist as is the bar program. Woodberry supports sustainable agriculture, using ingredients from the Chesapeake region in its New American dishes. The success helped spawn a hot new spot, Parts & Labor, a butcher shop and restaurant, but there's nothing like the original. Just make a reservation. (KN)
Woodberry Kitchen
2010 Clipper Park Road, #126
410-464-8000
Best Food Truck
D.C. Empanadas
Runner-up: Red Hook Lobster
D.C.'s only mobile gourmet empanada truck takes great care to provide hand-made delicacies using only local ingredients. A wide variety of beef, pork, chicken and vegetarian options rotate daily. Check Twitter @DCEmpanadas for the truck's location. (SMH)
D.C. Empanadas
703-400-5363
Best Cheap Eat
District Taco
Runner-up: Stoney's
What originated as a food truck in 2009 now serves the community in four locations in and around D.C. The Yucatan-style tacos are simple, healthful and made from quality ingredients and served in environmentally friendly packaging. (SMH)
District Taco
703-560-0369
Best Farmer's Market
Eastern Market
225 7th St. S.E.
202-698-5253
Runner-up: Dupont Circle FRESHFARM Market
Best Steak
Ray's The Steaks
Runner-up: Ruth's Chris Steak House
Satisfy that steak craving at Ray's The Steaks. A New York strip, filet mignon or one of their butcher cuts is guaranteed to hit the spot. Their beef is all aged in house and cuts butchered daily for the ultimate tasting experience. (MC)
Ray's The Steaks
2300 Wilson Blvd., Arlington, Va.
703-841-7297
Best Donut
Winner: District Doughnut
Runner-up: Krispy Kreme
Caramel apple streusel, maple butter pecan, apple cider and the list goes on for the donut flavors you can try here. The flavor schedule changes daily so be sure to come back again and again to indulge in something new. (MC)
District Doughnut
749 8th St., S.E.
202-350-0799
Rapper DaBaby pulled by Lollapalooza over homophobic comments
"Lollapalooza was founded on diversity, inclusivity, respect, and love. With that in mind, DaBaby will no longer be performing."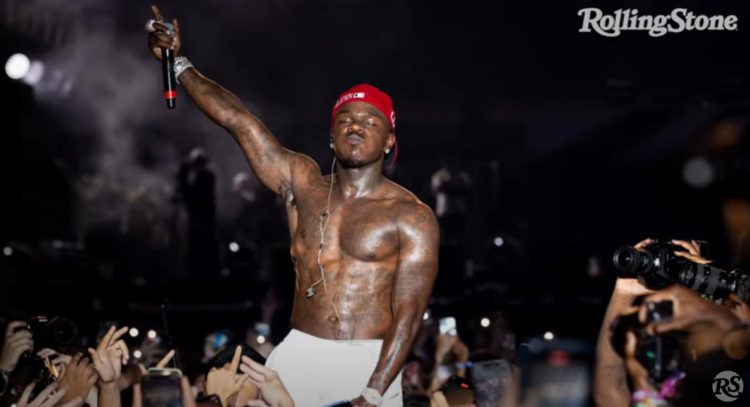 CHICAGO – In an announcement Sunday morning, the organizers of Chicago's Lollapalooza Music Festival said they had pulled artist DaBaby from tonight's closing show after a series of public homophobic remarks by the rapper last weekend in Miami at the Rolling Loud music festival.
On Twitter Lollapalooza officials wrote; "Lollapalooza was founded on diversity, inclusivity, respect, and love. With that in mind, DaBaby will no longer be performing at Grant Park tonight. Young Thug will now perform at 9:00pm on the Bud Light Seltzer Stage, and G Herbo will perform at 4:00pm on the T-Mobile Stage."
Lollapalooza was founded on diversity, inclusivity, respect, and love. With that in mind, DaBaby will no longer be performing at Grant Park tonight. Young Thug will now perform at 9:00pm on the Bud Light Seltzer Stage, and G Herbo will perform at 4:00pm on the T-Mobile Stage. pic.twitter.com/Mx4UiAi4FW

— Lollapalooza (@lollapalooza) August 1, 2021
The Grammy-nominated rapper's comments onstage at the Miami festival last weekend brought swift condemnation from other artists in the music industry including British Rockstar Elton John and Madonna among many others.
In the middle of his set last weekend in Miami the rapper told the crowd, "If you didn't show up today with HIV/AIDS, or any of them deadly sexually transmitted diseases, that'll make you die in two to three weeks, then put your cellphone lighter up! Ladies, if your pussy smell like water, put your cellphone lighter up! Fellas, if you ain't sucking dick in the parking lot, put your cellphone lighter up!"
DaBaby later issued an apology via Twitter that read, "Anybody who done ever been effected by AIDS/HIV y'all got the right to be upset, what I said was insensitive even though I have no intentions on offending anybody. So my apologies" However, the addendum in the same tweet of; "But the LGBT community… I ain't trippin on y'all, do you. y'all business is y'all business." was immediately decried as further proof of the rapper's intolerance of the LGBTQ community.
Anybody who done ever been effected by AIDS/HIV y'all got the right to be upset, what I said was insensitive even though I have no intentions on offending anybody. So my apologies 🙏🏾

But the LGBT community… I ain't trippin on y'all, do you. y'all business is y'all business.

— DaBaby (@DaBabyDaBaby) July 27, 2021
Michael J. Stern, a Los Angeles attorney and a former federal prosecutor who is now a noted featured columnist for USA Today blasted DaBaby's 'apology;'
Yeah, we've got the right to be upset.

We've also got the right to refuse to accept an apology that was prompted by public outcry and not a genuine understanding of, and remorse for, the horrific things you said.

— Michael J. Stern (@MichaelJStern1) July 28, 2021
In his response to Dababy's remarks Elton John, who founded the Elton John AIDS Foundation in 1992, a nonprofit organization which funds frontline partners to prevent infections, fight stigma and provide care for the most vulnerable groups affected by HIV, responded in a lengthy series of tweets:
(2/5)

👉 HIV has affected over 70 million people globally: men, women, children and the most vulnerable people in our communities.

— Elton John (@eltonofficial) July 28, 2021
(4/5)

👉 You can live a long and healthy life with HIV. Treatment is so advanced that with one pill a day, HIV can become undetectable in your body so you can't pass it onto other people.

— Elton John (@eltonofficial) July 28, 2021
(5/5)

👉 Homophobic and HIV mistruths have no place in our society and industry and as musicians, we must spread compassion and love for the most marginalised people in our communities.

A musician's job is to bring people together.

— Elton John (@eltonofficial) July 28, 2021
Madonna took to her Instagram telling the rapper to "know your facts," before spreading misinformation.
"AIDs is not transmitted by standing next to someone in a crowd," she wrote on Instagram. "I want to put my cellphone lighter up and pray for your ignorance, No one dies of AIDS in 2 or 3 weeks anymore. Thank God."
This year's Lollapalooza festival, which is one of the first major festivals to return in full force since the start of the coronavirus pandemic in the United States, concludes Sunday with headlining performances by musical acts Brockhampton, the Foo Fighters, and Modest Mouse.
Dua Lipa 'Horrified' at DaBaby's Homophobic Remarks at Rolling Loud | RS News 7/28/21
IOC: 'Trans Women Are Women' Laurel Hubbard set to make sports history
Laurel Hubbard is set to make sports history on Monday and the International Olympic Committee clearly has her back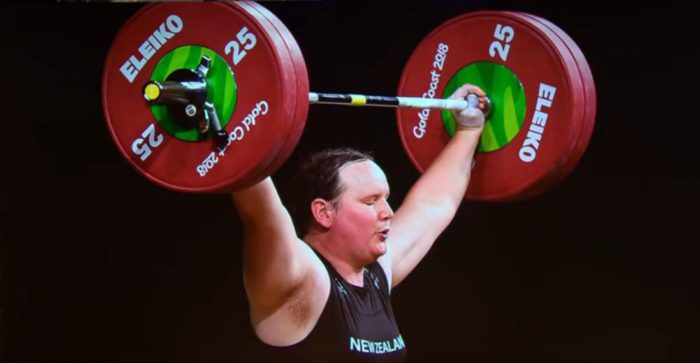 TOKYO – The director of medicine and science for the International Olympic Committee praised weightlifter Laurel Hubbard's "courage and tenacity" as she prepares for her upcoming competition as the world's first out transgender woman Olympian.
In speaking to reporters in Tokyo Thursday, Dr. Richard Budgett directly addressed those who have attacked and mocked the 43-year-old New Zealander and claimed she shouldn't be competing with cisgender women, saying "everyone agrees that trans women are women."
"To put it in a nutshell," he said, "the IOC had a scientific consensus back in 2015. There are no IOC rules or regulations around transgender participation. That depends on each international federation. So Laurel Hubbard is a woman, is competing under the rules of her federation and we have to pay tribute to her courage and tenacity in actually competing and qualifying for the Games."
Hubbard herself has not made any public comments except for a statement following her qualifying for the Summer Games, saying she was "humbled" by the support which had helped her "through the darkness" following a near career-ending injury in Australia in 2018.
Reports around the world have claimed Hubbard is the first trans Olympic athlete, which is actually not the case. As the Los Angeles Blade has reported, Quinn, a trans nonbinary soccer midfielder for Team Canada, last Wednesday became the first out trans athlete ever to complete in the Olympic Games. They posted about it on Instagram, saying, "I feel proud seeing 'Quinn' up on the lineup and on my accreditation. I feel sad knowing there were Olympians before me unable to live their truth because of the world."
The IOC is expected to review and likely revise its policies on transgender participation following Tokyo. Trans athlete and researcher Joanna Harper, who has advised the organization and other sports policy groups, told the Los Angeles Blade her recommendation will be for the IOC to continue to regulate trans athletes sport-by-sport. "There shouldn't be a one-size fits all policy," said Harper.
She also noted how the mainstream cisgender media is consumed with coverage of Hubbard and missing out on the bigger picture, and what it will mean for the next generation watching on TV and online.
"The lack of attention paid to Quinn and to Chelsea Wolfe has been interesting," said Harper.
"A few news outlets have commented on their presence in Tokyo and in Quinn's case the comments have been mostly favorable. On the other hand, the storm of mostly negative press heaped on Laurel Hubbard has been disappointing, although predictable. I hope that the negative press that Laurel has gotten won't dissuade young trans athletes from following their dreams. I think that the next trans woman to compete in the games will get less negative press, and eventually (although probably not in my life) there will come a time when trans women in sport generate little or no controversy."
Hubbard issued a statement Friday via the New Zealand Olympic Committee in which she said: "The Olympic Games are a global celebration of our hopes, our ideals and our values. I commend the IOC for its commitment to making sport inclusive and accessible."
According to a French news outlet, NZOC spokesperson Ashley Abbott told reporters the committee had seen a "particularly high level of interest" in Hubbard's Olympic debut, and much of it has been negative.
"Certainly we have seen a groundswell of comment about it and a lot of it is inappropriate," Abbott said. "Our view is that we've got a culture of manaaki (inclusion) and it's our role to support all eligible athletes on our team. In terms of social media, we won't be engaging in any kind of negative debate."
Abbott reminded the media that the NZOC's job was to support its athletes, including Hubbard. "We all need to remember that there's a person behind all these technical questions," she said. "As an organization we would look to shield our athlete, or any athlete, from anything negative in the social media space. We don't condone cyberbullying in any way."
RELATED: CBS This Morning from 22 Jun 2021
LGBTQ+ ally Jamie Lee Curtis reveals her 25-year-old child is Trans
Curtis and her husband Christopher Guest, British screenwriter, composer, musician, director, and actor have two daughters.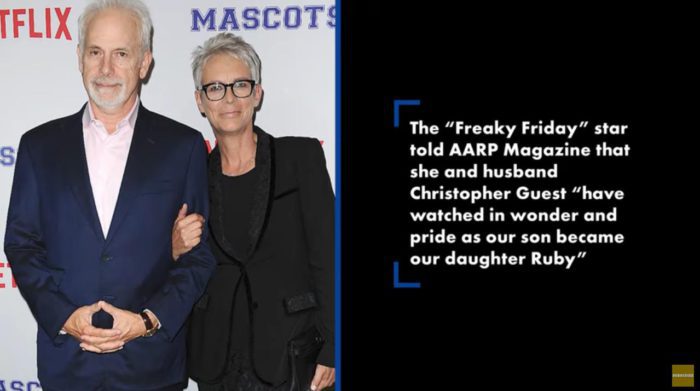 LOS ANGELES – In a new interview with the American Association of Retired Persons' magazine, Golden Globe and BAFTA winning actress Jamie Lee Curtis disclosed that her youngest child is transgender. In the interview Curtis reflected that she has "watched in wonder and pride as our son became our daughter Ruby."
Curtis and her husband Christopher Guest, British screenwriter, composer, musician, director, and actor have two daughters. Ruby, 25, works as a computer gaming editor while Curtis and Guest's 34-year-old daughter, Annie, is married and works as a dance instructor. Curtis also noted that Ruby and her fiancé are getting married next year in a wedding that Curtis will officiate.
The longtime Hollywood couple have been married for more than 36 years but have no grandchildren, "but I do hope to," she told the magazine.