Best of Gay D.C. XIII: People
Winners from the Blade's readers poll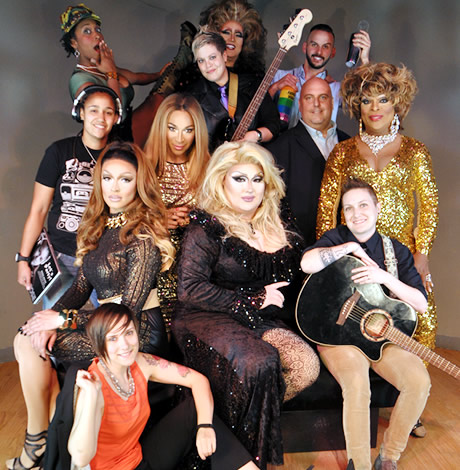 To see the winners of the Washington Blade's Best of Gay D.C. readers poll in other categories, click here.
Best Singer or Band
Frankie & Betty
Runner-up: Wicked Jezabel
Frankie & Betty are a queer acoustic rock duo comprised of Rachel Bauchman (vocals/bass/guitar) and Jessie Strick (lead guitar). Since forming in 2011, they've played numerous events, including Roanoke Pride, Phasefest several times and more. They have shows planned at Tree house Lounge on Monday night and the Rock and Roll Hotel on Thursday. Look them up on Facebook to stay current. (JD)
Local Heroine
Ruby Corado
Runner-up: Ashliana Rowe
Long-time LGBT advocate Ruby Corado is the visionary behind Casa Ruby, a local bilingual, multicultural LGBT organization that works to create "success life stories" among LGBT, gender queer and gender non-conforming residents in need. The recently wed Corado is a former Capital Pride Hero and has received many accolades for her work. (JD)
Casa Ruby
2822 Georgia Ave., N.W.
202-355-5155
Local Hero
Sgt. Matthew Mahl
Runner-up: Ed Bailey
Sgt. Matthew Mahl, who oversees six officers as part of the Gay & Lesbian Liaison Unit of the D.C. Metro Police Department, says it's "been a good year."
"I don't want to say crime is up, but we have been busier," the 35-year-old Havana, Ohio, native says. "We have our hands in a lot of stuff."
Mahl, a cop for 15 years and in Washington since 2001, joined the MPD in 2004 and the GLLU in 2012, having spent his entire previous career on patrol duty. He was forced out on the job during a 2007 incident in which his locker was vandalized but says that's the only bad experience he's ever had on the force.
Although initially hesitant to join the GLLU, he says overall it's been a great experience and he enjoys helping his fellow officers learn "the sensitivities and needs of the LGBT community." (JD)
Best Drag King
Avery Austin
Runner-up: Sebastian Katz
Anna Wimpelberg works by day as an HIV researcher at Whitman-Walker Health but her drag alter ego Avery Austin was born about 11 years ago when the 36-year-old New Orleans native and lesbian saw a drag show in Boston, her then-home.
A veteran of various high school and college theater productions, she says she recognized "immediately that it was something I would love to do." She continued during an eight-year stint in Austin, Texas, and joined the D.C. Kings when she came to Washington about three years ago. She calls herself  "the theater nerd of the group" and guesses she performs with them at Phase 1 and occasional other venues about four or five times per year, often recreating songs she's seen on "Glee!"
Find more information on the Kings at dckings.com. (JD)
Best Realtor
Mark Rutstein
1606 17th St. N.W.
202-498-1198
Runner-up: Ray Gernhart
Best DJ
DJ Rosie
Runner-up: Shea Van Horn
DJ Rosie Hicks has been spinning for about 13 years and spins regularly at the Hippo in her hometown Baltimore and also at LURe at Cobalt, Phase 1 and other area events in addition to a day job teaching special education.
Known for a mix of hip-hop, R&B, pop and more, she says she just all-around loves music. She also won this award in 2012.
"I love making people happy out there," the Baltimore native says. "The whole point of coming out to a bar or club to hear a DJ is to let go of worries and cares and enjoy it."
Look her up on Facebook to stay current with her events. (JD)
Best Drag Queen
Ba'Naka
Runner-up: Heidi Glum
A flip-flop of last year's results when Glum won, Ba'Naka (Dustin Michael Schaad) is on top again this year adding to her 2012, 2011 and 2010 prizes (a Blade record) in this category.
Ba'Naka, who now does drag full-time and has positioned herself as the go-to gal for everything from hosting local Family Feud nights to getting you ready (for a fee of course!) for Miss Adams Morgan two weeks ago, she is widely known in the community for her outspoken Facebook comments, elaborate Disney routines (her Ursula is legendary) and consistent A-game delivery. And although it hasn't happened yet, she's our best local hope for "RuPaul's Drag Race." (JD)
Hottest Stripper or Go-go Dancer
Steve Pena
Runner-up: Christian Lezzil
Steve Pena got into dancing through his husband, Brent Everett, with whom he also runs a popular porn site (brenteverett.com). He's nonchalant about the work, which he does every Friday night at Town when he's in Washington and monthly at Latin Night at Cobalt.
"It's a way to have fun, stay in touch with friends and fans and meet future models for our website," the San Diego-born, Texas-reared Pena says.
In the region for about a year and a half, Pena, in an e-mail from Amsterdam where he's traveling, says he appreciates the support.
"I have the best and most loyal friends, fans and followers out there." (JD)
Best Burlesque Dancer
Private Tails
Runner-up: Glam Gamz
Private Tails (aka Ashliana Rowe) has been performing burlesque since 2005 and has drawn influence from classic burlesque, hip-hop, Broadway and more for what she calls "the art of the tease."
As producer of Private Tease Productions, a monthly variety show she uses as an outlet for young performers she mentors, she says she "enjoys the creative process of developing new numbers and looks forward to the opportunity to whip up a fresh new performance."
Although she has several titles under her belt, this is a new category for Best Of and she's the inaugural winner.
Her next performance is at Phase 1 on Halloween. Keep up with her on Facebook or at privatetails.com. (JD)
Best Business Person
DC Allen
Runner Up: Ray Gernhart
Businessman DC Allen has been credited with setting the pace for local gay-owned businesses to support the broader LGBT community.
Allen along with his husband Ken Flick owns the Crew Club, a D.C. health club and sauna that caters to gay men.
Last year Allen, 58, presented the D.C. Center for the LGBT Community with a $25,000 check to help the Center pay for renovation costs for its new space in the city's Reeves Center municipal building at 14th and U streets, N.W.
"We decided it was important for the center to be there for all of us in the community," Allen says.
Since opening the Crew Club at 1321 14th St., N.W., in the early 1990s, Allen has supported a number of local LGBT organizations and causes, including the Gay and Lesbian Activists Alliance, which presented Allen with its Distinguished Service Award in 1998.
Under Allen's direction, the Crew Club has also supported Whitman-Walker Health and Us Helping Us, two local community health organizations that provide services to the LGBT community, including AIDS education and prevention services.
In addition to providing financial support for the two groups, Allen has arranged for staff members of the groups to provide HIV testing on the Crew Club's premises. The Crew Club also serves as a major distribution point for HIV prevention literature and free condoms.
The Capital Area Gay and Lesbian Chamber of Commerce recently named Allen Business Leader of the Year. (LC)
Best Massage
Che Young
Runner-up: Eddie Weingart
Relax the stress away with a massage by Che Young. Young provides deep tissue, Swedish, clinical and massage therapy. The Alexandra-based pro can be reached at 703-627-9090 or visit massagetherapy.com. (MC)
Best Visual Artist
Denis Largeron
1621 T St., N.W., Apt. 201
202-420-1030
Runner-up: Amy Martin
Best Personal Trainer
Gerard Burley
Runner-up: Bucky Mitchell
Gerard Burley shares fitness tips via his biweekly column in the Blade. He also makes appearances on Fox 5 and is known for his SweatDC fitness party. Find him via Facebook for regular updates and inspirational fitness-related posts.
(Editor's note: Bucky Mitchell also writes a biweekly column in the Blade.)
Best TV Personality
Chuck Bell, NBC4
Runner-up: Wendy Rieger
Best Actor
Mickey Daniel DaGuiso
Runner-up: Will Gartshore
Mickey Daniel DaGuiso grew up in the D.C. suburbs. He attended Bishop Ireton High School in Alexandria, mostly for the music program, and graduated from the University of Virginia where he majored in anthropology and philosophy.
Throughout school, he was involved in band (saxophone, piano) and chorus. It wasn't until after college that DaGuiso started doing musicals. "It began as sort of a whim," he says, "and then I was instantly hooked."
Among the local companies where he's worked, his favorites are Keegan Theatre ("Man of La Mancha" and "Rent") and Landless Theatre where he played Kebab in "Perez Hilton Saves the Universe" and the lead in "Spidermusical," a spoof of Broadway's "Spiderman," and many other roles. He has also served as musical director and accompanist for assorted Landless productions.
"Keegan is such a friendly, supportive community yet the creativity and work involved is just superior. Landless is the most enjoyable both on stage and backstage, efficient and creative with time and space, with vision and little ego."
Currently DaGuiso is taking a year away from theater to travel the world. (He responded to these interview questions via email from India where he's embarking on a six-month walkabout.) While traveling he's trying his hand at playwriting.
"I'm keeping it very open-ended so just reading a lot, taking down inspiration whenever it comes and doing a daily writing practice. I do plan on continuing with acting in D.C. when I get back. But who knows what the future holds? I'm like the wind." (PF)
Best Actress
MaryBeth Wise
Runner-up: Holly Twyford
MaryBeth Wise likens acting to a never-ending education. Currently she's taking a class for experienced actors at Studio Theatre.
"I feel that it's a good way to flex my muscles when I'm not working," she says. "And I get to do scenes that I've always wanted to do by my favorite playwrights like Pinter, Beckett and Chekhov.
Wise advises young actors to see as much theater as possible. "The more you absorb, the better off you'll be. The more you'll have available in experience and imagination. After all, what else do we have?"
Typically cast as women of substance, Wise's more memorable roles include Anne Sullivan in Olney Theatre's "The Miracle Worker," a New York psychiatrist in Studio Theatre's "Frozen," a newly out lesbian in "Body Awareness" at Theater J, and most recently the stalwart wife and mother married to Mitchell Hébert in Round House's "How to Write a New Book for the Bible," a part that called for her to age from 40 to 80 on a dime.
Offstage, Wise's partner is local actor Sarah Marshall. The talented pair got to know each other while working on Woolly Mammoth's production of Paula Vogel's "The Mineola Twins" in 2003. "It was a great time," Wise says. "And the show was a lot fun. I played a man in the first act and a woman in the second."
Wise grew up in Miami. She started acting while an undergraduate at Barry University. Initially she came to Washington to attend Catholic University where she earned a master's in acting.
"The D.C. theater scene is one of the best in the country," Wise says. "We have a variety of theaters doing interesting, cutting-edge work. Our audiences can handle thought-provoking theater. And the actors are supportive. It's great." (PF)
Best Hill Staffer
Kat Skiles
Runner-up: Kenneth Dowling
As Hill staffers go, Kat Skiles has moved to the top. In July, she became digital director and senior adviser to House Minority Leader Nancy Pelosi (D-Calif.). It's the Utah native's second consecutive year winning this award. (CJ)
Best Straight Ally
Leigh Ann Hendricks
Runner-up: Brett Johnson
Leigh Ann Hendricks made a big change five years ago to manage Level One (in the basement of Cobalt) after 17 years just down the street at Annie's Paramount Steakhouse.
Managing a staff of about 35 — 90-95 percent of whom, she estimates, are LGBT — she says was a logical change and one she made with no hard feelings toward Annie's. Having grown up with a gay best friend, she says it simply never occurred to her to treat gay people any differently. She was also inspired by the example of Annie's namesake, the late Annie Kaylor, whom she worked with for years.
"She was like our second mother," Hendricks says. "Her attitude was, 'They either like my gay friends or they don't like me,' and that's been mine as well." (JD)
Level One
1639 R St. N.W.
202-745-0025
Best Bartender
Dusty Martinez (Town Patio/Number 9)
Runner-up: Angela Lombardi (Phase 1)
Baltimore native Dusty Martinez has been in the food and beverage industry for a decade and recently completed an in-house internship at the W Hotel. He recently moved from serving customers at Number 9 to operating the new Town Patio, and he is also the owner and director of D&D Cocktails, a private bartending company serving the D.C. area.
Dusty Martinez
202-765-7550
danddcocktails.squarespace.com
Best Rehoboth Bartender
Holly Lane, Café Azafran
Runner-up: Matt Urban, Blue Moon
Holly Lane has lived in more places than most people have visited: Martinique, Greece, Bahamas, Paris, Chicago, Switzerland, the list goes on.
She's a native Washingtonian who trained in dance at the Washington School of Ballet and later at a modern dance school in Bethesda. After school — and a stint in Chicago with her then-husband — Lane's travels began in earnest. She left her husband and moved to the Bahamas at age 23 to dance at the Paradise Island resort. A Club Med gig led to more travel and finally a trip to Paris, where she auditioned for a dancing job and stayed for 15 years.
"It was nice to have a place to decorate," says Lane, sipping a coffee on an unseasonably warm October day in Rehoboth Beach, Del. "I rented a furnished apartment and gradually replaced everything with my own finds at the Paris flea markets."
After years of working as a professional dancer, it was in Paris at age 30 that Lane discovered she could also sing. She landed a job in a musical production and then at the Hollywood Savoy in the '80s, where the wait staff also served as the entertainment, singing and dancing for customers during dinner.
"It was a great place to learn," she says.
Despite the excitement and adventure of living and working abroad, Lane said a voice kept telling her it was time to go home and so in 1995, she returned to D.C.
"I'm glad I did all the things I did when I did them," she says. "I just found my passport and realized I haven't been abroad since 2007."
After the death of a boyfriend, Lane went to visit her parents at their home in Rehoboth Beach, which they've owned since 1977 and stayed. She's lived full time in the popular beach resort town since 2000 and spent about 10 years in a jazz band performing around the state. Her parents, now 93, still live there. Lane says her father sold the family home in D.C. through a real estate ad in the Washington Blade a few years ago and relocated full-time to Rehoboth.
In summer of 2010, the owner of Café Azafran was opening a new location in Rehoboth and offered Lane a bartending job. She's worked there since. You can find her tending bar Thursday-Sunday evenings but Thursday is the night when she's joined by fellow Rehoboth entertainer John Flynn, who plays the keyboard while Lane sings into her wireless headset while making drinks.
"I enjoy multi-tasking," she says.
Café Azafran attracts a mixed crowd and Lane treats customers like they are guests in her home rather than patrons at a bar. She always finds room at the large granite bar for another stool and makes sure to introduce newcomers to the rest of the crowd.
Lane, 62, is "happily single" and lives with her dog JuJuBee, a "cheagle," a Chihuahua and Beagle mix. In addition to her duties at Azafran, Lane sings at private parties and functions. (KN)
Café Azafran
18 Baltimore Ave.
302-227-8100
Most Committed Activist
David Mariner
Runner-up: Josh Deese
In Washington since 1997, David Mariner, a Corning, N.Y., native, started volunteering at the DC Center in 2008 and became its first full-time executive director a year later.
Under his leadership, the once-fledgling Center has begun to flourish and now has a broad activity schedule and is a hub for LGBT-themed events such as the OutWrite LGBT Book Festival, Reel Affirmations and much more.
"Working at the DC LGBT Center has been one of the most rewarding experiences of my life," Mariner says. "I am so proud of the work we do in the community and am profoundly grateful to the staff and the many volunteers and supporters who make this work possible." (JD)
The DC Center
2000 14th St., N.W. No. 105
202-682-2245
Best Gay Politician
David Catania
Runner-up: Tammy Baldwin
Best Trans Advocate
Thomas Coughlin (see Queery)
Runner-up: Ruby Corado
Best Amateur Athlete
Matt Simeon
Runner-up: Eddie Valentine
Matt Simeon, who currently plays for the Washington Generals, has been a member of the D.C. Gay Flag Football League since 2010. Simeon was also named most valuable player of the league for the 2014 spring season. (MC)
Best Stylist
Michael Hodges
Runner-up: Barry Smythers
Michael Hodges has been sharpening his techniques in the Washington area for 25 years and is the owner and master Stylist of Logan 14. With a keen eye for current trends in men's hair cuts and women's styling, Michael and his team are making a powerful impact in the Logan Circle area. (SMH)
Michael Hodges
1314 B 14th St., N.W
202-506-6868
Best Clergy
Rev. David Lett
This is Father Lett's second consecutive win in this category. He also won the best drag queen prize as Lena Lett in 2001 and 2002. (JD)
Runner-up: Rev. Kirsten Blom-Westbrook
Best Republican Advocate
Ted Olson
Runner-up: Sen. Susan Collins
Best First Responder
Justin Markiewicz
Runner-up: Kate Fitzgerald
Officer Justin Markiewicz has been serving as a part-time member of the Washington D.C. Metropolitan Police Department's Gay and Lesbian Liaison Unit since 2010. Markiewicz hails from Delaware and came to the District to attend Catholic University. After graduation he attended the police academy and was assigned to the 6th District. (MC)
Rapper DaBaby pulled by Lollapalooza over homophobic comments
"Lollapalooza was founded on diversity, inclusivity, respect, and love. With that in mind, DaBaby will no longer be performing."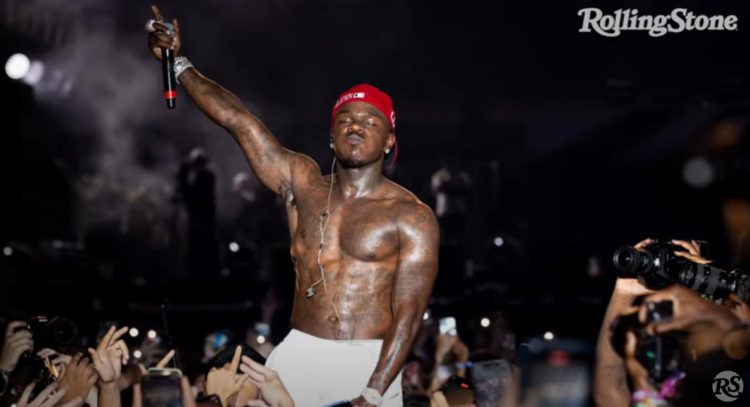 CHICAGO – In an announcement Sunday morning, the organizers of Chicago's Lollapalooza Music Festival said they had pulled artist DaBaby from tonight's closing show after a series of public homophobic remarks by the rapper last weekend in Miami at the Rolling Loud music festival.
On Twitter Lollapalooza officials wrote; "Lollapalooza was founded on diversity, inclusivity, respect, and love. With that in mind, DaBaby will no longer be performing at Grant Park tonight. Young Thug will now perform at 9:00pm on the Bud Light Seltzer Stage, and G Herbo will perform at 4:00pm on the T-Mobile Stage."
Lollapalooza was founded on diversity, inclusivity, respect, and love. With that in mind, DaBaby will no longer be performing at Grant Park tonight. Young Thug will now perform at 9:00pm on the Bud Light Seltzer Stage, and G Herbo will perform at 4:00pm on the T-Mobile Stage. pic.twitter.com/Mx4UiAi4FW

— Lollapalooza (@lollapalooza) August 1, 2021
The Grammy-nominated rapper's comments onstage at the Miami festival last weekend brought swift condemnation from other artists in the music industry including British Rockstar Elton John and Madonna among many others.
In the middle of his set last weekend in Miami the rapper told the crowd, "If you didn't show up today with HIV/AIDS, or any of them deadly sexually transmitted diseases, that'll make you die in two to three weeks, then put your cellphone lighter up! Ladies, if your pussy smell like water, put your cellphone lighter up! Fellas, if you ain't sucking dick in the parking lot, put your cellphone lighter up!"
DaBaby later issued an apology via Twitter that read, "Anybody who done ever been effected by AIDS/HIV y'all got the right to be upset, what I said was insensitive even though I have no intentions on offending anybody. So my apologies" However, the addendum in the same tweet of; "But the LGBT community… I ain't trippin on y'all, do you. y'all business is y'all business." was immediately decried as further proof of the rapper's intolerance of the LGBTQ community.
Anybody who done ever been effected by AIDS/HIV y'all got the right to be upset, what I said was insensitive even though I have no intentions on offending anybody. So my apologies 🙏🏾

But the LGBT community… I ain't trippin on y'all, do you. y'all business is y'all business.

— DaBaby (@DaBabyDaBaby) July 27, 2021
Michael J. Stern, a Los Angeles attorney and a former federal prosecutor who is now a noted featured columnist for USA Today blasted DaBaby's 'apology;'
Yeah, we've got the right to be upset.

We've also got the right to refuse to accept an apology that was prompted by public outcry and not a genuine understanding of, and remorse for, the horrific things you said.

— Michael J. Stern (@MichaelJStern1) July 28, 2021
In his response to Dababy's remarks Elton John, who founded the Elton John AIDS Foundation in 1992, a nonprofit organization which funds frontline partners to prevent infections, fight stigma and provide care for the most vulnerable groups affected by HIV, responded in a lengthy series of tweets:
(2/5)

👉 HIV has affected over 70 million people globally: men, women, children and the most vulnerable people in our communities.

— Elton John (@eltonofficial) July 28, 2021
(4/5)

👉 You can live a long and healthy life with HIV. Treatment is so advanced that with one pill a day, HIV can become undetectable in your body so you can't pass it onto other people.

— Elton John (@eltonofficial) July 28, 2021
(5/5)

👉 Homophobic and HIV mistruths have no place in our society and industry and as musicians, we must spread compassion and love for the most marginalised people in our communities.

A musician's job is to bring people together.

— Elton John (@eltonofficial) July 28, 2021
Madonna took to her Instagram telling the rapper to "know your facts," before spreading misinformation.
"AIDs is not transmitted by standing next to someone in a crowd," she wrote on Instagram. "I want to put my cellphone lighter up and pray for your ignorance, No one dies of AIDS in 2 or 3 weeks anymore. Thank God."
This year's Lollapalooza festival, which is one of the first major festivals to return in full force since the start of the coronavirus pandemic in the United States, concludes Sunday with headlining performances by musical acts Brockhampton, the Foo Fighters, and Modest Mouse.
Dua Lipa 'Horrified' at DaBaby's Homophobic Remarks at Rolling Loud | RS News 7/28/21
IOC: 'Trans Women Are Women' Laurel Hubbard set to make sports history
Laurel Hubbard is set to make sports history on Monday and the International Olympic Committee clearly has her back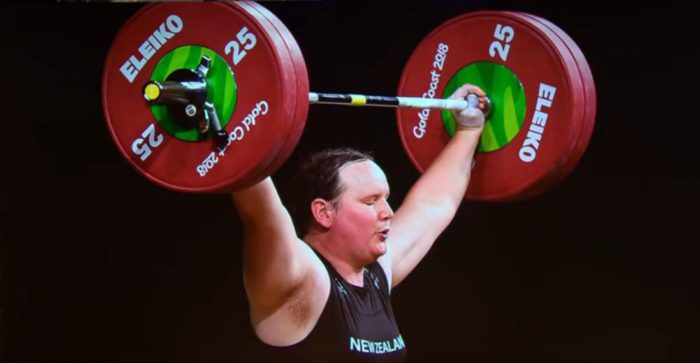 TOKYO – The director of medicine and science for the International Olympic Committee praised weightlifter Laurel Hubbard's "courage and tenacity" as she prepares for her upcoming competition as the world's first out transgender woman Olympian.
In speaking to reporters in Tokyo Thursday, Dr. Richard Budgett directly addressed those who have attacked and mocked the 43-year-old New Zealander and claimed she shouldn't be competing with cisgender women, saying "everyone agrees that trans women are women."
"To put it in a nutshell," he said, "the IOC had a scientific consensus back in 2015. There are no IOC rules or regulations around transgender participation. That depends on each international federation. So Laurel Hubbard is a woman, is competing under the rules of her federation and we have to pay tribute to her courage and tenacity in actually competing and qualifying for the Games."
Hubbard herself has not made any public comments except for a statement following her qualifying for the Summer Games, saying she was "humbled" by the support which had helped her "through the darkness" following a near career-ending injury in Australia in 2018.
Reports around the world have claimed Hubbard is the first trans Olympic athlete, which is actually not the case. As the Los Angeles Blade has reported, Quinn, a trans nonbinary soccer midfielder for Team Canada, last Wednesday became the first out trans athlete ever to complete in the Olympic Games. They posted about it on Instagram, saying, "I feel proud seeing 'Quinn' up on the lineup and on my accreditation. I feel sad knowing there were Olympians before me unable to live their truth because of the world."
The IOC is expected to review and likely revise its policies on transgender participation following Tokyo. Trans athlete and researcher Joanna Harper, who has advised the organization and other sports policy groups, told the Los Angeles Blade her recommendation will be for the IOC to continue to regulate trans athletes sport-by-sport. "There shouldn't be a one-size fits all policy," said Harper.
She also noted how the mainstream cisgender media is consumed with coverage of Hubbard and missing out on the bigger picture, and what it will mean for the next generation watching on TV and online.
"The lack of attention paid to Quinn and to Chelsea Wolfe has been interesting," said Harper.
"A few news outlets have commented on their presence in Tokyo and in Quinn's case the comments have been mostly favorable. On the other hand, the storm of mostly negative press heaped on Laurel Hubbard has been disappointing, although predictable. I hope that the negative press that Laurel has gotten won't dissuade young trans athletes from following their dreams. I think that the next trans woman to compete in the games will get less negative press, and eventually (although probably not in my life) there will come a time when trans women in sport generate little or no controversy."
Hubbard issued a statement Friday via the New Zealand Olympic Committee in which she said: "The Olympic Games are a global celebration of our hopes, our ideals and our values. I commend the IOC for its commitment to making sport inclusive and accessible."
According to a French news outlet, NZOC spokesperson Ashley Abbott told reporters the committee had seen a "particularly high level of interest" in Hubbard's Olympic debut, and much of it has been negative.
"Certainly we have seen a groundswell of comment about it and a lot of it is inappropriate," Abbott said. "Our view is that we've got a culture of manaaki (inclusion) and it's our role to support all eligible athletes on our team. In terms of social media, we won't be engaging in any kind of negative debate."
Abbott reminded the media that the NZOC's job was to support its athletes, including Hubbard. "We all need to remember that there's a person behind all these technical questions," she said. "As an organization we would look to shield our athlete, or any athlete, from anything negative in the social media space. We don't condone cyberbullying in any way."
RELATED: CBS This Morning from 22 Jun 2021
LGBTQ+ ally Jamie Lee Curtis reveals her 25-year-old child is Trans
Curtis and her husband Christopher Guest, British screenwriter, composer, musician, director, and actor have two daughters.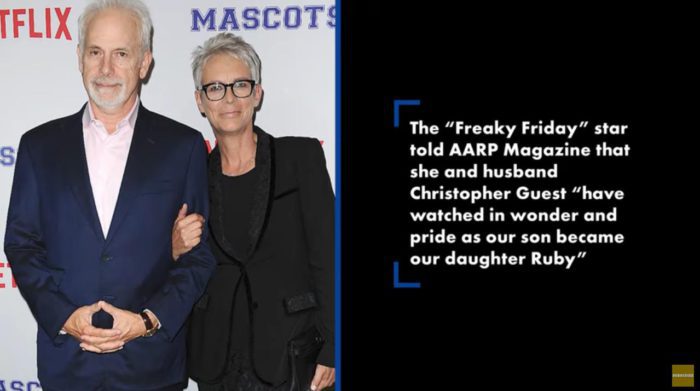 LOS ANGELES – In a new interview with the American Association of Retired Persons' magazine, Golden Globe and BAFTA winning actress Jamie Lee Curtis disclosed that her youngest child is transgender. In the interview Curtis reflected that she has "watched in wonder and pride as our son became our daughter Ruby."
Curtis and her husband Christopher Guest, British screenwriter, composer, musician, director, and actor have two daughters. Ruby, 25, works as a computer gaming editor while Curtis and Guest's 34-year-old daughter, Annie, is married and works as a dance instructor. Curtis also noted that Ruby and her fiancé are getting married next year in a wedding that Curtis will officiate.
The longtime Hollywood couple have been married for more than 36 years but have no grandchildren, "but I do hope to," she told the magazine.