May 6, 2015 at 3:08 pm EDT | by Richard J. Rosendall
When Police Are Outside Agitators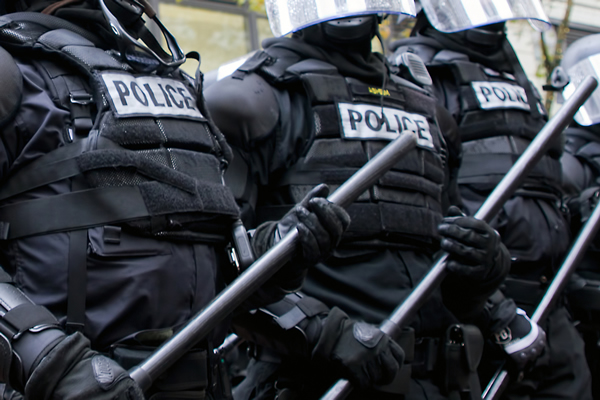 During a talk radio interview last month, a caller identifying himself as a police officer strongly disputed my claim that police are supposed to "Protect and Serve," a motto stenciled on many police cruisers. "Our job is to enforce the law," he insisted. This in a nutshell is the problem at the heart of so many police departments: a clash of missions.
Those of us privileged enough not to be routinely treated as criminal suspects can have a hard time understanding the perspective of communities of color. Black friends for years have told me of police who act like occupiers, stopping and questioning them on the slightest pretext.
Sometimes abusive police are white and sometimes black, but the relevant color is in the "thin blue line" police unite behind. The filing of murder and assault charges against six Baltimore officers last week by Maryland State's Attorney Marilyn Mosby in the death of Freddie Gray exposed a fault line that their prosecution by itself cannot repair. The police union denounced Mosby for a "rush to judgment," oblivious to the fatal lack of due process afforded Mr. Gray.
The killing of Gray, apparently by a "rough ride" in a police van, is the latest in a long string of extra-judicial executions of African Americans, including Eric Garner, Tamir Rice, John Crawford, and Walter Scott. Many white people are sick of hearing it, but we cannot get at the problem without understanding its racist origins. Here is a bit of history seldom taught in civics class: American law enforcement can be traced to slave patrols. Victor E. Kappeler, Ph.D., writes, "Slave patrols and Night Watches, which later became modern police departments, were both designed to control the behaviors of minorities."
This is not a liberal or conservative problem, but an American problem. The racially disparate War on Drugs, mortgage redlining, predatory banks, poor education and job training, mass incarceration–these contributors to urban neglect have bipartisan origins. When long-simmering despair inevitably explodes, the marginalized deserve more than a lecture not given to anarchist rancher Cliven Bundy. They need a stake in the greater good and a credible prospect that persons misusing authority will be held accountable.
When D.C.'s Gay and Lesbian Activists Alliance (of which I am president) worked with others including the NAACP and ACLU sixteen years ago to create the D.C. Office of Police Complaints, we did not get all the reforms we wanted, but we won a measure of independent review of charges of police wrongdoing. Civilian oversight is crucial to responsive policing.
Those who resist police accountability are not relenting. D.C. Mayor Muriel Bowser, for example, wants to exempt police body cam footage from Freedom of Information Act requests. Max Blumenthal of AlterNet reports that many Baltimore police officers are from New Jersey and Pennsylvania, and sometimes say before their shifts, "Time to go back to work in the zoo." Who are the outside agitators?
The media are a big part of the problem. Last week, The Washington Post ran with a police leak claiming that Gray had injured himself, a howler that skeptics soon unraveled. Right-wing outlets from Fox to Breitbart ran their usual wildly politicized and distorted stories.
As an unevenly applied curfew ended May 3, it was evident that Baltimore police were misled by poor intelligence. On April 27, they inflamed a tense situation by shutting down public transportation near Mondawmin Mall and blockading streets, trapping students from Frederick Douglass High School. Meanwhile, the gangs they were worried about were cooperating to protect youth and prevent violence.
Rep. Bill Flores (R-TX) bizarrely blamed the Baltimore unrest on same-sex marriages, claiming they cause family breakdown. That aside, LGBT folk are part of every urban community. Flashpoints from our own past (the Stonewall uprising in 1969, the White Night riots in San Francisco in 1979) should give us pause before scorning others who respond violently to "a long Train of Abuses and Usurpations" (to quote the Declaration of Independence).
Police must change their perspective from enforcing to protecting. They must know and respect the communities they serve. They must not be above the law. Change will occur only if we push for it together. Let's be about it.
Richard J. Rosendall is a writer and activist. He can be reached at rrosendall@starpower.net.
Copyright © 2015 by Richard J. Rosendall. All rights reserved.