Newtown tragedy inspires play
Arena reading is benefit for gun control activist group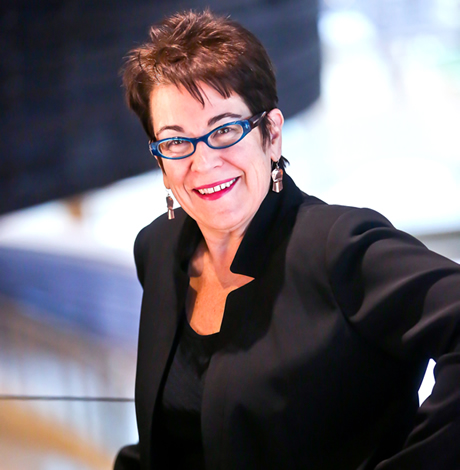 '26 Pebbles'

Monday, Aug. 24

Arena Stage at the Mead Center for American Theater

1101 6th St. S.W.

$20
When 20-year-old Adam Lanza fatally shot 20 children and six adult staff members at Sandy Hook Elementary in Newtown, Conn., in December, 2012, the nation was shaken and angered, Molly Smith, artistic director of Arena Stage, included. In response to the tragedy, Smith and her partner Suzanne Blue Star Boy organized the March on Washington for Gun Control that took place a month after the shootings.
And now in continued support of sensible gun laws, the March on Washington for Gun Control (a march that's morphed into an organization) is presenting a benefit reading of a Newtown documentary theater piece "26 Pebbles" by out actor/playwright Eric Ulloa at Arena Stage. Proceeds from the one-night-only event will go to gun safety groups Everytown for Gun Safety and the Newtown Action Alliance.
Smith describes the Ulloa's play as "moving and transformational." She says, "It takes us into the story as if it's our town, which is important because so many people still think it can't happen in their town. But it's happening in every town. I think Americans are blinded to the level of gun violence in this country."
The New York-based playwright Ulloa recalls the national mood following the Newtown massacre: "It happened close to the holidays. And everyone went on celebrating as usual. It was as if nothing had happened. But I couldn't shake the horror. I wanted to do something about it, but wasn't sure what."
Ulloa didn't have political connections or millions of dollars to lobby Congress, but as an actor and writer he knew he had a voice, and that encouraged him. So five to six months after the killings, he travelled to Newtown with the intent of interviewing a few residents who were affected by the tragedy, not family members of those killed but people in the community. Soon the number of interviews swelled to 60 locals including parents of students, shop owners, religious leaders and other townspeople.
"They had so much to say — a lot happens when the cameras turn off and the vans drive away," Ulloa says. "The deaths were like pebbles thrown in a pond, creating ripples within the community and beyond.
"My aim wasn't to be divisive," says Ulloa, who can be seen on Broadway in October in "On Your Feet!," a new musical based on the life and music of Emilio and Gloria Estefan. "I believe when you present the facts people will support the right decision. The play objectively shows what happens when you don't have gun control of assault weapons and background checks. The majority of the American public supports background checks. But to be blunt, that doesn't put money in politicians' pockets. So the mass shootings continue."
Directed by Smith, the staged reading (actors with scripts in hand standing at music stands) features a stellar cast including out actor Nicholas Rodriguez, Edward Gero, Naomi Jacobson, Dorea Schmidt, Lise Bruneau, Hannah Willman, and out actor Joshua Morgan ("Fiddler on the Roof"). The play consists of the verbatim word of those interviewed. Smith promises an "emotional and powerful" evening.
"I'm from Alaska where guns are big," Smith says. "This isn't about outlawing guns. It's about common-sense gun legislation: to reinstate the assault-weapons ban, to forbid high-capacity magazines, to enforce a 28-day waiting period for gun purchases, to require background checks and gun-safety training, to outlaw bullets that shatter in the body. An assault weapon that can spray off 20 bullets in three seconds isn't a gun that used for hunting animals. It's used for hunting people."
Until things change, we must remain vigilant, Smith adds. "Change will come incrementally. But there will be watershed moments. Already I've received inquiries from other theaters and universities about doing readings of '26 Pebbles.' There are different ways to drive social action and theater is a powerful tool."
Be prepared to clap for 'Nollywood Dreams' at Round House
Theatergoers asked to play audience of Nigerian chat show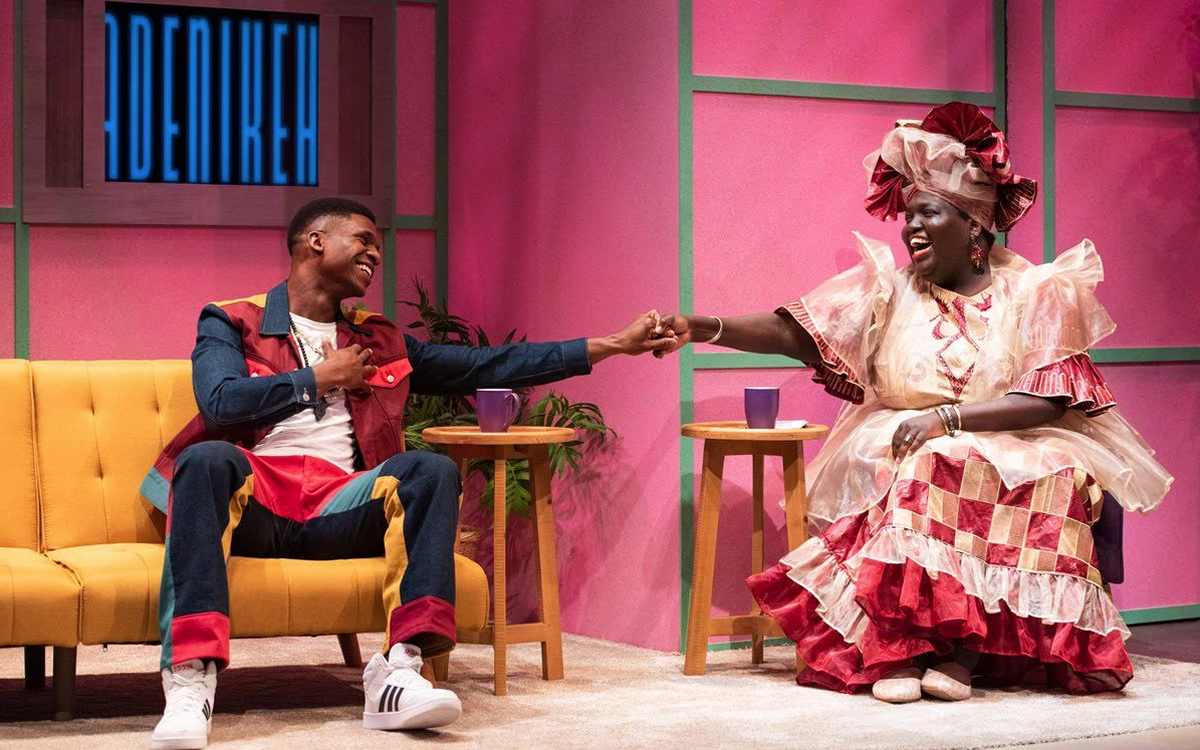 'Nollywood Dreams'
Through July 3
Round House Theatre
4545 East-West Highway, Bethesda, MD 20814
$55-$78
Roundhousetheatre.org
If you see "Nollywood Dreams" at Round House Theatre, be prepared to clap a lot, whether you like it or not.  For almost a third of Jocelyn Bioh's 100-minute-long comedy, theatergoers are asked to play the audience of an Oprahesque Nigerian chat show with a big personality host and large projected words (cheer, applause) prompting the house to make lots of noise. It's tough not to comply. 
Set in '90s Nigeria, it's all about Nollywood, the nickname for the Lagos-based film industry that ranks above Hollywood and second only to India's Bollywood in the number of films produced annually.
Decked out in fabulous traditional attire, the spirited finger-snapping TV host Adenikeh (Jacqueline Youm) leads with niceties before going in for the kill. Her big-name guests prove central to the story: director Gbenga Ezie (Yao Dogbe) recently returned home from America and looking to make a Nollywood hit; gorgeous veteran star Fayola (Yetunde Felix-Ukwu), who's counting on a comeback to revive a slipping career; and Wale Owusu, Nigeria's "Sexiest Man Born," played by the faultlessly cast Joel Ashur.
Glued to the TV in the office of the family travel business, sisters Dede and Ayamma Okafor (played by Renea S. Brown and Ernaisja Curry, respectively) faithfully watch Adenikeh's eponymous program, breathlessly taking in every Nollywood scoop and subsequent development. While elder sister Dede is content to swoon over male pulchritude, Ayamma has aspirations to be more than a fan, she wants to act. When director Gbenga holds an open casting call to find a fresh face for his new love triangle romance, "The Comfort Zone," she grasps at the chance.
A broad comedy broadly acted by an appealing cast, Bioh's storyline is predictable, a Cinderella story without surprise. It's a loud world seemingly inhabited by stock characters – the heartthrob, a shady film auteur, an aging film actress, squabbling sisters – but despite all, they aren't without nuance. The characters prove dimensional and worthy of some investment.
Also, along with the over-the-top comedy, Bioh's work refreshingly shows an Africa that isn't always presented on stage. People's dreams, desires, and relationships are set against a bustling urban sprawl culturally glued together by the cult of celebrity.
The action plays out on Jonathan Dahm Robertson's terrific revolving (sometimes dizzyingly so) set made up of three locales — the travel office, daytime TV set, and Gbenga's well-appointed Nollywood Dreams Studio (with the outsized signage to prove it). It's an energizing and memorable design.
Brandee Mathies's costumes are almost a show in themselves. Exuberantly colorful, they cleverly bring together traditional garb and western silhouettes with joyful flourishes of Nigerian flare. The showbiz folks are costumed, well, showier. It's short skirts and glittery stilettos for fan favorite Fayola, long touted for her Tina Turner legs.
A Ghanian-American writer, playwright and actor, Bioh grew up on Nollywood flicks. In fact, "Beyonce: The President's Daughter" (2006), one of her favorites, was an inspiration for "Nollywood Dreams." Her debut work "School Girls; Or, the African Mean Girls Play," an entertaining tale of teenage trials and tribulations set at a boarding school in provincial '80s Ghana was a great success for Round House in 2019.
And at the helm of Round House's current offering is Theater Alliance's producing artistic director Raymond O. Caldwell. As gay, Black, and Asian, Caldwell sometimes refers to himself as third culture. In this instance, the Helen Hayes-winning director has heartily plunged into Bioh's vision and with relish and created a piece rife with fun and feeling.
'Atemporal' explores intersection of misdiagnosis, identity
Sianna Joslin to star in D.C.'s latest one-person show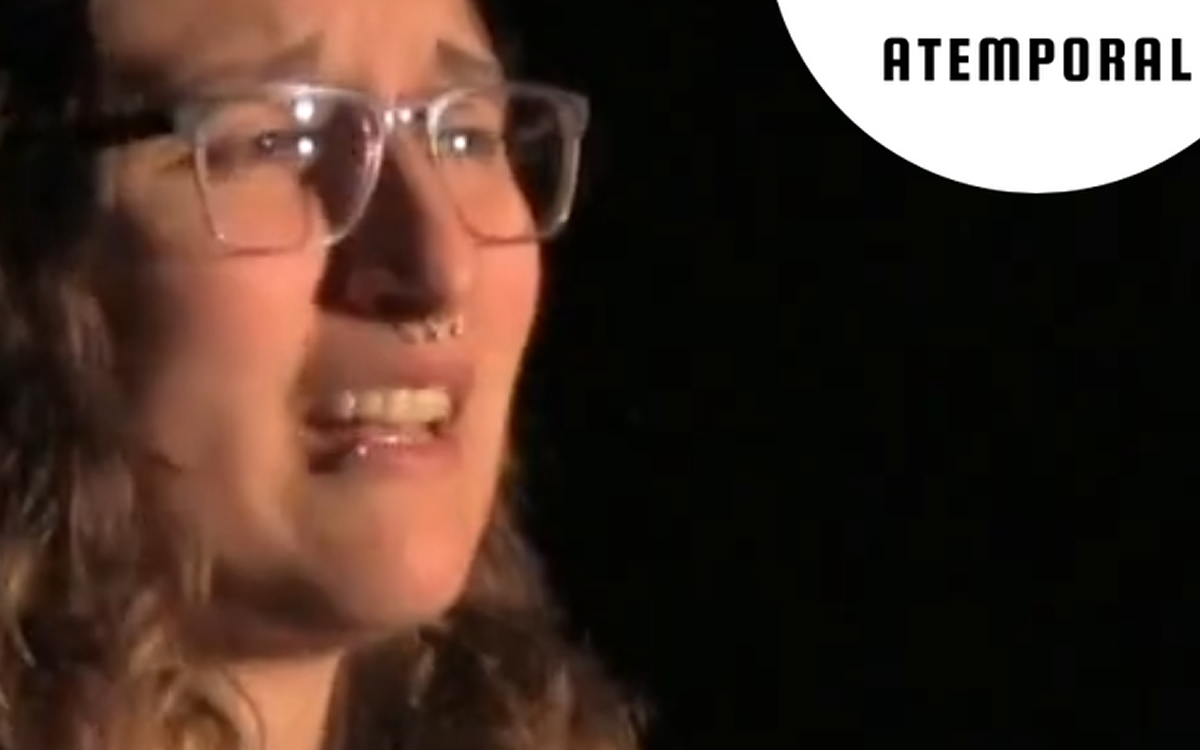 At age 16, Sianna Joslin learned they had a disability. They were diagnosed with temporal lobe epilepsy, a disorder associated with seizures caused by the excessive release of electrical signals from some of the brain's nerve cells. It would not be until a decade later they found out that, from the beginning, they had been misdiagnosed.
This unexpected discovery spurred a period of deep self-reflection, Joslin explained. When coming to terms with her initial diagnosis, she created a 20-minute standup show entitled "Temporal," discussing disability and sexuality. This July, she plans to circle back to her first performance with a new, autobiographical one-person show: "Atemporal," which explores misdiagnosis, disability, trans identity and grief.
"I just naturally gravitated towards the idea of having another show about it," she explained. "It's kind of a requiem for the version of myself that I had built out of this trellis of having a disability."
The show delves into their experience navigating relationships with both disability and gender identity, following Joslin's discovery that they were non-binary in the years following their diagnosis.
"When I got off my epilepsy meds, I realized that I was experiencing some form of gender dysphoria," they said. With "my brain kind of resetting, I viewed myself in an entirely different way. There's so many different intersections between disability, sexuality (and) gender identity."
In the performance, Joslin also looks at the experience of losing her father, and the grief that came from the experience. She never came out to him before his death, which complicates her experiences with memory and identity. The show also opens and closes with musical performances, tapping into Joslin's lifelong passion for music.
"Having done a similar show before, I know that it's emotionally draining," Joslin noted. "But it's so worth it at the end to be able to share something that's so personal."
Joslin hopes that those who do not hold identities examined in the performance — be they cisgender, straight or able-bodied — will be able to learn about experiences that differ from their own. And, perhaps more personally, they want those who relate to experiences outlined in the show to know that they are seen.
"Having been diagnosed with epilepsy for a decade is not something that happens every day," she said. "The individual experiences that I've had going to a club and not being able to look at the strobe lights or going to a concert and having to wear sunglasses, that impacts a lot of people with epilepsy."
"This is something that a lot of people experience," Joslin added, "and we can get through it together."
"Atemporal" will be performed in 3 Stars at 3270 M St. NW, Washington, D.C., on July 15 at 9:30 p.m., July 16 at 2:15 p.m., July 17 at 7 p.m., July 23 at 5 p.m. and July 24 at 6:30 p.m.
The show takes part in the 2022 Capital Fringe Festival, a series of shows hosted by local arts nonprofit Capital Fringe. Tickets can be purchased for $15, and more information can be found at the Capital Fringe Festival website or the show's webpage.
Queer rom-com 'In His Hands' combines sexuality, laughs
A world premiere at Mosaic Theater Company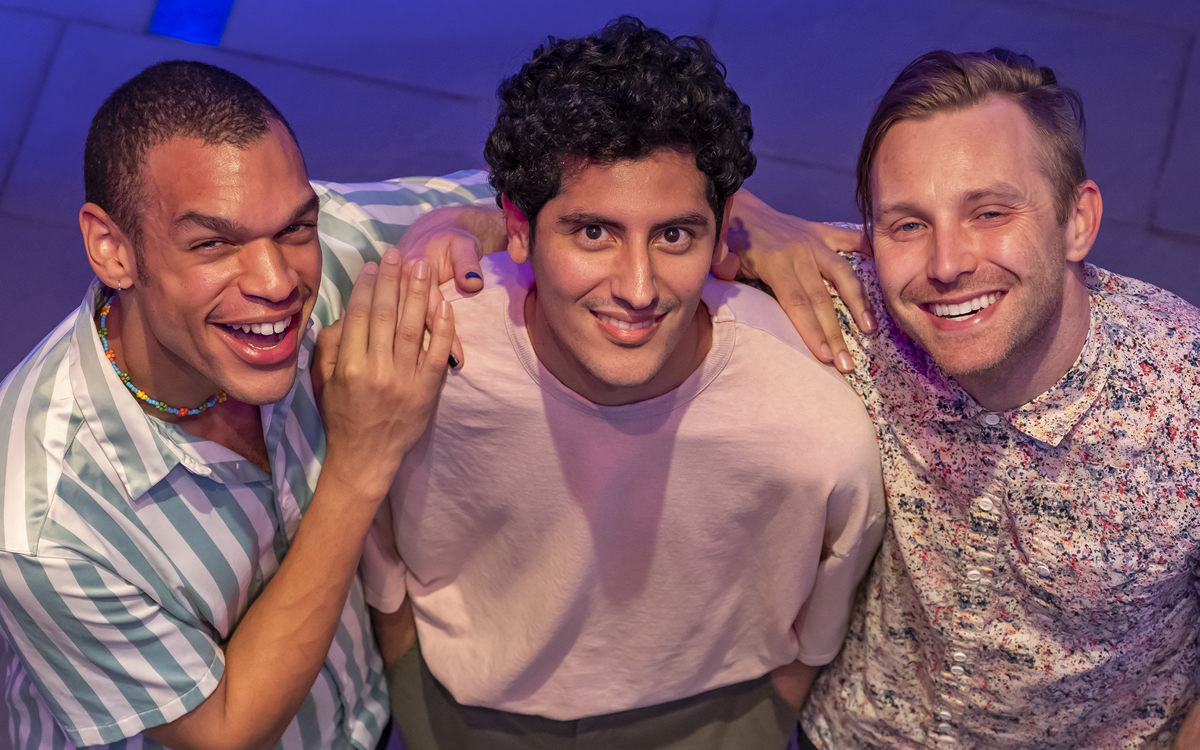 'In His Hands'
June 22 through July 17
Mosaic Theater Company
Atlas Performing Arts Center
1333 H St., N.E.
$20-68
Mosaictheater.org
Sexuality, spirituality, and laughs – all three coincide in rising playwright Benjamin Benne's "In His Hands," a queer rom-com making its world premiere this week at Mosaic Theater Company.
Here's the plot: Daniel (Michael J. Mainwaring), a video game wizard and aspiring Lutheran pastor, is falling for Christian (Josh Adams), but as the pair explore the potential of their new relationship, voices from Christian's past threaten to derail what's developing.
Benne, 34, says, "The story I'm exploring is about two men who form a relationship that starts to feel really deep and rich and begins to tread into romantic territory. Because it's accessible as a rom-com, I like to talk about it that way. But also, it asks more difficult questions about the often-fraught territory between Christianity and being gay. That was true for me growing up in Southern California."
With the play's themes and team involved (José Carrasquillo directs), the production is ideally suited for Pride month. And it's been great for Benne timing wise too: Just hours after his recent graduation ceremony from grad school at Yale in Connecticut, he hopped a train to D.C. and started rehearsals the following morning. "It's been an exhausting but wonderful couple of weeks," he says.
WASHINGTON BLADE: Are you covering familiar terrain with "In His Hands"?
BENJAMIN BENNE: I knew from a very young age that I was queer in many definitions of the word – attracted to men, feeling at odds in terms of how I fit into culture, being a lot more feminine than I think a lot of people were comfortable with, and that most of my interests could label feminine culturally.
BLADE: And with Christianity?
BENNE: Very much, I was raised in a fundamentalist conservative Christian household and still identify as Christian but my understanding of God and sexuality has become more expansive since leaving those institutions at 20.
BLADE: Are you quite involved with the premiere?
BENNE: I sure am. I'm really fussy when it comes to word choice and dialogue. For instance, I'd been working on my last project "Alma" [a recently produced riposte to Trump's anti-Mexican rhetoric] for seven years. And while there was value to what the 27-year-old playwright was trying to accomplish, as a 34-year-old, I had to elevate the writing.
This time, it's been a little easier. I started writing "In His Hands in 2016," so it feels more in line with where I'm at as a writer now.
BLADE: Is the work political?
BENNE: "In His Hands" is a political play and a story about lives. I try to make sure the characters' ideas about God and sex are part of the fabric of their stories and not just ideas.
BLADE: What inspired you?
BENNE: I wrote from a place of someone turning 30 and how do I return to my relationship with faith. It felt broken. Today, I'm not actively seeking a relationship with a religious institution, but I am with seeking that with God.
Increasingly, I find those around me in progressive circles are asking questions about relationships to spirituality — not sure why. Maybe because we're on the verge of climate collapse or mass extinction? Is humanity about to face the fate of the dinosaurs? Whatever, people are asking, Why am I here? Am I connected to something bigger than myself?
BLADE: When did you become a playwright?
BENNE: I got very serious about it two to three years after undergrad at Cal State Fullerton. My father had passed away, and I felt that if I wanted to pursue writing I needed to take it seriously. I grinded real hard in Seattle for three years taking playwrighting classes, joining writers' groups, writing every second outside of my day jobs. Something about my father passing made me feel freer to write, and no longer beholden to expectations.
BLADE: When did you know it could work?
BENNE: I prayed if I'm supposed to keep writing I need a bone thrown my way and that's when I got the fellowship at Many Voices in Minneapolis. I took it as a sign. I was able to work on writing and professional development – how to turn playwrighting into a living, which pushed me into grad school at Yale.
BLADE: Do you mind pitching the show?
BENNE: Oh, not at all. It's a lot of fun. And if you're into humor and a really sensual story that's helpful in terms of this elusive connection between spirituality and sexuality, it's worth your time for sure.