September 17, 2015 at 12:45 pm EST | by Staff reports
Schedule for Pope Francis' trip to U.S.
on its website
has published Pope Francis' schedule for his upcoming trip to D.C., New York and Philadelphia.
The Washington Metropolitan Area Transit Authority has posted a travel advisory to its website that includes information about Metro trains and busses during Francis' visit to D.C.
Streets around the White House on Sept. 23 will remain closed during Francis' meeting with Obama and the papal parade around the Ellipse and the National Mall.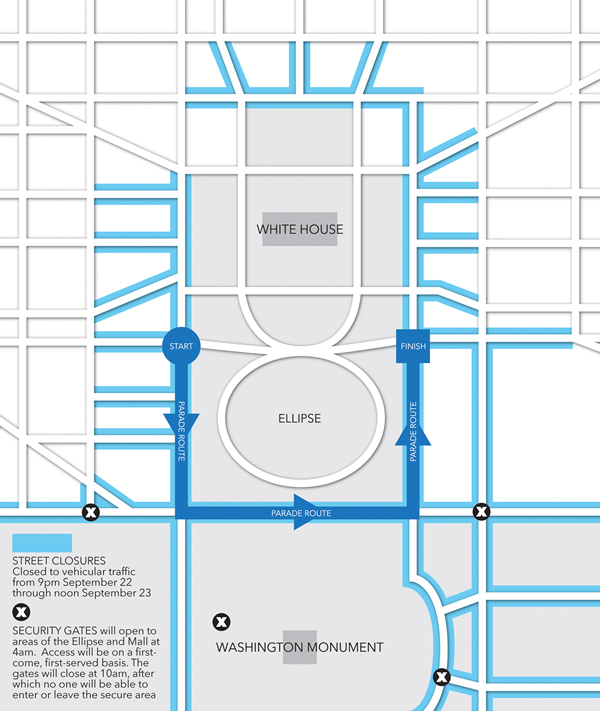 WTOP has posted to its website maps that detail road closures throughout the nation's capital that will take place during the papal visit.
Sept. 22 (D.C.)
4 p.m. Francis arrives at Joint Base Andrews in Maryland
Sept. 23 (D.C.)
9:15 p.m. Francis to attend welcome ceremony at the White House and meet with President Obama
11 a.m. Papal parade along the Ellipse and the National Mall
11:30 a.m. Prayer meeting with U.S. bishops at the Cathedral of St. Matthew the Apostle (1725 Rhode Island Ave., N.W.)
4:15 p.m. Mass to canonize Junípero Serra at the Basilica of the National Shrine of the Immaculate Conception (400 Michigan Ave., N.E.)
Sept. 24 (D.C. and New York)
9:20 a.m. Francis to address both houses of Congress
11:15 a.m. Visit St. Patrick's Catholic Church (619 10th St., N.W.) and Catholic Charities of the Archdiocese of Washington
4 p.m. Depart Joint Base Andrews
5 p.m. Arrive at John F. Kennedy International Airport in New York
6:45 p.m. Attend evening prayers at St. Patrick's Cathedral in Manhattan
Sept. 25 (New York)
8:30 a.m. Visit U.N. and address the U.N. General Assembly
11:30 a.m. Attend an interfaith religious service at the 9/11 Memorial Museum at the World Trade Center in lower Manhattan
4 p.m. Visit Our Lady Queen of Angels School (229 E. 112th St.) in East Harlem
5 p.m. Procession through Central Park
6 p.m. Mass at Madison Square Garden
Sept. 26 (New York and Philadelphia)
8:40 a.m. Depart John F. Kennedy International Airport
9:30 a.m. Arrive at Philadelphia International Airport
10:30 a.m. Mass at the Cathedral Basilica of Sts. Peter and Paul (1723 Race St., Philadelphia)
4:45 p.m. Visit Independence Hall
7:30 p.m. Visit Festival of Families on Benjamin Franklin Parkway
Sept. 27 (Philadelphia)
9:15 a.m. Meeting with bishops at St. Charles Borromeo Seminary at St. Martin's Chapel (100 Wynnewood Road, Wynnewood, Pa.)
11 a.m. Visit to Curran-Fromhold Correctional Facility (7901 State Road, Philadelphia)
4 p.m. Mass at the conclusion of the World Meeting of Families on Benjamin Franklin Parkway
5 p.m. Meeting with World Meeting of Families organizers, volunteers and supporters at Philadelphia International Airport
8 p.m. Depart for Rome
The U.S. Conference of Catholic Conference