Doritos makes rainbow-colored chips
Snack food company partners with It Gets Better Project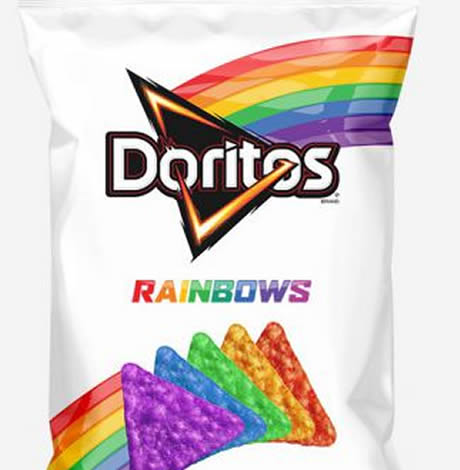 PLANO, Texas — Doritos has announced that it will produce rainbow-colored chips as part of a partnership with the It Gets Better Project.
Yahoo News reported Doritos Rainbows are tortilla chips that come in the colors of the Pride flag: green, blue, purple, red and orange. The website said they are only available in its Cool Ranch flavor.
Yahoo said the Doritos are only available to those who make a donation of at least $10 to the It Gets Better Project.
"There's nothing bolder than being yourself," reads the package, according to Yahoo.
Frito-Lay, which is based in Texas, makes Doritos and other snack foods.
Elton John performs at White House
President, first lady honored British pop icon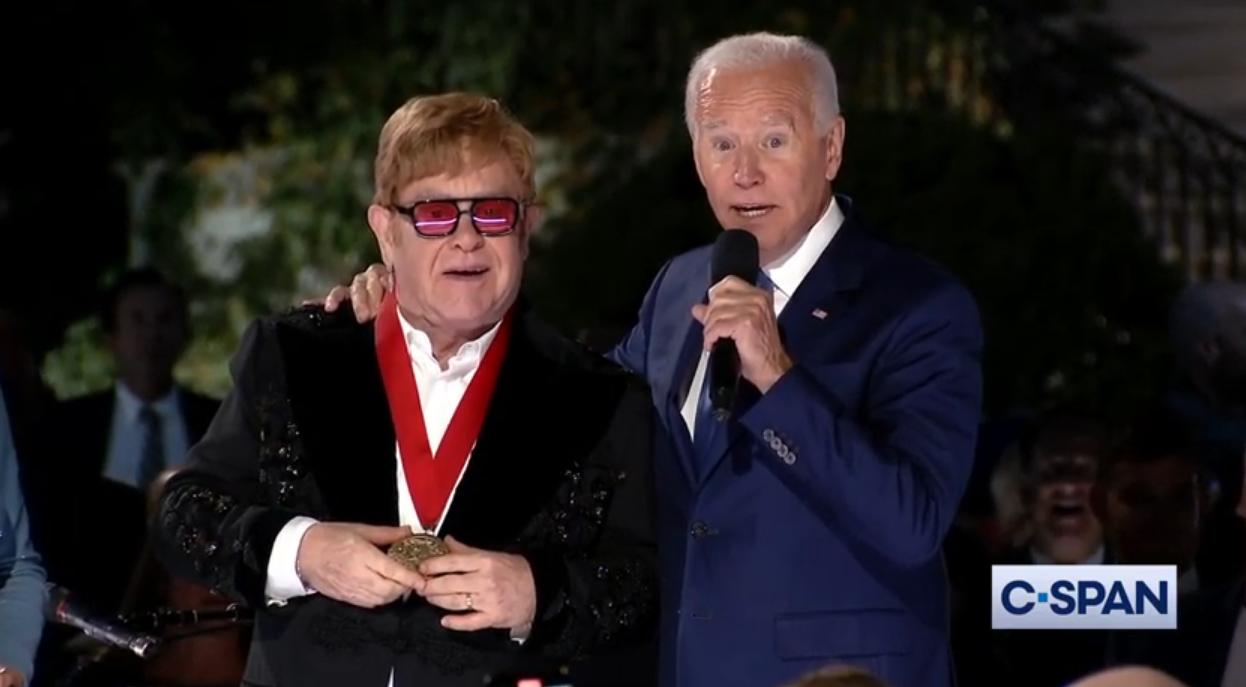 After a performance from a repertoire of the best known hits from his songbook in a special musical concert at the White House Friday evening, Elton John was called to the podium where, accompanied by the first lady Jill Biden, President Joe Biden surprised the iconic British singer-songwriter with an award.
The president presented John with the National Humanities Medal for his advocacy work in recognition of LGBTQ rights and tireless activism against the global HIV/AIDS crisis disease through his contributions in music and the arts.
The National Humanities Medal, inaugurated in 1997, honors individuals or groups whose work has deepened the nation's understanding of the humanities and broadened its citizens' engagement with history, literature, languages, philosophy and other humanities subjects.
A stunned John was moved to tears. After the president had the citation read by a military aide and hung the medal around the singer's neck, Biden told the audience gathered, "I think we surprised him" to which they cheered and applauded.
The medal's citation read in part that it was honoring John "for moving our souls with his powerful voice and one of the defining song books of all time. An enduring icon and advocate with absolute courage, who found purpose to challenge convention, shatter stigma and advance the simple truth — that everyone deserves to be treated with dignity and respect."
Visibly moved, the iconic musician and performer said: "I just said to the first lady, I'm never flabbergasted — but I'm flabbergasted and humbled and honored by this incredible award from the United States of America. I will treasure this so much — I will make me double my efforts to make sure this disease goes away. Your kindness — America's kindness to me as a musician is second to none, but in the war against AIDS and HIV it's even bigger and I can't thank you enough … I'm really emotional about this — thank you."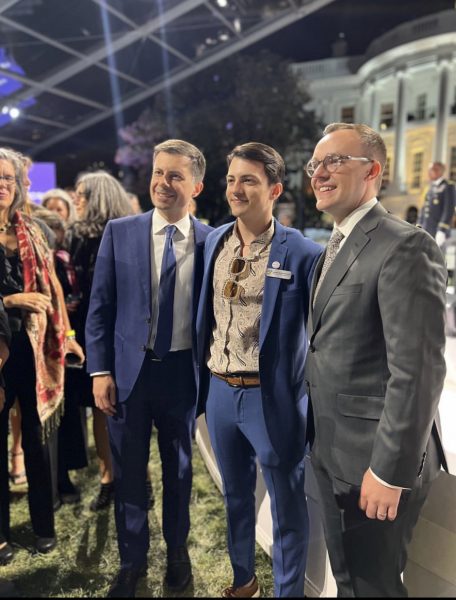 The special gathering held under a vaulted glass and aluminum "tent" on the South Lawn of the White House was attended by 2,000 guests including former first lady Laura Bush, House Speaker Nancy Pelosi (D-Calif.) and Transportation Secretary Pete Buttigieg, his husband Chasten, as well as teachers, nurses, LGBTQ advocates and military families, who the White House had dubbed "everyday history-makers."
During a pause in his performance earlier, the singer addressed Bush, praising her husband, former President George W. Bush's ongoing work on the Presidential Emergency Plan for AIDS Relief, which President Bush had initiated while in office and is credited with saving millions of lives across the African continent and helping to change the trajectory of the HIV/AIDS crisis globally.
"I want to say to the first lady, President Bush accelerated the whole thing with his PEPFAR bill. It was the most incredible thing," he said to Laura Bush.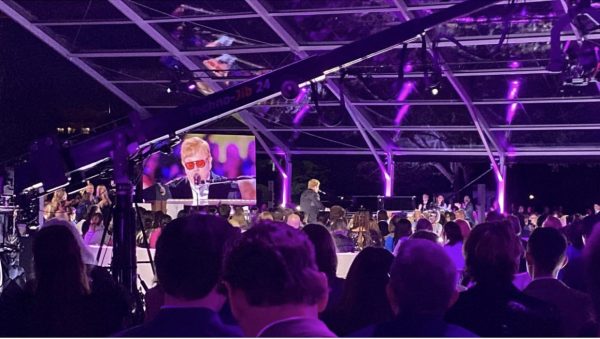 Biden awards Elton John with National Humanities Medal
Full text of the president and the first lady's remarks:
THE FIRST LADY:  Hello! Good evening. Thank you, Athen. It's leaders like you, those helping the next generation live authentically and find their voice, who make me so hopeful for our future.

And thank you to Paul Buccieri and A&E for helping us put this event together.

Isn't this incredible?    

First Lady Laura Bush is with us tonight. And, Laura, it's such an honor to welcome you and your family back to the White House. 

And finally, I want to say what a joy it is to be here with the man who has inspired, supported, and loved Sir Elton John for so many years: His husband, David. 

Few things have the power to bring us together like music. It can compel us to move as one on the dance floor, to sing along with strangers when we hear that familiar tune. It's a voice for the feelings we can't always define. 

When the piano plays, the strings swell, the drums beat in time with our hearts, we find joy or a balm for our sorrows or the harmonies that tell us we aren't alone. 

And in that spirit, as we celebrate Elton John's music, we also celebrate you — everyday history-makers. 

Many of you are my colleagues — fellow teachers, like Leah Michael Dillard. (Applause.)  Love the teachers! So, Leah has taught 7th grade English for 20 years. And, Leah, your students are better thinkers and more engaged citizens because of you. 

We also have first responders and healthcare heroes like — like Dr. Amber Pearson. Amber was the first person in her family to go to college. And it wasn't easy. She worked multiple jobs, took out loan, and when she finally reached her dream, she gave back to others, as an audiologist for veterans and their families, serving the women and men who serve us so well. 

And in this crowd are leaders of the beautiful, bold, and diverse future we are building together, like Javier Gomez, a student from Miami. When his governor passed a law targeting the LGBTQ community, he didn't sit back. 

Javier, you remind us of the power of one person who is willing to speak up for what is right, and that's what this night is all about. Coming together, using our voices, celebrating that, here in America, our differences are precious and our similarities infinite.

Elton once said, "Music has healing power. It has the ability to take people out of themselves for just a few hours."

We're here tonight to once again lose ourselves and be brought together — perhaps even healed — by the power of music. 

And now, I get to introduce another huge fan, who also happens to be the president of the United States and my husband, Joe Biden. 

THE PRESIDENT:  You had to stand for Jill, but you can sit for me. Please, all have a seat.  Please, have a seat.
Look, I — as my colleagues — many of whom from the Senate are still here, came tonight — they always used to kid me because I — I was quoting Irish poets on the floor of the Senate.
The think I did it because I'm Irish. That's not the reason; I did it because they're the best poets in the world.
One who we lost not too long ago, Seamus Heaney, once wrote, and I quote, "Once in a lifetime, the longed-for tidal wave of justice rises up, and hope and history rhyme."

Throughout this incre- — his incredible career, Sir Elton John has been that tidal wave — a tidal wave to help people rise up and make hope and history rhyme. Three hundred million records sold. Seventy-one billboard hits, nearly half in the top 10. Six Grammy Awards. Two Oscars. One Tony, among the multiple, multiple nominations across the board. Four thousand performances around the world. A singer, songwriter of our time, for all time.

On his final tour in Washington, Jill and I invited Elton to the White House to thank him on behalf of the American people.

So, like so many Americans, our family loves his music. His songs take us — take us back to a time, a place, a memory. Songs that make every day exceptional, help us connect and come alive. And songs that reflect the artist's gift, that sixth sense to imagine what no one else can, and then sing and play and dream until he sets that feeling free.

As Jill just mentioned, we're joined by so many people that it's — he's set free to be themselves, to be treated with the dignity and respect they deserve. 
Families and advocates in the fight against HIV/AIDS — a fight — a fight that he has led with sheer will, and fight for those lives lost and those lives that we can save.
Leaders standing up for equality of all people, no matter who you are or who you love.

Every day — every day Americans of every generation, of every background who know that life can be cruel and full of struggle, but it can also be full of joy and purpose.

And we're joined tonight by the U.K. Ambassador to the United States, Karen Pierce, during a difficult time. Karen, thank you. Thank you for being here, Karen.

Jill and I travelled to London to pay our respects to the Royal Family on the queen's passing.

Our hopes tonight — our hope is that Sir Elton John's music heals the sorrow, as it often has in the past.
Throughout his career, Elton found his voice — not only his voice, but his voice to help others and help them find their voice.

With his hope, he made history rhyme for countless people in our nation. That's what tonight is all about.

Elton often talked about how American music changed his life and how the different genres and sounds influenced his own music and imagination. It's clear Elton John's music has changed our lives.

To David and the boys, thank you for sharing your husband and dad with us tonight.  (Applause.)  And to Elton, on behalf of the American people, thank you — and I sincerely mean this — thank you for moving the soul of our nation. 
In first, gay Democrat and gay Republican face off in congressional race
GOP candidate was present at Stop the Steal rally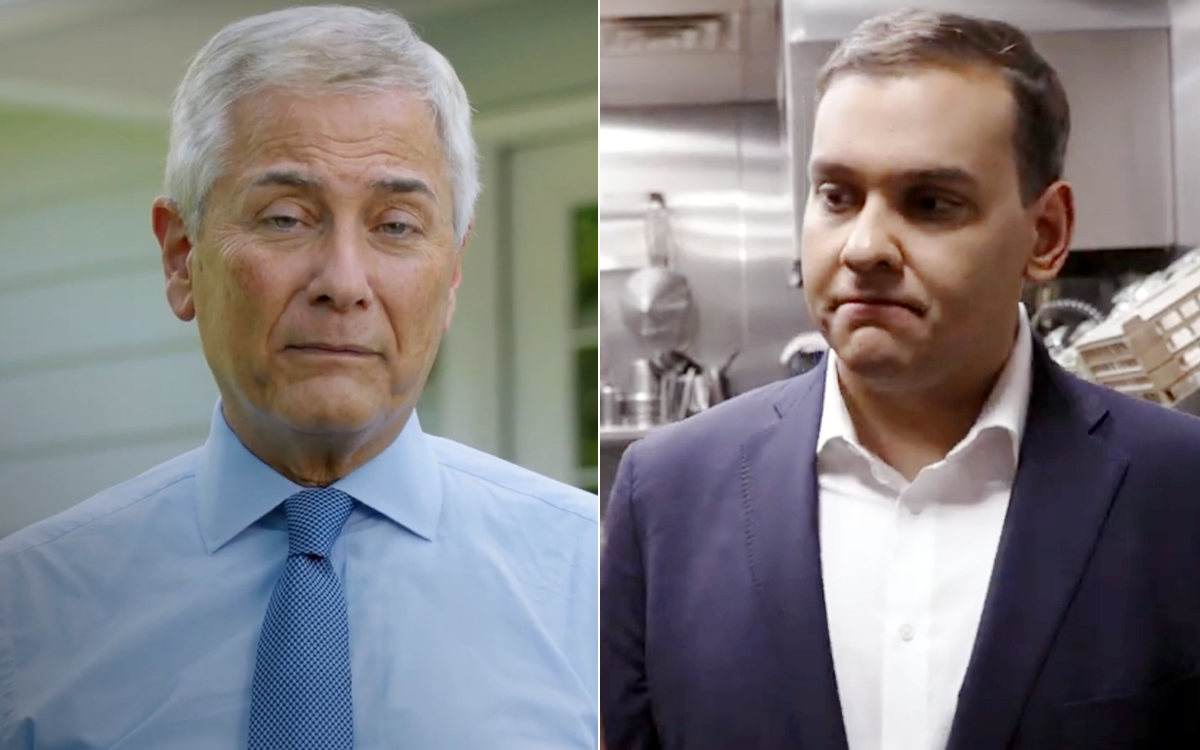 The race in New York's 3rd congressional district is seen as critical in the mid-term elections as Republicans are poised to retake the House and Democrats are trying to preserve their razor-thin majority. But the New York race holds another important distinction as the two candidates — Robert Zimmerman and George Santos — are openly gay, marking the first time out gay candidates from the two major parties have squared off in a House race.
In separate interviews with the Washington Blade, the candidates had markedly different takes on the nature of the historic first, with one saying his sexual orientation influenced his approach to politics and the other utterly rejecting its importance.
Zimmerman, a progressive Democrat and communications official who supports causes like LGBTQ rights, abortion rights, and gun reform, said being gay and closeted in his youth living on Long Island in the 1970s shaped his view of politics.
"I went to speak to an educator I trusted, and he suggested to me I try a doctor to make me better, because in those days, that was the path, conversion therapy," Zimmerman said. "And I certainly didn't do that, but it just reflects how isolating that period was, but I guess out of that period, that sense of isolation, it helped me to look at the world around me and see a lot of other folks who felt unseen and unheard, and it helped me find my voice that brought me to protest lines, brought me into political activism."
The first protest for Zimmerman, he said, was in front of the Democratic Party's headquarters. He's now a member of the Democratic National Committee in New York. Zimmerman said his political activism also brought him to the office of his member of Congress, where he became a congressional intern and later a member of his senior staff.
Santos, a conservative Republican, downplayed the importance of being a gay congressional candidate and said he doesn't make it an issue in his campaign, although he conceded,"it feels awesome that the opportunities are equal for everybody in this country."
"It's great to see that opportunities are equal to all in this country," Santos said. "It's always been that way. … So I don't make it a campaign issue as far as I don't campaign on that issue. It's not a campaign issue for me. I think it's a distraction, really about the real issues plaguing our country right now. I'd rather talk about that stuff all day long than talk about my sexual preference."
Key issues for Santos, he said, were many of the same issues Republicans are running on as part of the 2022 mid-term elections, such as inflation, the cost of energy, and crime, which he said are issues that affect every American to varying degrees regardless of their socioeconomic status.
Although he downplays the significance of his sexual orientation, Santos would have the distinction if elected as the first openly gay Republican in Congress since the departure of former Rep. Jim Kolbe in 2009. Santos would also have the distinction of being the first openly gay non-incumbent Republican candidate elected to Congress.
Not exactly fitting the mold of gay members of Congress seen in the past, Santos has aligned himself with a conservative ideology. He has called abortion rights "barbaric," and spoken favorably about the Florida "Don't Say Gay" bill signed into law by Florida Gov. Ron DeSantis. Footage exists of Santos saying he was at the Ellipse for the rally with former President Trump that preceded the Jan. 6 insurrection at the U.S. Capitol.
Santos didn't deny that he was present at the "Stop the Steal" rally, but said he "did not go" to the U.S. Capitol building on Jan . 6 and downplayed the significance of his presence at the rally.
"I just don't see how that's relevant to this interview, and to what we're doing in 2022," Santos said. "I just really think the American people deserve journalists to really focus on the future. I really liked this interview to be about proposals and what I'm going to present in Congress come 2023 instead of looking at two years ago, and really reminiscing on that."
Amid news stories of Republican candidates continuing to deny the outcome of the 2020 election, Santos indicated he wasn't among them. Asked whether President Biden won the 2020 election, Santos replied, "He's the president of the United States, I never contested that." Asked whether Biden is president because he won the election, Santos replied, "Of course."
Albert Fujii, spokesperson for the LGBTQ Victory Fund, said the records of both candidates made it easy for the organization, which endorses openly LGBTQ people running for public office, to decide whom to support.
"Victory Fund proudly endorsed Robert Zimmerman because of his life-long LGBTQ advocacy, commitment to public service and fierce pro-equality and pro-choice vision for America," Fujii said. "We believe abortion rights are LGBTQ rights and since our inception have always required candidates be pro-equality and pro-choice to receive our endorsement."
Fujii added Santos never approached the Victory Fund to seek an endorsement. Gay Republicans have sometimes criticized the organization as being a partisan tool of Democrats.
Political outsiders have rated New York's 3rd congressional district as "leaning Democratic." Although some initial polling was favorable to Santos as Republicans had an advantage with inflation and gas prices being a major issue, the tide appears to have turned nationwide after the Supreme Court ruling against Roe v. Wade served as a wakeup call to the Democratic base.
Zimmerman said the ruling in the Dobbs case has stirred a high level of activism, predicting LGBTQ rights would be next on the chopping block due to the concurrence of U.S. Associate Justice Clarence Thomas, who called for revisiting the decision in favor of same-sex marriage.
"You're seeing a level of energy and activism as a result of the Dobbs decision," Zimmerman said. "That is truly unprecedented for a midterm election When you take away 50 years of protection for women, and people also understand that's just the opening bid. They're coming after our rights of the LGBTQ+ community next, and they're coming after our rights in so many other areas. You've seen a level of engagement, coalition building, and activism that is really unprecedented."
Santos, presenting a different take on the Dobbs decision, said he thought the ruling "was great" and "gave the states back its power of the Tenth Amendment."
"I don't think it affects us here in New York," Santos said. "I do understand that there's other states with different decisions, but that's precisely what the Tenth Amendment does — it gives the rights back to the state so that on a more hyperlocal concentrated issue, the people's constituency, get to pick what they think is best for them."
Thomas's concurring opinion in the Dobbs decision is also not a threat, Santos said, although he criticized it as an "unfortunate moment."
"He had an unfortunate moment in a dissenting opinion that the majority did not sign on," Santos said. "Clearly, that's why it has no legal value. It's nothing more than a legal essay. A legal essay written by a Supreme Court justice with — I'm just going to go out on a limb and say not the brightest moment in his career."
One of the consequences of the Dobbs decision was the introduction in Congress of legislation knowns as the Respect for Marriage Act, which would seek to codify same-sex marriage into law regardless of whether or not the Supreme Court decides to revisit it.
Santos, asked whether he's in favor of the bill, replied, "If the bill is put through committee properly? Yes." Santos went on to say he had calls from Republicans about the legislation and told them it's the law of the land and a matter of "if you feel comfortable supporting my right to marry my spouse of my choosing."
"My only hang up with it is I really wish to give it more legitimacy and not leave any questions open for pundits on both sides of the aisle … let's just get it passed," Santos said. "I mean, I have no issue. Of course I'd vote for it."
When the Blade pointed out he appeared to be leaving the door open to vote "no" based on objections of not going through the regular order of the committee process, Santos denied that was the case: "I didn't say that. I just said I want it to be that way, so there's no questions about it. I never in any instance suggested to you I would say 'no.'"
Rep. Mondaire Jones makes video of getting second monkeypox vaccine
Outbreak now disproportionately affecting Black men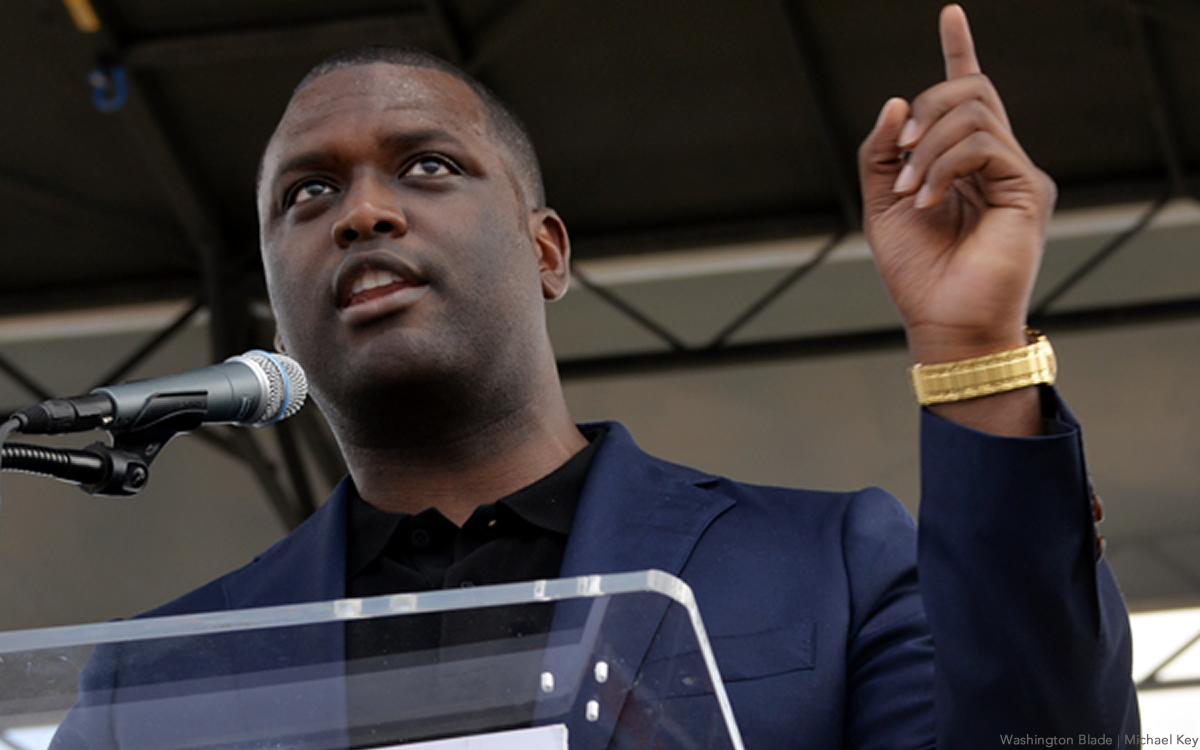 Rep. Mondaire Jones (D-N.Y.), at a time when racial disparities in the monkeypox outbreak are becoming more pronounced, took a visible role Tuesday in embracing efforts to contain the disease, putting out a video of him obtaining a vaccine.
Jones, who is one of two openly gay Black members of Congress, is shown in the video outside of Westchester Medical Center's drive-through clinic in Westchester County, N.Y., saying he just received his second dose of the monkeypox vaccine.
"Monkeypox is hitting LGBTQ+ communities of color particularly hard," Jones said in a tweet. "The most effective way to stop the spread is to get vaccinated and to talk about it — to overcome stigma and misinformation. I did my part and got vaccinated. You should, too."
The video comes out as racial disparities persist in the monkeypox outbreak, even though the number of new cases overall is beginning to decline. In the week of Sept. 4, Black people represented 41 percent of the cases and Latinos represented 27 percent, while 26 percent were white and three percent were Asian, according to data from the Centers for Disease Control.
Jones, who had represented New York's 17th congressional district, was unable to obtain the Democratic nomination to run again for Congress after redistricting in New York and is set to leave at the end of his term.