Naomi's 'Drag Race' behind-the-scenes tour
Season eight finalist on RuPaul, all the stuff they don't show you on TV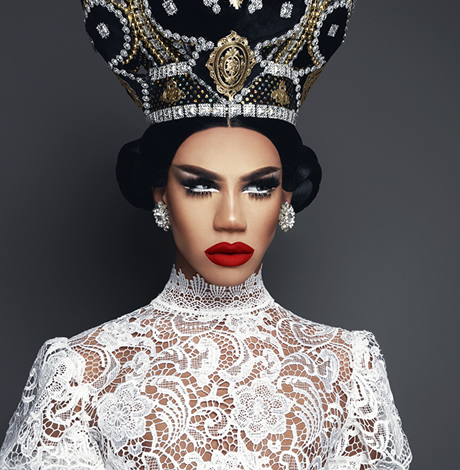 Once again this year, the top three queens from this season's "RuPaul's Drag Race" will be at both Town and Capital Pride. Kim Chi is at Town on Friday, June 10 and Naomi Smalls and champ Bob the Drag Queen are there Saturday, June 11. Naomi and Bob will also perform on the Capitol Concert Stage at the festival on Sunday, June 12.
Naomi Smalls, a 21-year-old Redlands, Calif., native born Davis Heppenstall, spoke to us the week by phone from her home in Chicago.
WASHINGTON BLADE: What was it like having to wait from the time you wrapped taping to finding out who won?
NAOMI SMALLS: I was nervous but I think I was more nervous finding out who made the top three because we filmed that last year. … For us, it was different because we were kind of walking on eggshells. The other girls got to know how they did when they left and so they all knew when their bad episode was going to be, but for Bob, Kim Chi and I, we were all nervous.
BLADE: You don't find out who wins until the episode actually airs, so where did you watch it?
NAOMI: They have a crowning and coronation in New York and Kim, Bob and I were all watching it live. It was our first time finding out who was going to win. I had a feeling it was going to be Bob, so I wasn't super super surprised. But we were happy to be there and see his reaction in person.
BLADE: How did he react?
NAOMI: Well of course he started crying. It's the biggest moment of his life. I'm glad Kim and I got to be there for him. The three of us are actually really good friends. So any of us would have had the same reaction no matter who won.
BLADE: It was such a shock the night Ru sent both Dax and Laila home. What did it feel like when it was actually happening?
NAOMI: When I was watching it live, I didn't think either of them were doing very good. It was a surprise that it was so early in the competition and she was sending two people home, but it was probably the right decision.
BLADE: How do they keep you all from seeing each other back stage when you walk into the work room for the first time?
NAOMI: Well all come from the hotel in separate vans one by one and we all go there and wait in a holding room. Like a very small room with a mirror and snacks. Then they just tell you when it's your time to go in and you don't see any of the other queens. We're all in these closed-off rooms until everyone walks in.
BLADE: So you have to get ready at the hotel?
NAOMI: Yes.
BLADE: What did it feel like walking into the work room for the first time?
NAOMI: I was nervous but also really excited. It's like this surreal moment after seeing it on TV for so many years. I really wanted to be part of it but I was also nervous to see who else was going to be there and if the other queens would be easy to get along with.
BLADE: Derrick was so nasty to you. Like she was going out of her way to pick a fight, especially the last episode she was on. Was that really how it felt at the time or did they edit it all together to seem nastier than it really was?
NAOMI: I wouldn't say worse than it really was. I just think some people make for really good TV. Derrick is a really good friend but he's also very good at turning it on for television. I wouldn't say the producers had anything to do with editing it any certain way. It's more of how Derrick's personality comes across on television when he turns it on.
BLADE: So she's not so confrontational when the camera's not rolling?
NAOMI: Oh for sure. Not so loud.
BLADE: Acid Betty was such a bitch too, and I thought initially she would go a lot further. Do you think Ru takes the nastiness into consideration when sending them home or is it really just how good you are?
NAOMI: I always think of it as kind of a "Big Brother" thing where Ru is always watching and if maybe you get some news back from an assistant or producer that someone's not giving their all or grateful to be there, I think that may come into consideration when it comes to the judging. I think you should just treat people the way you want to be treated and don't be an asshole.
BLADE: But then it turned out that Betty had reached out to Cynthia when she was sick, so I guess she has a soft side too.
NAOMI: I think certain people get into a certain mindset when they're in a competition. They could be the sweetest person but once you're in a room pitted against 12 other people, they go into competition mode and you forget about the way to treat people.
BLADE: You seemed one of the nicest queens this season, though. Is that just your personality?
NAOMI: I grew up in a big family so I'm good with treating people the way I want to be treated. Unless someone comes for me, I'm not going to come for them.
BLADE: When you all saw all the kimonos coming out for the Madonna episode and realized almost everybody was doing "Nothing Really Matters," why didn't some of you switch gears? Was it too late? Were you all thinking, "Oh shit?"
NAOMI: When you get called for the show, you only have two weeks to prepare so once we got there and we found out who everyone's Madonna look was, we were all freaking out. I actually think there were three other kimonos from the girls who went home before that challenge. I think Naysha, Laila, I think Dax and I want to say maybe even Cynthia were all planning that too, but there's not really much you can do because you don't find out the runway category until the day before. So yeah, trust me, I definitely regret doing that runway.
BLADE: So they did tell you to bring a Madonna look before you left home?
NAOMI: We knew there was a Madonna category, we just didn't know what everyone else was going to do. Everyone was trying to be original, picking something not super obvious, but it just didn't pan out very well.
BLADE: So that was just a huge coincidence?
NAOMI: I didn't really know that many Madonna references. Just "Music" and "Hung Up," so I thought, "Oh, I'll do dark-hair Madonna, no one else is going to do that." And it bit me in the butt.
BLADE: How tall are you out of drag?
NAOMI: 6', 4"
BLADE: You often go without boobs in your drag. Is that like a little genderfuck thing or what?
NAOMI: I always grew up lusting over the '90s supermodels who were bone thin with like no tits and no hips and that's what I kind of based my drag off of. It's just proportion to me. I've worn the pads, I've worn the boobs, but it just doesn't really work for me. I like my look the way it is. I never try to be androgynous or genderfuck. I just think it suits my look and my silhouette better.
BLADE: What are you planning for Capital Pride?
NAOMI: I'm actually really excited to do it. I didn't know 'til today that it was with Bob on Saturday, so that's going to be a blast. I'm just excited. I love Pride. It's the best energy you ever have when you're performing because everyone's just there and proud to be who they are so I'm just excited to be there with everybody who's celebrating.
BLADE: Usually the episode before the finale is highlights with the past queens commenting. Did they not do that this year?
NAOMI: I don't think they did. Yeah, like a recap episode. I didn't see it.
BLADE: Had you seen (season seven winner) Violet's gown before she came out at the finale? Oh my God, that dress!
NAOMI: I saw the dress rehearsal but I didn't see the full-on with makeup and all that amazingness until she came out. I was just as gagged as everybody else.
BLADE: Was that amazing or what?
NAOMI: I think it's like the most legendary look that's ever been on "RuPaul's Drag Race" period. All seasons. It was amazing.
BLADE: Do you know Violet at all?
NAOMI: The first time I really got to meet her was at the finale but I looked up to Violet ever since she was on the show. So getting the chance to hang out with her and pick her brain a little was just really nice. She's one of the sweetest queens. I think very highly of her.
BLADE: Where do you even get a dress like that?
NAOMI: I think somebody who mades a lot of her clothes made it but I don't know his name.
BLADE: Were you intimidated to be in the group photo with all the past queens at the beginning of your season?
NAOMI: It sounds cocky, but once I found out I had to do a photo shoot, I was like super happy about it. I love being in front of the camera and taking photos so I wasn't super intimidated by the other queens.
BLADE: Did you get to say anything to them or was it just like shoot, on with the next girl?
NAOMI: Just shoot and on to the next girl. I've worked with Raja and Sharon (Needles) before and they're all very nice. So I wasn't too scared.
BLADE: How do they make the commentary seem like it's happening as the show is unfolding? Obviously you can't really be commenting in real time. Is that just really good editing?
NAOMI: We do our interviews at the end of the week and we're supposed to keep a journal but it's really hard to do that because when you get back to the hotel, you're so tired after filming you just want to go to bed. You don't really want to stay up all night writing in a journal. But after you do the first round, you kind of get used to it.
BLADE: They always make it seem so nerve wracking and like you're so pressed for time but then you see something like Kim Chi gluing a lotus blossom headpiece together blossom by blossom so you obviously have time to do something painstaking like that. Is it really as big a time crunch as they make it seem?
NAOMI: It's definitely nerve wracking. You guys pretty much see all the time we have to work on things. We might get like an extra hour and a half. But yeah, it's definitely not an easy competition.
BLADE: Is it about what you thought it would be or easier or harder?
NAOMI: It was about what I thought it would be. I knew it was going to be very stressful and there's no way you can really prepare for it. It just kind of happens.
BLADE: Who was your favorite celebrity guest judge?
NAOMI: Probably Marc Jacobs. He's just so legendary. So a chance to get critiqued by him was such an honor, especially on a design challenge. That was awesome.
BLADE: Do weirdos and stalkers come out of the woodwork once you've been on the show?
NAOMI: Most people have been pretty respectful. The only thing that's annoying is drunk people at the clubs but that's at every single club. You can't really avoid that.
BLADE: What's your type? Who's a celeb who would be a good reference point for the type you like?
NAOMI: I like guys like Hugh Jackman or Jake Gyllenhaal.
BLADE: Are you seeing anyone?
NAOMI: Dating, but nothing like boyfriend status.
BLADE: So you like guys who are different from you?
NAOMI: My motto is if you're cute, you're cute. If you're attracted to someone, you're attracted to them no matter if they fit your type.
BLADE: Was there anybody you felt went home too soon?
NAOMI: I would say Laila is one of the most amazing performers and makeup artists I ever met. I would have loved to have gotten to know her better while she was on the show. I don't think her personality really got a chance to shine. She's super funny and super bubbly and just hilarious and I think the fans would have loved to have seen that.
BLADE: Do you think the judges are ever too harsh in their assessments?
NAOMI: I think they're very accurate. They tell you exactly what you need to do. … They give it to you 100 percent, especially Michelle (Visage). I think she's one of the best people to be in that position. She doesn't say anything to bring you down.
BLADE: What did it feel like with your glam Scarecrow look when Ross said, "This is how you win this competition."
NAOMI: Up until that moment, I still didn't know if I'd done well that week, so when he said that, it was like this huge load off my shoulders. I was still scared I might be in the bottom two again, so it was a nice stamp of approval.
BLADE: That episode was such a turning point for you. Is that what you had planned for that look all along?
NAOMI: I had planned something a little shorter, a little leggier … but when Ru came around and was like, "The judges want to see something different from you," that put off a lightbulb in my head that I should step it up, so I really wanted to put all my energy into that one because I'd been in the bottom two the week before. There was a lot of pressure to get it together.
BLADE: The fans seem really divided on Kim Chi. Some people were saying they couldn't believe she was still in it, she can't even walk and so on, but others thought she was just brilliant at painting and there was so much depth and nuance. What do you think of her drag?
NAOMI: I'm a huge fan of Kim and even before the show. So to see this beautiful image and this quirk of like, I can't even walk in heels, I'm a big nerd," is just so lovable and I think the audience gets that too. We all have our strengths. I can't get on a stage and entertain a crowd like Bob can, I can't create portraits like Kim can but I can do things they can't do, so it's all different skill sets and I think that's amazing.
Gay country artist and brother win big at CMA Awards
Brothers Osborne grew up in Deale, Md.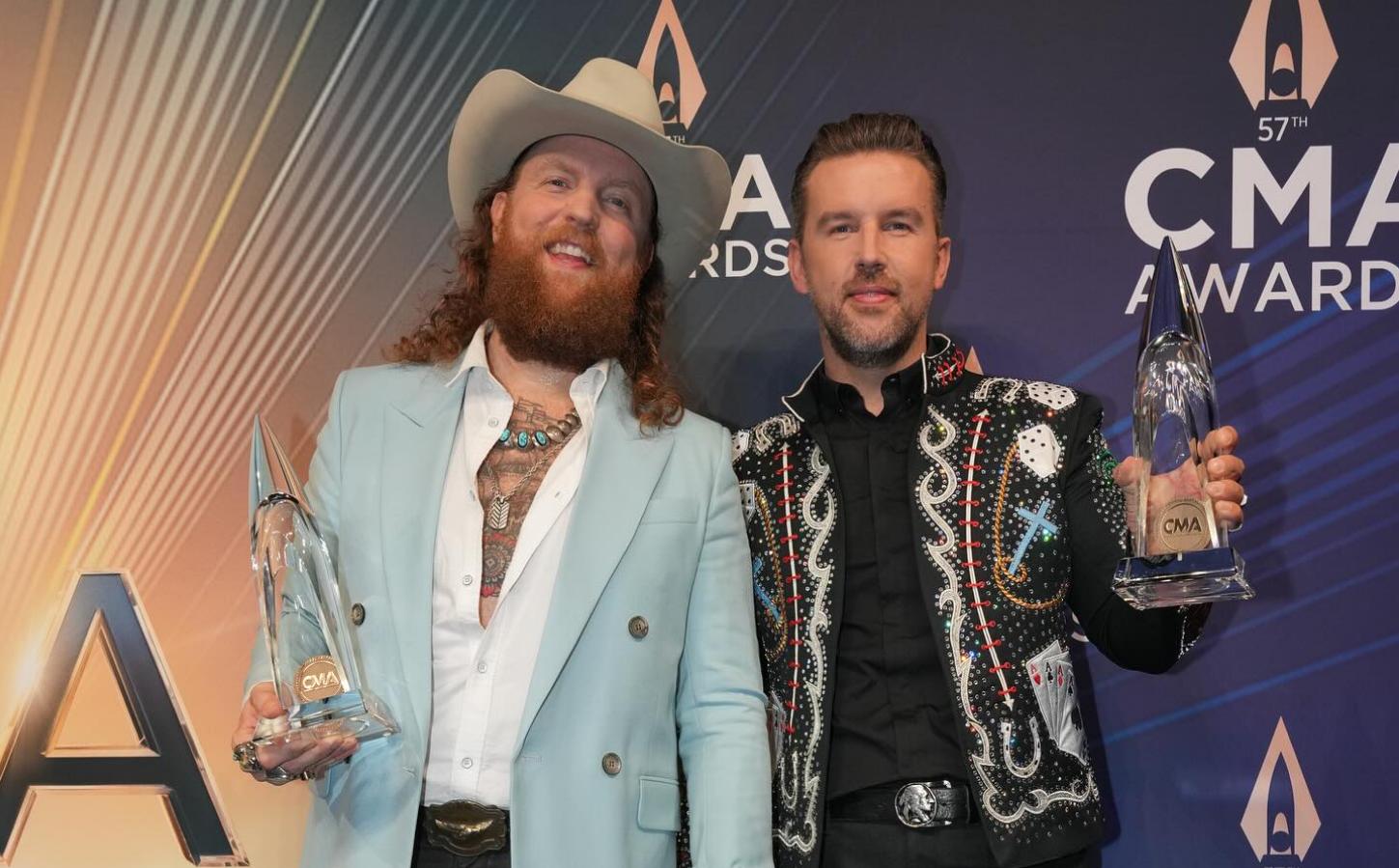 The biggest names in country music gathered Wednesday at Music City's Bridgestone Arena for the 57th Annual Country Music Association Awards, hosted again this year by country star Luke Bryan alongside former NFL star Peyton Manning.
Walking away with Vocal Duo of the Year were sibling musicians John and T.J. Osborne.
The Brothers Osborne as they are known by, in previous years have won in this category, this year making it their sixth win.
T.J. Osborne, lead singer of the country duo, came out as gay in an exclusive interview with Time Magazine, which was published Feb. 3, 2021.
While other ostensibly country artists are openly LGBTQ, such as Orville Peck, Brandi Carlile, Lil Nas X, Chely Wright and Billy Gilman, Osborne's revelation makes him the first — and so far, only — openly gay musical artist signed to a major country label.
John and T.J. Osborne grew up in the small Chesapeake Bay bayside town of Deale in Anne Arundel County, Md., writing and playing songs for friends and family in their father's shed. T.J. with his brother John formed the Brothers Osborne duo in 2012. Signed with EMI Records Nashville, they've released seven country Top 40 singles and three studio albums, to date. Their platinum hit "Stay a Little Longer" was a crossover to mainstream radio.
The siblings took home their first Grammy in 2022, winning Best Country Duo/Group Performance for their song "Younger Me," inspired by T.J.'s coming out. The band has been nominated for 10 Grammys in total, standing as a now six-time CMA Vocal Duo of the Year, and are three-time ACM Duo of the Year.
Overall, they have collected six CMA awards, six ACM trophies and received the ASCAP Vanguard Award in 2019. Their critically acclaimed hit songs have tallied multiple RIAA Gold and Platinum certifications, while surpassing more than 2.5 billion global streams.
In addition to the Brothers Osborne winning Vocal Duo of the Year, country singer-songwriter Lainey Wilson took home three of the top awards of the night, including the coveted entertainer of the year award, as well as female vocalist of the year and album of the year.
This is also the first time in CMA history that two women have been nominated for Entertainer of the Year in four consecutive years.
Janet Jackson to headline World AIDS Day concert
Annual fundraiser sponsored by AIDS Healthcare Foundation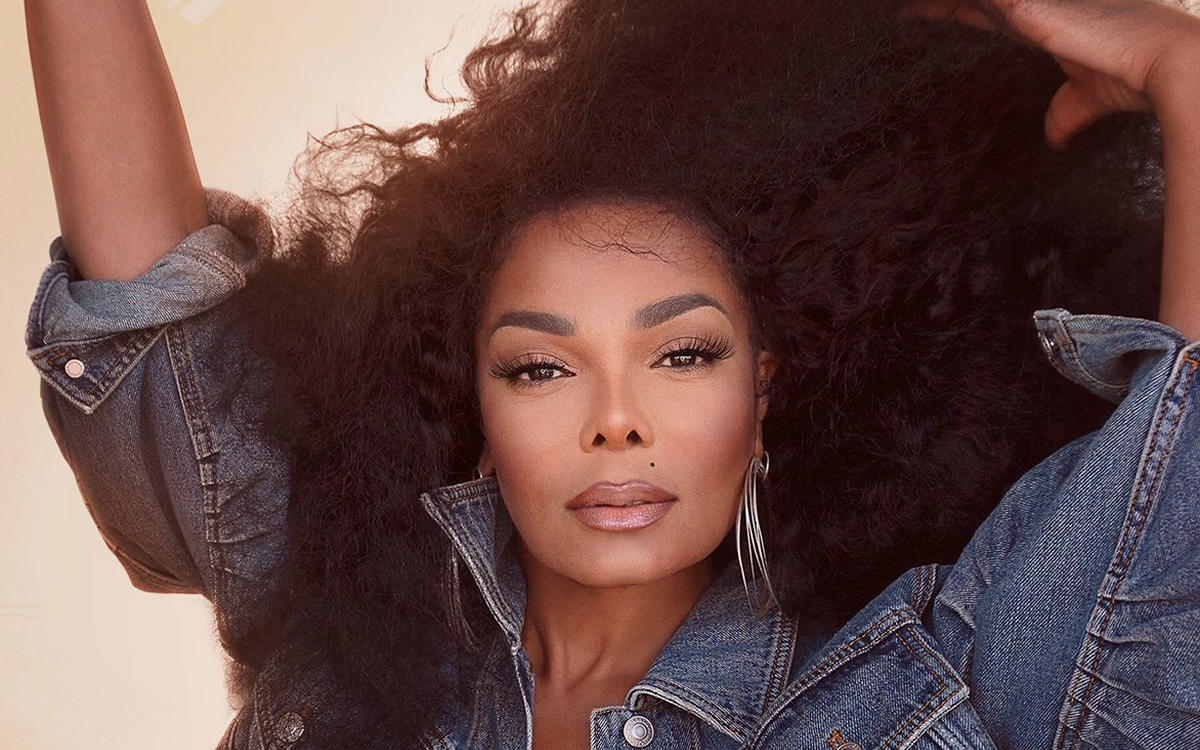 Pop icon Janet Jackson will headline the annual World AIDS Day concert sponsored by the AIDS Healthcare Foundation in Houston.
The Dec. 1 event at NRG Arena will feature a full-length concert from Jackson. In addition, AHF will honor actor and activist Blair Underwood with its lifetime achievement award; choreographer Debbie Allen is slated to speak at the event.
Jackson is a longtime LGBTQ ally and AIDS activist. Her eighth No. 1 single, "Together Again," released in 1997, paid tribute to a friend who died of AIDS and honored those lost to the disease.
Underwood co-founded Artists for a New South Africa to direct attention to "the catastrophic impact the disease has had on families and children across the continent," according to Billboard. The actor has worked with AHF for years. The Underwood Center in D.C. provides state-of-the-art HIV medical treatment and care and related services for more than 600 patients at its offices at 2141 K St., N.W.
"I'm so honored to be receiving this gracious award by AHF," said Underwood in a statement. "We have had a long-standing partnership in the fight against HIV/AIDS, and there is still more work to be done."
AHF is the world's largest nonprofit HIV/AIDS service organization and AIDS advocacy group, with healthcare centers located throughout the U.S. and around the world.
Proceeds from the concert will be used to combat HIV/AIDS. Tickets are on sale now via TicketMaster.
New dance single pays tribute to Town Danceboutique
Local musicians pen 'Town' in honor of shuttered club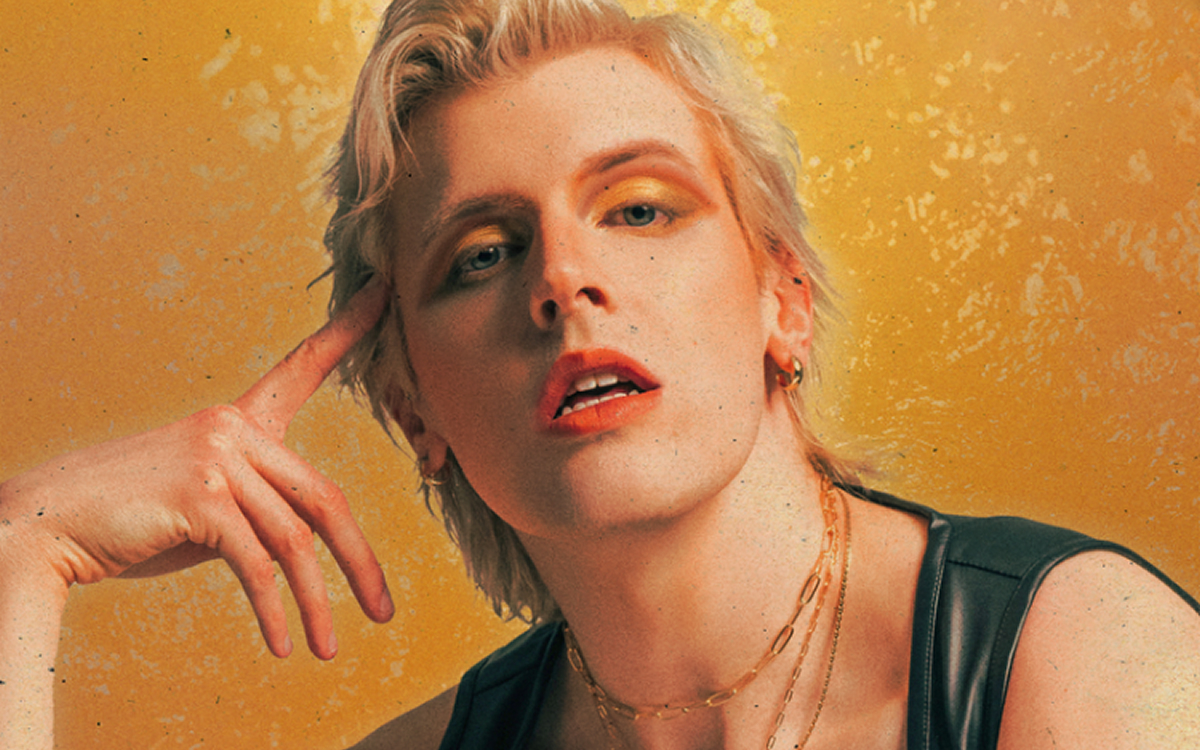 The closing of the LGBTQ nightclub Town Danceboutique in the summer of 2017 was heartbreaking to local musician Bryce Bowyn. He and his Los Angeles-based singer/songwriter friend Lexie Martin decided to honor its legacy in their new single, "Town."
For Bowyn, who moved to the District about a decade ago to attend school at American University, the memories he has from Town Danceboutique are endless. And when it closed, it was a massive loss to Bowyn and many others.
"It was such a cool space," Bowyn said. "It was just disappointing to see a place that brought so many people together become part of the landscape again." The building Town Danceboutique used to be housed in is now home to upscale apartments and a CVS.
Town Danceboutique was a formative place for Bowyn and Martin, and it was Bowyn's first experience in an open and accepting LGBTQ environment. His favorite memories at the club were always on Halloween, he said. Patrons, including Bowyn, would go all out with their costumes to look their very best.
Bowyn and Martin met while they were both in the musical theater program at American University. Despite their years-long friendship, "Town" is the first song they have written together. They sat down over FaceTime and got to work. It was Martin's idea to pay homage to Town Danceboutique, and the song follows the story of pre-gaming, going out, and hitting the dance floor.
But the single also serves as a hype song for going out in any city, at any place.
"It was important to me for the song to remain relatable and accessible," Bowyn said. "So the whole foundation of the chorus, 'Let's go to town,' can either mean Town Danceboutique, or painting the town red and having the night of your life."
Bowyn started writing and producing his own music in 2018. He released an EP titled "A Rosy Retrospect" in 2022, and most recently released a single "A Bridge Burned Down" in June. His music is inspired by late 2000s pop and '80s synthpop, influenced by stars like Madonna and Charli XCX. Lexie Martin released her self-titled EP in 2019 and most recently came out with her single "SUPERPOWER" in 2021.
Bowyn has been a lifelong pop music enthusiast. He distinctly remembers watching Britney Spears perform "Oops!…I Did It Again" at the MTV Video Music Awards when he was a kid and thinking "That was what I wanted and what I was set to do in life."
"My heart was always with pop music," Bowyn said.
"Town" is available now for streaming on Spotify, Apple Music, and Soundcloud.