Postcards from Provincetown
Theme weekends, floral splendor and Girlsplash!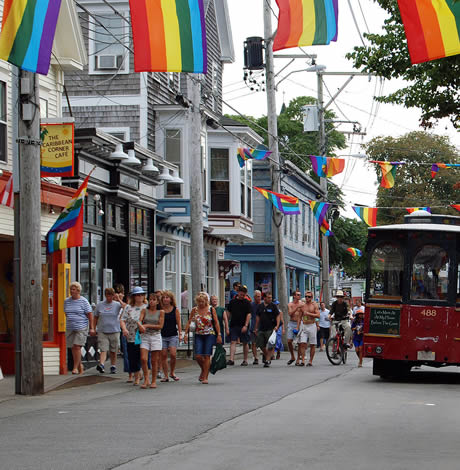 Greetings from the tiny island nation of Provincetown, Mass.
Provincetown is the town that theme weekends built. Thematically, we have already cycled through Film Festival, Portuguese Festival, Circuit Party/Fourth of July, and Bear Week. Of course while famous for our separatist-crowd-pleasing theme weeks, we have also been cycling through many other phases.
Florally, we have cycled through crocus, daffodils, tulips, lilac, wisteria, iris, rose, day lily, and hydrangea. Maritimely speaking, if seal-shark-orca is a food chain cycle, we are in its jaws. Heartbreakingly, we have cycled through the caterpillar-pupa-gypsy moth life cycle. In spring, caterpillars defoliated wide swaths of mid-Atlantic and Cape trees. Naturalists blame the devastation on the lack of moisture that is essential to grow a caterpillar-killing fungus. Trump campaign manager Paul Manafort blames it on Hillary Clinton.
Last week's theme was Girlsplash! And yes, the organizers trademarked the exclamation point before poor Jeb! even thought of it.
For some of us, it was an unfortunate bit of planning that the joy and fun of having lots of scantily clad younger women in town for Girlsplash! might be overshadowed by news from the Republican National Convention. Hillary Clinton managed to unite the convention and yet ungrateful delegates wanted to burn her at the stake. They should have called the convention Burning Woman.
For most, it's time to be on vacation, unaware of and uninterested in politics. Good times.
Their off-the-grid liberatory joy and a love for my town, inspired me to pitch an idea to the Provincetown Business Guild for the last theme-less week of the summer. It would be called Analogue Week.
When you come to town, you surrender all your devices — iPads, iPhones, computers, avatars, light sabers etc. The border guard will put your gear in a zip-lock bag and label it. Of course we'll have to put up a wall between Truro and Ptown and make Truro pay for it. If you come by ferry, you turn it all into the Town Crier at the pier. If you fly into Ptown Int'l Airport, the TSA people will collect and tag your devices.  It won't take long because there are 120 TSA people at our little airport. That explains why there are only three at O'Hare.
During Analogue Week, organizers encourage visitors to have experiences that involve at least three senses. Words with friends actually involves talking.  Chiropractors and free neck collars will be available to adjust necks to an upright position. Organizers envision creating a troll-free space, a Shamecation for all. For one week you'll be able to have a thought and not feel compelled to share it online.
The PBG seemed especially excited. I was this close to sealing the deal. Then along came the damnable augmented reality of Pokemon Go and the deal was off. I'm not giving up.
Opinion | LGBTQ youth face mental health challenges amid pandemic
We must assist with legislative remedies, resources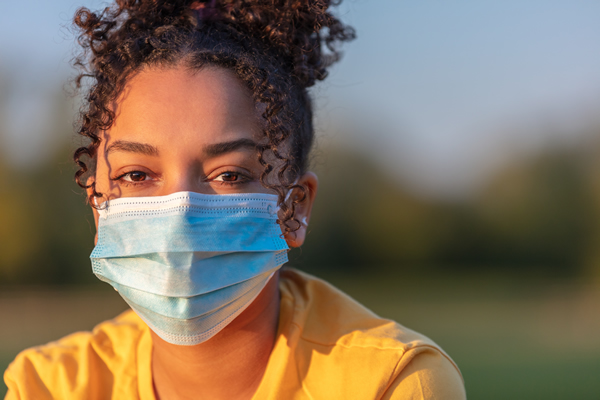 The mental health of many has suffered amid the coronavirus pandemic, with rates of depression, anxiety, and other mental illnesses steadily rising since March 2020. Youth, especially those who identify as LGBTQ, are being hit especially hard by these manifestations.
The Trevor Project's 2021 Youth Mental Health National Survey found that 72 percent of LGBTQ+ people between the ages of 13 and 24 experienced symptoms of generalized anxiety disorder and 62 percent experience symptoms of major depressive disorder — a steep increase since the 2020 survey. This uptick can be attributed to the lack of support that two out of every three respondents to the 2021 survey experience in their homes.
Due to the pandemic and resulting restrictions placed on social gatherings, LGBTQ youth are unable to participate in in-person activities where their identities are affirmed, and forced to endure misgendering and other discriminatory situations within their homes that are confirmed to increase feelings of loneliness, depression, and anxiety. Online crisis lines, LGBTQ organizations that offer online events for youth, and other resources that support young LGBTQ people are especially vital to their mental health during this time when school-wide Gender and Sexuality Alliances and counseling aren't as widely accessible.
Before the pandemic, LGBTQ youth were already suffering from mental illness at extremely high rates. The Trevor Project's 2019 Youth Mental Health National Survey reported that 39 percent of respondents had seriously considered suicide, more than double the national statistic encompassing both LGBTQ and cisgender, heterosexual youth found in a CDC study the same year.
The culture surrounding many LGBTQ students in their homes and schools contributes to their alarming rates of mental illness.
The lack of positive representation of LGBTQ identities in books, on screen, and in classrooms leads youth to believe that there is no hope to ever have successful lives as openly LGBTQ people.
The LGBTQ characters that young people do have to look up to are often unnecessarily killed off when the "bury your gays" trope is employed, or their storylines center around their LGBTQ identity and disregard any other part of their humanity; tricking them into thinking that they're nothing beyond their sexual orientation or gender identity and can't be functioning and productive members of their communities because of it.
According to the Human Rights Campaign's 2020 State Equality Index, only two U.S states have laws addressing discrimination against students based on sexual orientation, and only one state has legislated protections for transgender and gender-nonconforming students. Six states specifically restrict the inclusion of LGBTQ topics in curricula.
The institutionalized exclusion of LGBTQ students from school curriculum further alienates them in spaces where they should feel comfortable and accepted for who they are and helps to facilitate a breeding ground for further discrimination.
Students internalize the stereotypes, tropes, and other ways in which homophobia and transphobia permeate society and are poisoned with beliefs that they're abnormal, perverted, and disgusting. Over time, this brainwashing eats away at the psyche of youth as they grow and leads to the high rates of mental health issues in LGBTQ youth.
Straight and cisgender students are also affected by these failings and in turn, affect the mental health of their LGBTQ counterparts. They absorb the same falsehoods about LGBTQ people and their identities, and lash out at those who they've been taught are lesser than them, including their friends and classmates. The internal struggle that manifests in LGBTQ youth as well as external attacks from their peers results in the unique mental health crisis they face.
LGBTQ youth have also been affected by the pandemic at a higher capacity than other groups. A 2017 study by Chapin Hall at the University of Chicago found that LGBTQ youth are over 100 percent more likely to report homelessness than straight and cisgender youth.
Many LGBTQ people, especially members of the transgender community, avoid seeing doctors or mental health professionals due to the absence of protections for LGBTQ people and hostile experiences with medical personnel.
Without access to spaces where they can interact with other LGBTQ youth, shelters in which they feel safe, LGBTQ affirming doctors, and policies in place that protect LGBTQ workers and patients, LGBTQ youth are struggling mentally in high volume that increased during the pandemic.
The lives and futures of LGBTQ youth are not expendable, and it's time that they stop being treated as such. Legislated protections for LGBTQ students and resources that are available to youth are necessary to combat the daunting rates of mental illness within the young LGBTQ community.
Maeve Korengold is a freelance journalist and student ambassador for Safe Space NOVA.
Opinion | Life is precious, so live each day to the fullest
Clark Ray's death reminds us to hold our friends tight while we can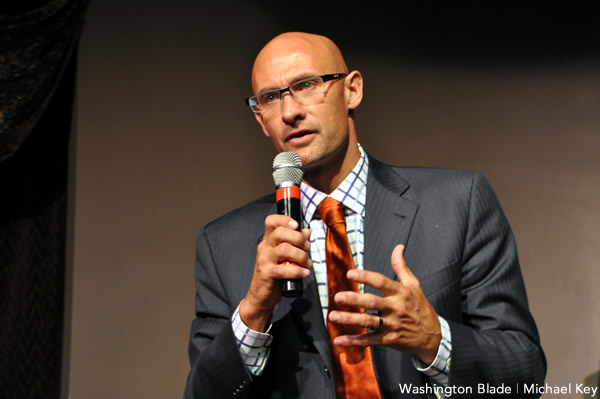 This past week I learned of the sudden passing of two close friends. It was a stark reminder of how precious life is and it can be over suddenly without warning and much too soon. Both friends lived their lives to the fullest and made a real difference for those around them. While they did it in different ways each shared a love of people and were loved in return. They will be missed not only by their families but by so many they might never have met but through their work impacted in a positive way.
This column is about Clark Ray who lived his life more publicly; my other friend was more private. Like so many others I was left speechless by Clark's passing when I read it on Facebook. I will always remember Clark as a young man of substance, charm, and honor. He lived life in a way that so many others try to do but fall short; not Clark. He not only talked the talk of justice, equality and love for all, he walked that walk every day. He cared about all people and shared his love with them unstintingly and in return all of us who knew him loved him back.
Though older than Clark by many years I looked up to him. I first met him more than 25 years ago and have been close to him for over two decades in which he served four different mayors in D.C. I stood with him when he ran for Council-at-large and when he had some issues with a job. But Clark overcame everything and was able to do that because of his expertise and ability to get along with everyone.
His last job for the District of Columbia was as executive director of the D.C. State Athletic Association (DCSAA). The DCSAA combines public and private school athletics in D.C. Clark handled football and basketball playoffs, and pitting the public school champion from the DCIAA against the several champions from private schools within the city. It wasn't easy this past pandemic year but Clark always spoke up for the athletes and their needs.
Prior to that, Clark served in many roles for the mayors he served. He began with a stint in the Office of Neighborhood Services. He then served as director of the Department of Parks and Recreation; senior director, Strategy for the Greater Washington Sports Alliance; and director of External Affairs for the DC Sports and Entertainment Commission. In each role, Clark spoke out for the LGBTQ+ community. He helped to found Team DC, the gay sports league, and was co-chair of the committee that worked to bring the Gay Gaymes to D.C. He supported the fight for gay marriage through the Foundation for All DC Families and fought for the right of LGBTQ people to adopt children. He and his husband Aubrey have four. He was incredibly knowledgeable about D.C. government and willingly shared his knowledge with others, mentoring them.
Clark came to D.C. with the Clinton administration, a proud son of Smackover, Ark. His amazing and supportive mom still lives there. He worked as director of Strategic Scheduling and Advance, Office of the Vice President for Tipper Gore. He then served as chief of staff to Tipper during the Gore 2000 campaign. When Clark ran for Council, Tipper returned the favor and come to a fundraiser for him. Another big name who did a fundraiser for him was Madeleine Albright. Clark could charm both the guy on the street and the famous; they all loved him. I don't know anyone who met Clark who didn't respect and love him. I once had a debate with Cora Masters Barry in our Leadership Washington class and we finally hugged it out when Clark sat us at the same table at his and Aubrey's wedding. That is just who Clark was.
My heart goes out to Clark's husband Aubrey who was clearly the love of his life and their beautiful four children as well as the host of loving family both in Arkansas and Mississippi where Aubrey is from. They visited with them regularly. I also send my condolences to all those friends who were lucky enough as I was to know Clark and be a part of his life. We have all lost something irreplaceable with his passing.
Peter Rosenstein is a longtime LGBTQ rights and Democratic Party activist. He writes regularly for the Blade.
Opinion | Quieter Pride season offers chance to reassess priorities
With Equality Act dead, there remains much work ahead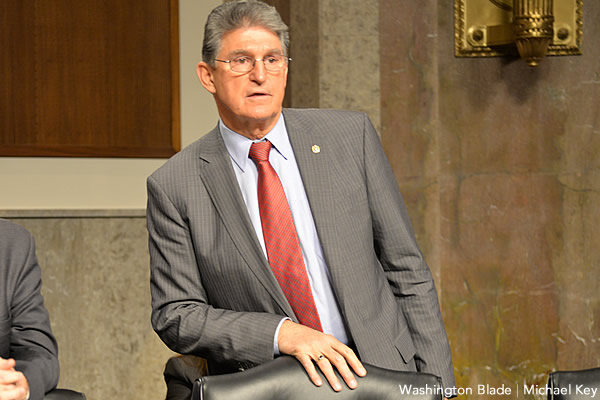 For the second consecutive year, most large-scale Pride celebrations have been canceled or postponed due to the pandemic.
Rather than mourn our lost parades, festivals, and income streams, we should embrace the pause to reflect on the work that lies ahead. Just as many Pride organizations took advantage of Pride cancellations last year to pivot and focus on supporting Black Lives Matter, 2021 provides another opportunity to reassess our priorities in a post-Trump Washington.
Predictably, the Equality Act appears to be lost again, as the Blade reported recently. As we watch transformative pieces of legislation like the Equality Act, the For the People Act to combat GOP voter suppression, the George Floyd Act to reform police, and a badly needed infrastructure bill die slow deaths at the hands of Sen. Joe Manchin's naivety, it appears the Democrats are once again poised to snatch defeat from the jaws of victory.
Manchin's galling announcement this week that he would vote against Democratic efforts to combat voter suppression by undoing Republican state bills to limit mail-in voting and increase the authority of poll watchers, among other components of the sweeping bill, is just the latest in a string of disappointing and irresponsible moves from the West Virginia senator.
Manchin is the only Democrat not to co-sponsor the Equality Act in the Senate and the only Democratic "no" vote on combating voter suppression, which could cost Democrats their majorities next year and Manchin his Energy Committee chairmanship.
Manchin has stoked unfounded fears about trans people accessing the bathroom consistent with their gender identity. He was the lone Democrat to vote in favor of a Title II amendment that would essentially bar transgender kids from participating in school sports. Incredibly, when asked by the Blade about the Equality Act earlier this year, Manchin professed to know nothing about the measure.
And in yet another blow this week, Manchin announced he opposes ditching the filibuster, all but dooming Democratic chances of passing the aforementioned bills. Perhaps Manchin's push for bipartisanship would be sensible and achievable if we didn't have a Senate minority run by Mitch McConnell, who announced his top priority is not helping the country recover from the pandemic, but rather to oppose everything Biden wants to accomplish, just as he did to President Obama. Wake up Manchin, the Republicans are playing you.
With the LGBTQ movement's top legislative priority DOA, despite Biden's pledge to sign it within his first 100 days, there are other areas where we should focus. From helping Democrats preserve and expand their slim House and Senate majorities, to combatting the stunning avalanche of cruel anti-trans laws around the country in the courts, to supporting the administration's efforts at immigration reform and aid to Central American countries, there's no shortage of work ahead.
Just as the LGBTQ movement joined the nationwide protests following George Floyd's murder, we should support Vice President Kamala Harris in her role leading the effort for immigration reform. Too many LGBTQ migrants are suffering in inhumane conditions in ICE custody; too many queer people fleeing poverty, violence, and discrimination are marginalized or ignored by mainstream immigration reform efforts. There is an important role for LGBTQ and HIV/AIDS advocacy groups to play as the administration gets serious about improving life for migrants.
By fighting for police reform, immigration reform, and having the backs of our trans brothers and sisters in the fight against state legislative attacks, perhaps we'll have more to celebrate at Pride 2022. In the meantime, get vaccinated, stay safe, and call Joe Manchin's office once a day to protest his reckless intransigence.
Kevin Naff is editor of the Washington Blade. Reach him at [email protected].