October 6, 2016 at 12:02 pm EST | by Michael Radkowsky
Abusive partner likely depressed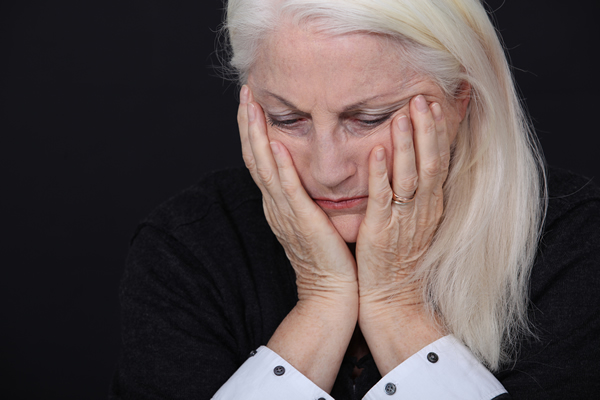 Michael,

Is it possible to heal an abusive relationship?

My wife and I have been together for over 40 years. When we met, we were an idealistic young dyke couple, dedicated to a loving relationship of total equality. For many years we were very happy.

A few years back, Elizabeth retired from her job to take care of her mother who was ill and had moved to D.C. Her mother died. Elizabeth couldn't find a new job, began drinking more and became increasingly nasty and ill-tempered.

Her mood has kept getting worse and she's often bitter and angry with me. I'm still working and bringing in most of our income now and I think Elizabeth resents being dependent on me. She's also stopped seeing our friends, spending most of her time at home, not doing much.

I feel like she picks fights though I try to be accommodating. A few weeks ago, she struck me when she was enraged. No permanent harm, but I was black and blue on my arm.

I find myself on edge for fear of upsetting her. And I am becoming isolated because I don't like seeing our group of friends by myself and am embarrassed about the state of my life. They all seem happy, still working, traveling, volunteering. And they treat their spouses well, something we all prided ourselves on.  I'm ashamed that Elizabeth has become so hostile toward me and I'm ashamed that I accept her behavior.

We have a home of many years together that I don't want to leave, but now it doesn't feel comfortable or safe. Any ideas for how to help Elizabeth and our relationship would be welcomed.

Michael replies:
I'm sorry that your life has been so difficult for the last few years.
Yes, I do think that it's possible to heal an abusive relationship, but first, I urge you to take steps to keep yourself safe in the present. Do your best not to stay in a situation where your spouse is continuously angry and volatile, you are fearful and there's a good risk that you could be struck again.
While I understand that you are embarrassed, I encourage you to reach out to some of your close friends. If you do not want to divulge the details, might you share that things are difficult between you and Elizabeth right now and you need a place to stay for a bit? This will not only give you a safe haven, but also reduce your isolation.
The D.C. Office on Aging offers a list of organizations and services for LGBT elders at dcoa.dc.gov/services/lgbt-resources and you may find temporary housing here if your friends cannot provide it. One of the services offered is psychotherapy and I urge you to seek out a therapist who is well-versed in LGBT and aging issues. Ask Elizabeth to join you for a meeting. The two of you need help.
From your description, it sounds very much like Elizabeth is quite depressed. Understandable, given that in the last few years she has lost her job and her mom, has become isolated and drinks a fair amount which can lead to volatility, poor impulse control, inability to function and spiraling depression.
Meeting with a therapist could be the first step to Elizabeth finding support such as individual and group therapy to improve her mood and get a grip on her behavior and her anger. I think that you, too, would benefit from having a therapist to help you cope with your life at present and address the shame you're feeling. Finally, couples therapy might help the two of you come together in a loving way again, down the road a bit. First, Elizabeth must be willing to address her mental health.
One more supportive resource for you: Al-Anon, a group for those whose loved ones abuse alcohol and other substances. A lot of us have the notion that abuse doesn't happen in LGBT relationships and when it does happen, we're often embarrassed to speak up. We may not want to make our relationships and our community look bad or acknowledge that our relationships can be as flawed as anyone's.
But not talking about abuse increases our vulnerability. It keeps us isolated, as you've discovered, and also keeps us from addressing the problem and reducing the risk of abuse. Thank you for speaking up by writing this letter, and I hope you will encourage others, both those who are fearful of being abused and those who are fearful of abusing, to seek support and assistance.
Michael Radkowsky, Psy.D. is a licensed psychologist who works with LGBT couples and individuals in D.C. He can be found online at personalgrowthzone.com. All identifying information has been changed for reasons of confidentiality. Have a question? Send it to Michael@personalgrowthzone.com.