October 6, 2016 at 1:15 am EDT | by Michael K. Lavers
Buddy Dyer: Pulse massacre 'darkest day' in Orlando's history
Dyer told the more than 4,000 people who attended the opening of the 2016 Out & Equal Workplace Summit at the Walt Disney World Dolphin Resort that he learned about the shooting through a phone call he received from Deputy Orlando Police Chief Robert Anzueto at around 2 a.m. on June 12.
Anzueto told him there was an "active shooter" and "multiple casualties" inside the nightclub that is located less than two miles south of downtown Orlando. Dyer said there was a "hostage situation" inside the building when he received Anzueto's phone call.
Dyer said he then called his 26-year-old son to make sure he was not inside the nightclub.
"I called him just to check on where he was," he said. "I didn't know if he had ever been to Pulse; but it was a club that was welcoming to everyone, gay, straight or anything else for that matter. He was safely in bed and allowed me to go do everything that I needed to do."
Dyer applauded the first responders who responded to the shooting and the doctors, nurses and other medical personnel who treated those who were shot inside the nightclub.
He noted people waited hours to donate blood in the hours and days after the massacre. Dyer also applauded Orange County Chief Medical Examiner Joshua Stephany for identifying 48 of the 49 victims within 24 hours of the shooting.
OneOrlando Fund begins distributing funds
The OneOrlando Fund, which Dyer created in the wake of the Pulse nightclub massacre, raised $29.5 million. This figure includes the more than $9.5 million that Equality Florida raised through a GoFundMe campaign it launched immediately after the shooting.
The Walt Disney Company donated $1 million to the OneOrlando Fund. The company is among the corporate sponsors of Come Out Pride Orlando, which includes a parade that is scheduled to take place in downtown Orlando on Saturday.
The families of the victims of the Pulse nightclub massacre will receive $350,000 from the fund.
The fund has begun to distribute the funds, but family members and loved ones of some of the victims are challenging claims. Dyer said the fund sought to distribute the money it received "quickly and efficiently and transparently."
"We weren't defined by that hate-filled act of murder," he said. "We've been defined by our combined response that has been with love and compassion and unity."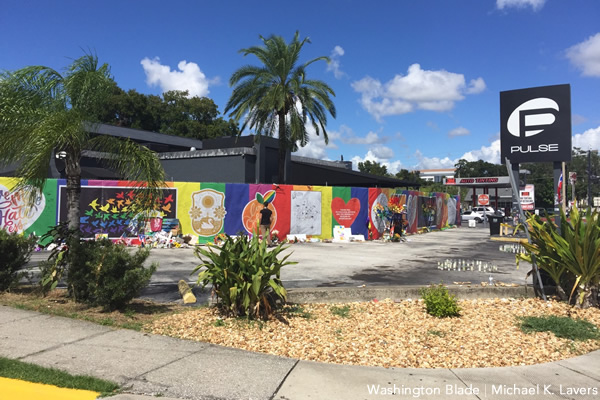 ORLANDO, Fla. — Orlando Mayor Buddy Dyer on Wednesday said the massacre at the Pulse nightclub was the "darkest day" in his city's history.