October 14, 2016 at 7:07 pm EDT | by Ted Smith
Will election impact DMV home sales?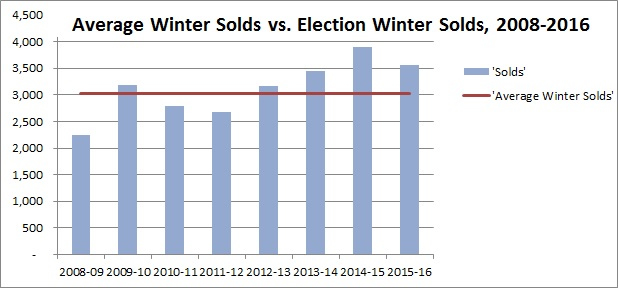 At first glance, you might expect the election results would have a lot of impact. Even beyond Justice Ginsburg's threatened move to New Zealand (God forbid!), there will be lots of people moving out of the DMV, and lots moving in. This happens any time there is a change of administration, even when the new president is a member of the same party as the previous president. Add to that executive branch turnover some potentially significant changes in the legislative branch, and it seems like there will be lot of people involved in relocation.
With that thought in mind, I decided it would be interesting to see what the impact has been of the previous election year cycles in comparison to "normal" market behavior in the late and early winter quarters of 4th quarter of one year and the 1st quarter of the following year. The results surprised me, as they may surprise you.
If my hypothesis held true about election years having a significant impact on the DMV real estate, you would expect to see significantly more market activity than usual in the winter months of an election year when the retiring appointees and defeated candidates are moving back home and during the following first quarter when the newly elected and appointed are moving to town. (Usually these winter months are the slowest time of the year for the real estate market.)
You would also expect the number of sold homes after an election and before the inauguration to be higher than the following year's winter months. But the data doesn't show that. Instead, 2008-09 shows the lowest number of sold properties in any of the considered winter periods. The election year winter of 2012-13 shows a nice bump up from the previous winter, but is still much lower than the next three non-election year winters.
So what does this data show? It shows that sales of DMV real estate continue to recover from the market crash of 2007 with fairly steady year-by-year growth in the number of sales, even in traditionally slow periods like winter. If we want to include other data to support this fact, we can note that the median prices of DMV homes have risen from $400,000 in 2008 to around $550,000 in 2016, a rise of 37.5 percent in eight years and an average rise of 4.7 percent a year. Election years don't seem to make a difference in this trend, whether positively or negatively.
Happy sales to you.
Ted Smith is a licensed Realtor with Real Living | at Home specializing in mid-city D.C. Reach him at TedSmithSellsDC@rlathome.com and follow him on Facebook, Youtube or @TedSmithSellsDC. You can also join him on monthly tours of mid-city neighborhood open houses, as well as monthly seminars geared toward first-time home buyers. Sign up at meetup.com.