November 11, 2016 at 6:58 pm EST | by Lou Chibbaro Jr.
Congressional Cemetery honors LGBT veterans
About 50 people turned out Friday morning at Congressional Cemetery in Southeast D.C. for the annual Veterans Day Wreath Laying Ceremony honoring LGBT veterans.
The event took place at the gravesite of gay Air Force Sgt. Leonard Matlovich and the adjacent memorial headstone for gay rights pioneer and World War II combat veteran Frank Kameny.
Matlovich, a decorated combat veteran in the Vietnam War, became the first active duty member of the military to intentionally come out as gay in 1975 in an effort to challenge the military's ban on gay service members.
Kameny, who co-founded in the late 1960s the Mattachine Society of Washington, worked with civil rights attorneys to support Matlovich's challenge to the gay ban, drawing unprecedented media coverage that boosted efforts to advance the cause of LGBT rights.
"This is very significant considering where our country is right now that we honor the legacies of these two men," said Tony Smith, a representative of the LGBT groups American Veterans for Equal Rights and Military Partners and Family Coalition.
"We honor these LGBT patriots and veterans and the lessons of how they continued to fight throughout their lives for diversity and inclusion and acceptance and we continue that fight to ensure that those aren't rolled back," he said.
U.S. Navy Senior Chief Petty Officer Maria Lopez, appearing in full dress uniform, opened the ceremony by calling on participants to sing the National Anthem.
U.S. Marine veteran David Merrill, who also appeared in uniform, placed a wreath at the Matlovich gravesite, which bears the inscription, "When I was in the military they gave me a medal for killing two men and a discharge for loving one."
Richard Rosendall, president of the D.C. Gay and Lesbian Activists Alliance and a longtime friend of Kameny's, placed a rose atop the Kameny headstone. The adjacent marker bears the inscription, "Gay Is Good."
David Mariner, executive director of the D.C. Center for the LGBT Community, said the center's military project has coordinated the annual LGBT Veterans Day event in recent years after it was started by LGBT veterans many years earlier.
"We're proud to carry on the tradition and to work in partnership with some of these amazing LGBT military organizations to remember Leonard Matlovich and Frank and all of the LGBT veterans," Mariner said.
Among those attending the event was D.C. resident Jonathan Beebe Frankie, who said he came to represent his husband, an active duty member of the Navy stationed in Pensacola, Fla.
"I definitely wanted to come to this event to show my support," he said.
Rabbi Adam Rosenwasser of D.C.'s Temple Sinai Synagogue delivered the invocation at the ceremony.
"It's important that we remember LGBT veterans," Rosenwasser said.  "They've gone through so much to protect this country, to defend our freedom. And they've had to endure discrimination; they've had to endure prejudice."
Lou Chibbaro Jr. has reported on the LGBT civil rights movement and the LGBT community for more than 30 years, beginning as a freelance writer and later as a staff reporter and currently as Senior News Reporter for the Washington Blade. He has chronicled LGBT-related developments as they have touched on a wide range of social, religious, and governmental institutions, including the White House, Congress, the U.S. Supreme Court, the military, local and national law enforcement agencies and the Catholic Church. Chibbaro has reported on LGBT issues and LGBT participation in local and national elections since 1976. He has covered the AIDS epidemic since it first surfaced in the early 1980s. Follow Lou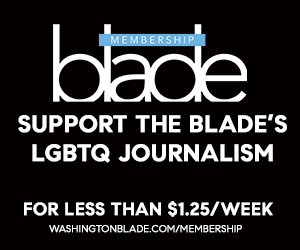 Sign Up for Blade eBlasts