'Duck Dynasty' to end after 11th season
show will conclude after 11th season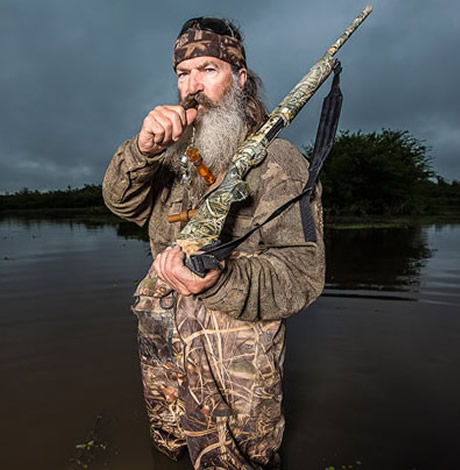 A&E's top-rated show "Duck Dynasty" will be ending, the family announced on Wednesday ahead of the show's 11th season premiere.
The show premiered in 2012 and featured the Robertsons, a Louisiana family who became wealthy from fabricating duck calls for duck hunting season. The show quickly became a pop culture phenomenon and the most-watched non-fiction series in U.S. cable T.V. history.
"Duck Dynasty" wasn't without controversy. In 2013 Phil Robertson was suspended from the show after making homophobic and racist remarks in an interview with GQ Magazine. A&E eventually lifted the suspension and opted to create a series of PSAs for the channel to promote tolerance and acceptance.
During the election, Robertson endorsed Ted Cruz for president while his son, Willie, supported Donald Trump. Willie appeared at the Republican National Convention's first night to publicly showcase his support.
The 11th season will run through Jan. 18 and then take a hiatus until March 12. The series finale will air on Apr. 12, 2017.
SPOILER ALERT: The Robertsons made a big quacking announcement. Join your #DuckDynasty family for new episodes Wednesdays at 9/8c on @AETV. pic.twitter.com/uw7Ei0y3xL

— Duck Dynasty (@DuckDynastyAE) November 17, 2016
Put this out gay trailblazer's supportive coach in your bracket
'Coach Willard's awesome,' says Derrick Gordon of Maryland's Kevin Willard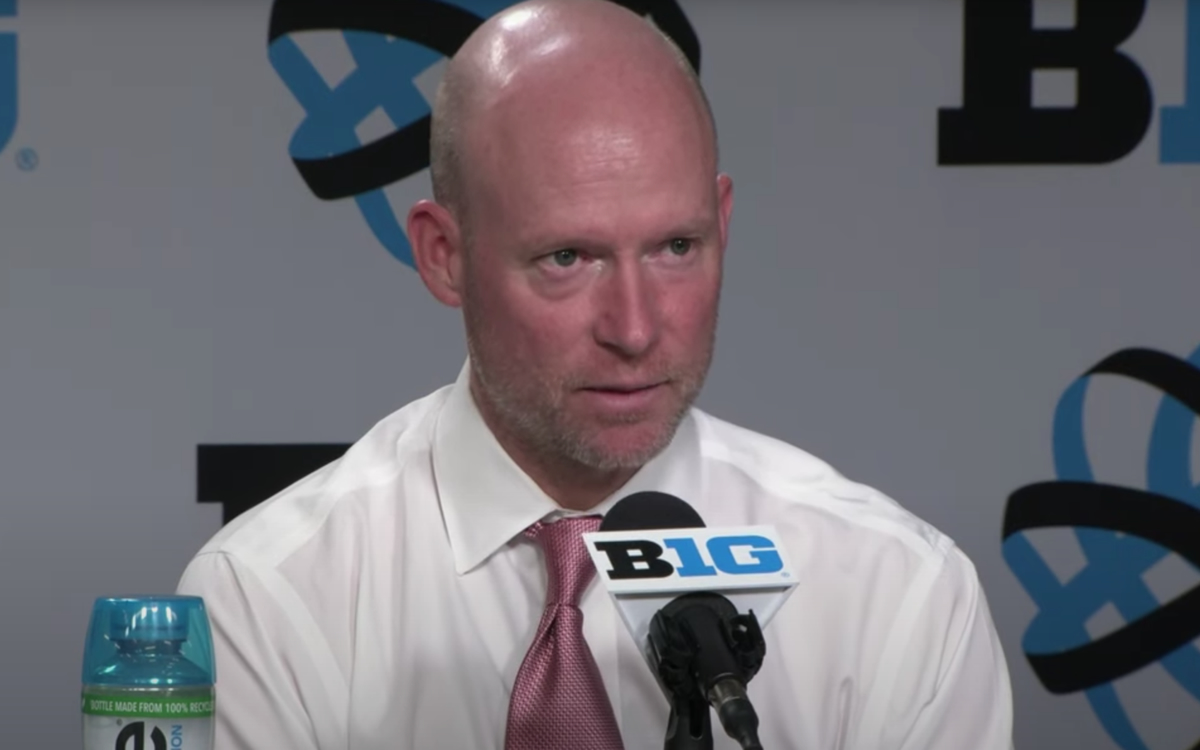 When the 8th seeded Maryland Terrapins faced off against No. 1 Alabama in the second round of the NCAA Men's Basketball Championships last weekend, it wasn't just the players on the hardwood who were working hard for the win. Nate Oats coached the Crimson Tide to a 73-51 victory less than an hour from their home court. And on the other side was Kevin Willard, who is not just a seasoned coach, but a strong LGBTQ ally.
Willard was Derrick Gordon's coach at Seton Hall when he transferred from UMass in 2015, a year after he came out as the first out gay Division I Men's basketball player in the NCAA.
Gordon has credited Willard with creating a comfortable environment, after he "bumped heads" with former UMass coach Derek Kellogg during his two seasons with the Minutemen. In contrast, he said he instantly connected with Willard, and told his teammates and Willard following his final season at Seton Hall that he wished he had another year of eligibility remaining. He's said he considered Willard the best coach he'd ever played for.
"He just made it comfortable for me," Gordon told Glenn Clark Radio in an interview broadcast on March 22, 2022. "He said, 'You know what, we're more focused on who you are as a person and a basketball player and what you bring to the team.' He voiced that over and over again. When I went on my visit, I just felt even more comfortable, met a couple of the guys. They made me feel right at home as well, so it was kind of like an easy decision. Coach Willard's awesome. He's an amazing guy."
If you don't believe Gordon, ask the West Virginia Mountaineers, who lost to the Terrapins in the first round 67-65. Maryland's win "took the paint off the floor at Legacy Arena" in Birmingham, Ala., as Brendan Quinn wrote in The Athletic. He described Willard's style of coaching this way:
"Willard paced the sideline, as he does. The man is intense. Doesn't suffer fools. Serious stuff. No BS. Black eyes screwed deep in a bald head, no pupils. He regards things sideways, incredulous toward anyone who doesn't come correct. It's his whole thing. If Guy Ritchie cast a college basketball coach, it'd be Willard."
Gordon told Glenn Clark Radio that he particularly recalled the kind of support Willard gave him in one practice early in his Seton Hall career, according to Press Box Online.
"I remember a particular situation that happened in practice — came down the court and I was wide open and I didn't shoot it," Gordon said in the 2022 interview. "[Willard] stopped practice and he said, 'You're not at [UMass] anymore. I trust you. I believe in you. Shoot the ball.' Ever since then, my confidence was through the roof, especially dealing with I had to deal with when I was at UMass with that coach to playing under Coach Willard and him telling me that specifically, he just let me play my game."
Last July, Gordon posted on Instagram that after playing a few seasons in Europe for Cyprus and Germany, "I decided to end my career as a professional athlete."
Gordon is now 31, and he told his followers he is working on a book about his life "on and off the court," in hopes he might "help gay young people, student athletes in particular and others who are struggling to pursue careers in professional sports or any career paths they chose without fear or shame."
Since Christmas, he's been sharing posts that include photos with his boyfriend, actor Scott Backman of Los Angeles, including one from last week, captioned: "Every time we're together, it's like falling in love all over again."
10 LGBTQ events this week
Drag, dancing and kite flying among highlights
Below are our picks for some of the most fun and creative things to do this week in the DMV that are of special interest to the LGBTQ community.
---
Drag Queen Trivia Tuesday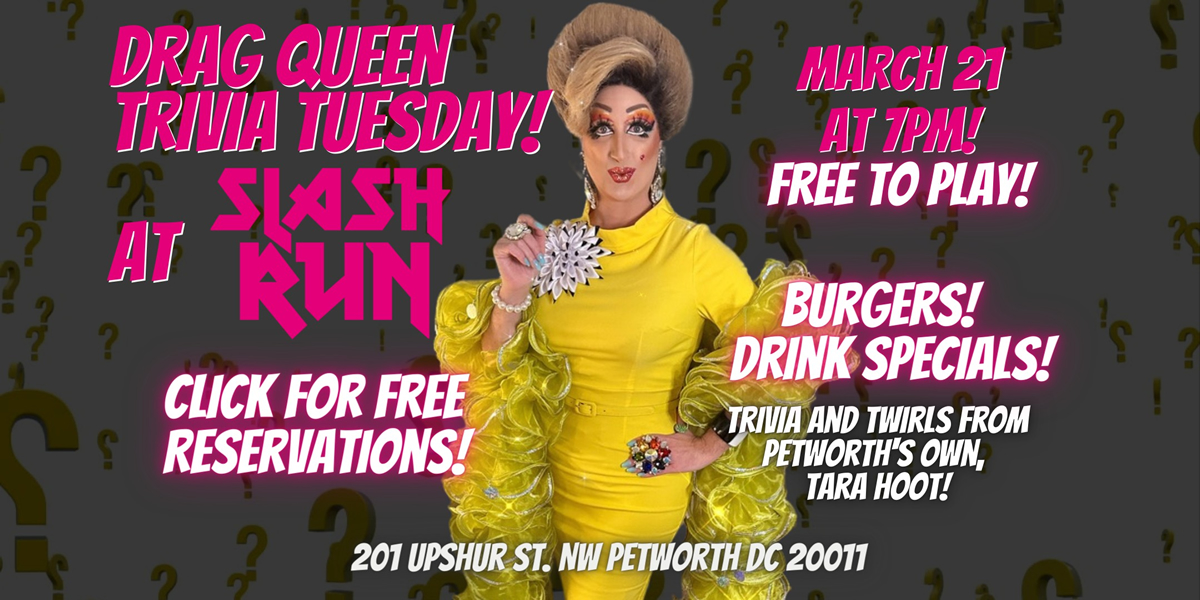 Tuesday, March 21
7 p.m.
Slash Run
201 Upshur Street, N.W.
Facebook | Reservations
Tara Hoot leads a game of trivia at Slash Run on Tuesday.
---
Daddy Issues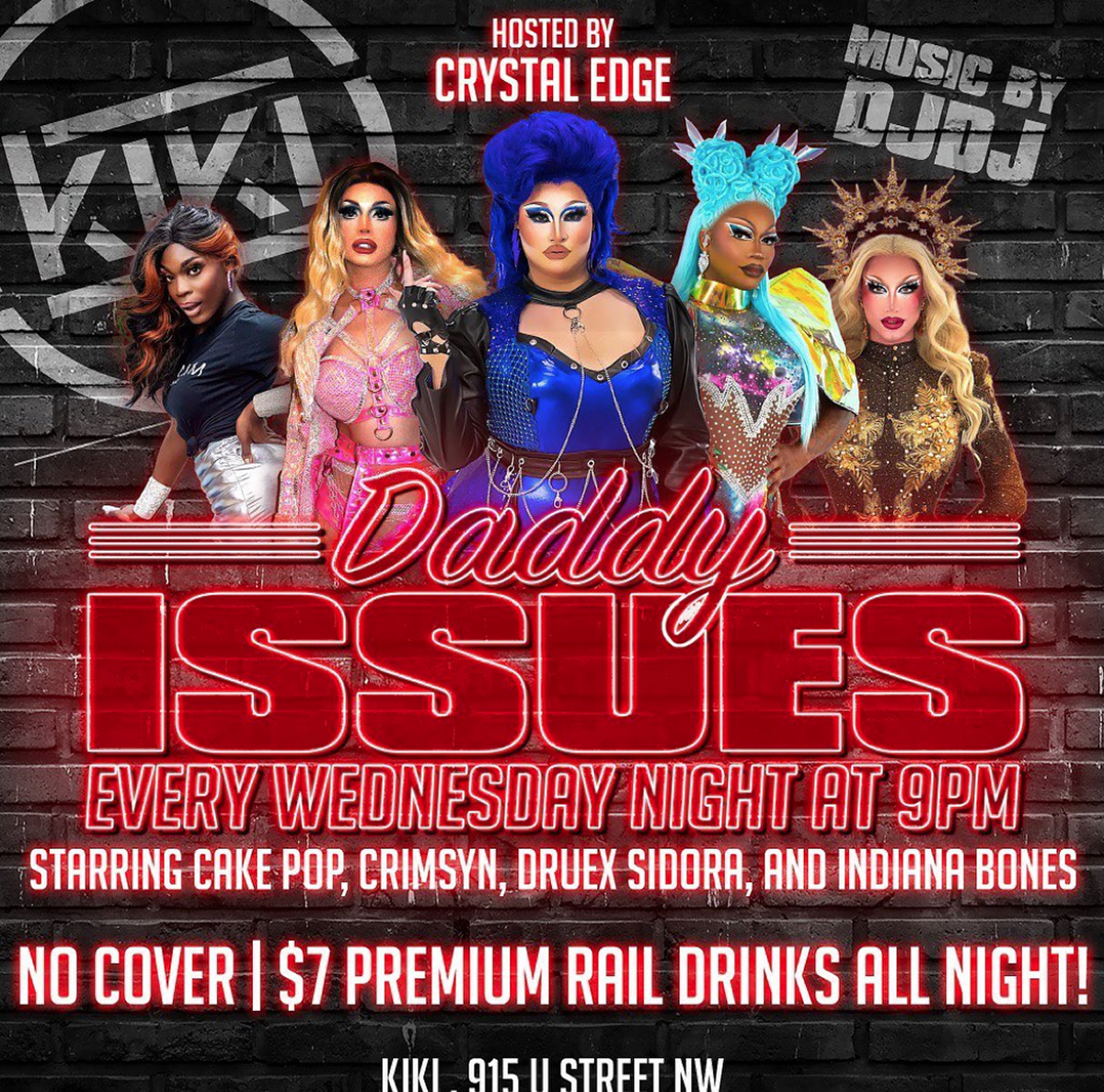 Wednesday, March 22
9 p.m.
Kiki
915 U Street, N.W.
Instagram | Website
Crystal Edge leads the weekly drag show at Kiki on Wednesday.
---
DC Boys of Leather – March Happy Hour

Thursday, March 23
6-9 p.m.
Trade
1410 14th Street, N.W.
Facebook
Grab your gear and make your way to Trade for the March Happy Hour of the DC Boys of Leather.
---
RuPaul's Drag Race Viewing Party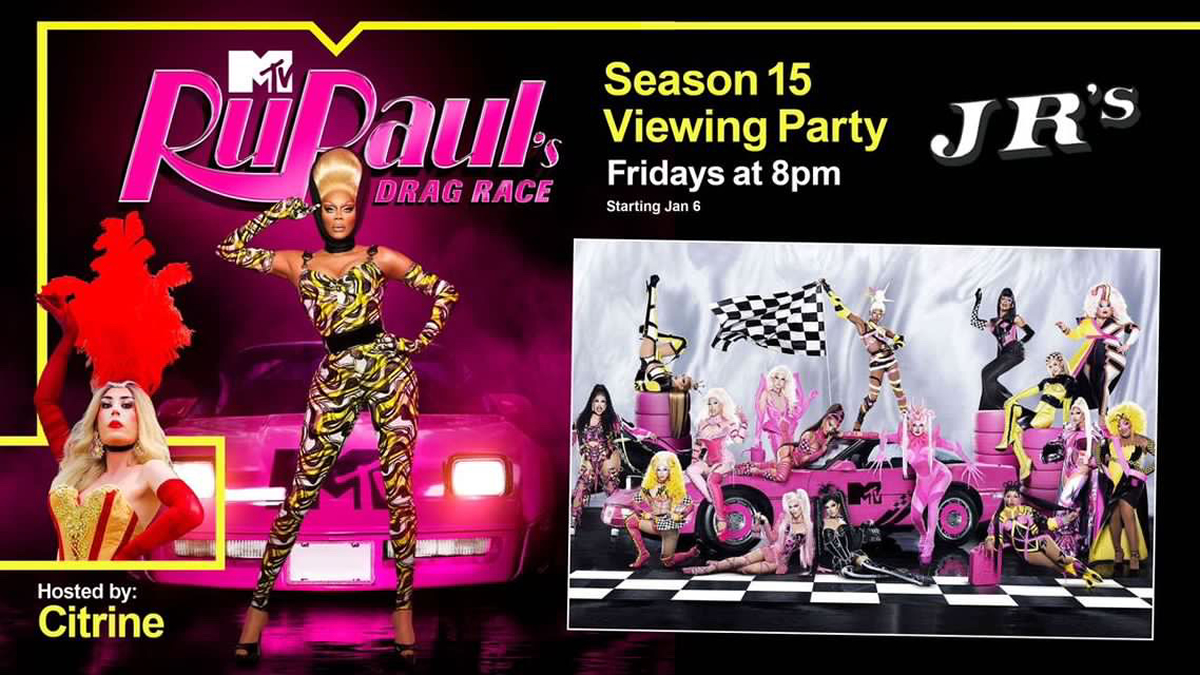 Friday, March 24
8 p.m.
JR.'s Bar
1519 17th Street, N.W.
Facebook
Citrine leads the RuPaul's Drag Race Season 15 Viewing Party at JR.'s Bar on Friday.
---
Kicks & Giggles Glow Crazy! Blacklight-Glow Paint Party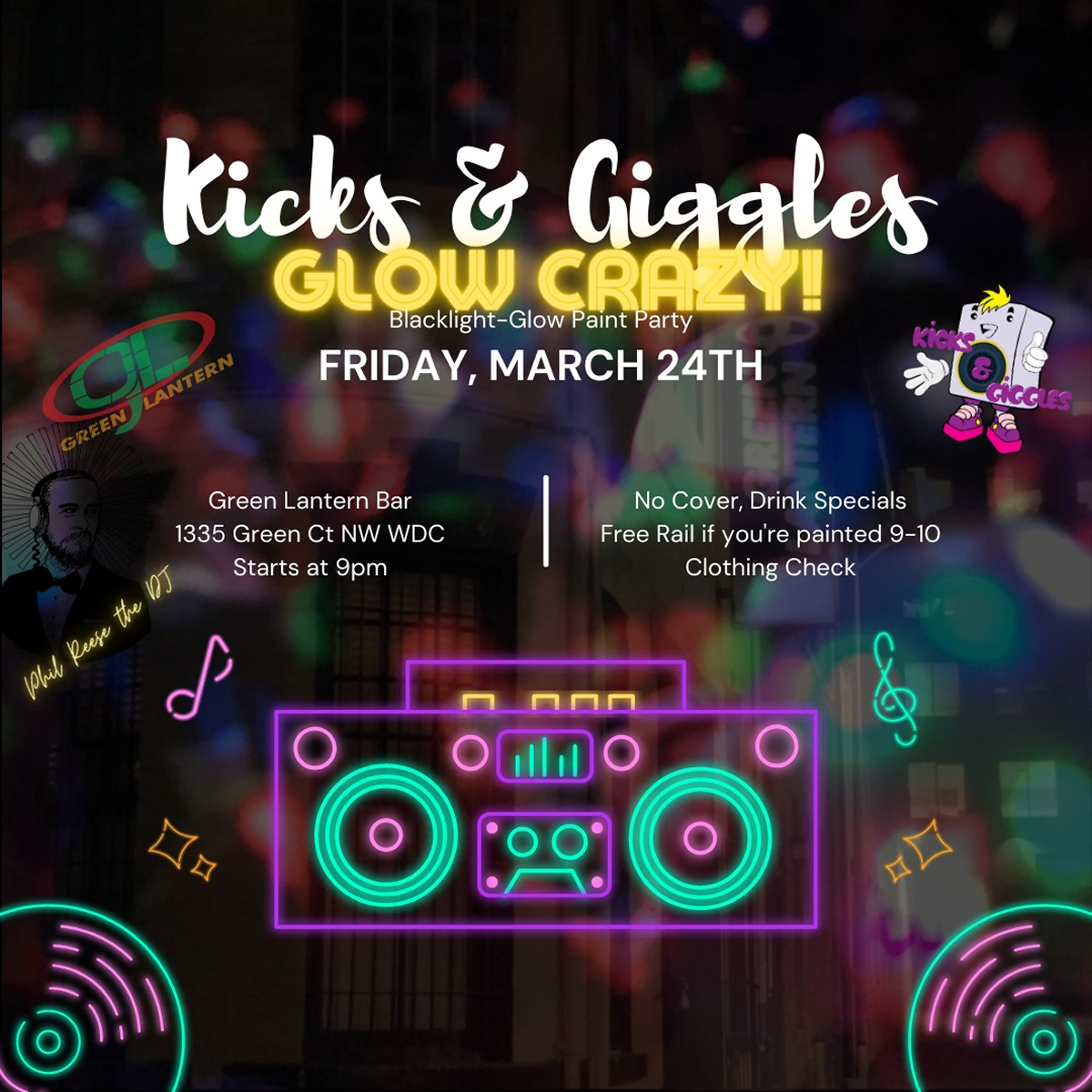 Friday, March 24
9 p.m.
Green Lantern
1335 Green Court, N.W.
No cover
Facebook
Kicks & Giggles bring you a glow-tastic time on Friday with a blacklight-glow paint party at the Green Lantern. There is a clothes check and there are free rail drinks if you are painted with glow paint between 9 and 10 p.m.
---
Good Times (Disco House Party)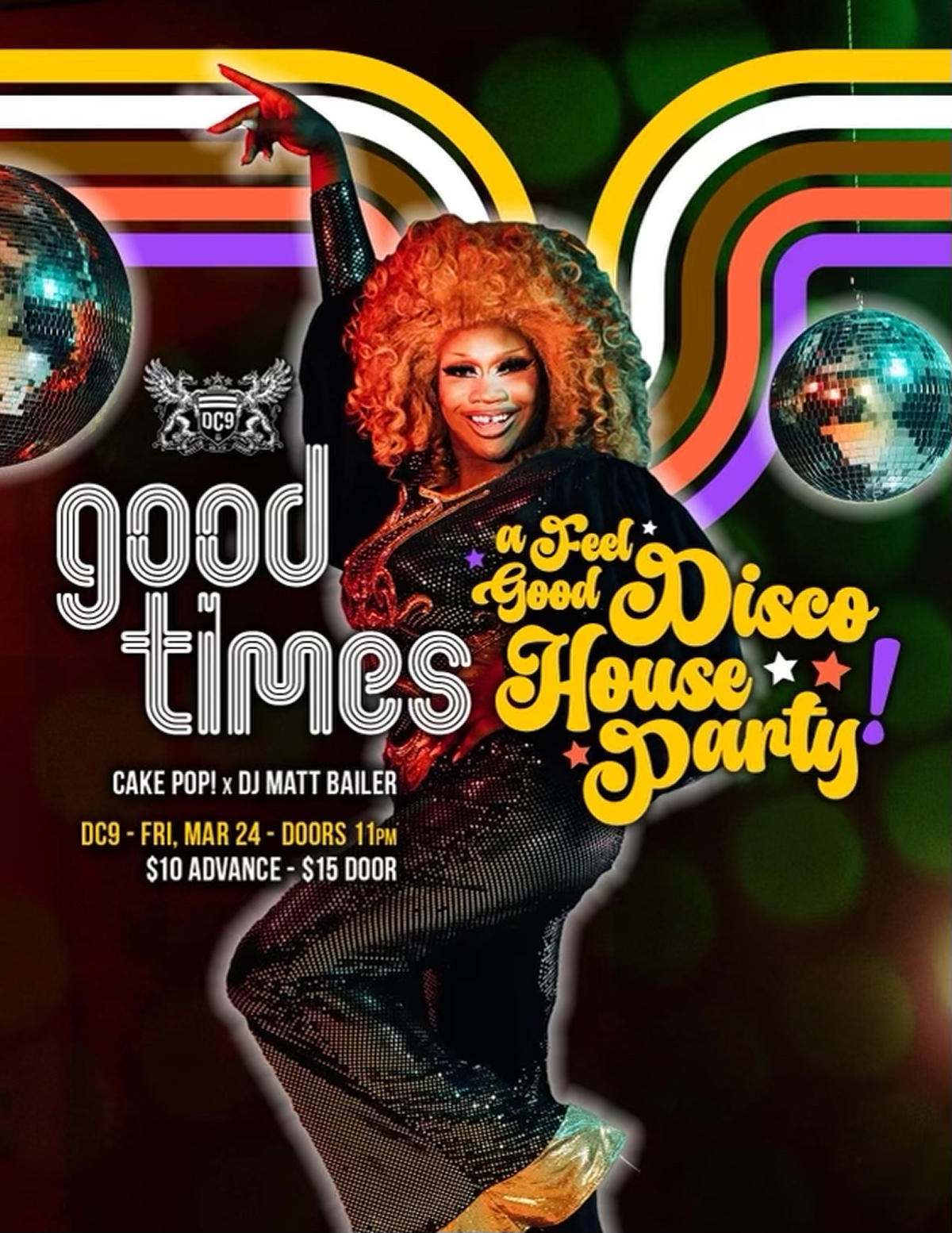 Friday, March 24
11 p.m.
DC9 Nightclub
1940 9th Street, N.W.
$10 advance / $15 door
Facebook | Eventbrite
Cake Pop! and DJ Matt Bailer entertain on Friday with a feel good Disco House Party at DC9 Nightclub.
---
Candela! UPROAR's Latinx Party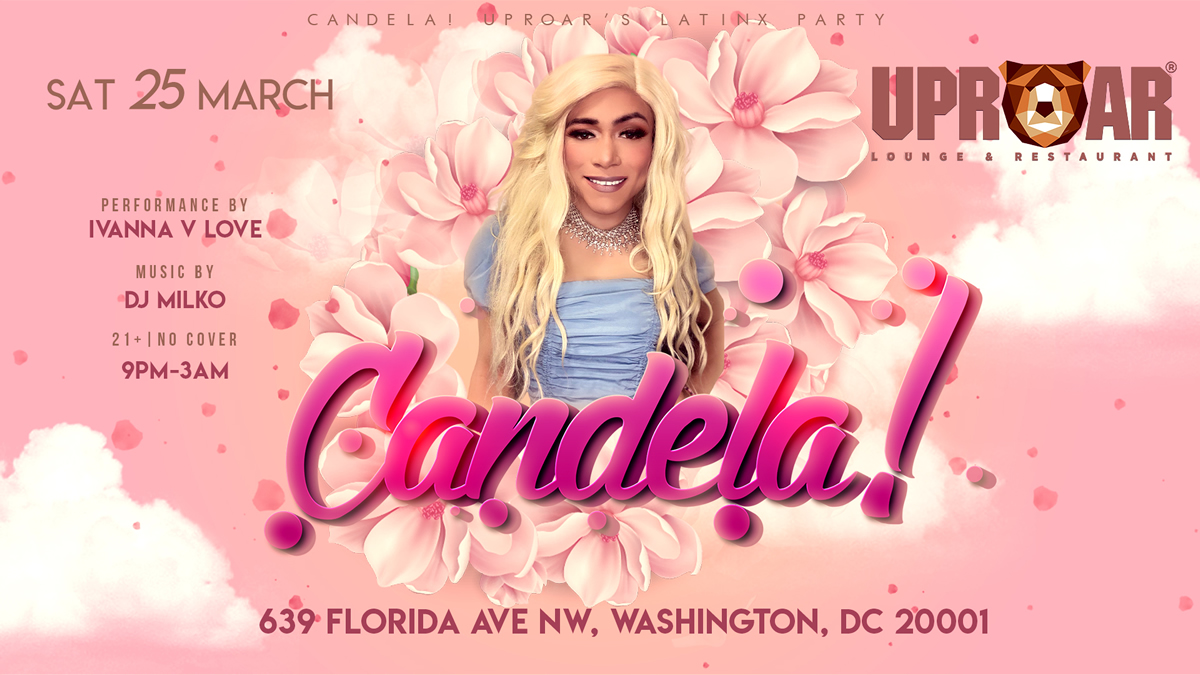 Saturday, March 25
9 p.m.
UPROAR Lounge & Restaurant
639 Florida Avenue, N.W.
Facebook
UPROAR Lounge & Restaurant hold a Latinx party on Saturday with a performance by Ivanna V Love.
---
Cherry Blossom Kite Festival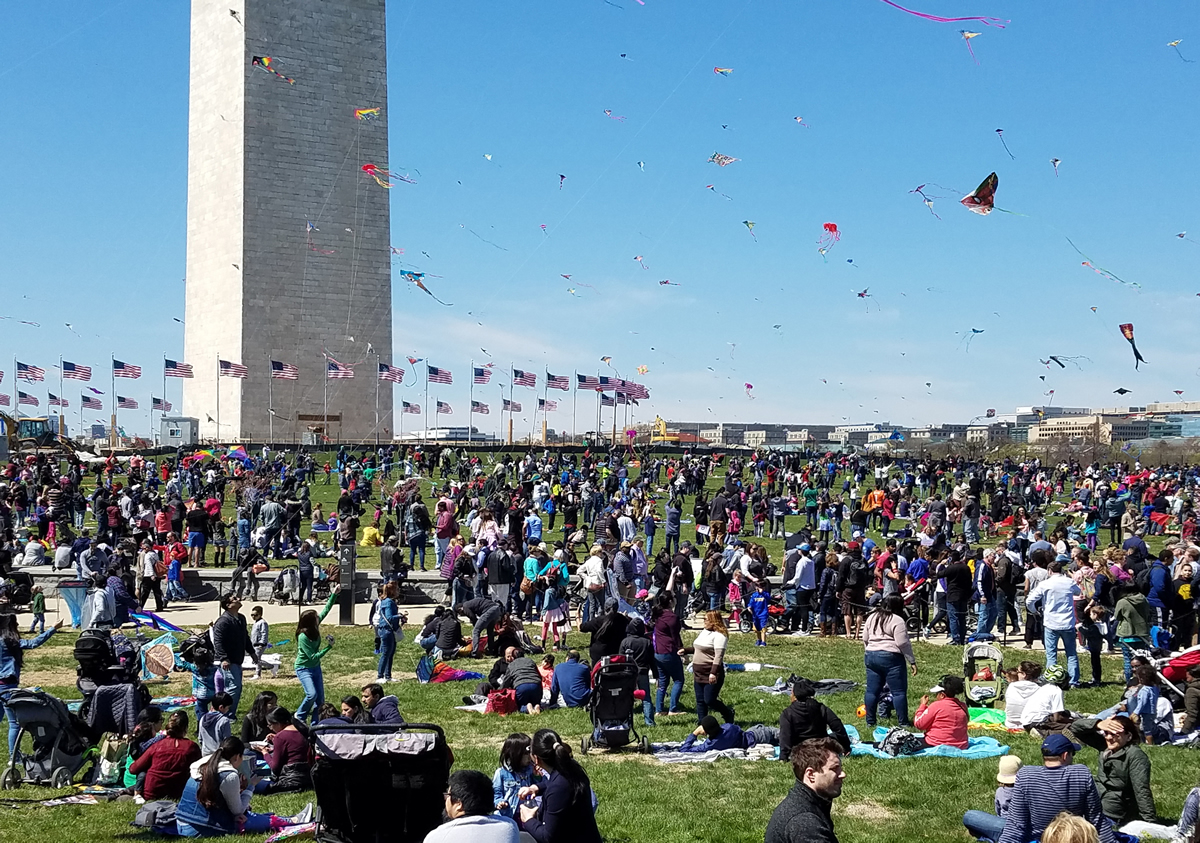 Saturday, March 25
10 a.m.-4:30 p.m.
Washington Monument
Facebook | Website
The annual kite festival is back on Saturday by the Washington Monument.
---
Cambria Drag Brunch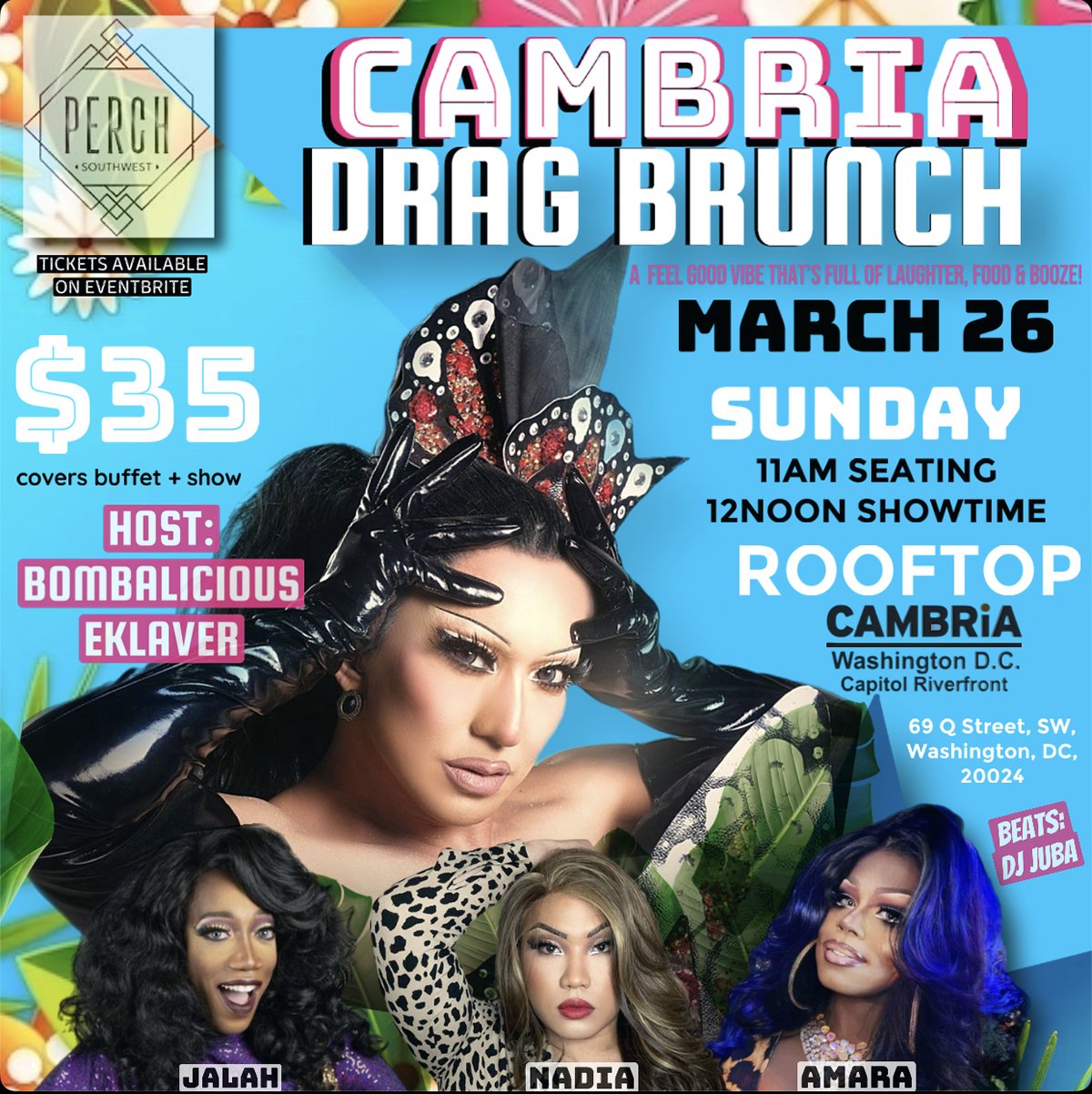 Sunday, March 26
11 a.m.
Rooftop Cambria Capital Riverfront
69 Q Street, S.W.
$35
Eventbrite
Bombalicious Eklaver leads a fun drag brunch on Sunday with performers Jalah, Nadia and Amara. $35 covers the buffet and show, but bring your dollar bills to show your support to the performers.
---
Drag Show for Charity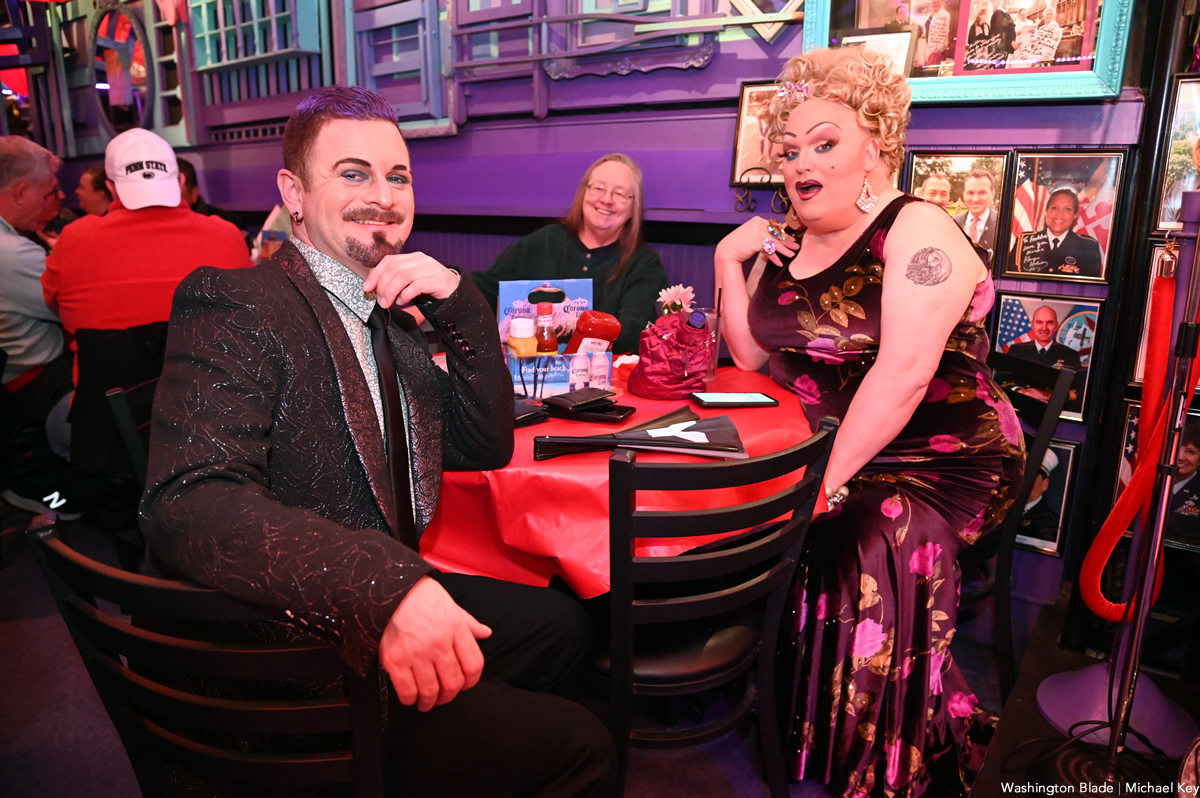 Sunday, March 26
8-10 p.m.
Freddie's Beach Bar
555 23rd Street S
Arlington, Va.
Facebook
AGLA and Go Gay DC present a drag show for charity at Freddie's Beach Bar on Sunday.
PHOTOS: Freddie's Follies 20th
Arlington drag show celebrates milestone
Freddie's Follies had a 20th anniversary show at Freddie's Beach Bar in Arlington, Va. on Saturday, March 18. Performers included Destiny B. Childs, Monet Dupree, Patti Lovelace, Sasha Adams Sanchez and Ophelia Bottoms.
(Washington Blade photo by Michael Key)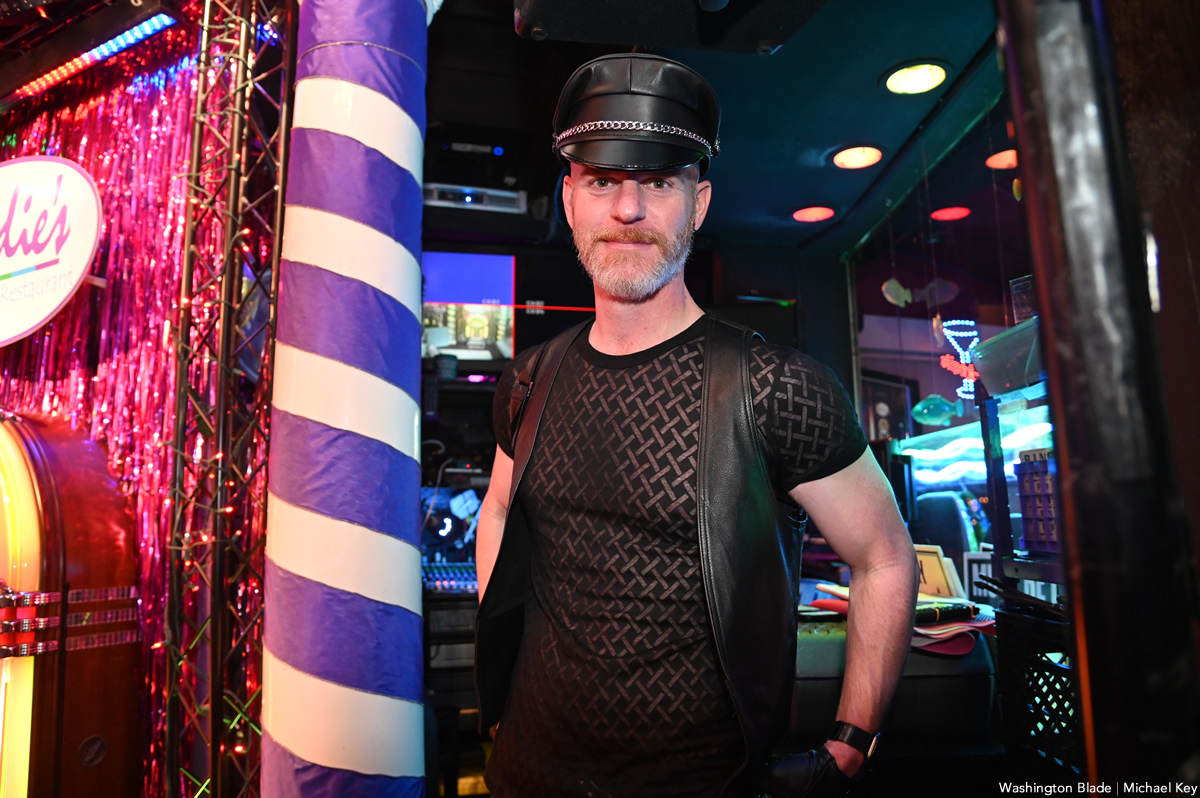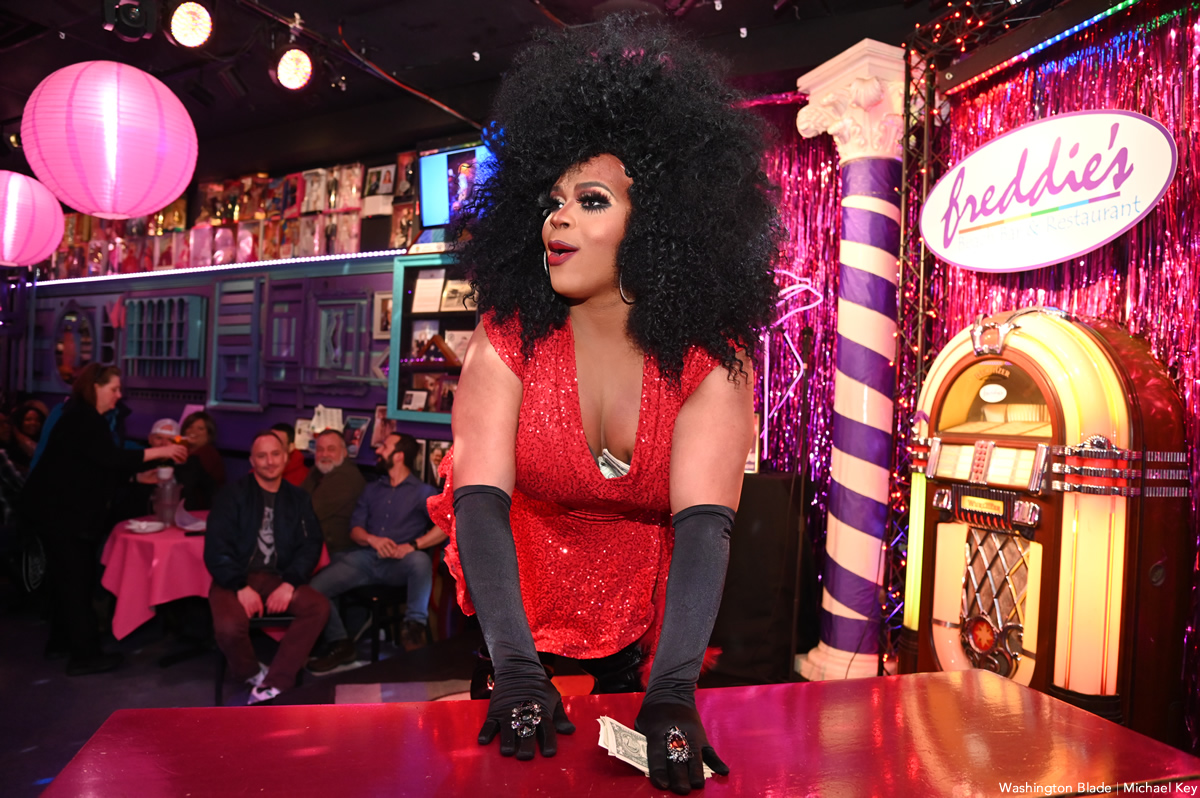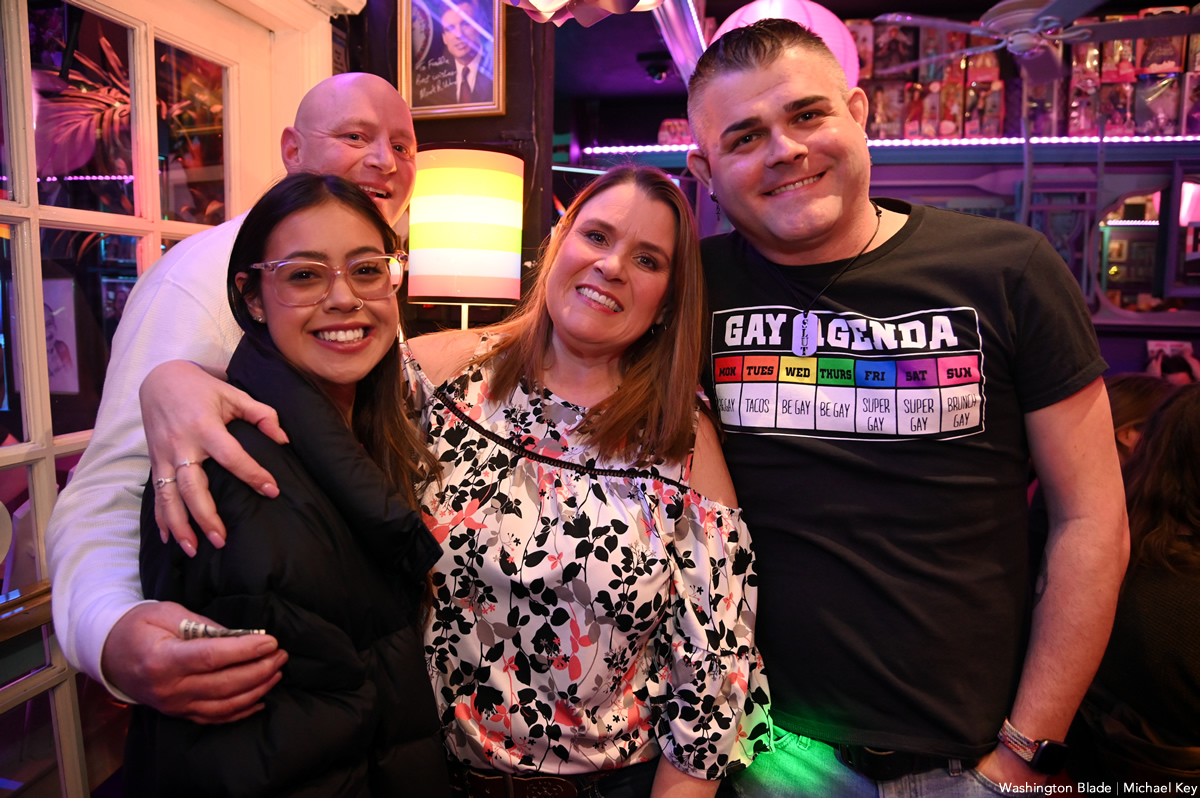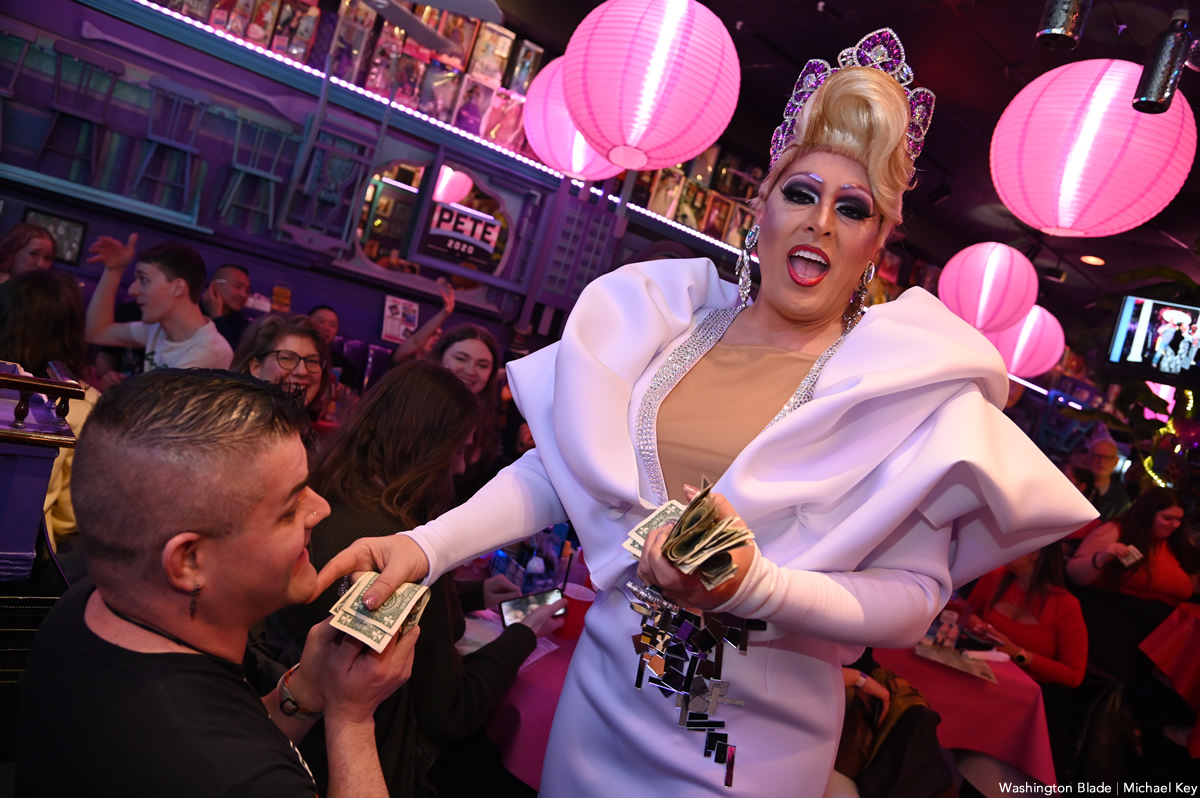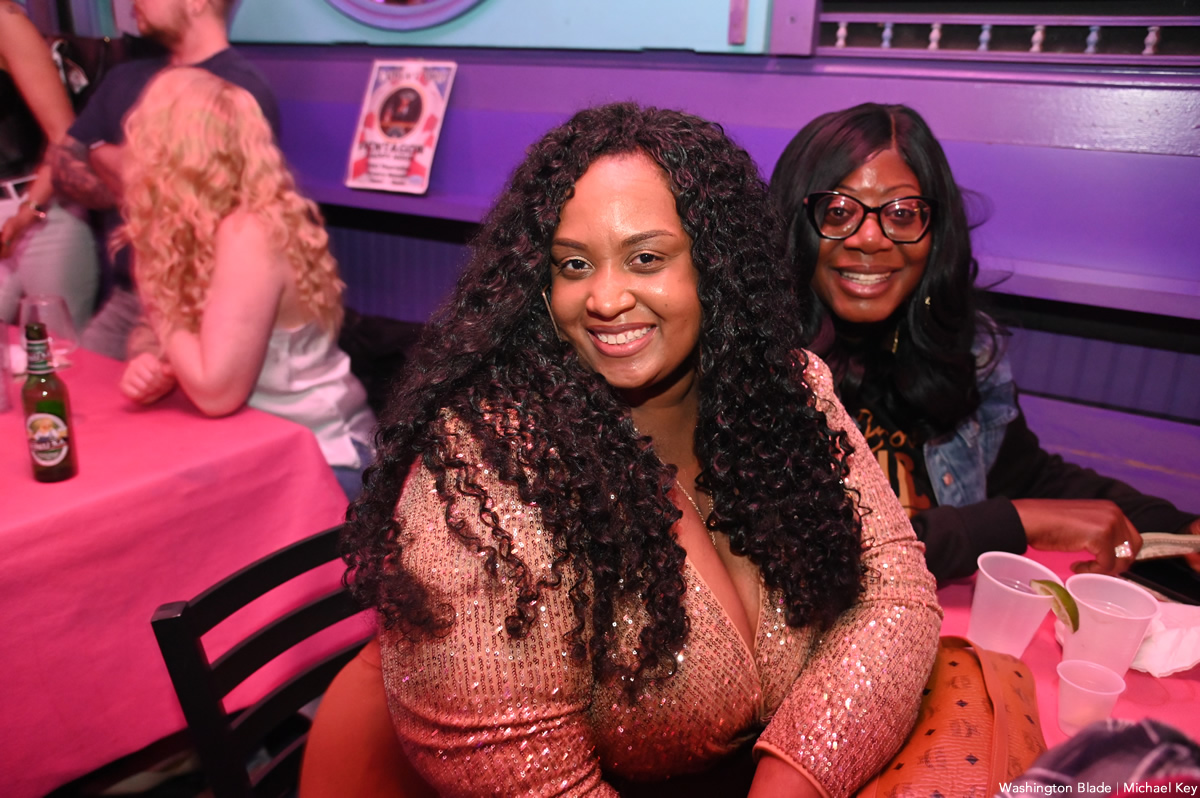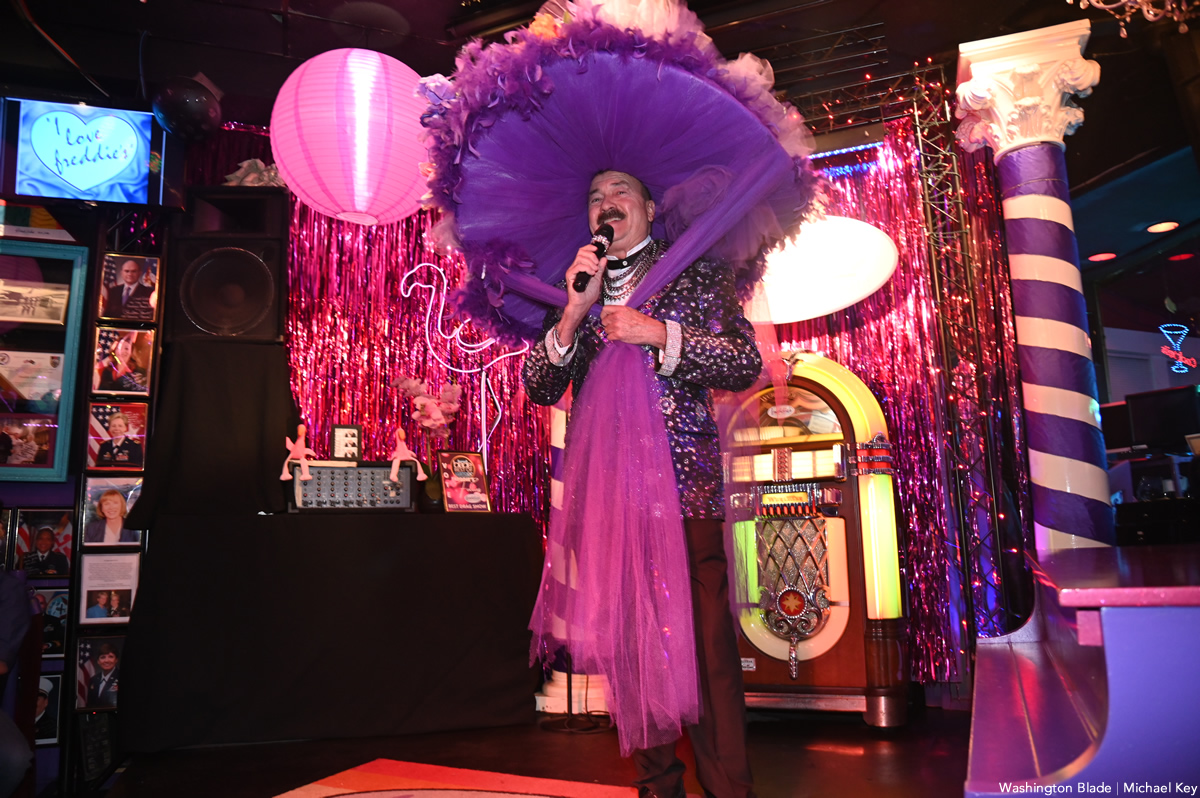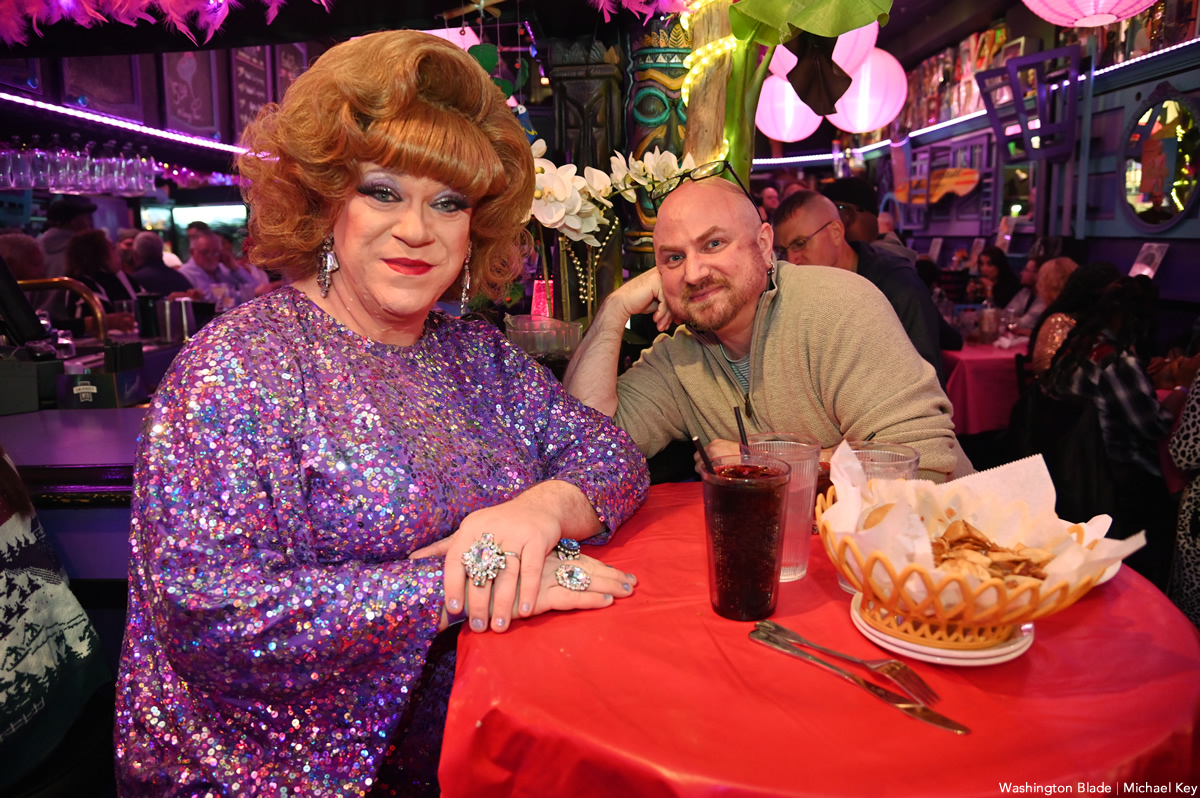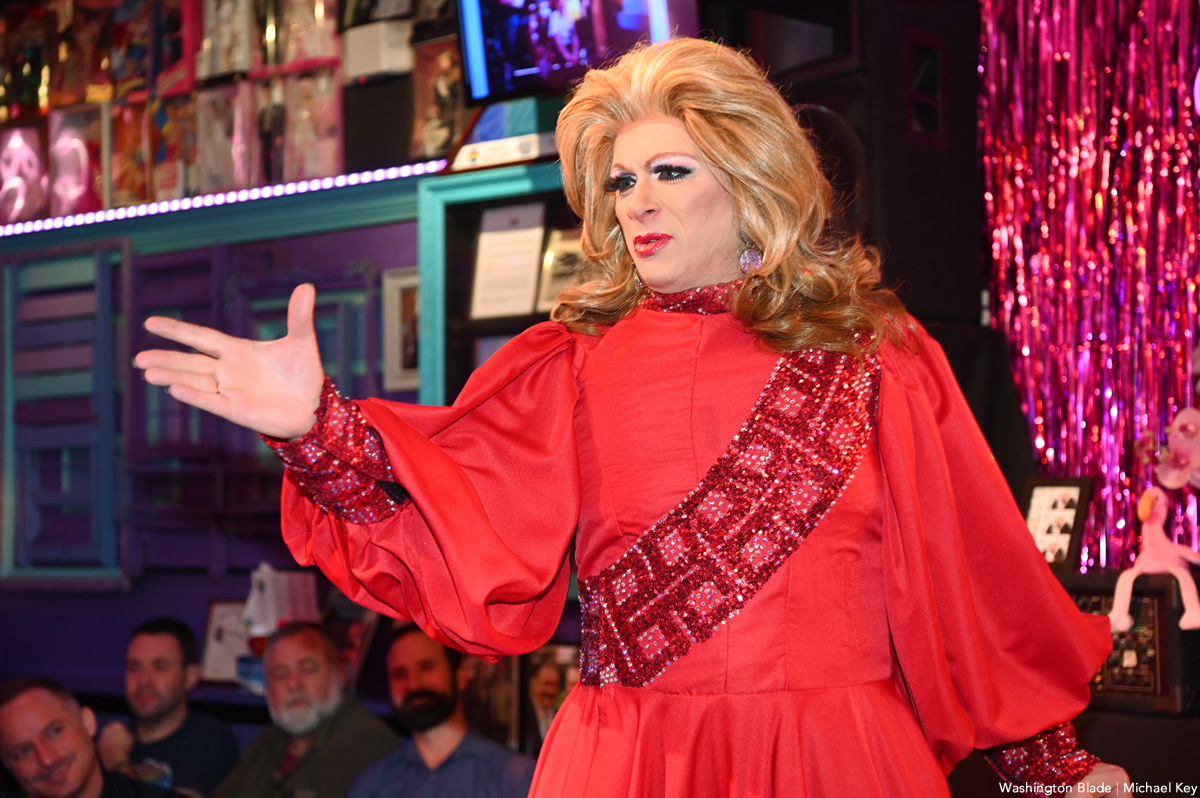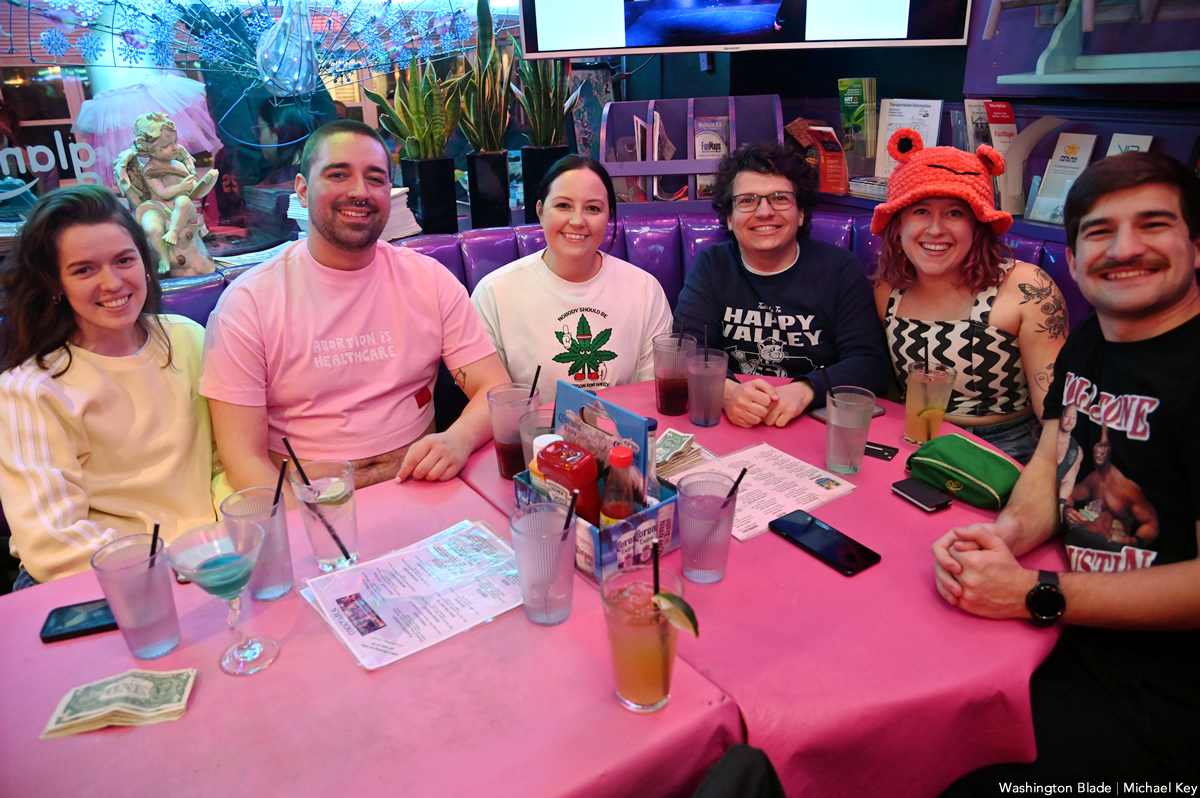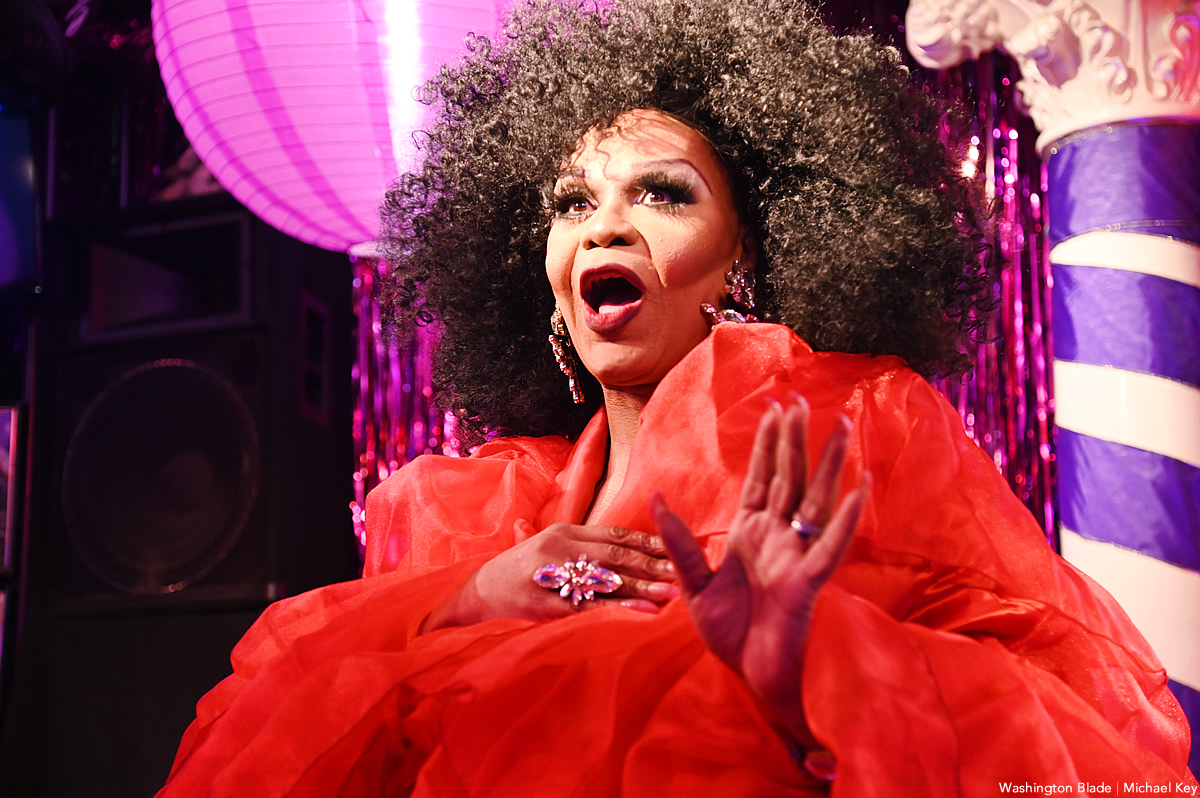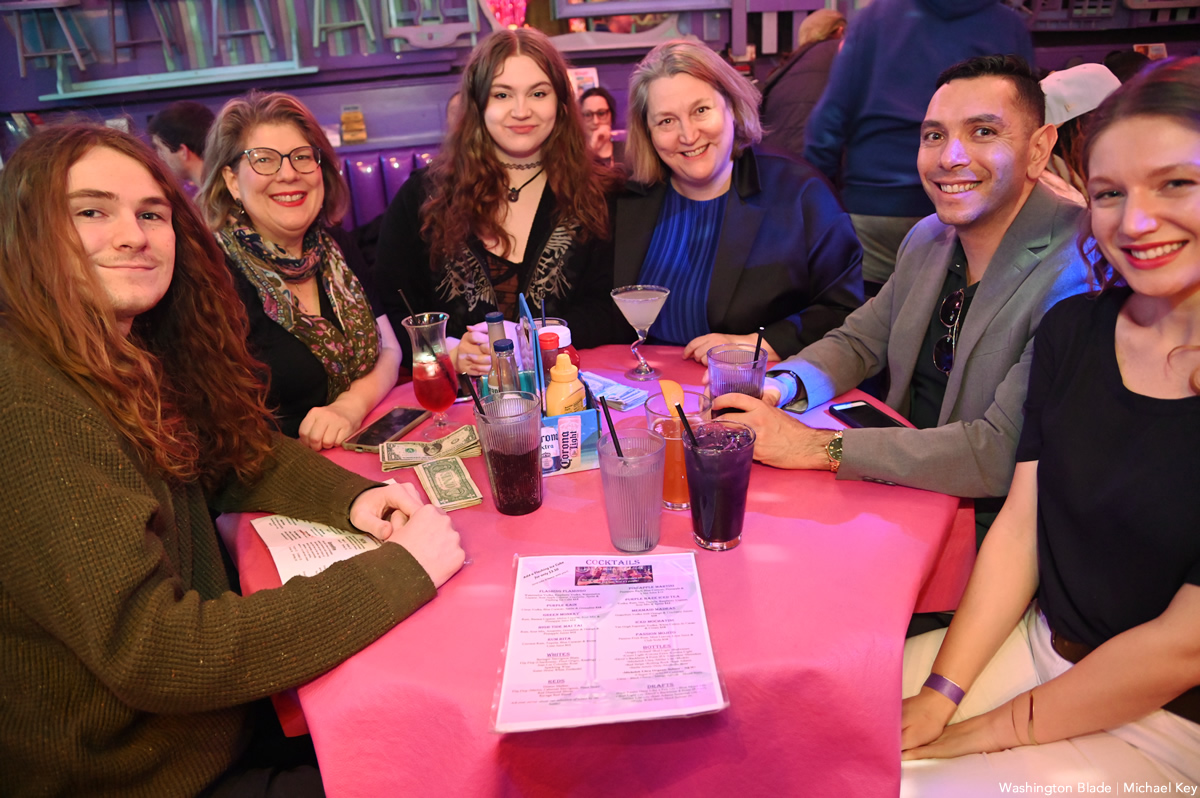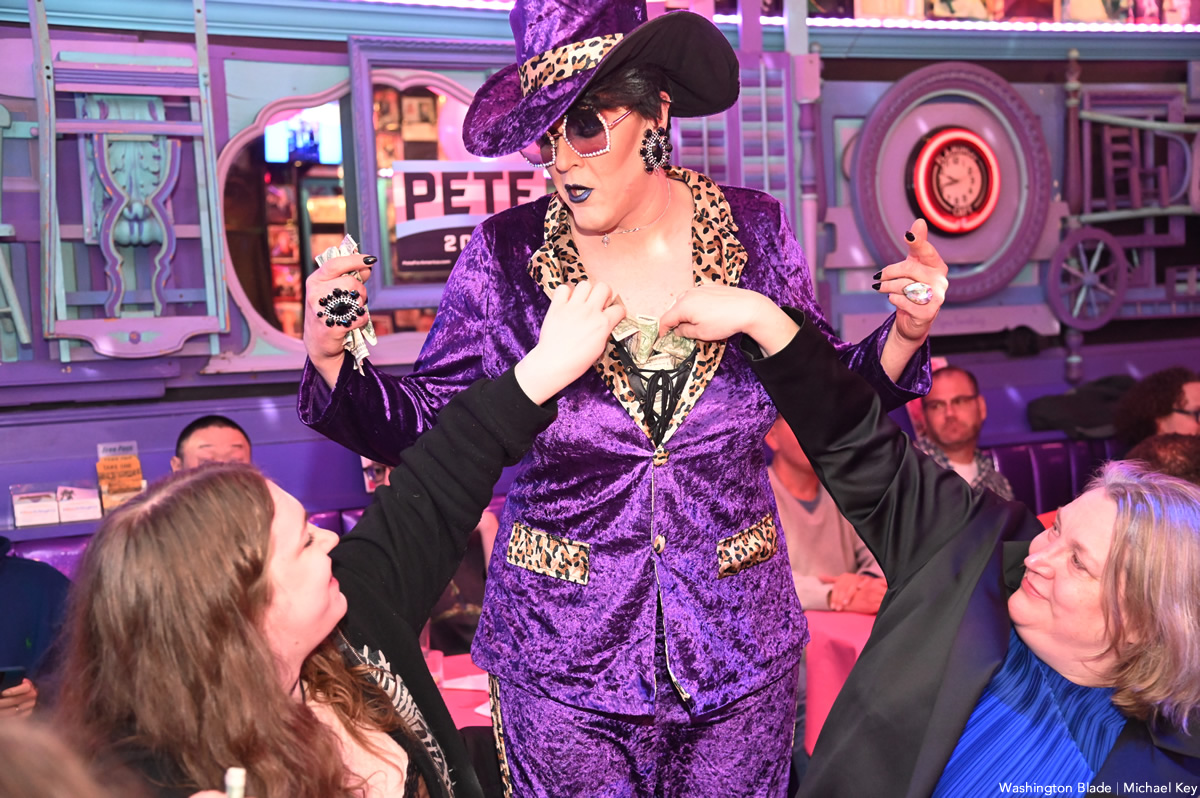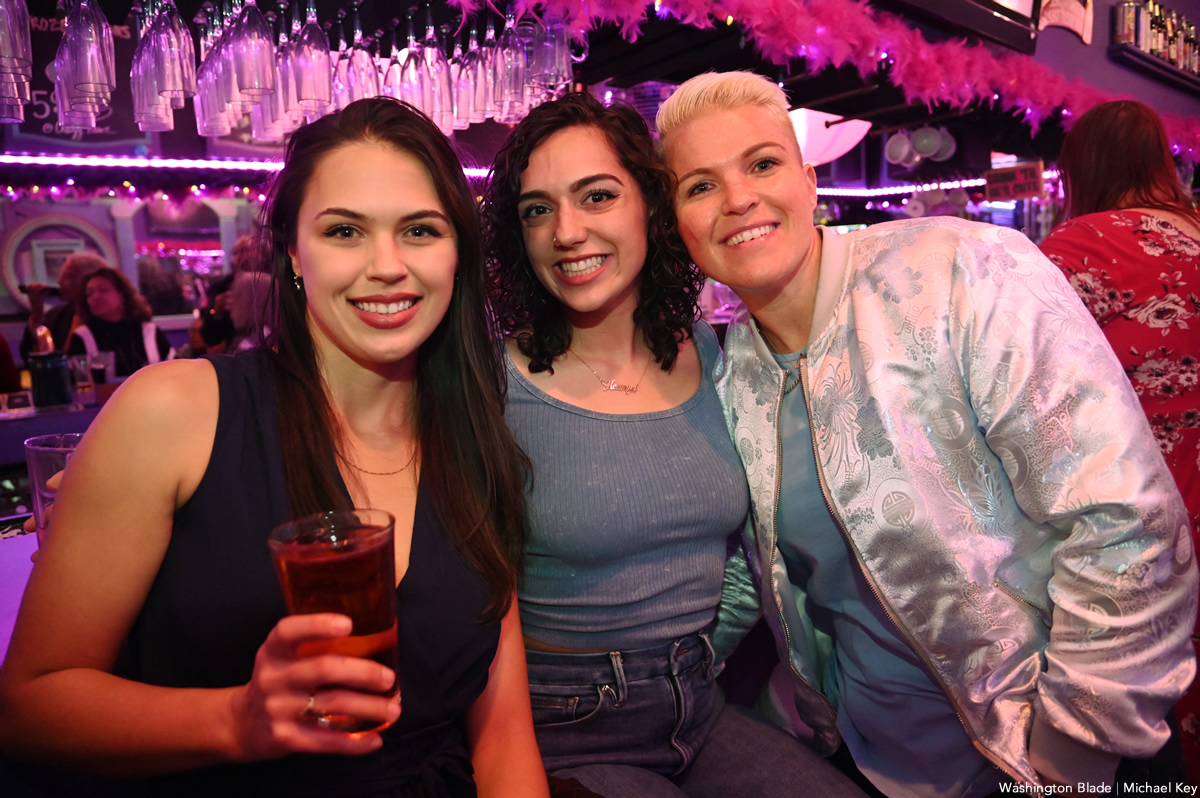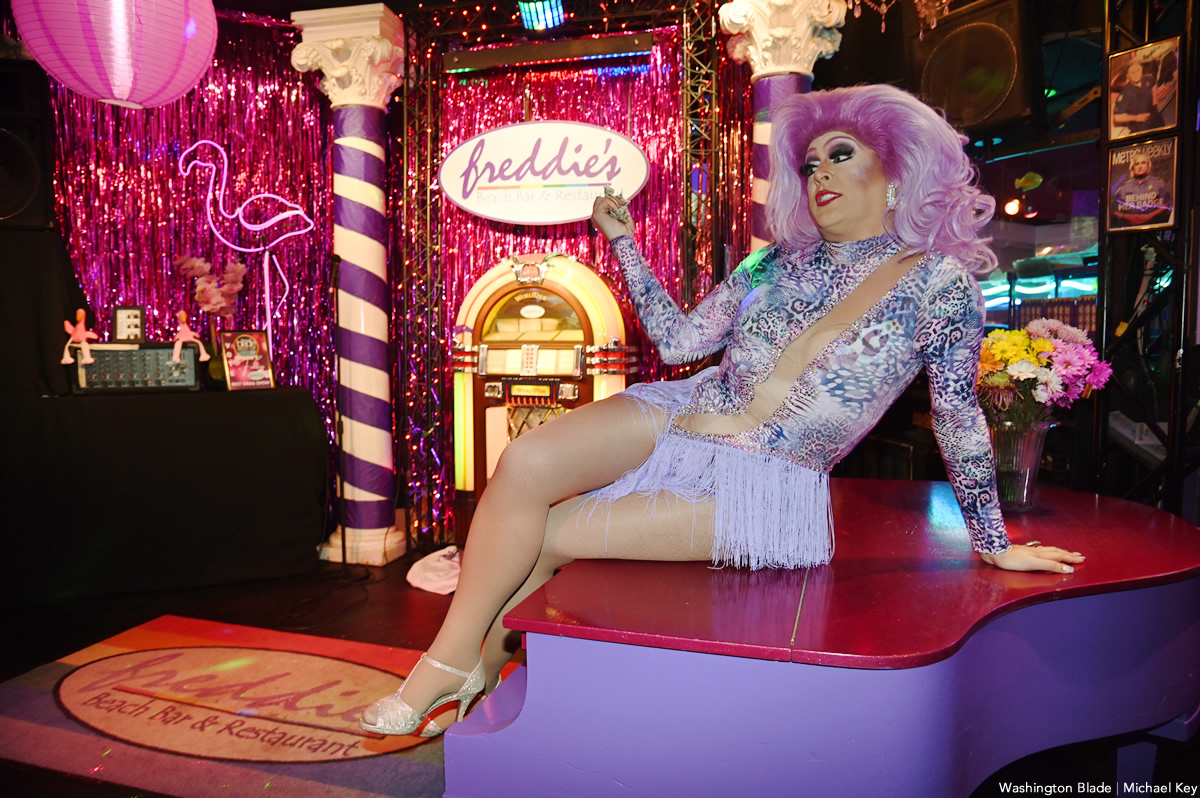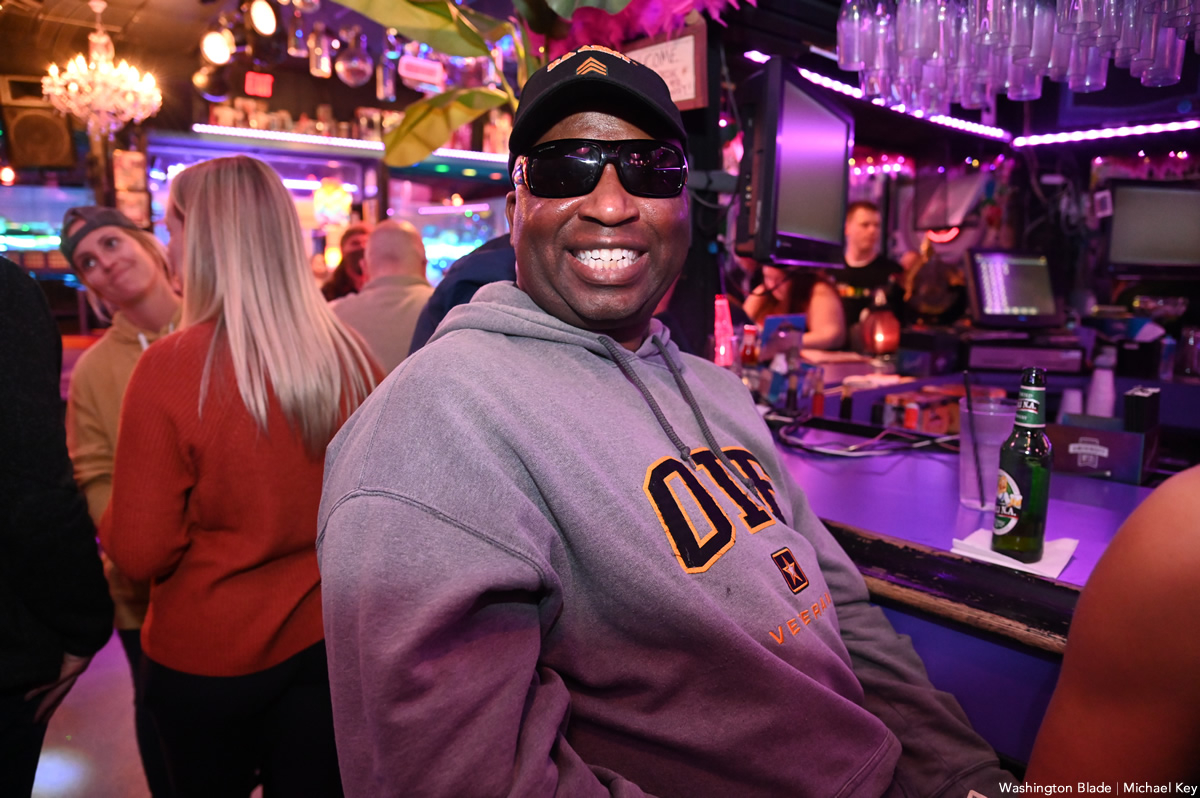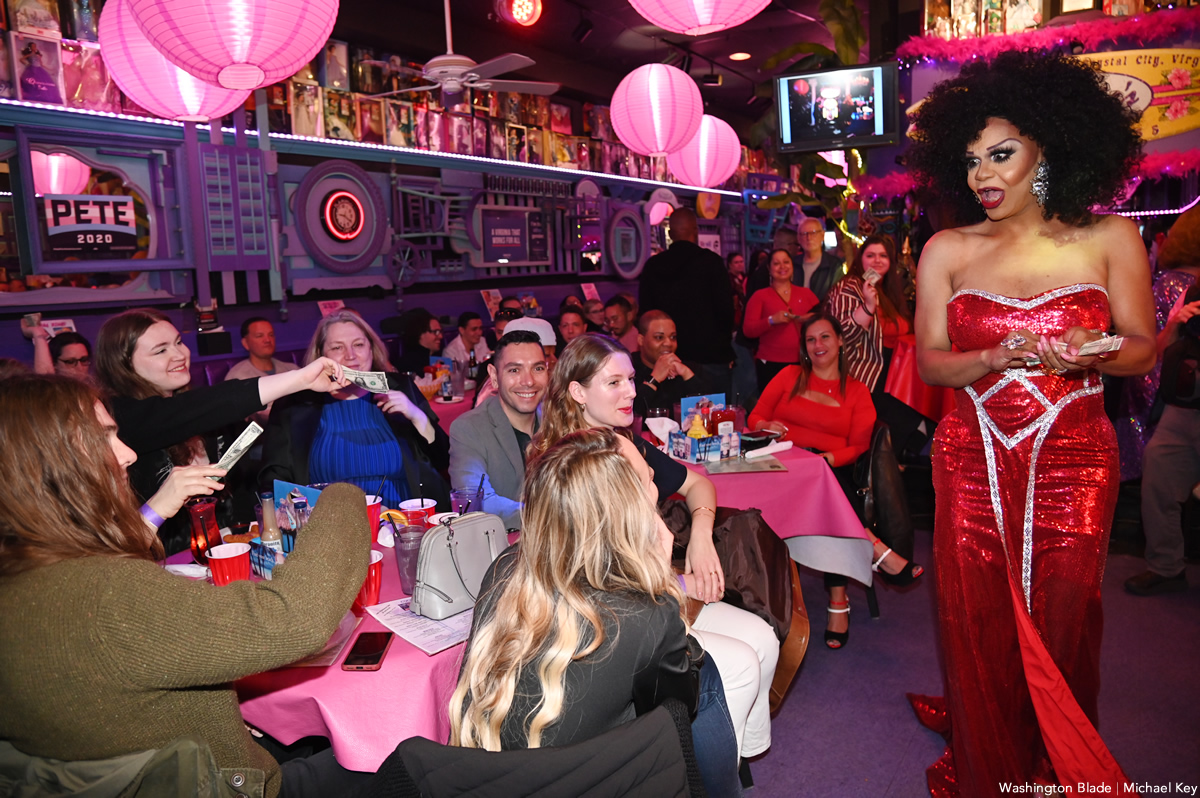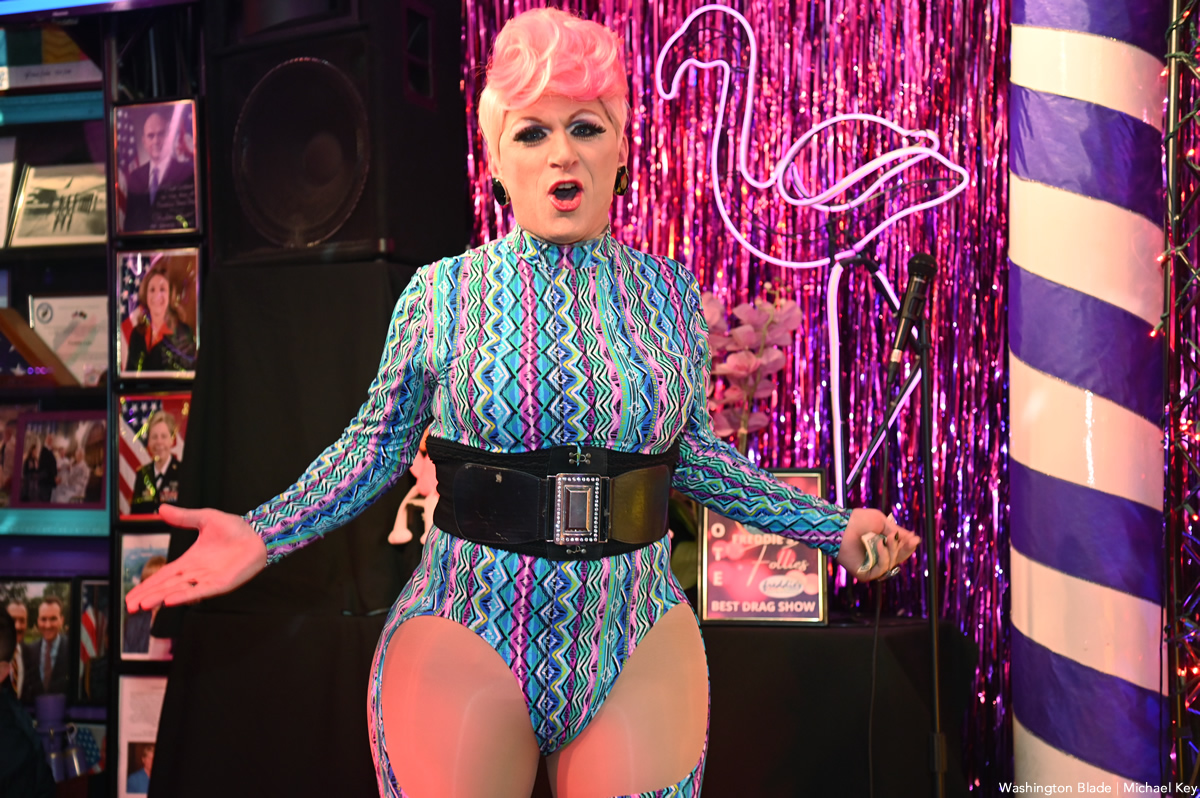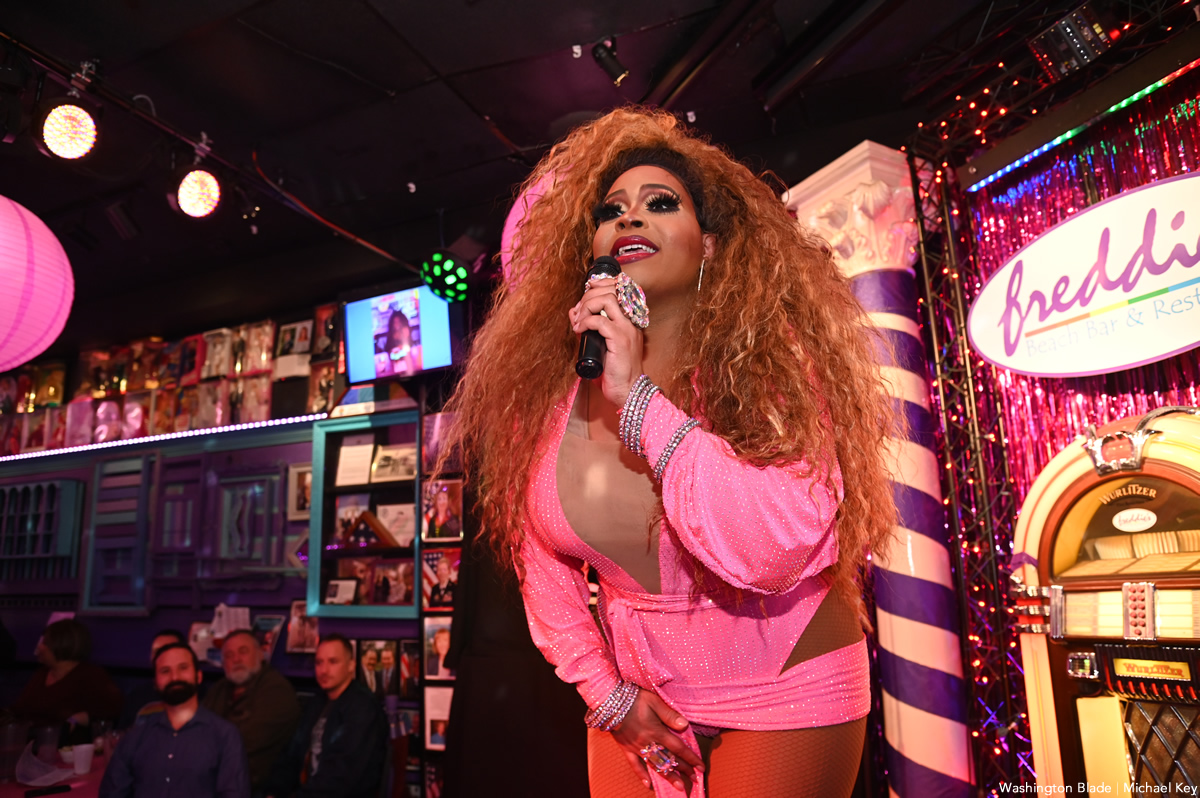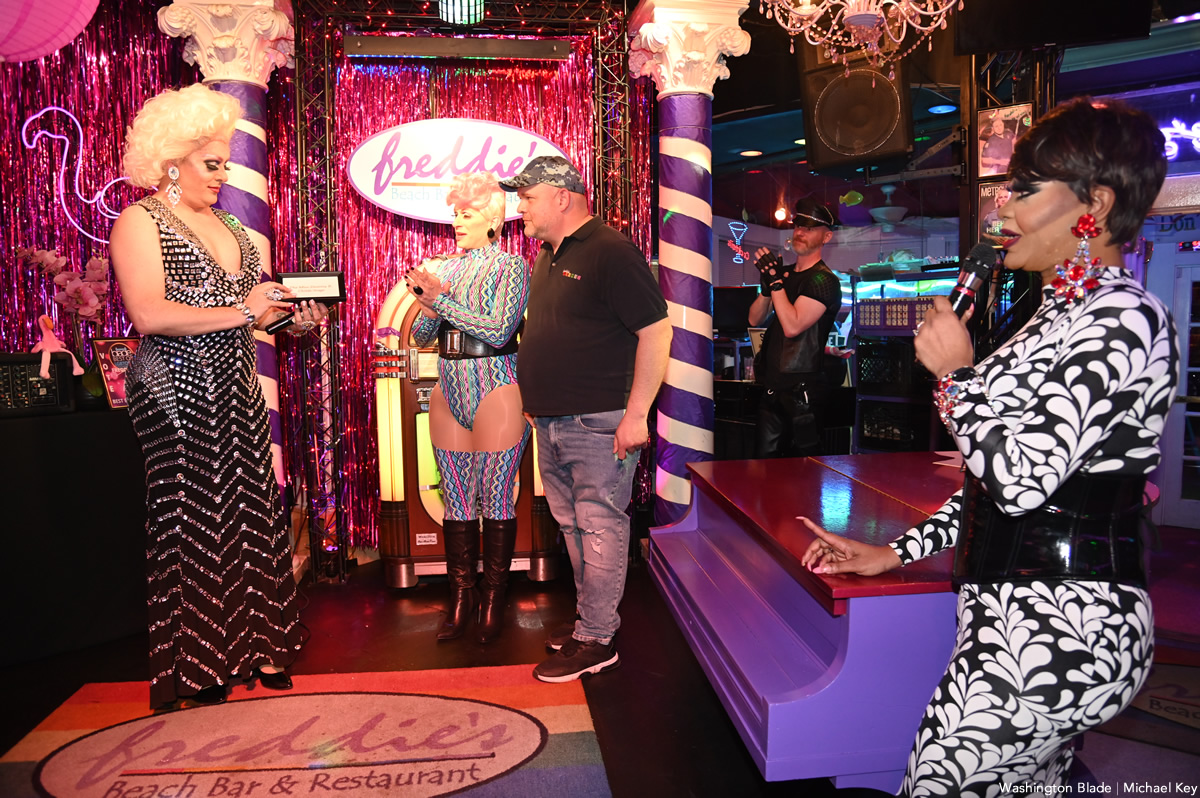 Covering Freddie's Follies 20th Anniversary for @WashBlade . @DestinyBChilds performing: pic.twitter.com/urpHgiMZ05

— Michael Patrick Key (@MichaelKeyWB) March 19, 2023