Kameny story told in comics
D.C.-based site pays tribute to activist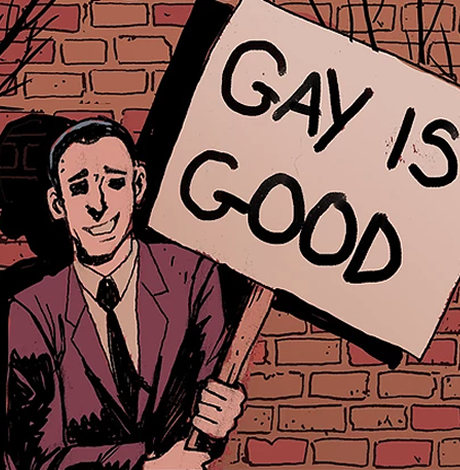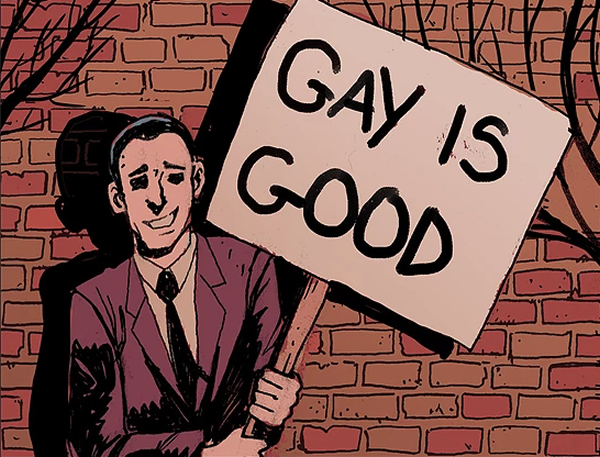 A D.C.-based online comics site called ReDistricted earlier this month published an illustrated story of the life of pioneering gay rights leader Frank Kameny.
The story, called Gay is Good, which was taken from the slogan Kameny coined in 1968, consists of 19 comic panels with illustrations and write-ups about Kameny's work.
Among other things, the panels tell of how Kameny's career as an astronomer with the U.S. Army Map Service ended in the late 1950s with his being fired after the government discovered he was gay. With a Ph.D. in astronomy from Harvard University, the cartoon panels show how Kameny shifted his career to a full-time gay rights advocate at a time when known homosexuals were blacklisted from government and most private industry jobs.
"From then on, he was a tireless activist who forcefully yet peacefully challenged the misguided policies and norms using mainly his typewriter and placards," the opening narrative to the comic story says.
The ReDistricted website says the story on Kameny was written by Bizhan Khodabandeh and James Moffitt and the graphic art was done by Bizhan Khodabandeh. The site where the Kameny story was published is managed and edited by award-winning cartoonist Matt Dembicki.
"It wasn't by chance that we published it right after the election," Dembicki told the Blade in an email. "We can learn lessons, appreciate what we have and find inspiration from history. The Kameny story does exactly that at a time we need it."
The Kameny story can be accessed at redistrictedcomics.com/kameny.
Gay former College Park mayor indicted on 80 counts of child porn
Grand jury adds 24 additional counts of felony 'intent to distribute' allegations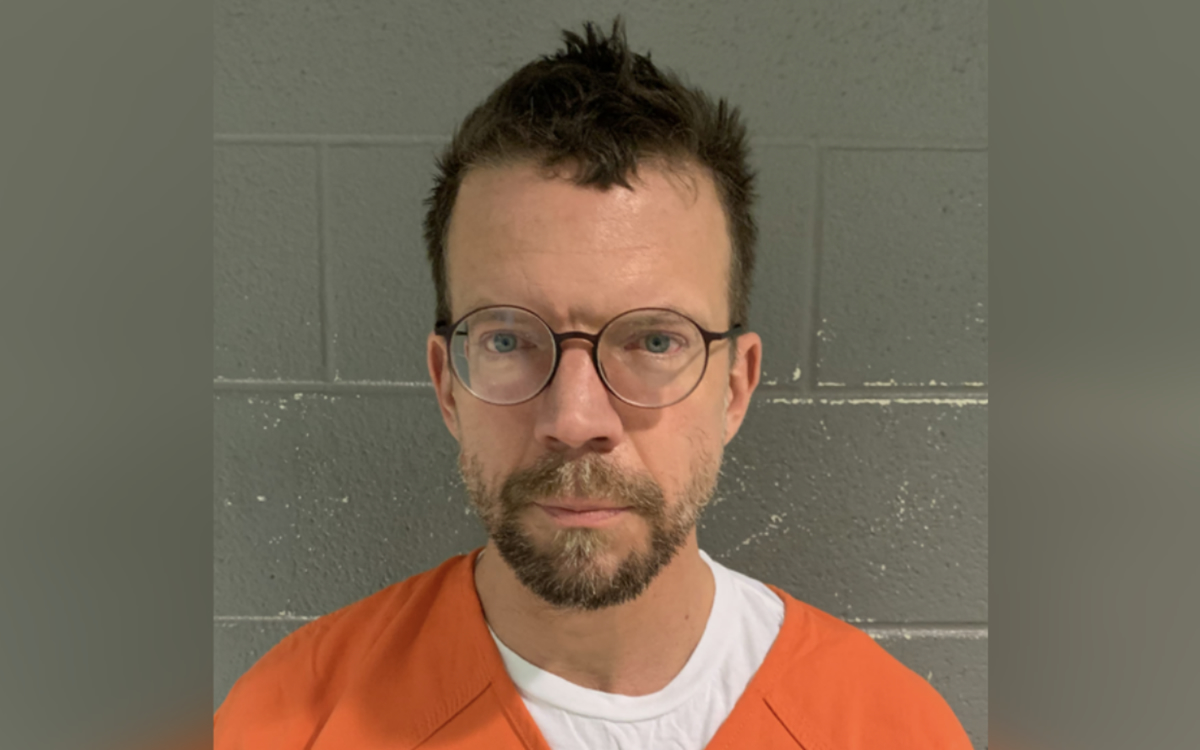 A Prince George's County, Md., grand jury on March 28 issued an indictment charging gay former College Park mayor Patrick Wojahn with 80 counts of possession and intent to distribute child pornography.
The indictment comes just under four weeks after Prince George's County police announced on March 2 that they had arrested Wojahn, 47, on 56 counts of possession and distribution of "child exploitive material."
The former mayor and longtime LGBTQ rights advocate has been held in jail since the time of his arrest after a judge on March 6 denied his request for bail.
Police charging documents said Wojahn allegedly had uploaded and/or shared at least 56 videos or still images on the social media app Kik depicting explicit sexual acts between adult men and prepubescent boys, depicting prepubescent boys engaging in sex with each other or engaging in masturbation.
The initial charges filed against Wojahn by police and prosecutors with the Prince George's County State's Attorney's Office included 40 misdemeanor counts of possession of child pornography and 16 felony counts of intent to distribute child porn, comprising a total of 56 counts.
But this week, Prince George's County State's Attorney Aisha Braveboy, the lead prosecutor in the case, issued a statement saying the grand jury on March 28 handed down 24 new counts of intent to distribute child porn.
The grand jury's action, which usually comes at the request of prosecutors, brought the total number of counts against Wojahn to 80 – 40 for misdemeanor possession allegations and 40 for felony intent to distribute allegations.
"This is an unprecedented case in our county in which a former elected official has been accused of a crime of this nature," Braveboy said in her statement. "The charges contained in the indictment are serious, and we will continue to work with law enforcement to investigate and follow any new leads that may be uncovered," she said.
"It is important to note that the defendant is presumed innocent, and my office will continue to focus on achieving justice for the victims in this case," Braveboy said.
At the time of his arrest, Wojahn issued his own statement announcing he had resigned from his position as mayor and was cooperating with authorities in their investigation into the charges against him. "I have cooperated fully, and will continue to cooperate fully," he wrote.
Wojahn added, "I am stepping away to deal with my own mental health. I ask that you continue to keep me and my family in your prayers."
In a charging document filed in court, P.G. County police said at the time of his arrest that Wojahn waived his Miranda rights to remain silent and provided police with a statement acknowledging having downloaded files containing child pornography.
Court records show Wojahn is scheduled to appear for a preliminary hearing following the indictment on April 21 in Prince George's County Circuit Court in Upper Marlboro.
"The indictment was an expected next step in the case, which will now proceed in Circuit Court," Wojahn's attorney, David Moyse, told the Washington Blade in a brief statement. "Mr. Wojahn continues to cooperate with authorities and focus on his own mental health during this process," Moyse said.
Wojahn's arrest came as a shock to his colleagues on the College Park City Council, on which he served for eight years before winning election as mayor in 2016. The arrest also stunned LGBTQ rights advocates in D.C. and across the country, who had praised Wojahn's advocacy work both locally and nationally for LGBTQ equality.
D.C. man charged in murder of trans teen outside Maryland bar
Victim's family, police disagree over whether incident was hate crime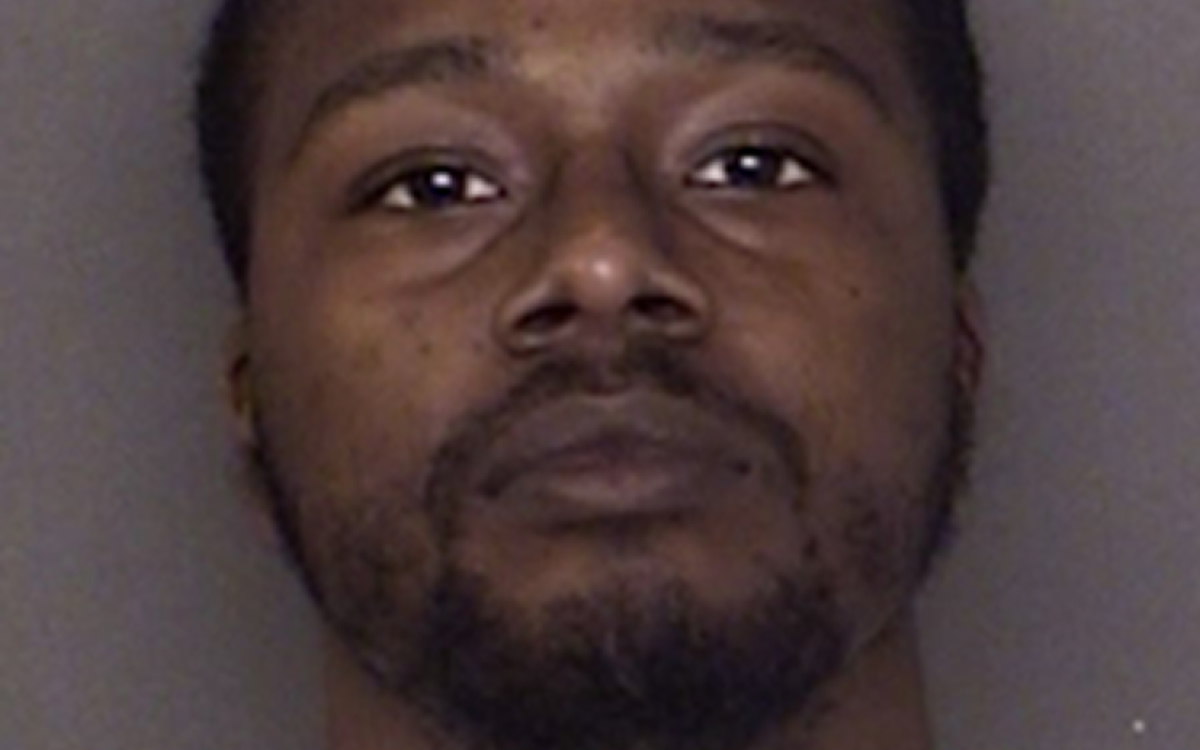 The St. Mary's County, Md., Sheriff's Office announced on Wednesday that it has charged a 29-year-old D.C. man with the March 24 shooting death of an 18-year-old transgender woman outside a bar in Mechanicsville, Md.
In an earlier announcement last week, the St. Mary's Sheriff's Office said Tasiyah Woodland of Lexington Park, Md., was found shot to death shortly after 1 a.m. in a parking lot outside the Big Dogs in Paradise bar and grill after "some type of confrontation" occurred.
The earlier announcement said investigators did not believe Woodland had been targeted for the murder because of her gender identity, although Woodland's family members disputed that claim, saying they believed the murder was a hate crime.
In its announcement on Wednesday, March 29, the Sheriff's Office said its Criminal Investigations Division on March 24 – the day of the murder – identified District resident Darryl Carlton Parks Jr. as a suspect in the case. Later that same day investigators obtained an arrest warrant for Parks, the announcement says.
On Tuesday, March 28, according to the latest announcement, the Sheriff's investigators along with the assistance of the D.C. police Homicide Unit, located and apprehended Parks on the arrest warrant. He is being held in D.C. while he awaits extradition to St. Mary's County, the announcement says.
It says Parks has been charged with First-Degree Murder, Second-Degree Murder, Firearm Use/Felony-Violent Crime, two counts of Reckless Endangerment from Car, and Illegal Possession of a Regulated Firearm.
The latest announcement does not disclose whether Sheriff's Office investigators have determined a motive for the 18-year-old trans woman's murder.
Woodland's sister, Ty'aliyah Woodland, told News 4 Washington that she and members of her family believe the killing was a hate crime based, in part, on the fact that Woodland had been subjected to "hate" in the recent past because of her gender identity. Ty'aliyah Woodland told News 4 Washington that her sister was an outspoken person who sometimes got others upset.
"She was one of a kind. She had no filter. She told you what it was and what it wasn't, and nobody like that," Ty'aliyah Woodland told the TV news station. "I mean, she was the true definition of living life to the fullest."
Sheriff's Office spokesperson Jason Babcock told the Washington Blade on Wednesday that there were multiple witnesses who informed investigators that Tasiyah Woodland had been inside the Big Dogs in Paradise bar and reported a confrontation took place after Woodland left the bar and entered the parking lot.
"When she came back out there was some kind of confrontation between the suspect and the victim that led to the shooting," Babcock said. "But they were not in a relationship, and the investigation has determined that the victim's gender identity was not a factor in the shooting," he said.
Babcock added that investigators determined the shooting took place while suspect Park was inside his own car, leading to one of the charges being Reckless Endangerment from Car.
"The Sheriff's Office thanks the community for its assistance in this investigation and urges anyone with additional information to contact Deputy David Lawrence at 301-475-4200, ext. 78130," the latest statement released by the office says.
In its earlier statement prior to the announcement this week of an arrest in the case, the Sheriff's Office said its investigators had reached out to the victim's family and to the LGBTQ community while its investigation was still under way.
It said the investigators had been "in regular contact" with members of Woodland's family to offer support and updates on the investigation.
"The Sheriff's Office has also been in contact with members of PFLAG Southern Maryland and the LGBTQ+ community to address concerns of personal and public safety," the earlier statement said. "At this time, it does not appear that Woodland was targeted because of her gender identity," it said.
PFLAG, or Parents and Friends of Lesbians and Gays, is a national organization with chapters in states and cities across the country.
Under Maryland law, people under the legal drinking age of 21 are allowed to patronize bars and other places that serve alcohol if they do not consume an alcoholic beverage. The Sheriff's Office has said it was investigating whether Woodland was served alcohol, News 4 Washington reports.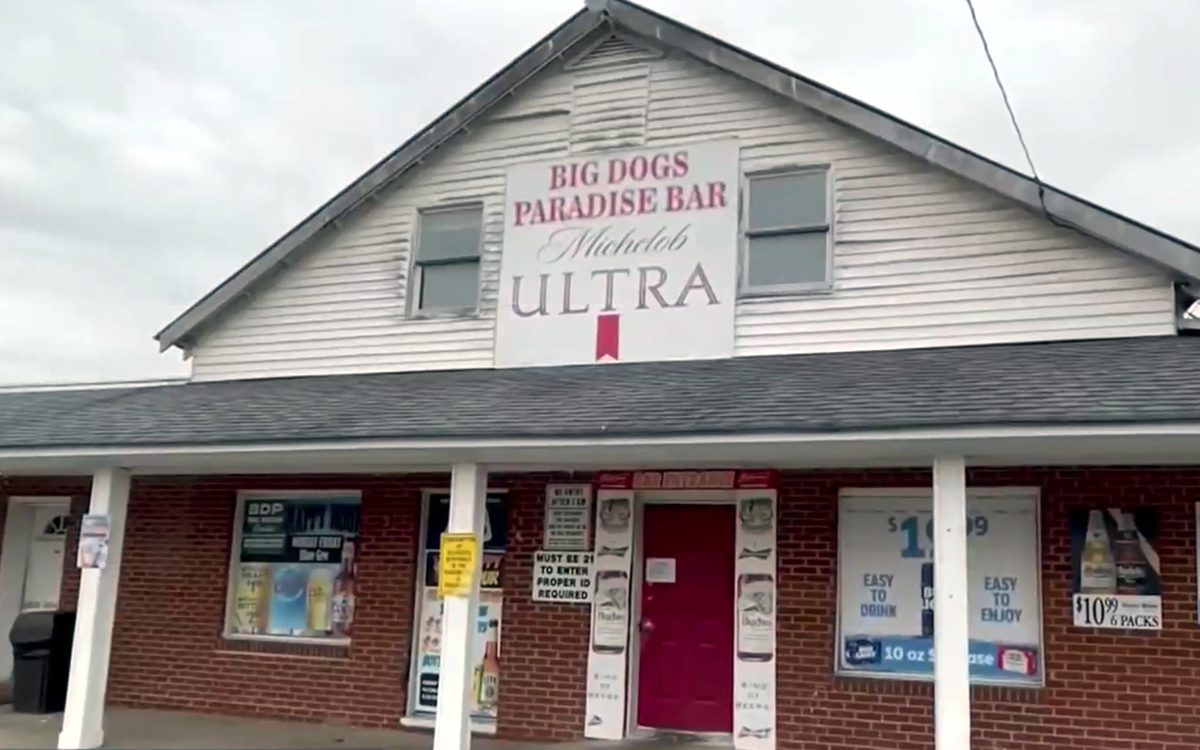 Concern over possible D.C. juvenile crime wave targeting LGBTQ victims
Anger, frustration at attorney general's 'Listening Session' in Dupont Circle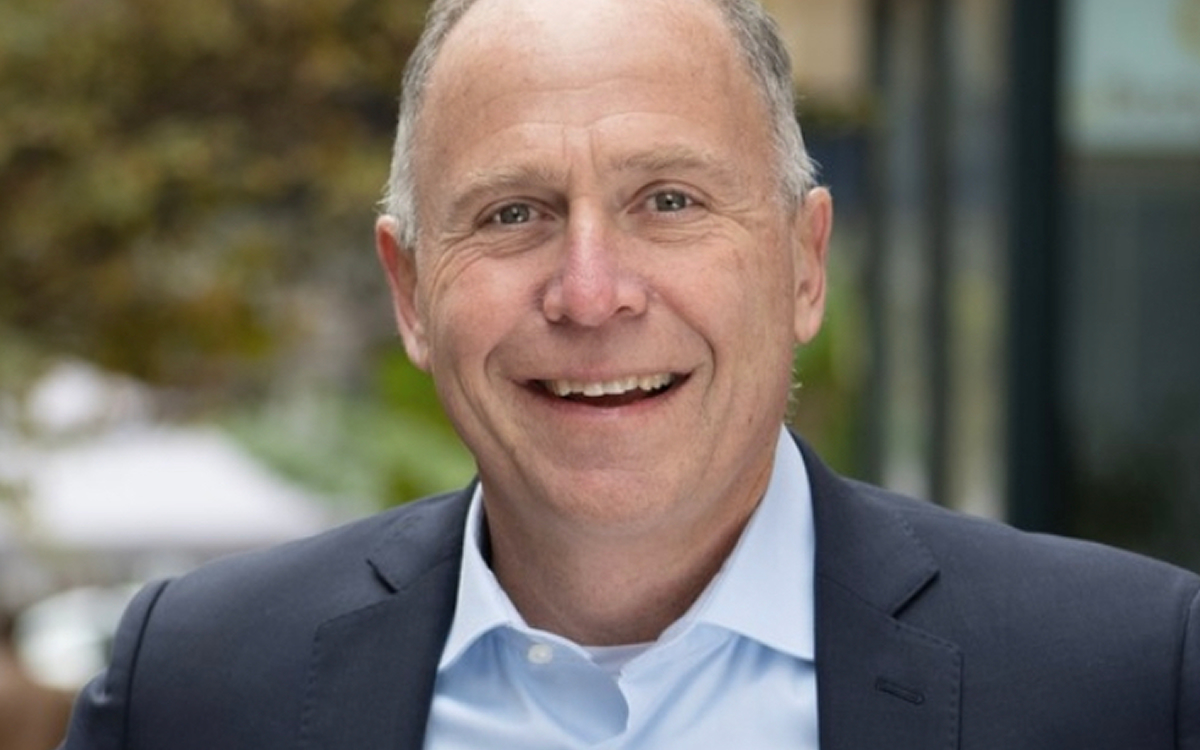 The rapidly growing number of violent crimes in the nation's capital committed by juveniles armed with guns and knives that D.C. Mayor Muriel Bowser has called a juvenile crime emergency is surfacing in neighborhoods where LGBTQ people are likely being targeted, according to activists following local crime reports.
Concern over reports of cases where LGBTQ people may have been targeted for armed robberies and carjackings in the Dupont Circle area by juvenile assailants coming to the area from other parts of the city surfaced at a Feb. 28 Ward 2 Listening Session hosted by D.C. Attorney General Brian Schwalb.
The event, held at St. Thomas' Parish Church in the Dupont Circle neighborhood, included strongly worded presentations from Dupont Circle Advisory Neighborhood Commissioner Vincent Slatt and former Dupont Circle ANC Commissioner Mike Silverstein, both of whom are longtime LGBTQ rights advocates.
The two told Schwalb, whose office oversees prosecuting juveniles charged with committing crimes in the District, that the city's juvenile justice system appears to be failing to take adequate measures to address the juvenile crime problem.
Among the main concerns raised by Silverstein and Slatt as well as others is that the city's criminal law pertaining to juvenile offenders has a strict confidentiality provision that prevents D.C. police and prosecutors with the D.C. Office of the Attorney General from publicly disclosing the outcome and disposition of cases in which a juvenile is arrested for a crime of violence or any other crime.
Activists raising this concern have said they do not want authorities to disclose the identity of juveniles charged with crimes. But what they would like to know, Silverstein and Slatt said, is whether officials like Attorney General Schwalb and members of the D.C. Council will take steps to change the law to allow the disclosure of the outcome of juvenile cases.
"Last year there were 1,400 juvenile arrests and 56 percent of those who were arrested had guns," said Silverstein, whose remarks were recorded on a video taken by Peter Semler, editor and owner of the Capitol Intelligence Group news organization.
"These are children with guns," Silverstein continued. "Seventy-five percent of those arrested for carjacking last year were kids, were children," he told Schwalb. "And people are questioning, you know, where is the prosecution?"
Schwalb responded by saying he would consider asking the D.C. Council to pass legislation allowing the public disclosure of the disposition of juvenile criminal cases, but he did not commit to doing so, according to Silverstein and others who attended the AG's Listening Session.
A spokesperson for Schwalb did not respond to a request from the Washington Blade for a comment from the attorney general elaborating on any plans he may have to propose a change in the law as requested by activists speaking at the Feb. 28 Listening Session.
In his remarks at the Listening Session, Slatt, who serves as co-chair of the city's ANC Rainbow Caucus, said he and other Dupont Circle residents were especially troubled that they have not been able to determine the status of the prosecution or whether a prosecution took place for three juvenile males arrested for committing four separate armed robberies in the Dupont Circle area within about 30 minutes on Sunday evening, Jan. 29.
Slatt said he and others alarmed over the incidents have not been able to determine whether any of the victims are members of the LGBTQ community or whether any of the incidents might be hate crimes.
D.C. police released a statement announcing that detectives had arrested three juvenile males for allegedly committing the armed robberies in different nearby locations between 9:45 and 10:14 p.m. on Jan. 29. The police statement says two of the juveniles were 16 years old and the other was 15.
The police statement lists the offenses allegedly committed by the youths as Attempted Armed Robbery, Armed Robbery (Gun), Assault with a Dangerous Weapon (Gun), and Armed Robbery (Gun). It says the 15-year-old was additionally charged with Carrying a Pistol Without a License, and Possession of a Large Capacity Ammunition Feeding Device.
"The ongoing question about youth crime and youth getting re-released is a major thing in the city right now," Slatt told the Blade. "And as you know, they won't release information about these cases," he said. "And also, they're not letting us know is this a hate crime?"
Slatt added, "And so we don't know when they are gay related. And there is no way for us in the gay community to do community impact statements because we're not allowed to follow these cases because of the anonymity protections on the youth criminals."
He was referring to the longstanding process in the local D.C. court system for adult criminal cases where victims of a crime and members of the community, including members of the LGBTQ community, can submit to a judge a victim impact statement or community impact statement.
The impact statements usually are submitted at the time a judge is about to hand down a sentence after the person charged with a particular crime has been convicted in a trial or pleads guilty as part of a plea bargain deal offered by prosecutors.
"My thing specifically is, is this a gay issue or not," said Slatt. "Are they hiding that data or not? How can we even say these are hate crimes or not if we can't even follow the cases, if we can't say what it's about?"
In a development that may come as a surprise to activists calling for the release of information about juvenile cases without releasing the identity of a juvenile, the controversial 450-page D.C. criminal code reform bill that Congress overturned earlier this month does not address in any way the city's juvenile criminal code.
The Revised Criminal Code Act, which the Council passed unanimously last September and voted 12 to 1 to override Mayor Bowser's veto of the bill, became the target of criticism from both Democratic and Republican members of Congress and from President Joe Biden because of several controversial provisions.
Among them are language calling for eliminating most mandatory minimum prison sentences, reducing the maximum sentence for crimes such as burglaries, carjackings, and robberies, and allowing jury trials for all misdemeanor cases in which a prison sentence is possible.
Bowser, who said she supported about 95 percent of the bill's voluminous proposed overall of the city's antiquated criminal code, has called on the Council to remove the provisions that triggered the reaction by Congress and a Democratic president to oppose the legislation in its original form.
Jinwoo Charles Park, executive director of the D.C. Criminal Code Reform Commission, which played a lead role in helping the D.C. Council draft the criminal code reform bill, said the Council limited the commission's scope of work to the city's adult criminal code when it created the commission in 2016.
According to Park, now that the commission finished most of its work on the criminal code bill for adults – with some changes needed to address the objections by Congress and Biden – the commission can look into possible changes in the criminal code's provisions dealing with juveniles. He said he would support looking into such a revision for the juvenile code.
"I do think going forward there is a whole other part of the law that probably should be revised," he said in referring to the juvenile provisions of the D.C. criminal code. "I'm not taking a position on that at this point. But I think it is an important project that does need to be tackled in coming years," he said.
Bowser, meanwhile, stated at a Feb. 6 press conference in response to a question from the Washington Blade that she would support a revision in the juvenile code to allow the public disclosure of the outcome of juvenile cases with the identity of a juvenile charged in such a case remaining confidential.
"I would, and I say that with a lot of caveats because it is a complicated issue," Bowser said. "But I agree with the sentiment," she said, adding that the current blanket confidentiality in juvenile cases might also have a negative impact on other D.C. government agencies that provide services for juveniles.
Among those who have also said they would consider changing the city's juvenile law to allow the outcome of juvenile cases to be disclosed to victims and possibly to the community is D.C. Council member Brooke Pinto (D-Ward 2). Pinto currently serves as chair of the Council's Committee on the Judiciary and Public Safety, where any legislation calling for changing the juvenile criminal law will be sent for consideration and approval.
"It is something that the committee is looking at very closely and something that we're going to try to make some actionable improvements on in the coming months," Pinto told the Blade. But she said her focus would be "from the perspective of victims' rights and what survivors need to have some resolution to their case."
When asked if she would commit to having the disposition of juvenile cases disclosed to the public as well as to victims of juvenile related crimes, Pinto added, "I would say I'm committed to looking at it." An important concern, she said, is to carefully balance the issue of youth privacy and making sure there is a just resolution to a case for all parties.
"The most important dynamic to me that I'm thinking about are the survivors and victims as well as government partners having access to this information," she said. "But I am open minded to looking at this other piece to make sure that our communities can be kept safe and have the resolution that they need and deserve."
The other Council members who serve on the Judiciary and Public Safety Committee who would join Pinto in deciding on whether to change the city's juvenile criminal statute include Charles Allen (D-Ward 6), Anita Bonds (D-At-Large), Vincent Gray (D-Ward 7), and Christina Henderson (I-At-Large).
Among those expressing concern over the city's juvenile justice system is Washington Post columnist Colbert King. In a Feb. 24 column, King reported that in response to his request, the Office of the D.C. Attorney General sent him data showing that out of 462 juvenile arrests made by D.C. police between Oct. 1, 2022, and Feb. 15, 2023, the AG's office prosecuted only 295, or 64 percent, of the cases. Ninety-four of the cases, or 19 percent, were dropped for insufficient evidence, King said the AG's office informed him.
According to King, 73 of the juvenile arrests during that period, or 16 percent, were dismissed and diverted to "alternative or no-incarceration programs or deferred sentencing agreements."
Silverstein, the former Dupont Circle Advisory Neighborhood Commissioner and LGBTQ rights advocate, raised the issue of how many juvenile cases were being prosecuted or dropped in his remarks to D.C. Attorney General Schwalb at Schwalb's Feb. 28 listening session.
"There is this growing belief, sir, and I'm not one of those who wants to lock everybody up or anything like that," Silverstein said, "that people don't believe it's anything but catch and release, that people are getting away with this kind of stuff and there is no prosecution."
Silverstein concluded his remarks telling Schwalb about an anti-gay hate crime that took place several years ago involving juvenile attackers.
"A gang of between 10 and 15 kids set upon two young gay men on U Street and beat the hell out of them, called them all kinds of homophobic names, and broke the bones around one of their eyes," he said. "We never found out what happened to the kids – the three who were arrested. The rumor was they had to write a paper."
Added Silverstein, "There's no trust, sir, in the consequences. It breaks my heart because it plays to those who want to lock everybody up. I'm sorry if I had to spill my guts, but it scares the hell out of me."
The audio part of the video recording of Silverstein's remarks became mostly inaudible when Schwalb responded to Silverstein.
"He said he would consider the possibility of supporting some change in the confidentiality laws regarding the disposition phases, that he would consider supporting it," Silverstein told the Blade in an interview. "And it was just word salad. It's totally nonspecific and it is not a promise at all," said Silverstein.
The Washington Blade will report Schwalb's positions in greater detail on these issues if his office responds to the Blade's request for comment by the attorney general.