January 12, 2017 at 6:30 pm EST | by Chris Johnson
Obama's LGBT staffers say goodbye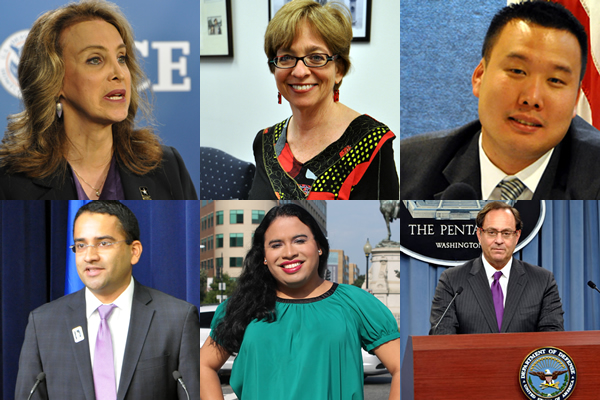 The Obama administration included a record number of openly LGBT officials serving across the federal government. The Blade reached out to some of them seeking their reflections on their time in public service. Their responses follow.
MIRA PATEL
Position and Years Served: Secretary's Policy Planning Staff, U.S. Department of State (2009-2013); Senior Advisor to the Administrator, U.S. Small Business Administration (2015-2016)
What was the highlight of your service under Obama? Watching from the audience as Secretary Clinton launched the Global Equality Fund, the largest USG partnership on LGBT rights during her famous "Gay Rights are Human Rights" speech at the UN Human Rights Council. I established the fund in 2011 with the State Department's human rights and partnership offices and it has grown to provide over $30 million to grassroots organizations fighting for LGBT equality in over 40 countries.
What are you doing now? Job searching! And founding my own non-profit to continue the Obama Administration's legacy of international LGBT human rights promotion.
AMANDA SIMPSON
Position and Years Served: First with the Department of Commerce as the Senior Technical Advisor to the Undersecretary of Commerce for Industry and Security. In mid-2011, I moved to the Department of the Army where I was the Special Assistant to the Assistant Secretary of the Army for Acquisition, Logistics, and Technology. Two years later I moved within the Army to lead the Energy Initiatives Task Force, which I matured into the Office of Energy Initiatives as the Executive Director. In 2015, I was asked to lead all energy efforts for the Department of Defense as the Deputy Assistant Secretary of Defense for Operational Energy.
What was the highlight of your service under Obama? From my required letter of resignation to Secretary Carter last month: "It has been privilege to serve the American people these past seven years. During this time I've moved forward a reform of our export controls to best protect critical technologies and keep research and industrial capability in the United States, brought accountability to Army acquisition by establishing a review process that included a focus on systems-of-systems interoperability, created the largest renewable energy portfolio in the Federal government utilizing private sector financed projects that bring energy resiliency to Army installations, and updated the Department of Defense's Operational Energy Strategy with specific and measurable goals that focus on military effectiveness and operational capabilities."
What are you doing now? I am currently working with my team here at OE to ensure a smooth transition after I depart next week so that the requirements of our military forces are best supported and our warfighters are in the highest state of readiness and are the best capable to serve and protect the American people. The latter half of this month I will be taking a (what I believe is a well-deserved) break and skiing. Beyond that I do not have firm plans.
GAUTAM RAGHAVAN
Position and Years Served: White House Liaison & Deputy White House Liaison, U.S. Department of Defense (2009-2011); LGBT Liaison, The White House (2011-2014)
What was the highlight of your service under Obama? While there were certainly amazing moments along the way – for example, taking Edie Windsor to meet President Obama in the Oval Office, or seeing the president sign the Executive Order prohibiting discrimination by federal contractors – the greatest highlight for me was expanding our outreach to movement leaders from every part of the country and every part of our community, especially folks who had not been previously engaged by the White House. Our movement has such a diverse bench of smart, creative, resilient advocates and activists – and it was an honor to meet and work with them.
What are you doing now? I currently serve as Vice President of Policy for the Gill Foundation where I work with tenacious movement leaders advocating for pro-LGBT executive, administrative, and regulatory action at all levels of government.
CHAI FELDBLUM
Position and Years Served: Commissioner of the Equal Employment Opportunity Commission April 2010 – Present (term ends in July 2018)
What was the highlight of your service under Obama? An ongoing highlight for me was to be able to advance employment civil rights for all people, including LGBT people. A specific highlight for me was to be part of leading the effort to clarify existing sex discrimination law to include protection for LGBT people. We did this through our decisions in Macy, Lusardi and Baldwin. Over the course of the past few years, we have helped approximately 1,000 LGBT people get relief from employment discrimination under existing federal law, in every state in the country.
What are you doing now? Because I serve as a Commissioner for a set term of five years, my service on the Commission will go past the Obama Administration. My term will end on July 1, 2018. Until that day, I will be working hard to safeguard all people from employment discrimination, including LGBT people.
SHIN INOUYE
Position and Years Served: Department of Homeland Security, U.S. Citizenship and Immigration Services: Press Secretary and Acting Senior Advisor for Intergovernmental and External Affairs, Oct. 2014-Jan. 2017; Executive Office of the President, White House Office of Communications: Director of Specialty Media, Feb. 2009–Oct. 2014
What was the highlight of your service under Obama? There are many accomplishments to be proud of — strengthening the economy, passing the Affordable Care Act, bringing the world together around an historic climate agreement, the list goes on and on. For the LGBT community, a few points stand out. The president signed an inclusive Hate Crimes bill into law; recorded an It Gets Better video; worked for, secured, and signed into law a repeal of "Don't Ask, Don't Tell;" became the first sitting president to do a sit-down interview with an LGBT media outlet; ended the legal defense of DOMA; announced his personal support for marriage equality; signed an Executive Order barring LGBT discrimination by federal contractors; and his Solicitor General argued for marriage equality before the Supreme Court, and after we won, the White House was lit in the colors of the rainbow. While at USCIS, I've had the privilege to participate in several naturalization ceremonies, and to administer the Oath of Allegiance. All along the way, I've had the pleasure of working with many outstanding individuals, and have made lifelong friends. While there remains work to be done, we can be proud of all that has been accomplished over the last eight years.
What are you doing now? While I don't have my next steps sorted out yet, after Jan. 20, I plan on taking some personal time, and then hope to be part of the effort to ensure that the progress we've made over the past eight years is not easily undone.
DOUG WILSON
Position and Years Served: Assistant Secretary of Defense for Public Affairs/ Senior Pentagon spokesman and communications strategist, 2010-2012
Highlights: Working with America's outstanding men and women in uniform; serving as a key administration point person at Pentagon for repeal of "Don't Ask, Don't Tell"; and conceiving and coordinating White House State Dinner for Iraq Veterans
What are you doing now? Chair, board of advisors, Truman National Security Project and co-founder, Vets' Community Connections (soon-to-be nationwide initiative to bring more Americans from all walks of life into veteran and military family community reintegration by answering their questions about community life. "Got 10 minutes for a vet? Use your own experience and expertise to do more than just say "thanks for your service."
KEVIN JENNINGS
Position and Years Served: Assistant Deputy Secretary for Safe & Drug Free Schools, Dept. of Education, 2009-2011
What was the highlight of your service under Obama? Staging the first-ever White House Summit on Bullying Prevention in March 2011, which the president keynoted, bringing unprecedented national attention to a scourge on the lives of countless LGBT youth.
What are you doing now? Executive Director of the Arcus Foundation, the nation's largest private funder of LGBT rights.
JEFF TILLER
Position and Years served: Strategic Communications Advisor, 2008-2017
What was the highlight of your service under Obama? My most memorable day at the White House was June 26, 2015. The Supreme Court ruled in favor of marriage equality that morning, President Obama sang "Amazing Grace" in Charleston that afternoon, and by nightfall the North Portico was illuminated in the rainbow colors of the pride flag.
The lighting of the White House, though, almost didn't happen. We had been storing the lights outside in gears boxes in anticipation of the ruling, and several days of inclement weather soaked the lights in rainwater. Half of the lights were malfunctioning when we plugged them in and turned on the power. After several hours of troubleshooting, the lights began to finally cooperate. We turned them up to full power and brightness just as the sun was setting on that historic day.
That evening, I sat on a lawn chair on Pebble Beach until 4 a.m. to monitor the lights. Thousands of Americans streamed to Pennsylvania Avenue during those early morning hours to celebrate together — they spontaneously sang our National Anthem, chanted "U-S-A!" and "Yes We Can!," and snapped countless selfies with the rainbow White House as their backdrop. It was a joyous end to a day that was decades in the making.
What are you doing now? Sleeping in!
RAFFI FREEDMAN-GURSPAN
Position and Years Served: Senior Associate Director for Public Engagement & Outreach and Recruitment Director for Presidential Personnel, Aug. 2015-Jan. 2017
What was the highlight of your service under Obama? I will never forget the unveiling of the Stonewall National Monument last June. It was two weeks after the tragic shooting at the Pulse nightclub in Orlando and the LGBT community was still reeling from the aftershocks of the worst mass shooting in American history. It was also 47 years since that fateful night in 1969 when LGBT New Yorkers made a stand for human rights and dignity at the site President Obama was honoring as a part of the National Park Service.
That's the spirit of the Obama Administration to me – dignified, resolute and deeply connected to the people. That diverse crowd of faces at Christopher Street Park celebrating our triumph over hate sticks with me to this day. I will never forget it.
What are you doing now? Seeking employment.