All star spotlight: D.C. Gay Flag Football
With 300 players on 22 teams, standing out is tough in local league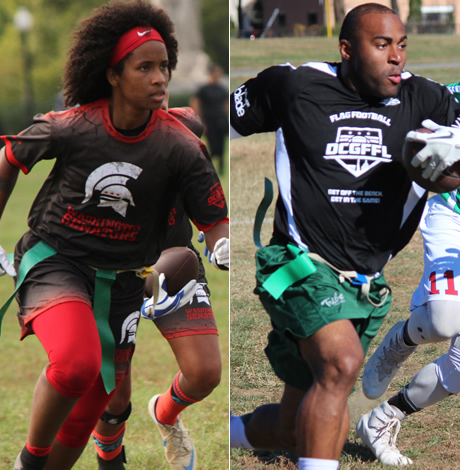 Each LGBT-inclusive sports team or club in the D.C. area is loaded with athletes and leaders who make their respective organizations a success.
In the launch of the new D.C. All-Stars series in the Washington Blade, we shine a light on the two MVP award winners from Season 13 of the D.C. Gay Flag Football League.
With more than 300 players on 22 teams, standing out as an All-Star during a 10-week season requires a special mix of leadership and athletic excellence.
In her first season with the league, Lindsey Walton captured the female rookie of the year award. In her second season this past fall, she followed that up with the female MVP award.
Growing up in Pittsburgh, Walton excelled in soccer, basketball and softball. She took on another sport when a coach saw her throwing a football.
"I always had an interest in football, but my mom wouldn't let me play because I was small," says Walton. "The track and field coach saw me throwing a football and recruited me to throw the javelin."
She would be recruited again for college, this time playing four years of soccer as the starting goalkeeper at Howard University. After graduating she remained in the sport playing club soccer with men as a goalkeeper.
After several years in D.C., Walton moved to Chicago and picked up flag football in an attempt to make new friends. She continued in the sport when she returned to D.C. and joined a women's league and a co-ed league. The demands of the one league sent her on a different sports path.
"The league I joined was more physical than most and allowed downfield blocking with no body protection," Walton says. "I decided I needed to put on pads and play full tackle."
She joined the Washington Prodigy in 2014 and continues to play as a punter, kicker and receiver. Two years later she added on flag football with the league, which doesn't utilize downfield blocking rules.
"I like competing against guys and I like giving them the work. It's fun for me," says Walton. "Some guys take it easy on me which just makes me have to embarrass them."
Walton, who works as a communications director with the D.C. Council and met her girlfriend in the league, is also a member of two of the league's travel teams, the Washington Senators and DC Delta Force.
The Delta Force won the title at the Pride Bowl in Chicago last June and this weekend, she will be traveling with her Senators teammates to compete in the Sunshine Bowl in Fort Lauderdale.
Jordan Anderson's life growing up as a military brat included time spent in multiple states including California, Virginia, Oklahoma and Arkansas. Despite all the moving, he found success in football, basketball and track and field.
He spent three years as a running back on the football team at James Madison University and after redshirting a year, completed his fourth year of athletic eligibility as a running back at Virginia State while earning his master's degree.
When his mother became stationed at Andrews Air Force Base in 2014, he decided to stay in the area to help care for his 8 year-old twin siblings. He went with a friend to watch a league game and joined in the spring of 2016.
"I was drafted onto a team full of rookies in my first season," says Anderson. "We came together as a team as the season progressed and finished as runner-ups in the season-ending Super Bowl."
Because of the way the league draft system works, Anderson found himself on a new team with only one person from his prior team in his second season last fall. It was on that team that Anderson found that balance of sportsmanship, leadership and community spirit that would propel him to the season's male MVP award.
"I like to help people to believe in themselves," Anderson says. "If someone wants to play cornerback, I want to help them achieve that goal. In the long run, it also helps to make my team better."
Anderson, who is working as a medical assistant with an eye on moving towards physical therapy, is enjoying that the League fills his competitive needs as well as the social aspects of being around so many athletes.
"I love the competition and this is a great way for me to get exercise; jumping, running and cutting is just better than a gym workout," says Anderson. "Also, as one of the younger players, it is a big plus for me to be around fellow athletes who are doctors, lawyers and community leaders."
Registration for Season 14 of the DCGFFL will begin on January 24 for returning players and January 31 for new players.
Raiders player Carl Nassib comes out as gay, first active player in NFL history
Nassib also announced that he is donating $100,000 to the Trevor Project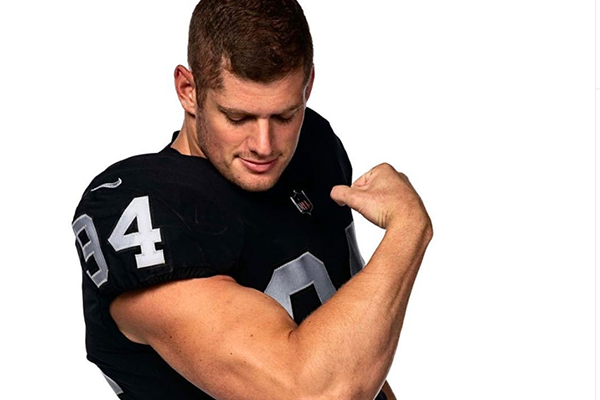 Raiders defensive end Carl Nassib came out today, making him the NFL's only openly gay player.
"I just want to take a quick moment to say that I'm gay," Nassib said in a video he posted on his Instagram account. "I've been meaning to do this for a while now but I finally feel comfortable enough to get it off my chest. I really have the best life. I've got the best family, friends and job a guy could ask for. I'm a pretty private person, so I hope you guys know I'm not doing this for attention, but I think representation matters."
Nassib also announced that he is donating $100,000 to the Trevor Project.
Vulgar anti-gay slur halts championship final soccer match
The league has written rules and guidelines that call for the referees on the field to halt game play if fans ignore warnings
DENVER, CO. – The Confederation of North, Central America and Caribbean Association Football, (CONCACAF) league's final match in the Mile-High City Sunday was halted after fans disrupted the game play by shouting a homophobic chant directed at players on the field.
ESPN reported the pause occurred during the final moments of the second half before the game went to extra time in the U.S. men's national team's 3-2 win. Referee John Pitti resumed the match after three minutes as players on both sides pleaded with the crowd to stop using the chant.
The league has written rules and guidelines that call for the referees on the field to halt game play if a warning to the spectators by the announcer over the stadium's public address has already warned the crowd to cease and desist. Should the crowd not stop, then the referee has the authority to send the players to the locker rooms and can also call for the match to be abandoned.
ESPN also reported that this was the second tournament match to be halted due to anti-gay chants at Empower Field at Mile High. Mexico's semifinal win over Costa Rica was also briefly paused. That match also saw several fans ejected from the stadium.
Outsports Webzine reported this past Spring that the disgraceful "puto" chant —a vulgar slur for male prostitute — is ubiquitous at Mexican soccer matches, and up until recently, Soccer's governing body, Fédération Internationale de Football Association or FIFA, has been ambivalent towards its eradication. The organization has punished Mexico at least 12 times for the chant since 2015, and yet, it hasn't disappeared.
In March, FIFA opened an investigation into anti-gay chanting by Mexico supporters during an Olympic qualifier against the Dominican Republic ESPN noted.
WATCH: USA Beats Mexico FULL MATCH [CONCACAF Nations League Final] | from CBS Sports. Game play is halted at the 1 hour thirty seven minute mark on the YouTube video:
Niners kick-off Pride with NFL's 1st-ever gender-neutral gear
The team hopes to score another win for its diverse fanbase Thursday with a new retail line that isn't limited by binary gender styles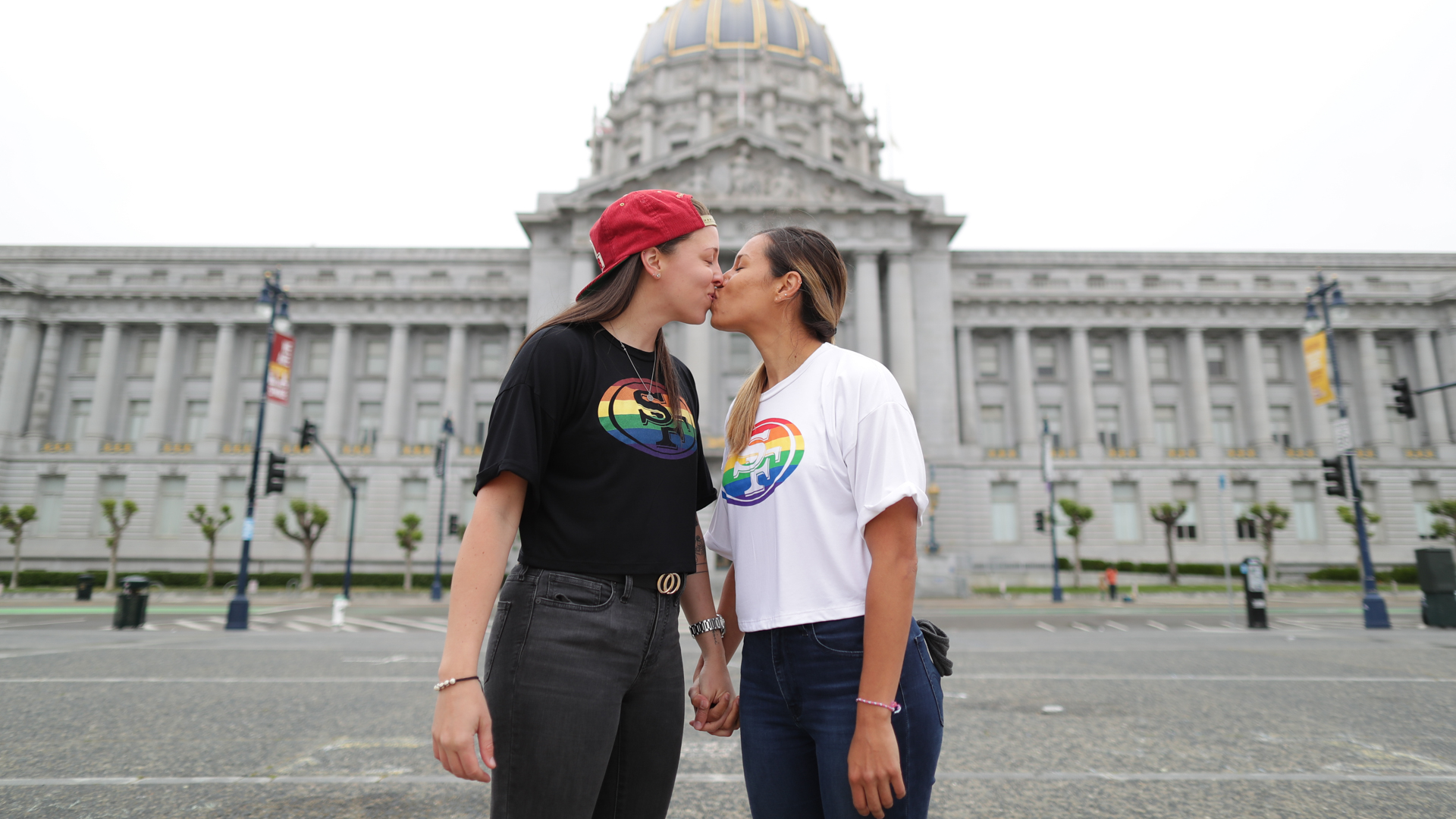 SANTA CLARA, CA. – The San Francisco 49ers have announced month-long plans for the organization's annual celebration of June LGBTQ+ Pride month. Led by 49ers PRIDE, the official fan club of 49ers Faithful who identify as LGBTQ+ and allies, the 2021 celebration will be highlighted by the 2021 49ers PRIDE Collection.
Every fan can feel seen
The San Francisco 49ers call their new retail line of rainbow-logo'd tops, tees and jackets "genderless." We think you'll call them cool- two years after the San Francisco 49ers led the NFL with the first official community for LGBTQ fans and allies, back in May 2019, the team hopes to score another win for its diverse fanbase Thursday with a new retail line that isn't limited by binary gender styles.
The new array of team-branded and Pride-themed clothing is the league's first and only "genderless" collection, according to a news release from the Niners. The threads are by Fanatics and the team promises 100% of the proceeds from this collection will benefit the San Francisco LGBT Center, the Oakland LGBT Center and The LGBTQ Youth Space: San Jose.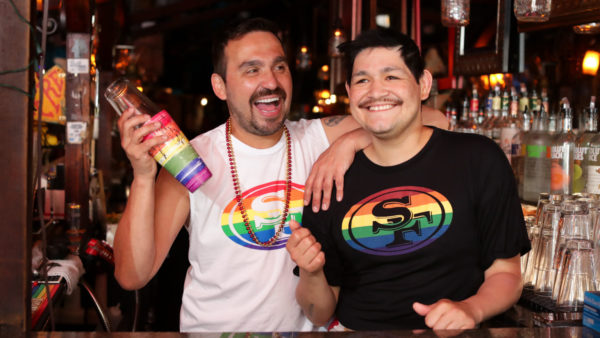 "Supporting the LGBTQ+ community in sports is a priority for the 49ers organization because sport has not always been inviting," the 49ers' Hannah Gordon told the Los Angeles Blade. Gordon is entering her tenth season with the 49ers and third as chief administrative officer and general counsel.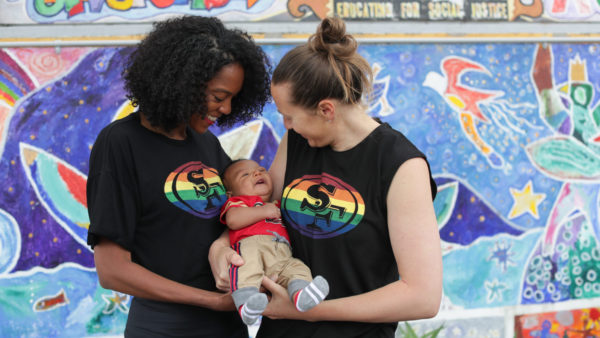 "We created 49ers PRIDE to make space for all of our LGBTQ+ fans and allies and it quickly became an incredible community. This year, we designed the first genderless retail line by an NFL team because we don't want there to be 49ers fan who wants gear but doesn't feel seen. If you want to support the Niners, we have something for you."
There will still be items available that fans who prefer a feminine cut can purchase at the team's online store, but the 2021 Pride collection is specifically geared toward Niners fans who aren't interested in reinforcing gender stereotypes when they support their team and fly their Pride colors.
"With this line, we have pieces that were designed so that however you identify, you can find a fit and any two people can express different styles with the same piece," said Gordon. "I love seeing how our fans wear these pieces and express their style. Doing it your own way is faithful to the Bay."
Click here to view the collection and find out more about 49ers Pride.