Finding social graces in 'Charm'
Mosaic production explores class, gender in endearing dramedy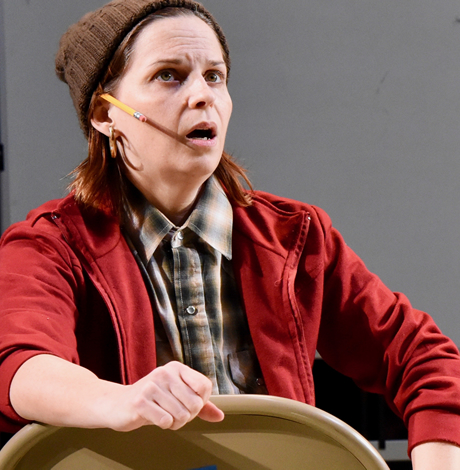 'Charm'

Through Jan. 29

Mosaic Theater Company

Atlas Performing Arts Center

1333 H St., N.E.

$40-60

202-399-7993 ext. 2
Diamonds may be some girls' best friend. But for 67-year-old trans woman Darleena Andrews, who goes by Mama, her life-long most trusted companion has been a book — "Emily Post's Etiquette." And Mama isn't selfish with her BFF, she likes to share what's found between the tome's cover with those who need it most.
In out playwright Philip Dawkins' engaging "Charm" now at Mosaic Theater Company, Mama (B'Ellana Duquesne) volunteers to school at-risk youth in the social graces at the local LGBT center.  With her warm yet unflappable demeanor and professional attire, Mama seems the ideal instructor. But because Mama's ideas on gender expression are so rooted in tradition (she believes if you present as female then you need to call yourself a girl), the center's harried director D (Kimberly Gilbert) feels Mama might not help in creating a safe space for everyone.
When D (who identifies with no gender) says "tranny" is an unacceptable term, Mama, who's been living as a woman since she was 19, quickly replies, "Back in the day, tranny was about the nicest thing anybody ever called me." Despite D's misgivings, things move forward.
Held in a rundown classroom, Mama's charm lessons attract a racially diverse group of transgender and ostensibly straight street kids. The unpolished group played by a strong cast include smart and leggy Jonelle (Justin Weaks); shy, mentally unstable Lady (Joe Brack); initially intimidating Beta (Clayton Pelham, Jr.); a struggling straight couple Victoria (Jade Jones) and Donnie (Louis E. Davis) who appear to have come for the free food. There's also Ariella (Nyla Rose), a 33-year-old trans woman streetwalker. Later, a curious college boy Logan (Samy El-Noury) joins the classes "to observe."
What starts as raucous meetings soon calm under Mama's firm hand. She imparts the philosophy that good manners can carry you through life, but also engenders love and respect within the room while neatly doling out instruction on how to eat, dance, dress appropriately and apply makeup ("An Adam's apple is a speed bump on the way to glamour").
Becoming close to a needy student creates problems when Mama rebuffs a less needy student's efforts to forge a closer friendship. Drama ensues.
As Mama, Duquesne radiates as a wise and loving elder with a rich and perhaps not easy past. Duquesne's life experience gives her insight into the part.
Playwright Dawkins drew inspiration from Chicago's real life Mama Gloria Allen, a transgender, African-American woman who taught a class in "charm" for low-income, transgendered and often homeless teens in Chicago.
Director Natsu Onoda Power move the action at a swift clip, deftly bringing out the play's humor, heartbreak and joy. Daniel Conway's rough set and Frank Labovitz's spot-on costumes add grit and realness to the production while Max Doolittle and Roc Lee's striking lighting and sound design, respectively, up its intensity.
"Charm" presents characters as they are in all their glorious complexity. While their outcomes aren't always happy, they're real and illuminating.
Leaving modern NYC for 1950s cult experiment
Couple ditches rat race for old way of living in 'Maple and Vine'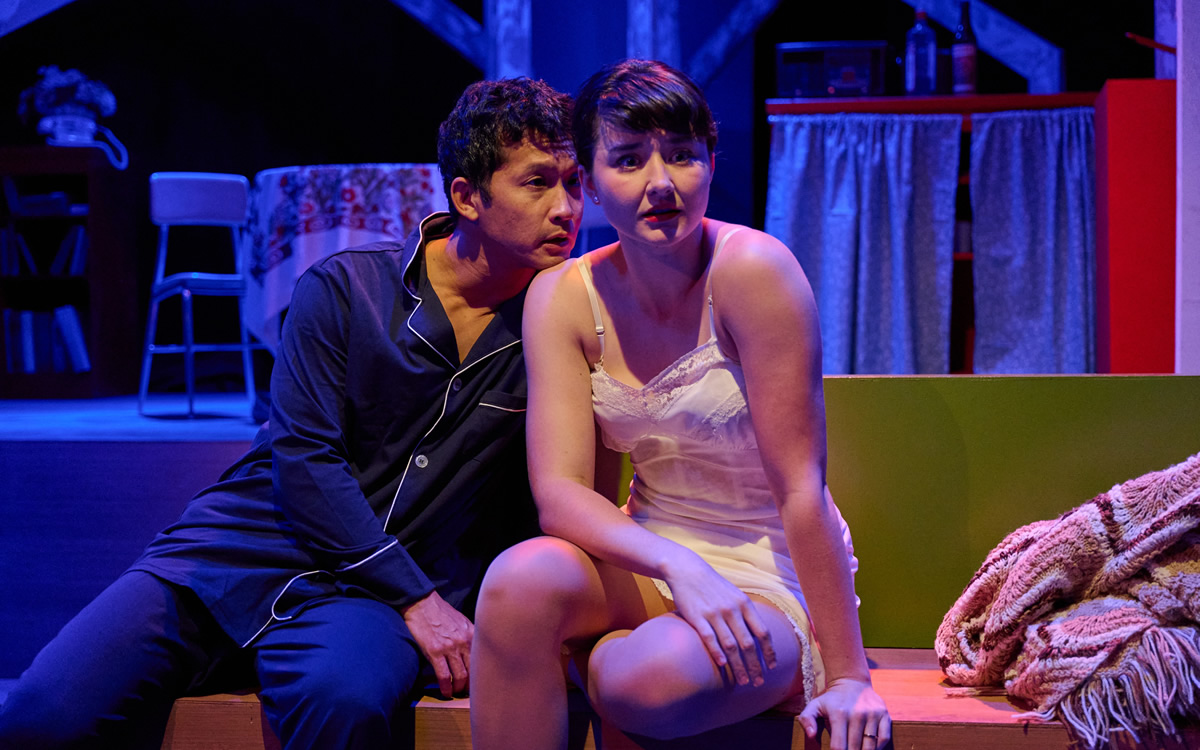 'Maple and Vine'
Through Oct. 23
Spooky Action Theater
1810 16th St., N.W. 
$30-$40
Spookyaction.org
As theatergoers file into Spooky Action Theater's intimate performance space to see Jordan Harrison's "Maple and Vine," they'll find two young actors in bed on a dimly lit, sparsely set stage. While the man sleeps soundly on his side, the woman tosses and turns. She can't rest, her weary face is visible from the glow of her smartphone (an all too familiar scene for many). 
Soon we learn that Katha (Em Whitworth), an editor at Random House, is — for reasons personal and professional — burned out. Increasingly, she experiences sleepless nights and every morning it becomes harder to go to work. Her supportive husband Ryu (Jacob Yeh), a busy plastic surgeon, seems OK, but when he heads out for another day of facelifts and breast enhancements, he nearly collapses in despair. Clearly, there's a problem they share.
Katha makes a bold move. She quits her job to the delight of snarky underlings. Later, seated in a park, she by chance meets Dean (Nick DePinto), a curious stranger outfitted in sharp mid-1950s street clothes. Is his getup the latest downtown trend? He assures her it's not.
Breaking the fourth wall, Dean addresses the audience directly, explaining how the Society of Dynamic Obsolescence is the antidote to the alienating present ("Maple and Vine" premiered in 2011). Prior to giving up a life of cell phones and social media and embracing the past, he often spent half the day without in-person interactions. But no more, now Dean is on chatty terms with his neighbors, the baker, butcher, and fishmonger.
Dean's wife Ellen (Amanda Tudor) joins in delivering the peppy pitch that makes "Father Knows Best" sound downbeat. Even in scenes alone at the kitchen table, the pair keeps up surface, energetic exchanges. It's exhausting.
The new old way of living is in fact a gated community in the Midwest where it's forever 1955. Freshly arrived residents are given a dossier that scripts their new identities. While the plan has room for a few beatniks and a couple comparatively progressive intellectuals, most recruits are assigned to take on traditional roles of the era.
That two smart people with options would sign on for a minimum six-month stint with a creepy cult is a bit of a stretch, but the out playwright asks us to follow, so we do.
After intermission, the couple has left their modern New York City apartment for a cookie cutter yellow post-war house on the corner of Maple and Vine in a new town. Because they're now officially categorized as a mixed-race marriage, a red flag for Japanese American Ryu, the couple is placed on the less racist north side of the community.
Upon arrival, Ryu is assigned a job assembling cardboard boxes at a factory. Katha, renamed Kathy, is mostly homemaking but does some volunteer work. She proves a natural for a post on the ladies' authenticity committee, a group that strives to make the experience as real as possible, warts and all. The darker side of the fabulous fifties is part of the deal.
Director Stevie Zimmerman smoothly helms a team that serves up all sorts of delights like Alison Samantha Johnson's costumes (men's blue serge suits, spectator shoes, and fedoras; and the women's wasp-waisted swing skirt dresses in floral and checkered patterns, and complicated foundation garments), and set designer Jonathan Dahm Robertson's contrasting locales.
Harrison, a Pulitzer Prize finalist in Drama for "Marjorie Prime," doesn't overlook the problems encountered by closeted gay men in 1950s America, not by a longshot. Out actor Stephen Russell Murray plays two of the play's three gay men with great versatility – to say anything more would be a spoiler.
With its references to prescribed guilt-free smoking, Sanka coffee, and Salisbury steak TV dinners, the script is a hoot. But what's most interesting aren't the lifestyle changes per se, but the issues that prompt them.
When Tudor as Ellen lets down her mask and reveals her truth, it's chilling. Rather than finding a solution, it seems – not surprisingly – that the characters might have traded one of set of problems for another.
'Hamilton' star boosting Afro-Latinx, queer representation
Gonzalez and partner launch DominiRican Productions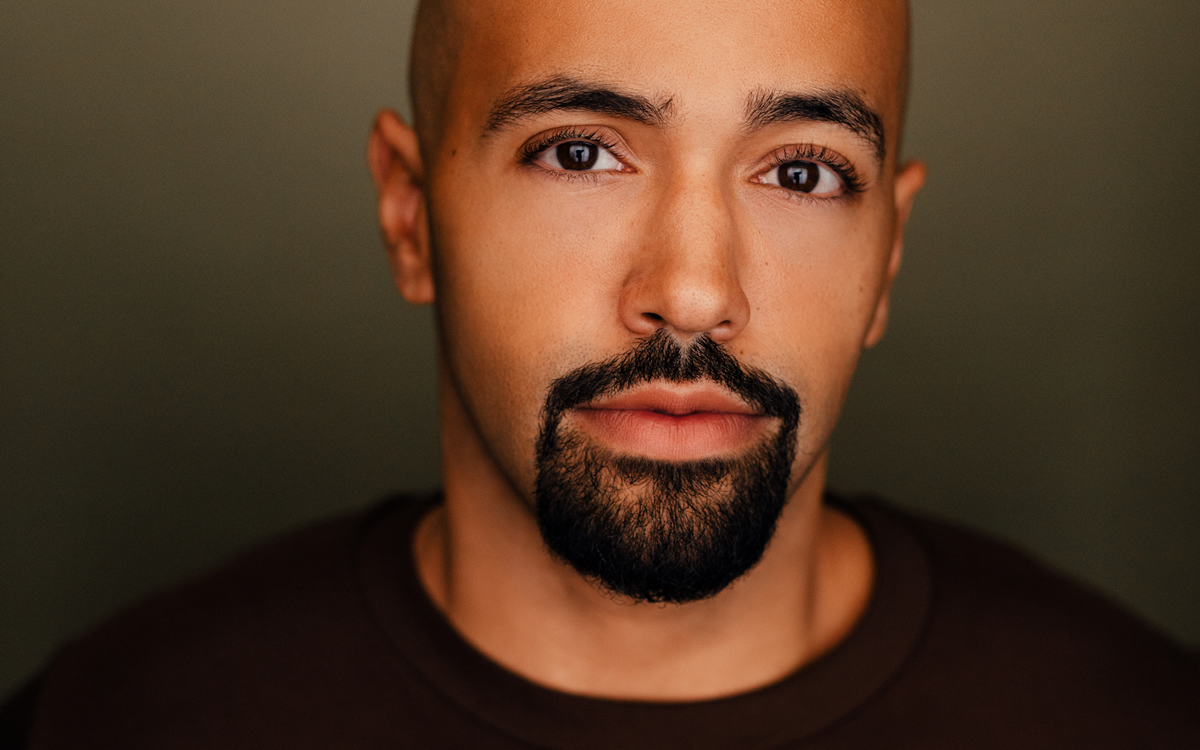 'Hamilton'
Through Oct. 9
The Kennedy Center Opera House
2700 F St., N.W.
$59–$399
Kennedy-center.org
For gay Latinx actor Pierre Jean Gonzalez, playing the title Founding Father in the national tour of "Hamilton" isn't just another part.
"It's a powerful thing," says Gonzalez, recognizing the enormity of the job. "We all learned history in school. We know who's who when we look at a textbook; but when people who look like you are telling the story, it shifts."
Currently moored to the Kennedy Center Opera House through Oct. 9, Lin-Manuel Miranda's seminal 2015 sung-and-rapped through musical presents early American history in a novel and inclusive way, focusing on the life experience of one man. With 11 Tony Awards and a Pulitzer Prize for Drama, the show continues to be the hottest draw in town wherever it pitches its tent.
"When I step on stage as Hamilton, I'm continually amazed by the pandemonium in the audience, especially the younger fans. If we miss a single lyric, the children know," he says.
"It's a drama, a soap, and an action movie. An ambitious immigrant, Hamilton pushes through obstacles, creates his own narrative, and doesn't throw away a shot. Audiences like that."
Reared in a housing project in the Bronx as the only boy in a Dominican/Puerto Rican family it wasn't cool to be queer, says Gonzalez, 34. So, he played it straight until his second year at Rutgers University when a comfortably out friend inspired him to follow suit. Back at home, the family wasn't all that surprised, he adds with a chuckle.
Navigating through life as his authentic self gives Gonzalez a leg up. He explains, "I think feeling more connected and open makes me a better actor."
As a drama student at Rutgers University in New Jersey, Gonzalez spent a life-altering junior year studying Shakespeare at the Globe in London: "For me the metronome, cadence, the words and music in 'Hamilton' are very much connected to Shakespeare, and that's why I'm here now."
After school, despite finding an agent and auditioning, those first four years weren't good. "For a Latinx actor with my look there were three roles: thug #3, a dishwasher, or hitman."
He was dismayed. Despite possessing training, talent, energy, and good looks, casting agents didn't see him as a leading man. But with "Hamilton," the industry changed and so did Gonzalez's self-perception: "Finally, I knew I was the right choice to play a leading man."
In total, Gonzalez has toured with "Hamilton" for five years counting 18 months of "pandemic nothingness," he says. Before being promoted to playing Alexander Hamilton in August of 2021, he was standby, covering Hamilton, Burr (the villain) and Britain's King George. At a moment's notice he might have been called on to play one of three tracks. "It was turning me on artistically," he says. "One of the last crazy days before the pandemic, I was Hamilton for a Saturday matinee and that same evening I was Burr. Not a lot of actors can say that."
During the early days of the pandemic and before, Gonzalez and his fiancé Cedric Leiba Jr., an Afro-Latino actor, had many conversations surrounding career frustrations. They discussed the challenges faced by actors of color, and how those challenges can be compounded when said actors are also queer.
In 2020, the couple founded DominiRican Productions, an award-winning film production company whose mission is to ramp up Afro-Latinx and queer representation both behind and in front of the camera.
"It kind of happened as a protest," he explains. "George Floyd had just been killed and the country was starting to look at itself and ask why are Black and Brown bodies treated this way?"
Success has ensued with two collaborative, celebrated shorts — "Release" and "Rhythm Is Gonna Get Who?" — both directed by Gonzalez.
While working with your partner can sometimes be a lot, it also has its advantages, says Gonzalez. He appreciates the pair ultimately always have one another's back. Also, they're different in complementary ways. "Cedric is more type A, really gets things done," says Gonzalez "He keeps me tethered to the ground."
For the moment, the affianced actors have put nuptials on the back burner, preferring to invest their time and money in the company. Gonzalez says, "We don't have kids or a mortgage, the company is our child; it's what drives us."
And what about "Hamilton"? "Another year, maybe longer? Whatever happens, I'm taking it one day at a time and feeling a lot of gratitude," he says.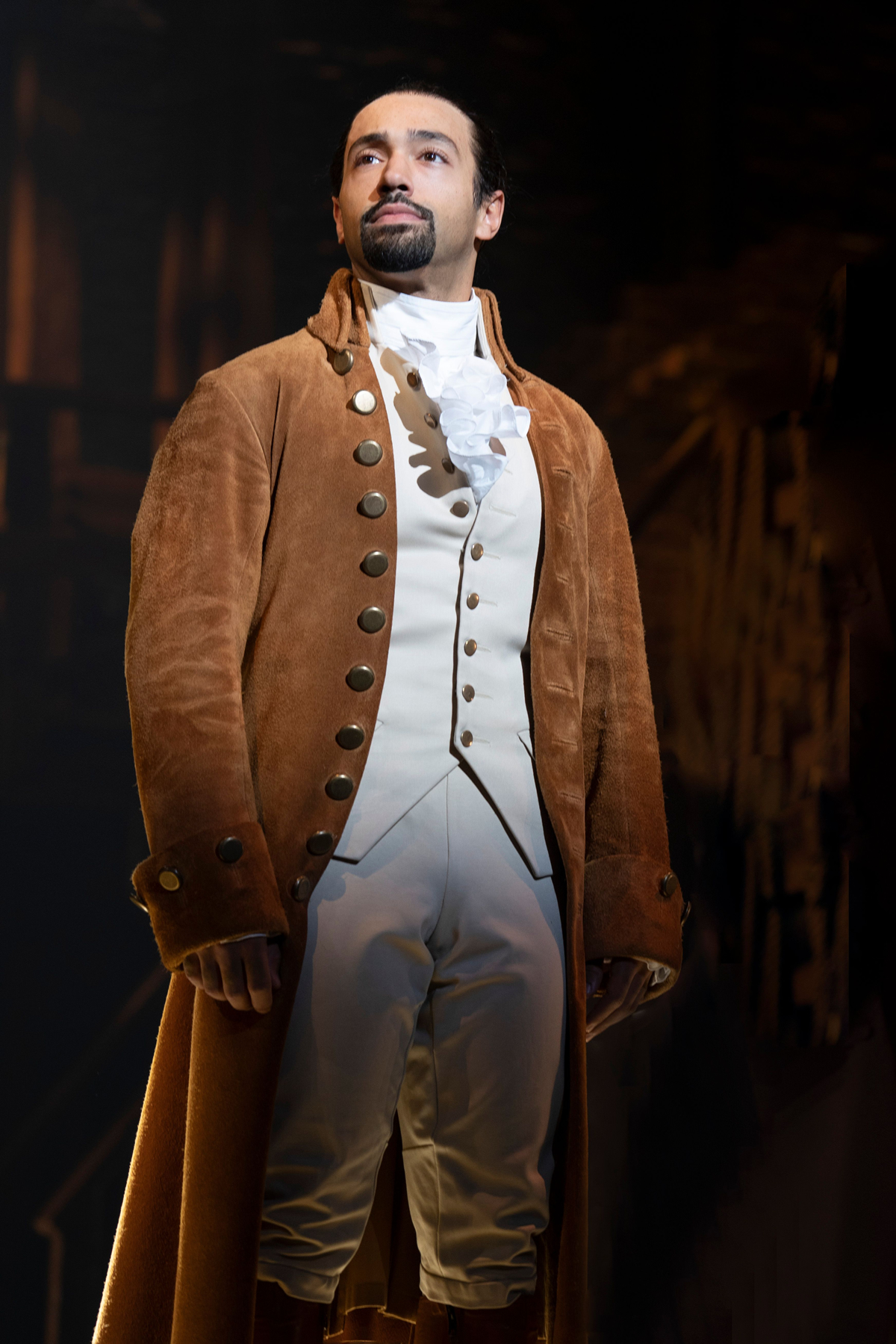 A diverse fall theater season underway in D.C.
Exploring the American workplace, Moms Mabley, abortion access, and more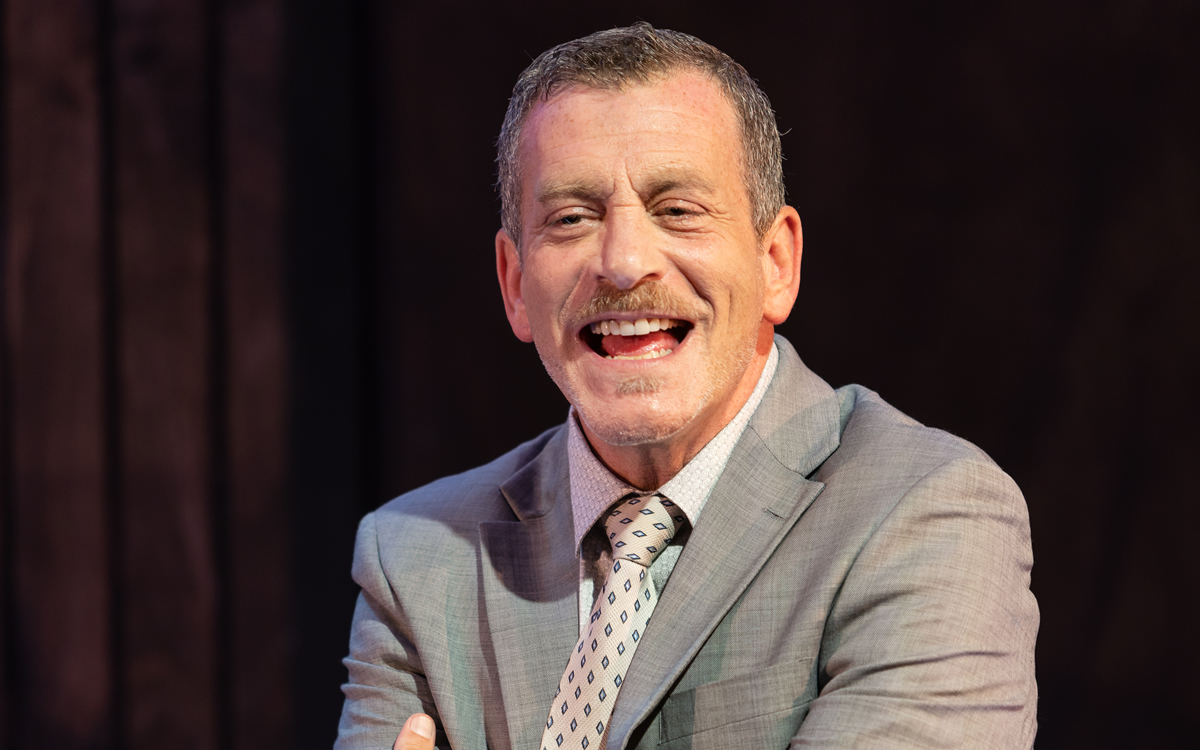 At Signature Theatre in Arlington, the fall season has already kicked off with Ethan Lipton's "No Place to Go" (through Oct. 16), a commentary on the sad state of working in America starring Bobby Smith backed by a cool trio of musicians. In a stunning performance, Smith plays George, a writer/musician juggling artistic pursuits and a day job as an information refiner. When the unfeeling company decides to streamline, George must decide whether to remain in the city that never sleeps or follow his "permanent part-time job" to Mars.
Smartly staged by Signature's artistic director Matthew Gardiner, the show runs a brisk, effective, and entertaining 90 minutes. With the feel of a nightclub act squeezed into an office, George, the band's front man, stands mostly center stage, bookended by a standard issue desk and a large copy machine. "No Place to Go" proves a wonderful vehicle for Smith, allowing the out actor to demonstrate his sensational singing range, comedic gifts, and depth as an actor. Sigtheatre.org
GALA Hispanic Theatre in Columbia Heights presents "Revoltosa"/ "The Troublemaker" (through Oct. 2) helmed by out director José Luis Arellano. Alternating between song and Spanish spoken word (with English subtitles), this popular zarzuela is at its heart "a story about an outspoken woman who upturns traditions with her neighbors and delights in exposing social hypocrisies." Galatheatre.org
At Anacostia Arts Center, award-winning performer Charisma Wooten is reprising her celebrated comedy cabaret, "A Night with Jackie 'Moms' Mabley" (Sept. 23 – Oct. 9), presented by Essential Theatre. For decades Mabley killed it playing man-hungry Moms, shuffling around stages in a housecoat and slippers. Offstage, often outfitted in silk shirts and trousers with a showgirl on her arm, the famed groundbreaking Black comedian was out to friends and colleagues. Theessentialtheatre.org
North Bethesda's Strathmore Music Center boasts a fall lineup including, among many offerings, music collective Sweet Honey in the Rock (Sept. 16), famed Bossa Nova phenom Sergio Mendes (September 29), and "The Hip Hop Nutcracker" (Nov. 20-22). Strathmore.org
At Ford's Theatre, esteemed out director Michael Wilson is staging Horton Foote's "The Trip to Bountiful" (Sept. 23 – Oct. 16), an American classic about going home. The much-anticipated (by me for sure) production features D.C. great Nancy Robinette as Carrie Watts, an elderly woman determined to return to her rural hometown. The cast also includes Joe Mallon as Carrie's overly protective son Ludie, and Kimberly Gilbert as his selfish wife Jessie Mae. Fordstheatre.org
Shakespeare Theatre Company opens its season with Tony-winning Mary Zimmerman's "The Notebooks of Leonarda da Vinci" (Sept. 29 – Oct. 23). Composed entirely of words from da Vinci's notebooks, the piece brings his glorious genius to vivid life. Shakespearetheatre.org
Spooky Action Theatre's autumn offering is gay playwright Jordan Harrison's "Maple and Vine" (Sept. 29 – Oct. 23) a play about a disillusioned urban couple who in pursuit of happiness forsake contemporary trappings for a more 1950s lifestyle. Spookyaction.org
Mosaic Theater Company opens its fall season with playwright Ifa Bayeza's "The Till Trilogy" (Oct. 4 – Nov. 20). The three plays ("The Ballad of Emmett Till," "Benevolence," and the world premiere "That Summer in Sumner") reflect on the life, death, and legacy of young Emmett Till, whose senseless murder in 1955 Jim Crow South remains a pivotal moment in American history. The long-awaited production directed by Talvin Wilks, features ten actors performing in rotating repertory. Included in the cast are talented out actors Vaughn Ryan Midder and Jaysen Wright.
Arena Stage opens the fall season with "Holiday" (Oct. 7 – Nov. 6), a sparkling romantic comedy penned by Philip Barry, followed by retiring artistic director Molly Smith's directorial adieu "My Body No Choice" (Oct. 20 through Nov. 6), some of America's leading female playwrights share what choice means to them, through the telling of fiction and non-fiction stories rooted in personal experience. Arenastage.org
The DMV fall season is more than peppered with plays by Lynn Nottage, the African-American Pulitzer Prize winner whose work frequently highlights the struggles of working class and marginalized people. Below are two.
At 1st Stage in Tysons, out director Jose Carrasquillo is staging Nottage's "Mlima's Tale" (through Oct. 2), a story about an elderly poached elephant whose magnificent ivory tusks embark on a journey across the world, introducing characters connected to the ivory trade. 1ststage.org
Theatre J has tapped talented Paige Hernandez to direct Nottage's "Intimate Apparel" (Oct. 19 – Nov. 13). Set on New York's Lower East Side circa 1905, it's the story of Esther, an African-American seamstress, who while sewing lingerie yearns for romance, particularly with one Orthodox Jewish fabric merchant. Theaterj.org
With "Judy" (October 22), the Gay Men's Chorus of Washington celebrates the music of the incomparable legend Judy Garland. Fourteen soloists plucked from the Chorus will share stories and sing her tunes, including favorites like "Over the Rainbow," "The Trolley Song," "Come Rain or Come Shine," "The Man That Got Away," and "Happy Days are Here Again." Gmcw.org
At Olney Theatre, Clare Barron's off-Broadway hit "Dance Nation" (Sept. 28 – Oct. 30) follows a tween-age dance team from Liverpool, Ohio, as they compete for the top prize at the Boogie Down Grand Prix. Actors of varied ages — including excellent out actor MaryBeth Wise — portray the girls (and one boy) as adolescents and their future adult selves. Not for kids.
And for theatergoers who missed it last season, Olney Theatre is remounting its terrific production of "Disney's Beauty and the Beast" (Nov. 9 through Jan. 1, 2023). And fortunately for audiences, out actor Jade Jones, a self-described queer, plus-sized Black woman, is reprising her star turn as Belle. Olneytheatre.org
Finally, Theatre Washington has announced the return of Theatre Week, a three-week celebration of the launch of the 2022-2023 theater season in D.C. Theatre Week will be held Sept. 22-Oct. 9, and will offer shows at discounted prices, a Kickoff Fest and Concert on the Southwest waterfront, and other community events. 
The 2022 Theatre Week Kickoff Fest and Concert will take place on Saturday, Sept. 24 on the Waterfront in Southwest. The Fest from 11 a.m.-3 p.m. at Arena Stage (1101 Sixth St. SW), will feature performances, workshops, conversations, free locally made food & drinks, giveaways, and more. The Kickoff Concert will follow on the floating stage (Transit Pier) on the Wharf, and will feature performances from D.C.-area theater luminaries. Both events are free with registration through Goldstar, the official ticketing partner of Theatre Week.
Throughout Theatre Week, more than 20 area productions will offer discounted tickets at $22, $33, $44 through Goldstar. More information on Theatre Week shows, events, and registration is available at theatreweek.org.